Whether you're a newbie or a veteran, if you're an Etsy seller you should at least keep an eye on what items sell best on the platform.
For example, my store was built initially to move older inventory of original merchandise for fans of horror and cult genres. Honestly, it was a bit of a crapshoot, as we hadn't done any ecommerce since 2013, but I rolled the dice, hoping that customers would respond to our original lines of apparel, jewelry, accessories and novelties. Although some of them aren't hand-crafted, which is what Etsy is most known for, they are still hand-designed, hand-prototyped, and completely original.
The dice roll worked, but because we had a decent instinct, not because we did any research.
Since then, we've been paying attention to buying trends as we expand our lines. We're currently planning our holiday lines (later than we wanted, but we'll still make Black Friday), so it was important to check on what has been selling on Etsy thus far in 2022.
I'm going to share with you the fourteen currently most popular items on Etsy. Many of these will not be surprises, as Etsy is still considered the perfect place to sell handmade crafts, vintage items, and personalized gifts of all kinds.
1. Handmade Jewelry


Still at the top of the list. And for good cause. Many people visit Etsy's online store to find unique necklaces, earrings, bracelets, and other jewelry. Even rings can produce great sales. If you were looking for mass-produced stuff, you'd go to Amazon, right?
That said, there is a method to this you should be aware of: choosing jewelry is a very personal decision; customers desire a special item for a special person, or something that uniquely expresses themselves. Even in an apparently oversaturated industry, there is still opportunity for new vendors who can provide something distinctive and individual. What will set your designs apart from the rest?
2. Jewelry and Craft Supplies
This was a pleasant surprise for me to discover, although it has been a consistent top category for years. Given the volume of individuals who purchase and sell handmade jewelry as mentioned above, it would make sense to have a sub-market of suppliers stocked with materials to help fuel the first category. This includes the jewels themselves, beads, and stones used to create custom jewelry as well as the fine-point tools used to assemble the pieces. However, it also refers to items like yarn, ribbons, threading, and knitting needles. DIY crafts are currently among the MOST sought-after items to sell on Etsy. Learning this, we have already decided to develop horror/cult specific jewelry and DIY crafts as a logical expansion of our lines.
3. Printables
Customers who buy printables can download and print them at home for digital products they have purchased. This can include:
coloring books
photo albums
financial planners
fitness goal trackers
meal planners
…and even planners for people to keep track of their vlogs and social media posts.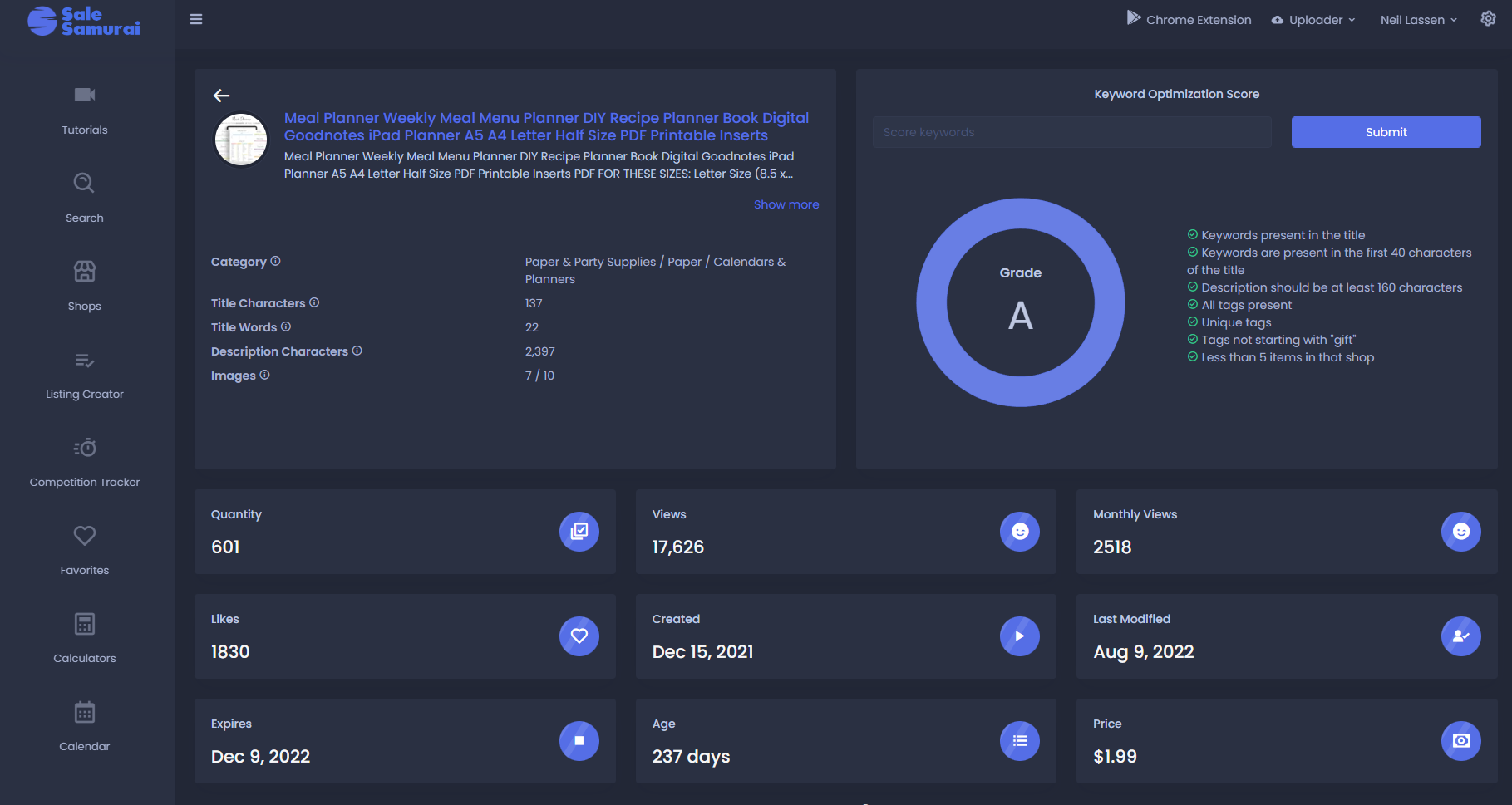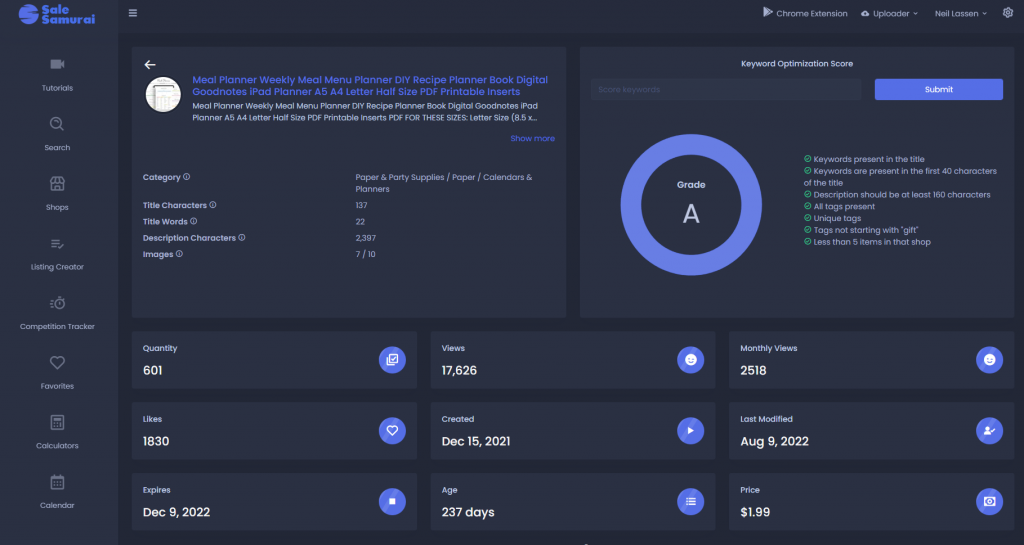 The fact that printables get rid of the time, money, and effort associated with transporting tangible goods to a customer is another fantastic feature that cannot be overstated.
If you want to try your hand at printables, have a look at our sister app, Book Bolt, which has a variety of tools that can help you create a printable planner, puzzle or activity book.
4. Digital artwork
More artists than ever are using digital media today. This includes the artists who sell small-scale prints, banners, motivational quotations, graphics, and labels for companies in addition to printable/re-stickable wall art.
Similar to selling printables, selling digital art allows the seller to forego shipping concerns while giving the buyer the instant gratification of receiving their purchase immediately. Additionally, this is a fantastic outlet for artists and sellers in regions of the world where it would be impossible or extremely difficult to get their work seen in any other way.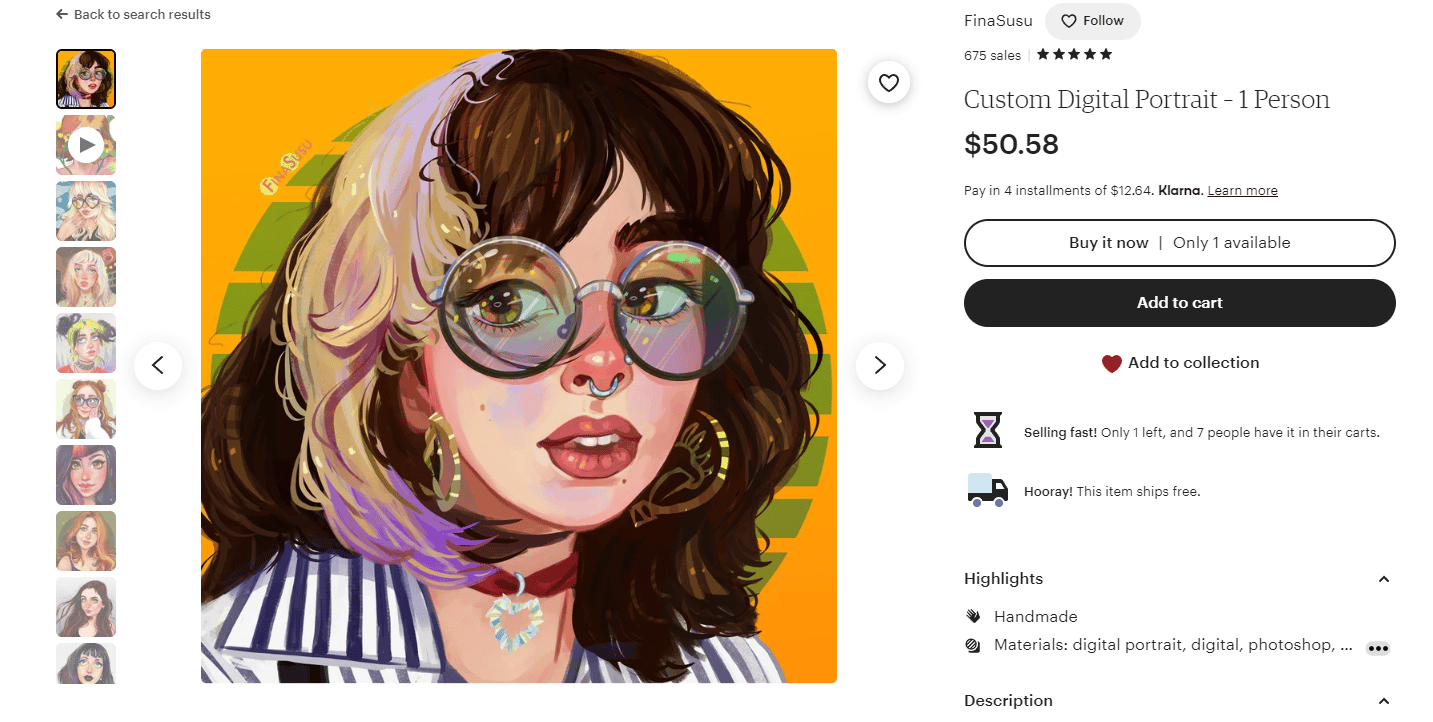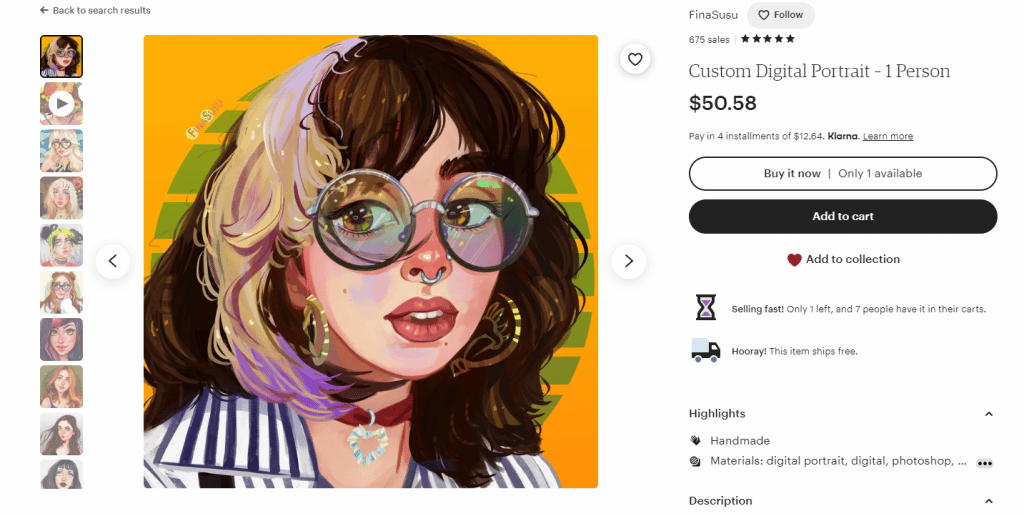 Seeing this information confirmed an instinct we had while planning our holiday line. The horror/cult fan community is rather small and there are countless talented folks using traditional and digital tools to create art that is both hypnotic, horrifying or alluring. We have already contracted with three artists and will have their designs available in many "print on demand" categories.
For more information on how to apply art to print-on-demand and integrate it into your Etsy store, check out our previous blog on the topic. It allows you to apply art to hundreds of different items, with no production costs.
5. Stickers


Stickers are inexpensive and simple to produce and sell for new sellers; simply design the product once, then work with a print-on-demand vendor to print and ship it for you. For consumers, they are a quick, simple and inexpensive way to personalize your life. They can range from bumper stickers to wall decals to stickers you put on a phone case, laptop computer, or even a water bottle.
6. Notebooks and Journals
Giving individuals a special place for their innermost thoughts or even just for their homework is a flourishing business on Etsy, and there are a variety of products available; from exquisite and colorful, to abstract designs, to simple notebooks for jotting down ideas and everything in between. Remember your old trapper keepers at school? The use of paper day planners is rapidly increasing.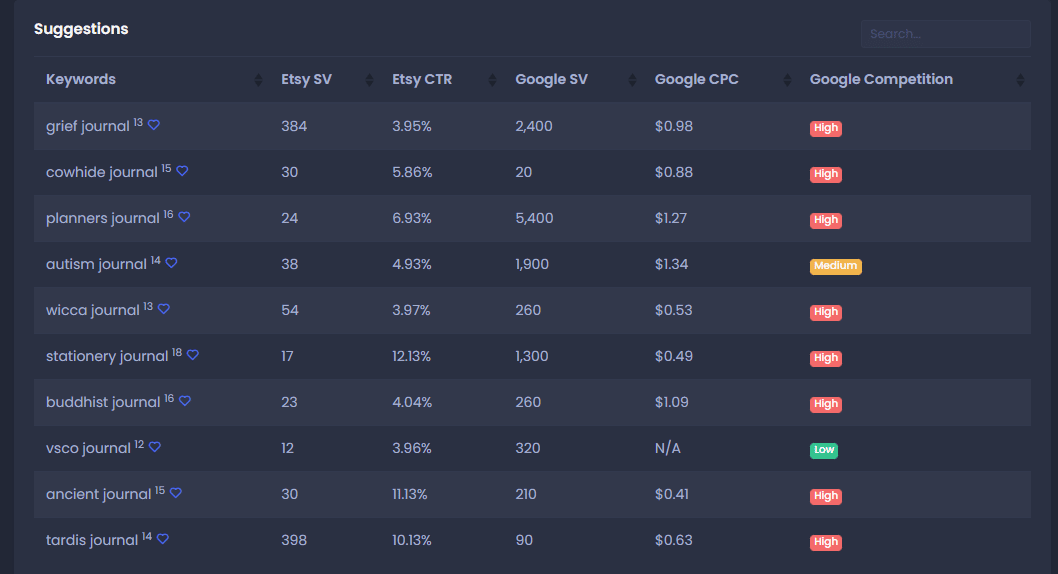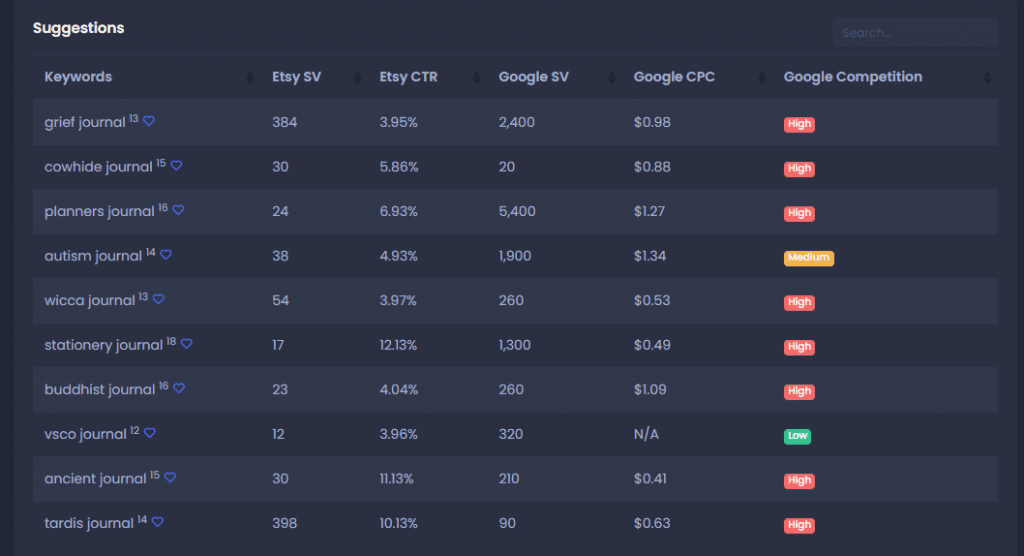 If you're considering this category, again visit our sister app BookBolt for all the tools you need to research, develop and upload your notebook and journal designs.
7. Organic Cosmetics


An increasing number of people are trying to live healthy, ecologically friendly lives. Because natural cosmetics are also safe for delicate skin types, they are considerably more likely to purchase them.
You must keep in mind that the creation of organic cosmetics involves meticulous inspection, much more so than the other things on this list. Finding a trustworthy source is vital to make money from your internet business selling handmade beauty products. After that, you can label them with your business name, and you have become a cosmetics company!
8. Personalized Cards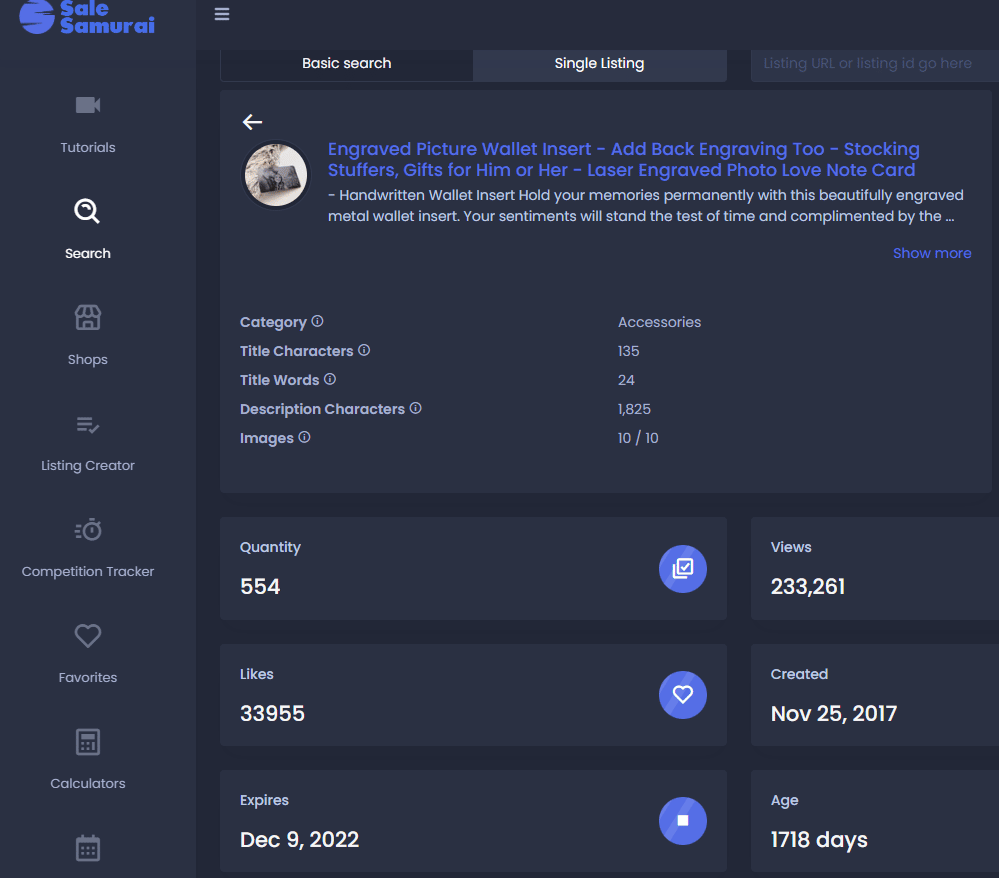 Handmade wedding invitations may be good sellers on Etsy, but that demand pales in comparison when we talk about other types of personalized cards.  We have all been in the situation where there are rows and rows of cards but none of them express what we want to say. So we compromise. With its wealth of unusual possibilities that enable personalization, Etsy eliminates this issue. As a result, several Etsy sellers have seen success with personalized holiday cards, announcement cards, and even cards that say what no mass-produced card ever could.
9. Sewing and Crocheting Patterns
Around the world, handmade objects with sewing and crochet patterns are favored by many people. To knit sweaters, dresses, or even stuffed animals to sell on your Etsy business, you can watch countless video lessons on YouTube and other websites.
10. Handmade Clothes


Of course, personalized t-shirts and other clothes with printed graphics are a perennial favorite on Etsy. But there is a thriving niche market for other handcrafted items within the clothing sector. Handmade clothing is one of the greatest original products to sell on this platform, regardless of whether you are an accomplished knitter, a master with a crochet hook, or an aspiring designer making personalized clothing from scratch.
In our little horror/cult part of the world, "battle vests", denim jackets cut off at the sleeves and adorned with original, vintage or collectible patches, are all the rage. It is also one of the simpler ways to enter the handmade clothing market without knowing how to knit or sew.
11. Homemade Bath and Beauty Products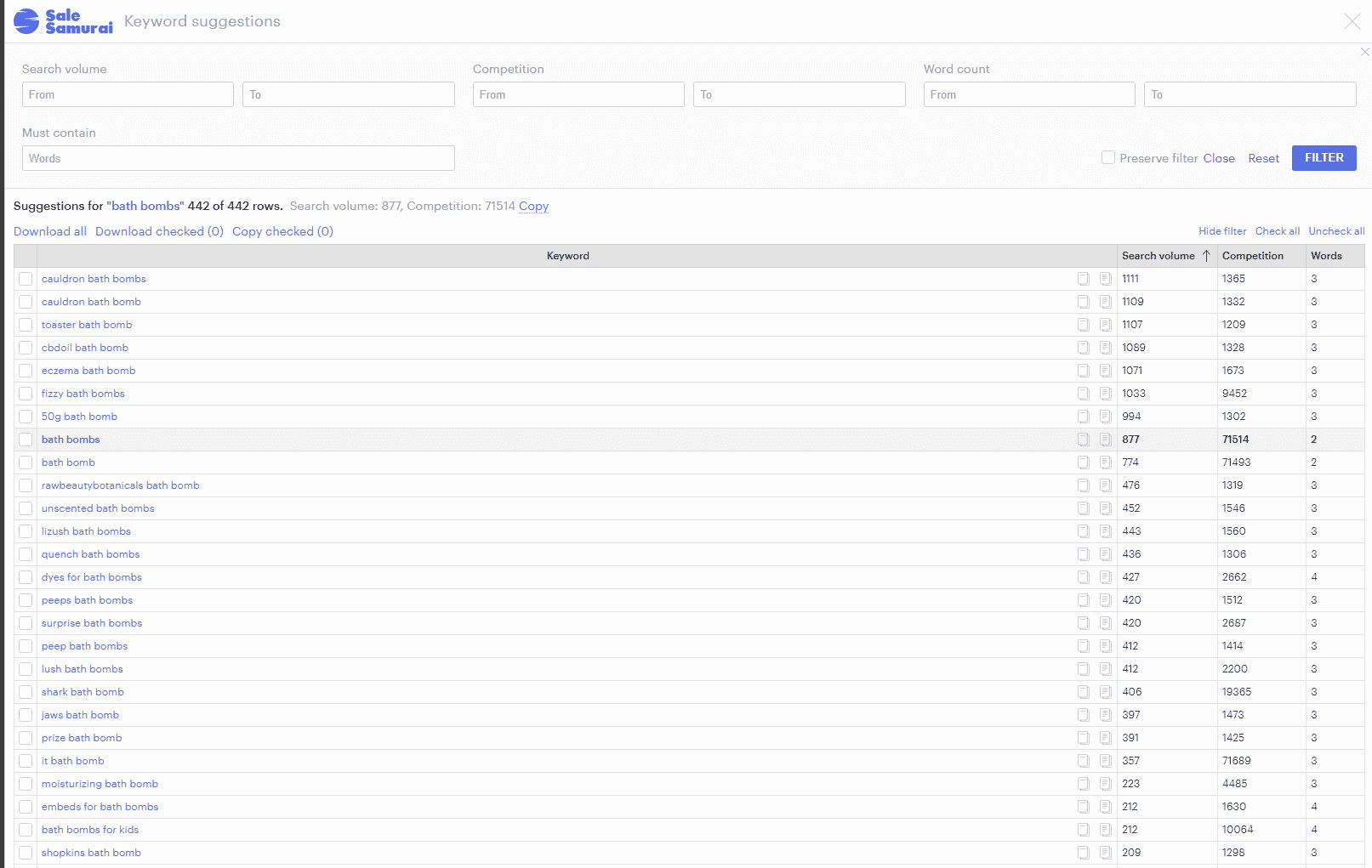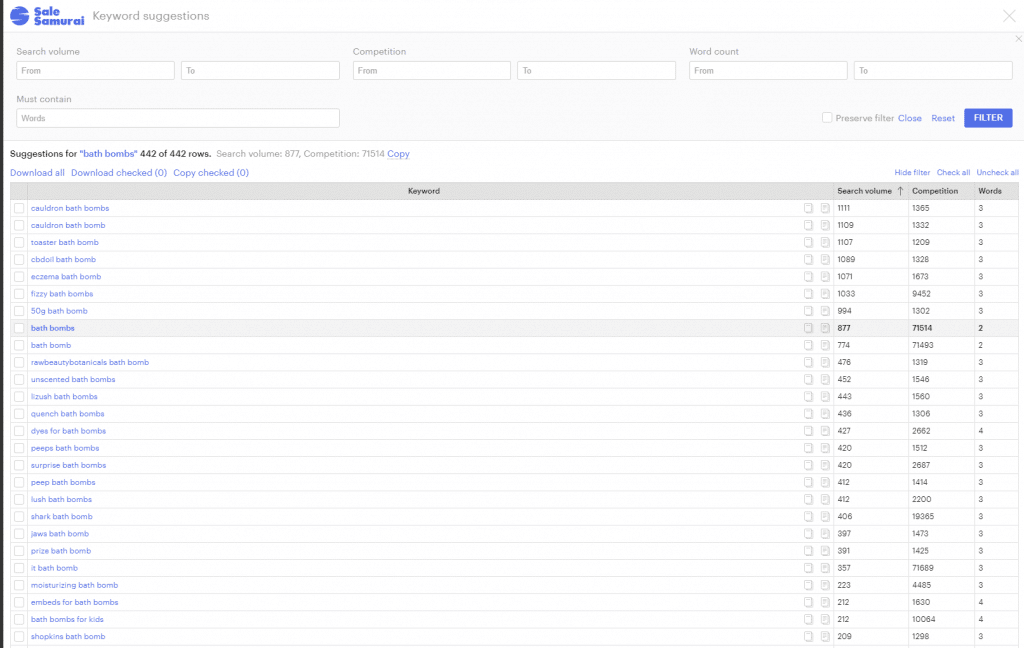 As with with the cosmetics business, today's bath and beauty customer is currently moving away from mass-produced, chemical-filled products and toward homemade, organic, and environmentally friendly alternatives. As a result, homemade skincare products like facemasks, body lotions, and bath bombs are very popular on Etsy, along with the natural cosmetics we mentioned earlier. The time has come to capitalize on this expanding trend if you want to start selling on Etsy. These two types of products can work beautifully together.
Note: If you want to check out the tool above, check out this article.
Looking For Business-Defining Etsy insights? Just Get The Sale Samurai Chrome Extension
12. Candles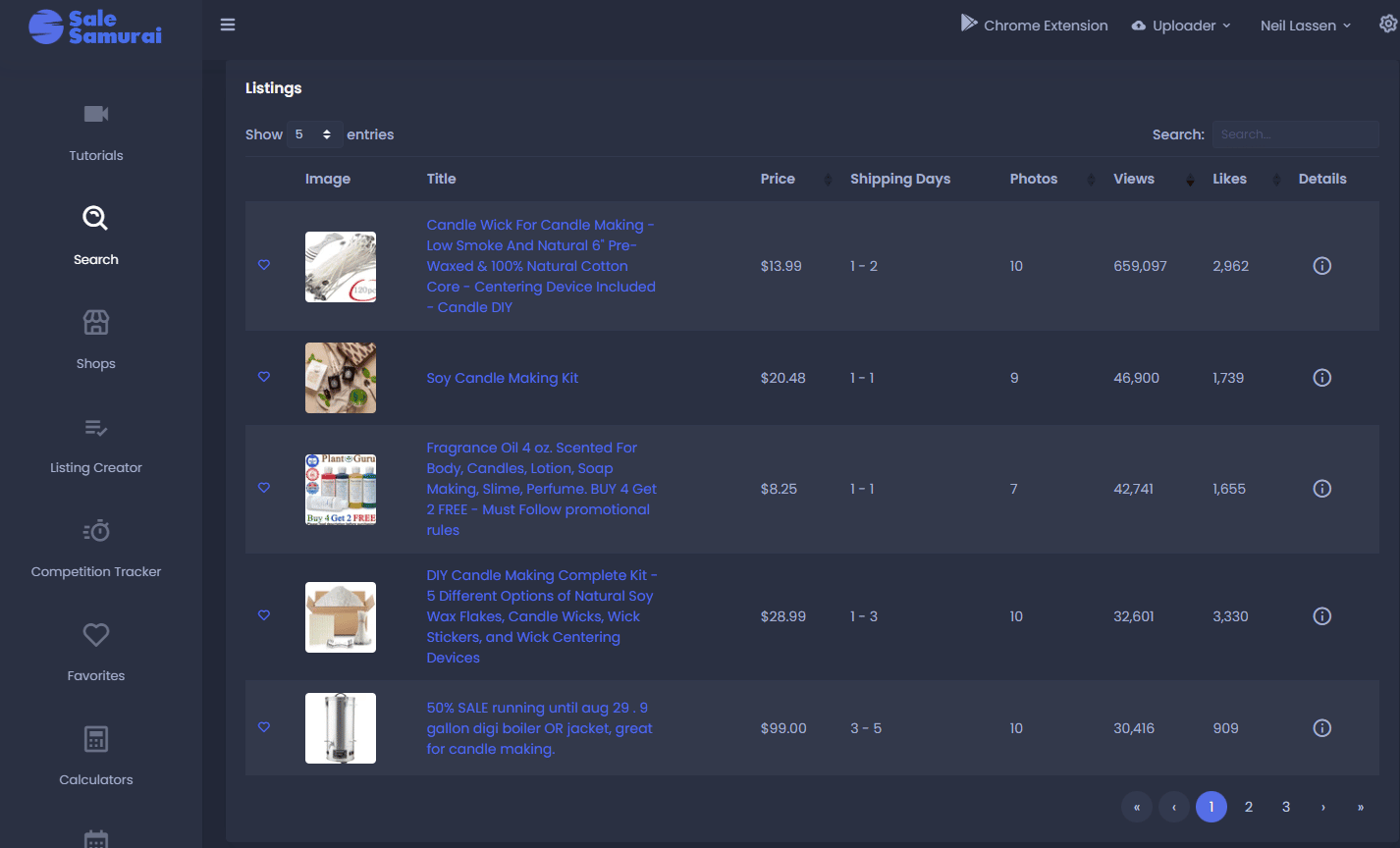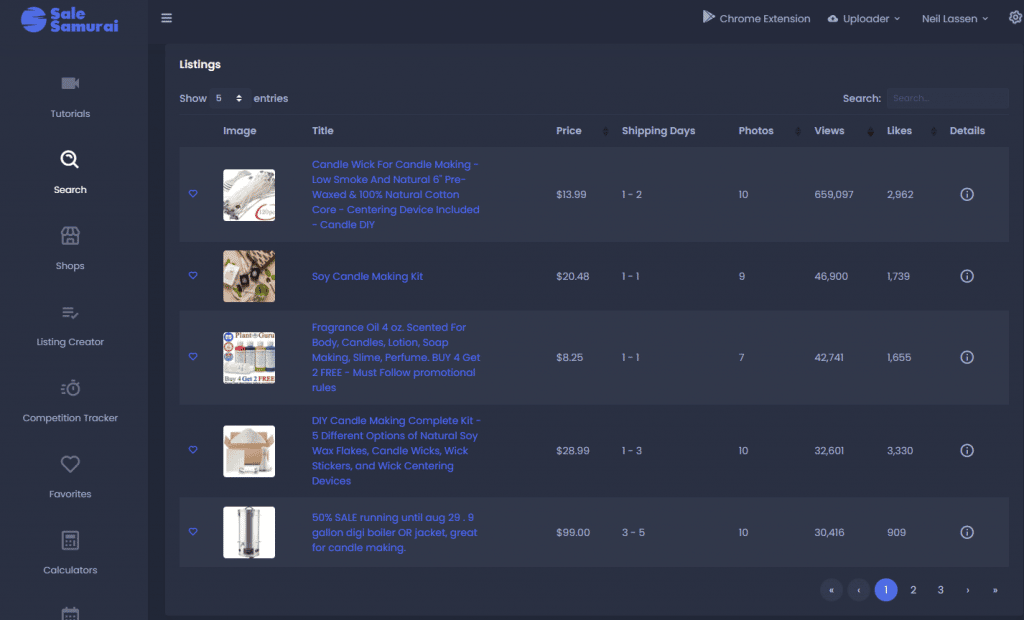 Another well-liked product with thousands of sales on Etsy is homemade candles. The procedure of making a candle takes some time, but it is not difficult, and it is not at all expensive. On the other hand, if you can make the candle distinctive by writing/carving on it or otherwise adorning it, you can sell this product for a higher price.
13. Zero-Waste Products
To put it simply, the aim of zero waste products is to eliminate landfill waste. Shops providing zero-waste toothpaste, refillable deodorants, and dish soaps demonstrate just a few of the environmentally friendly products available on Etsy.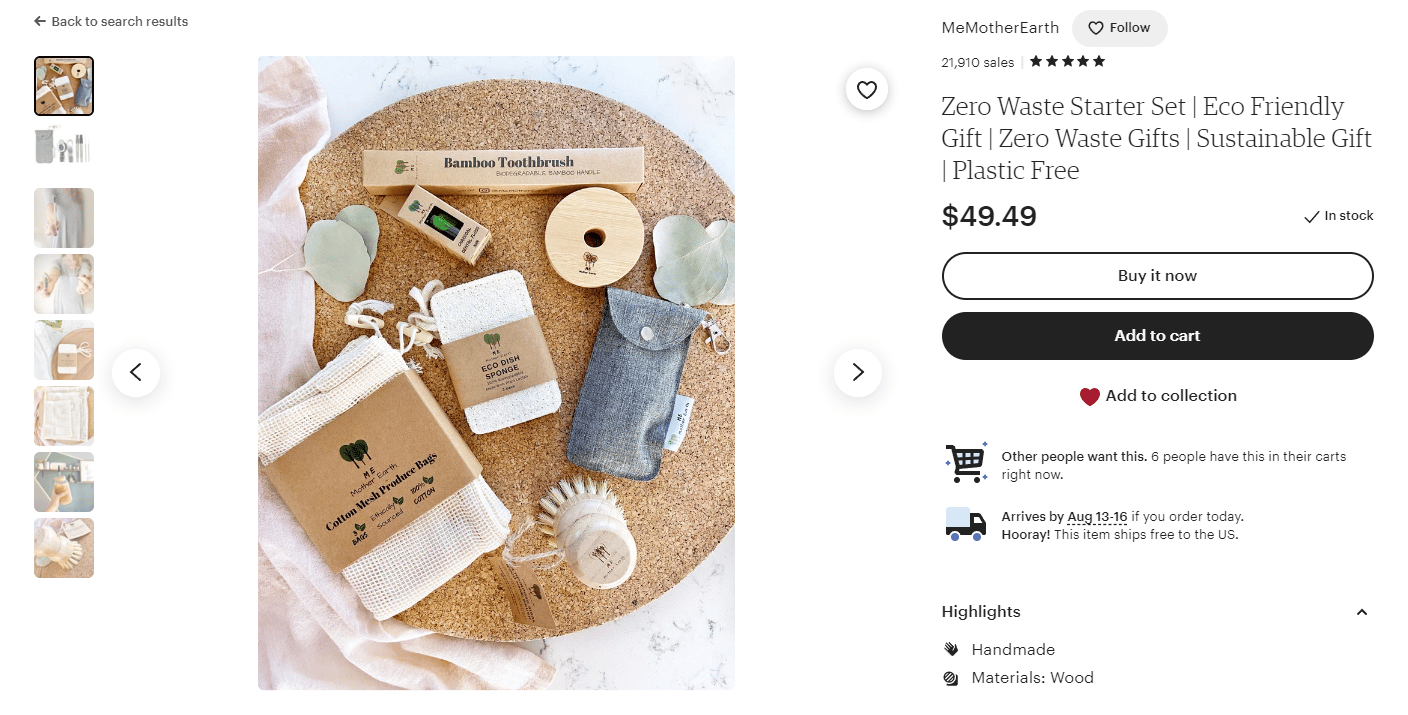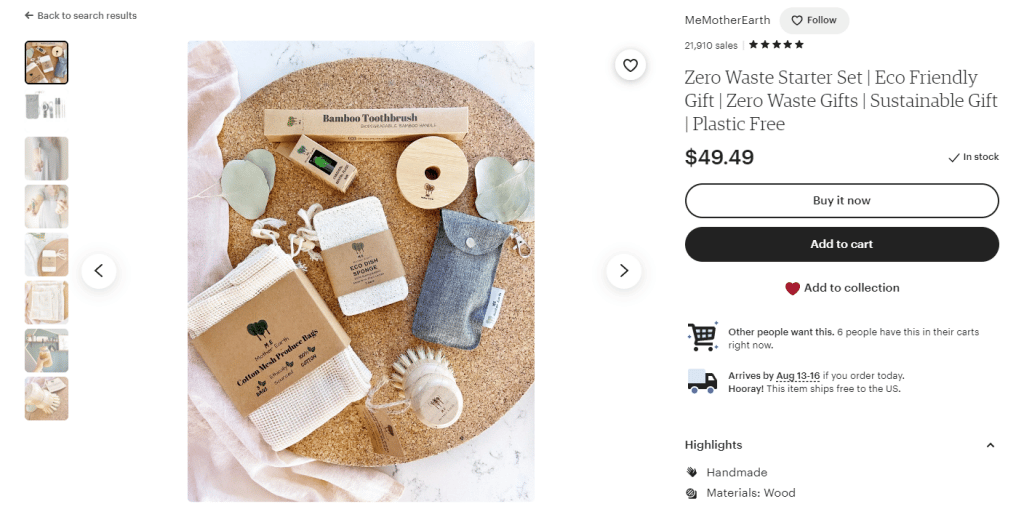 Additionally, more and more consumers are willing to pay a premium for these goods in a time of growing social conscience and duty. People are starting to understand the Earth is our home. You can be the person who delivers the things they need which will not take a toll later on.
14. Vintage/Mid-Century Modern Items
To close out our list, we arrive at the category that has built-in devotees: vintage anything!
Top 10 Shops For Vintage Items On Etsy: Tips & Strategies To Follow
Shoppers of this mindset are hunting for eccentric and one-of-a-kind antiques, including everything from vintage clothing to mid-century modern furniture. And you know what? They are eager to make a purchase at any price when they find what they are looking for.
The "old" Mid Century Modern items our parents and grandparents bought new, the things we disregarded – they are back in style and people all over the world want them (your author is personally involved in this market, so believe me when I say this is one hot ticket!). The potential huge ROI cannot be overlooked while this trend is booming. There are even print magazines (yes, on paper) dedicated to everything from that time period.
So, with a little less than half a year left in 2022, you are in a position to create product that people are already actively searching for and buying on Etsy. If you're a veteran seller, you can expand your lines, and if you're a newbie, you now have over a dozen entry points.
Happy selling!