Getting Your All-In-One Etsy Intelligence Tool On Chrome



The Sale Samurai Chrome extension makes gaining access to valuable business insights easier than ever. It allows Sellers to take their research directly onto Etsy while they're browsing for products and ideas. In short, the extension is a mirror of the features and functionalities found in Sale Samurai, but layered on top of the Etsy website, where it can be used directly.
Downloading the extension on your Chrome only takes a few clicks and less than a minute.
Here's what you need to do:
Log in to your Sale Samurai account.
Go to "Chrome Extension" on the right-hand corner of the top menu.
Click the button and you'll be directed to the Chrome webstore.
Install the Sale Samurai extension by clicking "Add to Chrome".
You'll see a pop-up window saying that the extension can read and change data on Sale Samurai and Etsy.com. Allow permission so that data can be read and collected while you're browsing on Etsy.
Log in to your Sale Samurai account.
After signing in, you'll be directed to your Etsy account and you're good to go.
You might be wondering what the point is and why you should use the Chrome extension as opposed to the Sale Samurai interface.
Here's the answer. It provides you with real-time insights, while sparing you the multitasking of switching between browser tabs. You get all the information you're after without leaving Etsy.
And no, you don't have to pay extra either, the Sale Samurai Chrome extension is available to all Sale Samurai subscribers.
But let's see what it can actually do and what key features you want to be using to quickly and confidently grow your Etsy shop.
What is the Sale Samurai Chrome extension?
The extension makes jumping from tab to tab a thing of the past and feeds back real-time business intelligence data while you're searching on Etsy. All you need to do is choose a keyword and run a search. What you'll get back is a ton of ideas in a drop-down search menu. In an instant, you'll see the amount of search volume for each keyword, how many related keywords are being used by Etsy Sellers, and more.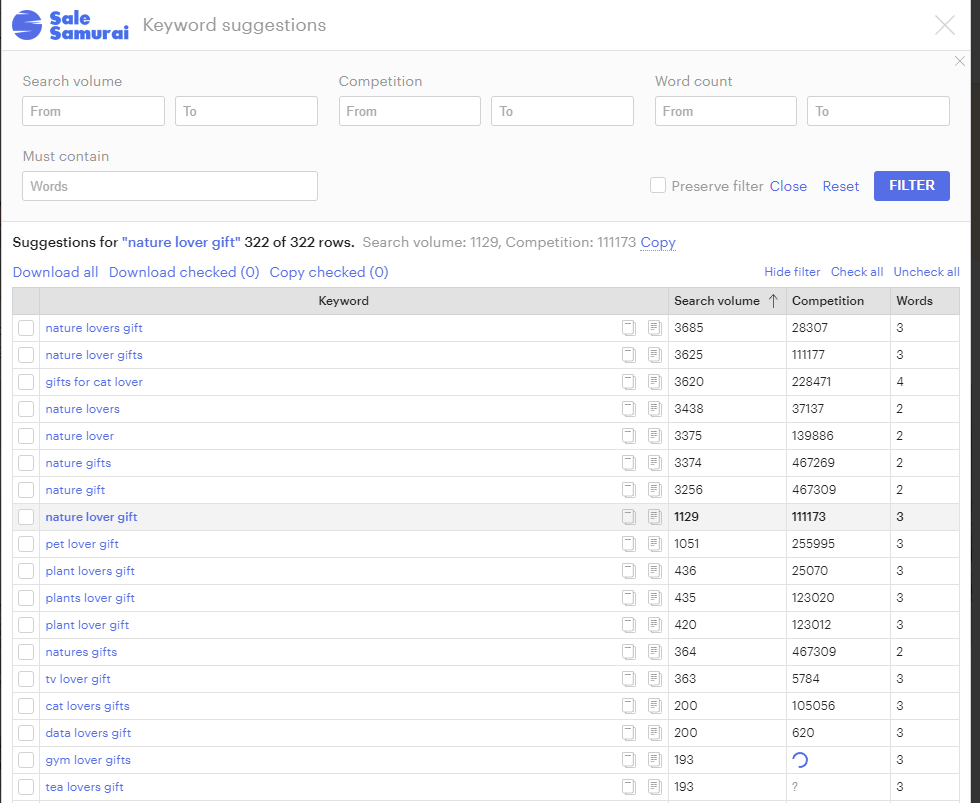 The best part is that it's okay if you're not sure what keyword to use to start your research. The plugin will make automated suggestions based on the data that it's feeding on in the back end. This is a great way to start brainstorming for new products to create or new keywords to focus on to optimize your listings.
Let's dive a little deeper and see what core features you'll want to take advantage of as an Etsy Seller.
The key features and how to use them
There are 3 main powerful pieces of information that you can get from the Sale Samurai Chrome extension:
Keyword search volume
Keyword competition
Related keywords
The app allows you to define your search parameters. You can go for a broad search or narrow it down by selecting the search volume. Another specification you can alter here is the competition range. You can even choose the word count of your keyphrase. And perhaps one of the coolest features is that you can also force a "must contain" word onto your search to make it even more specific.

You'll notice that all of your searches are automatically saved on the left side of the plugin results page. You have the full freedom to download all of your results to a CSV file or only choose to download the ones you're interested in.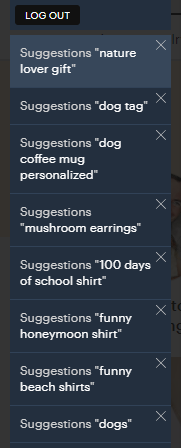 But how can you use this information to your advantage as an Etsy Seller?
Let's look at some examples and scenarios.
Creating Business Strategies That Work
Say you wanted to sell cat-related products on Etsy, but you're not sure where to start. Should you create cat mugs, cat t-shirts, or perhaps cat necklaces? There are too many options, so choosing blindly won't help your bottom line.
After you've installed the Sale Samurai Chrome extension and you've logged in, go to Etsy.com and type in the word "cat" in the search box. Automatically, you'll get some of the top results that people are searching for, along with the search volume on the left, and the number of products sold on the right. Click on the right-hand results that say "more" to access the full information available from the plugin.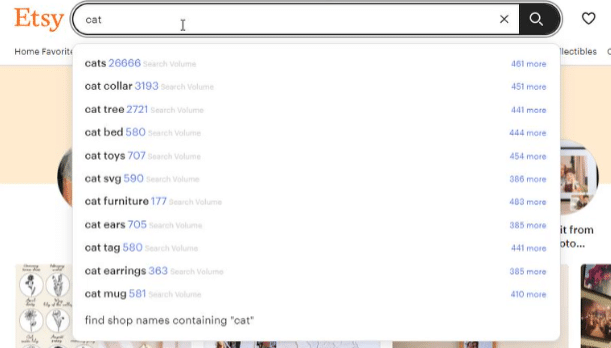 What you'll see is a full-screen table, where you can sort the results according to the highest search volume, competition, or word count, and can even save the search results for later examination. Our advice is to focus on the search volume, as that will indicate a greater interest.
For our example, let's imagine that the keyword "cat mug" generates a monthly search volume of 581, which is considered pretty good. By clicking on "cat mug", you can see what products Sellers are promoting on Etsy using this exact keyword. This will redirect you to an Etsy products page, where you can see prices, listing details, and more.
This answers the cat conundrum.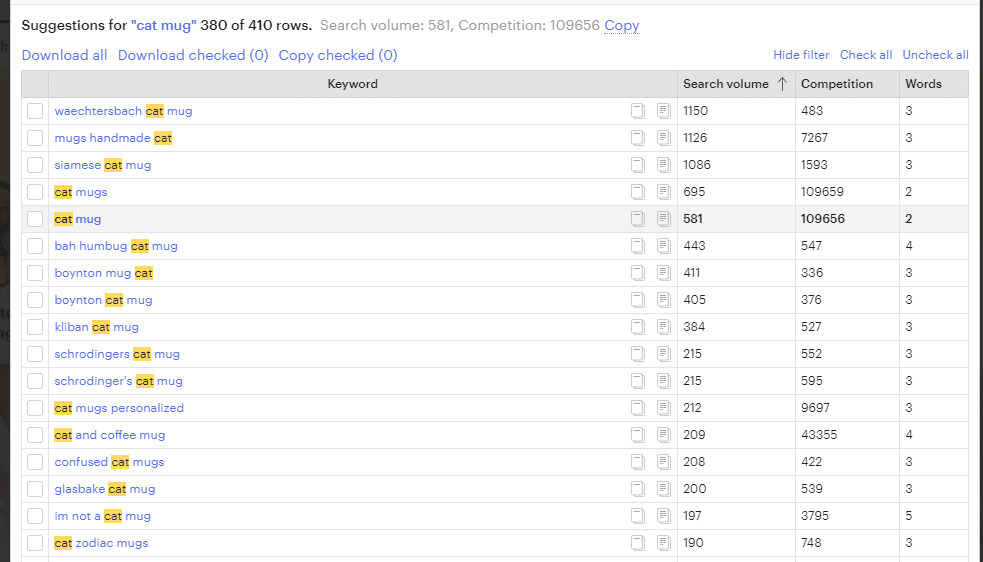 So, if you're not sure how to shape your Etsy strategy, the business intelligence provided by Sale Samurai's Chrome extension will definitely guide you through the turbulent waters.
Staying One Step Ahead Of The Competition
But creating the best strategy won't help you make money if the competition is as fierce as it is. The trick to making more sales on Etsy is to focus on keywords that get a lot of search volume, yet have low competition rates.
Why?
Because there's a ton of keywords with high search volumes and few offerings on Etsy. These are the niches that make or break an Etsy gig.
How?
Simply choose a category that you could be interested in, say t-shirts. Start broad as at this point you don't have much information to go from. Use the options to specify your search and narrow down the competition from 1 to 500, for example, while setting the search volume from 1,000 – 2,000. This will give you keywords and products that people are heavily looking for but few Etsy Sellers are providing.
Another tactic to try is to search for specific keywords, but to sort the competition from lowest to highest, while comparing how it relates to the search volume.

Using these methods, you'll be able to satisfy buyer demand before your competition even discovers where the money-making potential is.
Bottom line
Let's face it. Nine out of ten times, selling on Etsy is about turning your dreams of crafting amazing art pieces into a reliable side hustle that generates a stable passive income. And as you become better and more experienced, you can even turn this "gig" into a full-time job.
To achieve this, you'll need the right business intelligence to sell more, sell better, and sell consistently.
As a paying Sale Samurai subscriber, the Chrome extension will grant you this opportunity at no extra cost.