When Should You Run a Sale on Etsy?
It may not seem like it, but there is definitely a reason why Sellers on Etsy, other e-commerce platforms, and even in brick and mortar shops run sales at given points throughout the week, month, and year.
There is real data behind the decision to run a sale at a certain point and how this undoubtedly helps increase both short and long-term revenue.
Here are five times you should be running a sale on Etsy:
1. During the Holidays
This one is pretty obvious but important nonetheless. Holidays are the perfect time to run a sale and we aren't just talking about Christmas! Halloween, Thanksgiving, Memorial Day, Saint Patrick's Day, Valentine's Day, and any other holiday you feel relates to your brand!
It's almost like there is some sort of holiday or celebration every month in America so why not take advantage of the buzz and run a sale!
People are always willing to spend money around certain times of the year especially if your products are centered around that day like if you sell wooden American flags then a 4th of July sale is one event you do not want to miss!
2. Before Your Prices Go Up
In an ideal world all businesses, suppliers, and manufacturers would keep their prices the same forever! But in the real world Etsy Sellers, creatives, handmakers, and craftspeople are all affected by changing inflation rates and increased inventory costs.
If you have to raise your prices, then you can do so after a big sale. This is actually a fairly common strategy used by businesses right before a price hike usually disguised as an End of the Year Sale.
3. As You Launch a New Product
Promotional sales always do very well especially if they are properly done through initial keyword optimization, social media marketing, and email marketing.
A sale around an upcoming product or category generates a great deal of excitement!
Promotional sales are also great for existing customers who might not otherwise come back to the shop to make a purchase but now feel encouraged to do so with a new product on sale especially if the promotion is for a limited time only.
Get creative with your promotional sales and create interest on social media through organic posting and unique hashtags that your audience can use and share on various platforms. 
You can even start a social media challenge campaign around your brand that encourages followers to make and post content for a chance to win the product while everyone else gets to take advantage of the sale.
4. When Everyone Else is Running a Sale
Sometimes it's not about working hard but working smart. You don't always have to be the most creative person in the room.
Social campaigns are great but one easy strategy is to just run a sale when everyone else is running one.
Black Friday, Cyber Monday, and a New Year's clearance are all great times of the year that businesses like to run sales. Consumers have become used to these regular sales and will expect your business to do the same.
Pro tip: Large businesses and corporate giants are dropping the ball on Black Friday and people are noticing, which is why your small business on Etsy should take advantage and offer better discounts!
5. When You Need to Clear Inventory
Selling on Etsy is not as simple as it may seem from the outside in part because of the unique nature of products. Etsy boasts an amazing portfolio of creatives selling handmade goods which can sometimes go out of style.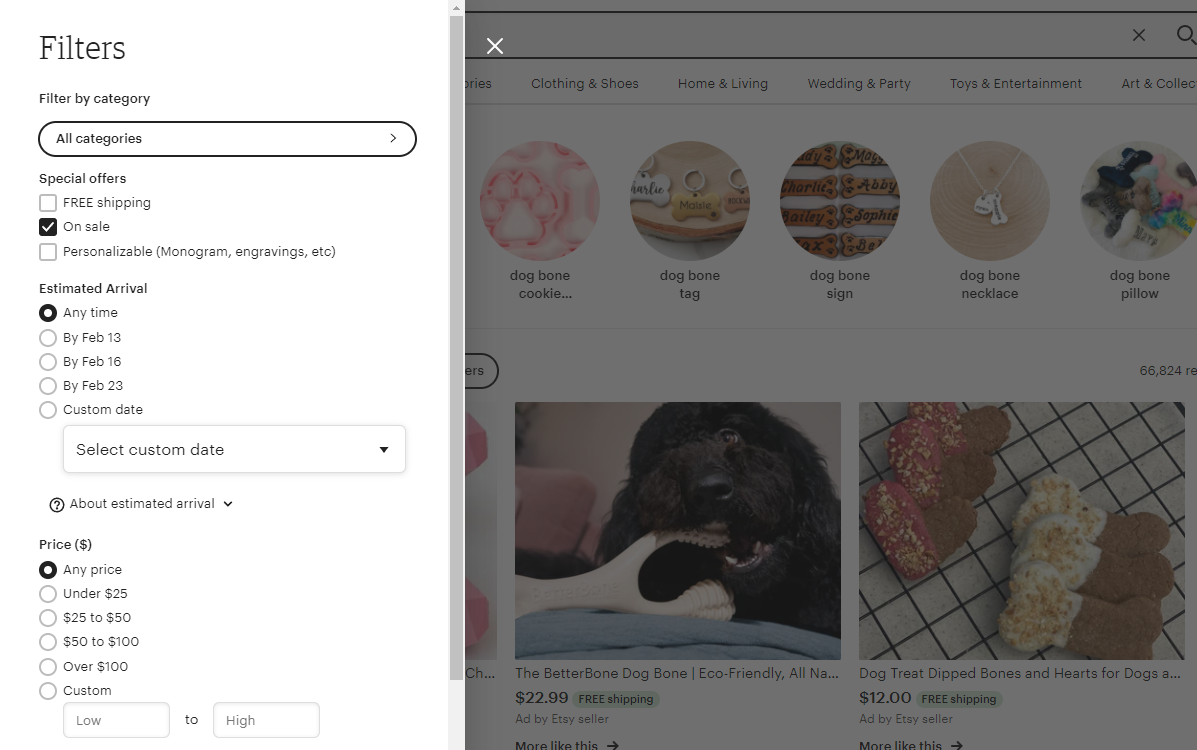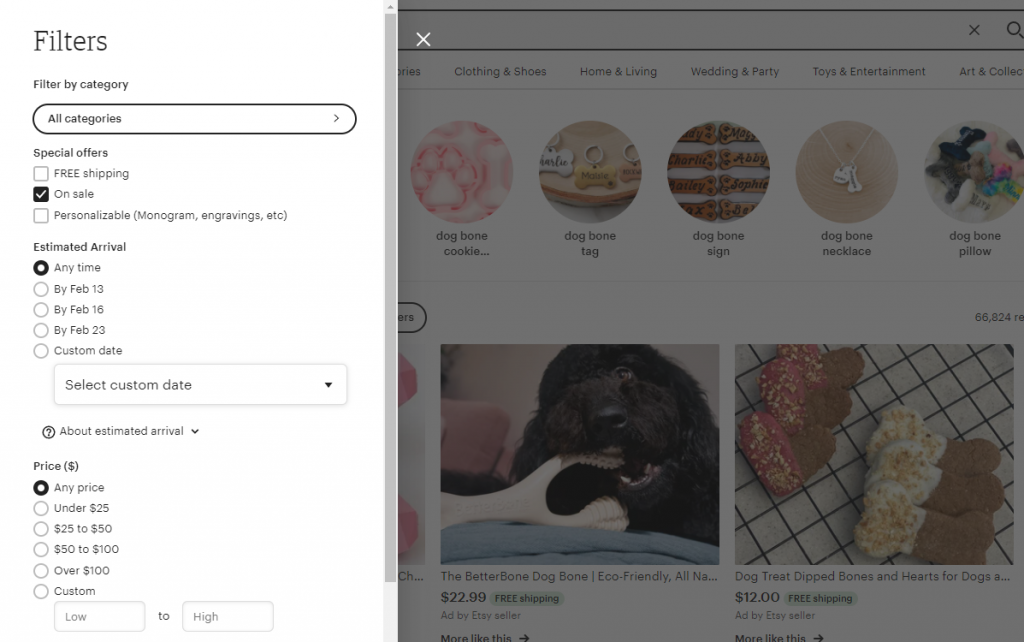 When your items are no longer "trendy" or "in" then you may be faced with an inventory problem. A great way to quickly clear old products and revamp your catalog is to run a huge sale!
Of course, it's not all bad news. Maybe you no longer like making or selling a specific product and want to pivot. Great! Then you should have no problem running a sale and clearing inventory.
How Sales Help Your Shop Get More Exposure and Revenue
One issue many Etsy Sellers have with running sales is the diminishing return on investment.
There is a lot of time and effort that goes into products on Etsy which may not be the case on other e-commerce platforms so cutting into already thin margins and giving a discount may seem counterintuitive.
Fortunately, the numbers seem to tell a different story.
It's true when you run a sale you are hurting your bottom-line in the short term and while that's not always the case most of the time you may end up with more sales and revenue numbers but a smaller profit for the month.
However, you need to think long-term and realize the huge upside to running an Etsy sale.
Here are just a few of the benefits of setting up a sitewide sale:
Word of mouth marketing: If your loyal customers come across your shop and see a sale, they are more inclined to make a large purchase not only for themselves but as a gift for a friend or family member. In other words, you may be inadvertently getting your products in the hands of new customers who could fall in love with your brand and decide to purchase from you in the future!
Bundle up: You don't have to run a sale on everything in your Etsy store. You could just as well have a discount on one item but once you get your customers "foot in the door" then it's easier to bundle up and cross-sell other items that aren't discounted.
Increase your Etsy scores: Having a promotion going on Etsy will undoubtedly lead to more reviews and as long as you have a great product and solid customer service those reviews will be stellar!
It's not difficult to imagine the catalyzing effect that running a sale will have. Think about it, more traffic, higher average cart values, a wider word-of-mouth network, and more customer feedback.
These are invaluable tools that any small business owner on Etsy should take full advantage of for long-term sustainable growth.

One other thing to keep in mind is your follow-up marketing strategy. You may already have a system in place where you reach out to interested parties through email marketing. Now imagine having increased traffic because of a promotion or sale, more add-to-carts, and abandoned carts.
Retargeting these potential customers whether through paid ads on Google, Facebook, and Instagram or through direct messages via email is an excellent way to increase revenue and customer lifetime value.
The best part is, you can run a targeted offer through Etsy! Here's how you do it:
Go to "Shop Manager" on Etsy.com.

Click "Marketing" and find "Sales and Coupons".

Instead of running a sale or creating a discount code choose "Set Up Offer".

You can now select exactly who you want to send an offer to – "Recently Favorited Shoppers" or "Abandoned Cart Shoppers".

Then all you have to do is choose the discount type (fixed amount, percentage off, or free shipping) and customize your "Coupon Code" (just like a regular coupon you will get a unique URL that applies the discount automatically when clicked on).
Targeted Etsy offers are now completely free so there is no reason why you shouldn't take advantage of them. If you are still worried about offering an additional sale on an already discounted item, read the above section again and remember that your revenue will go up in the long term. You just have to be patient.
Setting up and running sales, special offers, and promotions is a sure-fire way to grow a business but if you are looking to take your Etsy shop to the next level you need to seriously consider keyword research, implementation, and optimization. 
At Sale Samurai we use data-driven research to provide high volume, low competition keywords your customers are searching for but your competitors don't know about! Contact us today to massively grow your Etsy business.