There's never been a better time to sell on Etsy. The platform is extremely popular. Product variety is huge. Prices and shipping options are great.
However, if you want to do great, instead of just OK, you need a winning strategy that focuses on listings optimization.
One of the first ways to do this is to see what keywords your competitors are using, along with a number of other important things. These include the search volume, number of listings,
price
spread, even likes and average number of photos are important as well. Luckily, there's a tool that does this all at once, and more. Let us introduce you to
Sale Samurai's powerful Search feature
and tell you how it works.
Sale Samurai's "Basic Search"
The Search function is broken up into two crucial parts: "Single Listing' and "Basic search". First, we'll explore the Basic search, although as you'll soon discover, it's anything but basic in its functionality.

Simply enter a term in the keyword box and you'll get all the results you could possibly need. You'll be able to see what Etsy Sellers are doing to get in front of people, how many users are searching per month for that keyword, and what kind of
competition
you are up against. Once you've entered the keyword, on the left-hand side you'll see all the tags used for the top-selling products. In essence, this is the total number of tags that are being used by Sellers for people that are actively buying. As an extra nifty feature, you can also click on the little heart next to each relevant tag and add it to your
favorites
. On the right-hand side, you'll see information on the keyword that you entered, as well as the competition (how many products are available on Etsy) and the search volume per month. Then, you'll get suggestions with related keywords and their corresponding search volume. This will provide you with a bird's-eye-view of the keyword's popularity, making it easier to judge whether it's worth investing in. Stats here also include Etsy search volume, but also Etsy CTR (click-through-rate), and even Google competition.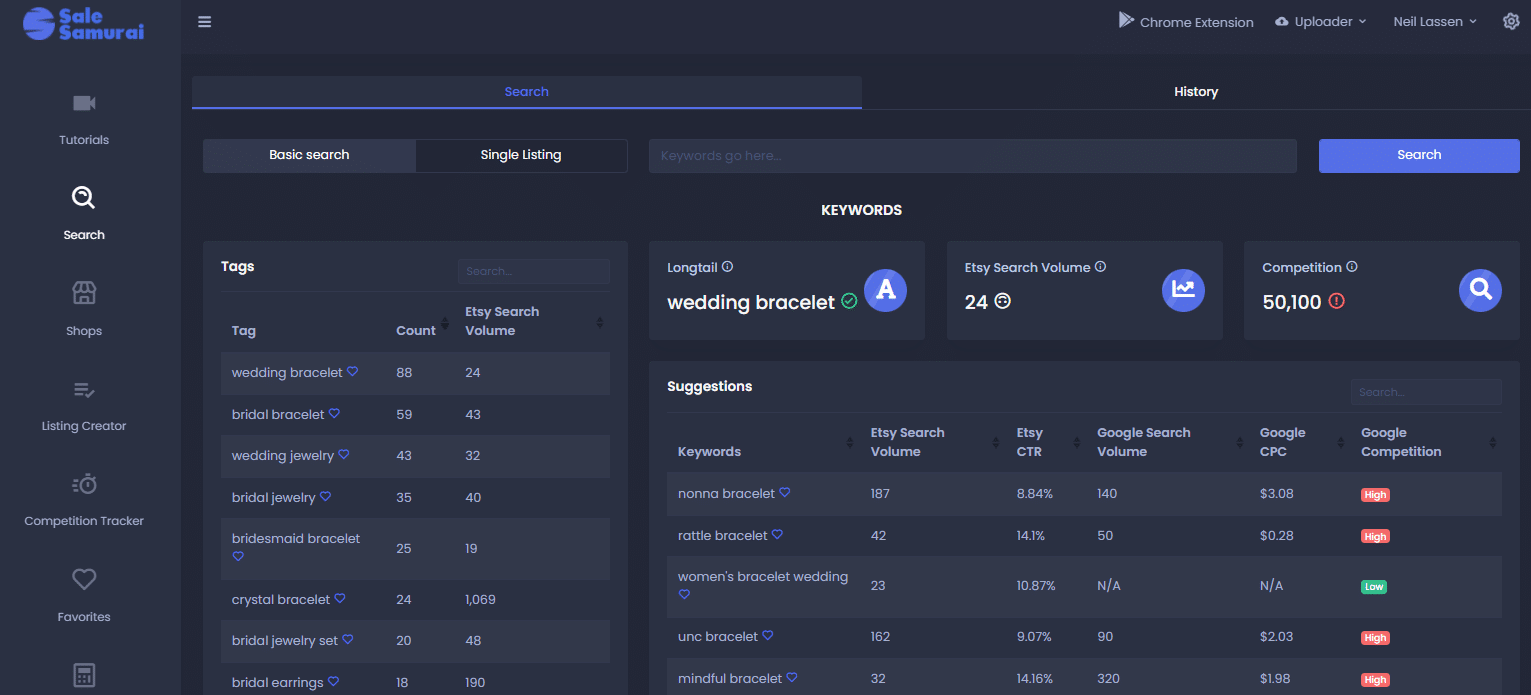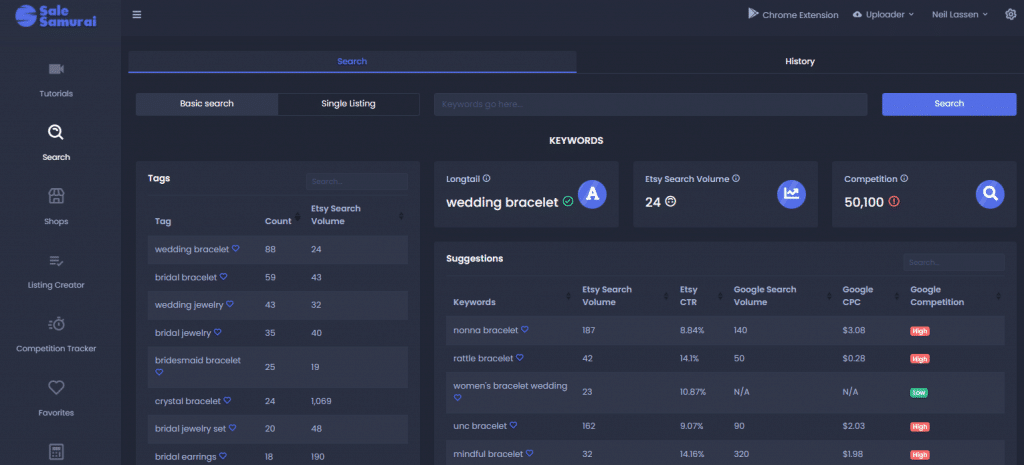 Next, you'll see actual listings relevant to that keyword you're researching. Insights here include average views, average likes, and average number of photos of the top-selling products in those listings. Something to note here is that although likes don't necessarily correspond with sales, they do serve as social proof that people have an affinity for the product. Regarding the listings themselves, you can choose to view 5, 25, 50 or 100 at once. You'll also be able to get information about competitor's prices, shipping days, views, photos, likes and details. All of these columns are "sortable", meaning you can prioritize your research based on the particular traits of those listings.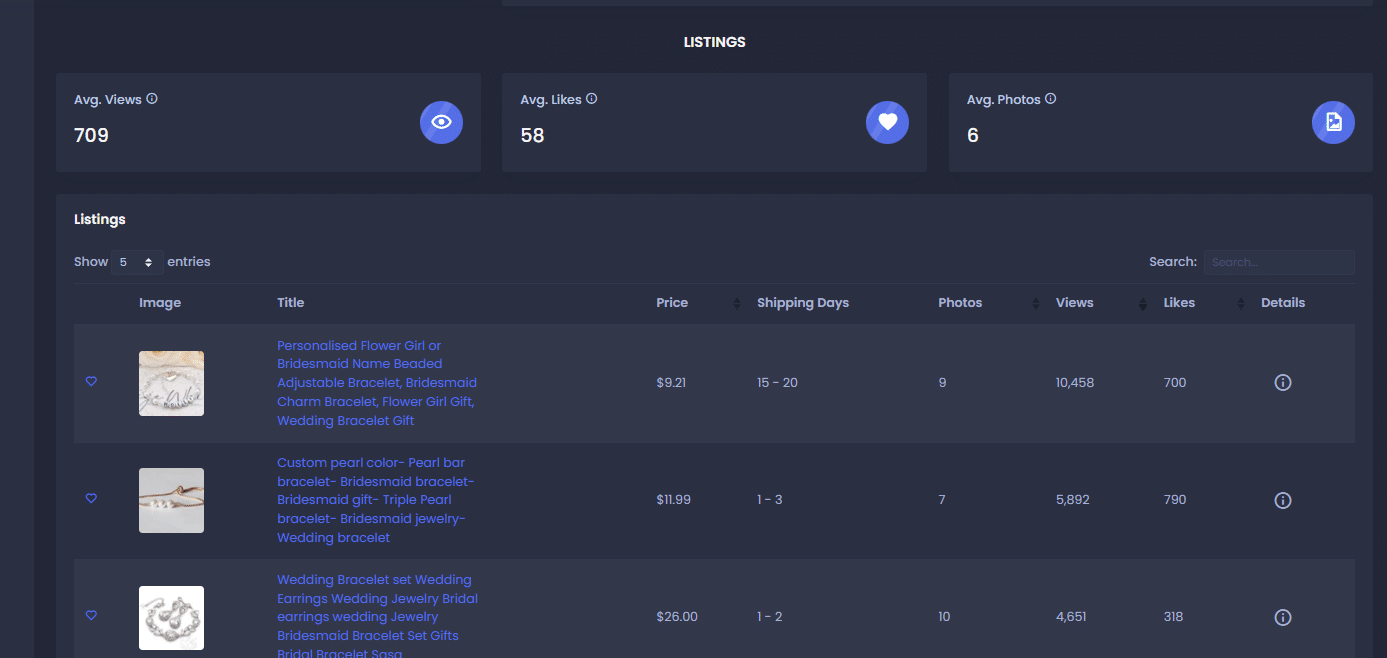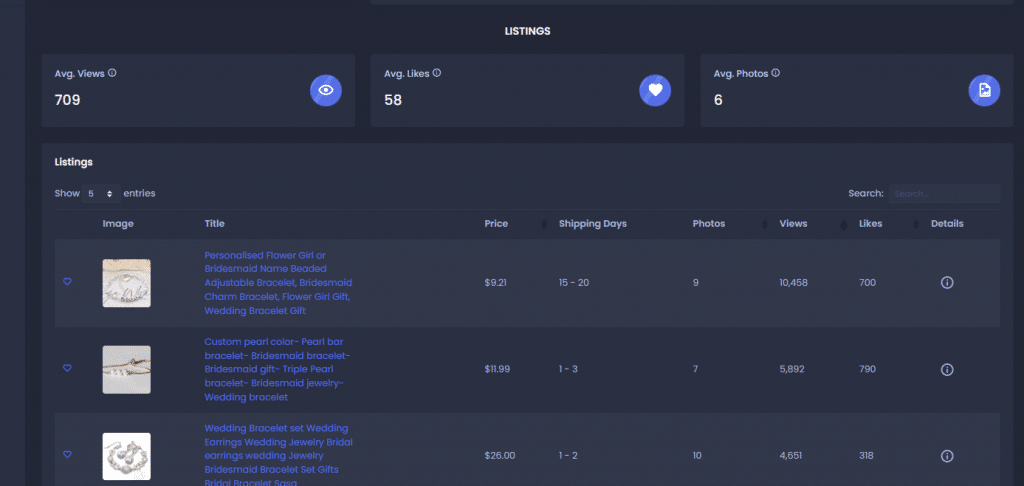 Clicking on the details button at the end of each
listing
will give you a lot of information and take you to the single listings page. Here, you'll be able to see the title of the product, what category the product has been put in, how many characters are in the title, etc.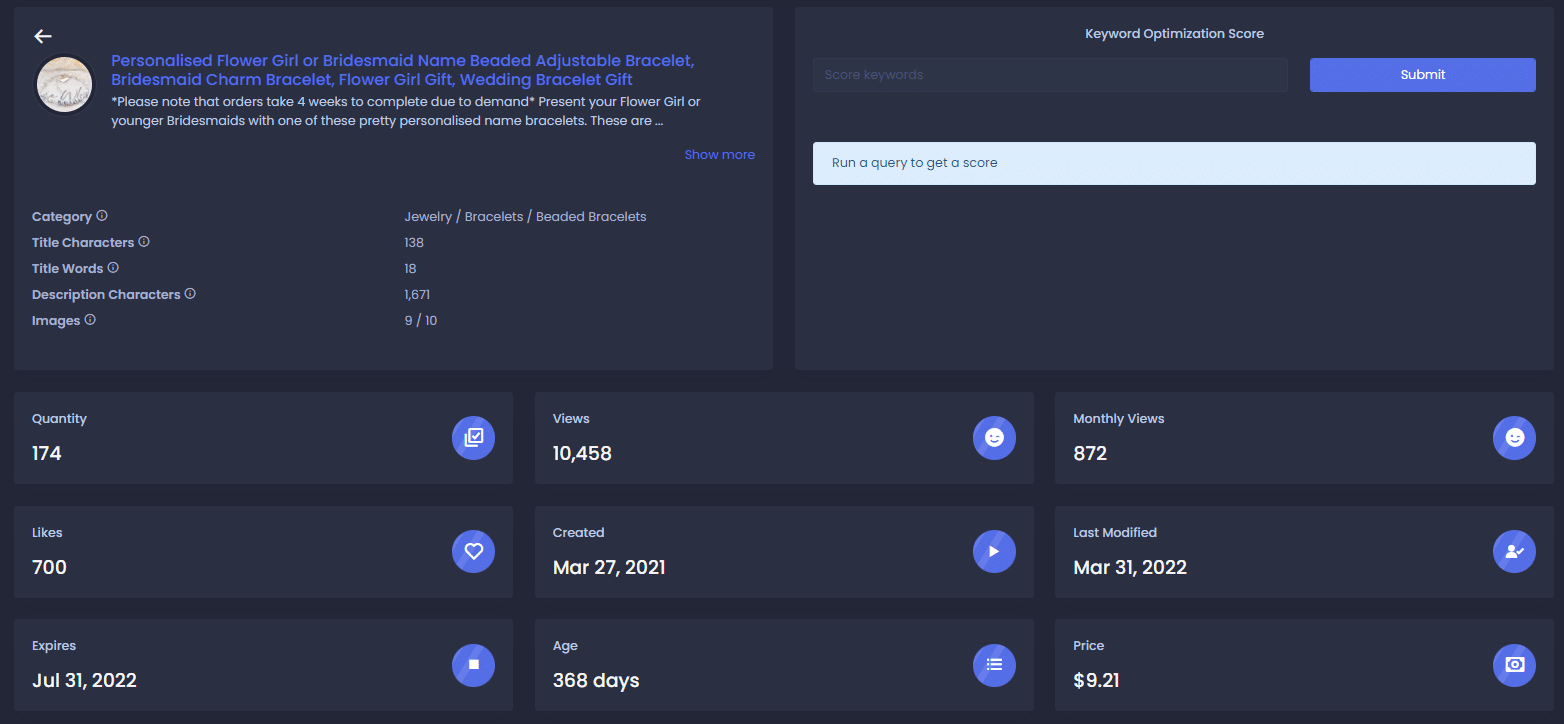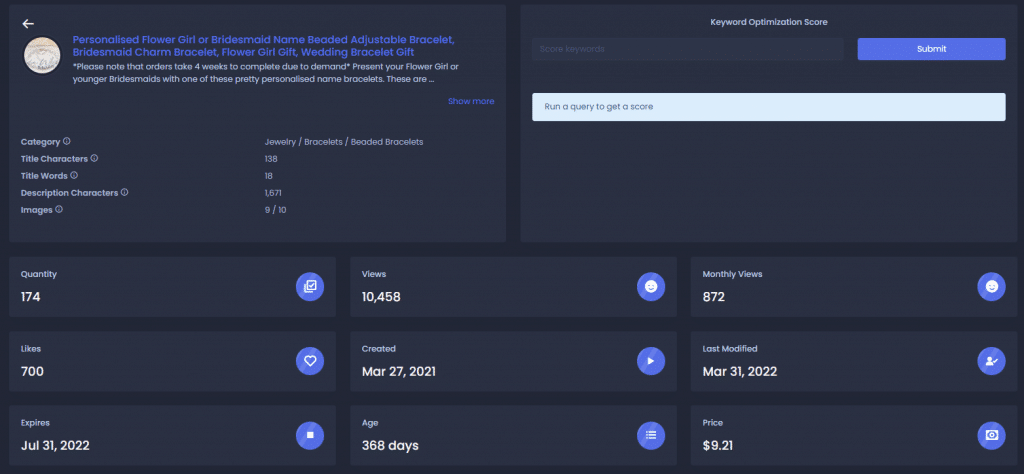 Finally, at the very bottom of the page you'll see the price spread of listings, which include your researched keyword. Here, you can get an idea of what you should be pricing your own product at. You can also see the average shipping days and shipping costs so you know where and how your product will stack up.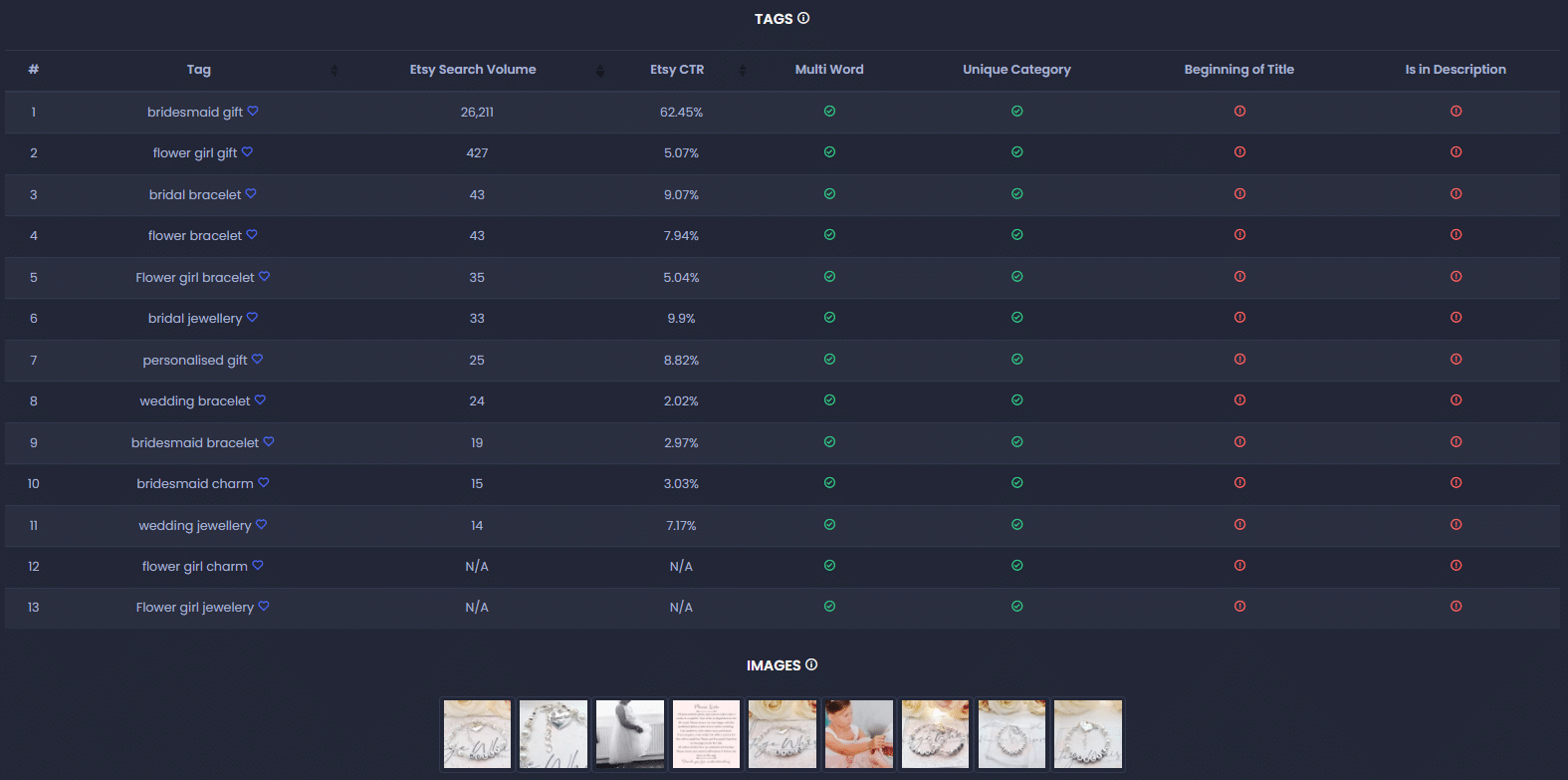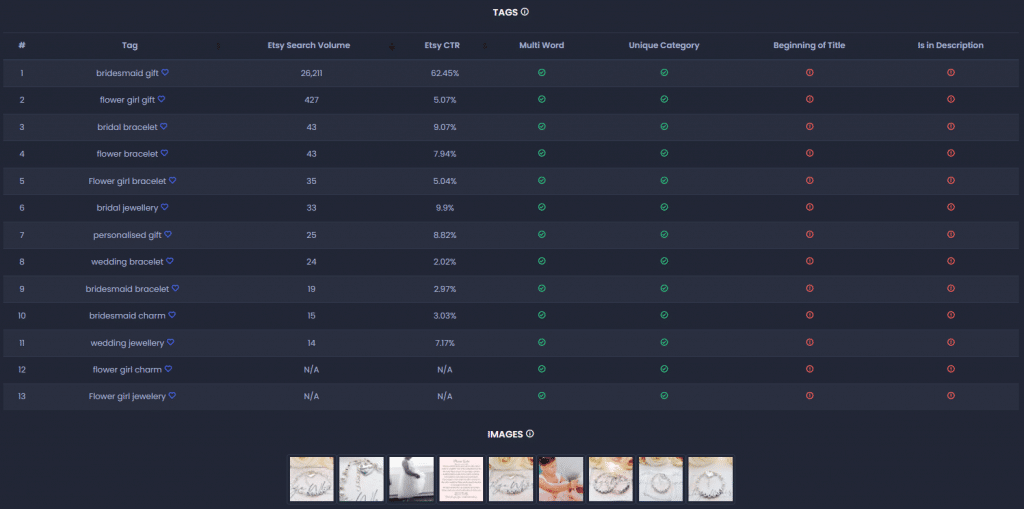 Sale Samurai's "Single Listings" Search


Next is the "Single Listings" search function. By entering the URL of a specific listing, you'll get quite a bit of information about the offering. This includes how many products are in stock, when was the listing created, its price and age, when it was last modified, how many views it's gotten (total and monthly), and when the listing expires. And if you scroll further down, you'll see all the tags they used to get in front of their audience. For example, you'll be able to see the search volume for each of the tags (if available), if they're multi-word tags, a unique category, if they're in the beginning of the title or if they're in the description. This is important because if you add your tag to the beginning of your title, it'd be considered front-running a listing, which helps you get better rankings on Etsy search results. Finally, you'll be able to scroll to the bottom and see the actual
images
that the Seller has used.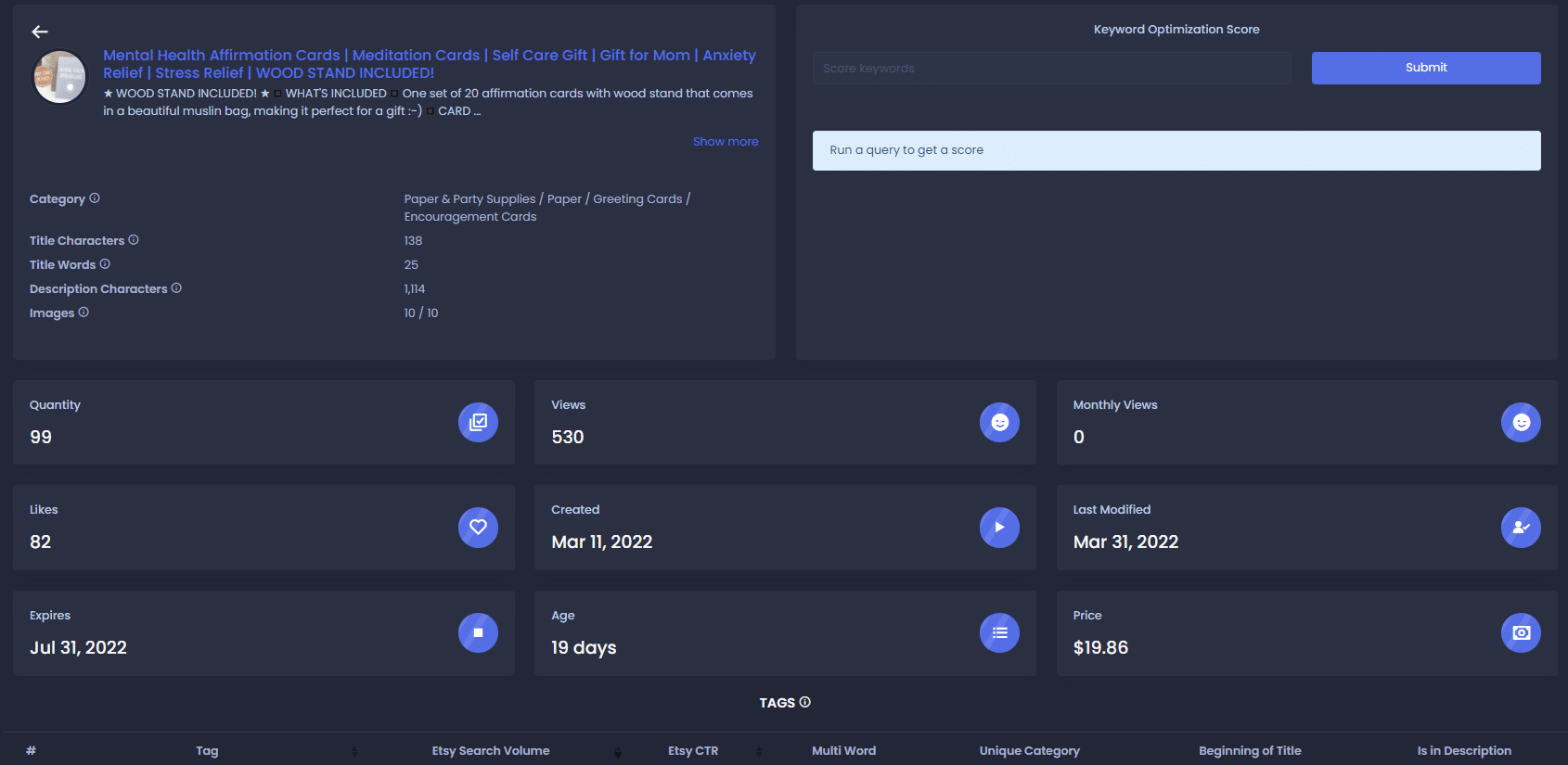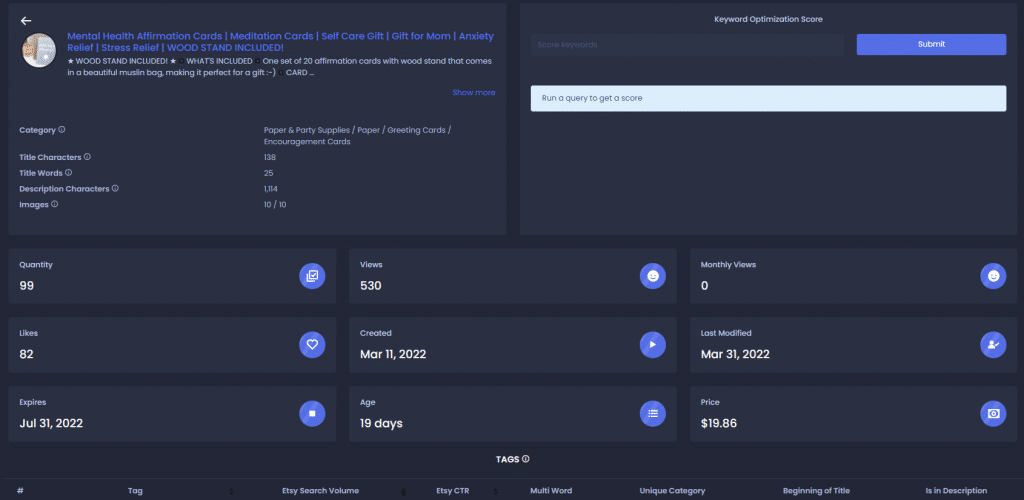 Going back to the top of the page, you can get a keyword optimization score for each of the tags the Seller is using. For example, if you type in a keyword in the keyword box, you'll be able to see whether the keyword is present in the title or if it is present in the first 40 characters. The software will then provide a grade for the listing.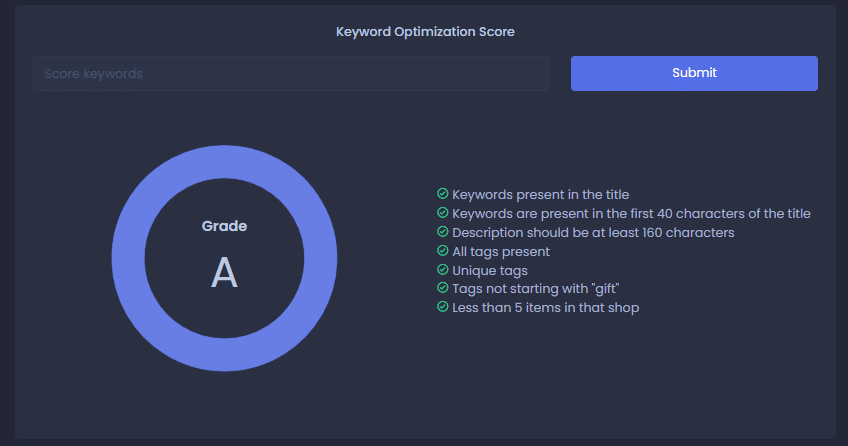 Finally, you can look at the History tab, which is right next to the Search category at the top of the interface. This will display other searches that you've made for various keywords and products at an earlier period. For each keyword, you'll be able to see if it's long-tail or not, the number of searches per month, the competition, and when you actually made that search. It's great for keeping all your information in one spot.
A Quick Etsy Case Study
Say that you're great at creating artsy, interesting, and unique mugs. Whether for camping or for a morning coffee. The market is massive as evidenced by the 50,100 listings on Etsy. However, demand is also big, with 26,207 user searches per month. The average views of this type of product is pretty high as well at 2,171. And there are 257 likes on average with around four images per listing. This should tell you that the product category is worthy of your time, albeit pretty competitive.


Now, we get to the nitty gritty of things. The average price for mugs is $21.03. Meanwhile, the average number of shipping days are four with an average shipping price of $6.42.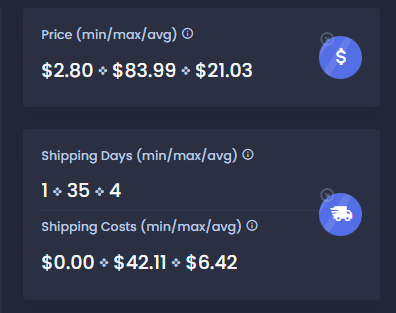 You should aim to price your
handmade
mugs competitively according to these insights. And who should you aspire to emulate? "PrettyCollected" is a top Etsy pick in this item category with a special "Hello Pumpkin" orange campfire mug. It speaks to those who enjoy pumpkin spice lattes and this is already evident in their listing title. We can consider this particular product to be placed in a niche – namely the campfire mug niche. However, the product itself is successful because it follows a well-defined theme revolving around pumpkins and pumpkin-related pop culture. This specific product goes for $18.00. It can be shipped to buyers in between two to four days. The Seller has used a total of six photos to illustrate the product. But what's even more interesting is that this pumpkin spiced latte fall mug has a whopping 98,066 views and a corresponding 19,183 likes.
Analyzing A Simple Mug Can Get You Pretty Far
Now that we have all the numbers together, we can draw some conclusions. First, this Seller has entered an item category with a high Etsy search volume. Then, they've defined a niche because campfire mugs are much more specific than other types of coffee mugs out there. They've also cornered the market with an attractive price of $18,00, much lower than the average price of $21.03. The shipping time to get the product to the customer falls just within the four-day average for this category and shipping costs are considerably low as opposed to the highest shipping price being $83.99. This Seller is also garnering multiple likes and the product is evidently of a high quality because it's ideal for the fall season when camping and pumpkins are popular. When entering the URL of this Seller into the "Single Listing" search box, we also get a lot of other detailed information. They've placed this product into the "Home & Living / Kitchen & Dining / Drink & Barware / Drinkware / Mugs" category, with 126 title characters and 20 title words.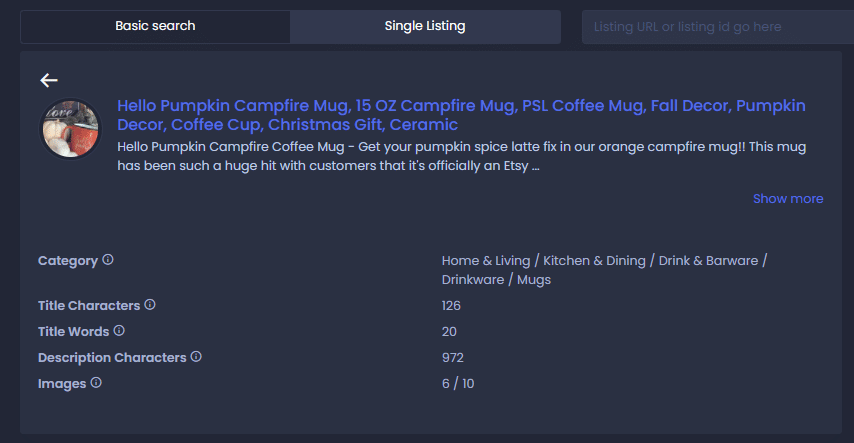 The total number of description characters is 972 and they've used six images to showcase their product. Created in September 2016, this Seller last made a
sale
on March 23rd 2022. And lastly, "PrettyCollected" gets a score of "A" for their use of the word "mug" in this listing because it's not only present in the title, it's present in the first 40 characters or the title. The description falls within the 160-character limit and all tags are present. Ultimately, a pretty strong strategy on the part of this Seller.

Emulating "PrettyCollected's" strategy, you will be able to use Sale Samurai's Search tool to help you gain all the insights possible to optimize your listing, too. This means you'll be able to boost your efforts in terms of picking the right niche, the right keywords and the right price for the right audience.
In Conclusion
There's no other tool on the market that can yield such an impressive array of results when doing specific searches – whether for keywords or for specific offerings. Sale Samurai's Search tool offers users a comprehensive all-in-one solution for absolutely everything they need to optimize their listings on Etsy. Whether you sell camping mugs or anything else on the platform,
Sale Samurai
can seriously help you make the most out of every listing. It does this by not only checking out what strategies competitors are using, but also how you can take these strategies and turn them into a profitable venture.