Remember the time when you had no other option but to save important data in notebooks, on sticky notes, or flying paper? You probably don't. Neither do we. The world around us is so digitized that it's hard to imagine relying on human memory or paper to save and organize information. This is only a natural evolution in an environment where information costs a fortune. When it comes to running a successful business,
one of the priority pieces of information that you'll need to have access to and keep tidy is the one gained from research.
This is where
Sale Samurai comes in
. The software can provide all of the business intelligence you need to sell like an expert, list the products that people are looking for, and enjoy huge traffic. But the tool is so powerful that it could become hard to track your discoveries. Well, not if you make the most of the 'Favorites' module.
Unlocking The Potential Of Sale Samurai's Favorites Module
You've probably come across the 'Favorites' module on a number of online apps, platforms, or software solutions. Unfortunately, the truth is that these modules are often left in the dark and are seldom exploited to their full potential. However, in
Sale
Samurai, this feature can make a real difference when it comes to doing your research and creating your strategy as a Seller on Etsy.

What Is The Sale Samurai Favorites Module?
In short, Sale Samurai's Favorites module is designed to help Sellers keep their research organized and save time. Information that is relevant and valuable for your Etsy business can be at your fingertips whenever you need it by using this tool. What do we mean? The Favorites module is separated into two sections – listings and keywords.


Any
Etsy Seller
using Sale Samurai can keep track of the tags and listings that they've found interesting or useful for growing their Etsy business. This guarantees that you will never lose precious information, you can organize ideas in one place, and you'll be able to turn insights into an actionable
strategy
at any time.
The Features You Want To Exploit
The Sale Samurai features module is simple, but powerful. The key features include:
Adding listings you've found useful from doing research on Sale Samurai to different Favorites folders
Adding relevant keywords or tags to different Favorites folders
Having the ability to export the information from your Favorites folders to a CSV file
So, say you're a beginner Seller on Etsy and you're wondering where to start. You'll probably want to find out what your competitors are doing. What keywords are they ranking for? What do their listings look like? How many
images
do they have in their listings? You can find all of this information and more by using the 'Search' feature in Sale Samurai. However, chances are that you'll start broad and at some point, you'll feel overwhelmed by the amount of information you're seeing. Even if you've chosen a specific type of product, the tags and listings from search results could be thousands.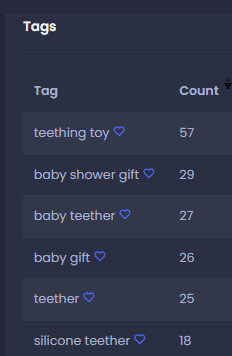 You'll notice a heart placed after each keyword that appears in your search and before each
listing
. By clicking on it, you can add them to your Favorites folder, saving them for later and keeping them in one place.


But what can you do with this information and how does it contribute to your strategy as an
Etsy Seller
?
Using Favorites To Enhance Your Etsy Strategy As A Seller
Fundamentally, the Favorites module is designed to help Etsy Sellers create strategies that will help them sell more and sell better. How? By keeping all of the valuable information and business intelligence neatly cushioned in one place.
Quickly Spotting Opportunities
One of the ways you can use the Favorites module is to instantly spot opportunities for launching new products to market and diversifying your catalog ideas. Let's imagine that you're a brand new Seller without much experience on the platform. You've done some research and you've set your eyes on three different product niches. However, you're not sure which product to start with nor can you make up your mind about the designs that would sell, the appropriate prices, or the tags you can use for your listings in the future. By using the features provided by the Favorites module, you can turn your research journey into a pleasant ride with zero chaos. Here's how. Go to Sale Samurai's 'Search' tool and run a separate search for each one of the products you're brainstorming for. Start by saving the keywords that make an impression (we suggest aiming for those with high search volumes and a lower count as they're less competitive). Create a separate Favorites folder for each product or niche you're browsing for. Do the same for the listings that receive a lot of views and comments as this usually means they sell well.


No matter how long your research takes (it could be days, weeks, even months), you can go back at any time and analyze the information from your Favorites folders to spot opportunities. Maybe there are popular keywords that will point you towards completely new products or listings that use extremely creative images that you can use for inspiration.
Optimizing your listings
The Favorites module can also come in handy when it comes to optimizing your existing listings. Say you're a Seller on Etsy and you have a number of products available for sale. However, some of them are not performing very well. If you've done your research and saved related keywords in a designated folder, you can quickly look at the most searched for keywords from your niche. If you notice that there are keywords that you're missing from your listings, you can quickly make updates to enhance the chances of buyers finding your products.


You can also use the listings section in Favorites to make changes to your prices, optimize your titles, and more. How will you know what to optimize for? Well, in your listings section in Favorites, by clicking on the title of the listing, you'll get access to all of the details about a listing that you've saved. Instead of going back to the search section, you'll have everything you need at your disposal with a click of a button. You can compare your listings to others that are best-sellers and see where you can make improvements.
Creating A Pool Of Inspiration
Last but not least, you can take advantage of Sale Samurai's Favorites module and use it as a pool of inspiration. Say you're an experienced Etsy Seller with a range of products you're currently selling. However, you feel that it's time to grow your portfolio and offer new products or even tap into new niches. The easiest way to get inspiration is to run repetitive searches to see how trends are changing, what products are showing peak sales, and what niches are attractive for Etsy buyers. Whenever you spot trends, add keywords or specific listings related to them in your Favorites folders. When you're in need of a creativity boost, simply login to your Sale Samurai account, go to your Favorites section, and see what opportunities you still haven't explored. Perhaps a few weeks ago you noticed a really attractive
handmade
rose inspired jewelry set that was attracting a lot of views, had tons of comments, and its sales price was high. You might have also saved a few high search volume keywords that buyers actively search for in the niche. You can use this information that you have already stored in Favorites to quickly choose a new product to launch, set its
price
, and create a top-performing listing.
Conclusion
Entering the competitive world of Etsy unarmed is a risky proposition. Making the most of Sale Samurai's Favorites module can help you keep your research well-organized and your ideas a click away. If you've turned a blind eye to this powerful yet simple tool, perhaps it's time to give it a try and shut the door on data chaos.