The Etsy marketplace is competitive to say the least. With over 60 million products, it can make your head spin to try and figure out what to sell, how to sell it, and how to price it. Luckily, there's so much variety that there's a little bit for everyone. This also means that there's opportunity for financial gain if you follow the right strategy and approaches.
This is why Sale Samurai was created – to help you make the most of your Etsy research and the competition out there. It will allow you to figure out a successful strategy, saving you hundreds of hours spent head-scratching.
So, without further ado, here's a brief overview of some of the platform's main features.
What Does Sale Samurai Do?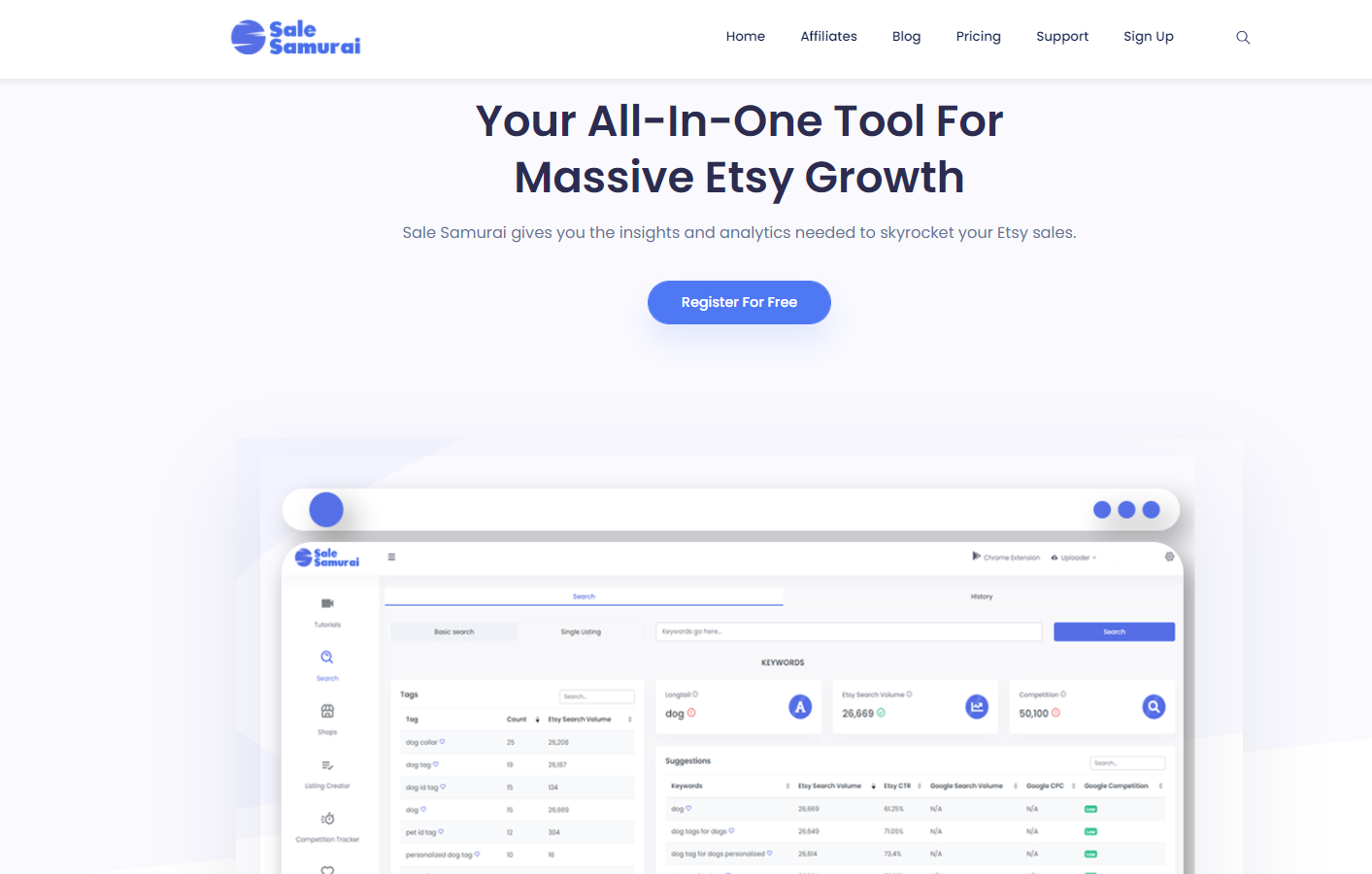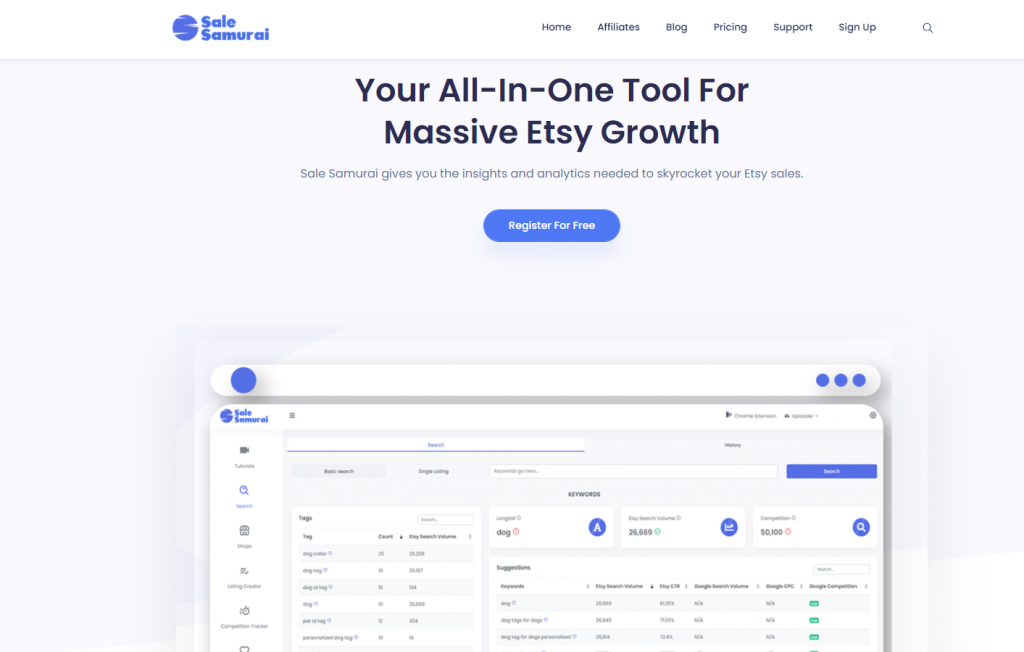 Before we jump into the key features of the Sale Samurai platform, it's important to know what exactly it can do for you as an Etsy Seller. It essentially aggregates a whole bunch of data from Etsy to help you see how and what exactly your competition is doing to ensure they get an audience and make sales. This business intelligence tool is ideal for anyone wishing to sell on Etsy because it offers everything you need in one place with just a few clicks of a button.
What Are The Key Features Of Sale Samurai?
Shops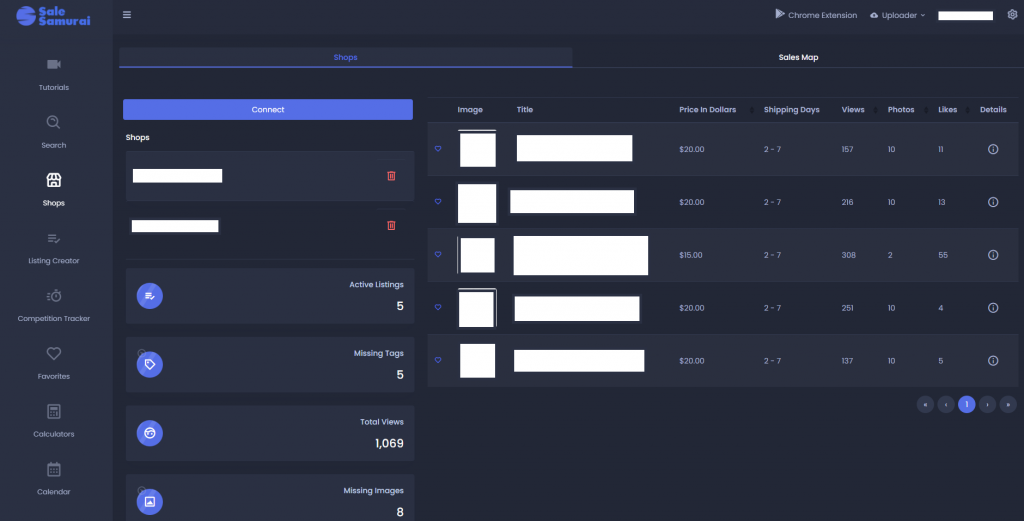 As a starting point, you will need to connect your Etsy account to Sale Samurai. When you select "Allow Access", the data will be brought up in Sale Samurai so that you can start analyzing and using it. Once your shop is connected, the data will show you at a glance how many listings you have, how many of those listings are missing tags, the number of shop views, and how many of your listings are missing images. Tags and images are crucial on Etsy because they help customers find your shop and browse through the products' images more effectively. With no images, your chances of getting your customers' attention become slim.


You'll also be able to see your listings including titles, tags, shipping data, views, photos, likes, and details. By selecting "Details", you'll be taken to the single listings page where you can look at the tags, the search volume, and run keyword optimizations.
Search


The Search tool is broken up into a "basic search" and a "single listing search. All you need to do is type in your keyword and you'll be able to see what Etsy Sellers are doing to get in front of people, how many people are searching for that keyword per month, and of course, the competition. When you run the search, you'll be able to see all the tags used on the top-selling products and how many times they're being used. Of course, you'll be able to add them to your favorites.
You'll also be able to see information about the keyword you entered as well as the search volume (per month) and competition (how many products are available for sale on Etsy).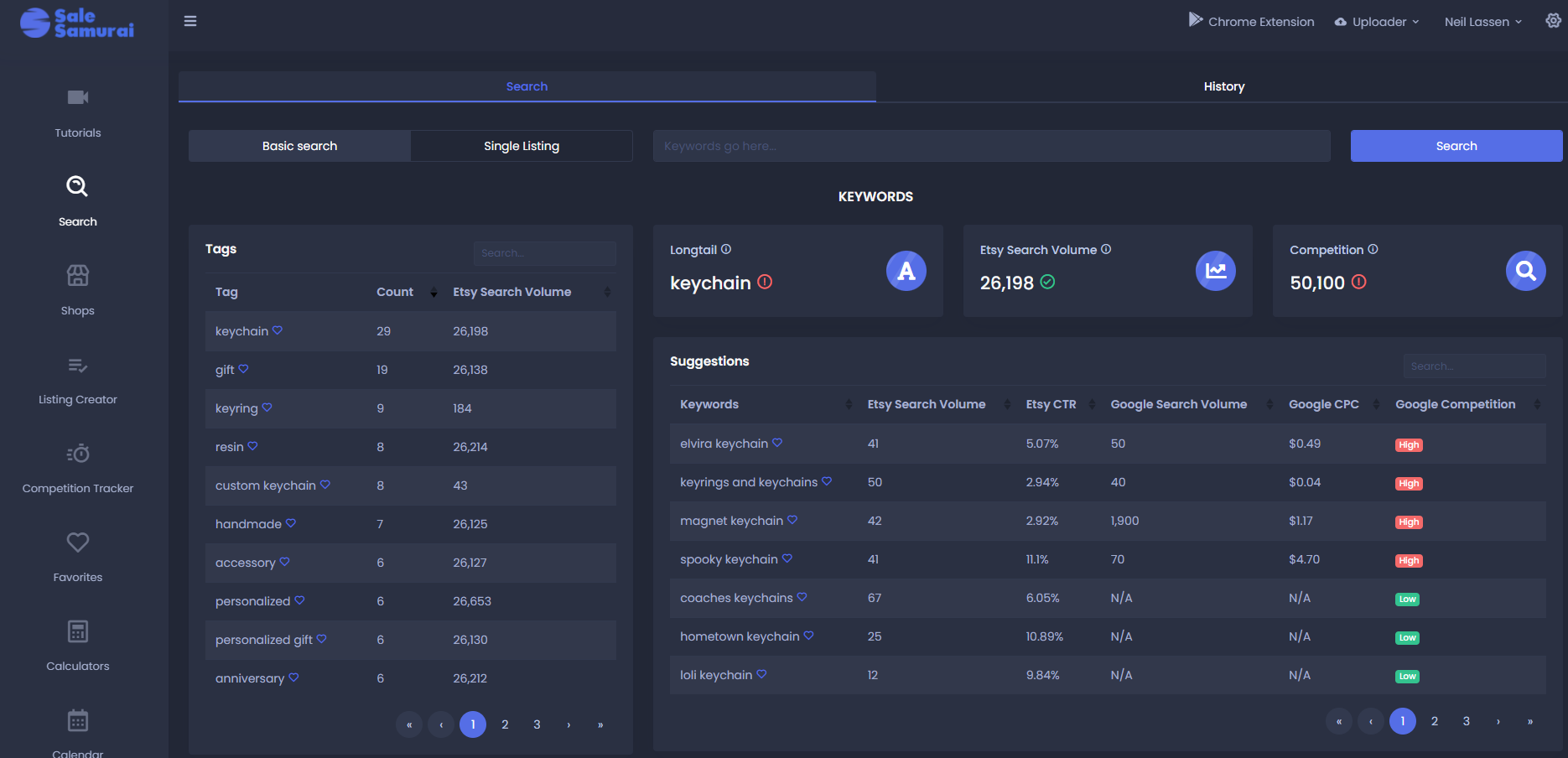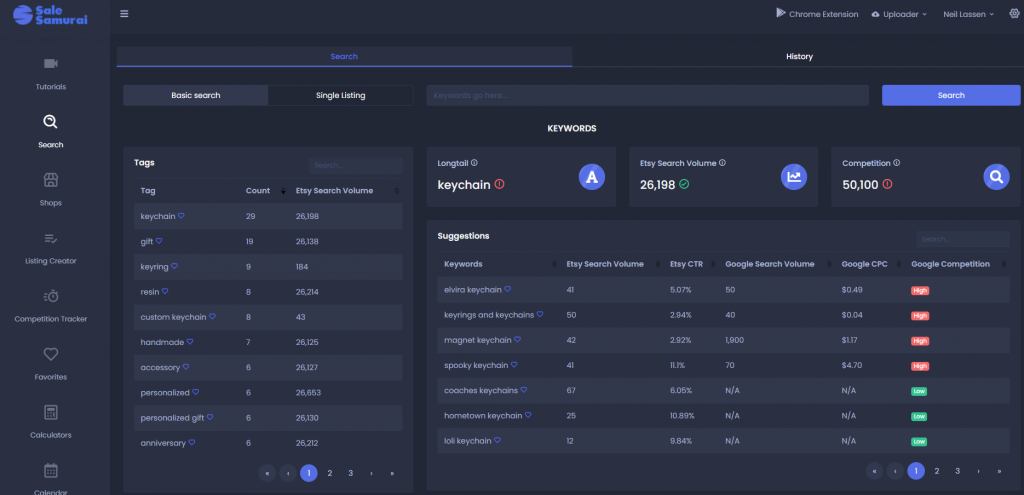 The suggestion box gives you suggested keywords and corresponding keyword volume for a product which you might consider creating. You'll see listings, average views, average likes, and average number of photos of the top-selling products. And although "likes" don't necessarily correspond with sales, they are social proof that people like the product. Of course, you can sort all the results by ascending or descending order.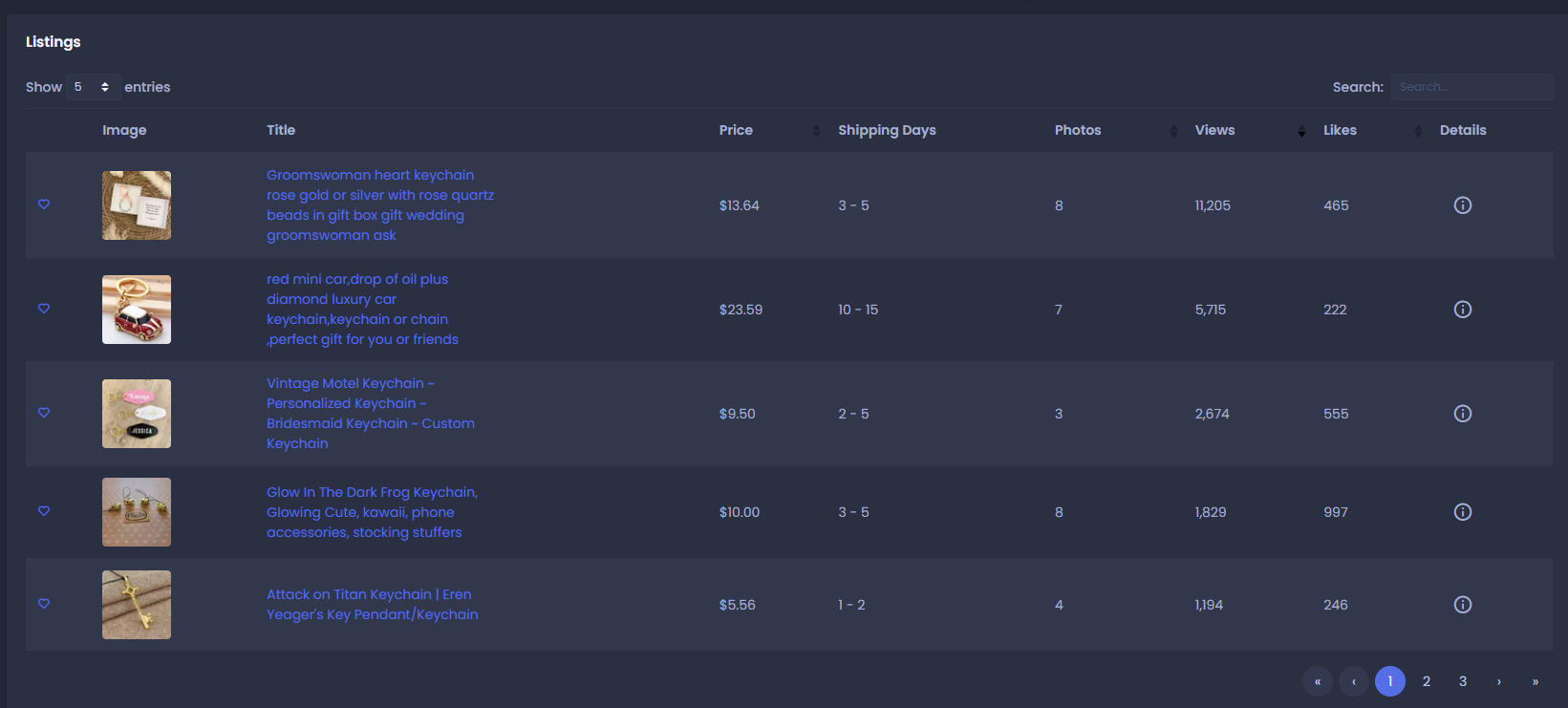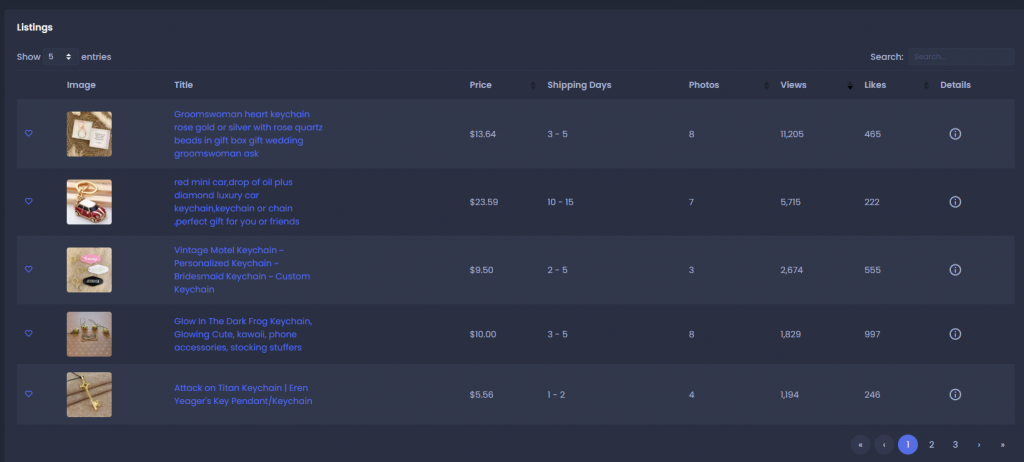 For the listings, when you click on "Details", you'll be able to go into the single listings page. It will show the title of the product, the category, how many characters there are in the title, the number of words, etc. Also on the single listings page, you'll be able to view how many items there are in stock, when the product was created, its age, when it was last modified, how many views it's gotten, and when the listing expires. Scrolling down will help you see all the tags used, the keywords, and the images used for the listing. Plus, there's the ability to get a score for the product you found in terms of how it's been optimized for Etsy SEO.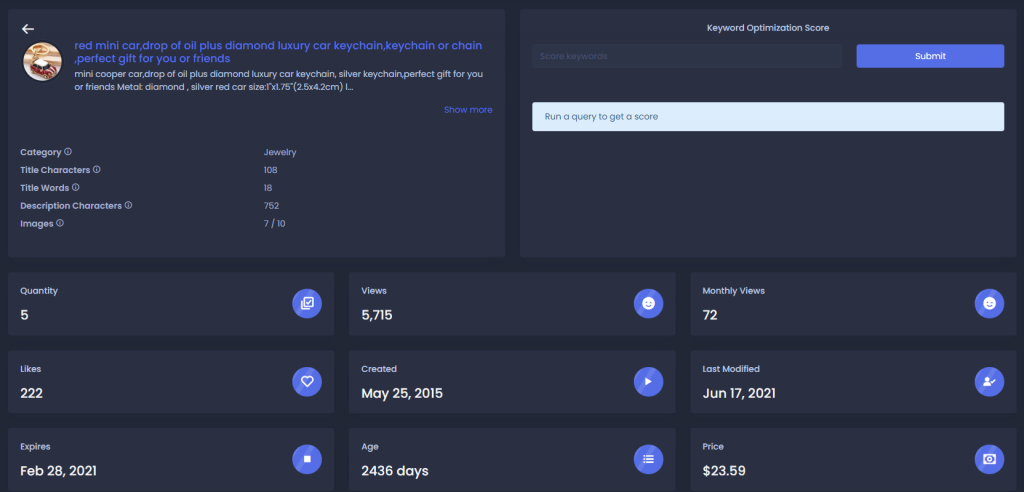 Also available is the price spread over time, shipping days and costs of the listings in graph form. This is a great way of helping you figure out how to price your products and how to optimize your listings. The History tab enables you to see what searches you've done recently, essentially helping you keep all the information in one spot for ease and convenience later.


Competition Tracker
A great way to look at positions you want to be in or track the competition for certain keywords, the Sale Samurai Competition Tracker is broken down into two tabs: shops and keywords.


With 'Shops' – you can pick any shop from Etsy and add it. You'll see its number of sales, listings, how many likes they have, and how old the store is. The "Details" button shows you how many sales that shop has generated. You can also click on the shop and that will take you to the store. You're able to add and research as many stores as you like.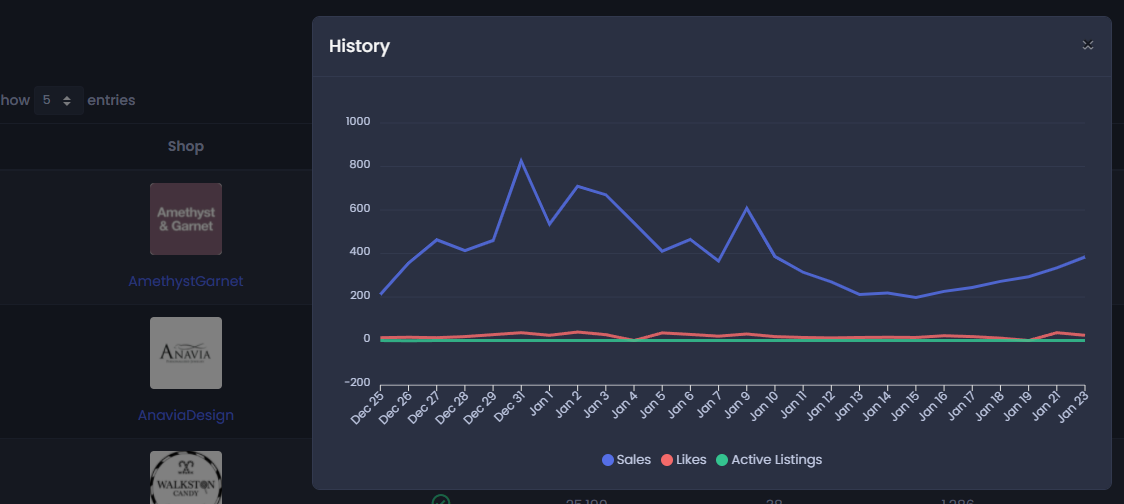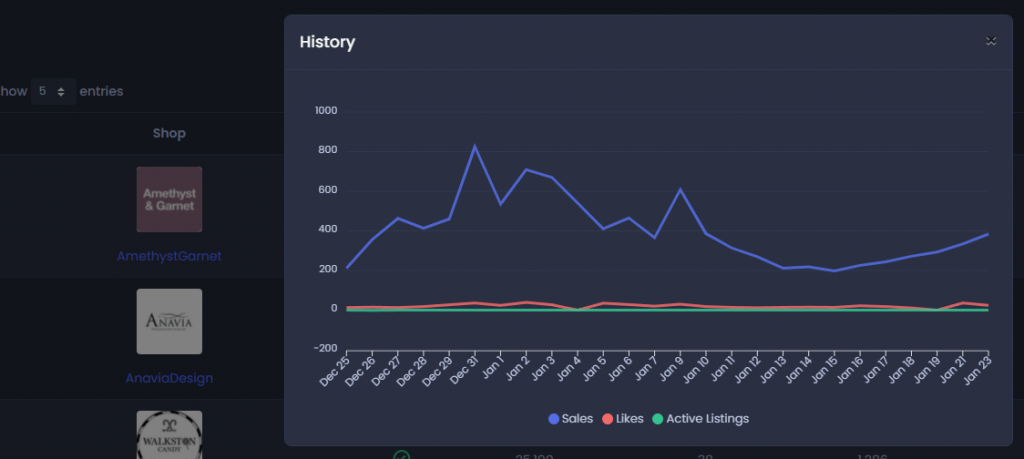 With keywords on the other hand, you can track different keywords used currently or in the future. Simply add the keyword and they'll be added to your list. Because it takes time to pull the data, it will be possible to see it on the following day.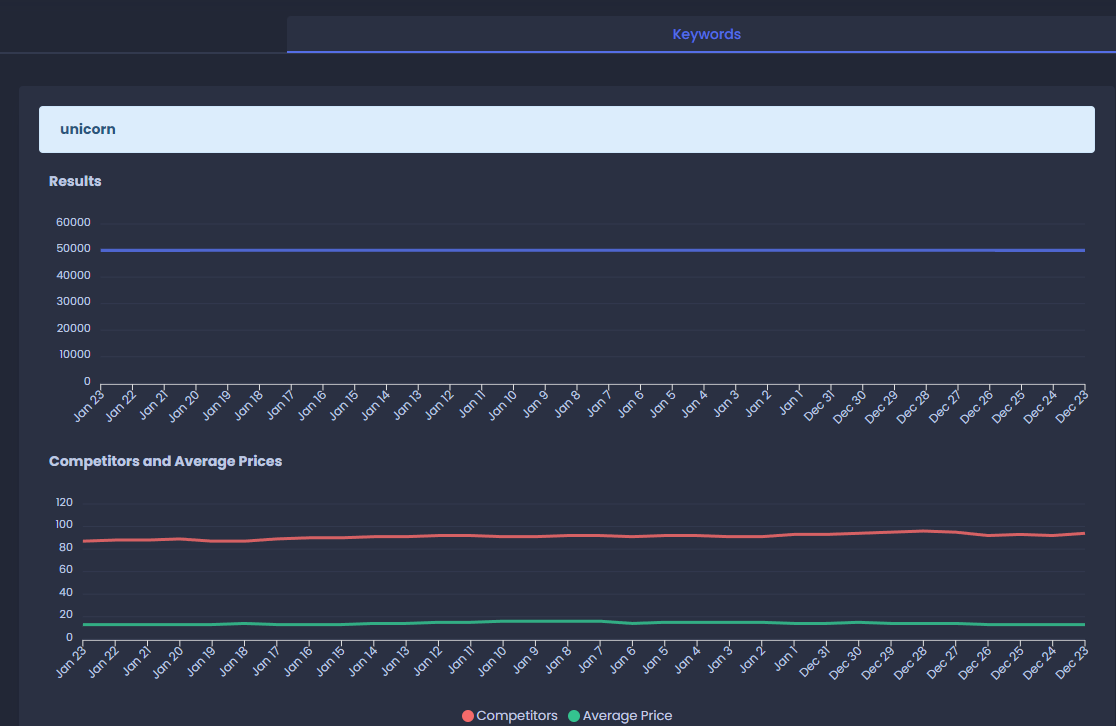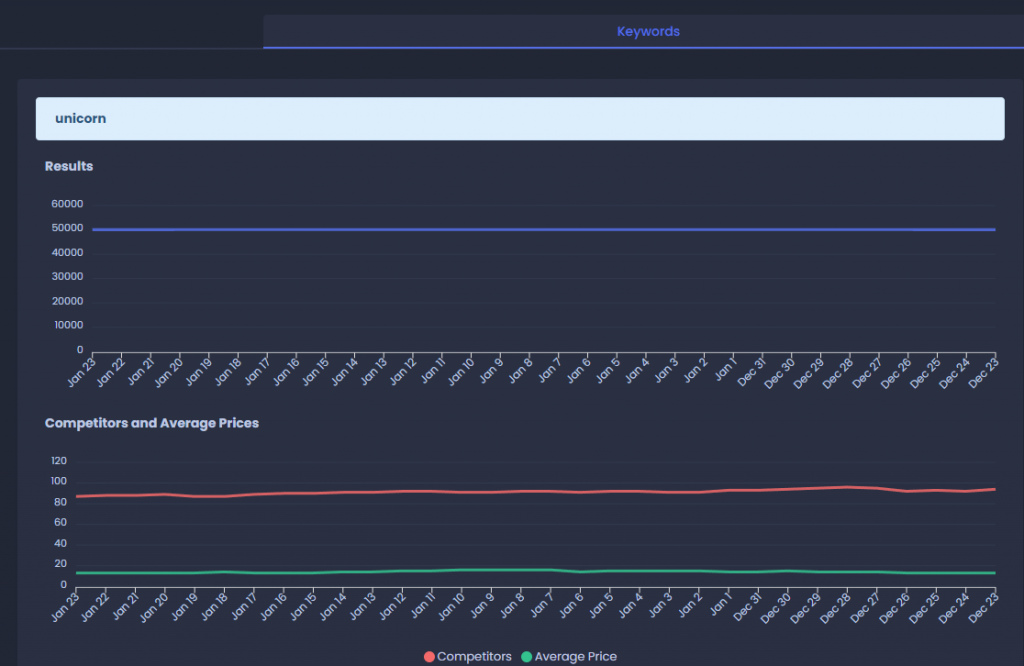 Both the Shops and Keywords tabs help you track the competition and see how they're doing. You also get an idea of what methods they're using, which you can use to implement in your own Etsy gig.
Favorites


The favorites module on Sale Samurai has a Listings and Keywords tab. To save listings or keywords, you need to do some research first. All you need to do for this is to go back to the Search module where you can see your tags or keywords. Then, click on the "heart" icon and it will be added to your favorites and the category you've chosen to add it to. Another bonus is that you'll also be able to export your favorites to a CSV file.
Calendar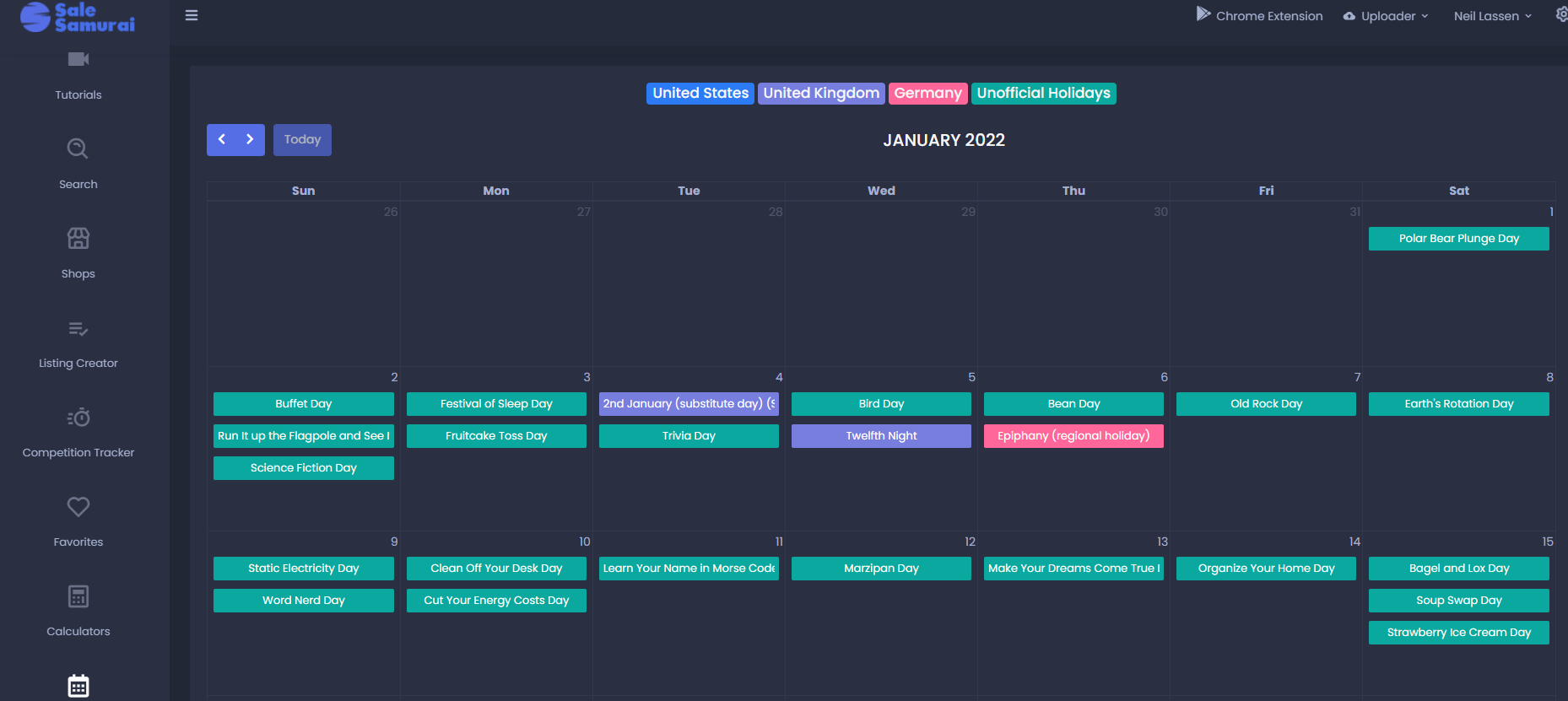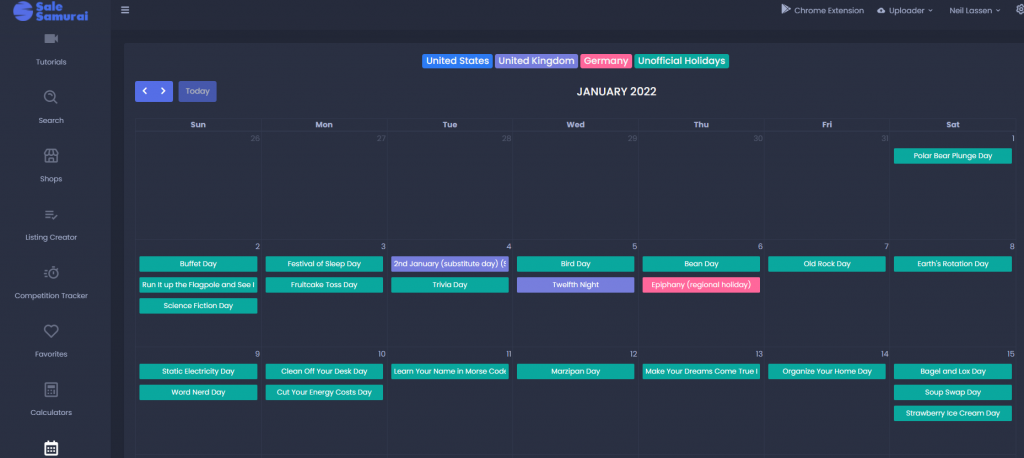 You want to be putting up listings that customers want and also ones they are looking forward to. The Sale Samurai calendar gives you ideas about upcoming holidays – both official and unofficial. It's an extremely helpful way to organize your thoughts regarding upcoming holidays and have your products for sale before the holiday happens so that you can catch every sale.
Chrome Extension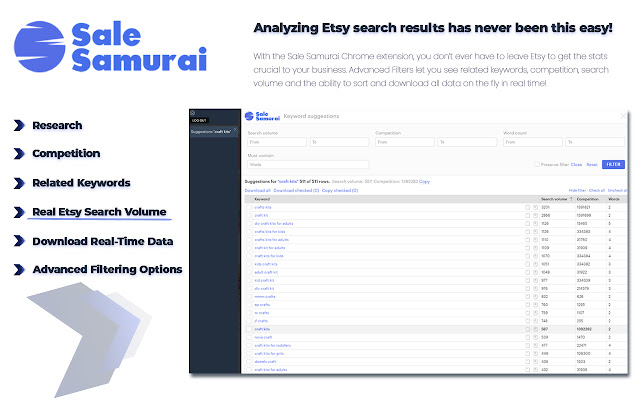 The Chrome extension helps you take the research from Sale Samurai to Etsy. The Etsy search will give you ideas of what you can possibly search for together with the monthly search volume. This is a powerful tool to give you the search volume, the competition, and how many words are being used. It reads all the information from Etsy to give you an opportunity to filter all the results. The "competition" option shows you how many products are available on Etsy. But, you can also search by word count to help you find longer phrases. All or a few of the results can be downloaded to look at later.
Uploader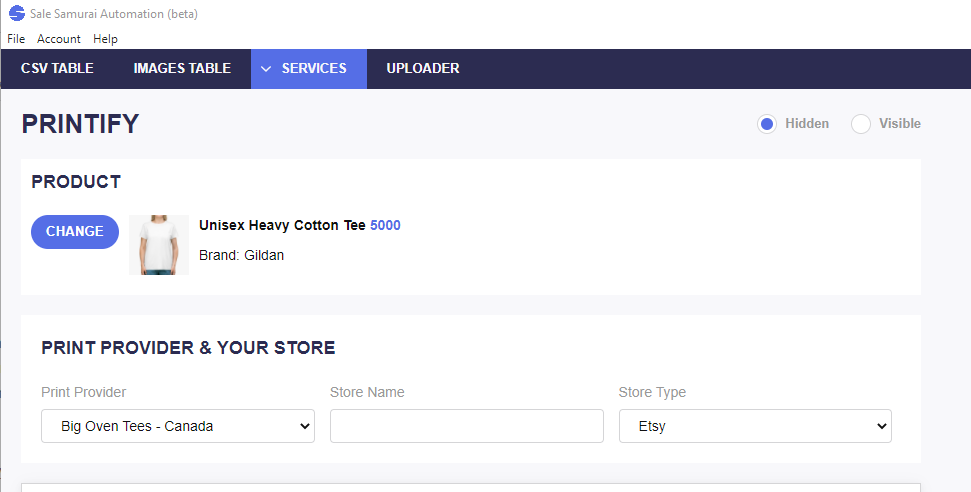 The uploader enables you to upload your print-on-demand artwork to different platforms such as Printful, Printify, and Gooten. When something sells on Etsy, it will automatically route through one of these connections. The software enables you to upload multiple products at the same time instead of doing it one by one.
In Closing
Sale Samurai is the ideal tool to help you maximize your profits on Etsy. Each of the platform's features is designed to help subscribers make more money through effective positioning, research, and sales. Trusted by thousands of e-commerce Sellers across the globe, you can opt for Sale Samurai for a modest $9.99 per month or a competitive annual fee of $99.99.
Go ahead and try the 3 day FREE trial. You'll never look at Etsy research and sales the same way again.