Becoming an Etsy Seller in 2022 is without a doubt one of the best ways to start a new side-hustle, explore a passion project, or turn a hobby into a full-time business! Etsy is a huge e-commerce platform with tens of millions of active users who either buy or sell handmade goods, craft supplies, and just about everything creative you could imagine. If you've ever thought about making money from something you love, then now is the perfect time to get on Etsy. Here is a list of the:
11 Best Selling Items on Etsy
Craft Supplies
Ready-Made Craft Kits
Creative Stickers
Custom Jewelry
Notebooks and Journals
Plants
Vintage Items
Wedding Stuff
Candles
Mugs
Pet Stuff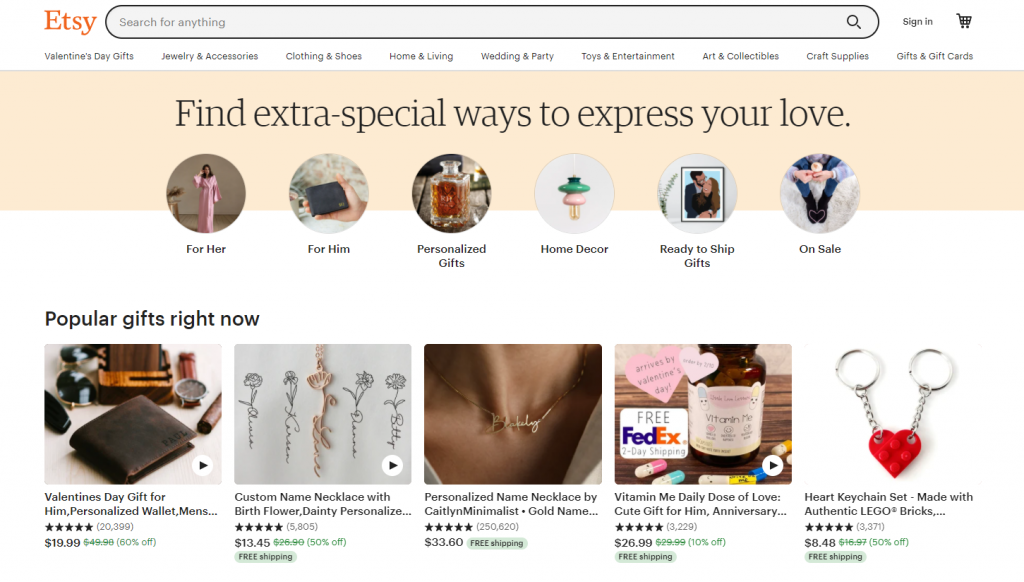 Just because something you make or are passionate about is not on this list does not mean it can't be a best seller. There are plenty of other categories and items that do exceptionally well on Etsy including paintings, custom t-shirts, and face masks; so if you believe in your products then start your Etsy shop today! Read below to find out more about selling on Etsy and why these items are doing so well especially in 2022.
Etsy Is The World's Most Popular Marketplace for Handmade Items
You may be surprised to learn that Etsy is actually one of the biggest e-commerce platforms in the world and the biggest when it comes to handmade goods.
In 2020, nine states in the United States had searched for Etsy more than Amazon or eBay.


Etsy is truly the go-to destination for anyone with a passion project or interesting hobby looking to make money. It's an excellent selling platform for creatives because it's so easy to use and takes very little time to get going.
You could set up your entire shop and listings in just a few hours. Think about that, that's an entire website dedicated to your creativity or interest in just a day!
Here are a few more stats about Etsy to get you going:
Etsy had 5.2 million Sellers in 2021

Active buyers on Etsy have grown exponentially year over year

There were over 89 million buyers on Etsy in 2021

Etsy has more than doubled revenue since 2019 (more than Amazon in the same period)
Don't wait any longer to start selling on Etsy because now is the perfect time to get in and finally do what you've always wanted to do!
Let's get into the 11 best-selling products and categories on Etsy for 2022.
11 Best Selling Items on Etsy
Without further ado here they are in no particular order:
1. Craft Supplies

Supplies will always be high on the list of best-sellers on Etsy.
Etsy is the perfect place to find items and supplies that are difficult if not impossible to find anywhere else. So being in the business of supplies is always good because the demand is right there on Etsy!
Think about it, even Sellers on Etsy are your customers when you sell supplies.
2. Ready-Made Craft Kits
Many kids have gotten used to learning from home. While children across the country are returning to school, the sentiment of at-home learning and creating is now bigger than ever!
Parents love getting their kids ready-made craft kits that are sustainable and safe for use.
Pro tip: take high-quality images of the kits both assembled and as they are shipped to give people a good understanding of what the products actually look like.
3. Creative Stickers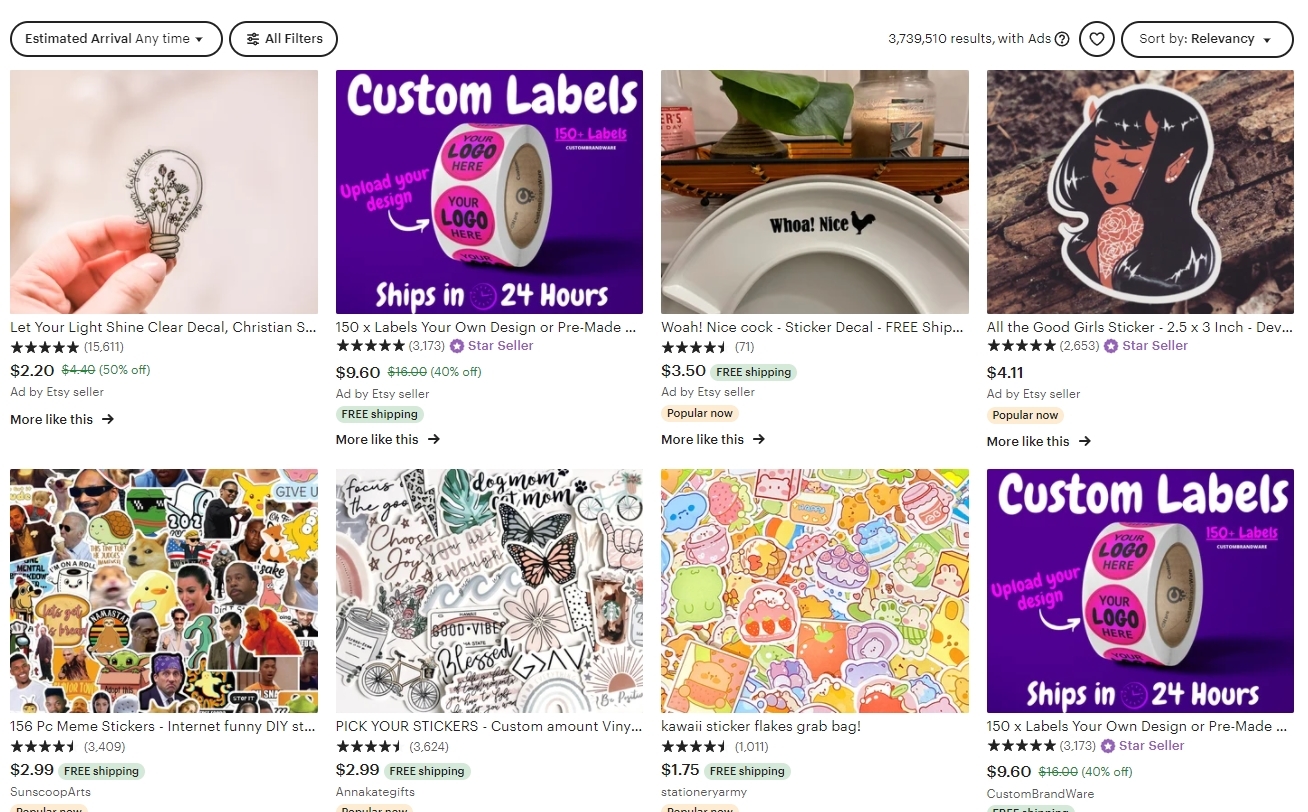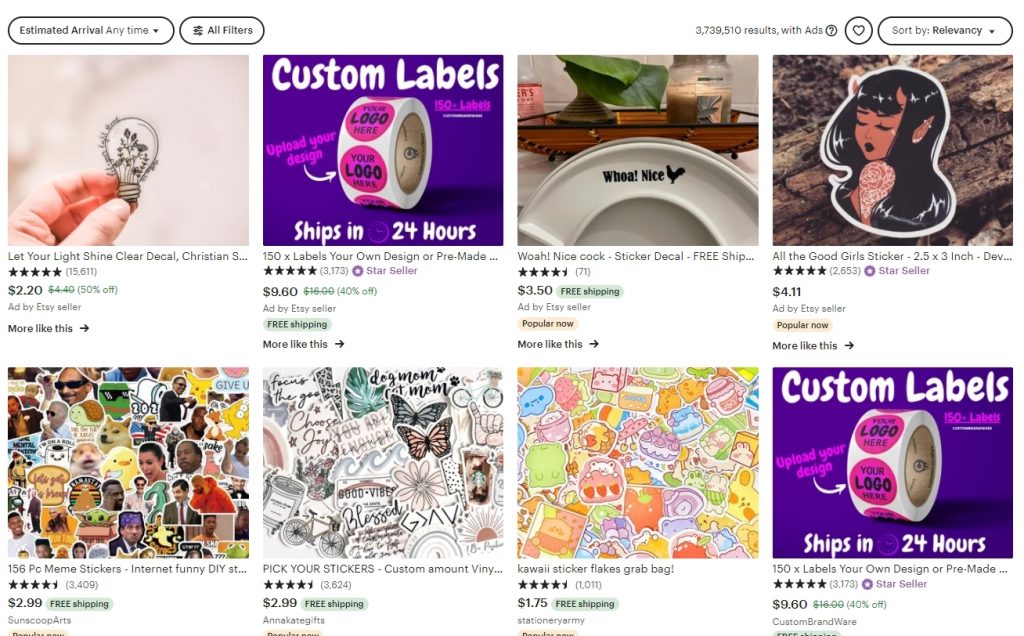 Funny enough, stickers are huge this year. Customized stickers are the way to go.
If you're a creative or a solid graphic designer, this may be the right choice for you. Margins are often smaller on stickers and they aren't high ticket items usually so you will have to rely on volume but hey, still a great product to get into!
Pro tip: Create larger sticker batches around a theme or your Etsy branding to increase pricing and revenue
4. Custom Jewelry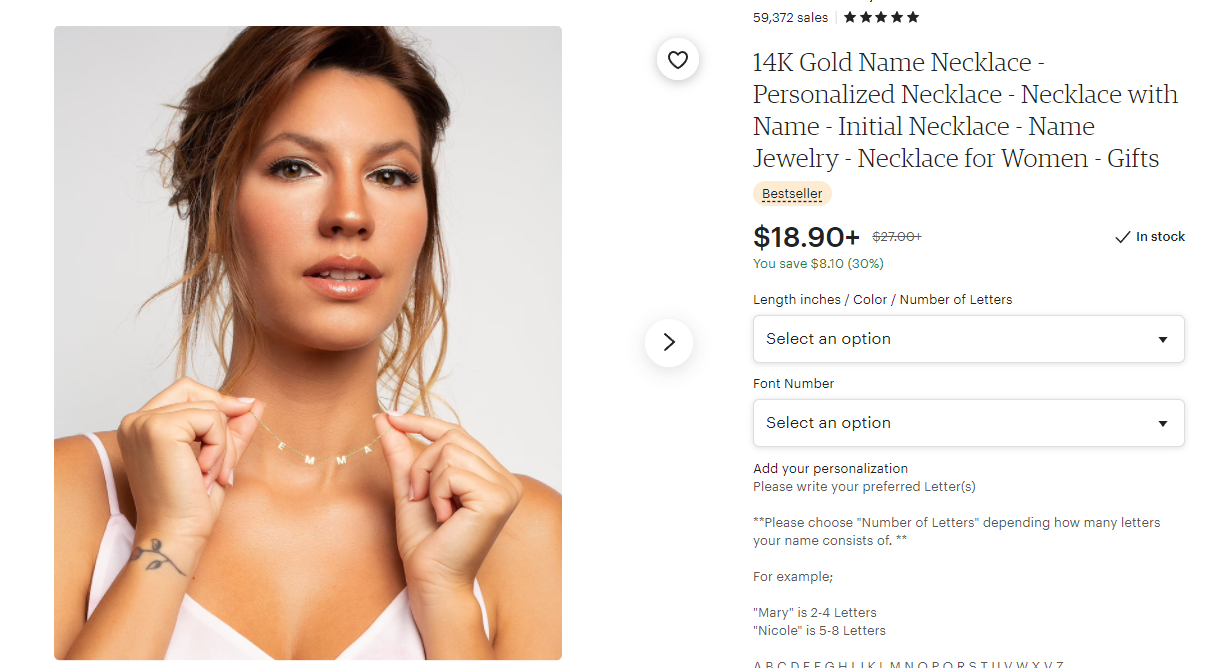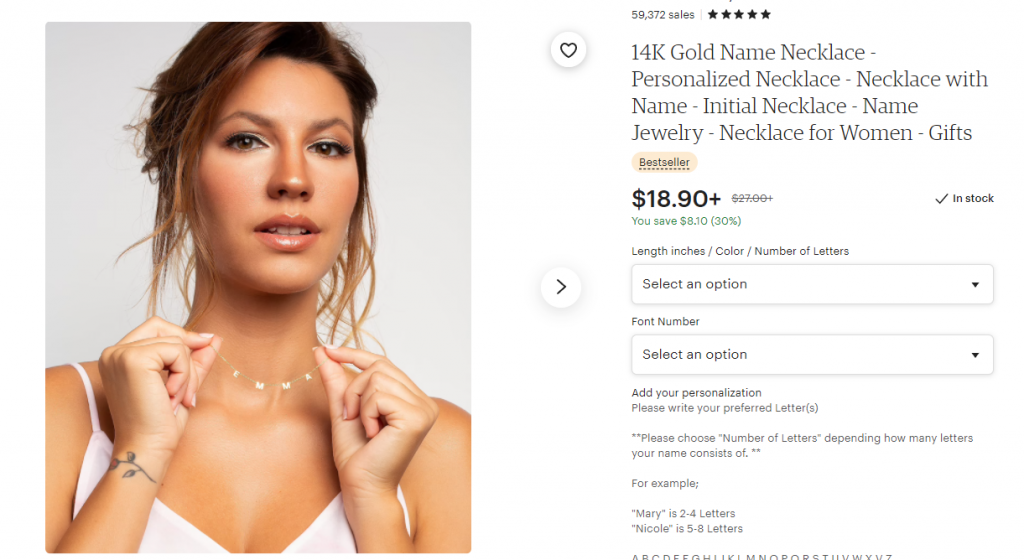 When has there ever been a time that jewelry wasn't a top seller on Etsy or all of e-commerce for that matter?
Both men and women love buying jewelry for themselves and getting them as gifts. They are a perfect holiday item and will allow you to scale as you strengthen your Etsy SEO.
Pro tip: The market for tiny, mass-produced accessories is highly saturated. Instead, focus on creating original pieces that mean something and deliver high-quality material; gold, silver, gems, etc.
5. Notebooks and Journals
Entrepreneurship, personal growth, and self-reflection are all still on the rise in culture and Etsy Sellers are banking on the industry especially through the sale of notebooks and journals.
You could also start a YouTube or TikTok account that shows how to best plan out a day, week, and month and link back to your Etsy store.
Pro Tip: Sell customizable journals and notebooks where people can choose the inside layout (lines, boxes, or blank paper), outer design, and even print their name or a quote on the outside. Remember to charge extra for these add-ons.
6. Plants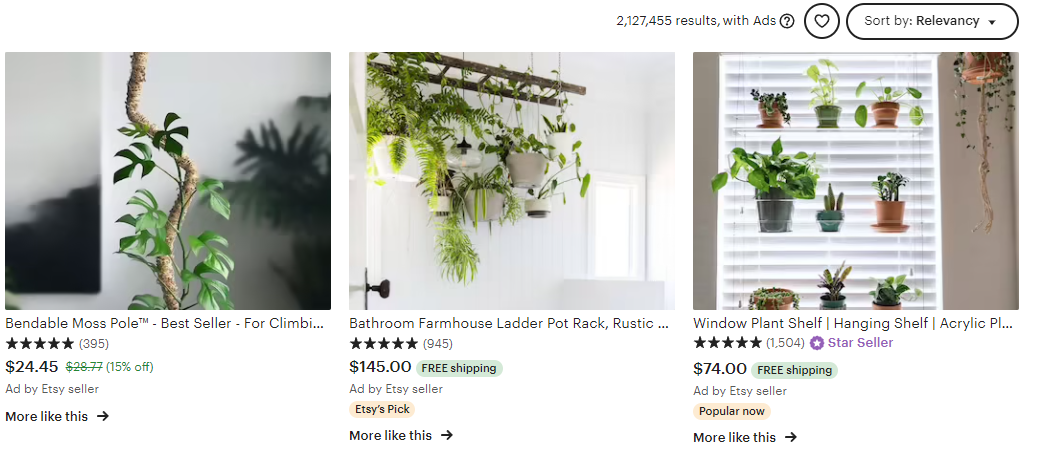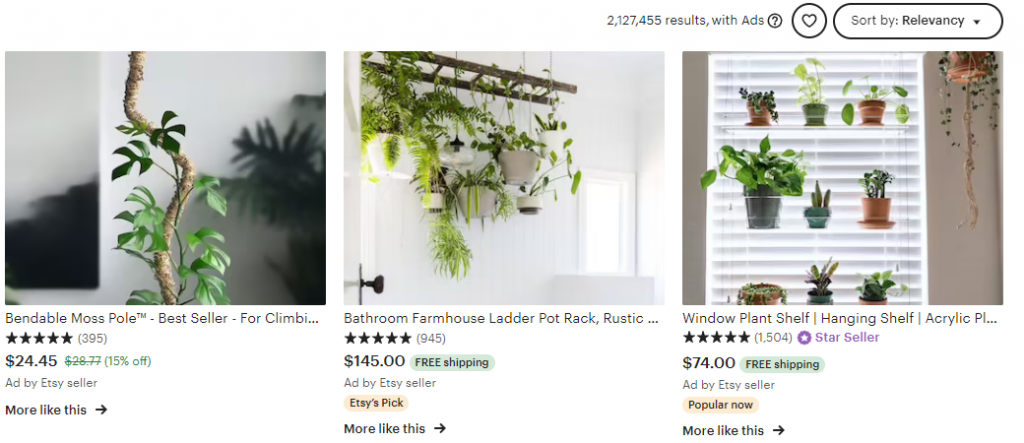 Here's a surprising one; plants! Who knew? Turns out Etsy has a HUGE audience who consistently buy plants.
The niche as a whole saw a massive spike especially in the United States as more and more people transformed their homes into stay-at-home friendly environments they enjoyed being in for prolonged periods of time.
Pro tip: The more exotic, unique, and rare plants are on your Etsy store the better! As an added bonus, ship a printed how-to guide to help customers take care of each plant.
7. Vintage Items
Vintage items are HUGE on Etsy! Sellers are finding a lot of success in a relatively mid-level competition niche as items are usually unique and one of a kind. Vintage products are also great in terms of SEO because they maximize the various number of keywords you can use on your site.
Remember that vintage is its own category on Etsy and items have to be at least 20 years old which still may not qualify them as being vintage.
For more details check out our article on Selling Vintage Goods on Etsy.
Pro tip: Looking for and actually finding vintage goods at yard sales and auctions is super fun so try documenting your process and upload a short vlog on YouTube or Facebook linking back to your Etsy shop!
8. Wedding Stuff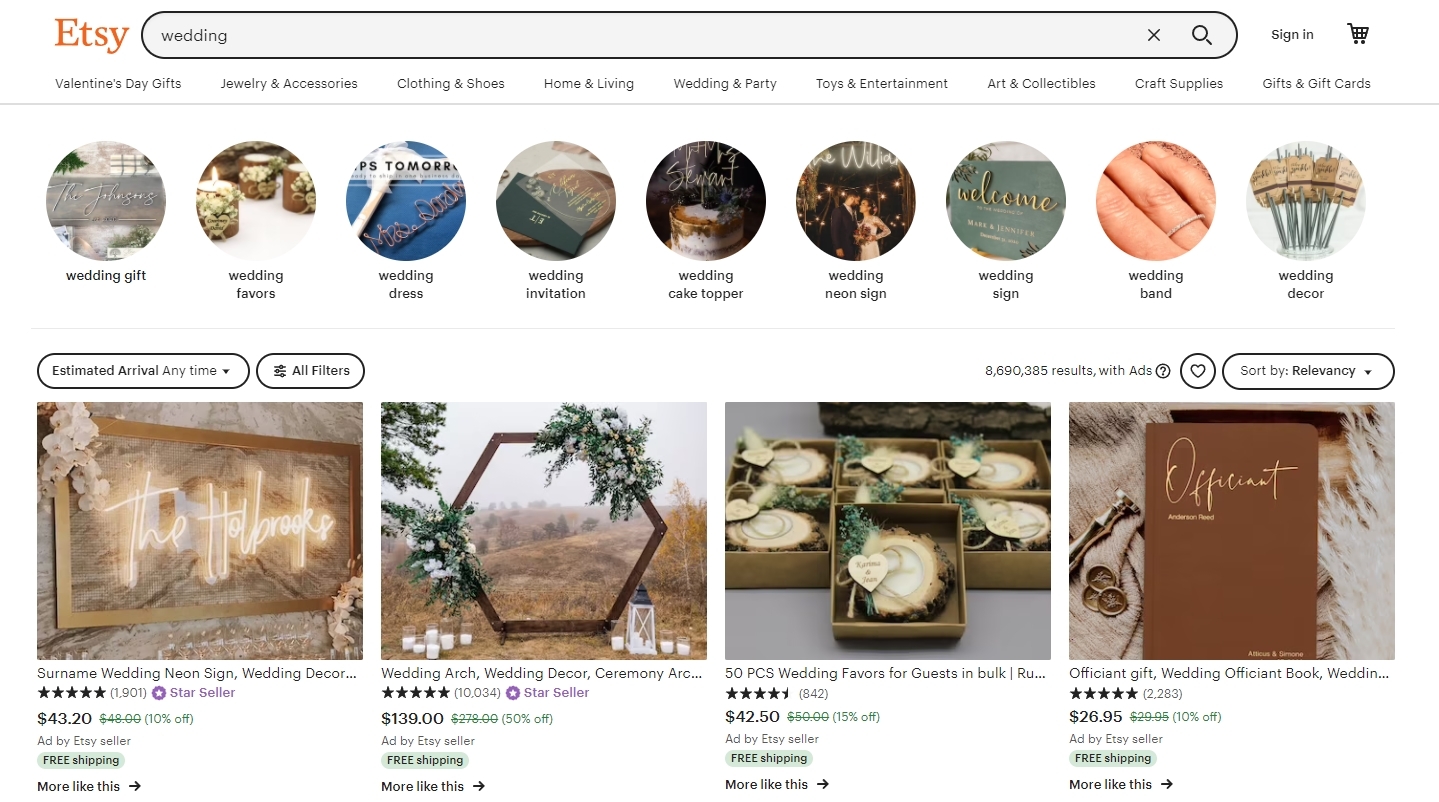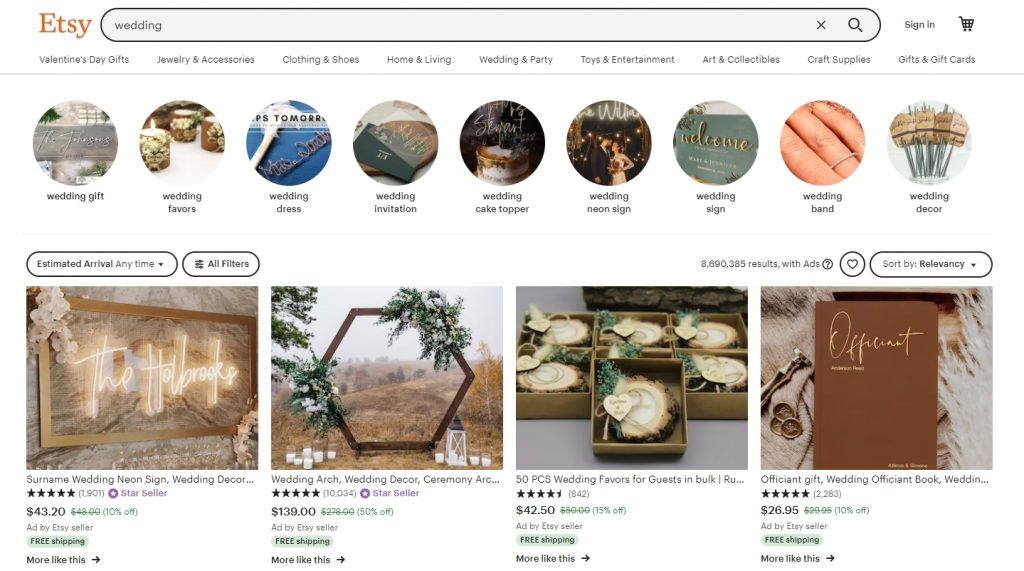 This year will be the year of weddings for many couples as most had to postpone their plans indefinitely during 2020 and even 2021.
We categorized this section under "Wedding Stuff" because there is just so much to sell. Here are a few just to give you an idea:
Save the date cards

Handwritten invitation

Decorations

Flowers

Ceramic and handmade plates

Small gifts for guests

Custom bridal dresses and suits

Rings (huge margins here!)

Handwritten name savers

Engraved everything

Pre-wedding Bachelor/Bachelorette party favors

Large printed portraits/pictures
And that's not even scratching the surface. There is so much that you can offer before, during, and after a wedding that can define your brand on Etsy.
Pro tip: The name of the game here is personalized. Couples are willing to pay a lot to have the wedding of their dreams!
9. Candles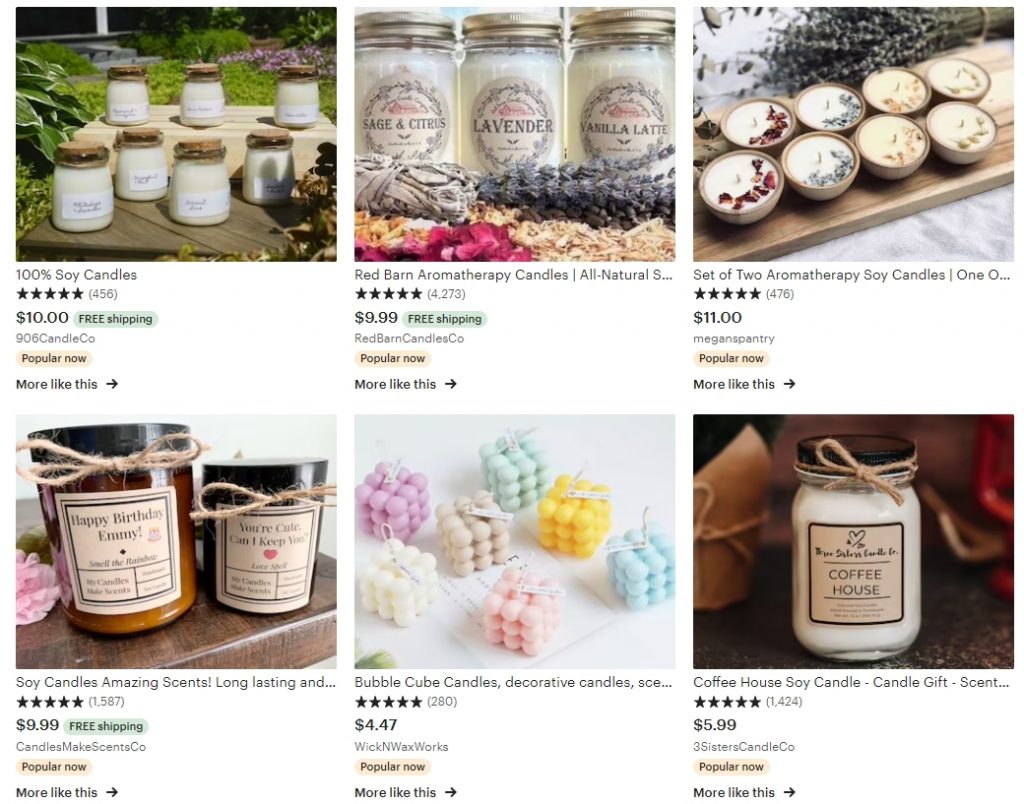 Candle sales still haven't peaked online. More and more people are getting into candle buying and even at-home candle making. Now even men are getting in on the buzz!
You can get really creative with your candle designs, color combinations, smells, and more! TikTok and Instagram Reels are perfect for marketing and bringing in traffic. Show your process of making, lighting, and shipping candles as well as show your candles in various settings to sell a "feeling".
Pro tip: Sell hypoallergenic, sustainable, and synthetic/chemical-free candles. Sure these are more expensive but candle buyers are not buying a necessity and are often willing to pay higher prices.
10. Mugs
Yep, it's true. Simple mugs are big sellers on e-commerce. Some Sellers are making six figures off of full-time mug sales on Etsy!
Mugs are particularly great because you can either be funny, a great graphic designer, or a passionate potter. 
Sell mugs with funny slogans, romantic quotes, original designs, or cute shapes. So you can outsource mugs and just print your designs on them or make ceramics yourself!
Pro tip: Reactive glaze mugs are in right now. People also love wonky, odd-shaped, and different size mugs which is great if you can actually make them by hand.
11. Pet Stuff


Like plants, pets have been welcomed in people's homes as loyal and cute companions during the pandemic.
The pet care niche is a 120 billion dollar industry so you can definitely break off a small chunk on Etsy especially if you love pets!
Sell custom paw and nose balms, treats, and food dishes with pet names and unique designs.
Pro tip: People like to experience holidays and events with their pets so sell Christmas stocking fillers and pet-friendly Valentine's day chocolates.
Again, even if your products aren't listed above it doesn't mean you won't be successful because your success on Etsy is determined in part by the quality of your items, your branding, customer service, price point, marketing, SEO, and how hard you are willing to work.
Read below to find out more about what sells the best on Etsy:
The Best-Selling Items on Etsy are the Ones That Have a Story Behind Them
You don't have to sell candles, art supplies, and custom t-shirts on Etsy to make it big.
As long as your products and store have a vision behind them then with a little hard work and some smart SEO you are destined for success!
Some of the top Etsy Sellers that make over $50,000 per month don't sell any of the items listed above. Instead, they focus on what they like doing and what they are good at which almost always comes from a fresh new perspective.
It's that very perspective that Etsy Sellers package as a story and sell to thousands of customers.
For the same reason people love watching day in the life videos on YouTube people want to know more about you and why you are selling your products.
There is no better outlet to sell a story than Etsy! Creatives have virtually unlimited freedom to explore their passions and sell unique products that represent them and their life story.
While trendy shops will come and go the brands that stick around forever on Etsy are those that tell a story. That's the best recipe for long-term success on Etsy.
Case Study: Micha González built a sustainable jewelry line on Etsy when she was 45! She spent hours in her family's studio in Veracruz, Mexico learning her craft. After her mother passed she knew she wanted to do something important with her life and so her Etsy shop was born! Read more about Micha's story here.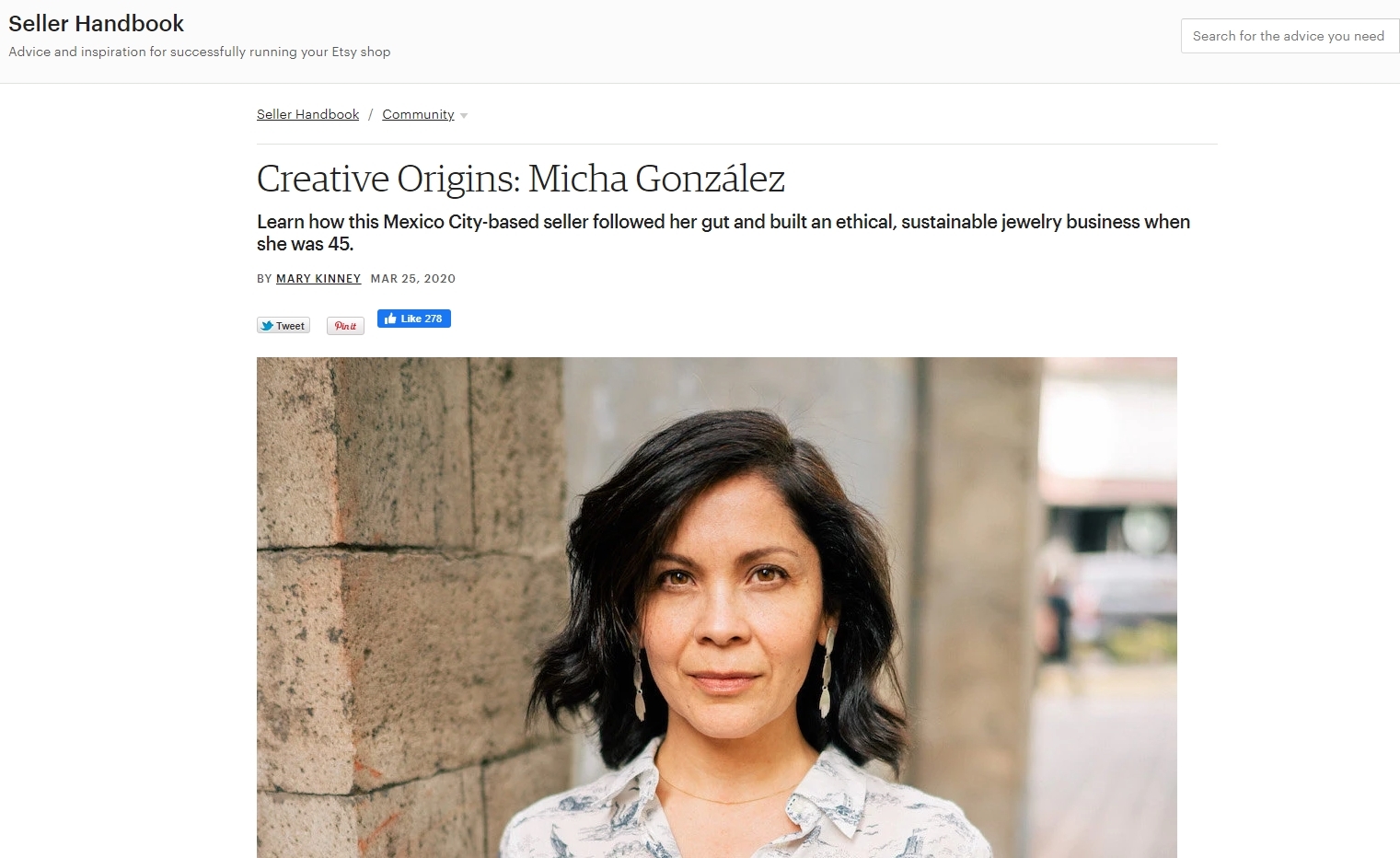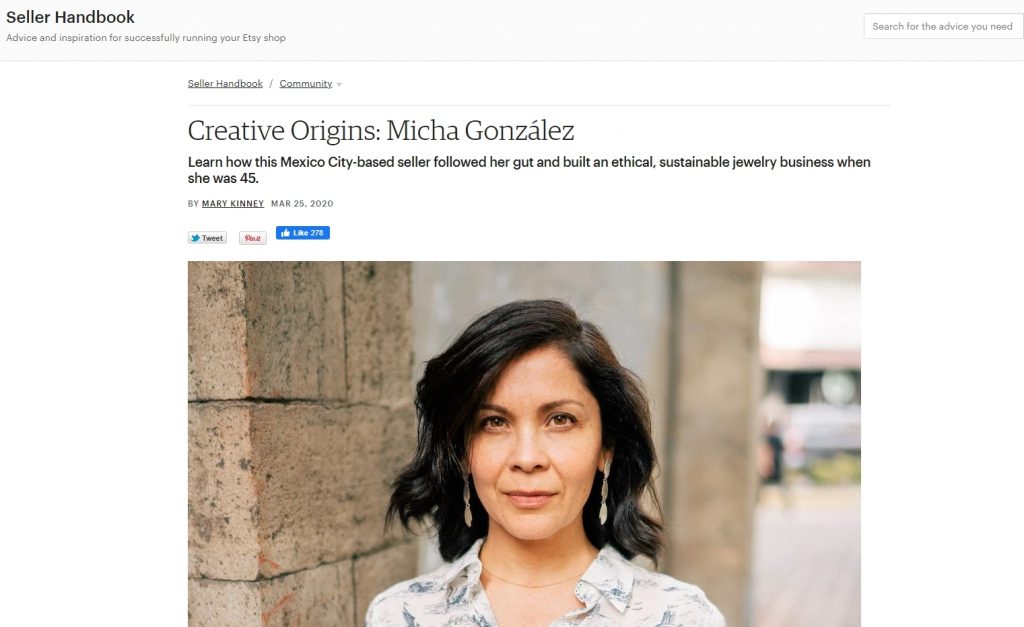 Most Sellers Use Their Own Photos to Create Personalized Products for Customers
One of the best ways to attract more traffic to your store is to focus on presentation and branding.
Too many Sellers use stock imagery that may be high quality but lack a certain mood.
Always take your own product photos showcasing items in various settings that give off a certain feeling. Remember you are selling a story.
To be Successful as a Seller on Etsy You Will Need an Eye for Detail and Some Creativity!
It's true. The strategies and concepts that work on other e-commerce platforms will not translate to Etsy.
The Etsy customer is particular so having that eye for beauty and aesthetic will help you in the long term.
Even if you sell supplies or say face-masks, a simple pivot towards something more unique in display or presentation will help you stand out from the crowd and increase conversions.
If you are just now getting into Etsy or a seasoned Seller looking to take that next step and exponentially grow your Etsy business then contact us today! Sale Samurai provides data-driven and result-oriented keywords that your competitors don't know about! Set yourself up for Etsy success with Sale Samurai.