Every year, millions of people exchange gifts over the holidays, for birthdays, to celebrate anniversaries, special occasions and more. Yet, buying gifts that are original, personalized and stand no chance of being returned by the recipient, is becoming increasingly harder. Luckily, Etsy offers original gifts, both for him, for her, and unisex, which can make gift-giving and receiving a real pleasure. Etsy is known for the creative flair of its Sellers and is the ideal platform to choose something special and unique for your loved one. So, what are some of the most original gifts sold on Etsy for him and for her? Let's take a look.
What Are Some Of The Most Original Gifts Sold On Etsy For Him And For Her?
When looking for gifts on Etsy, you want to be as original as possible, and getting a personalized gift is the ideal option. Personalized gifts are one of the best options out there because the chances of finding something similar at a high-street retailer are quite slim. And no one wants a run-of-the-mill gift either. So, without further ado, here's our curated selection of original gifts for him, her and unisex.
For Him
Whiskey making kit:
Going at $62.91, this is a do-it-yourself kit by Doyourgin for making whiskey. It enables you to select and tailor make your flavors with exclusive "woodchip blends". It comes in a beautiful, minimalistic box that can simply be gift wrapped and given away for that special someone to enjoy.


Personalized whiskey stones:
Sticking to the theme of whiskey, you will certainly want to keep your drink cool. So, why not get personalized whiskey stones to do just that? They make for a unique gift that will be highly appreciated by the recipient, and only go for $14.99 a set. These stones are offered by the Seller – LazerGirlz.
Wood charging station:
We all tend to have cables to charge our phones and smartwatches, but this wood charging station is a way to bring elegance and style to your desk or nightstand, as you keep your electronics organized. Its
price
ranges from $69 to $79 and it is offered by Oakywood.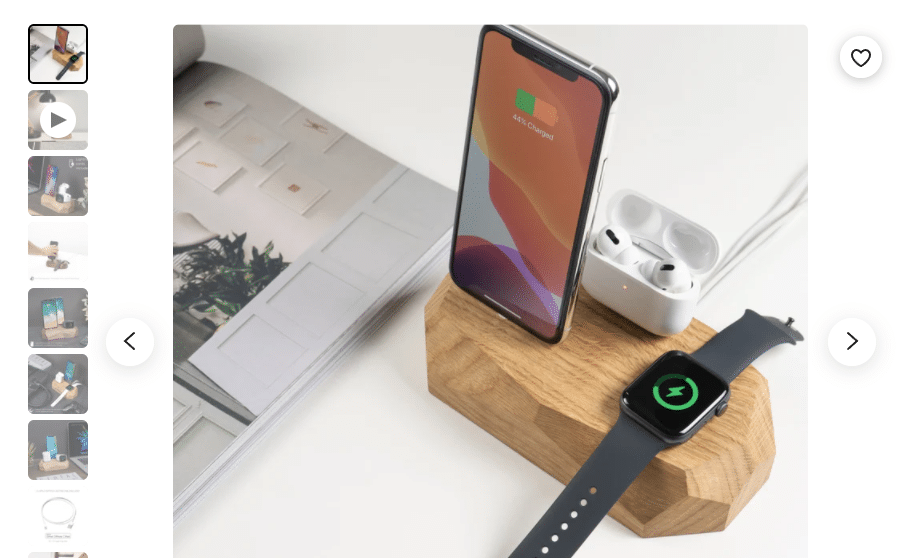 Personalized cufflinks:
Gentlemen that often wear a shirt and a suit will love these cufflinks because they are personalized and contain the recipient's initials. Brought to you by KingsleyLeather at $50, they also have a leather base that means they will last for many years.
Engraved wallet:
A highly personalized gift that comes with 12 card slots and two cash compartments. You can choose to either have a photo ingrained on the wallet or have a personalized, handwritten message on it. This gift goes for a mere $34.50, drastically reduced from over $60.
Personalized leather grilling gloves:
Going for $34.99, these leather gloves are ideal for barbecues and grilling on lovely summer days- (Or at any time of the year). What's more is that the recipient will know how special they are because they'll have their
name
engraved on them.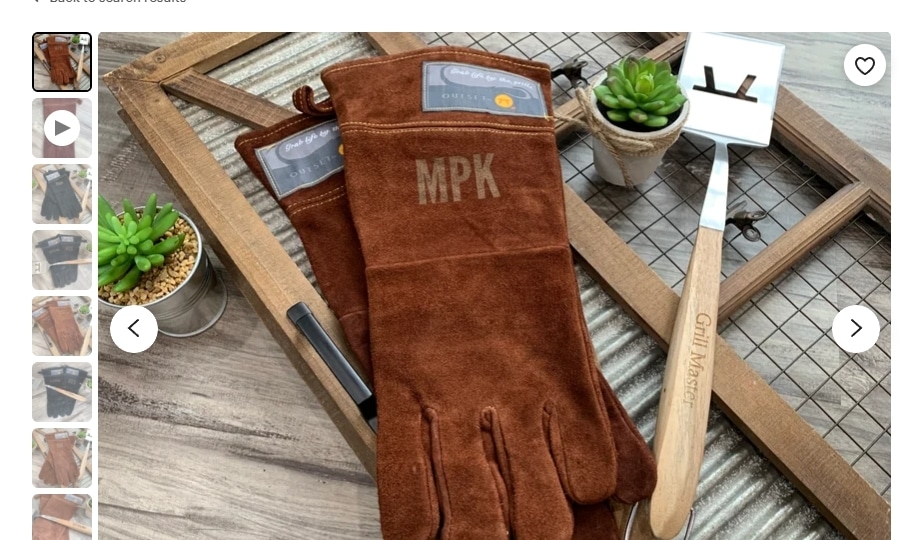 Rare coins:
This is for those with the unique hobby of collecting rare coins. While they can be pricey, adding yet another coin to your collection can help you build onto it further and expand your knowledge of history.
For Her
Wood bath tray:
Love a bath? How about drinking a glass of wine or enjoying a
book
while you're there? This is a wooden bath tray from PegandAwl that you can place across your bath to help keep your book or drink dry and stable. It's the ultimate for an in-home spa experience and it is priced at $168 to $264.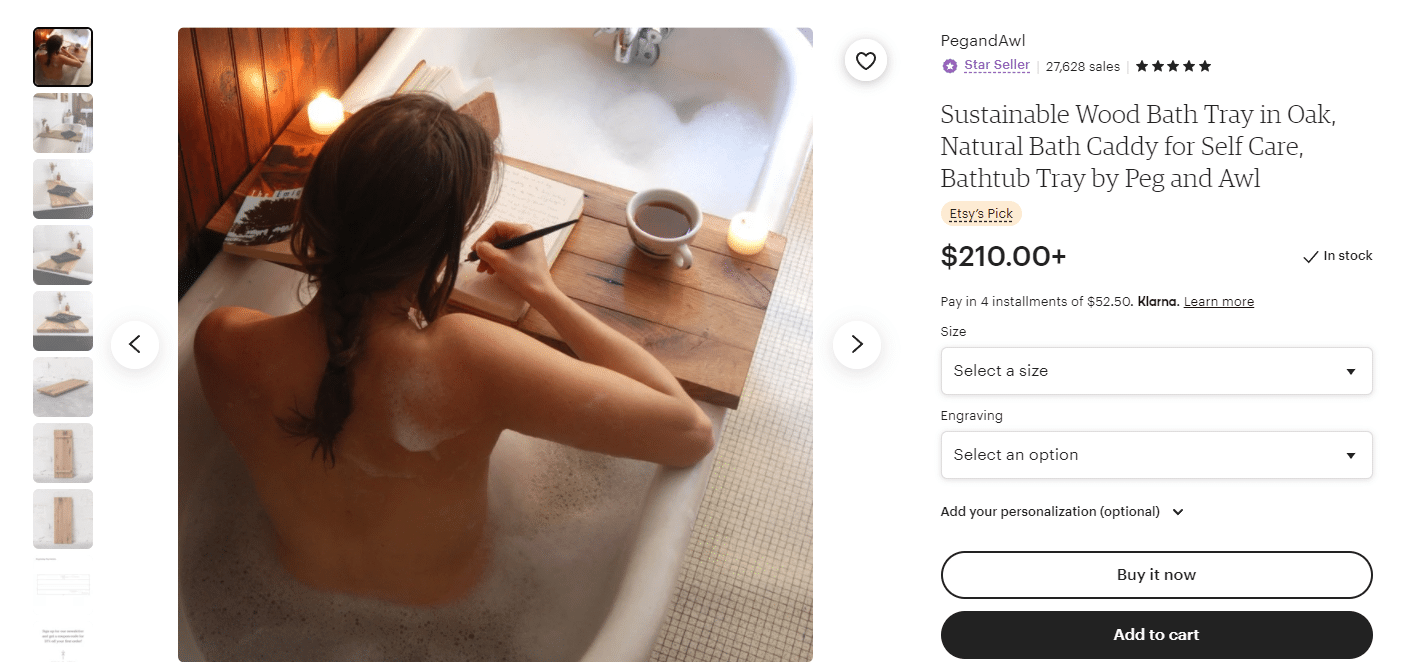 Personalized birth flower earrings:
This lovely gift by LynnMinimalist consists of a pair of minimalist gold earrings, which contain the flower of the recipient's birth month. They are priced at only $40.99.
Personalized name necklace:
It comes in a variety of different metals and it is a highly personalized gift because it will feature the specific name you would like to have on it. Originally going for $37, it's been reduced to $28, making it not only a unique gift, but an affordable one as well.
Vintage art:
Ideal for any wall around a home, a set of Vogue magazine covers from the past are a great way of sprucing up and personalizing your space, especially for the fashion conscious or those who love a vintage feel. The set of six only goes for $66.95.
Galaxy roses:
Their prices vary depending on the Seller, but these roses add a fine touch to any gift for her. They are timeless pieces that have bold and varied colors lasting a lifetime.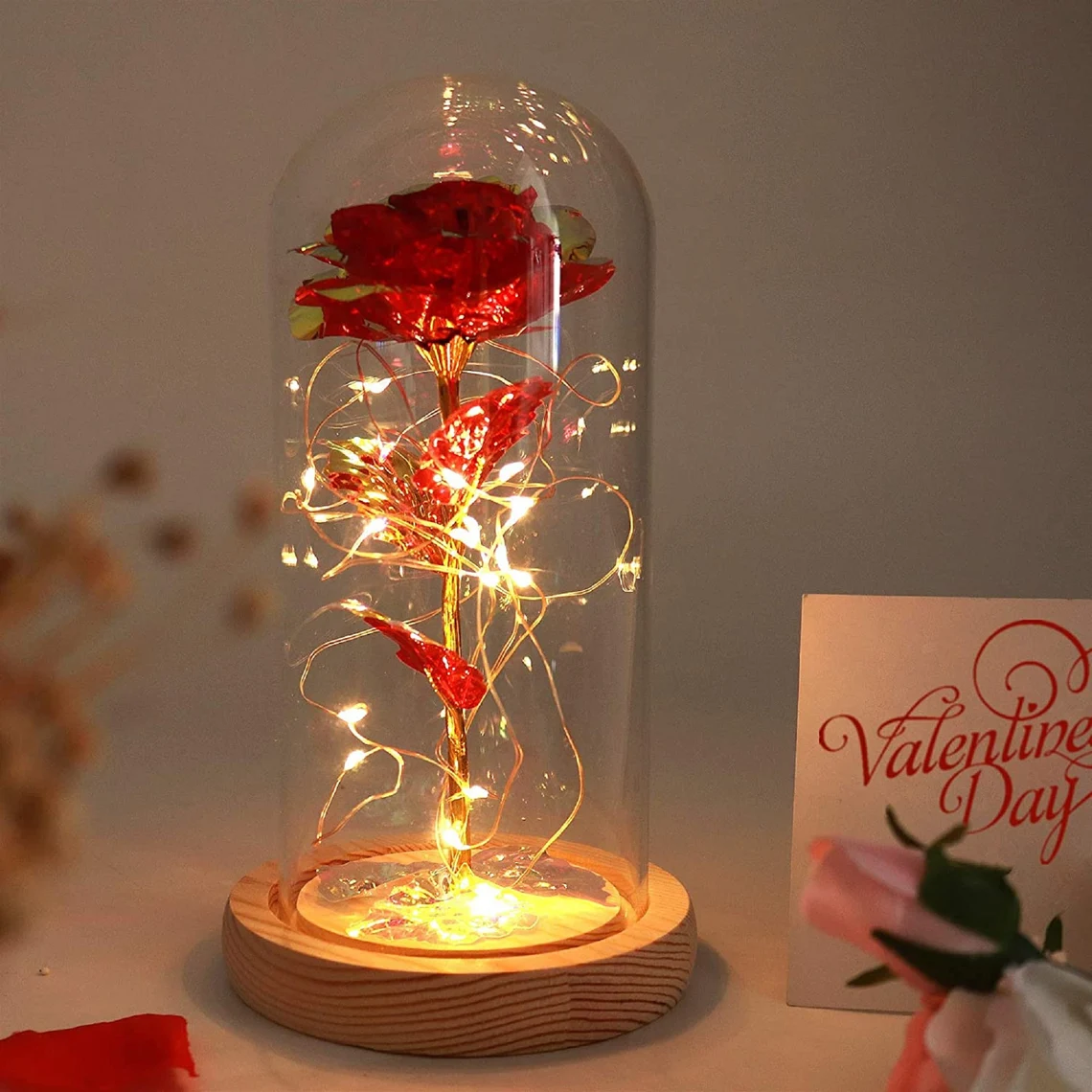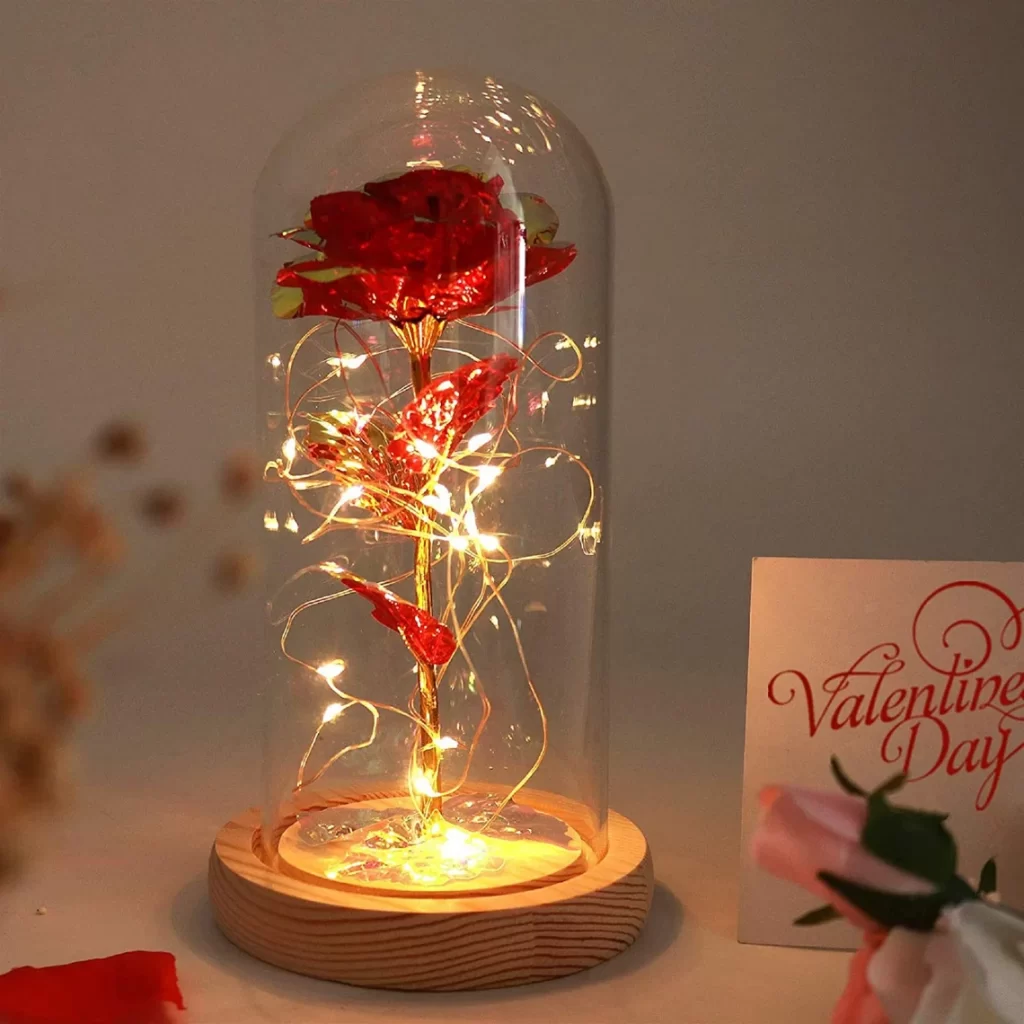 Unisex
Personalized leather passport cover holder:
Priced at just $39.57, this is the ideal gift for the travel lover. It is a gift by Leftcoastoriginal that will last for years to come due to the fact that it's created with leather. What's more, the cover can be customized for an even more tailor-made experience.
Succulent gift box:
Succulents are often much easier to take care of than other plants, so if your giftee has a green thumb, instead of buying them a bouquet, you can gift them with a box of succulents. They will liven up their space and give it a green, natural feel. This gift box, offered by SweetBasilCo, is priced at $34.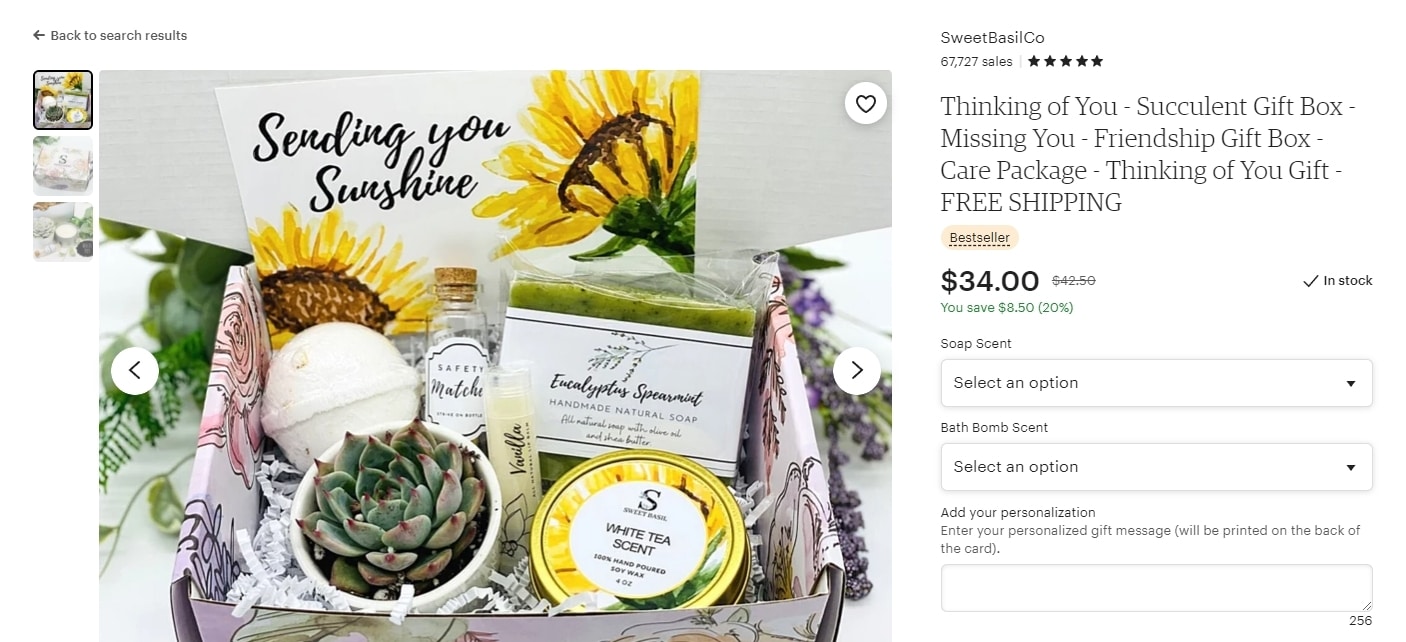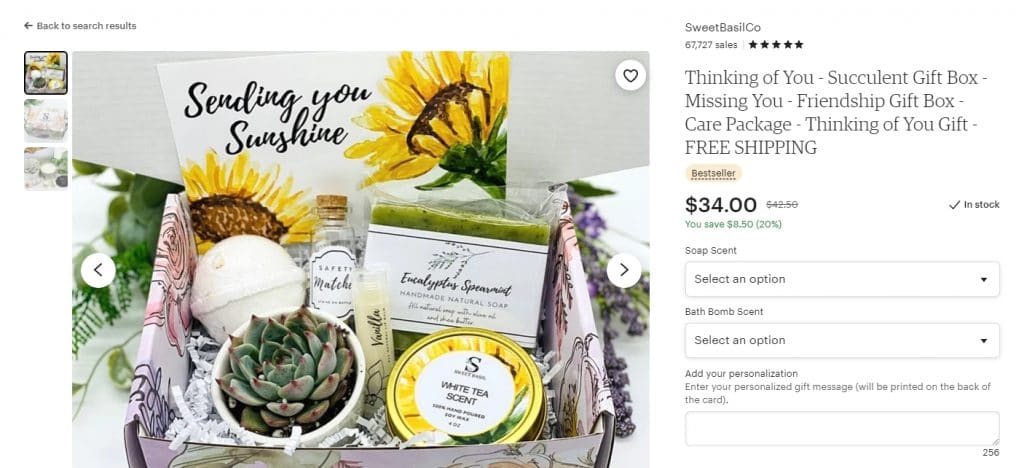 Coffee beans sampler:
Coffee is a staple for millions of people across the world, and for those with an acquired taste, you can give them the gift of sample coffee beans to try out as they make their next cup of coffee. The set from Driftaway you get goes for a bargain at only $18.
Mini herb garden kit:
A box of herbs, including everything you need to get started on your own herb garden. This is a set that only goes for $12 up to $100's and can be enjoyed as an activity by kids and adults alike.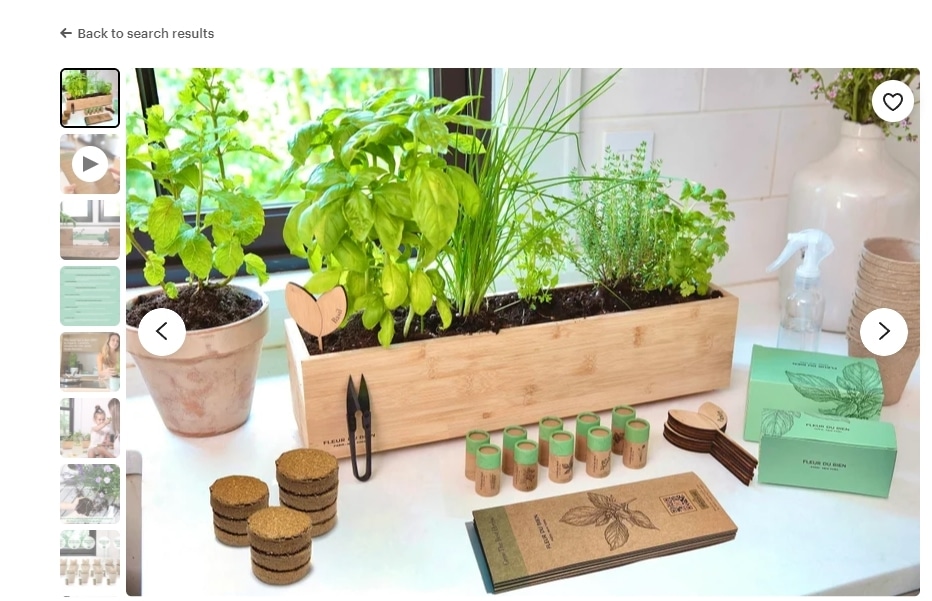 Personalized slate charcuterie board:
Going from $21 to $26, this is a lovely gift for anyone who enjoys cheeses and cold meats. Add in a glass of wine and you've got yourself an incredible recipe to share with loved ones.
Handmade chocolate gift set:
Priced at only $17, this is a beautifully packaged gift set for men or women who love chocolate. And let's be honest, who doesn't?
Love letter blanket:
This is one of the sweetest and most original gifts that you could get for a loved one because it's not only usable and versatile, but it's also highly personalized, with special messages written for the recipient only. It is brought to you by FrankiePrintCo and goes for $159.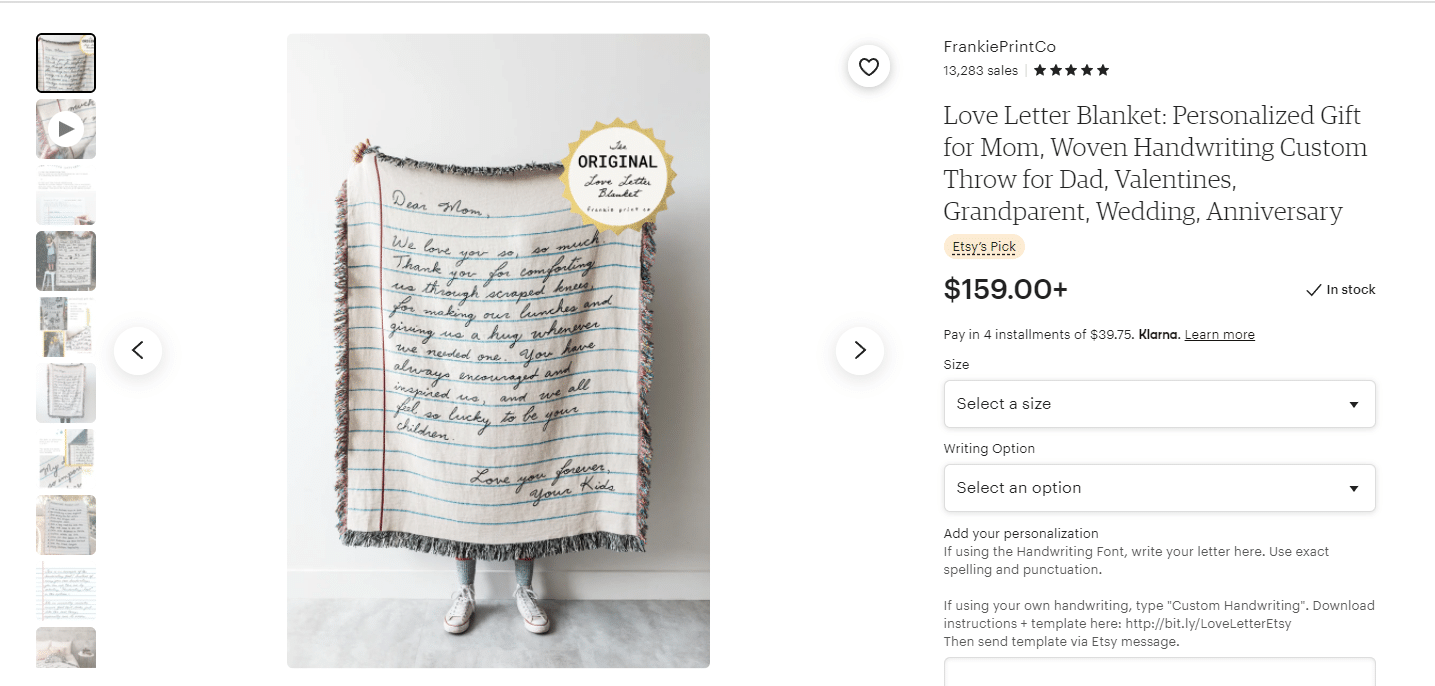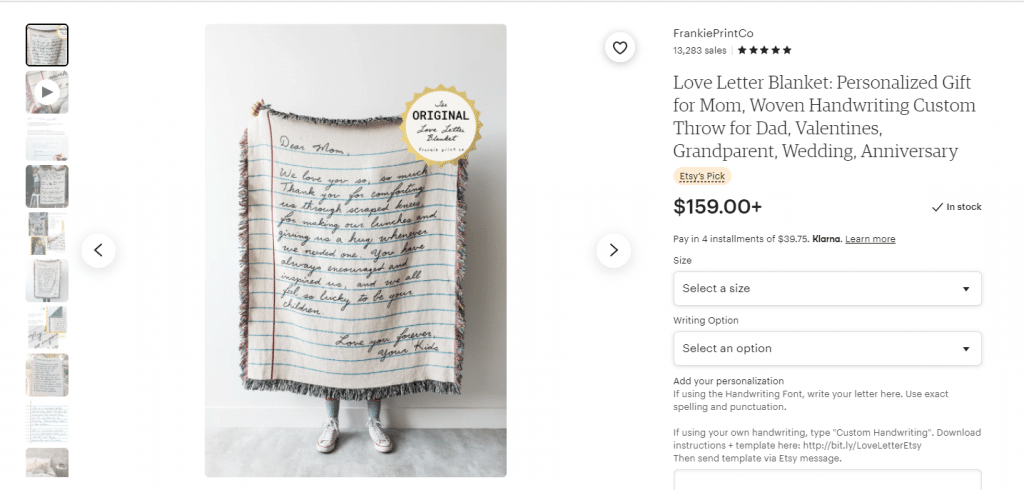 What Other Niches Aside From The Most Popular Are There For Original Gifts?
Apart from some of the original gift ideas mentioned above, there are plenty of other niches you could explore as a specialized Etsy gift Seller. However, each of these niches has one common theme, and that's
personalization
. As a word of advice, we recommend following this
strategy
in all your offerings. Strive to create something you'll never find at a high-street retailer, so that your products may be appreciated for years to come. So, what are some of these niches? They include but are not limited to:
Personalized jewelry:
there are necklaces with names, birthstone rings, birth flower earrings, bracelets, hand chains, ankle chains, toe rings, and so much more that you could explore under this niche.
Personalized planners:
nothing says "personalized" like the recipient's name on a book, journal, or planner. These
items
are not difficult to put together and they don't cost much to make. You can easily create a personalized planner and start selling these to join in on this niche.
Personalized gift sets/boxes for him:
gift sets and boxes are a great idea because they contain a few different items that the person can enjoy. No more looking for small items to fill a box with, because the gift set is already prepared for you. And to take it one step further, you can also add the recipient's name on the box, so that they feel that sense of connection with the gift giver.
Vintage art/wall art:
wall art is ideal for almost any age and any gender, and it can come in many forms. From old posters of music icons to vinyl records that have been refurbished to the covers of iconic magazines, you really have a wide range of options here.
Home décor items:
this category or niche is quite extensive and can include anything as small as a set of coasters for a nice get-together to charcuterie boards, trays for the bathroom, throw pillows, woven blankets, rugs and carpets, and so much more.
What Would It Take To Enter The Aforementioned Niches?
As any successful
Etsy Seller
will tell you, there's some prior preparation to getting your original product before an audience and that involves some research – from competitor insights to keyword research and more. Luckily,
Sale Samurai can help
subscribers position themselves as Sellers of original gifts for him or for her quite easily.
Sale
Samurai allows you to find high-volume, actionable keywords your competition can't access and unveil the data behind the listings on Etsy itself with our proprietary Chrome extension. You will learn tips and tricks from Etsy's best Sellers, and be able to audit and optimize your Etsy shop. And that's just the tip of the iceberg.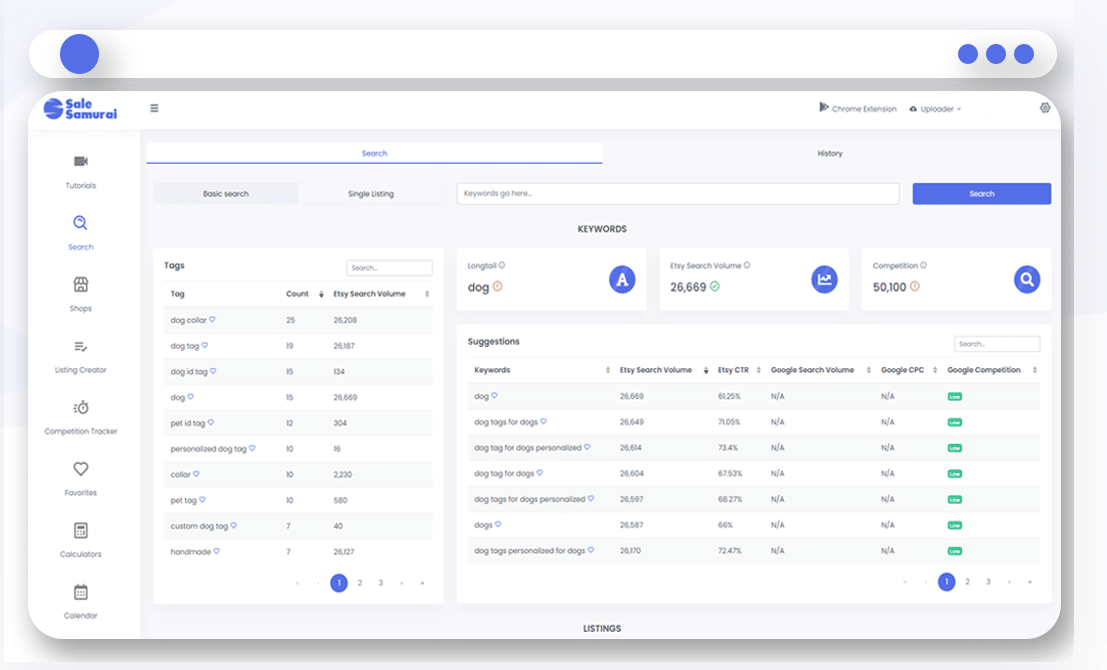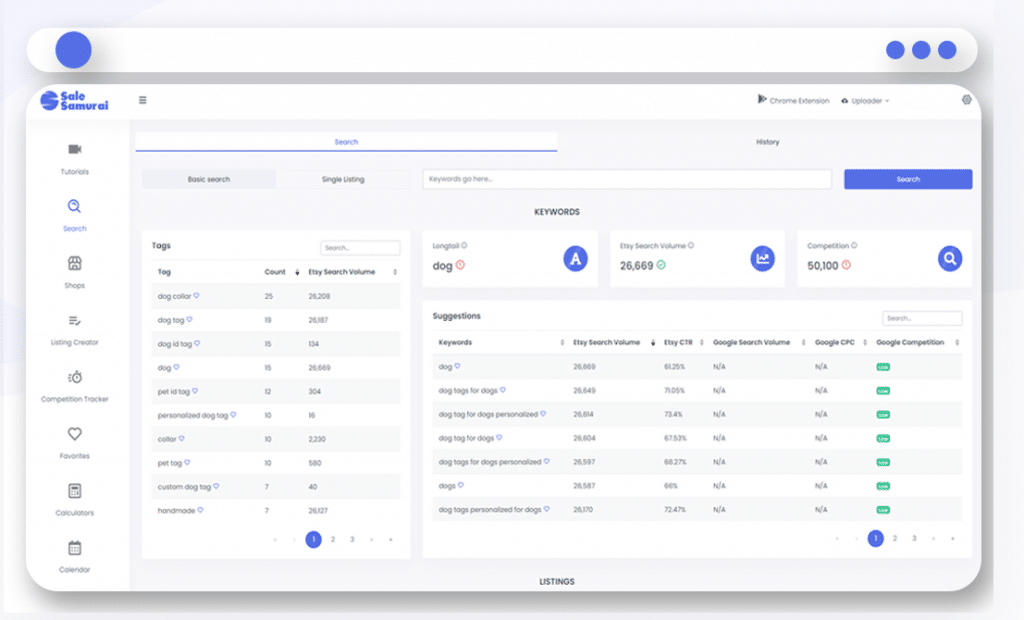 Closing Remarks
Etsy is probably
the
best platform for original gifts for him and for her because of all the variety. Not to mention the options to personalize gifts that makes it even more attractive. It's something that high-street retailers are certainly unable to offer. And if you need a partner in crime to scale your gig into a real business, Sale Samurai will always be there for you.