There's just something about seeing your name, favorite quote, or childhood memory on a physical item. That feeling of personalization on a t-shirt you love or a piece of jewelry you cherish is authentic and un-replicable. It's for those reasons that personalized and custom listings do so well on Etsy! Here's our ultimate guide on:
How to Add Personalization for Your Etsy Listings. To add a personalization option on your Etsy listing simply:
Click the listing you want to add a personalization option to in the "Shop Manager"
Set "Guidelines" for your buyers on what details to add or how to send you custom artwork
Click the "Publish" button when done
While adding the option for a personalized product on Etsy isn't very hard, there are some complications as you branch out into different niches because a simple slogan on a hoodie is much easier to set up than a custom painting request. Read below to find out more on how to add personalization to your Etsy listings, why it's a good idea to personalize items, and the best products to sell on Etsy in 2022!
Why Personalized Orders Sell
You may have noticed that some of the biggest Etsy shops offer personalized product options. In fact, the current number one and number three stores by order volume offer customizable listings: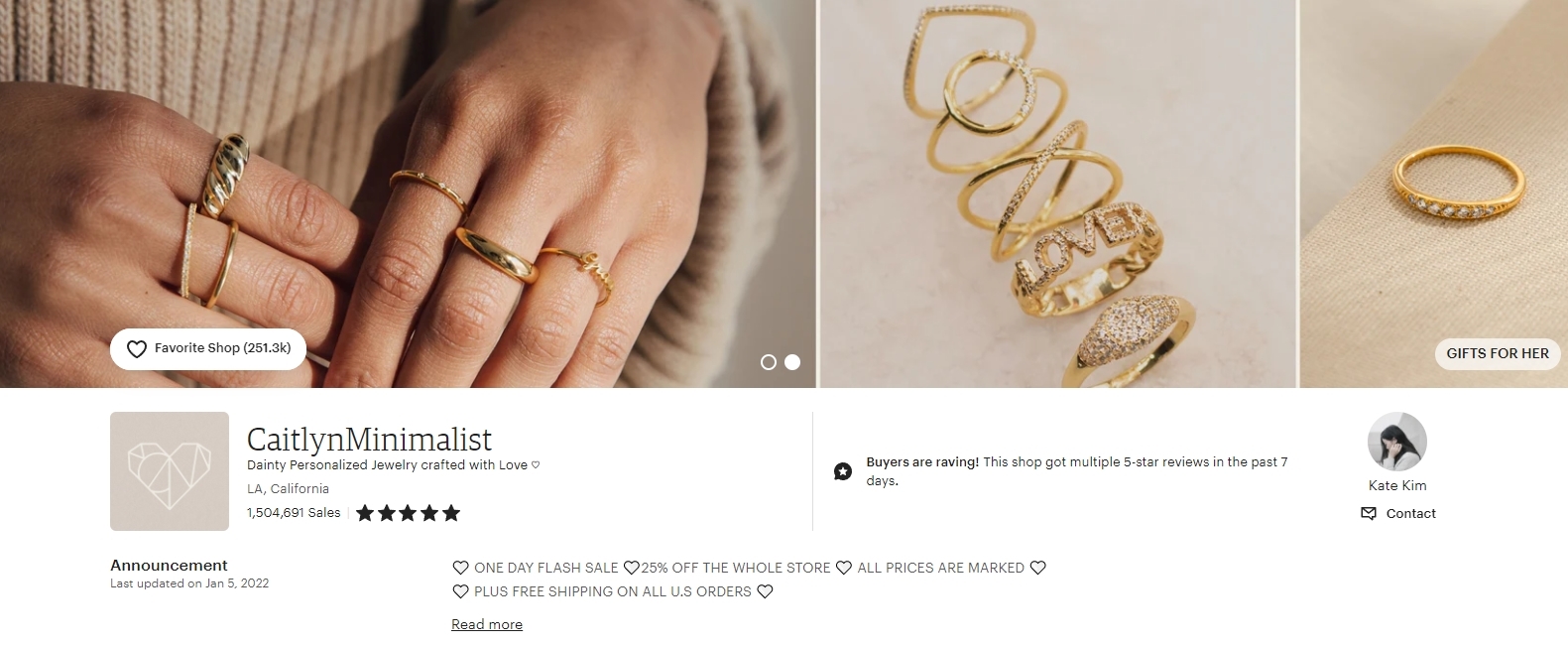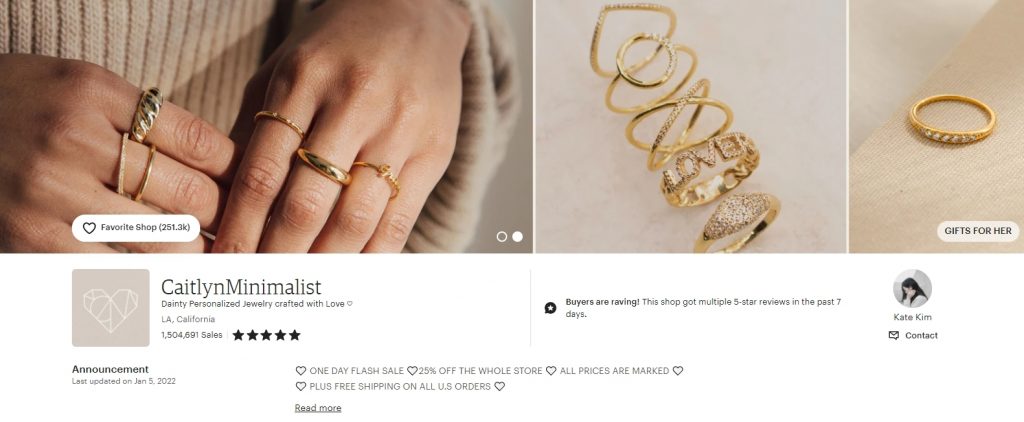 #1 on Etsy: CaitlynMinimalist – Over 1.5 Million Individual Sales
#3 on Etsy: ModParty – Over 1.2 Million Individual Sales
So why is that?
Well, the answer is simple really. People LOVE unique and original items that feel authentic and genuine. Everyone wants something that is their own and one of a kind. Whether it's their initials on a bathrobe or their favorite movie tag on a bumper sticker, people want personalized products.
You can continuously market custom items with new product options and categories that all feed into your brand so there is huge potential for returning customers.
The best part is that personalized products can be marked up significantly and be sold at higher rates than say the same product that is mass-produced. So you may end up having fewer orders but much higher profit margins than say if you were to sell cheap at volume.
How to Enable Personalization on Etsy
When you add a listing to Etsy it becomes active on your shop as a regular listing so you will have to go to your Shop Manager in order to allow for the option of personalizing items.
To enable personalization on Etsy.com:
Go to your "Shop Manager".

Select "Listings" and find the listing you want to add the option for personalization to.

You will see a "Personalization" switch or toggle under "Inventory and Pricing" – switch that to "On".

You will then see "Guidelines" which is a great section to add text and steps for buyers for how they can personalize orders. If the personalization is not required to place the order then you can check "Optional".

Click "Publish" once you are done.


To do the steps above in bulk for more than one listing you will have to check all of the boxes for the listings you want to add personalization to then click "Editing" then "Edit" personalization and follow the rest of the steps above. The only difference is that when you are done instead of "Publish" you hit "Apply".
What If My Etsy Personalization Option is Complicated?
Sometimes, simple guidelines just won't do so you have to get creative. This may mean that you have to set check the "Optional" box and work around "Guidelines".
Here are some ways you can allow customers to personalize items with real business examples:
Etsy Messages: You can ask your customers on your listings to message their artwork to you directly through Etsy messenger AFTER they have placed the order. This is a great option for simple designs that need to be placed on t-shirts or other clothing items.
Email: Telling your customers to email their custom artworks directly to your business email is another great method especially when their designs may be more complicated and be placed on non-traditional shaped products like stickers. Give your email and ask for the order number in the subject line – give a timeframe for when a design proof will be made available for customer review (typically 24-48 hours is optimal).
Description Box: If the product design is standard and fairly simple like engraving someone's name on a product then you can have a box on the listing page where people can write their name, a slogan, quote, or any sort of text as they want it to appear on the product.
Text Guide Image: Sometimes Etsy Sellers who offer personalized items will have multiple options to choose from like different colors and fonts. In these instances, you can upload a product image that is a list guide with different options you offer and have customers simply choose then provide additional details. So say you offer different fonts for jewelry engravings. You can list the fonts with dummy text on a JPEG on upload that as one of the product photos then your customers can choose the number assigned to the font they want and include the text that needs to be used.
No Proof/Yes Proof: You can also charge extra for providing a design proof which can be added onto the listing as a clickable option.
So while you can't upload custom artworks on Etsy directly, there are creative ways in which you can still allow customers to send their designs, notes, and instructions in order for you to fulfill their order.
Etsy's Rules and Policies for Personalized Listings
Before we get to what personalized products you should sell in 2022, let's quickly go over some of the expectations Etsy has with custom orders.
Listings, personalized or not, have to be made available for purchase with a set price (you can give a range but it has to be explicitly set as the price on your listing).

Final designed products have to comply with Etsy policies. You can review them

here

.

If you display finished works or mockups of designs you have to make it clear that they are examples and not what the customer will necessarily be getting.

Buyers can send in their own materials for personalized products but they do so at their own risk.
A few more things to keep in mind as you begin to offer personalized products:
You may want to get payment upfront or at least request a deposit that is added to the final bill.

Be very specific about custom options. Phrases like "Any Design" or "Print Everything" are too vague and could end up making some orders impossible or too costly to fulfill.

Send consistent updates as you work through the order. On-time proofs, messages, and even progress photos and videos are a great way to boost customer service, keep interest, and increase the probability of a five-star review.

Give realistic time estimates for when the products will be ready and make sure you communicate this clearly both in the listing and during your interactions with the client through messages or confirmation emails.
Pro Tip: You may want to set a few policies of your own like no returns or exchanges on already personalized items as you will have a difficult time trying to resell these.
Examples of Personalized Items to Sell
The moment you've been waiting for! What customizable products should you sell in 2022?
We've broken it down into three categories for you:
The Basics

In High Demand

Out of the Box Ideas
Read below to find out more.
1. Selling the Basics on Etsy
There's nothing wrong with going into a proven industry and putting in your unique touch. While there is a big market for the following personalized items, there is also high competition so it will be difficult to stand out.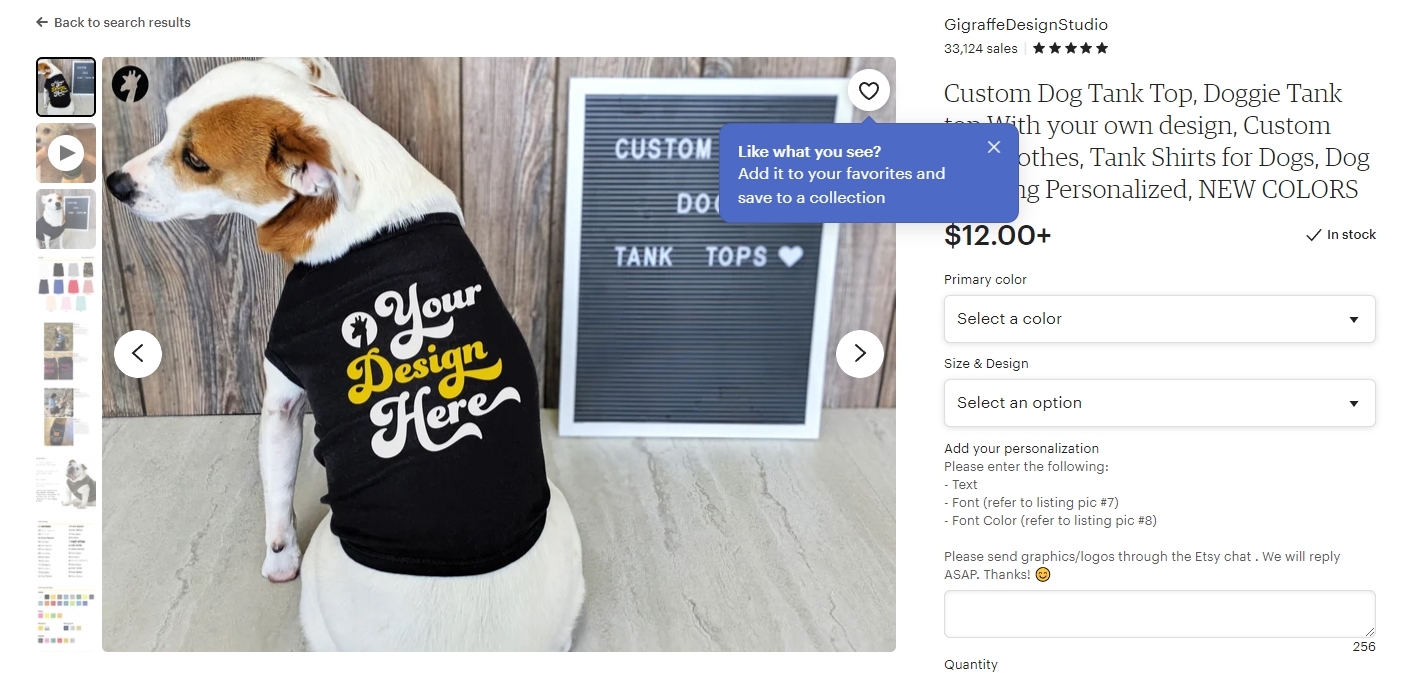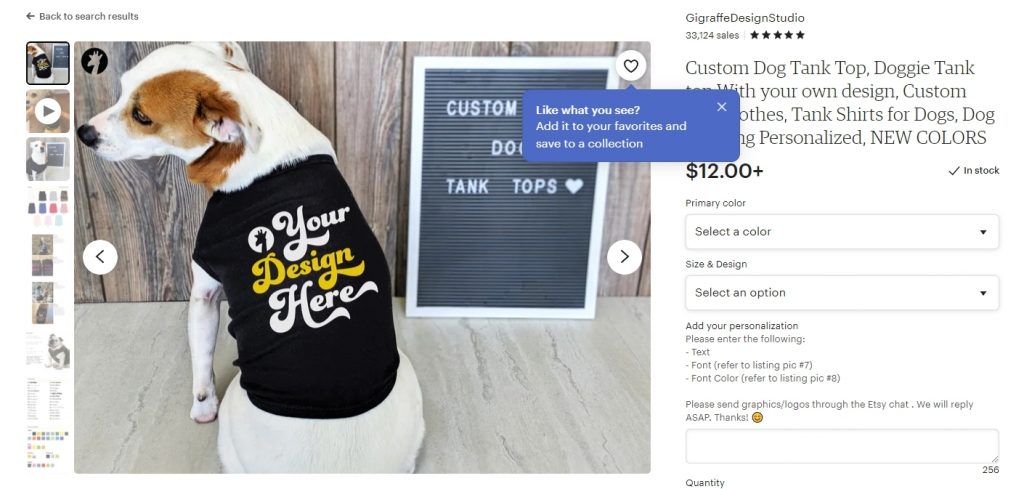 Most of the examples above are also easy to fulfill which may be why so many choose to focus their brand around clothing, mugs, and stickers. You can easily integrate your Etsy shop with a print-on-demand network that will connect you with hundreds of print providers able to fulfill and send your orders for you!
2. In High Demand
Let's talk about products that are really sought after but will require more work from you. The good news is, you can really extend your margins here and grow your bottom-line through increased Etsy traffic and high conversion rates.
Journals and Notebooks
A simple but effective way to customize something people love to use. 
You can allow customers to choose from various fonts that they would like their text engraved in on the front and inside of their notebooks.
Jewelry
Personalized jewelry sales have not peaked yet and are continually on the rise. 
These make fantastic gifts and there is a lot of room to set yourself apart from the competition especially when you offer different materials (gold, rose gold, white gold, silver, bronze, etc.).
Everything Wedding
2022 is going to be the year of weddings for many people because of how many parties and events had to get canceled and postponed through 2020 and most of 2021.
Not to mention, people are willing to spend a lot on weddings without questioning the price!
Sell personalized wedding rings, invitations, gift baskets and so much more!
Portraits and Other Paintings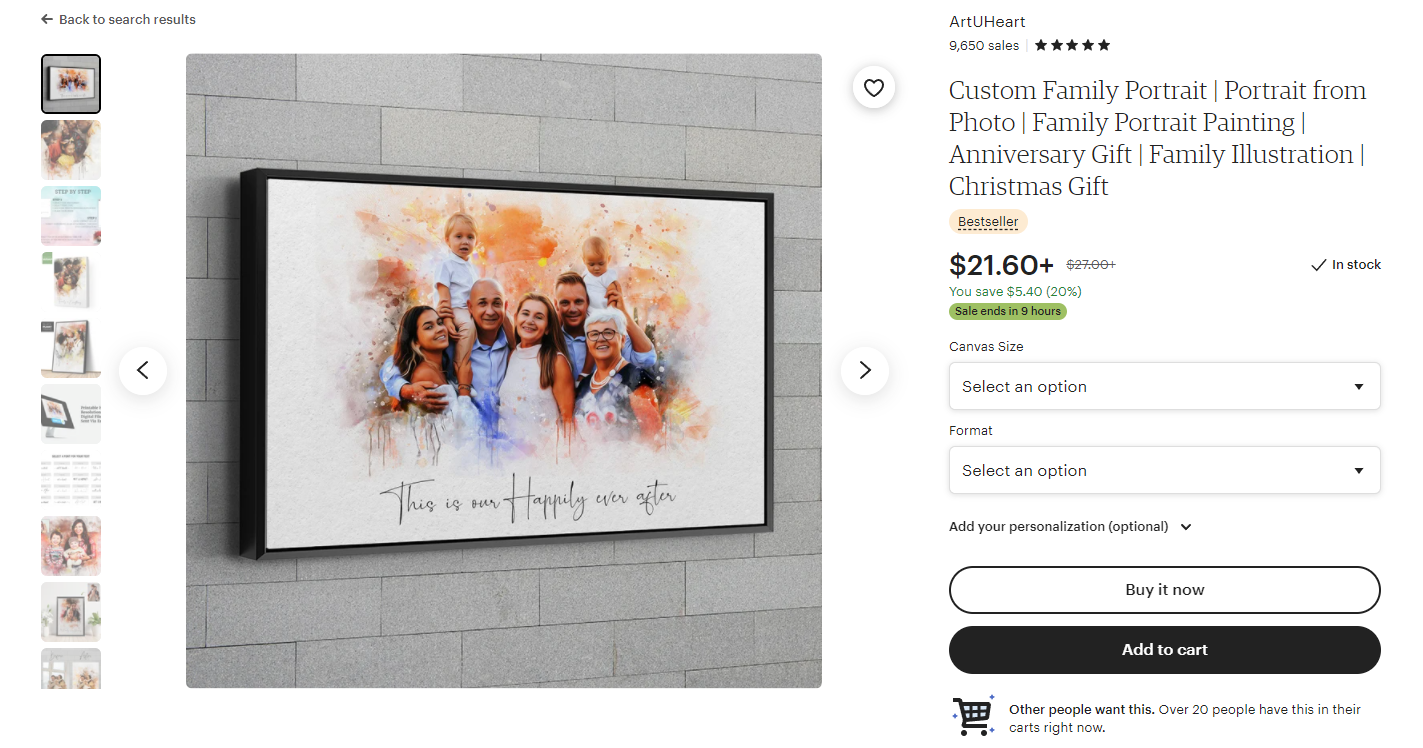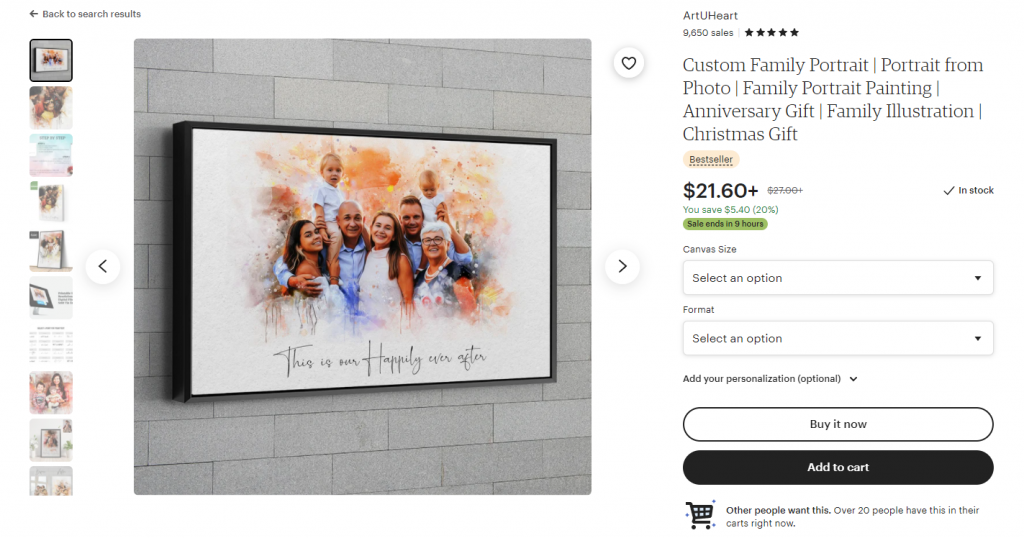 This is one of those where you actually have to be a creative and not just an entrepreneur on Etsy.
Lucky for artists and painters there is a huge market for original and custom portraits and paintings. If you have a unique style, people will be more than happy to send in pictures of themselves, their family members, or spouses to get personalized portraits done.
You may have to give a price range based on the number of figures and size of the canvas which you can set in Etsy.
Baby Accessories
Like wedding items and accessories, baby products do so well in the personalized Etsy niche.
Baby's first blanket can have his or her initials sewn in or their name as a sticker for their favorite bottle. The possibilities are really endless!
3. Out of the Box Ideas
Ok, for the final section on what personalized items you can list on Etsy let's talk about some products that do very well as regular listings but could potentially be huge and customizable items.
Candles
Candles are huge on Etsy and other e-commerce platforms.
While Sellers both mass-produce and hand-make candles, very few offer personalized options.
You could have customers fill out their favorite phrases and motivational quotes to be placed on the outside of candles or even put in little fire-proof momento inside of the candle while the wax still hasn't set that way when it burns the products inside will reveal.
Plants
The plant niche on Etsy saw a huge jump in sales as people had to stay at home and work from their houses.
If you could somehow manipulate popular plants to grow in a certain order, letter, or shape then you may just have a popular customizable plant shop on Etsy.
Food Hampers and Gift Boxes
Gift boxes and food hampers already make up a large Etsy category, but you could take it a step further and personalize based on the event being celebrated or the person it's being gifted to.
Have a questionnaire that people can fill out answering basic questions that will indicate to you what sorts of cheeses, chocolates, and jams they may enjoy so that each hamper or gift box is unique to the person receiving it!
Personalization is a category that does very well on Etsy and could work out in your favor. Hopefully, you learned something in this article that will help you in your Etsy Seller journey. To grow your personalized Etsy store contact us today for data-driven keyword optimization that your competitors don't know about!