A quick query with Sale Samurai's Search tool reveals that the keyphrase "wedding gift" yields a total listing count of over 50,100 and a total search volume of 26,625.

These results should serve as clear evidence that the wedding category is huge. And since this is Etsy, we're talking about handmade items for weddings and personalized items. So, let's say you want to compete in this category. Where do you start with your sales
strategy
and how do you optimize your listings? We've taken some of the top-selling wedding
items
on the platform and analyzed their strategies, so that you can learn from them.
Top Wedding Items On Etsy
Here are the top contenders in the
handmade
wedding gifts category on Etsy.
Custom Wine Box
A total of 5,822 custom wine boxes exist as listings on Etsy. And although searches for the phrase are also comparatively low at 24, this does not mean that these personalized
gifts
are not lucrative or high in demand. Let's take a closer look at this sub-niche. The average number of views for this keyword is 931. The average number of likes is 44. And the average number of photos of these types of products is in the region of six. Obviously, there's room for improvement here in terms of the number of
images
used, but some Sellers have certainly optimized their listings with the full number of photos.


One such merchant is "KustomProducts", which sells their custom wine box using the following keywords in their title: "Wine Box, Wedding Gift for Couple, Wedding Wine Box, Engagement Gift for Couple, Anniversary Wine Box, Custom Wine Box, Wine Gift Engraved". This pretty much says it all. And the strategy has been successful. Why? Because they've already made 34,063 sales, pricing their product at $67.20.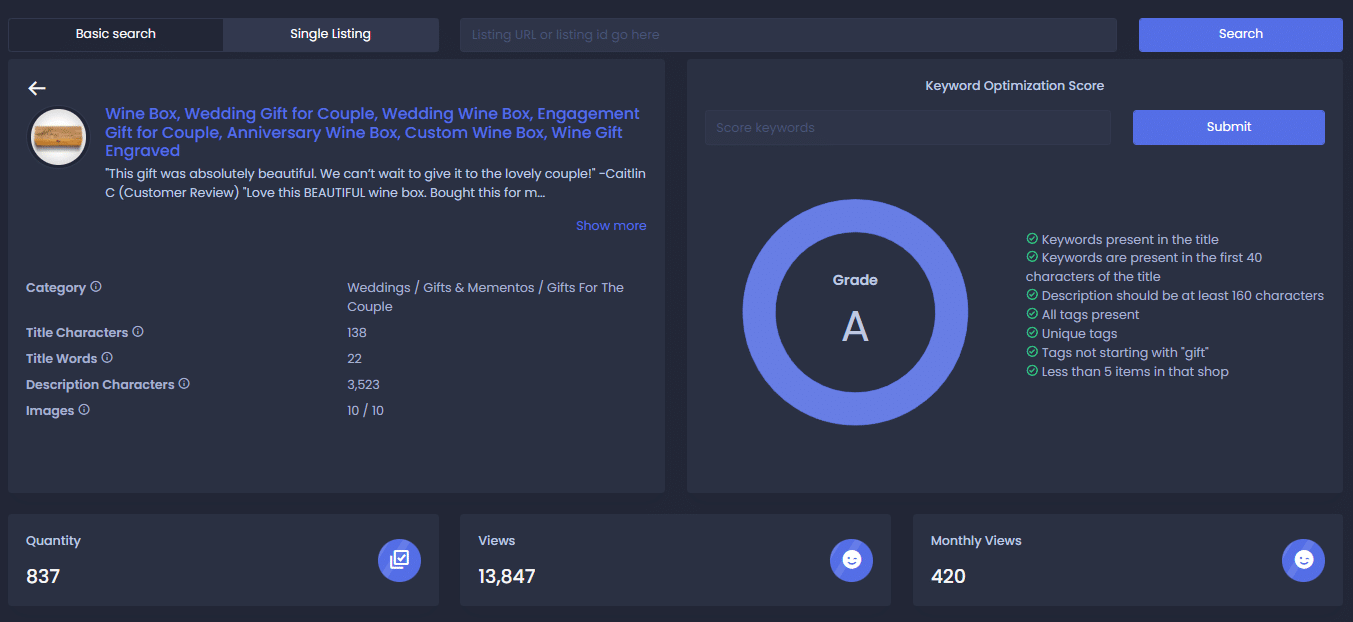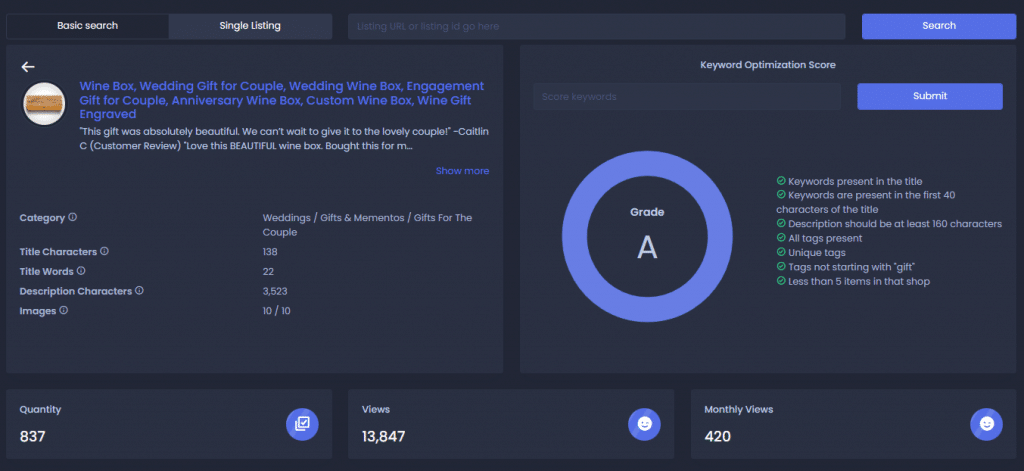 Customers are also quite pleased with the item because the Seller gets a whopping 4.9 out of five stars with 13,847
reviews
. "KustomProducts" also ships relatively quickly (between two and five days), and they've made the most of the retail space on Etsy by showcasing 10 images.
Personalized Wedding Blanket
Perfect for picnics or a night in, a personalized wedding blanket that spells out the couple's new surname and the date of their wedding makes for a thoughtful gift. The total number of listings for this product on Etsy is 6,609, meaning
competition
is low and there's room to explore this sub-niche even further. The average number of views for personalized blankets is a high of 6,524. On average, they get a whopping 711 likes. And Sellers tend to, again on average, display around six photos of their products. The top Seller identified in this category is "LifestyleBlankets". They've made sure to use an effective keyword strategy in their title, which reads: "Mr And Mrs Blanket, Personalized Wedding Blanket, Personalized Blanket Throw For Wedding Gift, First Anniversary Gift For Couple, House."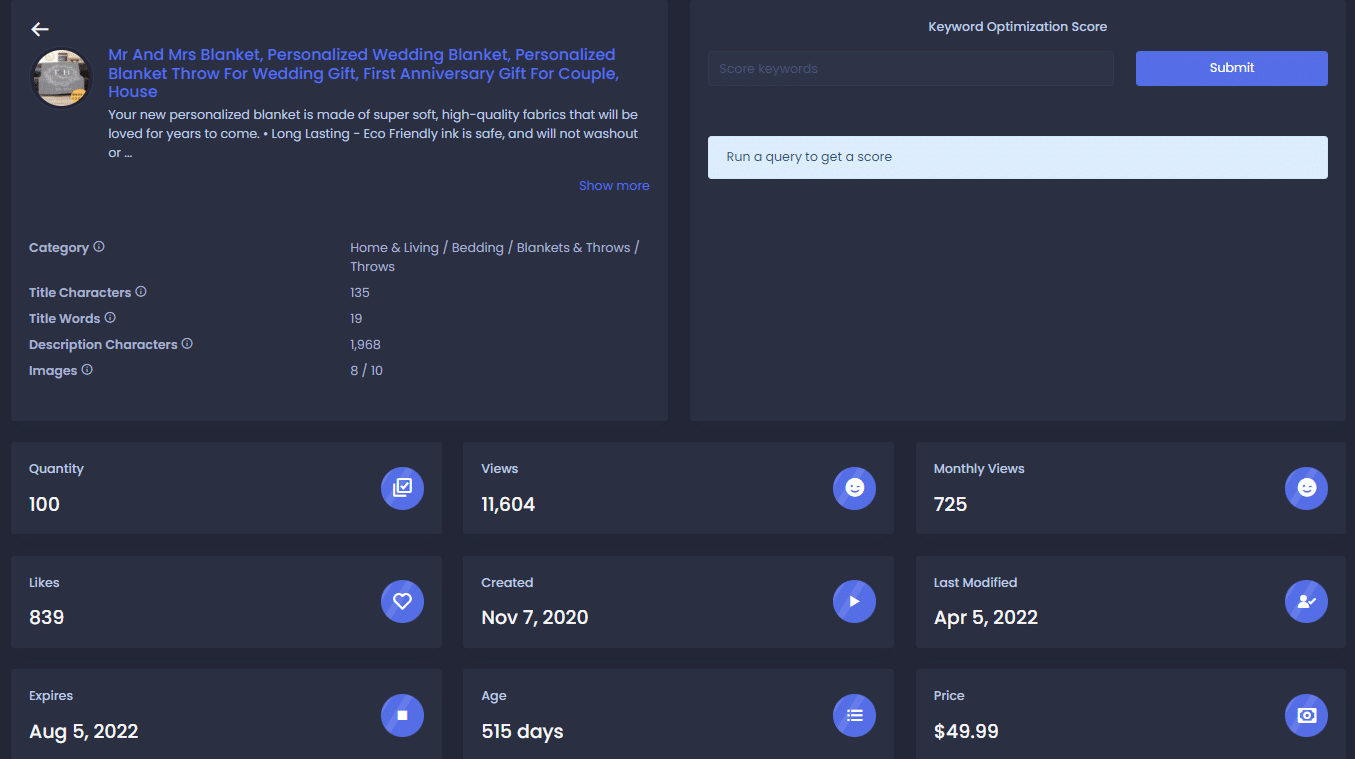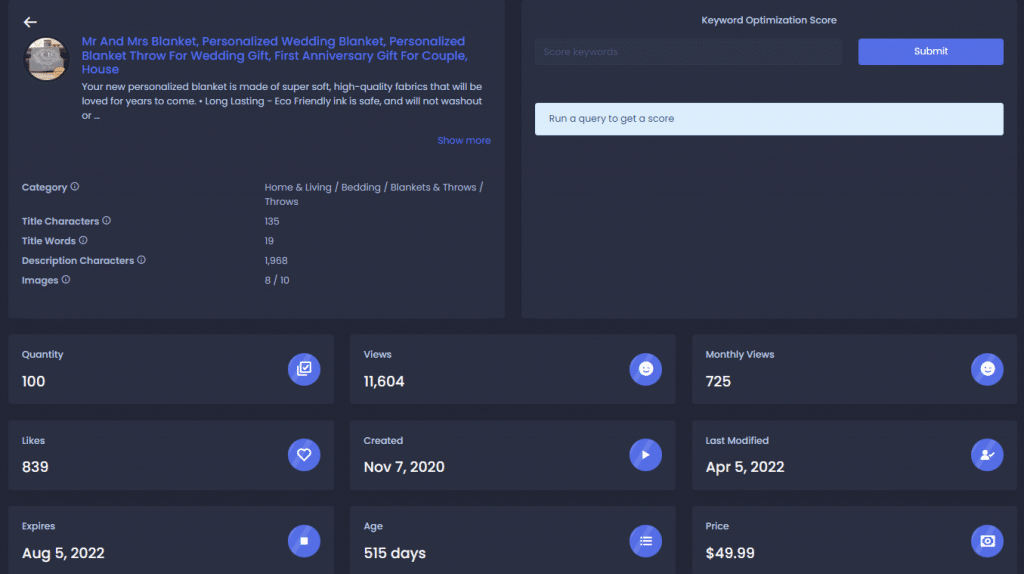 They've made a total of 37,709 sales. Meanwhile, their ratings are also ultra-high at 4.9 out of five stars with 6,900 reviews. As for pricing, they charge $49.99 per item and ship in a speedy one to two days. Although they've only used eight photos to display every angle of their product and not more, they still get the thumbs up for an effective Seller's strategy.
Custom Last Name Sign
If ironmongery is a talent of yours, then you certainly want to tap into creating custom surname signs for the new Mr. and Mrs. Ideal for hanging outside one's door as more inviting, it also offers a great personal touch. So, what can we learn from custom last name signs from
Sale
Samurai? Let's take a look. There are surprisingly quite a lot of Sellers offering this product. In fact, there are 24,329 total listings on Etsy. However, these get an average of 3,002 views, 288 likes, and Sellers use around six photos per
listing
.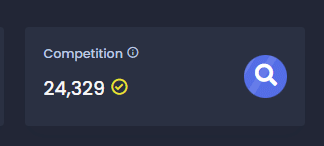 "ThunderBayCo" is a top Seller here as they've made around 15,123 sales. Their ratings are impeccable, owing to the quality of the product, with five out of five star ratings and 2,927 reviews. The keywords used in their title are descriptive. Here's what they're offering: "Custom Last
Name
Sign, Laser Cut Last Name Sign, Geometric Wedding Sign, Rectangle Wedding Decor, Custom Name Sign, Wedding Sign Backdrop". That's a pretty accurate description and a smart keyword strategy.


Pricewise, this item costs $62.00, which is just a little above the average for other items in the same category, which go for $51.57. They're quick to ship, too, taking around one to three days maximum. Although they've only displayed four photos to showcase their signs, their strategy seems to be working well for them.
Custom Doormat
Nothing says "welcome" quite like a custom doormat with the newlywed couple's surname on it. It's a great gift for the home and it signals coziness and comfort. So, how well do these items fare on Etsy? Starting with the total number of listings on Etsy, it's easy to see the competition here is moderate to high with around 34,912 custom doormats on offer. Interest in these items is high, though, with 6,626 average monthly views. These listings also get around 468 likes on average and Sellers post an interestingly low number of photos per listing on average, hovering at around five.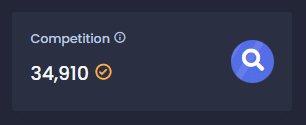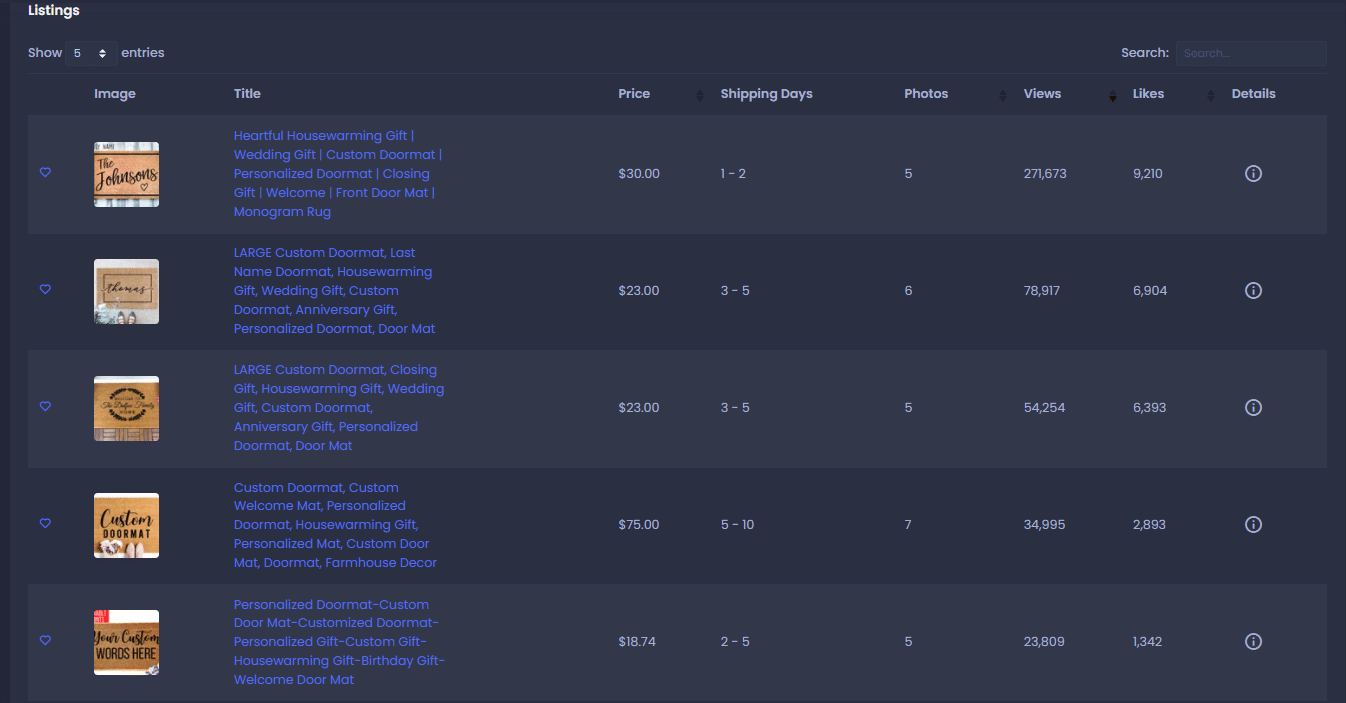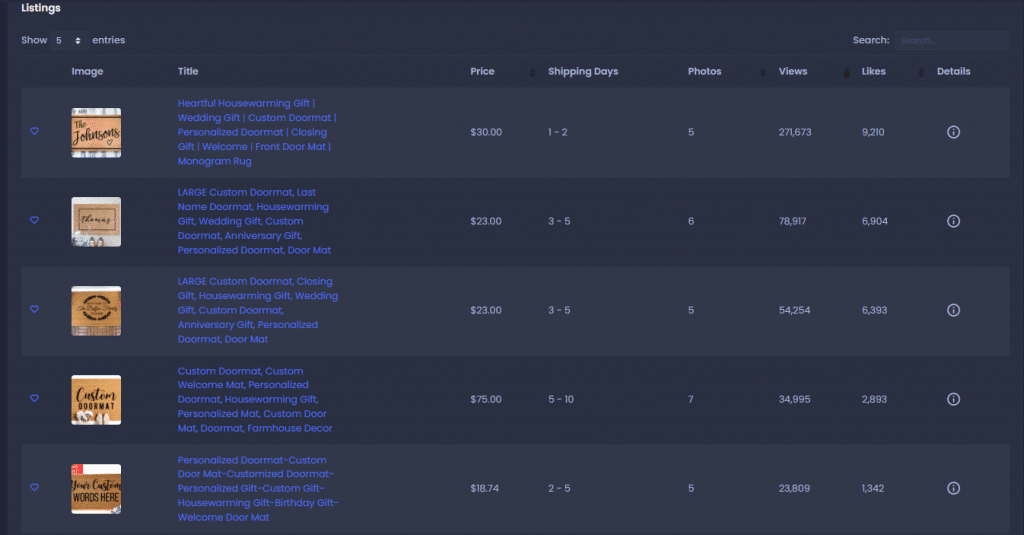 "WoodByStu" is the Etsy star-pick for custom doormats. And for good reason. They've sold a total of 221,875 items with a maximum rating of five out of five stars and a lovely tally of 47,271 reviews. Also interesting to note is how many views this Seller gets. This number stands at a staggering 267,241. Their custom doormat, which sells for $30 (just a bit under the average of $36.74), ships in one to two days. What's more is that they've only posted five images of their product.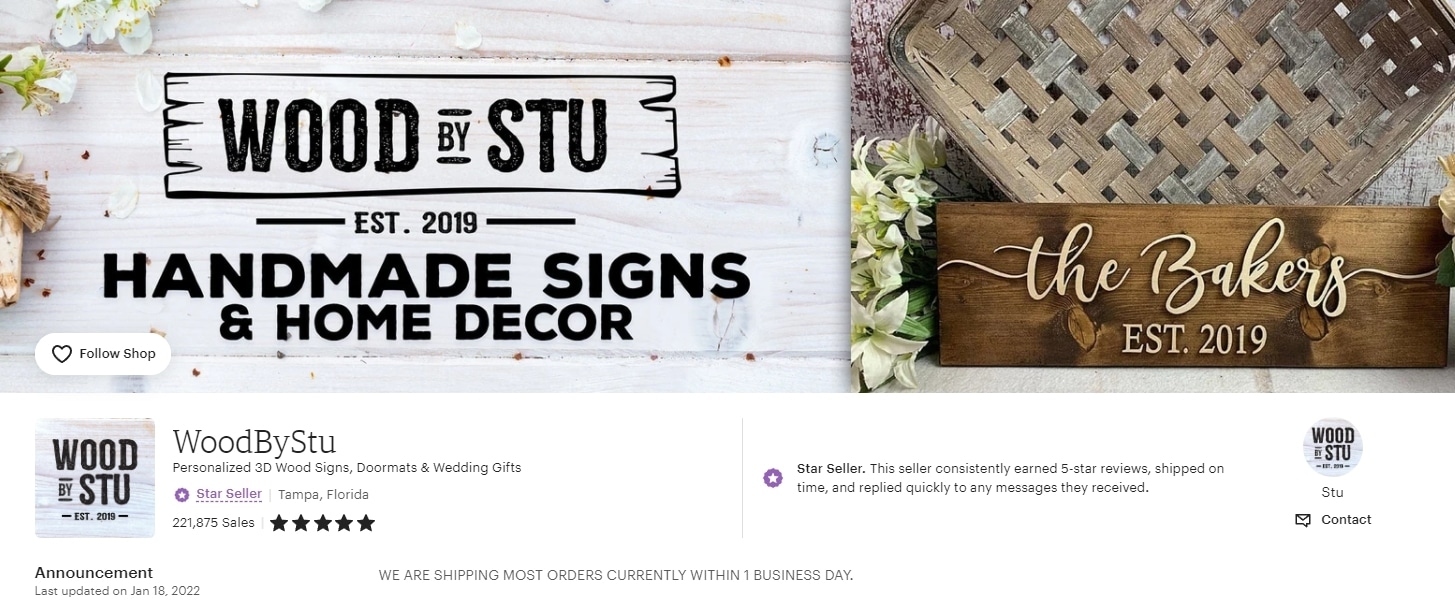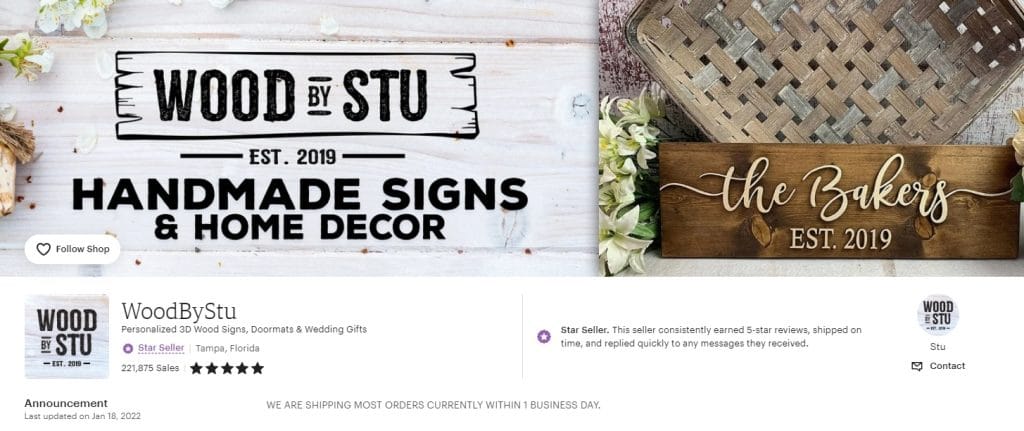 Using the following keywords in their title, "Heartful Housewarming Gift | Wedding Gift | Custom Doormat | Personalized Doormat | Closing Gift | Welcome | Front Door Mat | Monogram Rug", their purpose is clear. They make sure to tell buyers what they need from them in order to personalize the doormat as well as provide information about how to care for it. They also offer
bulk
discounts on purchases of more than 10 items.
Personalized Serving Tray
Here's the final item on our curated list of excellent wedding gifts: the personalized serving tray. These items are a rare find on Etsy, with relatively low competition at 18,052 listings. But they also get an average 1,286 views from buyers, making them a great sub-niche to explore. On average, the number of likes hovers at around 72 and the average number of photos used by Sellers in this category is six. "ClearlyYoursBoutique" is the star Seller here with a whopping total of 12,871 views. They've made 998 sales and have received 4.9 out of five star ratings with a net count of 203 reviews. Much higher than the average for this category.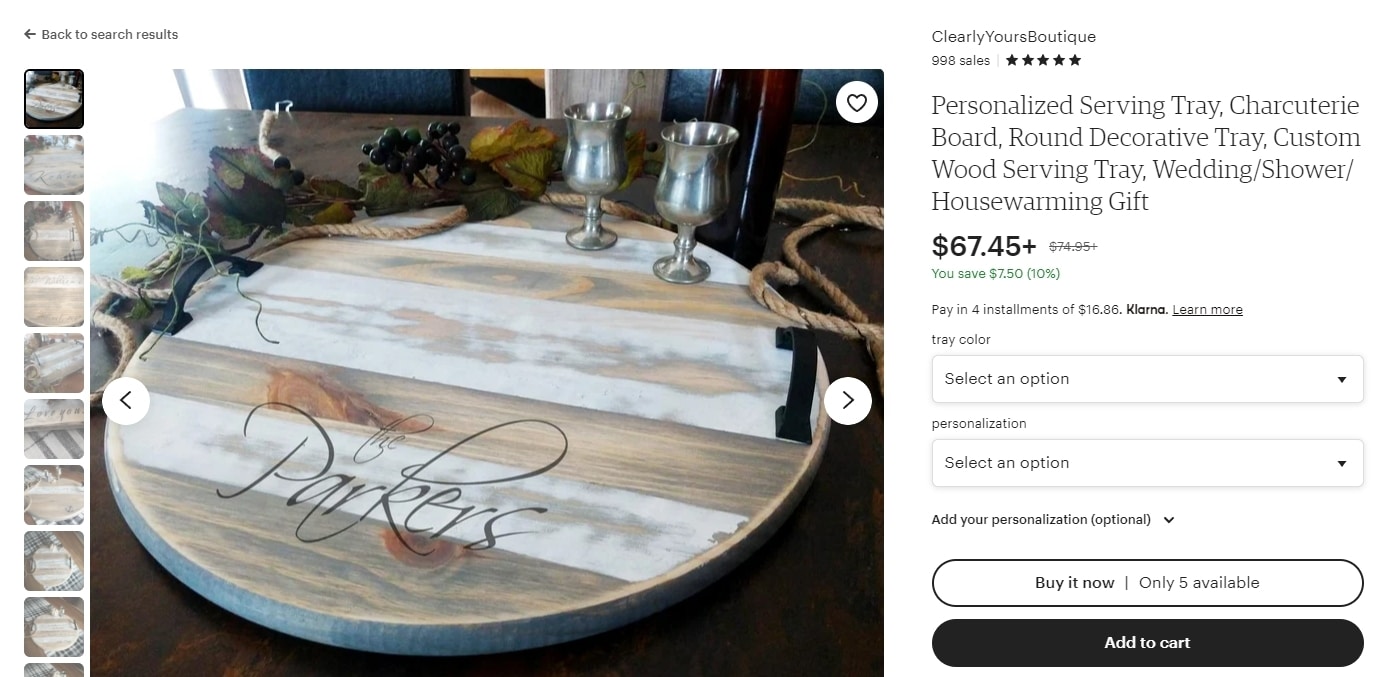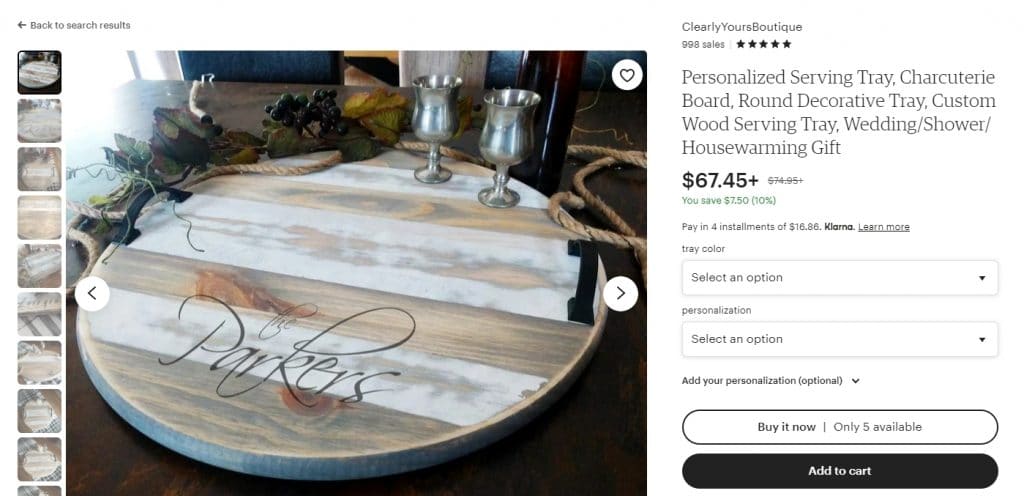 And the keywords? Here's what their title says: "Personalized Serving Tray, Charcuterie Board, Round Decorative Tray, Custom Wood Serving Tray, Wedding/Shower/ Housewarming Gift." It's clear that this is great for weddings and even housewarming gifts. As for the description, it's nice and detailed and indicates that buyers can also purchase matching coasters and glassware to coordinate
personalization
, and to "make a more complete, spectacular gift." Going at $74.95 (just above the average of $61.67), this Seller ships in two to five days, and they've displayed 10 photos to showcase this awesome product.
Designing Your Sales Strategy With Sale Samurai
Wedding items are a gold mine when it comes to listings on Etsy. These items are in high demand and always will be. Personalized wedding gifts are "in" and they're likely to remain so in the future. And it's time you take advantage of what this niche has to offer. You could, of course, browse through thousands of pages on the platform to check out what the competition is doing right. But we're here to tell you that you don't have to waste your time. Sale Samurai's "Search" feature is so highly advanced that it pulls all the relevant data you need from Etsy and presents it in an easily digestible format so that you can make informed and accurate decisions about your listings.

You can search for single keywords, long-tail keywords, or single listings. Whichever option you go for, the information will always be detailed, relevant, and useful for your sales strategy.
Going for only $9.99 per month, this is a tool you can't afford to miss out on
when developing your Etsy plan of action.