What most people end up picking for their business name or "shop name" when it comes to Etsy is not typically what they end up with.
This comes down to Etsy sellers pivoting, changing, and really coming into their "brand".
This is crucial because it allows sellers like you that just launched an Etsy shop, or have been selling on Etsy for years to really build up a fan base, grow influence, and continue to provide exactly what customers want.
Once you as an Etsy seller really find an Etsy Shop name that works for you, that brand will only grow into the future which will lead to more repeat sales, happier customers, and a name for yourself!
Let's take an example of why this can change. Let's say you start off your Etsy journey selling scarfs. Eventually, you decide to pivot into making customized coffee mugs, or maybe you stick with scarfs, but you only make them with patterns instead of customized for each person. You want to make sure that your shop name reflects the brand you are building. Having a scarf shop that sells mugs is not only confusing, but will not lead to long term success for you and your buying customers.
Here at Sale Samurai, we really recommend that your Etsy shop name convey exactly what you are selling. You don't want the customer guessing what your brand is all about. Make it simple and easy for them to "get it" just by reading the name!
If you found an Etsy Shop Name that suites you, your shop, and the products within, it may be time to change your Etsy shop name.
So how do you change your Etsy shop name? That part is pretty easy. Let's jump into it!
How To Change Your Etsy Shop Name
To change the Etsy shop name you currently have assigned inside of the Etsy platform, first head over to Etsy.com and click on the Shop Manager in the upper right hand menu:

You will then want to click on the settings tab from the left-hand menu: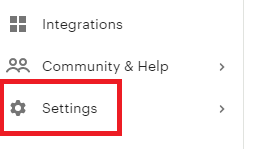 This will open up a sub menu.
Click on Info & Appearance.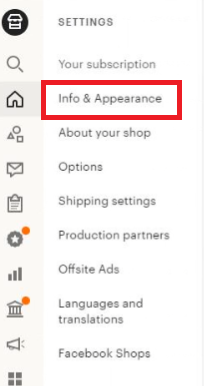 From here, click on Shop Name.

This will open up the page where you can change your shop name. All you have to do is enter in a new shop name, and then click on the save button!

What Happens If You Need To Change Your Shop Name Again?

When you change the name of your shop, your storefront will change and all the links that you previously had up, will continue to function. This is because Etsy will actually forward all of the URL's over to your new shop using something called a 301 redirect. You don't need to understand how these work, just that the links will remain active!
Etsy will also do something great which is let everyone know on your shop that you have changed the name by providing a little icon! This will also display when customers are doing shop searches which is helpful in establishing that new name on Etsy.
People who have purchased in the past though under your old name will always have that old shop name on their transactions and receipts page so, this is something to keep in mind.
One thing you WILL want to do, is each time that you change the name, you will want to let all of your customers know on social media, through email, and any other way that you communicate with your customers. The goal here is to be clear and transparent to let them know you are still in business, just under a new name! This will ensure your sales stay high, your customers are happy, and everything is running like a well-oiled machine.
How Many Times Can You Change Your Etsy Shop Name?
When you first open your shop, spend a good chunk of time thinking about what you are going to sell and how it will fit into your "brand" which will be your shop name.
Many sellers will spend a lot of time on this to make sure that the feel of their shop, the name of their products, and the aesthetic of their Etsy shop all match up and have a great feel to them so that you can start establishing that Etsy brand early.
If this is NOT what you did, not to worry!
You can change your Etsy shop name as many times as you want before the shop goes live!
Note: Once your shop is live, you are allowed to change the shop name, information and appearance a total of 5 times. Chances are, you will not get past 1-2 changes, but give each change a while to take effect and see how it effects sales and feel of your overall Etsy store.
What's The Difference Between A Shop Title and A Shop Name?
We have gotten this question in the past, so now would be a good time to address it. The shop title is going to be the line that will appear at the top of the page right under the banner. This is the shop title, but it is also the shop name that you give your storefront when editing your Etsy settings. Unless you change/create a banner that has a different name on it, the shop title and shop name are one in the same!
How Do You Know If A Shop Name Is Available?
Etsy will not allow you to use an Etsy shop name that has been used in the past to open a shop. Once it has been used by you, or someone else on the platform, it will not be available to use again.
Many people will do a search on Etsy to see if the name is available, but this is a mistake. Other Etsy shops may have changed their name previously, and this will not show up. Stores that are closed are also in this list (of names that will not be available).
So, you can't use a shop name that was used in the past on a different account, a closed shop, or a current shop.
To know if a name is available, you will simply need to come up with a unique name that showcases what you sell, and try it!
Etsy Shop Name Change Rules
When changing your shop name, you need to make sure you are within the name change rules of the Etsy platform. These include:
Shop names must be within 20 characters long
Shop names can't have spacing or punctuation
Shop names need to remain appropriate (This is a world wild marketplace after all!)
You can change your shop name as many times as you like before the shop is live
If your shop is live, you can change your shop name up to 5 times
You cannot use your old shop name again once you change to a new one
The name of your shop will become your new Etsy store URL
Keeping all of these things in mind, really think about what your goal is when naming your Etsy shop. Pick a name that conveys to the buyer exactly WHAT you are selling. Don't make them guess what your brand is all about.
3 Tips For Choose The Best Name For Your Etsy Shop
All of these tips for picking out the best Etsy shop name are so that the name you pick, best represents the products you sell, who you and your company are, and your brand! Let's dive in!
1: Most Used Keywords From Your Shop
One of the best things you can do is go through the products that you are going to be listing (or have already listed), and pick out the different keywords that seem to be coming up time and time again. These keywords are what your customers are looking for, so would be great to write down and then craft an Etsy shop name around that.
Imagine you are selling mugs with animal prints on them. What keywords come up? Probably something along the lines of "mug", "print", "pet" etc.
So, crafting a new Etsy shop name around this could be something like: MugTronPrints, AnimalSips, MugsRLife, etc.
2. Look At Etsy For Shops Similar To Yours
Taking a few minutes to look at the Etsy shops and what they are named in your same niche will give you a great idea of how they are working their branding, and if its resonating with customers.
Look at the products, but also the shop names attached to them. Are they good? Do they describe the brand and products being sold? What do the reviews say?
Remember, these are your competitors and if they are in the position you WANT to be in, they are doing something right.
Do NOT use their same name or style, because you want to be unique and not infringe on their rights, but this will give you an idea of popular shops and what the best strategies to use are.
3. Ask Friends and Family
One of the best things about friends and family is that they will likely tell you the TRUTH. One of the easiest things you can do is go to someone that you trust, and just ask:
Hey, I am thinking about starting an Etsy shop. If I named it "XYZ", what would you think I sell?
You already know what products you are selling or want to sell, but this will give you an outside look at what OTHER people (or potential customers), would think about your Etsy store name.
Gather feedback, and come up with something that really matches.
After all, if you build a successful brand, you are eventually going to be stuck with the name.
Good luck out there!