Social media is without a doubt the cheapest and easiest way to grow your business today and no, it's not too late to start!
A lot of Etsy businesses struggle with social media at first, but once you find your rhythm, it almost becomes like a snowball effect where your traffic and sales just explode! We get a lot of questions as it relates to various social media platforms so here are some frequently asked questions about:
Etsy and Social Media
Below we have compiled a list of some of the questions that our partners seem to have with social media and Etsy integration. We have also included a number of tips for using Youtube, Facebook, TikTok, Instagram, and other platforms to grow your business. Read below to find out how you can best use social media to massively expand your Etsy shop.
What Social Networks are Best to Use to Direct Traffic to Etsy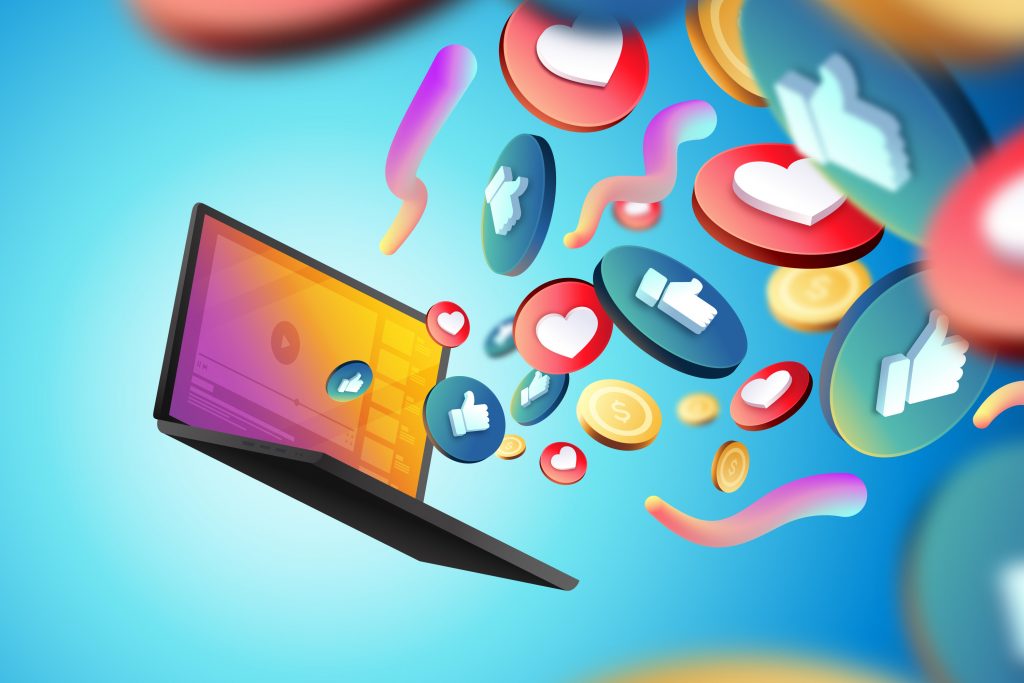 If you've ever talked to a successful Etsy shop owner, you know that they will attribute a large chunk of their success to one consistent strategic move they made on social media. For some, it's daily Instagram stories for others a weekly vlog on Youtube.
The truth is there is no one-size-fits-all answer to which social network will get you the most traffic or sales. The answer completely depends on you and your business because every single Etsy business is different.
You would assume that because most sellers on Etsy specialize in handmade goods that Pinterest or Instagram would be ideal for growth, but there are hundreds of examples of stores that find their success on Twitter or Facebook.
So how do you figure out which social media platform your store should use? Below are the steps you should go through in order to find the right social network for you!
1. Study Your Competitors
Wait! Before you skip over this headline because it seems too obvious, the answer might not be so simple.
Each industry and niche is different on Etsy so you can follow your competitors to get a sense of where they are getting the most traffic from.
Do a quick blast search of the top players in your niche and the middle guys as well to find where they have the most engagement on social. This will give you a solid foundation to start especially if you don't have the time or resources to be on all networks at once. That being said:
Just because your competitors are getting hundreds or thousands of likes on Instagram doesn't mean Instagram is the right choice for you. There are two things you need to consider, one is that engagement doesn't always translate to sales, and two is market saturation.
Many sellers on Etsy hit it off on Pinterest and have a dozen Pins with solid engagement but their sales don't reflect that same level of commitment from buyers. A lot of times people are just on social for entertainment and so posts can get a significant amount of interest without audiences actually becoming hot leads.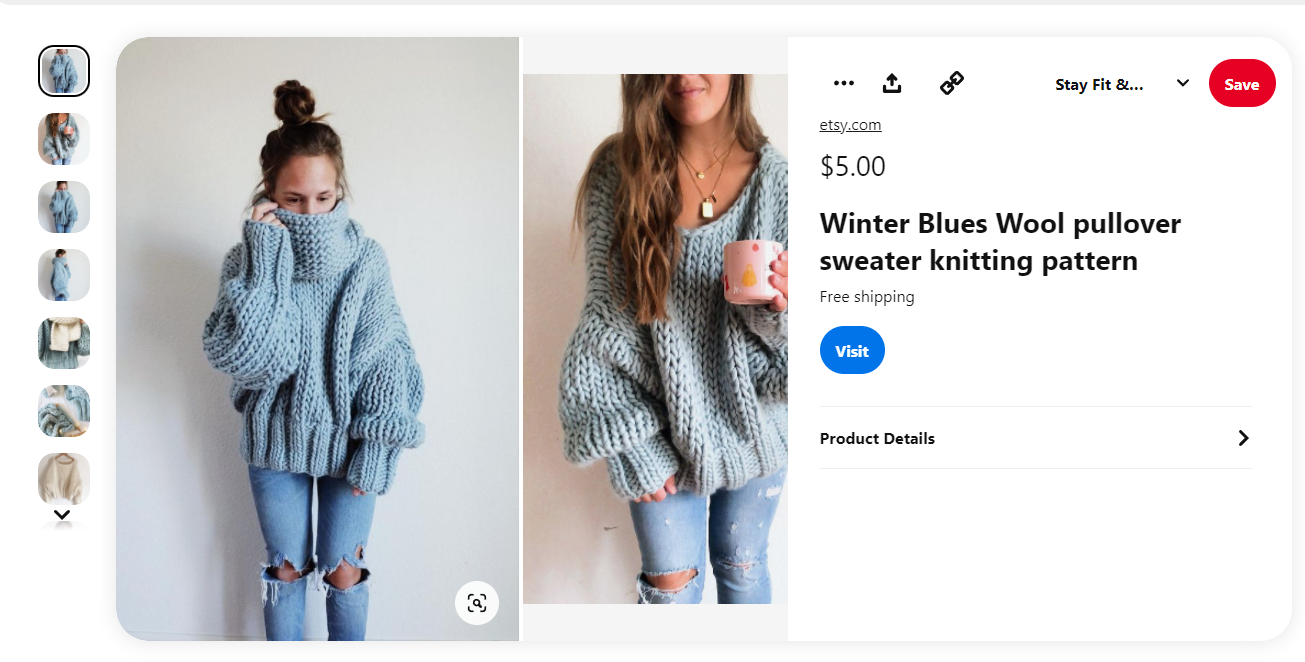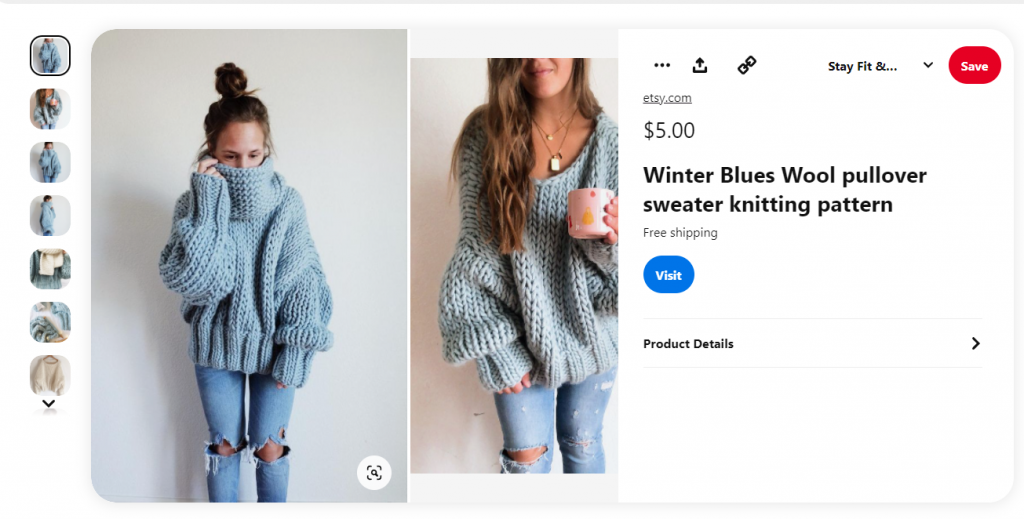 Similarly, if all of your competitors are Facebook then maybe you should focus your efforts in a less saturated market. You may find that nobody in your niche is active on TikTok which maybe your strategy to success!
2. Try It All
This is one of those easier said than done situations but it couldn't be more true.
Think about it, if you don't try every single platform, how do you know which social media network is right for your business? The best part is that you can create an infinite amount of content for as long as you want, on any platform, completely for FREE!
That's what's great about content marketing on social.
Find the time yourself or hire a VA to take over social media posting and get your business everywhere from LinkedIn to Snapchat. After a few months, you'll get a good understanding of where you get the most traffic from and can focus all of your efforts there.
One very important thing to remember is that every network performs differently. The same people on Youtube don't interact on Youtube as they do on Twitter so it's important for you or your hired help to understand the metrics behind each platform and create content or interact with audiences according to the norms and best practices of said social media network.
Is It Possible to Attach my Youtube Channel to My Etsy Shop in the Same Way That I Link My Facebook and Instagram Accounts?
The short answer is not exactly. With platforms like Facebook, Instagram, Pinterest, and even Twitter, you can connect to Etsy in a way that allows you to post products directly from Etsy onto your social media accounts. You can also have a Shop Now Button in your Facebook page or Instagram account that directs to your Facebook or Instagram Shop which can be integrated with Etsy.com
Youtube doesn't really work that way because a landing page or shop function doesn't exist on Youtube yet.
You can still include Youtube links in your product descriptions and announcement text but they will not be live links or clickable links on Etsy and having links in your shop's announcement is not good practice.
You should still use your Youtube account as a way to promote your Etsy shop. Having a vlog is a great way to review products, show a day in the life, and get people interested in your brand.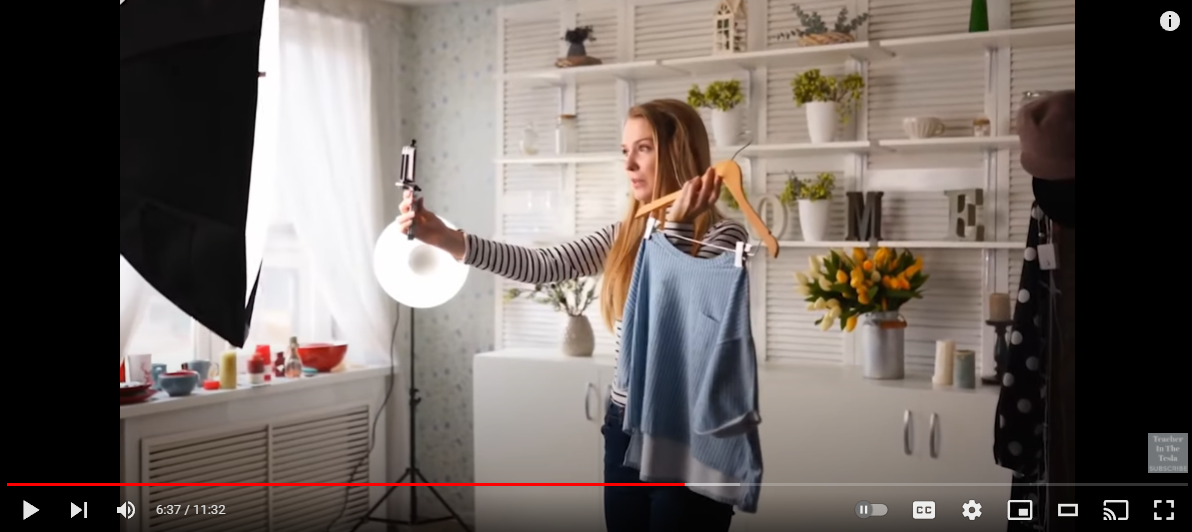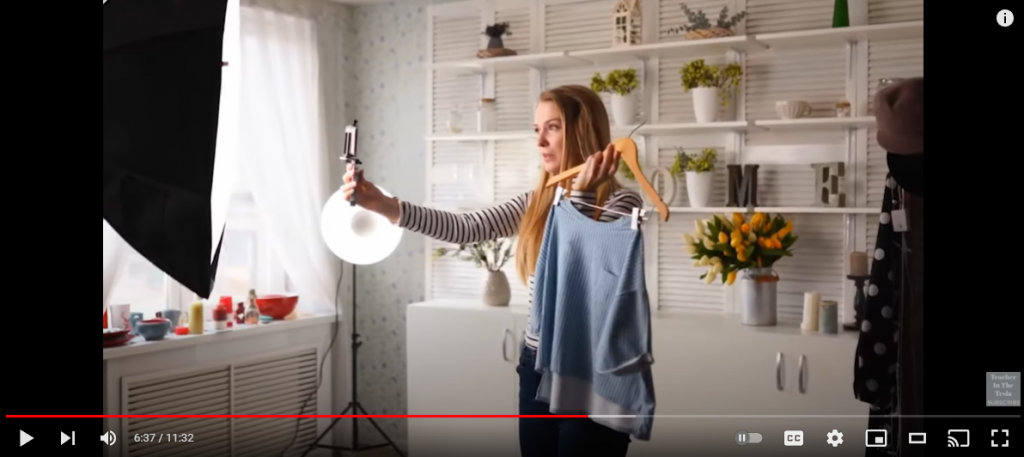 You can then direct people to Etsy using your shop's link in the Youtube video description.
How to Direct Customers to My Etsy Shop On Each Product?
Say you just created a promotional Instagram story or want to set up a Facebook shop and need to link individual items, listings, or products from your Etsy shop and not a link to your whole Etsy store.
Well, it's pretty simple.
Just go to your shop and click on the listing. Once you get to your individual product page and are no longer on your homepage simply copy the URL address and paste wherever you need to promote your listing outside of Etsy.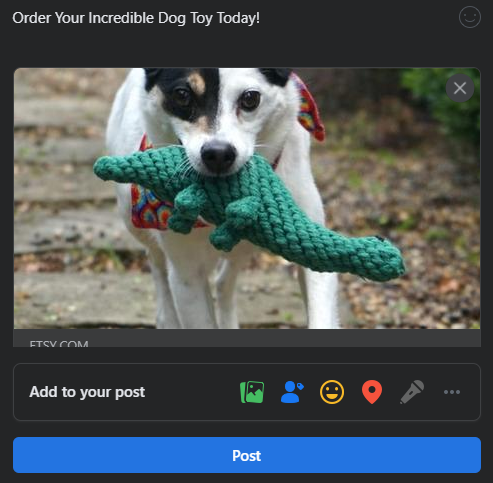 Lucky for you, Etsy partners with a lot of social media networks including Facebook so if you need to set up a shop on Facebook or Instagram to highlight and sell individual products you can just integrate your Facebook business manager with Etsy and you should be able to upload your entire catalog with product descriptions, images, and titles.
What is the Best Way to Get Shoppers From Facebook?
Facebook has gotten a bad rep in recent years with lower Page engagements hurting businesses and younger audiences preferring Instagram and TikTok to the social media giant.
However, Facebook is still a great place to grow an audience, nurture a following, and sell products. With almost 3 billion monthly active users, it's not exactly wise to ignore the platform.
So how do you grow your business using Facebook? Here is a simple breakdown of practical things you can start doing today:
1. Grow a Following
Yes obviously this is not easy and won't happen overnight but it's FB Business 101. Here's an example of how you can grow a following on Facebook:
Increase your FB friends by going to Facebook Events in your city and actively networking with people
Create a FB Group and invite your friends to the group
Post-value-based and entertaining posts to your group that relates to your niche
Ask group members to share your group with interested parties
Create a Facebook Business Page and invite your friends and group members to Like your page
There are a number of other ways to grow a following on Facebook including organic content marketing and period advertising so choose a path that works for you and your budget and get started!
2. Nurture Your Audience
It's important that you always keep your audience engaged with trending topics, value-based advice, entertaining posts, daily hot topics, and more!
You need to build trust with your audience through content marketing and become the guiding voice in your niche, even if you're just starting out.
3. Ask. Ask. Ask.
Once you have a trusting audience on Facebook feel free to sell! Ask your audience to visit your Etsy shop and buy your products or services.
A lot of personal brands struggle with this step because they give and give with their Facebook page or personal account on Facebook but feel awkward asking. But remember, the name of the game is sales so you should definitely feel comfortable with putting a CTA with your posts and selling your products!
There are plenty of ways of using Facebook to guide your customers to Etsy or your Etsy-connected Facebook shop including opening a Facebook group. Like with everything, try out different methods and strategies and scale what works.
How Can I be Featured on Etsy's Different Social Media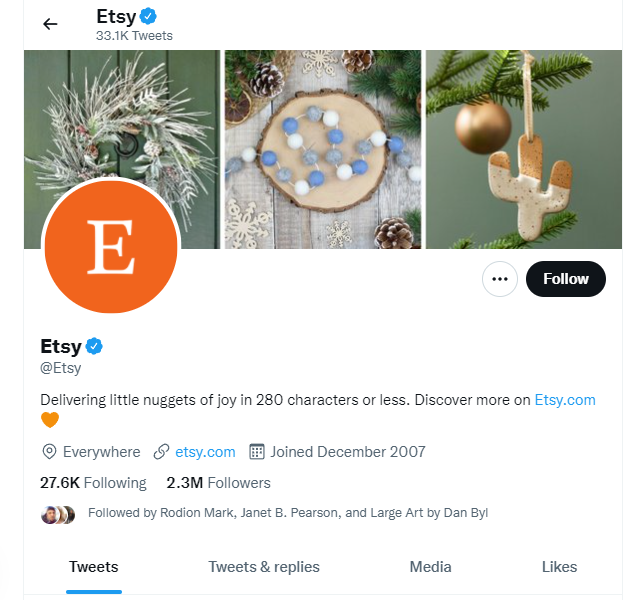 If you're selling on Etsy, do yourself a favor and follow Etsy on social media. Whether it's their Instagram page or blog, stay up to date with what is relevant on the platform and what other sellers are doing, even if they are not in your niche.
You will notice pretty early on that Etsy loves to feature their sellers. It probably doesn't take a genius to figure out that these sellers probably get a nice spike in sales after an Etsy shoutout. So how do you get featured?
Well, unfortunately, there is no form you can fill out or steps you can follow to get your listings posted on Ety's social media. But, here are some things you can do to increase your chances.
1. Improve Your Etsy Optimization
Optimize your Etsy shop to make your store easier to find. You can optimize anything from your listing titles, tags, descriptions, announcement text, and more. You can research how to do this best yourself or contact us today!
2. Establish a Brand
Etsy really wants to see you have a cohesive brand that is focused strategically and aesthetically pleasing. If your Etsy store is all over the place without a clear brand then you probably aren't going to get featured
3. Improve Your Images
Your product photos are the first thing you customers will see and the first thing that an employee at Etsy will see so make it pop! Have high-quality photos that show your product clearly.
4. Have High-Scores
You should have high Etsy customer satisfaction scores in order to get noticed by Etsy. The way you do this is by having consistent sales month over month, returning customers, and five-star reviews.
Step up your customer service and encourage people to give you great reviews.
5. Have an Awesome Social Media Presence
If and when you get featured by Etsy, they are going to tag your Instagram account, Facebook page, or Twitter so your social media accounts need to be on point!
Can I Sell on Etsy and My Website?
Yes! You can absolutely sell the same products and services both on your website and on Etsy. In fact, many sellers prefer not to put all of their eggs in one basket and sell actively in both places.
At some point when your business grows to a point where you have loyal customers and an established brand that is recognizable with solid SEO, email marketing, and a social media presence, then closing down your Etsy shop and moving to your personal website may be a great way to avoid Etsy's commission and fees.
There is a lot of confusion about this because a few years back this was a big no-no. Back then, you could basically only link to your blog, and then if people were inclined to explore your e-commerce website further they could.
Today Etsy has a section on the About page where you can actually insert your website link! So yes, you can definitely sell on your website and on Etsy.
What are Some Tips I Can Use to Improve my TikTok Business?
You need to get on TikTok today and you need to take your business there asap!


TikTok and Instagram Reels are the big new wave in social and you need to figure out how you can use short-form videos to benefit you and your Etsy business. TikTok in particular is a great way to quickly and organically grow a following and direct an audience to your Etsy shop.
But you just figured out how to post interesting content on Facebook and Twitter and now you have to learn TikTok? Yes! We know it can be confusing and difficult to work around the platform so here are some tips to grow on TikTok:
Be consistent and upload at least once a day
Use text in your videos
Create videos directly in TikTok and use its various features
Show your personality and document everything!
Follow trends and popular sounds
Be yourself and 100% authentic
If you follow the tips above and consistently post for several weeks you will start to see some traction if not a viral video!
Remember also that it's not about creating content but documenting content. You would be surprised how many people are interested to see what your Etsy shop's day-to-day looks like, even when nothing is going on. Here are some content examples specifically for small-business owners to help you get started with TikTok.
1. Show Your Work Process
People want to see how your products are made and assembled so show as much as you can without revealing and trade secrets of course.
You can also show how you pack orders and how customers can expect their orders to arrive. It's super fun to record 20 orders in a row and then speed up the video or just show the "order of the day" leaving a special note for that customer.
2. Respond to Comments
TikTok is unique in that you can reply to comments in the comment section but you can also click on comments and create a response video.
This is a great way to address customer service problems, FAQs, or show more of your business and how people can order your products!
3. Small-Business Tips
Share what you learn about running a small business with short videos on TikTok. Remember, it's not just about a CTA but also about giving value and entertainment.
4. New Product Reviews and Previews
Get people excited about a new product coming out by creating a short preview or a quick review.
You would be surprised how many of your excited followers will go to your Etsy shop to purchase new launches!
What is the Function of Facebook Stories? Is it Worthwhile to Devote a Significant Amount of Time to Them?
Facebook stories are like Instagram stories just on Facebook. Simple right? As simple as it sounds, top Facebook executives expect stories to take over the Facebook Feed.
The answer to whether or not stories are worth the time invested in them is always yes!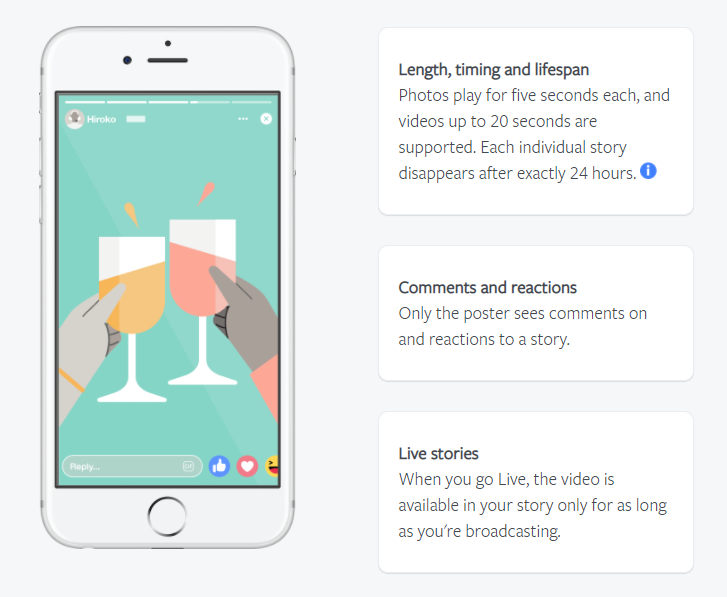 Remember, it's a matter of experimenting and finding out what works for your Etsy shop. You may just find that 80% of your traffic comes from Facebook stories. You just never know.
Stories on Facebook are a great way to create a more personal relationship with your audience because it's a less formal way of interaction compared to the feed. You can almost humanize your brand through Facebook stories by showing a behind-the-scenes look at your business and how it operates.
Try creating short, fun, and fast paces stories on Facebook that are different from your stories on Instagram and track how your increased amount of content translates into traffic and sales on Etsy.
How do we get over the Instagram algorithm (if you're having issues with ads being rejected)
Here is a super controversial statement. There is no such thing as an Instagram Algorithm… Ok obviously there is but it is not after you and it's not the reason you are getting less traction. The reason you notice your engagement going down is because of you and your content only!
That's a tough pill to swallow but it's true. Your growth and success on social media, just like your growth and success on Etsy, completely depends on you and your activity.
Noticing a gradual decline in social interactions? Then change things up! Just because something worked 6 months ago doesn't mean it has to work now even if you're audience stays the same.
People and social media change so you have to change your content to match what is relevant or interesting. Try posting memes or inspirational quotes. Do a daily story showing your morning coffee order before work. Host a monthly giveaway to a follower that comments under every post.
Instagram's algorithm is designed to show people what is most entertaining, interesting, and valuable. So if you hate the algorithm it means that you know you could be stepping up your game!
If You Don't Want to Show Your Face, How Do You Share on Social Media and Gain More Followers and Activity?
You will probably notice that your posts on social media with images of people and their faces almost always outperform posts of products. That's because social media is by humans for humans.
So not showing your face on social and expecting growth in followers is a tall order; but not impossible.
You can always hire people to appear in your photos or videos. Try asking a friend or family member to help out and become part of the business. Use license-free images from Unsplash.com and photoshop your product into the posts.
It doesn't end there. Get super creative with your posts. You can pretend like your products are living and can interact with each other or customers or you can create POV videos where your face isn't visible but everything you are doing is. There is always a way to work around a problem!
There is so much more that goes into social media and content creation geared towards increased traffic, activity, and sales on Etsy but this article should serve as a great fundamental place to start. If you have any more questions about optimization or massive Etsy growth, contact us today to get started.