Let's be honest, starting an Etsy business can be daunting if you don't have the right tools and guidance. With all of the tasks associated with starting any new business and especially an Etsy shop, you need to be able to hire the right people who can help you realize your goals. The truth is, you can't grow your Etsy store if you are focusing your valuable time on simple tasks that distract you from your vision. So here is a detailed guide on:
Hiring a VA for Etsy Administration.
Read below to find out more about Etsy administration, the benefits of hiring a VA, and FAQ's about hiring a VA.
What is Etsy Administration?
So, what actually is Etsy administration? Well, it's similar to any other administrative job just in an ecommerce Etsy site. Essentially, Etsy administration involves inventory and price management, order monitoring and assistance, as well as product uploading and optimization.
Etsy administration is a recurring task that needs to be monitored constantly and adjusted incrementally to ensure the day-to-day functionality and growth of your Etsy store. Which is why hiring a VA makes a lot of sense.
What is a VA and How Does it Work?
VA's or virtual assistants are usually independent and freelance workers who help with various administrative tasks as it relates to operations, management, marketing, and sales. VA's work remotely and can be paid hourly or by project. Because they are not full-time or even part-time employees you have the flexibility to set tasks, deadlines, and conserve your resources.
Why Choose a Virtual Assistant for Etsy?
Virtual assistants are ideal for ecommerce businesses that are new as well as long-time Etsy stores. There are a lot of factors involved in a successful Etsy store and when you're just getting started there are a lot of moving parts that need to be addressed properly.
The truth is, no matter how good you are at what you do, you aren't good at everything and as a successful business owner, it is your responsibility to find people that are better suited for specific tasks, positions, and jobs than you are. That way you maximize the potential of your business and are able to sell your product or service to your audience.
Benefits of Hiring a VA (Virtual Assistant)
The benefits of a virtual assistant are many and if taken advantage of properly, can help your business grow quickly. Here are just a few reasons why you should choose to hire a virtual assistant:
You can control how much time is spent on a weekly basis on specific tasks so you can avoid wasting time.
VA's can be extremely affordable and save you a lot of money. Because you aren't hiring a full-time employee you can essentially avoid paying someone for 40-hours a week and avoid paying health insurance and other benefits.
The amount of time you will save is surprising! Virtual Assistants will basically take care of all the annoying tasks that you don't have time to address so you can focus on growing your business and realizing your vision.
There are different kinds of VA's for every niche so find someone that works for you and your needs!
How to Find The Best VA for Your Needs
Here's where things can get a little tricky and where most new Etsy store owners fail when it comes to hiring their first VA so take notes! When it comes to hiring the right VA that will best fit your needs, you need to consider the following:
1. Find a VA with experience in your niche
This tip may sound simple, but you would be surprised how many Etsy shop owners hire the wrong virtual assistants to help with Etsy administration. It's imperative that you find VAs' that actually have experience in your sector otherwise the learning curve may take too much time and end up costing you more than you had foreseen.
VA's with specific industry experience also know the exact tasks associated with your niche, have likely worked for your competitors, and may end up teaching you about softwares or shortcuts that could help you out a ton!
2. Reviews and Past Work
It's so important that you take the time to check up on the VA you are considering or interviewing. Do a quick Google search and find them on LinkedIn. Often times the freelance websites you find VAs on will have profiles that showcase their past work and reviews or testimonials clients and employers have given them.
That being said, don't get fixed on one bad or good review, instead you're looking for someone who succeeds over 85% of the time.
3. Consider Location and Time Zone
This seems to be something that people always forget! Your Etsy administrator VA will likely be in a completely different time zone and we aren't talking about the difference between MT and EST. Instead, you may have VAs in Asia, Australia, and Europe so make sure that you consider location and calculate whether your VAs time zone works around your schedule.
Tips on Managing Your New VA Relationship
When it comes to an Esty Administrator relationship with your VA it's no different than maintaining a healthy relationship with a regular employee. It's important that you treat people fairly and make them feel valued. Set reasonable deadlines and pay people fairly.
Ultimately, open and clear communication is the best way to manage your new VA relationship.
FAQ's About Hiring a VA
Here are a few frequently asked questions we get when it comes to hiring a new VA for your Etsy shop:
1. What Can VA's do?
Virtual Assistance are just that, assistance from anywhere in the world! Which means that whatever you need help with you can find someone with the right level of experience willing to work for you!
Etsy Administrators will usually need to know how to upload products, keep track of inventory, often manage customer relations, and perform various social media marketing tasks.
2. Can I Track Time Spent Working?
Yes! You should absolutely keep track of how long it takes your VA to complete a task especially if you are paying by the hour that way all parties are happy. There are various tools and apps that you can use including clockify.me and Upwork's time tracking app.
3. How Will I Be Billed?
When it comes to payment, we always recommend you use a trusted third party to complete transactions. You can ask your Virtual Assistant to send you invoices every week or month through PayPal or you can pay by the gig on websites like Fiverr. It really depends on what you are comfortable with, but we recommend against paying in cash or by check.
Resources for Finding a Good VA
There are a number of fantastic websites that can get you started on your VA finding journey! Here's a list of a few of our favorites to choose from:
● Upwork
● Fiverr
● Freelancer.com
● Freeeup
● Zirtual
● Gocatalant
You can also find VA's using licensed virtual assistant organizations or by direct outreach through email and LinkedIn.
Use Upwork To Outsource Your Etsy Administration
We are huge fans of using Upwork as this is a platform we have had great success with in the past.
To use this website, it is a pretty straight forward process.
First, head over to Upwork.com, and click on "Sign Up" in the upper right-hand corner: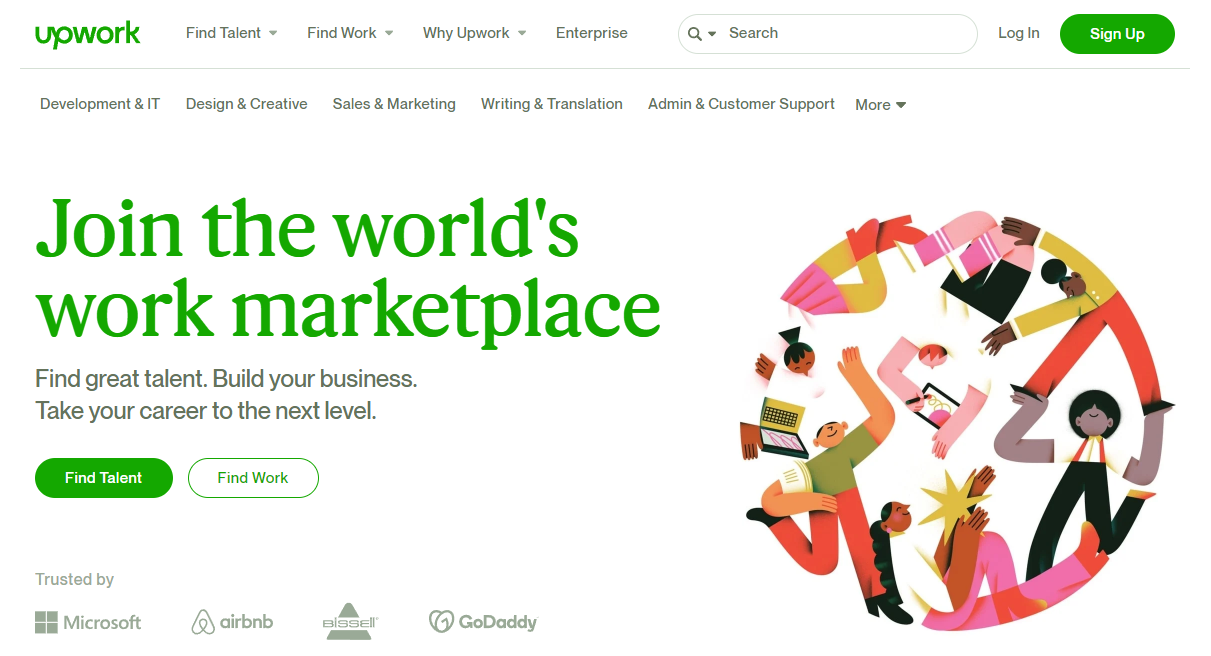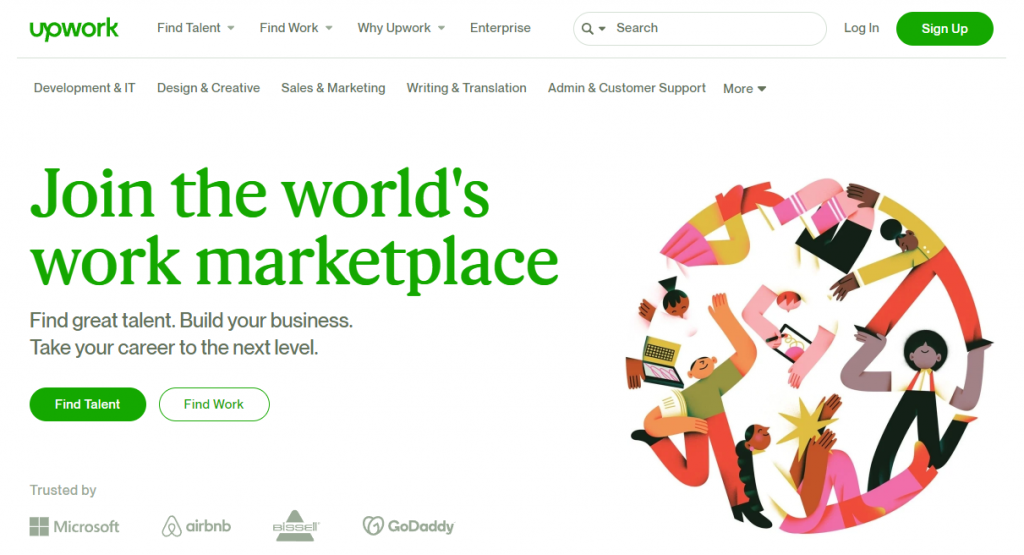 You will need to go through the process of entering in your name, your email address, and get all signed up. This should only take you a few short minutes.
When you are able to get to the dashboard, you should see a page that looks like this: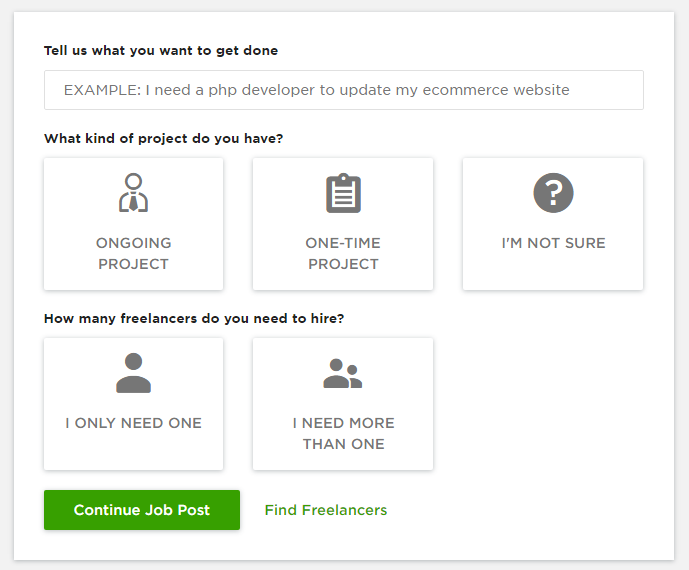 Before you continue on this page to post your first Etsy Admin job, you will want to make sure that you verify your email address (check your email), and enter in a billing method. This will allow you to charge the card when a job is in progress through Upwork's Escrow so the freelancers you are hiring can get paid.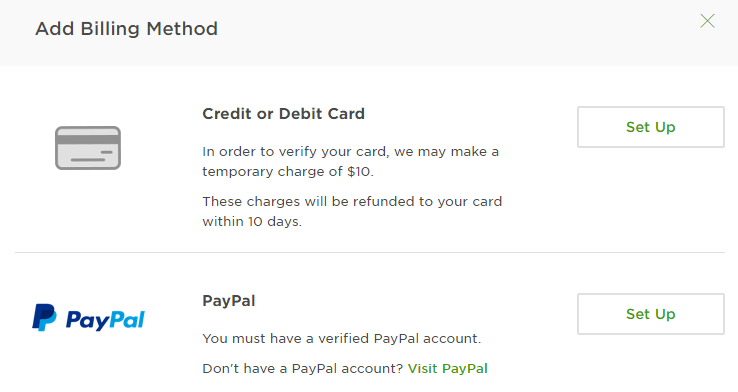 Now that you have all of that set up, it is time to post your first job!
Head back to the homepage and you will be looking at a page that looks something like this: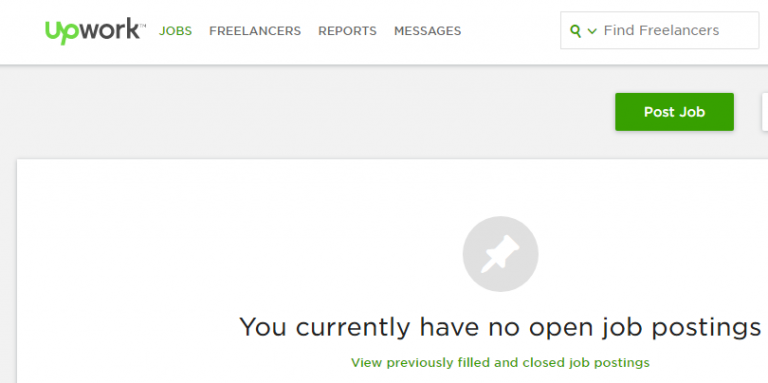 Click on "Post Job" and go through all of the options!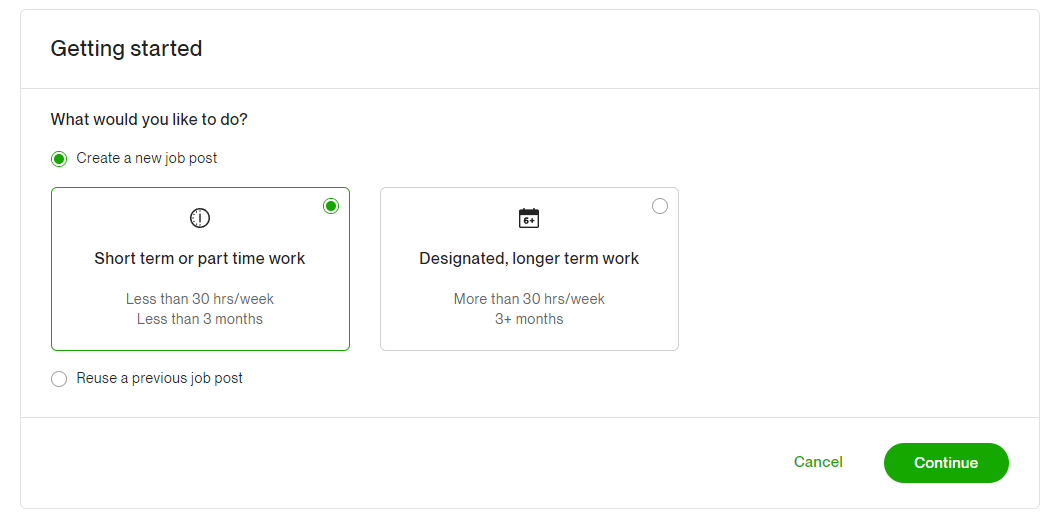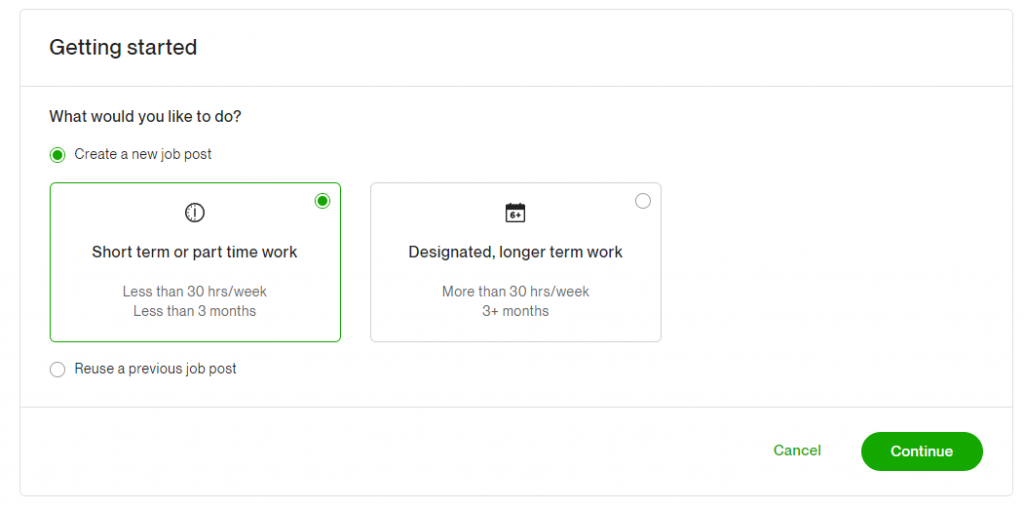 The first thing you need to select is if you want short term/part-time work, or longer term work. If you have a very busy shop, you will want to select more than 30 hours per week, but for testing purposes and work on the side, you will want to select short term.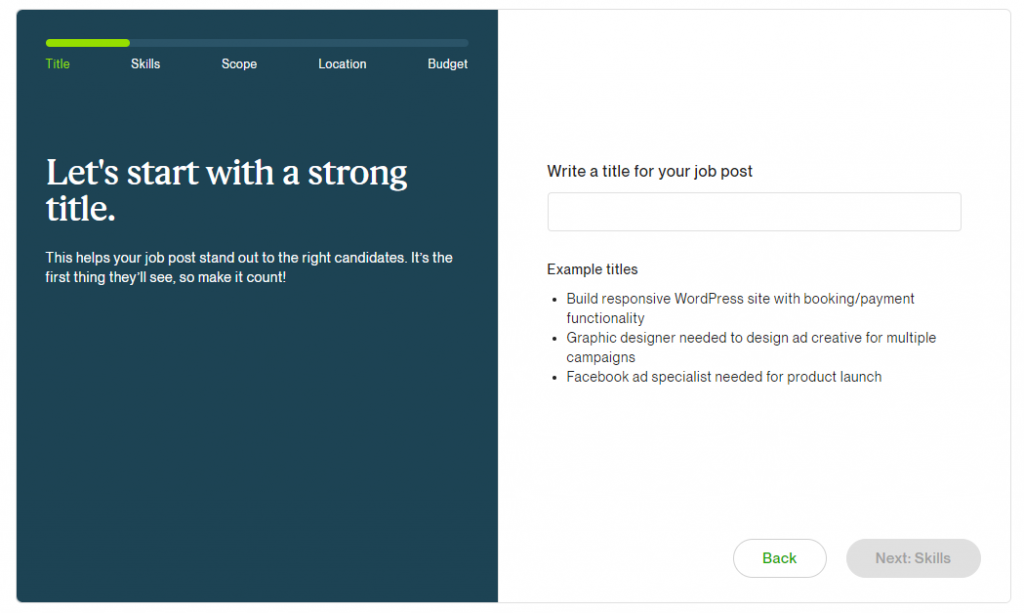 The next section is putting your job posting together. You will want to have a job post title that accurately describes what you want the freelancer to be doing. This is the first thing they will see when applying, so make sure it fits! What you type in this box will narrow down the category you are going to post in.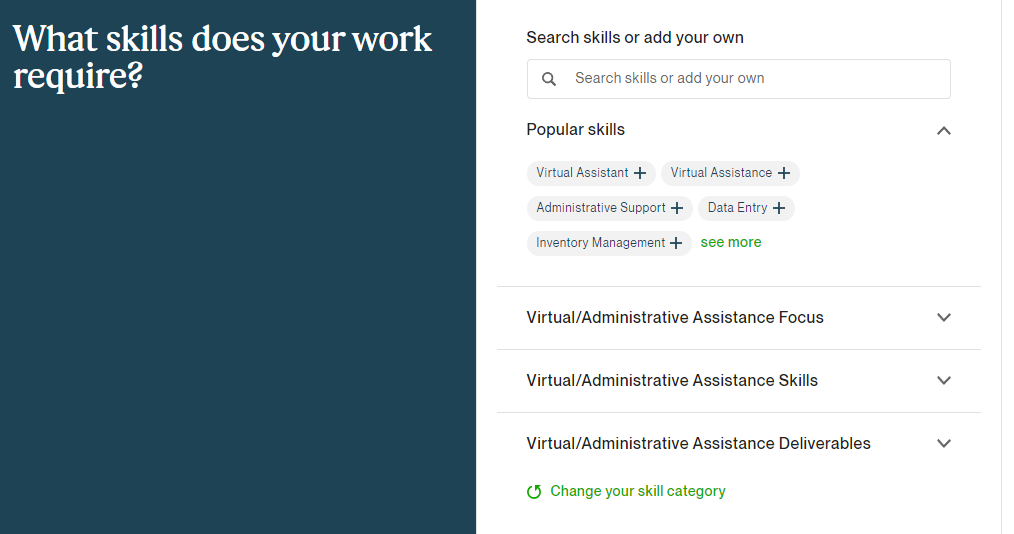 You will then list out all the skills that you want applicants to have. As you can see from above, they have already given us some options, or you can use the drop-down menus and search to find more that are relevant to what you are looking for.
The next page is asking you about the scope of work. If this is your first time hiring a VA for Etsy, I would suggest selecting small as the tasks will be pretty straightforward: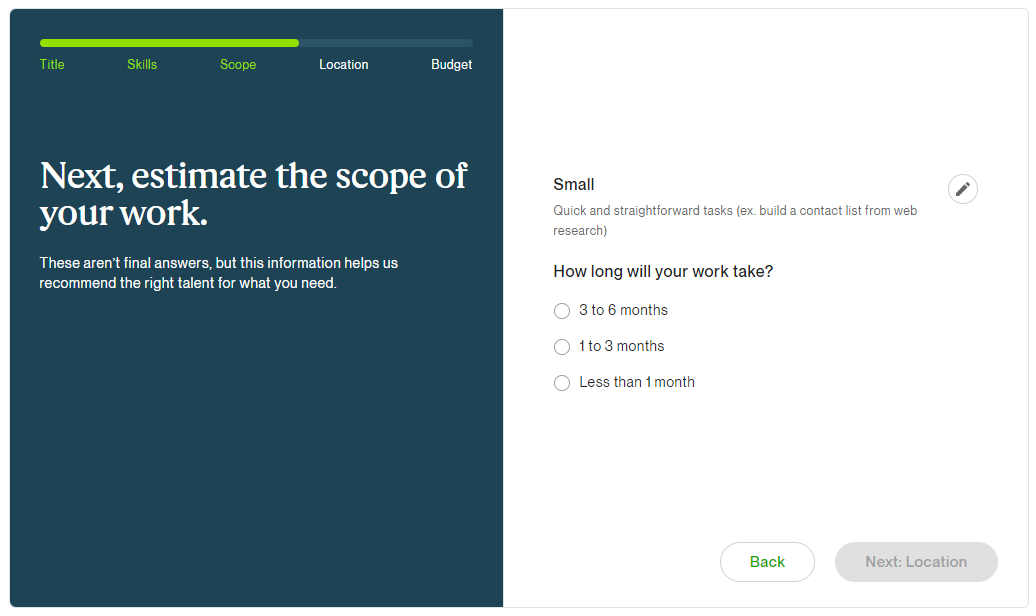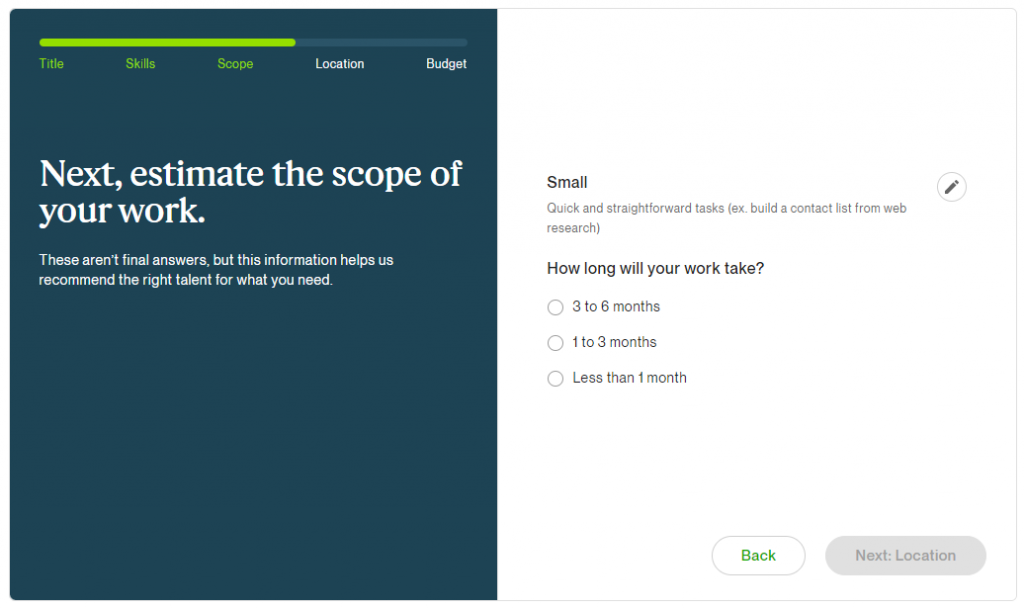 Finally, you will select a location and a budget. For the location, you will get better rates looking worldwide, but this is completely up to you to make sure whoever applies will be a good fit for your business.
Enter in a budget. This can be at an hourly rate or a budget for the entire project. This is up to you!
Once you are done, click on "review job post", and post it! Applicants will start coming in and you will have the ability to look through their past work, reviews, and talk to them 1-on-1!
Wrapping It Up
Finding and hiring a VA for Etsy Administration is a great step in realizing your Etsy shop goals. If you're interested in taking your business to the next level contact us today and we'll help you gain access to all-in-one tools and resources for massive Etsy growth!