Etsy Chrome Extension Summary
The Chrome Extension by Sale Samurai is a powerful piece of software that will allow you to do your research directly on the Etsy platform.
There are 3 powerful pieces of information that this extension will give you:
Keyword search volume
Keyword competition
Related Keywords
Benefits
Looking to find new product ideas or keywords to use in your tags and titles for your Etsy products? The Sale Samurai Chrome Extension lets you define your search parameters to find keywords that Etsy shoppers are actually searching for, but with low competition so you can get your products seen!
How To Use
In the top menu of Sale Samurai, select the Chrome Extension.


This will bring you over to the Chrome Web Store where you can install the extension on your browser. There are over 10,000+ users who are loving the functionality of what this extension can do for your Etsy business. 
Once you have the extension installed, log in with your Sale Samurai credentials.
You are now ready to use the extension!
Head over to Etsy. The Sale Samurai Chrome extension has 2 major pieces of functionality.
The first is that it will transform your Etsy search bar. Start by typing something in SLOWLY, and you will start to see keyword suggestions from Etsy show up, but this time, with monthly search volume!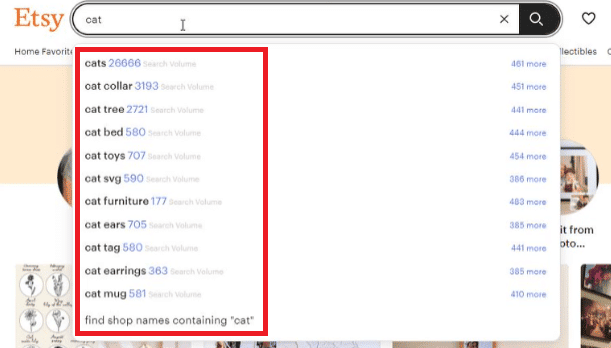 At a glance, you can see what keywords are ACTUALLY being searched for and how often.
At the right side of the drop down menu, you will see links with numbers. Clicking on these will open up the Sale Samurai extension where you can dive into 100's of other Etsy keyword suggestions. 
The Chrome Extension by Sale Samurai also has powerful filtering options to allow you to filter down to ONLY the parameters you are looking for, so you can make sure you find high volume, low competition ideas for your Etsy tags.

Once you have found what you are looking for, all of your results can be downloaded straight to your machine.
Who Can Use The Chrome Extension?
This tool is available for all Sale Samurai members.
The Chrome extension is one of the fastest ways for Etsy sellers to be able to determine, at a glance, how much search volume a keyword gets, how competitive it is, and find related keywords.
This tool is perfect for the Etsy seller who is trying to optimize their products for the max visibility or looking for new product ideas in their niche.