Jewelry has been a gift staple for generations; centuries, in fact. It's also a great way of spoiling oneself, as recent trends have shown that jewelry purchases have grown in leaps and bounds over the past year, notwithstanding the pandemic.
The industry is only set to grow further as forecasts indicate that the global jewelry market is expected to reach a high of $291.7 billion by 2025 – a whopping $62.4 billion more than figures in 2019.
But if you're thinking of gold and diamonds, think again. This is because estimates show that 79% of jewelry sales in the US during 2021 came from non-luxury items. There's huge potential there, but as an artisan, you need to follow a carefully crafted strategy to make the most of your Etsy jewelry store.
The Most Successful Strategies For Selling Jewelry On Etsy


It doesn't really matter what jewelry category your Etsy store falls into – affordable fashion jewelry; body, plated, or handmade jewelry; fine or vintage jewelry; or even fair-trade jewelry – the principles, strategies, and tactics outlined below will help boost your sales irrespective of your jewelry product type.
Top-Notch Photography
Jewelry, by its very nature, tends to be beautiful and you can really emphasize your product's best qualities through excellent photography. Remember that the images you use are the top marketing tool in online sales. They need to give as much information as possible; so starting with around five images on each product listing is a good way to go.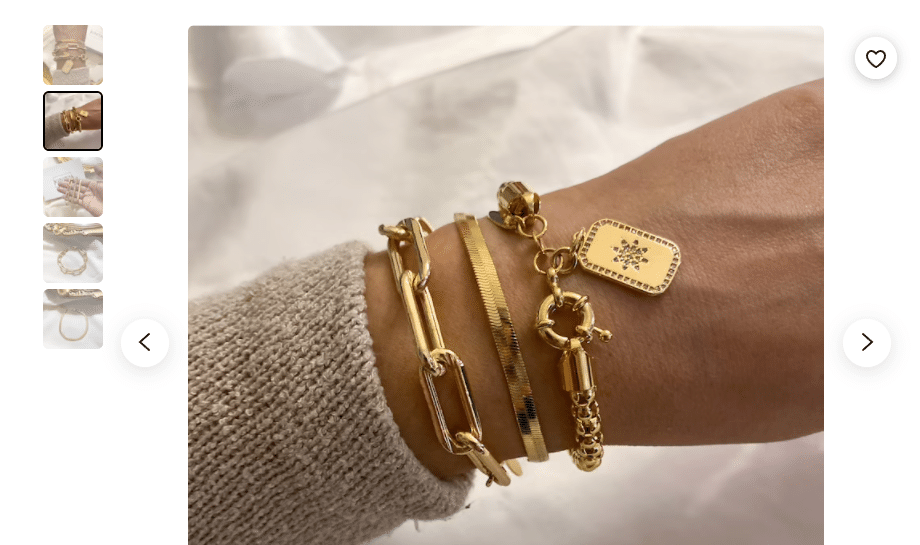 It's advisable to show different angles of your jewelry product and include it in lifestyle images. Having different crops helps as well. It's been shown that the products that get the most engagement are those with cropped images to show the audience what it is. Cropping is also great for visibility on mobile devices, which is a huge sector on its own.
The key takeaway? Have good close-ups.
Stay On Top Of SEO Trends And Keywords
Search engine optimization (SEO) is an ever-evolving field. However, it's something you will want to make sure you stay on top of and keep track of the trends to see what is working well. One trend that works well includes posting regularly with some jewelers listing a new product every day.
Etsy SEO: Ultimate Guide To Helping Customers Find Your Shop
Include keywords in the titles and use up all the characters to describe the jewelry that you're selling. Fill out the tag section for each product to describe it and importantly: try to match these tags to the keywords in the titles. It's also crucial to fill out the full information on Etsy – this means mentioning all the materials used to create your bijou to help cover all angles.
Price Just Right
Etsy charges $0.20 for every listing. Then there's a commission on every sale. Sellers also need to factor in how much time it took them to create their jewelry pieces, the cost of the materials, shipping costs and materials, etc. to get to the price that's just right. It's worth looking at what other stores are charging for similar products, but remember that due to Etsy's creative nature, no two products will be the same.


Therefore, you need to make sure that you neither price yourself out of the market by going too low, nor mark up your prices so high that they become prohibitive for customers.
How Many Products?
Ideally, aim for 100 products in your store as Etsy seems to favor this number. You can, of course, start with a few but be sure you're building up! Remember that the more products you have, the more physical URL's you'll have, too, and this means appearing in more searches.
Write Strong Product Descriptions
One mistake that Etsy jewelry Sellers make is not filling out all the product information. When writing, use your brand's tone of voice and include everything about the product. Be specific: are you selling silver, gold, or gold-filled chains? If you're using gemstones, list them. Mention the length of the chain, if such, as well as whether you have variations of the piece for custom orders.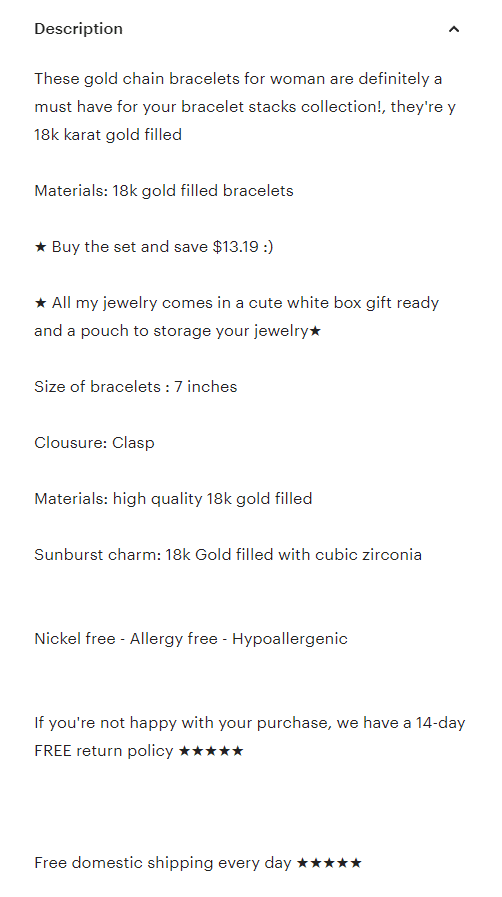 Marketing 101
It's worth noting a few interesting facts. First off, you need to know that on average, shoppers need to come into contact with your shop around seven times before they decide to buy from you. This lends a lot of room for creative and repetitive marketing. What's more is that people are not seeing your product nearly as much as you think they are. What this translates into is more opportunities to target marketing messages, since the chances of potential customers seeing your communication the very first time around are quite slim.
So, how can you do this? Start by picking a social platform and point it to your Etsy store. This can be Pinterest, Facebook, Instagram, etc. and be sure to put content out regularly to build engagement and communities. Another useful tactic is to start a blog that relates to your Etsy store. The beauty of it is that you have control over it and you can use it to direct people to your Etsy store through links. Writing useful content can help customers engage with your jewelry better.
Etsy and Social Media: Ultimate Guide To More Sales
Then there's paid advertising. It's simply not enough to rely on organic traffic. For example, to do this you can be featured on Google Shopping where your product will be listed in exchange for a payment. If you're unsure of this, start with a small budget and continue adapting. The same goes for advertising on Facebook: set a low budget, test different audiences, and see what works.
One last, but crucial tip here: The best approach, taught in marketing school, is called "integrated communications". The idea is that you activate any and all marketing channels and keep them running simultaneously. It's better to spend a bit on Facebook, Instagram and Google ads than to focus all your budget on one channel. Apply this logic to your marketing strategy whenever you can.
Community Building
Community building is about learning from other Etsy Sellers and sharing thoughts and ideas with them. When you engage with other Etsy Sellers, you gain a deeper insight into your product category's peculiarities, and also learn to understand the platform better.
When you "Like" other shops, they might "Like" you back. This is important because "Likes" push you up on the algorithm, and serve as social proof that your shop and jewelry is worth a customer's time and penny.
Prioritize Customer Service


Establishing your customer service foundation is another critical step to take. Shoppers, especially with online shopping, often have questions that they need answered. Sometimes, these questions are novel and other times you know the answers.
However, there may not always be sufficient space for you to cover everything in the description. This is why you need to be able to ensure that your customers can communicate beyond the product details, especially regarding sizing, materials, and store policies.
What NOT To Do
With all that's been said above, what can be deduced and extracted as advice in terms of best-selling tactics? Perhaps it's a question of not so much what to do, but rather what not to do. Let's take a look at some of these tips from the pros.
Using blurry, low quality, or boring photos;
Do not hesitate to follow jewelry styles and trends. Pay attention to bead types that are in fashion: are these glass, metal, wood, or crystal? Follow color trends as well as textual and visual designs (for example, are patterns or solid chunks of color trending at the moment?);
Not having a cohesive jewelry style. It's vital to aim for visual unity. If you're going for a flea-market or garage sale feel, you might find yourself out of your depth as customers are looking for a more sophisticated offering. Remember: your brand name is on the line.
Not using keywords;
Not using the unboxing experience correctly;
Underpricing your work;
Showcasing less than five to eight items;
Being impatient: hoping for the best is just not a good strategy;
Not analyzing your existing traffic sources and focusing more on the top performers;
Not using every available space in your Etsy shop to encourage people to follow and promote it.
How Sale Samurai Can Help Jewelers Create A Best-Selling Strategy
The beauty of jewelry is that it can come in millions of unique styles, shapes, and types. The best news for Sellers is that there's a huge and never-ending demand. Tapping into this market can be a successful endeavor if you use the right strategies. Opting not to do so is done at your own peril. Of course, it may seem like there's a lot of time and effort involved in setting up and running your Etsy store on a continuous basis, but that's not to say that the results won't be worth it.
That's where Sale Samurai comes in.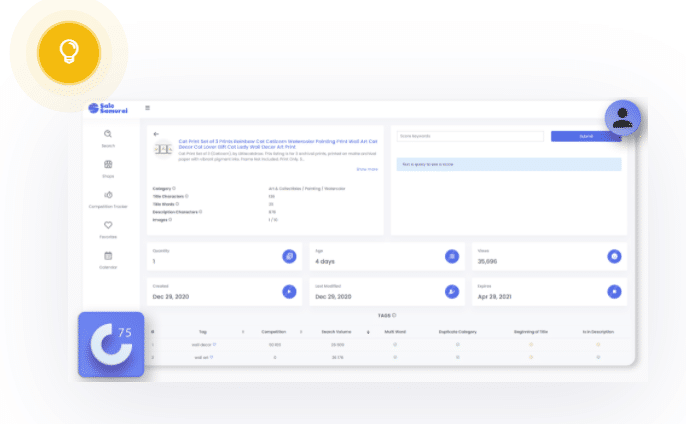 This powerful platform helps you uncover keywords that shoppers are using to make their purchases or even discover your next idea. Behind the keywords is a sea of searches and matching Etsy products, which can be analyzed through lenses such as sales, average shipping days, price distribution, and more.
And when you have access to all this data at your fingertips, it's a matter of time before your Etsy shop becomes a best-selling hit.