After sleepless nights and months of deliberation, you have finally decided to close your Etsy shop. We know that this is not an easy decision to make and there are several factors that may impact your choice to close down your Etsy store. Still, there are several small details to consider and finalize before you can finish this chapter of your Etsy business. So here is:
How to Close Your Etsy Shop
Go to 'Shop Manager'
Then click 'Settings'
Find the 'Options' button
Click on 'Close Shop'
Closing your Etsy shop may not be the right decision for you if you haven't weighed all of the options or if you have future plans with your store. Read below to find out more about how to close your shop, the implications of doing so, and if this is ultimately the right choice for you.
How to Close Your Etsy Shop
Closing an existing Etsy shop is fairly simple all things considered. Ironically, it probably took you several weeks to completely finalize your business on Etsy but you can close it down in less than 3 minutes.
To close your Etsy shop, follow the steps below:
Sign in to Etsy.com and click on the Shop Manager tab.
Then click on Settings and select Options.
You will see a Close Shop tab.
Click Close Shop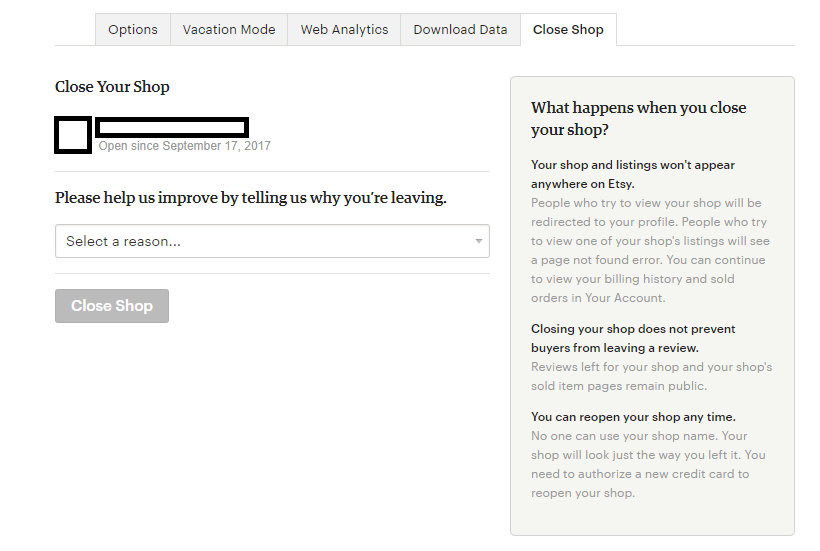 It's that simple!
How to Close a Draft Shop?
If you haven't made your Etsy business public yet and it is still in its draft stage you will not be able to close it using the steps outlined above. To close a draft shop you will have to contact Etsy directly.
You can find the Contact Support tab at the bottom of the page by scrolling down.
I Don't See the Close Shop Option
In order to close your Etsy shop with the steps outlined above, you will need to have an account with no unresolved cases or overdue fees. Make sure that you check your account for any problems, fees you owe, and unresolved issues before you attempt to close the store.
The good news is that you will still maintain an Etsy buyers account after you close your shop and you will still be able to access any remaining open orders from your closed store.
Have a Plan for the Future
Your Etsy shop is an e-commerce business so any financial decision that you make should come after some serious thought and action planning. We don't advise that anyone make huge decisions like closing their Etsy shop without consulting a licensed advisor before doing so.
You should have a well-thought-out plan for the future of your business outside of Etsy. While you can always reopen your Etsy shop, making the rash decision to close your online business without having a solid action plan may result in you losing your customer base, trust, and brand credibility.
Are You Moving to Another Site or In-Person?
If you are just closing down your current Etsy site and will still be maintaining your business, consider the following. You cannot transfer your Etsy shop or account to another site or person. You will have to create a new shop from scratch with products and services that adhere to Etsy's guidelines and policies.
Even if someone purchases your business or Etsy shop, they cannot have access to your account and will have to create a new one. This is something that Etsy takes very seriously so make sure you go through the correct steps.
If on the other hand, you want to go fully in-person then you can do so without issue! That being said, why would you want to go fully in-person when the entire world has moved to or is quickly transitioning to online? Etsy is an established and well-trusted e-commerce site with an existing customer base. Etsy also provides individuals to grow their product or service business, unlike any other e-commerce website! So, it may not be a great decision to go all-in on in-person when online can allow you to scale and grow exponentially.
Notify Your Customers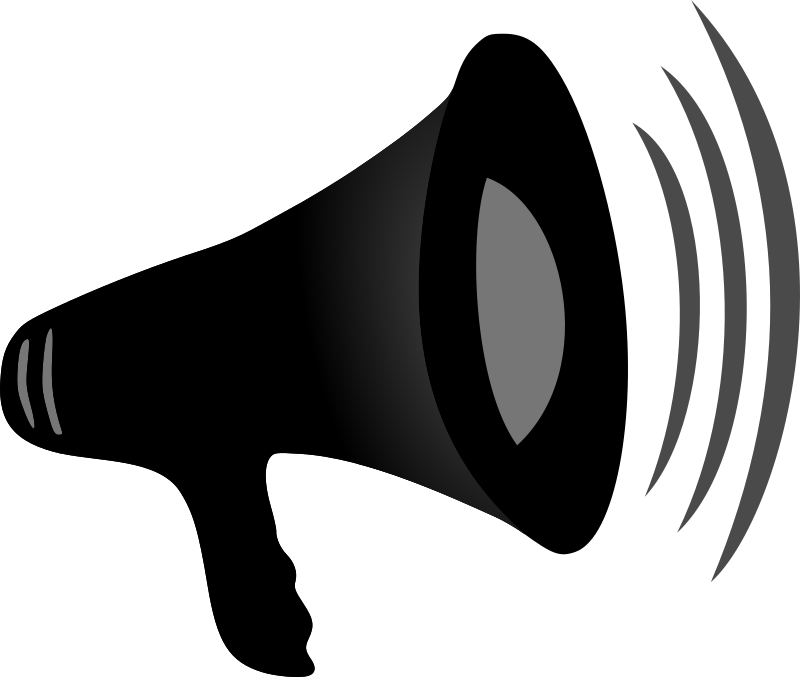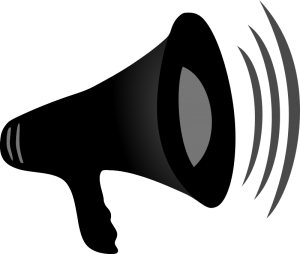 Now hold on a minute. Just because you have decided to close up shop doesn't mean you can just leave your dozens or hundreds of customers hanging. It's always good business practice to follow up with your customers about major changes like closing your Etsy shop.
It may be smart to send out a bulk email just notifying past and current customers or clients that your Etsy business will be closing either permanently or for the time being.
If you have open orders or fulfilled orders that are waiting to be shipped or are already on their way you definitely should email these customers and notify them that their orders will be arriving despite your decision.
Can I Reopen My Closed Etsy Shop!
Absolutely! The good news is that if you aren't able to grow your Etsy business or just want to take a prolonged break from your shop, you can reopen your seller's account and website whenever you are ready to get back to work.
Here's how you reopen your previously closed Etsy shop:
Sign into your Etsy account on a computer (you won't be able to reopen your shop using a mobile browser on your phone.)
Go to Account Settings in the Your Account tab.
Click on Your Closed Shop and choose to Reopen Shop
You may be prompted to update personal and billing information but otherwise, your shop should be good as new and public once more! If your customers have trouble purchasing products or services after you reopen it may be because listings have expired or you haven't updated your inventory so make sure to keep your shop up to date!
Deciding to close your Etsy shop is something that needs to be taken seriously. If you have come to this decision after long deliberation because you are unable to grow your shop, we may have a solution for you. Contact us today to find out how we can help you massively grow and expand your Etsy business.