Jewelry is among the most oversaturated product niches on Etsy and e-commerce stores, so having a shop that really pops is
super important for Etsy SEO
and differentiating yourself from the competition. With the right strategy, product, and branding you can make a name for yourself even in a highly competitive industry like jewelry. One way to win with a jewelry store on Etsy is to have amazing product photography. So, here's: How to Photograph
Jewelry
for Etsy.
When it comes to photographing jewelry for Etsy the most important thing to keep in mind is how you want your products to appear and what it says about your brand. For optimal results take high quality and in-focus photographs of your products up close and on models who represent your target market.
Taking good jewelry photos comes down to your audience and what you want your products to say. It's important to have a clear and up-close product image for your
listing
picture and a number of other shots that will help convert cold leads into buyers. Read below to find out the optimal size and resolution of jewelry photographs on Etsy as well as how to set the right background, lighting, and how you can even use your phone for great shots that sell!
Photographing Jewelry for Etsy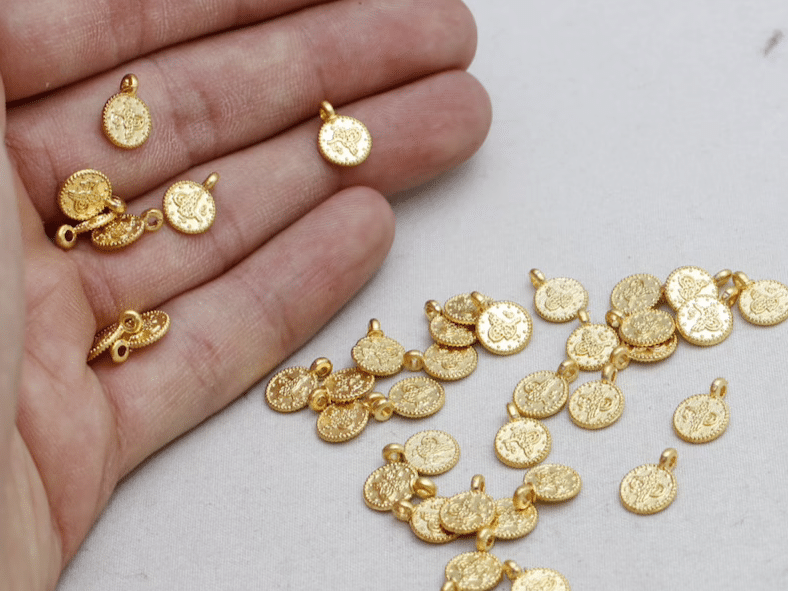 The keyword "jewelry" on Etsy would bring up over 24 million results! That's crazy.

You can find jewelry from Sellers all around the world in different designs, colors, and materials. From handmade to mass-produced, from stone to gold, and in every design possible including
personalized
jewelry pieces! Long story short, there is
no shortage of jewelry Sellers on Etsy.
But hey, just because there is a lot of
competition
in one niche doesn't mean you can't carve out a chunk for yourself! Thousands of Etsy Sellers are making headway with their unique products. With the
help of tools like Sale Samurai
, you can find high-volume and low competition keywords your potential customers are using. However, a data-driven SEO
strategy
is not enough. To enhance your Etsy SEO and shop traffic you need to have killer
images
. In fact, apart from your title, the listing photograph is probably the most important part of your Etsy shop. The first thing your audience will see is your listing cover image which if it's not high quality, detailed, clear, and brand-specific, no one is going to be clicking on your shop.
Think about it
, Etsy's search algorithm relies on customer feedback to know which shops to highlight and recommend and which shops don't make the front page. The algorithm takes into account things like SEO as well as how many clicks your listings have, how long people stayed in your shop, and of course products
reviews
. We got you covered when it comes to SEO and your product quality and customer service will help boost your listing reviews but for your product photography here are:
Tips For High Converting Jewelry Photographs On Etsy
1. Size, Ratio, and Orientation
In general, Etsy allows for various image sizes but for optimal results your jewelry listing photographs should have a 4:3 ratio which means that Etsy prefers a horizontal image orientation. In other words, your images should be wider than they are tall.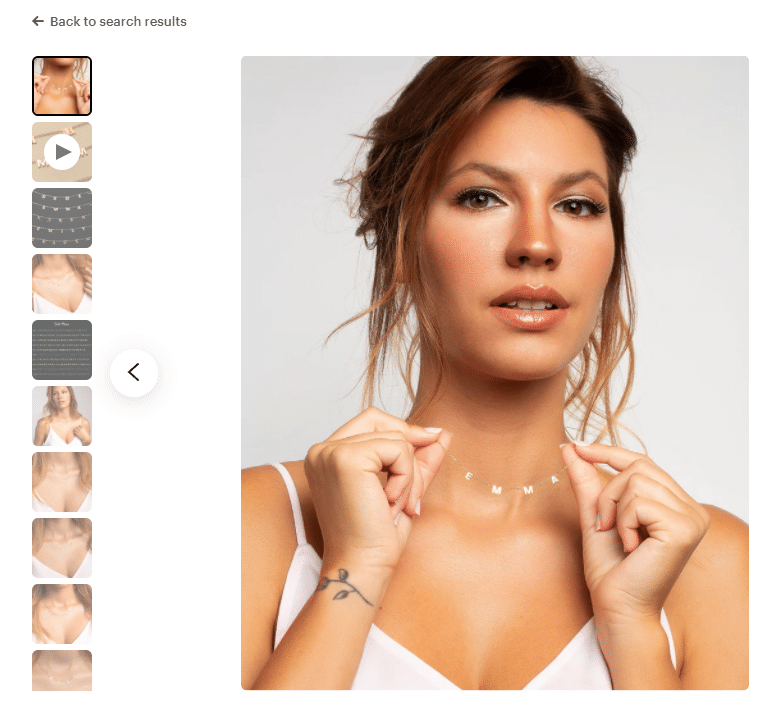 The reason this ratio is important is because of how Etsy lays-out your shop. A 4:3 ratio ensures that no part of your product is cut-off and left out of the frame. For pixel size, Etsy suggests having 2700px wide and 2025px tall. When taking a photo of your jewelry products, make sure they are completely in frame and you've left some space on all four sides so that you can cut and resize as necessary. You also want to make sure that you get a close enough shot of your jewelry to highlight specific details that are unique to your pieces.
2. Resolution
People will bring up Etsy image resolution and debate whether it should be 72 dpi or higher. The truth is unless you intend on printing your listing photos and distributing them it doesn't make a difference. In
digital
view, the dpi doesn't matter it could be 72 or 3000. The important thing is that you have high-quality photos of your jewelry products.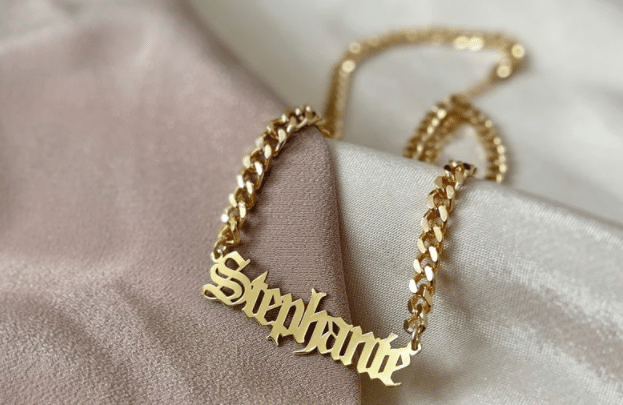 Your images should clearly show product details especially when you're selling higher-end jewelry and need to showcase product quality and make.
3. Background and Lighting
Background in jewelry listings on Etsy is super important and here's why.
Etsy shoppers are usually looking for something unique, handmade, and/or personalized.
If customers wanted mass-produced jewelry, they would probably get a better deal on Alibaba, AliExpress, or some other e-commerce giant. Instead, shoppers prefer Etsy Sellers because they know they are getting something unique. That being said, your jewelry photographs need to reflect that. It may seem like a good idea to have jewelry shots where the background is completely white, or you have an artificial shadow like a lot of high-end brands do but a lot of times this may be counter-productive. A highly polished background looks artificial and may not give off that handmade feel that people are looking for. It's important that you establish who your audience is because that will impact how you set up your backgrounds. If you are selling surfer jewelry, then a white-polished background doesn't make sense but a beach backdrop or some sand will! Similarly, if you sell 70's jewelry you need a background that reflects that brand. On the other end of the spectrum, if you are targeting the luxury jewelry market and sell high-end products then you would probably need a polished and almost artificial background look.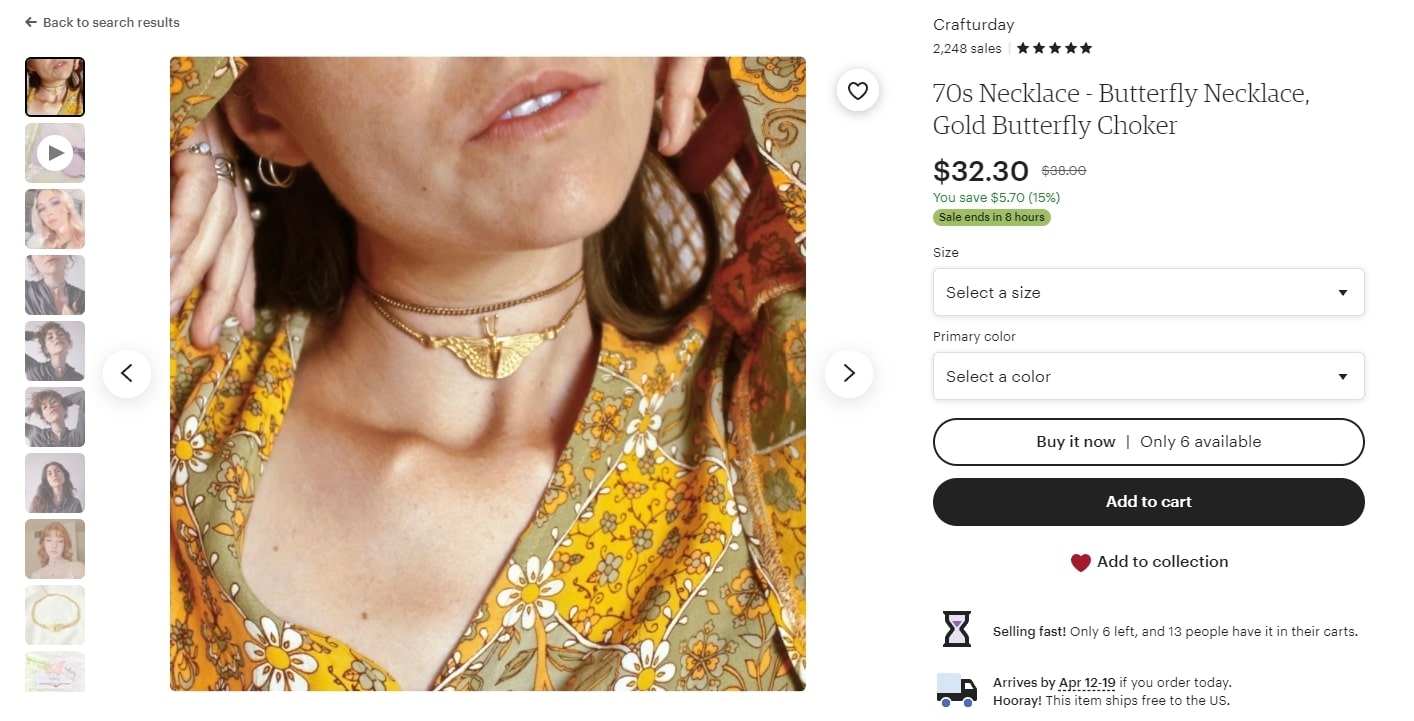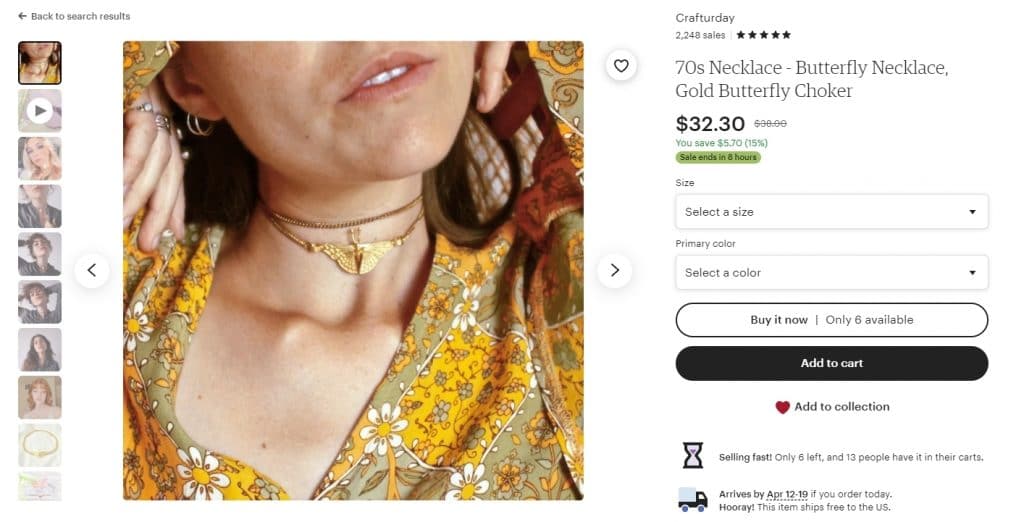 Experiment with background and find what works best for you. Keep in mind also that because you are selling jewelry that is meant to be worn by people, your customers want to see photographs of people actually wearing your products! Lighting is just as important because you really want to get a high-quality detailed shot. Investing in a lightbox is a great idea but at the end of the day, nothing beats natural light as long as you live in an area with abundant sunlight!
Using a Phone and Editing
Did you know that a lot of Top Sellers on Etsy still use jewelry photographs they took with their phones? It's true! Most modern smartphones have incredible cameras that can take detailed shots of your jewelry pieces.
You really don't need to invest $3,000 into a DSLR camera when your smartphone will do the trick
. That money is better spent in other areas of your business. There are also dozens of apps and software extensions you can use to edit your images whether you need to crop your photos or play with lighting. That being said, don't overly edit your jewelry photographs because customers want to see what they will actually be getting. There you have it! Taking shots of your jewelry products for Etsy listings is not that difficult! In fact, if you're organized, you should be able to get it done in a day. Apart from high-converting photographs, your jewelry Etsy shop needs the right optimization. For more information on how to massively grow your Etsy business, get in touch with us today!