Baby-related gifts are in high demand. It's always been this way, and it will always remain so.  However, oftentimes these gifts can lack originality and personalization. This is exactly where Etsy shines the most. The platform offers thousands of
handmade
and personalized items that can make for some truly special gifts. If you're a Seller who wants to succeed in this highly lucrative niche on Etsy, then you'll want some great insights that other competitors don't have access to. How do you get these insights? With
Sale
Samurai, of course.
The Most Successful Types Of Baby Items And Strategies Implemented By Etsy Sellers
Babies need many
items
to help them grow and develop into healthy toddlers. While some of the most successful types of baby products are essentials, others are nice-to-haves. Ultimately though, the following items have been aggregated as some of the most popular on the platform. It would be wise for Etsy Sellers wanting to get into this niche to pay attention to them and the strategies used by the best-sellers. Here's our breakdown:
Baby Blankets
Baby blankets are a major necessity for any new parent. They can be considered pretty hot, and not only in the literal sense. Yes,
competition
is high with over 50 thousand total listings, but search volume is at 995 for the phrase "baby blankets", making it a solid niche to tap into.


Next to consider is the average
price
, which feeds right into your profit margins. According to Sale Samurai's data, the average price for a baby blanket is $45.59. In terms of best practices, we identified the
listing
of "LifestyleBlankets", which has a whopping 63,923 views and stands as the absolute best seller in this category. With 37,033 sales, an average rating of 4.9 out of five stars, and a total of 6,691
reviews
, it is certainly doing something right.


Its distinctive features, according to some of the reviews, are the softness of the blanket itself. Others include the fact that the Seller ships in one to two days. An interesting, yet effective keyword
strategy
involves using accurate and descriptive keywords. These include: "Floral Baby Blanket", "Newborn Photo Prop", "Personalized Baby Gifts", "Monthly Baby Blanket", "Newborn Milestone Blanket", and "Custom Baby Blanket". If you want to compete in the baby blanket sub-niche, consider pricing around the average. Also, vary your keywords by not only using the word "baby" but also substituting it with "newborn" as well.


Don't worry. If this feels a bit out of your reach, you can always try some of the other sub-niches.
Stuffed Toys
Babies are gentle little humans and their toys need to reflect this. This is why stuffed animals are so popular. They aren't made up of small parts that can pose a choking hazard. And something like a stuffed bunny can become a child's favorite toy to keep even as they turn into adults. The market for stuffed, handmade animals is highly competitive. A search for "stuffed animals for baby" on Sale Samurai yields over 50 thousand total listings on Etsy with 459 searches on the platform. As for the average price, these items go in the region of $39.60.


The best-seller identified in this sub-niche is "Up2ournecksinfabric." They've made 336,486 sales (which is not all baby blankets), but if you multiple out the sales with their shops average price, wow! What's more is that this is a high-quality product with 4.9 out of five stars and a staggering 48,063 reviews.

The product's distinctive features are its hyper
personalization
. In fact, one reviewer said "All the personalized details were perfect! A super thoughtful gift and really reasonably priced for someone you know who just had a baby." Whether you choose this for your own baby or a gift for someone else, the keyword strategy is effective, too. The keywords used in the title include just what the item actually is. Here's a brief glimpse: "personalized elephant", "stuffed animal gift," "baby shower gift," "newborn gift," "new baby gift," "birth
announcement
," "baby gift," and "welcome home baby"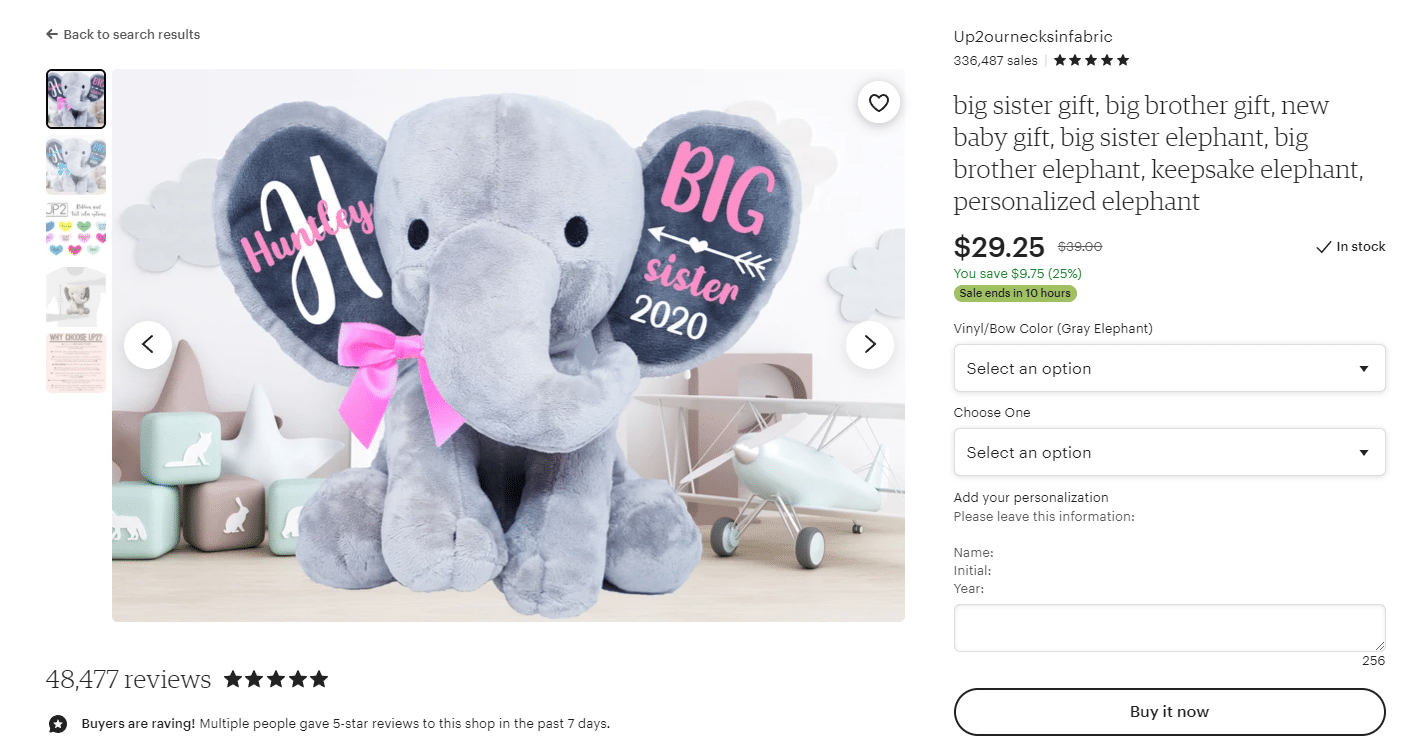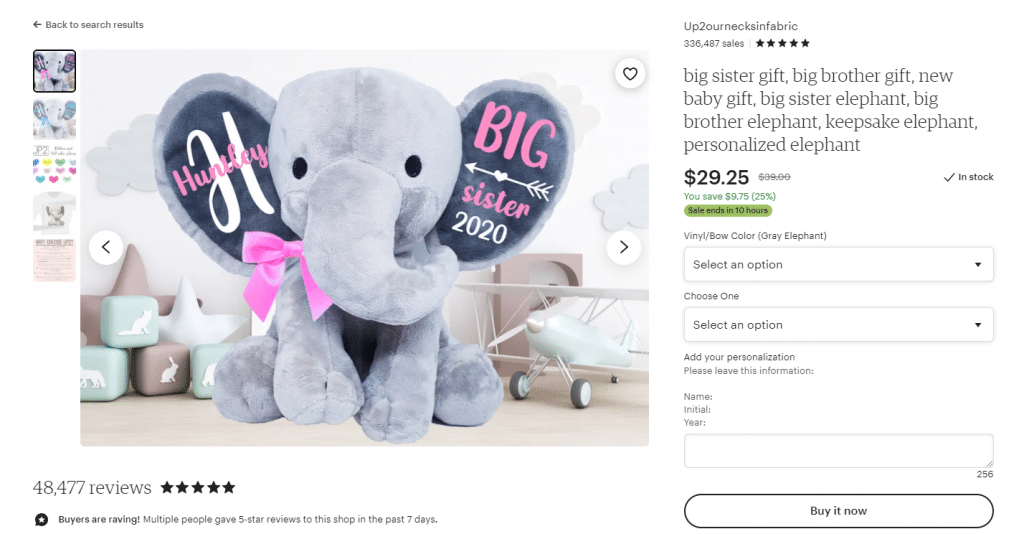 As a Seller, you should personalize the toy to make a breakthrough. If you were to do this by adding the birth details and
name
, you'd be able to tap into this highly competitive sub-niche.
Baby Changing Baskets
These are a great way of changing a baby's diapers while keeping the baby comfortable. Competition for these items is low at 3,843 listings and total Etsy search volume is a nice high of 117. It's certainly worth exploring. And with an average price of $104.25, this means that you can make a tidy profit off this type of item as well.


"DesignDua" is identified as the best seller for this category. This Seller has made 11,514 sales. And obviously they've made sure to provide a quality product because their rating stands high at 4.9 out of 5 stars with 1,713 reviews. Some of the most distinctive features that make this baby changing basket stand out include the fact that it can fit in with multiple interior design settings. What's more is that the basket can potentially be repurposed later on when the baby outgrows it. This makes it a two-in-one product that's versatile, chic and functional.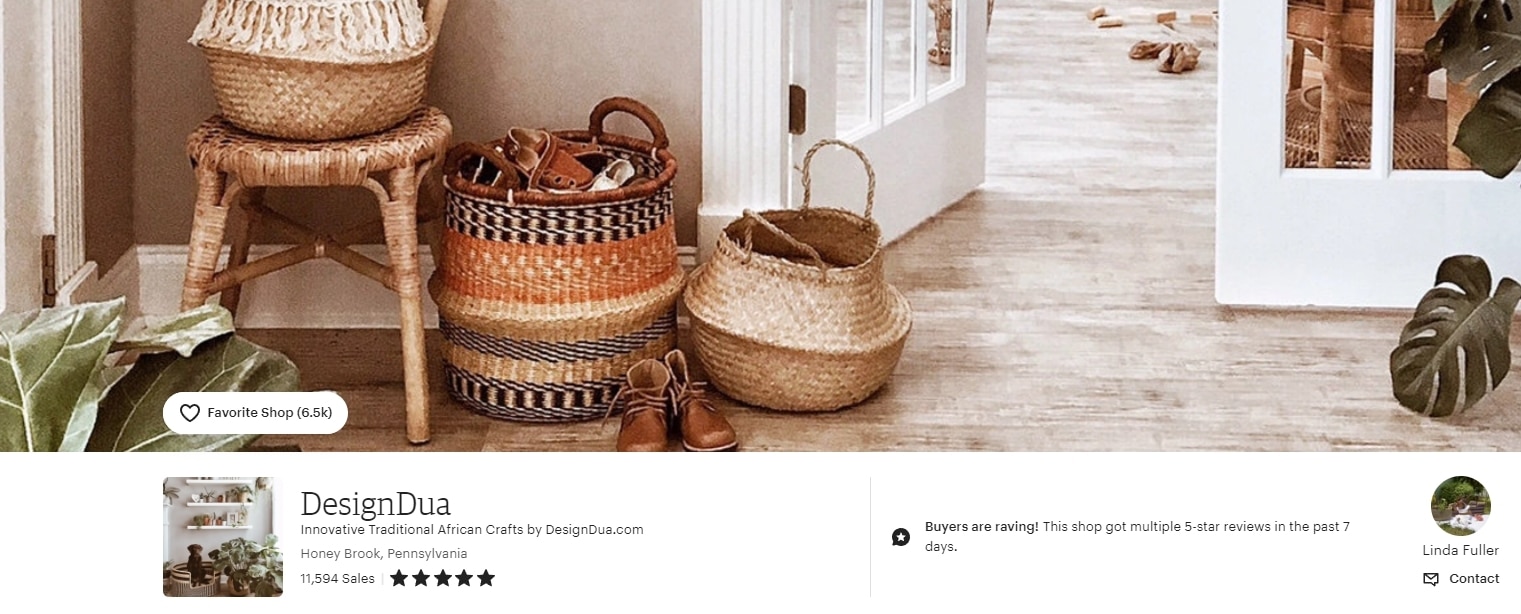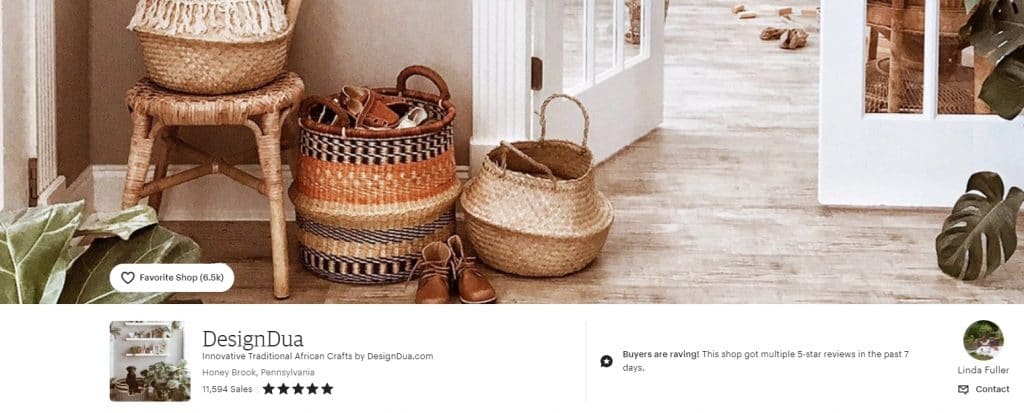 Interestingly, the Seller has chosen to raise brand awareness through adding their Seller name to the keywords used. Here are some examples of this: "Changing Table Basket by Design Dua", "Baby Changing Table," "Baby Changing Basket," "Changing Basket," and "Natural Changing Basket." So, what's their strategy for success? Well, they've priced around the average while providing a high quality product that can be repurposed later on. Their keyword usage and
images
used show that the Seller is keen to promote their brand.
Baby Teethers/Teething Toys:
Baby teethers have helped babies with growing teeth for ages and they're becoming ever more glamorous and personalized, too. Competition for "teething toy" stands at 29,882 listings, while the average price is $15.38. "Lovemybabyx" is the best seller in this category with 13,888 sales, a complete set of five-star ratings, and 1,725 reviews. The distinctive features of their teething bunny toy are firstly, that this toy is baby safe. Secondly, it's personalized. It's priced just a few cents over the average. And finally, it comes in multiple colors for sheer variety. The keywords this Seller has chosen to use follow a great strategy, too. For example, they've included "Safe Teether", "Baby Ring Teether", "PERSONALIZED Teething Toy", "Baby Custom Gift", "Baby First Gift", and "Personalized New Baby Gift Bunny."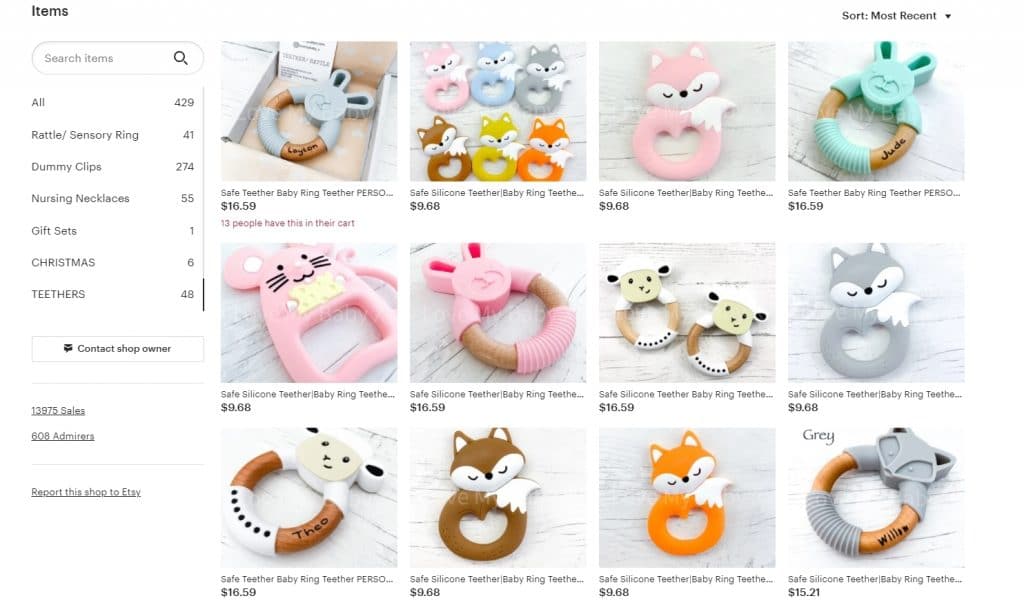 The keyword strategy is a great one to serve as an example for others. While the word "personalized" appears twice in the title, it's not "stuffed in" everywhere. In addition, the reader can get a pretty accurate
picture
of what they're buying just from this title. The keywords are also broad enough to indicate that this is a baby gift, but narrow enough to indicate that it's specifically for teething. The price is also highly attractive as it's not on the high end of the scale but it also doesn't spell out cheap either.
Personalized New Baby Wood Block
This is certainly not a necessity but makes for a great gift for a parent with a newborn, as it indicates the baby's name, weight, and height at birth. Naturally, it makes for a great item to sell too. The competition here is much lower with only 940 listings on Etsy, meaning this is definitely a niche worth exploring. Especially if you're good with your hands and carpentry. The average price hovers around a fair $32.51. "Glitzby" is the best seller for this category with 19,884 sales, 5 out of 5 stars ratings, and 3,573 reviews. The distinctive features of this item are that it's made from wood and is highly personalized to imprint every infant's unique details.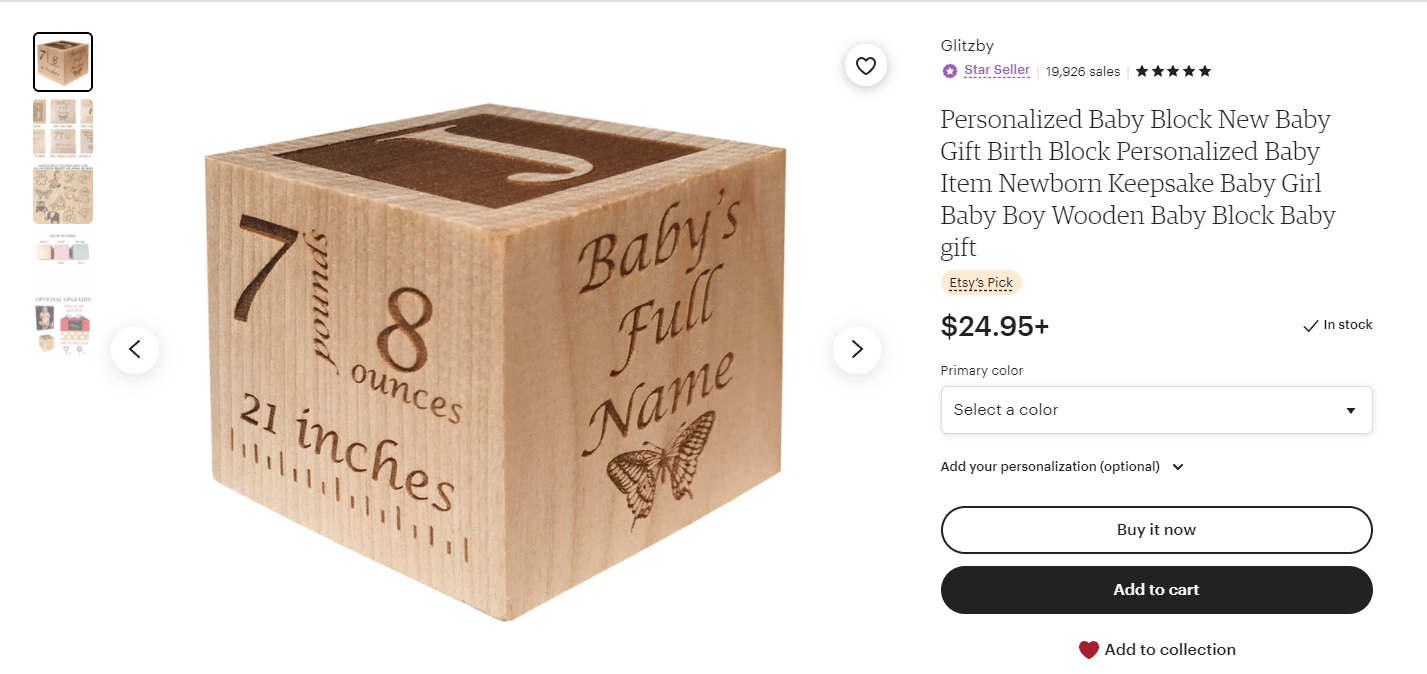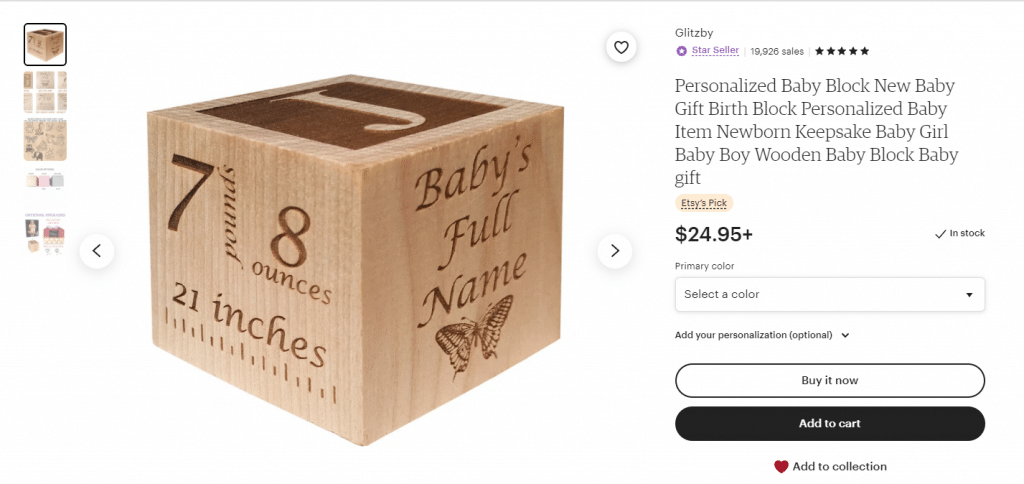 "Personalized Baby Block", "New Baby Gift", "Birth Block," "Personalized Baby Item", "Newborn Keepsake," "Baby Girl", "Baby Boy," "Wooden Baby Block," and "Baby gift" are the keywords used in the title. They indicate with clarity and precision what this product is and what it offers new parents or those seeking it as a gift.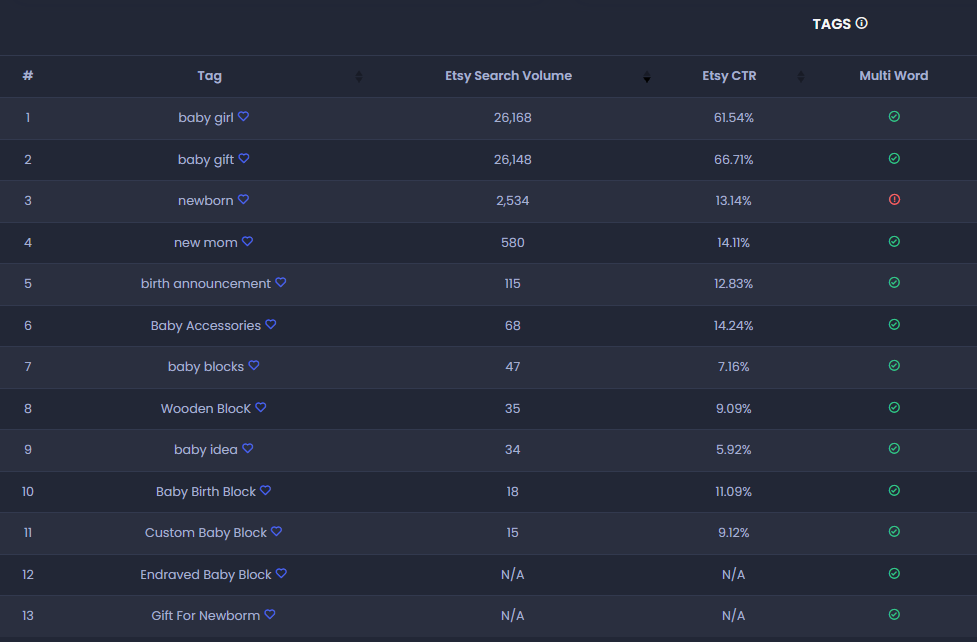 So, what's their winning strategy? The complete and utter personalization of this item. For example, the Seller will ask you for details including the baby's birth date, their first or last initial, animal or image, birth weight, birth time, length, city and state, mother and father's name, personal note, girl or boy, and font style.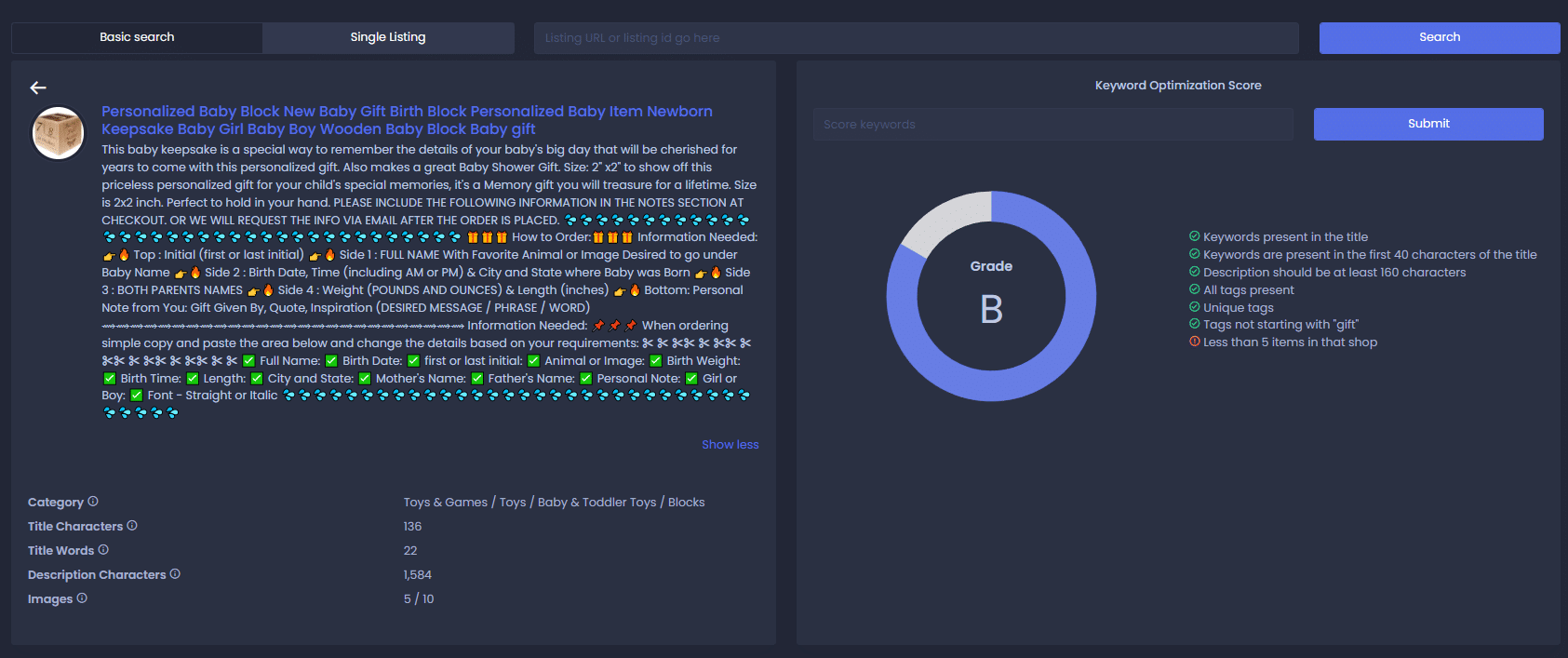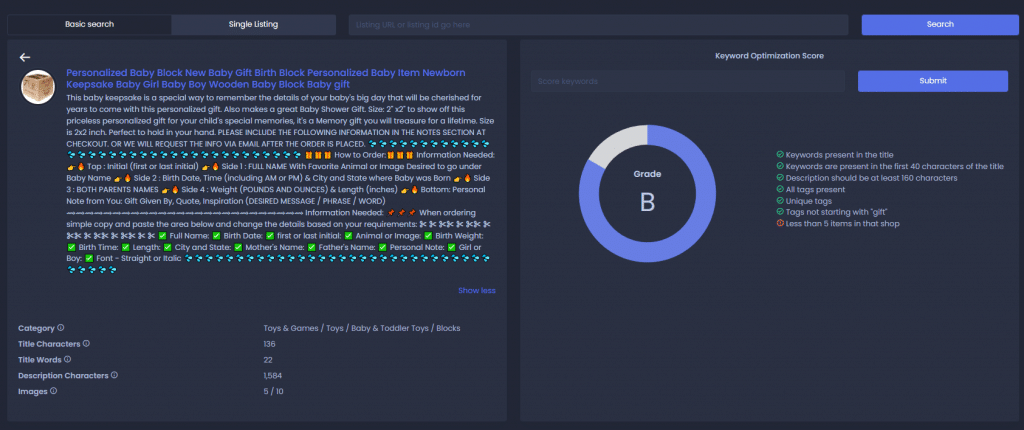 How Does Sale Samurai Help You Design Your Strategy?
The baby niche on Etsy is highly prominent and lucrative. Yet competition is fierce. Getting all the information needed to succeed can either be a tedious process or as easy as typing in some keyword in Sale Samurai's "Search" feature.
In fact, all of the information we've compiled for you in this article, came from our own research on Sale Samurai
. This means you'd be able to devise your own strategy in a mere week or two after you've acquainted yourself with all the tools. To make the most out of your business, Sale Samurai will do wonders for your listings. This is because it will show you what keywords are competitive and where the search volume lies. And this is just the beginning of the software's functionalities.
For only $9.99 per month
, you can skyrocket your sales and minimize your efforts in creating the perfect listing.