DIY activities, hobbies, crafts – all these have one thing in common and that's the need for a foundation of materials to help a user get started on their home project or hobby. This is where Etsy's craft supplies and tools come in very useful because they form the building blocks to other artistic creations and are an outlet of personal creativity. Although there are three main categories of items that are sold on Etsy, each category has various niches and sub-niches to help a user find exactly what they're looking for. If you're a Seller and you're looking to grow your gig on Etsy, you might consider some of the niches inside the
Craft
Supplies and Tools category. It's a profitable proposition, so in this article we will discuss just that.


What Are The Most Popular And Profitable Niches In Etsy's Craft Supplies And Tools Category?
It goes without saying that craft supplies and tools are one of, if not
the best-selling products on Etsy
. What's more is that many of the Sellers in this category are some of the platform's top Sellers. One reason for this is because Etsy, and the subsequent Sellers or shop owners, are able to provide unique
items
to cater to distinct tastes, and this means that there's huge demand out there. So, what are Sellers selling and what are buyers actively buying in this category? And subsequently, what are the most profitable niches?
DIY Craft Kits
It was not only the onset and continued prevalence of the pandemic that led to the popularity of these kits, but also people rediscovering their hidden talents and looking for a creative outlet for their energy.
DIY
craft kits are an excellent way of honing one's skills and for simply enjoying leisure activities. They can be tailored to both kids and adults, meaning there's a large audience scope to reach. Some examples of highly popular DIY craft kits on Etsy include: soapstone carving kit, DIY purse sewing kit, marbling art kit, embroidery kit, DIY paint kit, candle making kit, crochet kit, punch needles start kit, DIY bracelet kit, and macrame coasters kit. What makes them so popular is the fact that they come with a complete set of tools, instructions and craft supplies.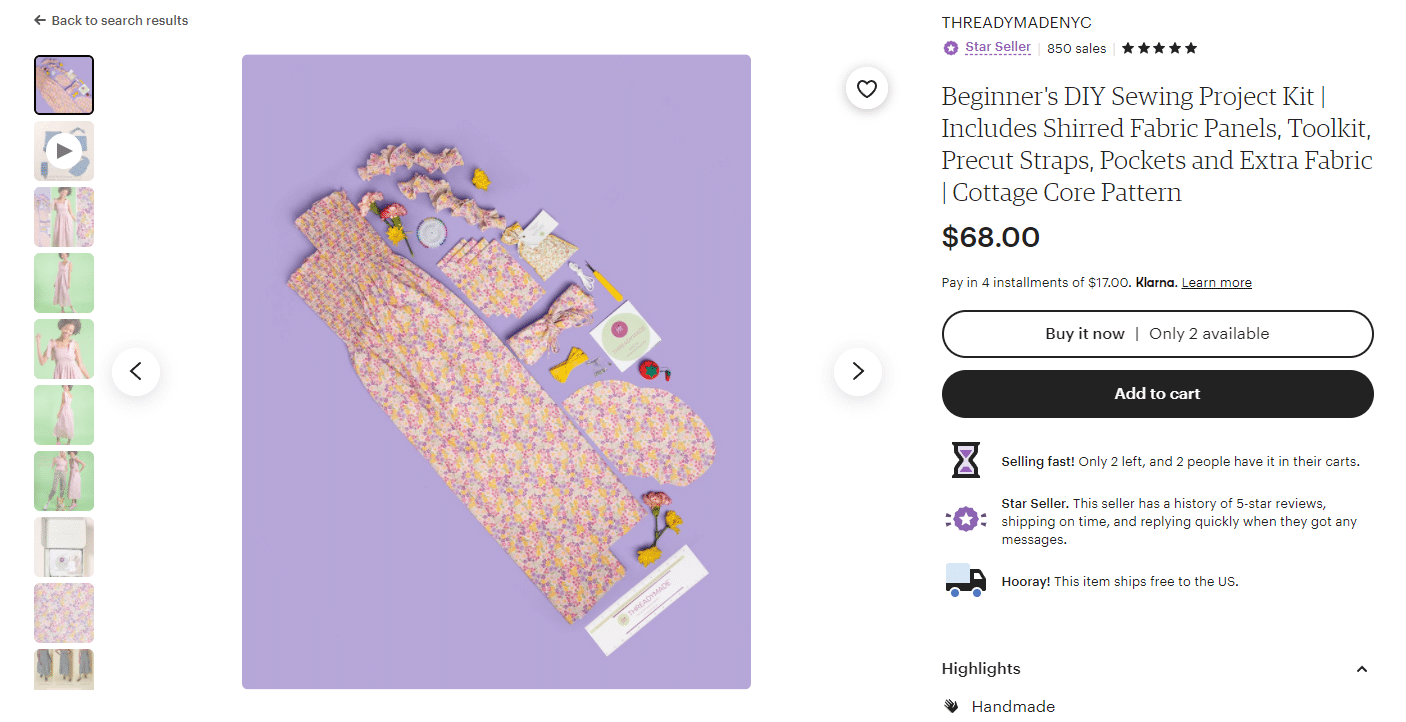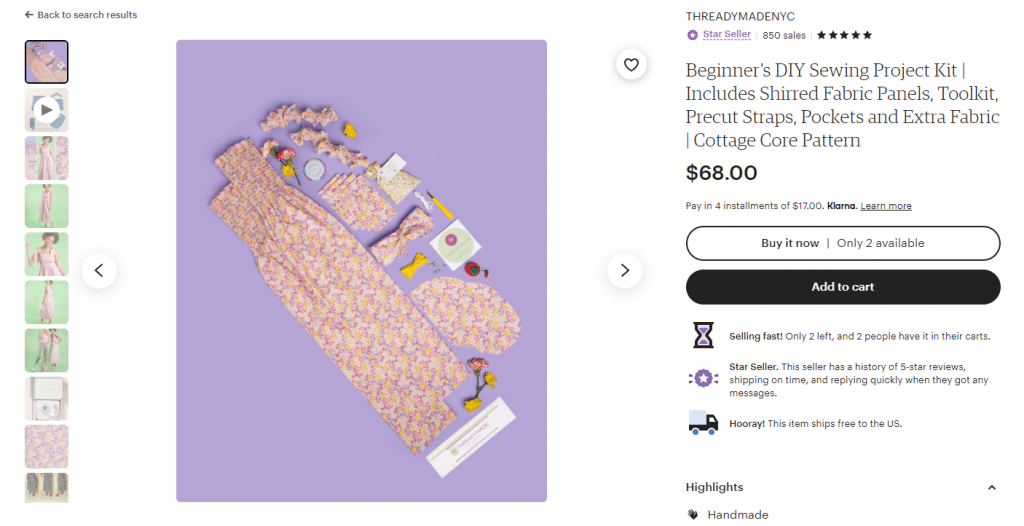 Beads and Charms
Handmade
jewelry, whatever the type, is also extremely popular on Etsy. But so is the ability for customers to make their own. This is where beads and charms come into play as customers can create their own earrings, bracelets, necklaces, anklets, and even
clothes
. Examples of the types of
jewelry
supplies include: acrylic fancy beads, faux beads, pebble beads, sequins, flatback beads, faceted beads, pinch beads, and cylinder beads.


There are also thousands of charms to choose from, all depending on the user's intent.
Needlework Supplies
Ideal for those who love to engage with a thread and needle, needlework supplies are not in short supply on Etsy either. You can crochet or embroider and get everything in between to get a project off the ground. Examples of needlework supplies include: embroidery hoops, thimble pads, needle puller thimbles, needle minder, scissors, knitting needles, knitting needle stoppers, scissor holders, embroidery fabric, mini sewing machine, and sewing threads.
Wedding Craft Supplies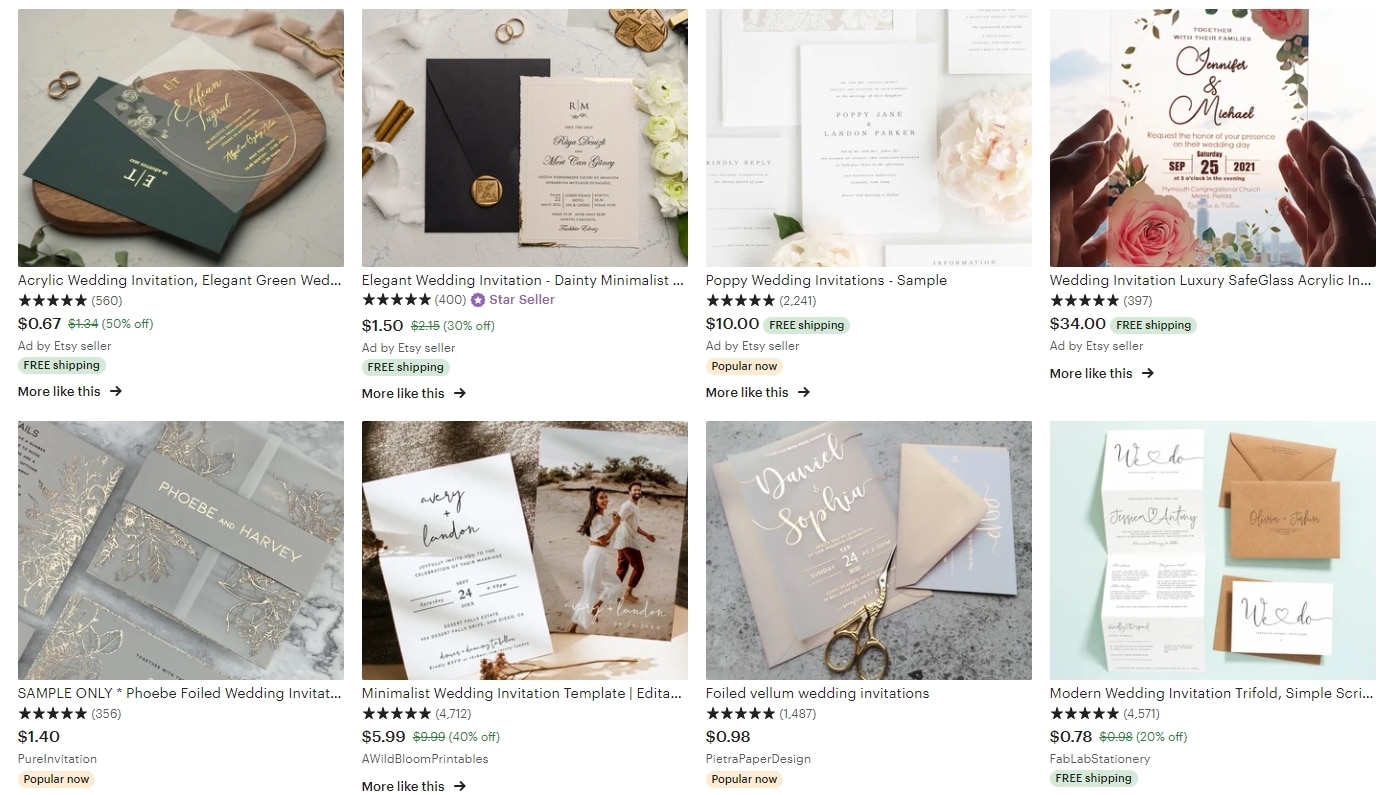 A wedding is a very special event in a couple's life, and it is often highly
personalized
, so the more unique, the better. This is where you as an
Etsy Seller
can come in with items and crafts that help customers with the following: invitations, favors, cake toppers, decorations, guest books, decorations for bridal showers, etc.
Stationery Supplies
Women are considered the top customers for stationery supplies and the demand for them is high. Ideal for the office or for personal use, some ideas to consider include: stationery papers, highlighter pens, stickers, notepads, washi tapes, notebooks, and envelopes.
Fabrics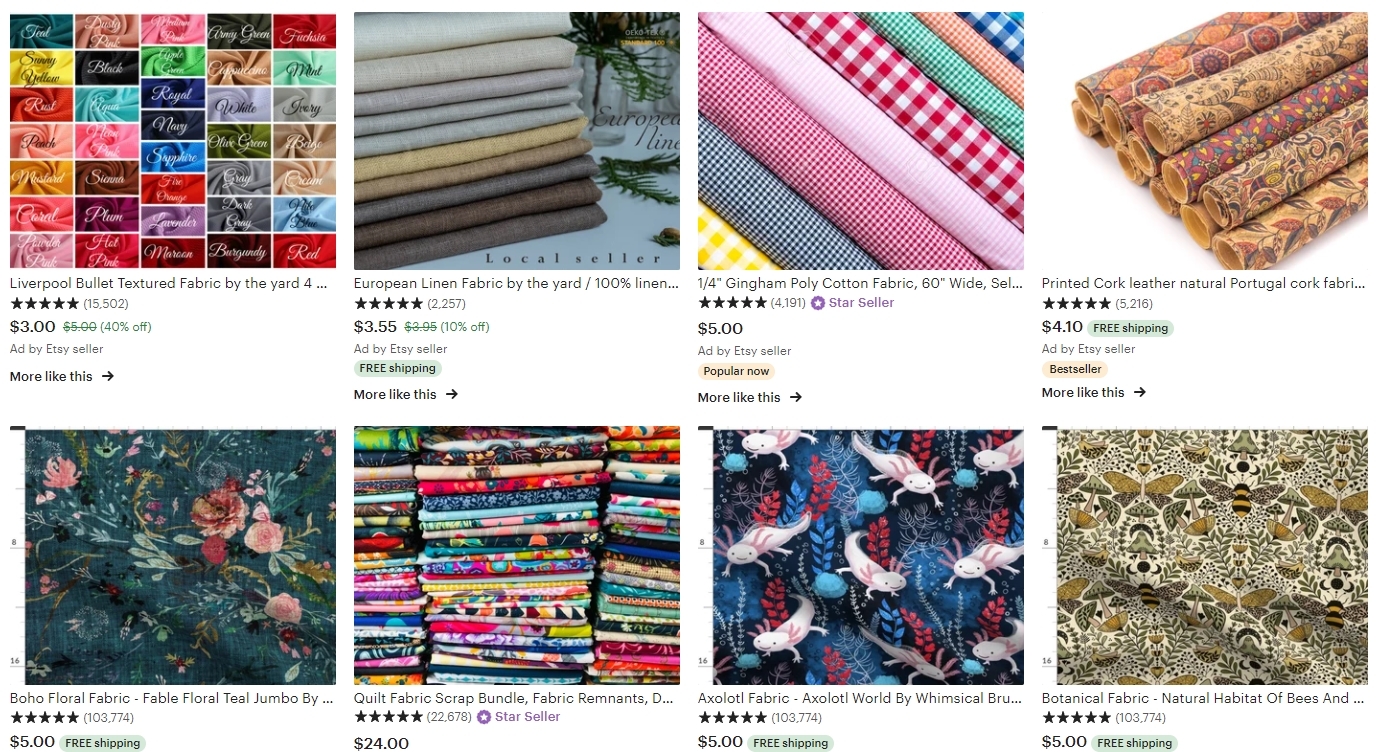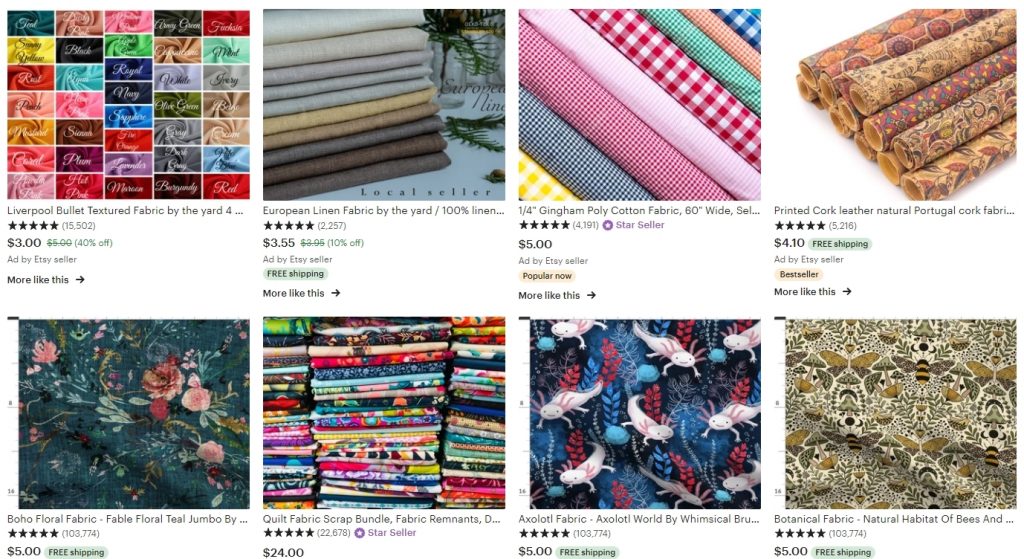 Fabrics are used in so many spheres of life that there is indeed an incredible variety to them. Etsy Sellers are seeing a lot of demand for fabrics such as linen, cotton, chiffon, damask, gingham, lace, leather, modal, polyester, satin, silk, taffeta, toile, and velvet.
Party supplies
A party is a great occasion to celebrate a birthday, anniversary,
holiday
, or special occasion. This is where party-related items such as editable party invitations, novelty
gifts
, and party decorations come in.
What Factors Have Made Them Hot Sellers?
One of the most appealing things about Etsy is that there is so much uniqueness and value that can be added to a customer's purchasing journey through offering such distinct products in the form of craft supplies and tools. While there are many high-street retailers that offer run-of-the-mill items, practically every item on Etsy is unique and this is what customers are ultimately looking for. The more extraordinary the offering, the higher the chances of it becoming a hit. And the opposite is also true. Because Etsy caters to unique tastes, this is one of the main reasons that these craft supplies and tools have become so popular. Another reason is that the best-sellers out there provide their customers with high value for money. This can mean offering instructions with the toolkit or supplies offered, providing guidance and best practices on how to use them, and even ideas for further creative usage. If you're an aspiring Seller on Etsy, you should definitely consider doing this, too.
What Can A Seller Do To Enter These Niches And Is It Even Worth Doing So?
A Seller who is looking to enter one of the niches mentioned above needs to do careful research into the market and pinpoint their strengths in terms of the value they'd like to add to their customers. And if you're good at DIY kits for crocheting, why not throw in some instructions for making scarves, beanies, coasters, blankets, and more? If you're a jewelry materials supplier, think of the kinds of items you'd be capable of providing and what added value they'd bring to the table. Once you've figured all of this out, you will be able to determine whether this is a profitable niche for you by simply giving it a go. Yes, you'll be competing with existing Sellers, but if your offering is worth it, you'll find a market for your wares in no time.
How Can Sale Samurai Help Sellers Enter These Niches Or Identify Other Profitable Niches?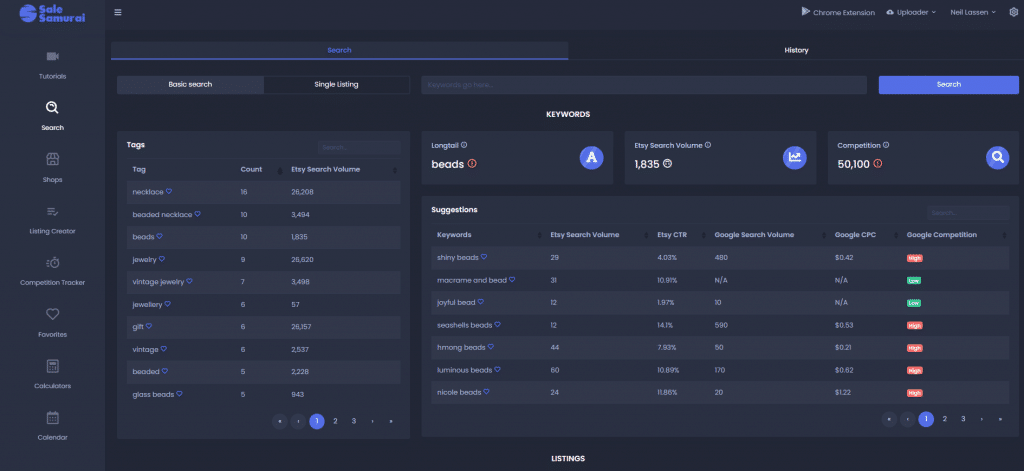 Ultimately, when it comes to selling craft supplies and tools on Etsy, Sellers need to do thorough research on their
competition
to determine which niche is the most profitable for them and how they can start making a passive income by selling on the platform. With
Sale
Samurai, you can identify your competition directly by singling out either individual shops or groups of shops and running them through the Competition Tracker to see what they're doing right, so that you can imitate their strategies. There's also the Search function, which lets you identify the weight of your selected keywords, all while determining whether there's high competition for them, and ultimately, the levels of demand for that keyword in the particular product niche. If you'd like to go ahead and give this software a try, you can do so for free using the
3-day free trial
and make the most out of the software's other functions and tools, too.