If you're a tailor or an artisan who specializes in handmade apparel, selling on Etsy could help pave the way to a sweet pot of gold. One of the world's most popular platforms for selling crafts and handmade items is home to a myriad of clothing designers and manufacturers. There are more than 5,000 apparel stores on Etsy, making clothing one of the most popular categories on the platform. However, considering the sheer number of competitors, you'll need a
strategy
that is spot on. Selling apparel on Etsy is not quantum physics, but it definitely has its nuts and bolts. Let's see what they are and how you can use them to your advantage as a tailor.
Successful Strategies For Selling Clothes On Etsy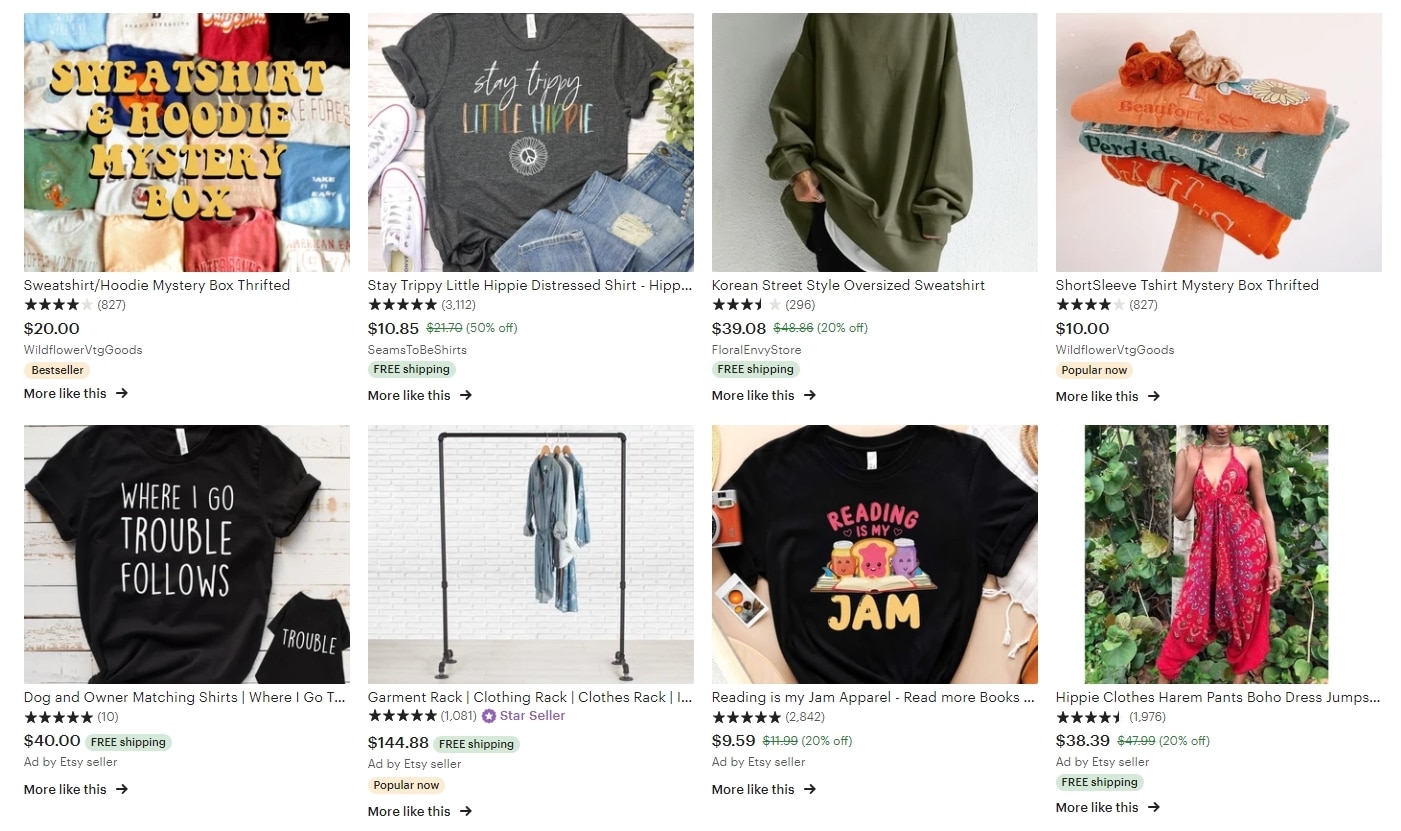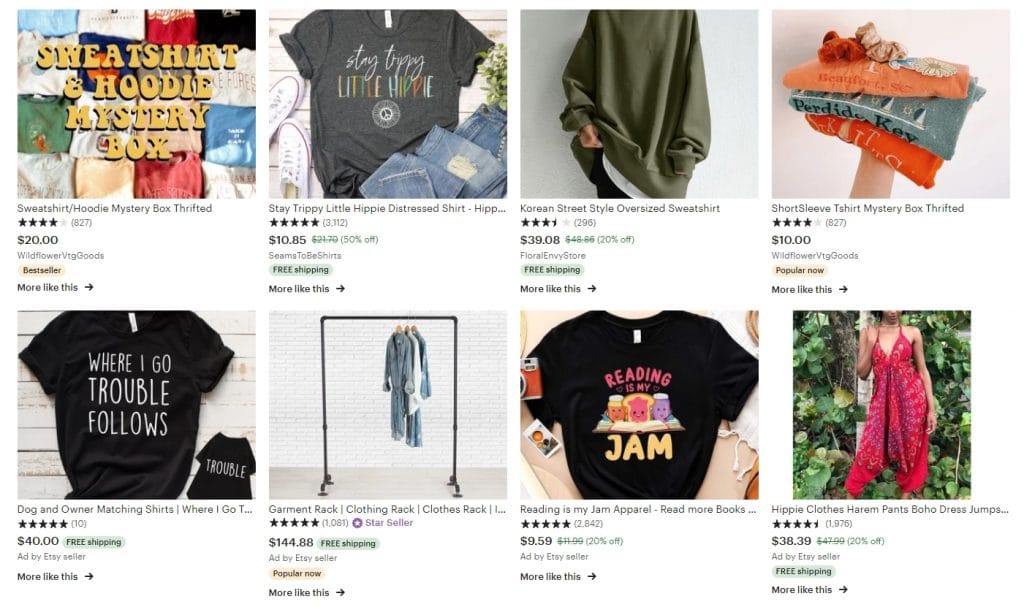 Selling clothes on Etsy can be as diverse as you want. You can sell women's clothes, men's clothes, or children's clothes. You can also segment your product portfolio further by offering skirts, pants, t-shirts, hoodies, pajamas, and more. Regardless of your choice of clothing products, the following strategies will get you closer to making sales and growing your brand as a tailor.
It's All About The Variety
If you want your Etsy clothing store to grow, the first thing to consider is product variety. If you do some Sherlocking on the platform and look at what other stores are doing, you'll notice one thing –
diversification
. The majority of clothing stores on Etsy sell between 100 and 250 different products. Why? Because the more – the merrier.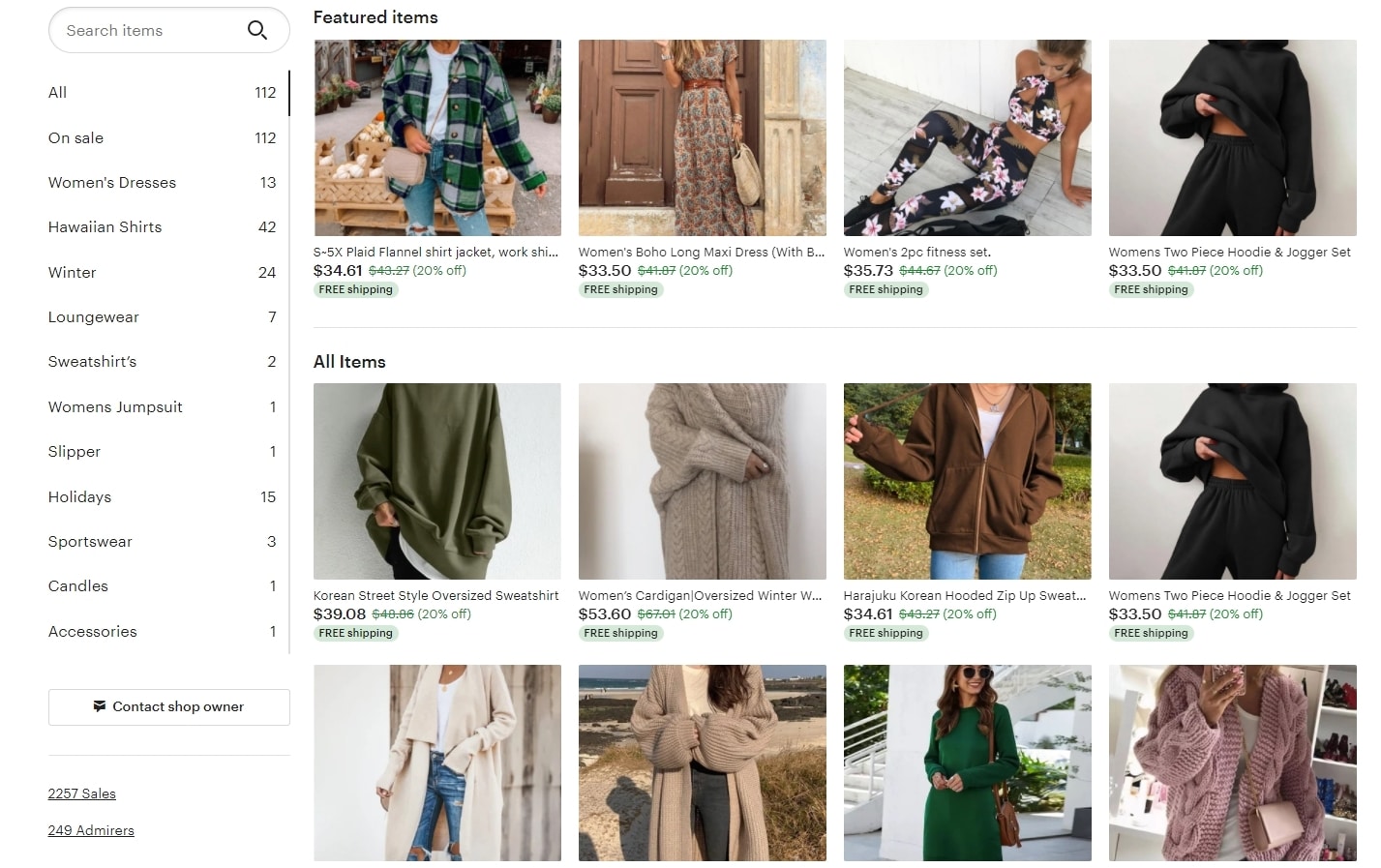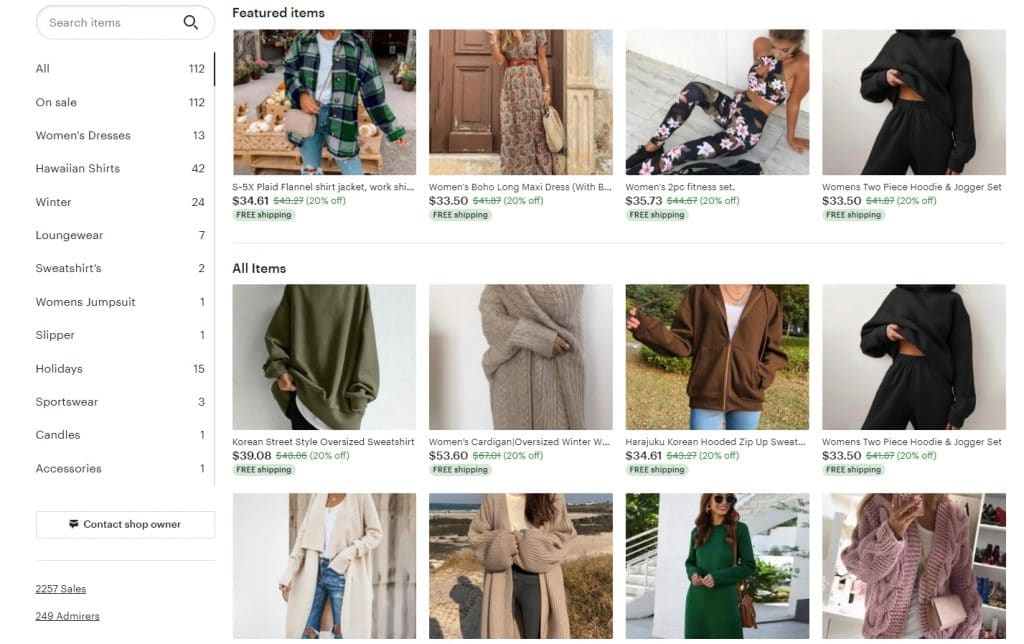 By creating a rich portfolio of products to offer, you are increasing your chances of attracting buyers with different tastes and preferences for design. Sure, you can look at the apparel items that are selling best on Etsy or
Amazon
and get some ideas. But we strongly advise running a quick reality check. The more popular a product is, the more competitive it will be to outrank other, top-performing Sellers. Product variety can help you avoid
competition
struggles and attract different target groups with a single Etsy shop. When thinking about ways to diversify your products, think about things like:
Subcategories of clothing, like sportswear, formal wear, men's & women's clothes, and more
Offering a variety of sizes
Playing around with apparel colors
Working with different materials and fabrics
In short, don't be afraid to use your tailor's creativity to the fullest.
Pricing Is Key
Perhaps one of the most important parts of becoming a successful merchant on Etsy is pricing your products right. But what does this mean?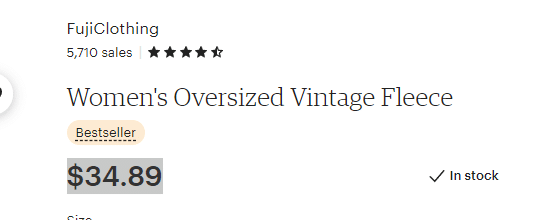 Well, the bottom line is that you want to ensure you're making enough money from each
sale
to cover your expenses and make a reasonable profit. The expenses that you need to consider
include Etsy listing fees
, the platform's commission, the cost for materials used for creating your product, shipping costs, and more. Although it may be useful to compare your apparel prices to other Sellers on Etsy, don't forget that the platform is popular for its unique offerings. No two products will ever be the same. It's also unrealistic to expect that prices will be identical. However, you could use data from other Sellers to make sure you're not passing any boundaries by asking for too much or underpricing your products.
Photos That Sell
Remember the saying "don't judge a
book
by its cover"? Well, let's get one thing straight – it is
not
applicable to Etsy.
Photos are the first things
that potential buyers will see about your product. They're a maiden point of contact and can attract or repel users to your clothing. For tailors, it's an absolute must to provide images of models wearing your clothes. Why? Because it's the only way that users can get a realistic idea of how the clothes actually look on a human body.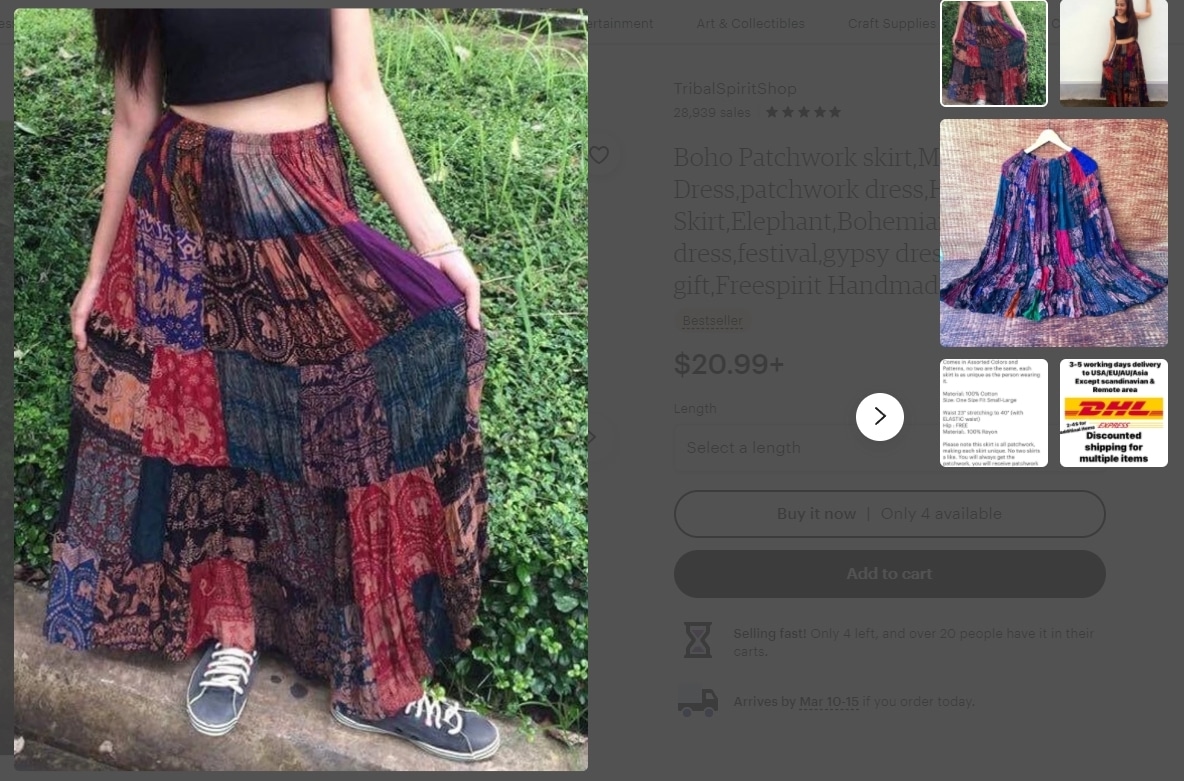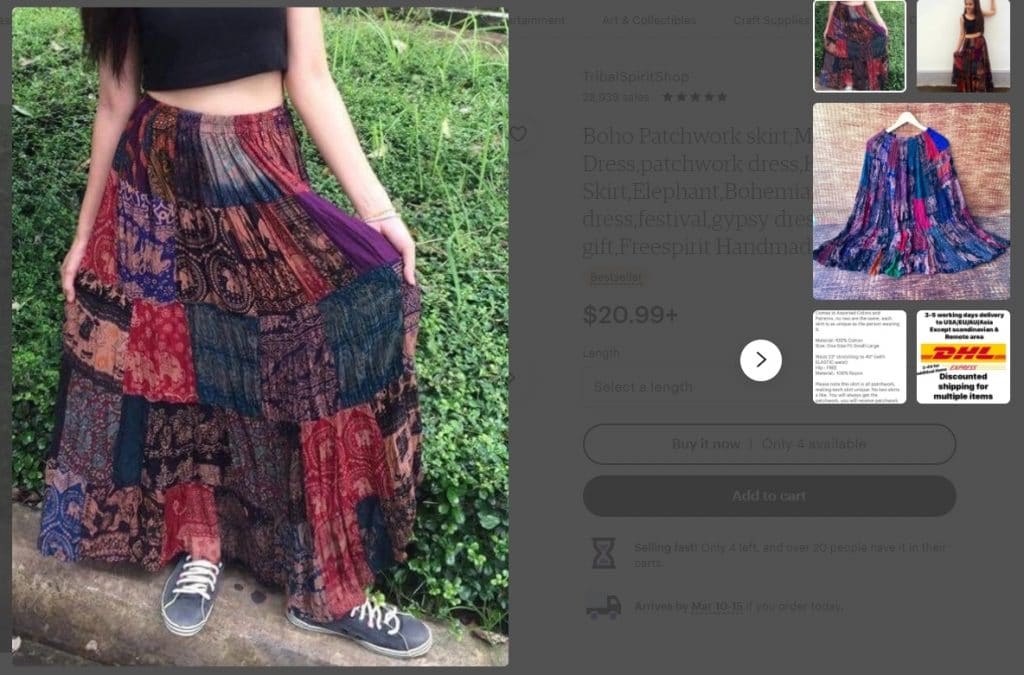 But that's not all. If you've browsed through Etsy listings, you've probably noticed that photos stand out with a level of creativity and art. In general, the whole platform screams authenticity and craftsmanship, and the use of imagery is no exception. Think carefully about the concept behind your product images. For example, if you're a tailor who creates sportswear, you could use accessories like water bottles or yoga bottles in the photos to recreate the feeling of an active and healthy lifestyle. This will help you attract the right buyers and will certainly make your products stand out from the rest.
Optimized Listings
Next up – listings. Creating amazing products, setting the
price
right, and uploading stunning images is great. But what if no one ever sees them?
Optimizing your listings
will allow you to get your products in front of more Etsy buyers and increase the chances of actual sales. So, what do we mean by optimization? For every
listing
that you create, you can use up to 10 images and 13 tags. We highly recommend exploiting this opportunity to the fullest.


How can this help you sell more? Tags or keywords are what makes your products more visible for buyers when they search for products just like yours. If you fail to use the right keywords for your product, this means that your clothes won't show up in search results. In other words, they'll be left in the dark. On the other hand, images are what grab attention once your listing has been shown to buyers. Using this dual combo is your ticket to money land.
Detailed Descriptions
Making the decision to purchase clothes online is not always easy. Buyers can't feel the fabrics, see the realistic colors, or even get an idea of how the product will look on their bodies. This is why it's essential to be as detailed as possible within your product descriptions. Full and specific descriptions are one of the things that make top-performing Etsy tailors stand out from the pack.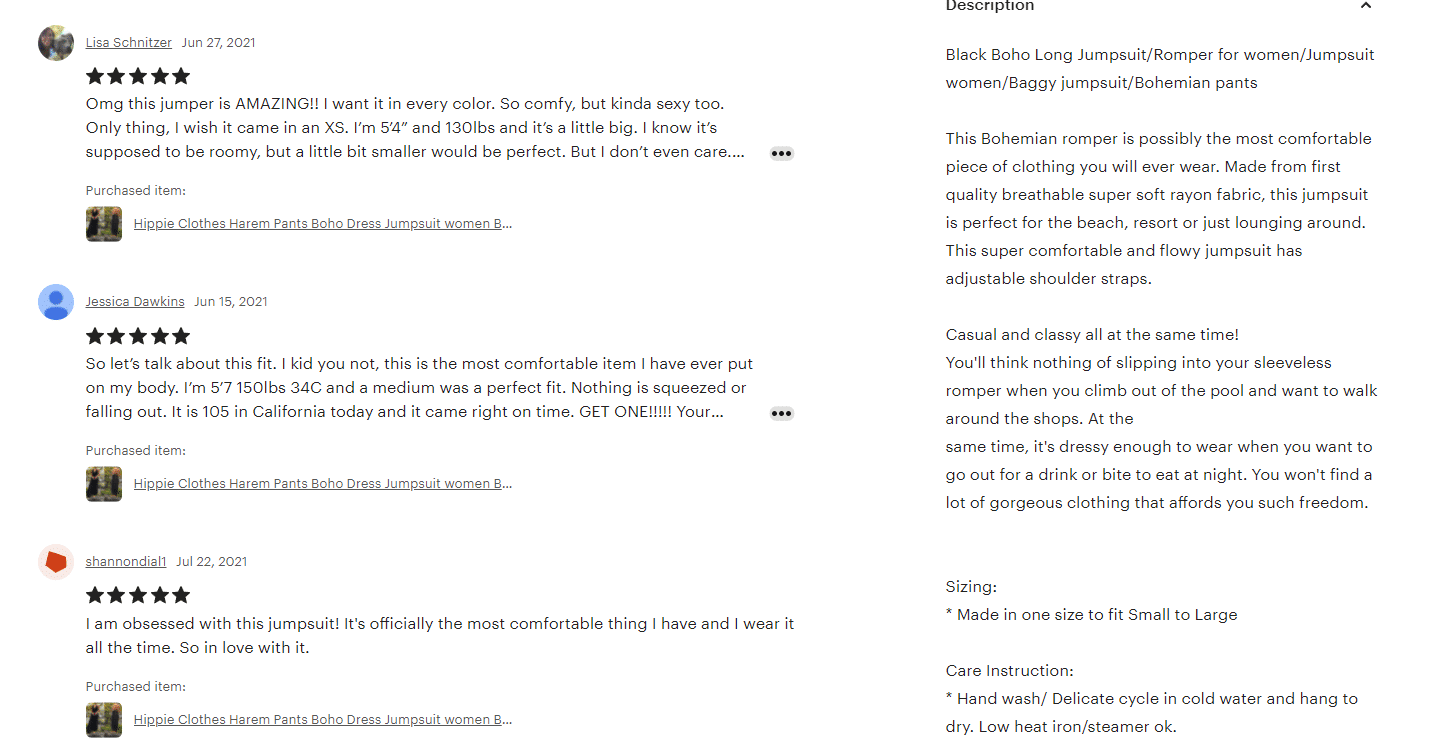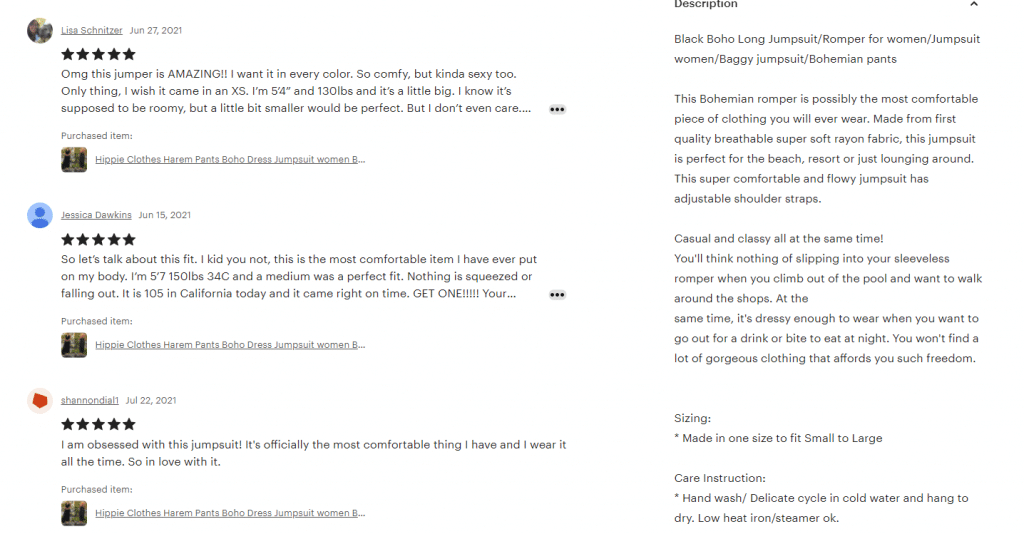 Some of the tactics that other tailors on Etsy are using include offering additional information about the materials and fabrics used and providing detailed size guides to help the buyer make the right decision. Some ideas on how to use these tips for your own listings is to focus on explaining what the materials or fabrics feel like on the skin, whether they're easy to clean and take care of, or how durable they are. When it comes to sizing, it may be useful to offer a size comparison chart so that buyers from different countries can get an idea of what sizes will work best for them.
Seasonal Clothing Products
Seasonality is a vital factor that should be taken into account in any tailor's Etsy strategy. However, the reality is that it is often neglected and underestimated. When you think about seasonality in clothing, you're probably pairing jackets to winter and skirts to summer. And although you may be correct in this assumption, there's so much more to it. As a tailor, think about seasonality in terms of special occasions, holidays, events, and more. How can this help you? In short, seasonality can guarantee you sales all year round if you use it correctly. Let's look at an example. Say you're currently selling a wide variety of waterproof jackets. Chances are that you are enjoying a lot of attention around September, October, and November (this could vary depending on which country your sales are coming from). But what about the rest of the year? One thing you can do is diversify your portfolio and start offering t-shirts that are cleverly designed according to seasonal trends. For instance, you can use popular holidays and occasions like Christmas, St. Valentine's Day, St. Patrick's Day, Halloween, and others. Creating your clothing designs around these themes will help you sell more in specific periods of time. If you choose a
holiday
or seasonal trend for every month or every two or three months, you're bound to sell more during that period and never experience a low-selling month.
How Sale Samurai Can Help You Turn Your Tailor Business Around
From the looks of it, the Etsy strategies for tailors that we explored don't look so difficult to create, right? Well, that depends on what type of information you have access to as a Seller. For example, optimizing your listings would be a challenge if you are not sure what type of keywords buyers are using to search for products like yours. It may also be a nightmare to go through hundreds of clothing stores just to figure out how many products other tailors are selling on Etsy. And these are just a few potential troubles that you're likely to run into.
Sale Samurai
can help tailors make strategic decisions by offering access to key insights from Etsy stores, listings, and more. The software provides powerful tools that can offer a peek into the competition's strategies. It can help you audit and optimize your own Etsy store, discover the right keywords, and so much more. Etsy Sellers use Sale Samurai as an inspiration spark, giving them a ton of ideas on what type of products to focus on as merchants to make more sales.