There has never been a better time to scratch the itch to turn that art, craft or hobby into a business than now.
Whether you specialize in floral collage, pen-and-ink recreations of ancient grimoires or melting crayons into a Jackson Pollack, chances are your style speaks to a percentage of the nearly 8 billion people on this planet. And most of them are looking for your niche on Etsy.
Etsy takes the complication out of e-commerce. It is an intuitive, super user-friendly platform that comes with its own community. If you have always wanted to open an online store of your own but thought that launching a website, marketing your product, or navigating the maze of shipping was daunting, Etsy is your best solution.
Even if you've never browsed or bought on the platform before, opening a shop on Etsy is easy. Here's a step-by-step guide to opening your shop.
1. Create An Account
If you haven't already, set up your Etsy account. Scroll down to the bottom of the Etsy home page (the "footer") and click on the "Sell on Etsy" link under "Sell". Enter your name, a password, then hit "register".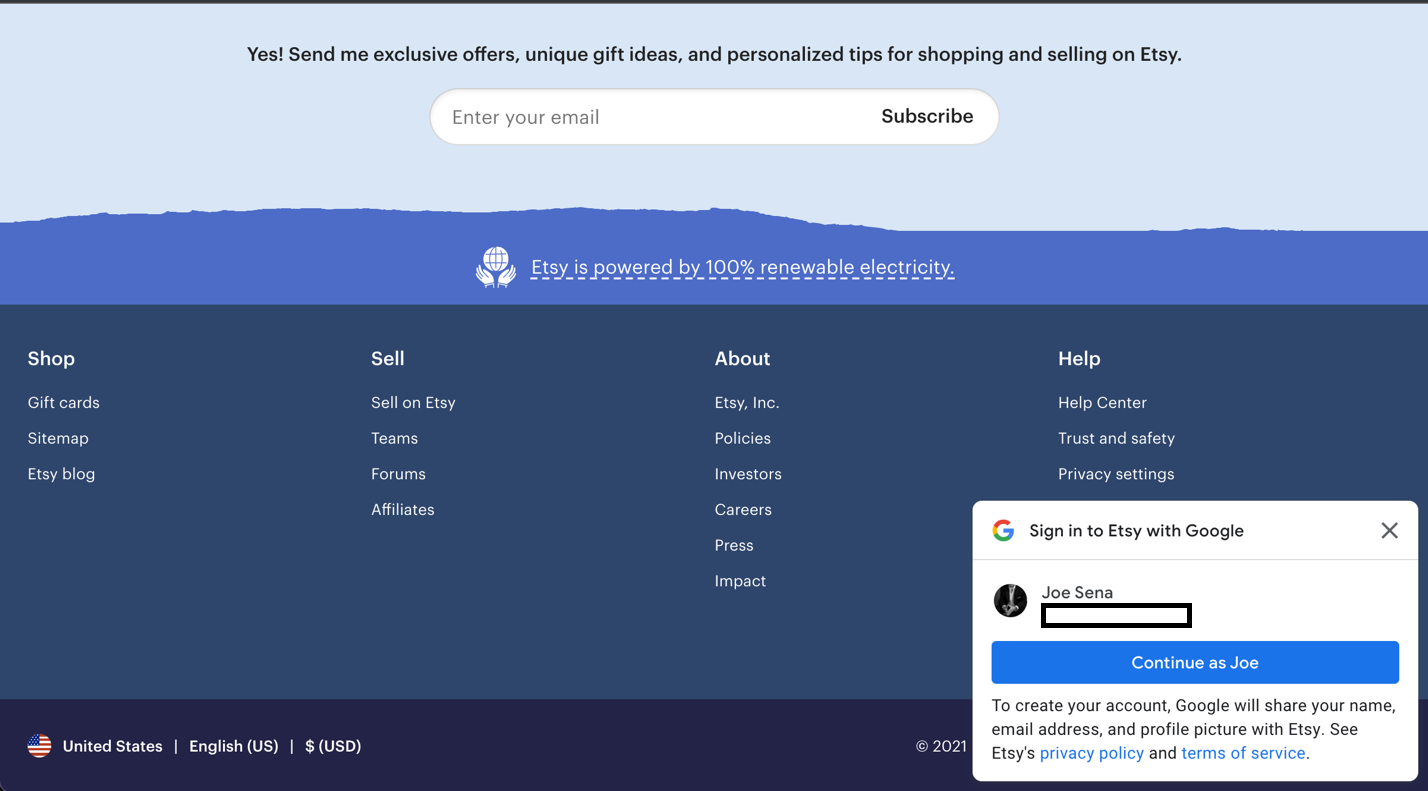 You can also use your established Facebook, Google or Apple account to set up an Etsy Account, if that's easier for you. If you already have an Etsy account as a buyer, just log in with your credentials, click "Open Your Etsy Shop" and you can start creating your own shop. Yes, it's that easy.
2. Set Preferences
After you've created your Etsy seller login you'll be directed to the "shop preferences" screen.  Here, you'll set up the basic settings to get your store started.
Language
Set your default language. It probably goes without saying that your native language should be the default. If you want to sell internationally, you'll have the ability to choose to translate your page into other languages later.
Country/Currency
Set your home country, then the currency that you plan to list your items under.
Again, chances are that most of your customers are in your home country and use your country's currency. However, if for some reason your bank currency is different from your shop currency (for example: if your home country is in Europe, but you target American customers because your product appeals to them), you will incur currency conversion fees with each customer purchase. Currently, the currency conversion fee is 2.5% of the sale amount.
Part Time or Full Time?
There's no need to sweat this question, as Etsy asks it for their own purposes, and it has no effect on your store. You will be asked whether you're a full-time, part-time, or "other" seller. Answer based on what your current goals are.
3. Name Your Shop
This should be one of the fun parts of the process – you probably already have at least a few different names you've dreamed of for your shop. However, there are two things to keep in mind:
Etsy's naming guidelines
A memorable, easy-to-understand, customer-friendly name
Etsy's naming guidelines
This is the easy part. All you need to do is make sure your shop name fits within the following parameters:
Keep it short: 4 to 20 characters long, no spaces, no special characters;
Keep it unique: not a name already in use by another Etsy shop (Etsy will suggest similar names if you try to enter one already in use);
Keep it legal: no trademark infringements;
Keep it clean: no profanities.
Picking the right name can be trickier, especially since Etsy only lets you change your name once after you've set it up. Here are Etsy's recommendations:
Descriptive, suggestive names: Word combinations that represent your brand and/or what you produce. Some examples: DogPortraits4U, WeirdPlantStuff, LeftNostrilInhalers
Abstract names: In my experience, this works when you've got either an established brand or plan to establish the brand over time (in my case, FearWerx has been around for almost 20 years). You want people to find your store when they look for you – unless your brand fits into either of the examples above, stick with something intuitive and searchable.
Personalize with your name: Leading with your name not only makes your shop friendly, it gives you the opportunity to adapt or change the kind of products you sell. MikeMakesCheapStuff, CraftsByTobysMom, DIYDoesBobDoThis.
Even though you have the option to change your shop name one time, give this some serious thought. If you do well enough to expand your Etsy shop to a business website, social media or even an official legal business entity, it's best that your shop name and future endeavors be consistent.
4. Adding Products To Your Shop
Now it's time to stock your shop's inventory. Physical and digital items (like printable stationery, patterns, stickers, and gift tags) must be listed in different ways. For now, let's focus on a tangible item.
Add photos
Etsy says you should use at least five photos for each item (you can put up to 10) so that customers can see your product from different angles. The size of your images should be at least 1,000 pixels square.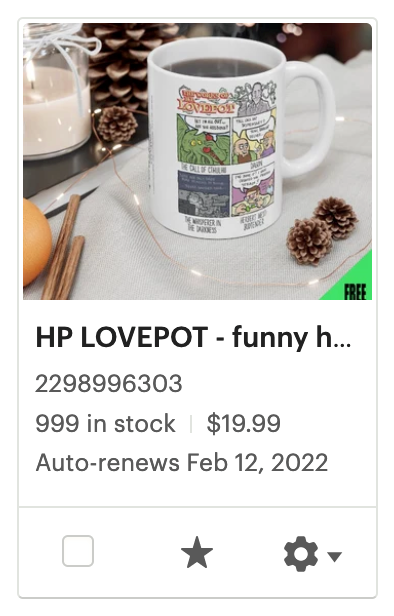 Spotlight the available options of your item. For example, you could show them how a t-shirt looks in different colors.
Adjust your thumbnail size
It's your product's "head shot", the first image of your item that customers see when they visit your shop, search for it, or look at other items on Etsy. This should be the best shot of all the photos of your item.
Complete all remaining listing info
The title should be as descriptive as possible within a 140-character limit. You can give a more detailed description within the listing body, such as a bulleted overview of the product, and other information like its category and type.
In the description section, you'll also be able to see how your listing will look in a Google search. This can help you improve your e-commerce SEO.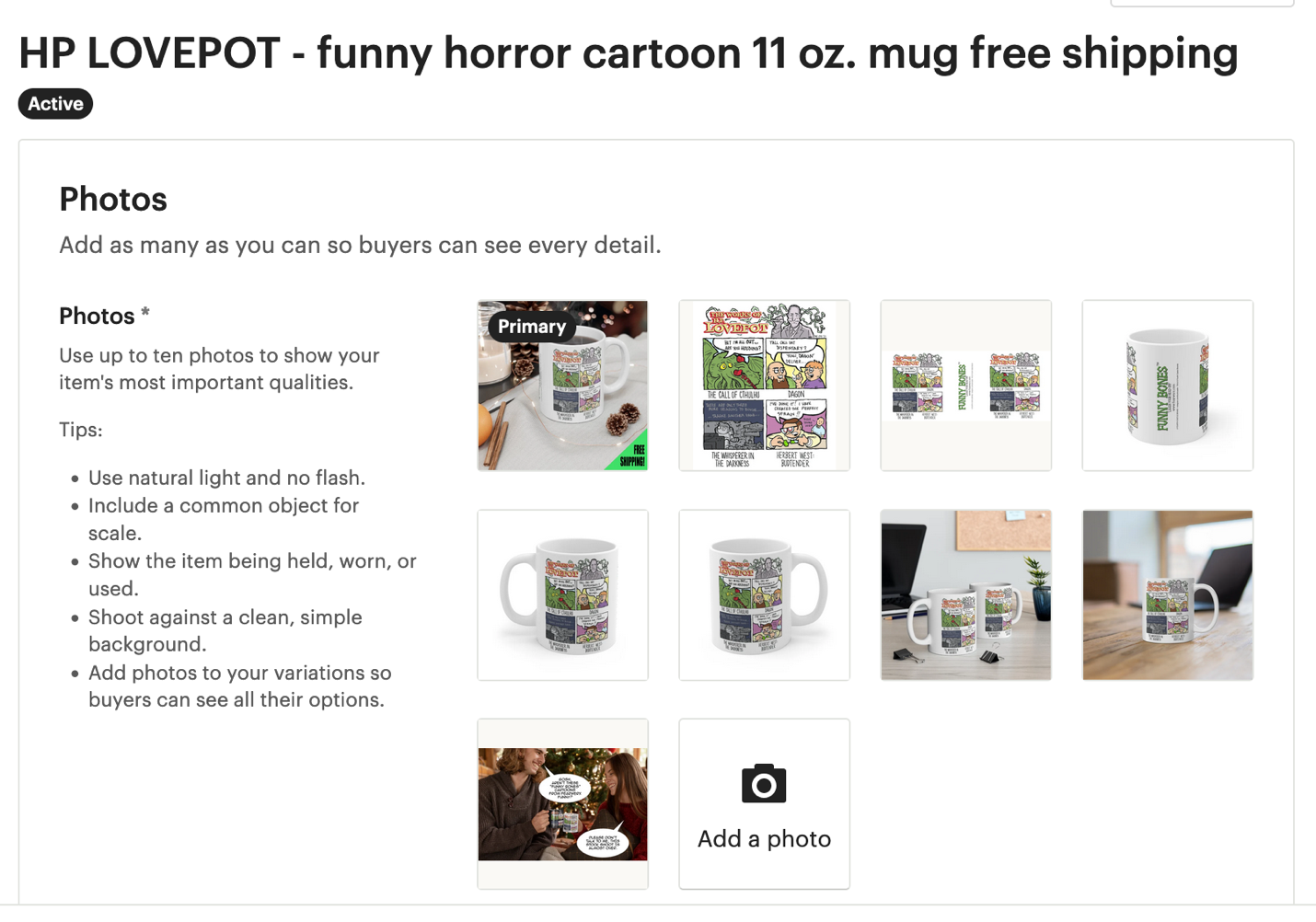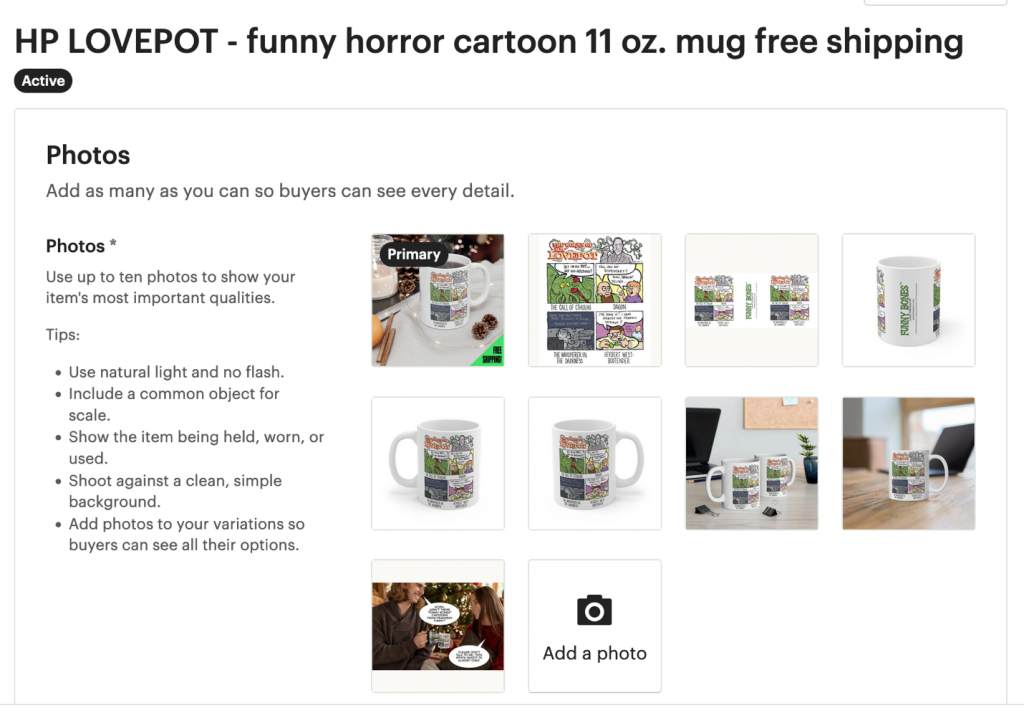 Note the "renewal options." section. We will discuss Etsy fees later, but if you choose "Automatic," your listing will automatically renew after it runs out every four months. Each time the listing is renewed, you'll be charged 20 cents.
If you don't want to renew or prefer to delete expired listings, you can choose "manual" from this drop-down menu.
Lastly, make sure you use all 13 "tags" for each product. Think about what a customer might type into the search bar to find your item and that will help you create your tags. It's entry-level SEO, but it works.


Complete your inventory and price your items.
The price, sales tax, quantity, SKU number, and variations of your product are in this section. Photos of different sizes, materials, and colors can be linked to different variations.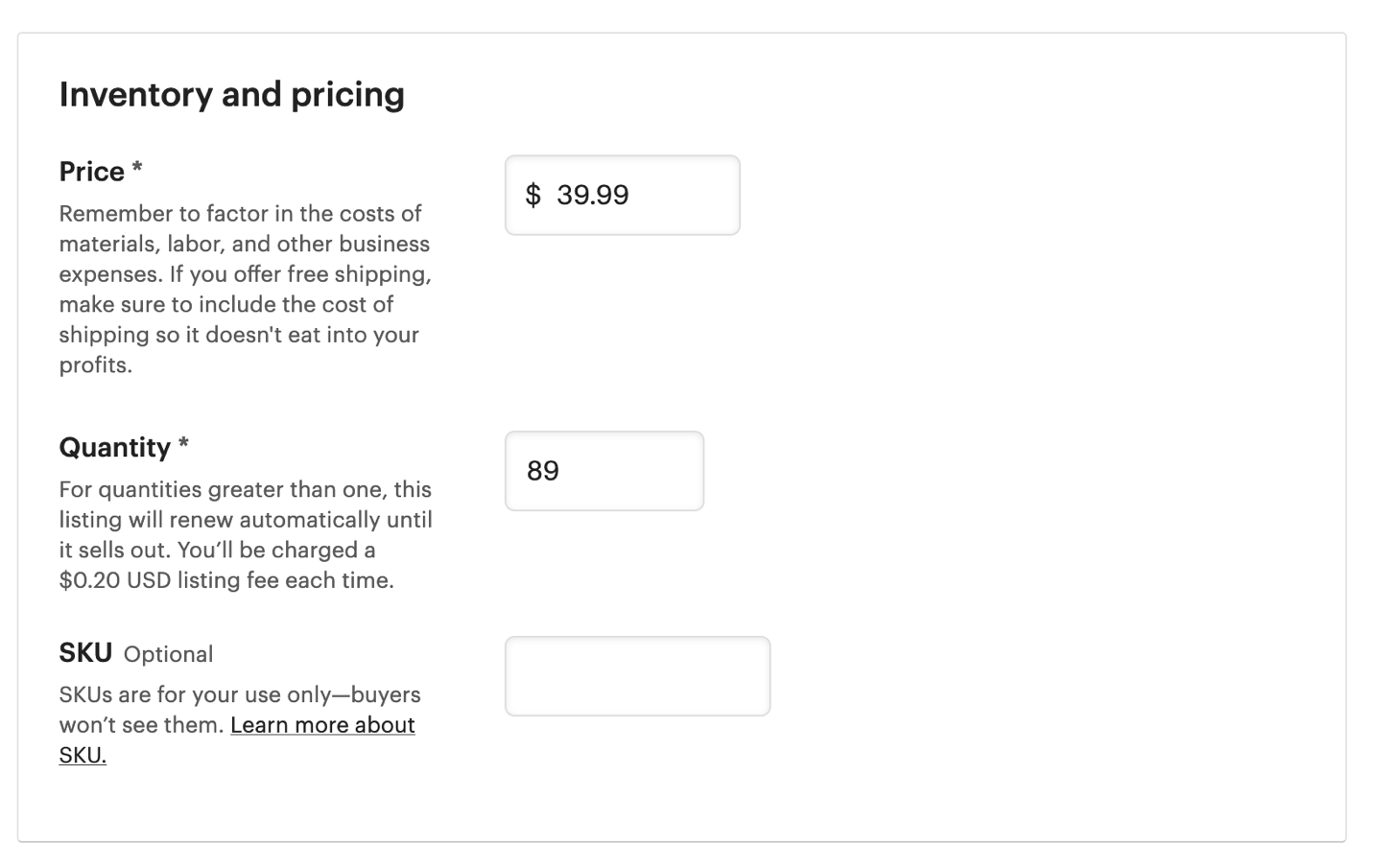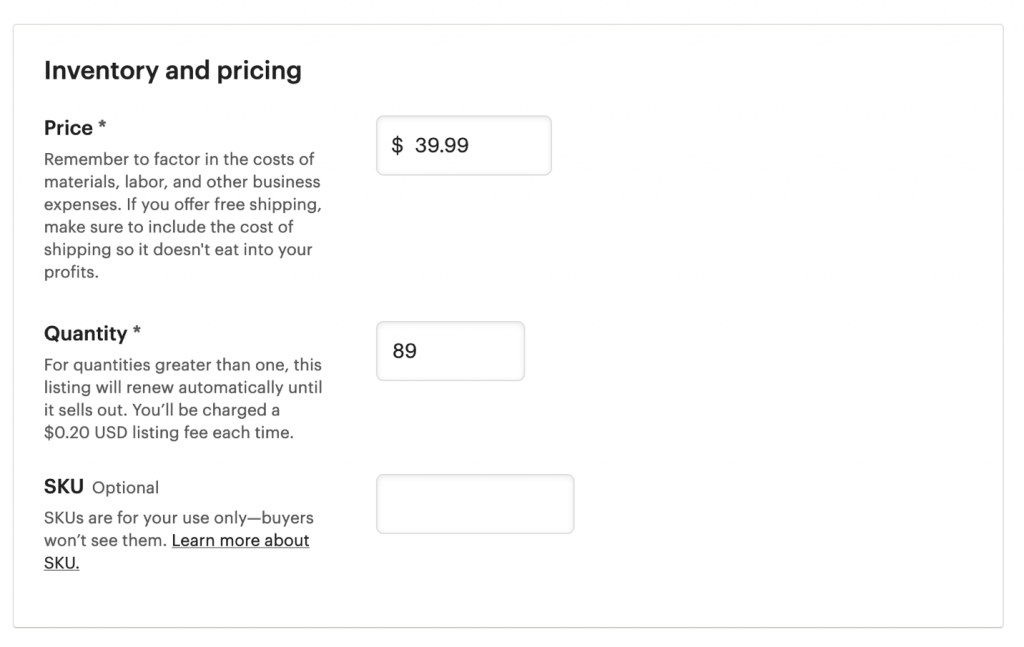 Decide your shipping costs
Shipping services, costs, country of origin, processing time, and item weight and size are all included here. Include information about how long it will take for your package to arrive, and how much it costs.
You can also let Etsy figure out how much it will cost to ship your items (which I highly recommend – it's super accurate and a great time saver). Fill in the weight and size of the item in this case (when packed). Once you have that information, you'll be able to see what the shipping price will look like for the person who buys the item.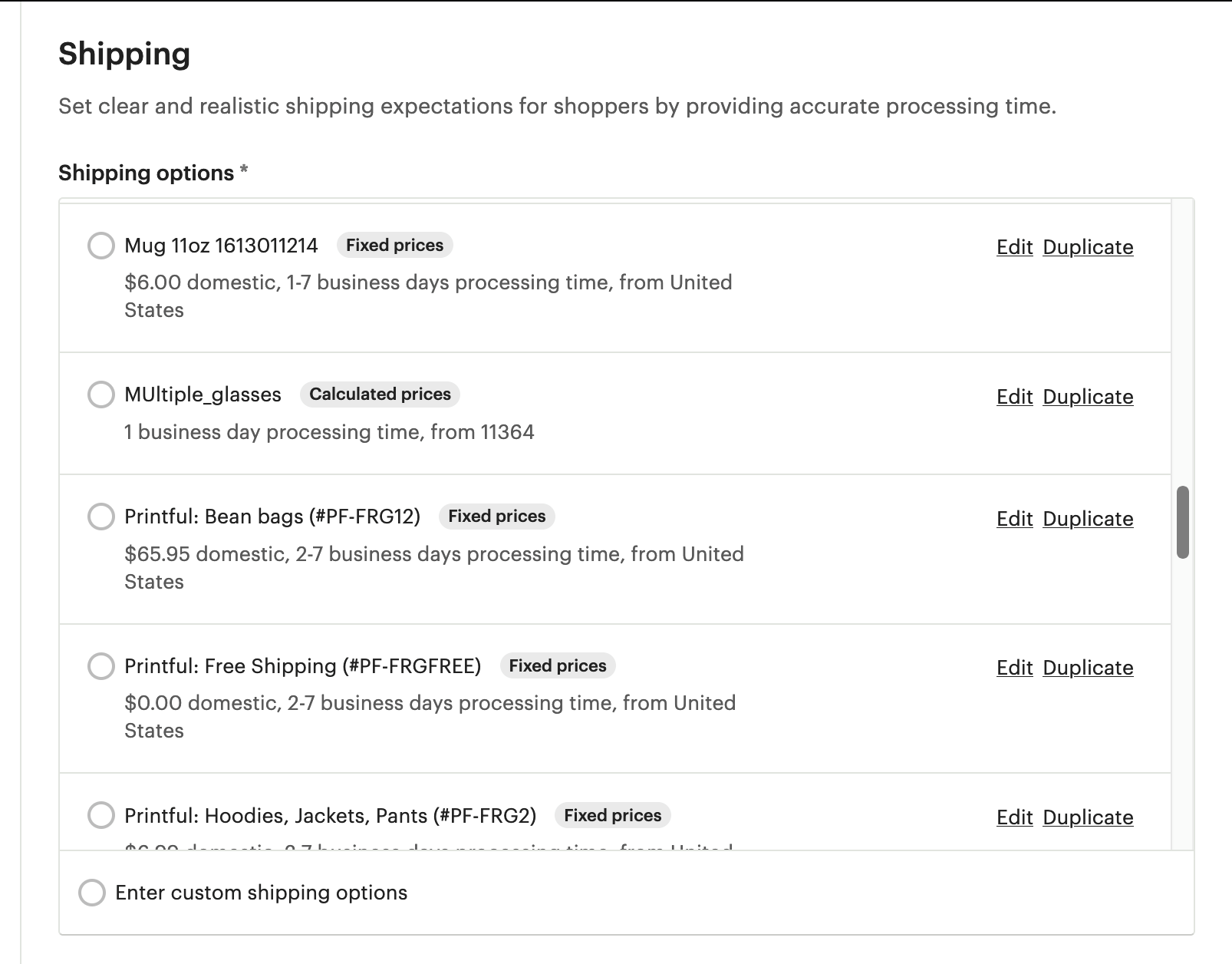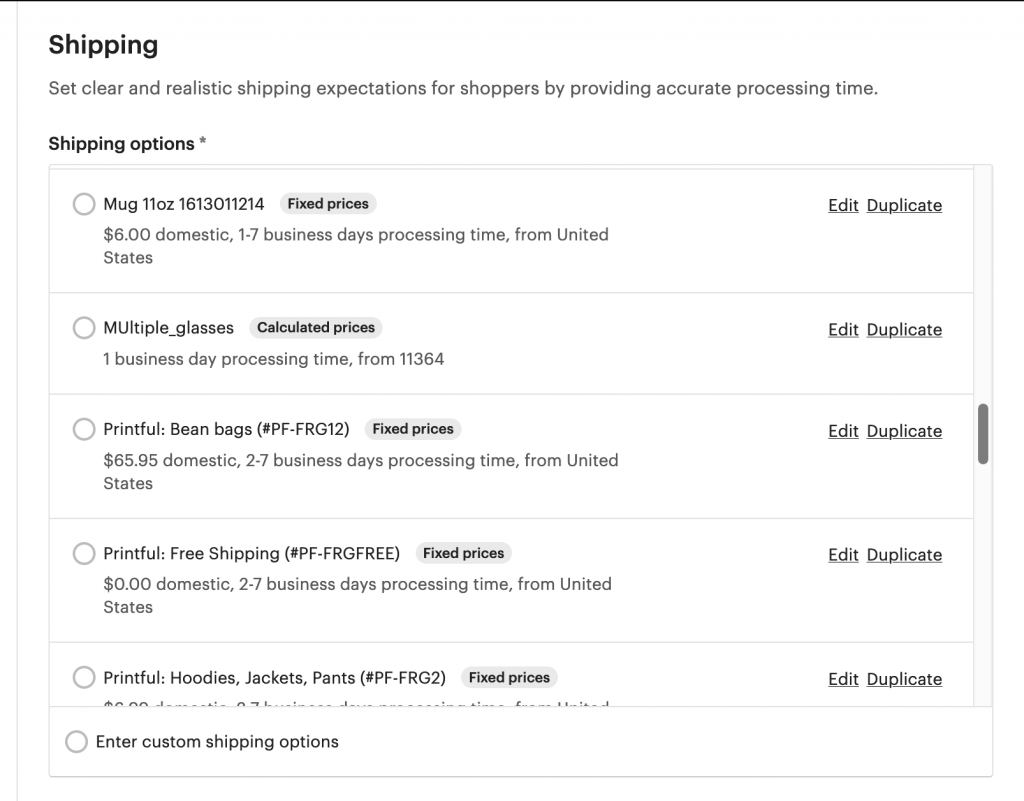 If you stock items of varying weights and shapes, you can set up "shipping profiles" that you can use for different items of similar configurations.
Publish!
In the beginning, you can add as many listings as you want to your Etsy shop. Etsy suggests you have at least 10 listings, because the more listings you have, the more likely people will find you.
Important: your listings aren't live until you finish setting up your store. If you want to get your store up and running quickly, don't spend too much time on too many listings.
5. Choose Your Payment Preferences
After you've added your items, choose how you want to get paid. You can select check or money order, "other," or "Etsy Payments". This last option – which is the primary method sellers use to get paid – allows you to accept credit cards, debit cards, Etsy gift cards, and store credit, as well as many other forms of payment.

PayPal is also accepted, but only under Etsy Payments. Etsy used to let people pay with PayPal as a separate option, but that changed in 2019. PayPal is no longer available on its own.
If using Etsy Payments, you'll need to enter your bank account and home address (as shown above) to get your money from Etsy.
6. Set Up Billing
This step depends on your location. In some countries, Etsy will ask you for a credit card to verify your identity. You'll need to have a credit card on file anyway, so Etsy can charge you when you sell things on their site (more on that below).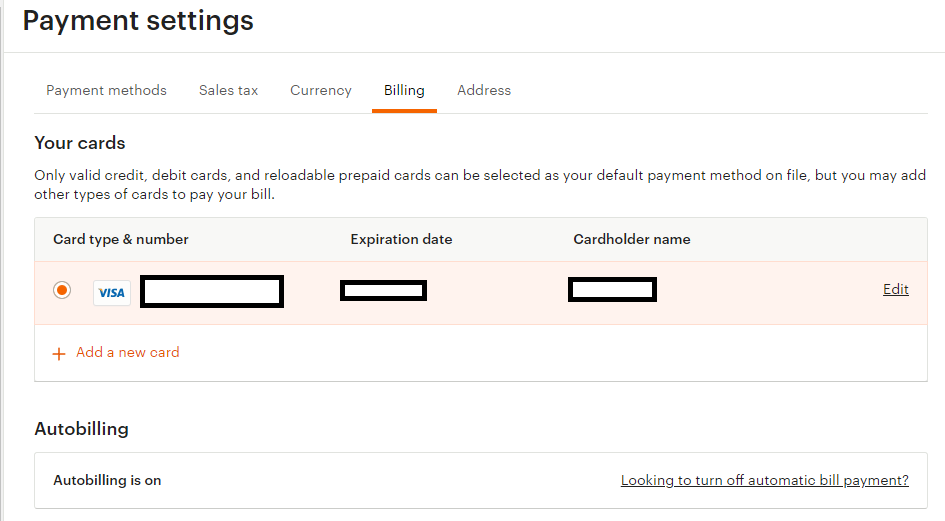 If you're a U.S. seller, you can sign up for auto-billing. Etsy will automatically charge your credit card on file for all of the selling fees you pay, so you don't have to worry about paying a monthly statement.
7. Open Your Shop
Time to throw open the doors! Select "Open Your Shop," and you're in business.
You'll see that your shop name will appear in either of two ways
If you are far enough along that you want to brand your Etsy store with a unique name, you can buy a URL through an internet service provider and redirect the URL to the Etsy shop address. So, if you type "FearWerx.com" into your browser, you'll be directed to https://www.etsy.com/shop/fearwerx.
8. Customize Your Shop
It's not enough to just open an Etsy shop. It needs to be easy to find, attractive, intuitively organized, and always up to date, just like a brick-and-mortar store. To make sure your Etsy shop opens and runs well, make sure the following sections are completed:
Add a bio and a picture
This is where people can learn more about you, the shopkeeper.
In your bio, you can say pretty much anything you want. Talk about who you are, what you like, and what you can do. Tell the story behind your products, your mission, what you do and why you love to do it.
Clarify your policies
Important information to have out front: how your business makes goods, ships, and processes money. Online shoppers don't want to guess how long it takes for an item to be shipped.
Make sure to include your return and exchange policy, as well as the payment methods you take. If you've chosen "other" as your payment setting, you'll need to include information and instructions about this payment method here, as well as in each of your other listings.
Create your sections
Organize your items into different groups of similar items. This way, buyers can easily find what they're looking for once they've found your shop. Sections will show up on the left side of your homepage. They will show how many products are in each category and how many there are in total for that category. You can rearrange your products at any time, within sections or on a listing page itself.
Add an "About Us" section
Etsy gives you a generous 5,000 characters to give your store its own bio. The Etsy community prefers honesty and openness, so don't write like a catalog copywriter. Be authentic!
Also, you can list anyone who helps you make your products or run your store, show pictures of your studio space or creative process, and link to your store's social media pages.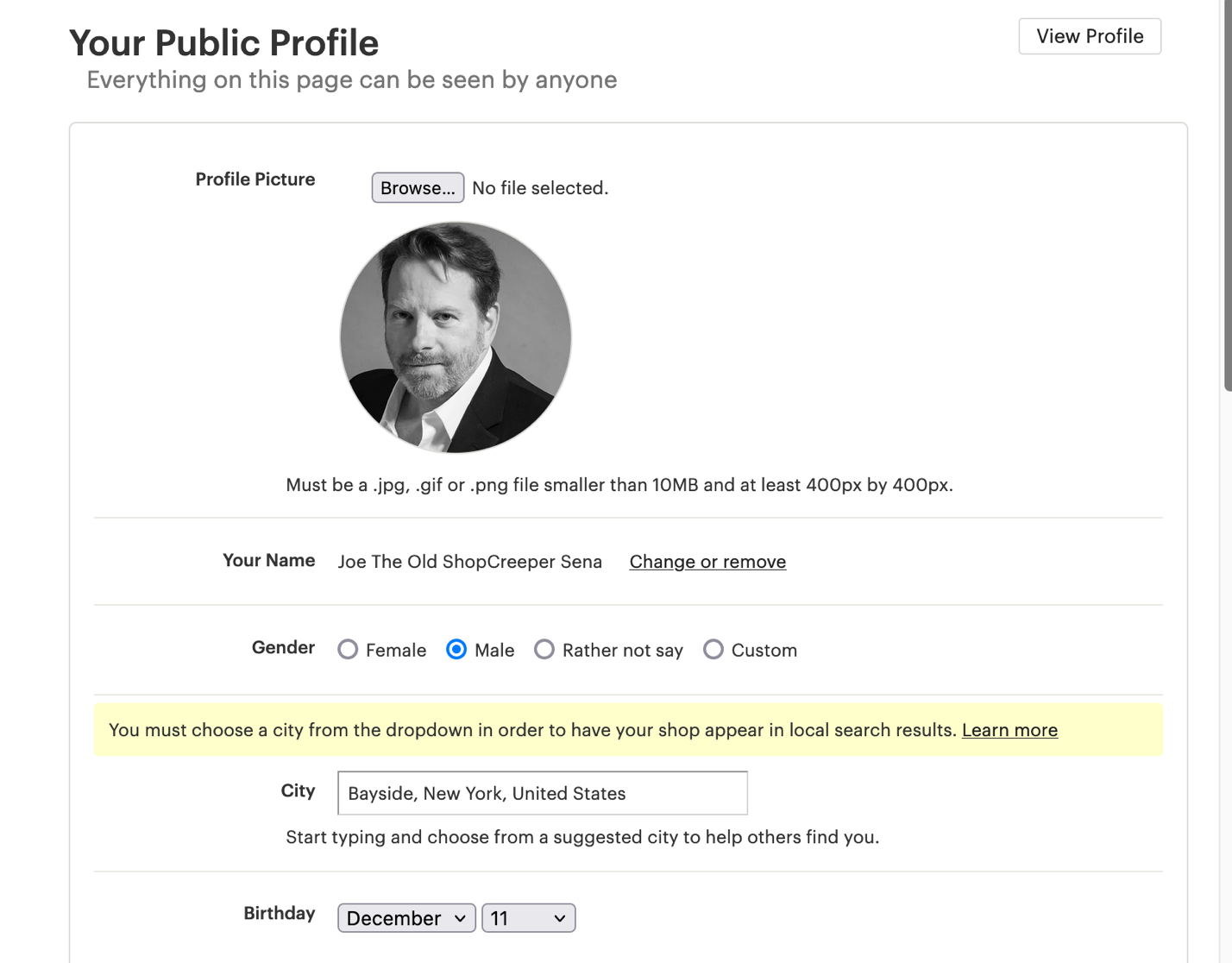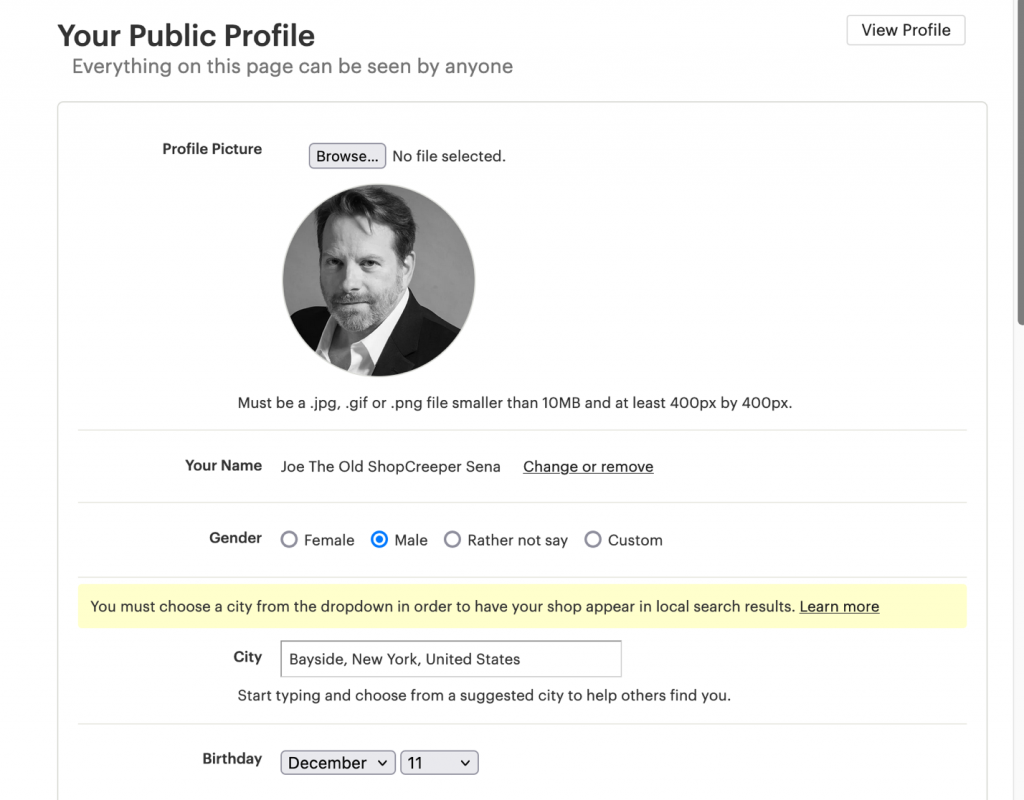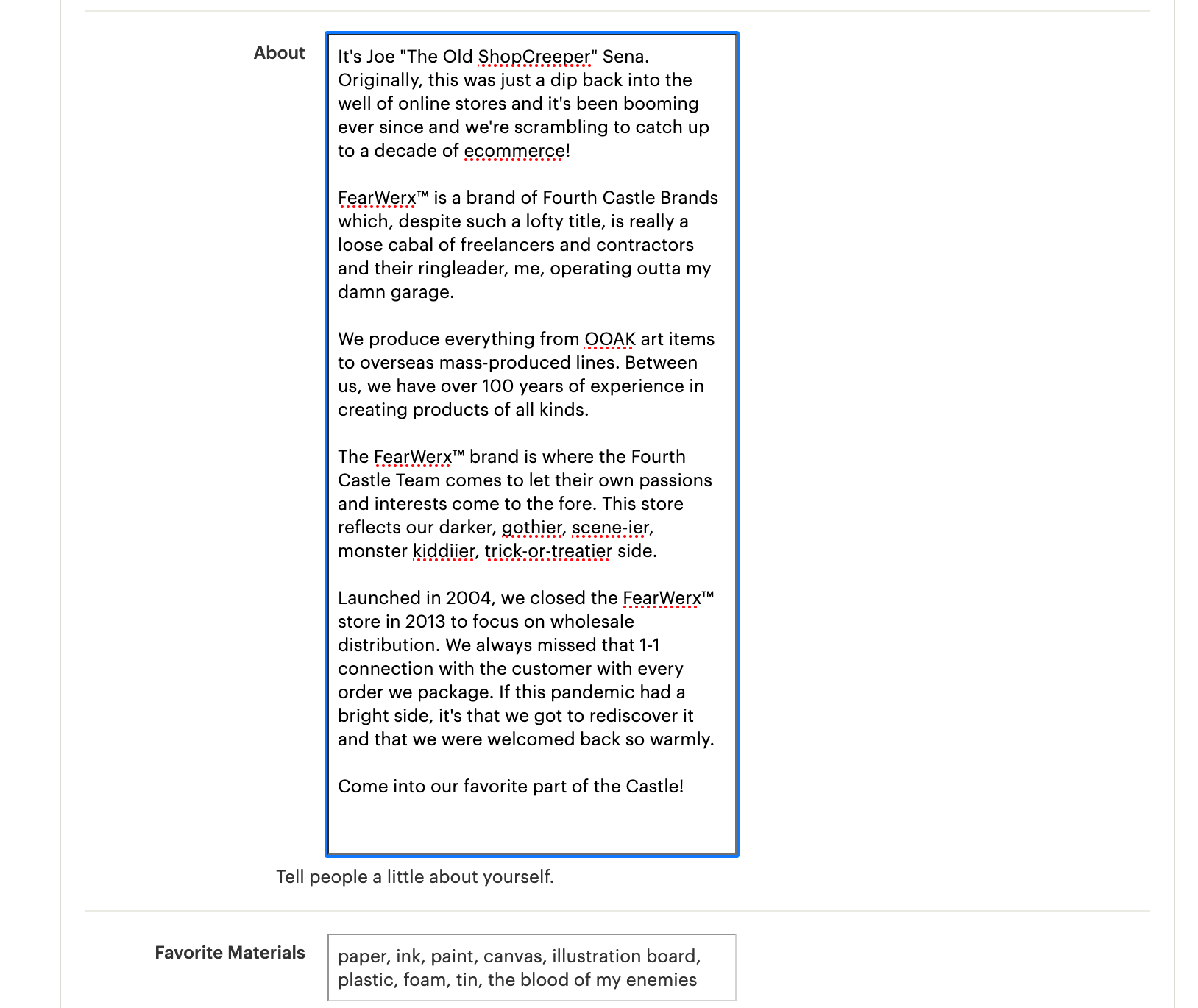 Use the Etsy social media tool
Etsy has a wonderful built-in social media function to get new customers and keep your existing ones up-to-date on new items. Quickly and easily update all your social media accounts with store announcements, new listings, store milestones, great reviews, or specific items you want to promote on social media. This can be done from either your desktop or phone. I have yet to market my shop anywhere else – all my traffic has been organic through Etsy, via search or social media, and I experienced a 5x growth year over year in my first 2 years.
9. Familiarize Yourself With Etsy fees
Just as you're in business to make money, so is Etsy. Therefore, it's only natural that Etsy charges fees for the use of their software, servers, shipping integration, etc. Once you learn these, they're not as scary as you'd think, and it's important to factor them in as you set your prices.
You will be charged these costs while using Etsy Payments. If you owe fees at the end of the month, you are responsible for paying them. You will be charged immediately if you are a US merchant. If you live in a country that does not accept Etsy Payments, you need to pay a monthly bill.
There are four categories of seller fees:
Listing fee
A listing fee is a fee charged by Etsy to sellers to display items on the site. This is added to your payment account once an item is placed on Etsy (see Step 6, above), whether or not the item sells. A listing expires after four months and must be renewed for 20 cents.
Listing costs are charged in US dollars, so this fee may fluctuate based on the exchange rate.
Transaction fee
When an item sells, Etsy charges 5% of the total cost of the item, including shipping and gift wrapping. It's no different than a classic consignment fee.
Non-USD payments are converted at the current market rate. If currency conversion is required, Etsy charges a 2.5 percent conversion fee.
Processing fee
This fee is for the processing of payments. Processing fees vary by bank account location. Each transaction costs US merchants 3% + $0.25. If you're a seller in a nation where VAT (value-added tax) is charged, Etsy will include it in your transaction fees.
Additional Etsy seller fees
These fees are optional, depending on your preferences:
Shipping labels: If you buy shipping labels from Etsy (which I recommend for beginners – one less thing to figure out until you develop a routine), you'll have to pay for them. The cost of shipping labels varies depending on region. In the US, however, you'll also get discounted USPS rates!
In-person transactions: You can use Etsy to sell items at fairs, conventions, pop-up shops or anywhere you are selling items in person. It's a 20-cent manual fee on top of Square's credit card processing fees.
Add-on services. For example, you can advertise your items on Etsy itself or via any of its offline advertising services, which requires a daily "pay-per-click" budget.
As I said above, you'll need to factor all these fees into your price so you can turn a healthy profit. In a future article, I will show you different formulas that will help you achieve this.
10. Using Print On Demand To "Test The Waters"
Now that you know how to set up an Etsy store, do you actually have any physical product to sell? Or, do you simply have an idea that you think will sell, but you're not sure about risking capital, time or resources to produce it?
The good news is: you don't need to.
Integrated Print-On-Demand technology allows you to turn your ideas into actual products without worrying about upfront production costs, minimum order quantities, overseas sourcing, inventory storage or even picking and packing!
Integrated POD is a method that connects your Etsy shop to a host of POD suppliers who automatically receive your customer's order, produce, pack and ship it for you. The phrase "passive income" is thrown around a lot these days, but in the e-commerce world, this is a true application of the term.
Having been in the e-commerce business since its inception, I can say that integrated POD is the answer to the creative crafter's prayers. All you really need is an idea and POD specialists like Printful, Gooten, Printify can realize your idea in any of hundreds of different products. It's easier than you think – I've already written a lengthy step-by-step guide here.
10½. What Are You Waiting For?
Whether you're ready to premiere your hand-crafted work or just have an idea that would apply to one or a dozen different print-on-demand products, you can start selling on Etsy now. Ease of use and speed-to-market are at your fingertips – however, they are also available to others who may be thinking just like you. Get out there first and show the world what you've got!