Imagine stocking your Etsy store with dozens of different kinds of products that appeal to your customers. You can, and without worrying about upfront production costs, minimum order quantities, overseas sourcing, inventory storage or even picking and packing!
These are not virtual products or customer-side printables, but real, physical products in a variety of categories. With Print-On-Demand technology, you can apply your original ideas to scores of products, from apparel to housewares to pins and collectibles and more.
Sounds exciting? The possibilities certainly are – however, as much as "POD" eliminates traditional production barriers to build stock, it will require advance work on your part.
You will need to study your customer – who they are, what they look for. You will need to educate yourself on POD blanks available and production requirements specific to those products.
You will need to ensure your price is competitive while considering all per-unit costs and fees from the POD provider, applicable Etsy and shipping fees, and a healthy margin.
You will need to optimize your listings so your customer can find your product.
The good news is that we've done the research, have our own real-world experience, and have put together this comprehensive guide for you. In short time, you can have a store full of different products that appeal to your customers!
What are the benefits of using a Print-On-Demand provider?
All you need is an idea.
Once a sale is completed on your Etsy store, the information is sent directly to the POD provider, who prints, packs and ships the item directly to the end customer. The POD provider's order fulfillment system is integrated directly into your Etsy store, so there is no work on your part to process or fulfill.
Professional, consistent quality
The printers who service the POD provider are experts in the field, with enormous facilities and staff that employ cutting-edge direct-to-garment, sublimation and screen-printing technologies. Quality is exceptional and turnaround times are fast.
No cost outlays. Period.
From order to fulfillment, all costs are calculated, deducted, disbursed seamlessly. The only cost to you is the value of the man-hours you spend the one time you prep your listing.
What kind of products can I sell?
POD technology has come a long way from its infancy. At its start, it was limited to white garments pressed in a heat sublimation printer. If you were lucky, you'd find a provider that offered black shirts, but the color palette was limited, and the results were dull. In addition, you needed to sell your product on their proprietary platform – you still had to spend the marketing money to get the customer to your listing on their storefront.
Integrated POD printers now offer an astounding array of fun and useful goods. Shoes, jewelry, phone cases, hair accessories, bags (tote bags,  backpacks, duffel bags and more), socks, masks and neck gaiters, home décor (including candles, pillows, bedding,  lamps, tablecloths, blankets, towels, tapestries, posters), travel accessories (chargers, carry-on hardcases, portable speakers), drinkware/barware (coasters, glasses, mugs, bottles, bottle openers), cards and stationery (postcards, journals) and, of course apparel of all kinds (shirts, jackets, hoodies, socks, hats).
Revolutions in DTG (direct-to-garment) printing create the bold and vibrant colors on individual items that you would come to expect from larger screen-printed orders. Heat sublimation on ceramics, plastics and more provide clean, clear, sharp designs on hardgoods of all shapes.
Lastly, printing is not the only option available. Many of the integrated POD providers offer embroidery, with complex, multicolored stitching options.
With so many options available to your shop, the question you should be asking is, "what kind of products can't I sell?" The answer would certainly be much shorter.
What products are my customers looking for?
There are two ways to develop products for customers:
Lead by your knowledge of your audience
Lead from the keyword research
Knowledge of the audience
My shop specializes in original designs and novelties for fans of horror movies. One product I always wanted to make was an apron that looked like the kind of nasty leather apron you'd find hanging in the dungeon of a serial killer. Being in pop culture marketing since the mid 1980s, I knew in my gut that the product had a high likelihood of selling.
The Keyword
Even though I led from my knowledge of the audience, I didn't want to spend marketing dollars to promote it. So, I used both Etsy and Sale Samurai's tools to research keywords that would help make it visible to my typical customer. My customers like apparel, collectibles and housewares that reflect their interest in horror movies, the Halloween season and the goth lifestyle. So to start, I selected these keywords:
Starting with Etsy, I used their search bar results to refine keywords that had both high search results as well as a slightly narrower focus more applicable to my audience.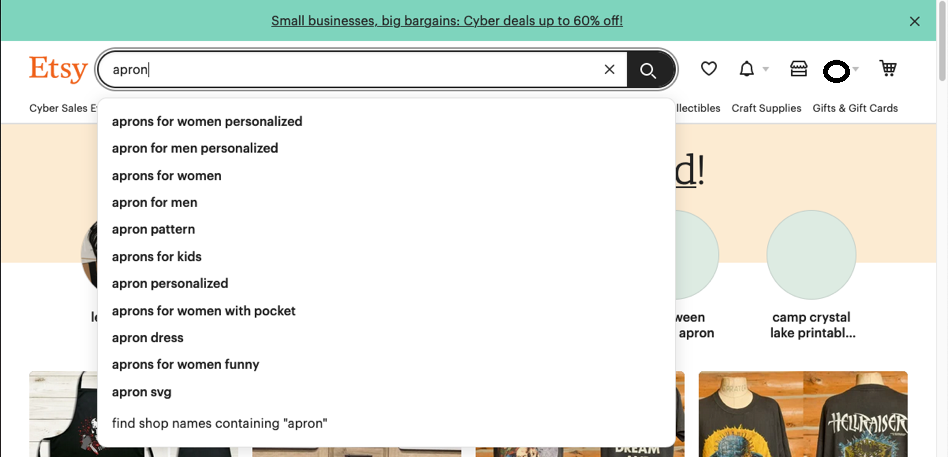 Confident that I could incorporate SEO into a prospective listing for my dream project and attract my typical customer, it was time to start making the project.
How to use a POD (Print on Demand) provider to make your product
I then sought out a way to make the product. Initially, I priced out apparel manufacturers, both domestic and abroad. MOQs in China were too high and local manufacturers' per-unit costs were too high.
Print-On-Demand seemed the next logical step. I knew I could order as orders came in, and if the item turned out to be popular, I could order a batch at a time and then ship myself without sweating large inventory.
While researching POD providers who printed aprons, I came across Printify.com. Then I discovered something amazing: their software integrates directly into your Etsy store!
How Printify works
In sum, you create an account on Printify, link it to your store, and in an instant you have the ability to add hundreds of different items directly as native Esty listings to your "virtual inventory". The customer orders the item from your Etsy store, the order automatically goes to Printify, and one of their partner printers makes and ships the item to the customer.
Boom – you've sold a cool product and it didn't involve production costs, packing or shipping.
How to set up a product in Printify
As I said earlier, what you save in costs you need to spend in sweat. You will need to do the legwork in advance.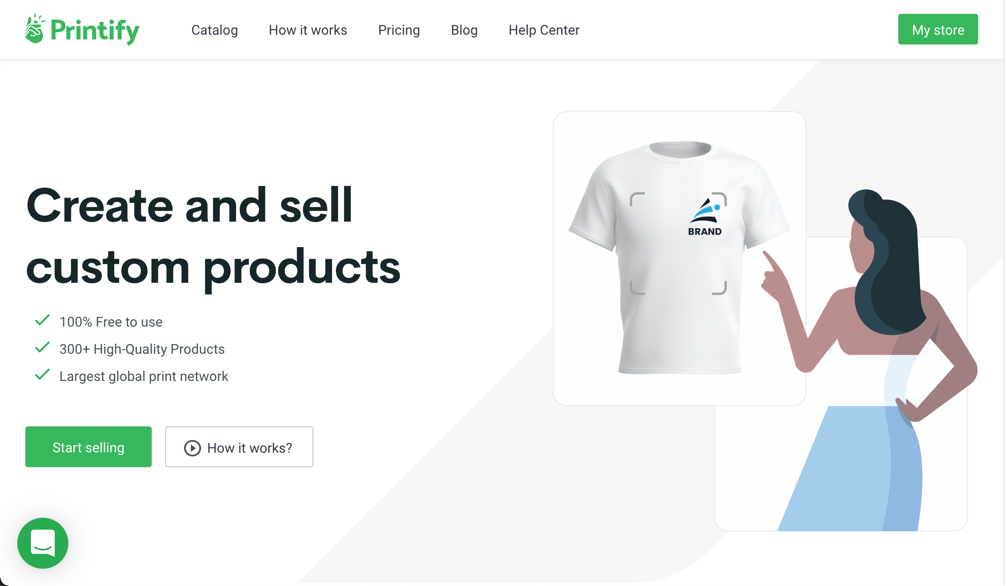 Setting up your account
Click on "My Account" and enter your business name and contact information.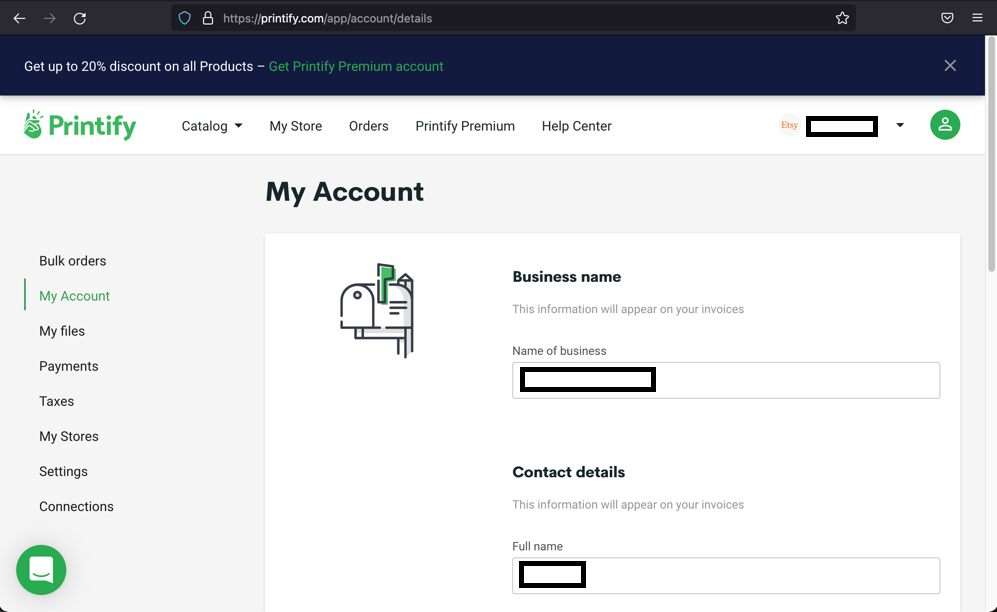 Click on "Payments" and enter a payment card or PayPal account. When an order is placed, cost of goods is debited and paid to the print provider.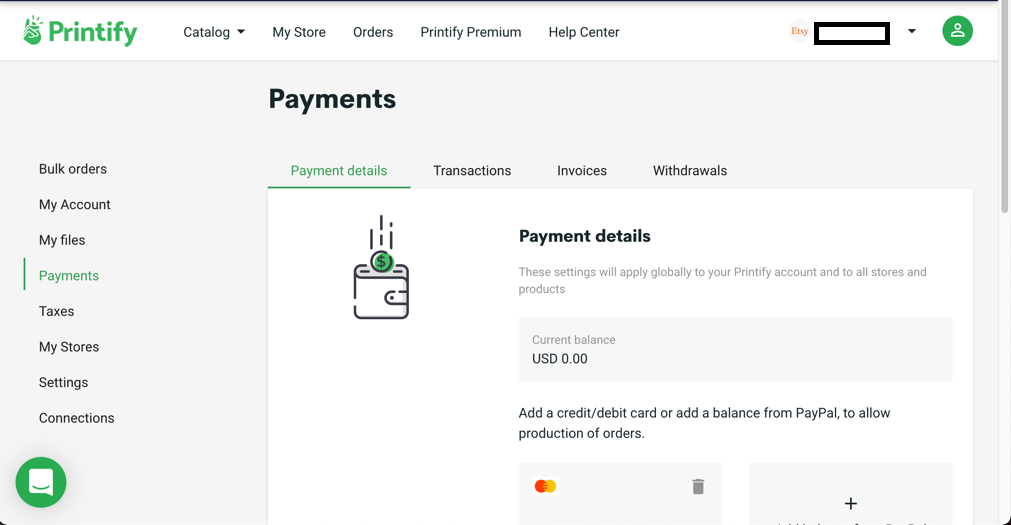 Link your store
Click on "My stores"
Click on "Add New Store"
Enter your store URL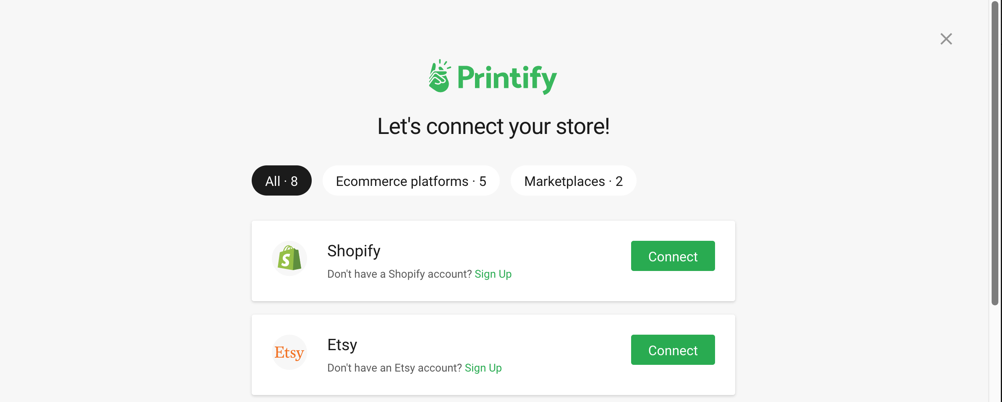 You will be taken directly to your Etsy store and asked to authorize Printify to access it.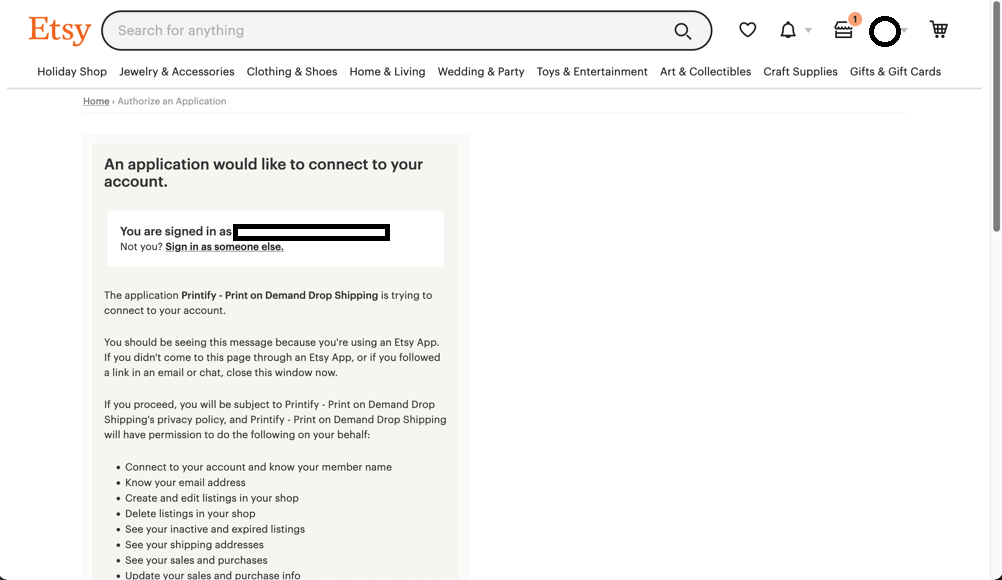 Click "Allow Access"
Your Etsy store is now linked and you can start creating a product!
Select a product and confirm production specs
Select your product and click "start designing".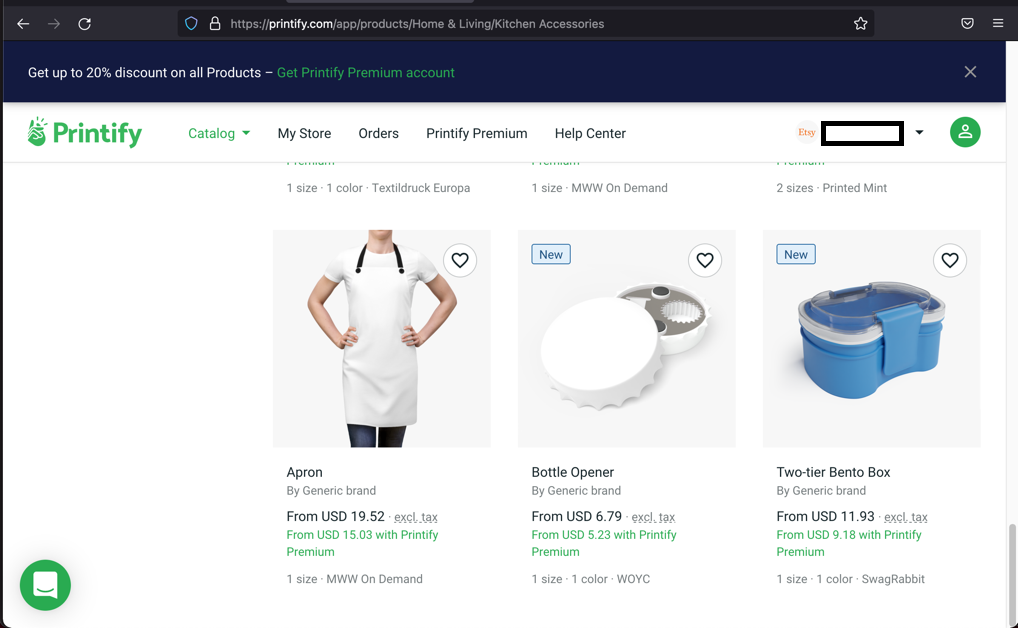 You'll be taken to Printify's intuitive and easy to use product editor page. You'll see a template with live, trim and bleed areas clearly marked. To the right, a simple list of the file requirements needed to ensure high-resolution printing.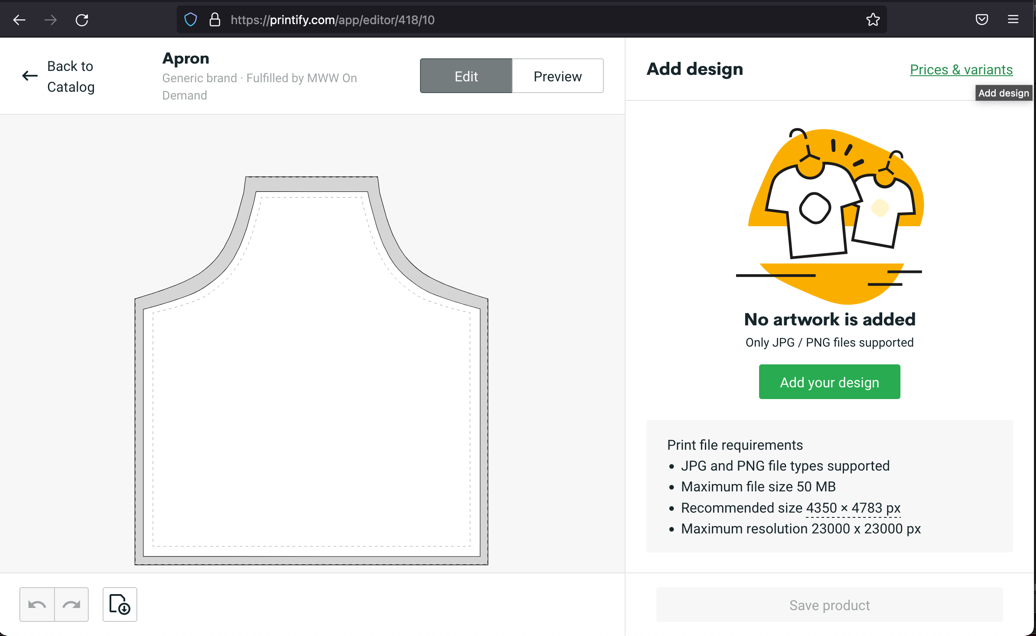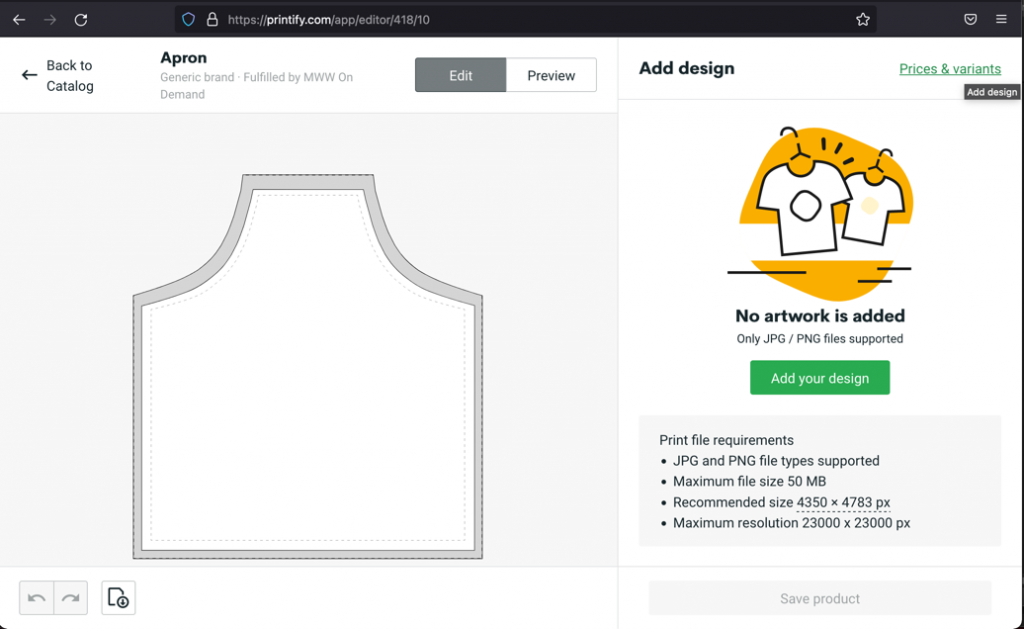 Download the template and bring it into your preferred design program. Build your design in the program and save it as a JPG or PNG.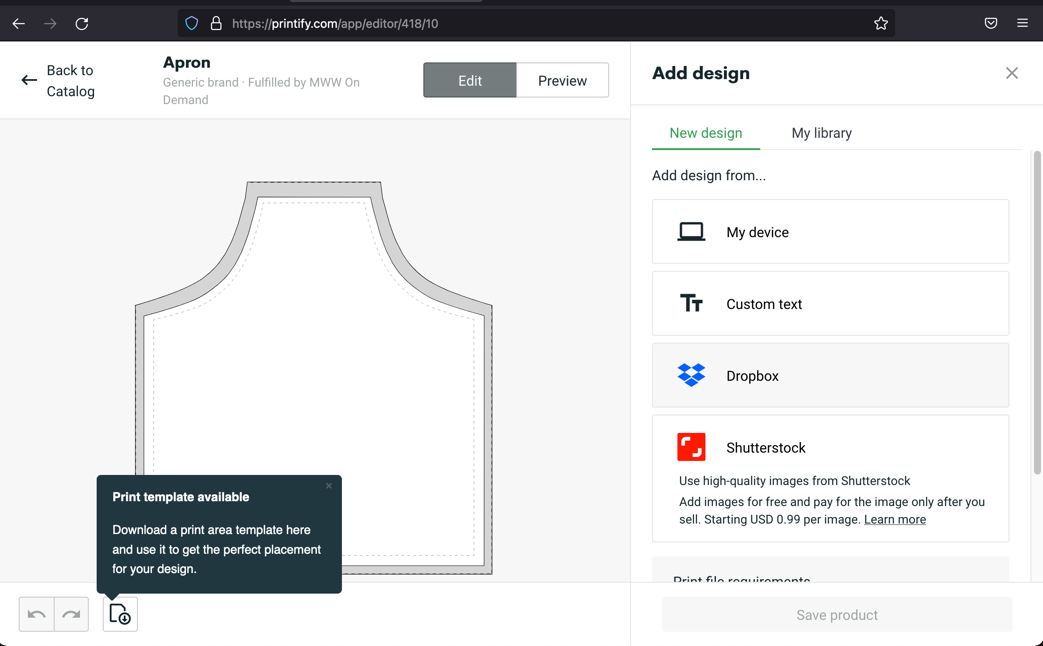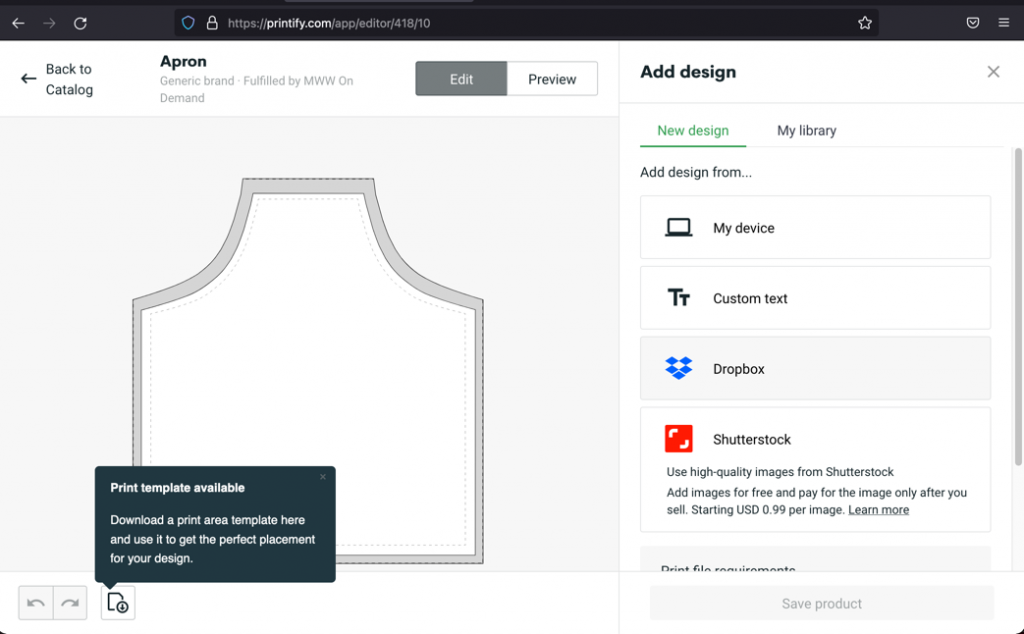 Return to Printify's product editor and click "Add Your Design". You"ll be asked to upload your art from your device, Dropbox or Shutterstock. In this case, you'll upload the art from your device. The art is automatically added to a library – this is very useful for designs that can be applied to multiple products.
Select the design from the library, and it will appear inside the template. You can adjust the design as needed to fit the template before saving the product.
When you are satisfied with the positioning of your art, click "Save product".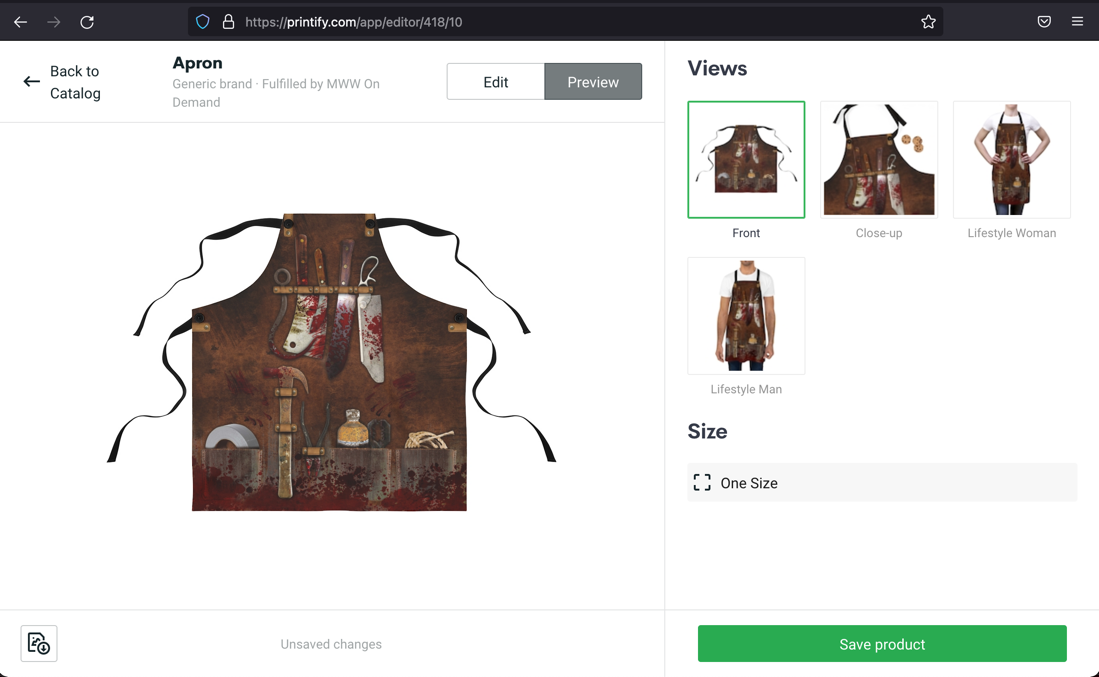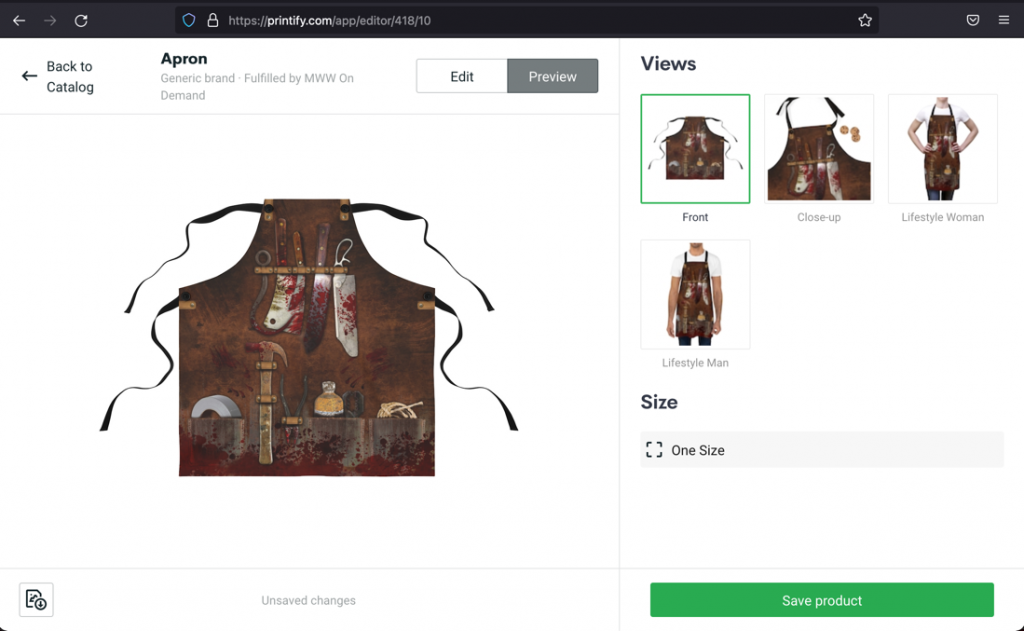 You'll be taken to your store (we reused our Serial Killer Art for demonstration purposes). Click on "Edit Listing" to start building the basics of your Etsy store listing, including: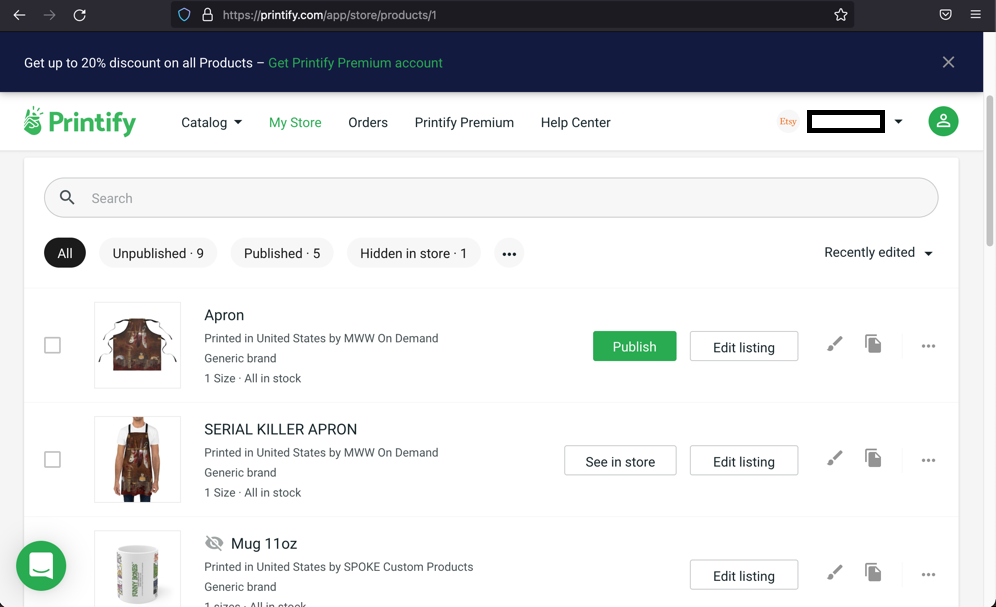 Title Graphic
Product Description
Pricing
Product elements that you want to synchronize with your store
Shipping Profile
Publish your product
Click on "Publish".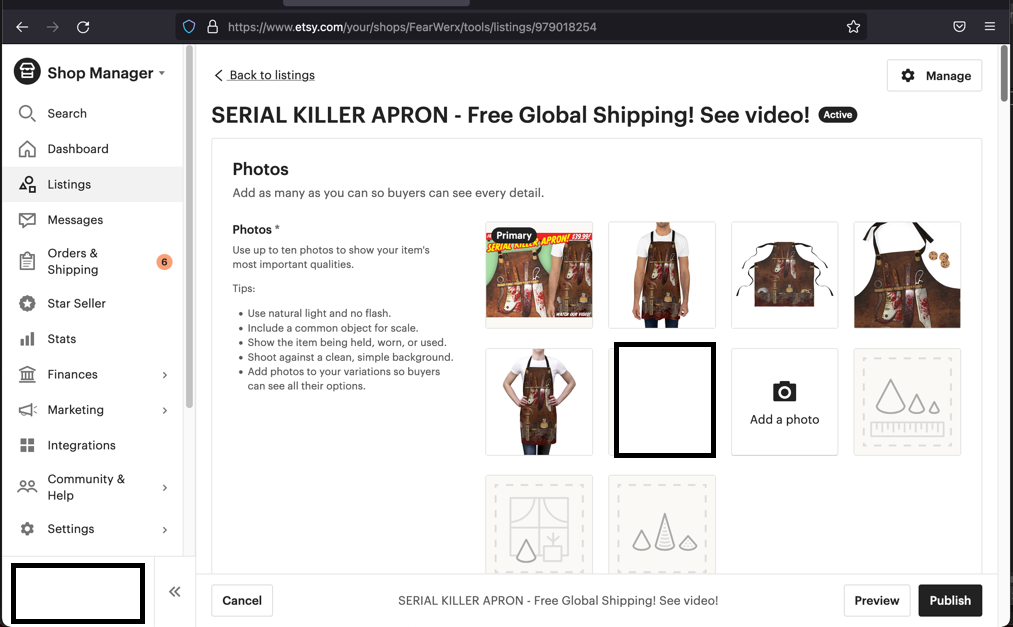 Once published, you will be taken back to your Etsy store, where the basics of the listing will already be set up, waiting for refinement, such as:
Additional graphics and video. We strongly recommend ordering a sample, photographing it in a real-world environment and shooting a video. With the popularity of POD providers, the same model photos appear all over Etsy. You will stand out and build confidence in the product by showing it in use.
Detailed product description, including keywords.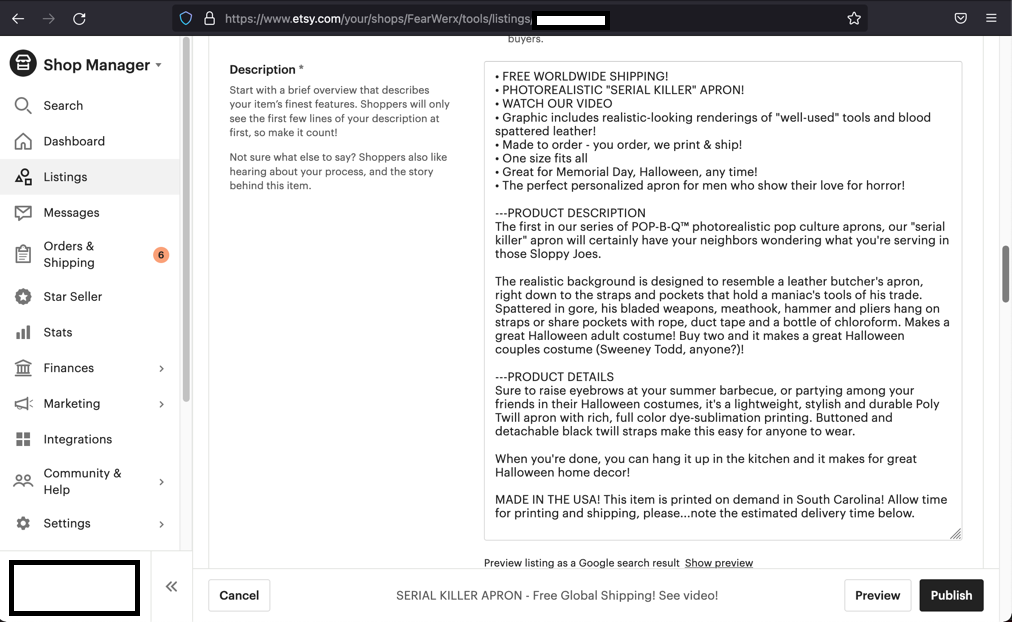 Tags (you may want to include keywords here as well). If you get stuck here, check out our article on Etsy SEO.
Shipping – it's critical to set this up properly. It's well known that Etsy shoppers prefer free shipping. Printify lists their shipping costs to different parts of the world, so it may seem difficult at first to determine one set price that will both preserve your margin and keep your retail price competitive. I based my shipping price on the percentage of Etsy shoppers from around the world – US shoppers outnumber international shoppers by a wide margin, so I set a price between US and international shipping, but closer to the US shipping price.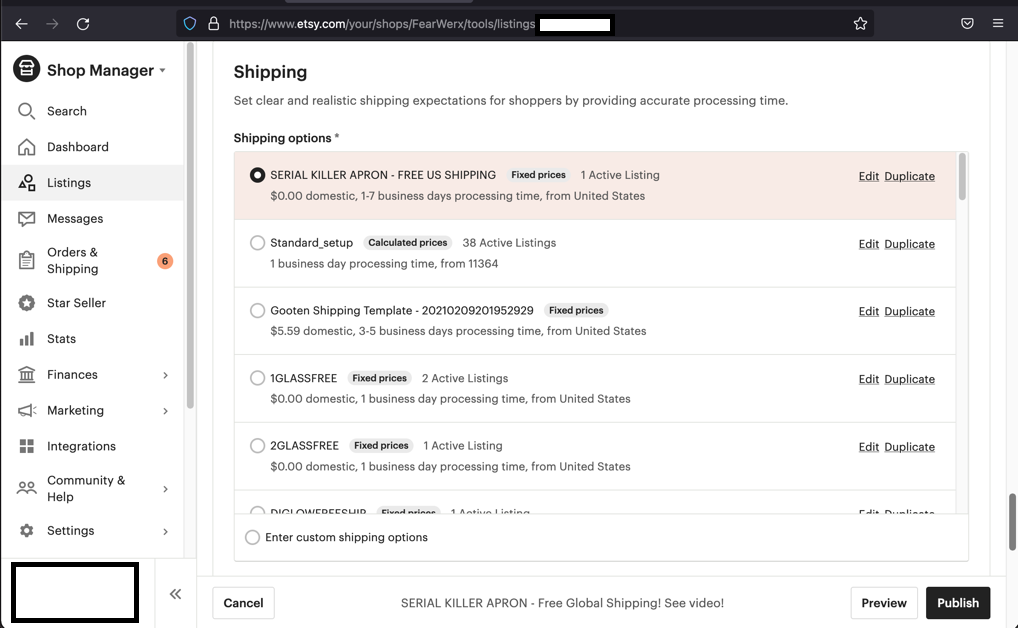 All you need to do next is click "Publish", and your product is now a part of your store's inventory!
If you've set up your SEO correctly, your customers will find your product and sales will be seamless. Whether you sell one or a thousand of them, the sales will take care of themselves, completely behind the scenes and with no further work on your part.