Vintage items on Etsy are unique because they need to be carefully sourced in terms of Etsy's house rules. No vintage item from a yard or garage sale is permitted on the platform and there are other criteria to keep in mind, too. However, vintage is huge – making up one of the three main categories of items sold on the marketplace.
In fact, a search for "vintage" on Sale Samurai reveals over 50,000 listings and a Google search volume of one million average searches. With this in mind, we've curated the top 10 shops for vintage items on Etsy, while also exploring their success strategies to help you optimize your sales.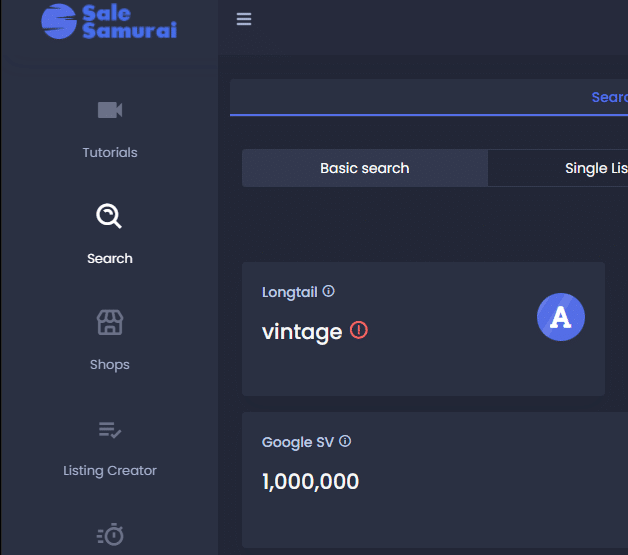 Without further ado, here are the top 10.
1. AGWallets


Offering premium leather products such as wallets, purses, coin purses, keyholders and more, this is an Etsy best-seller in the category of distressed leather items.
Let's take one example from their vast portfolio, namely the "AG Wallets Personalized Mens Handmade Vintage Distressed Leather Trifold Minimalist Wallet for Men Real Leather Slim Style Card Holder". The item sells for $40.80, just under the average in the vintage category of $47.58, they've made 15,795 sales so far with 4.9 out of five-star ratings and 3,313 reviews. In addition, this particular item has gotten over 15,357 views, meaning that almost everyone who has seen the product has decided to purchase it.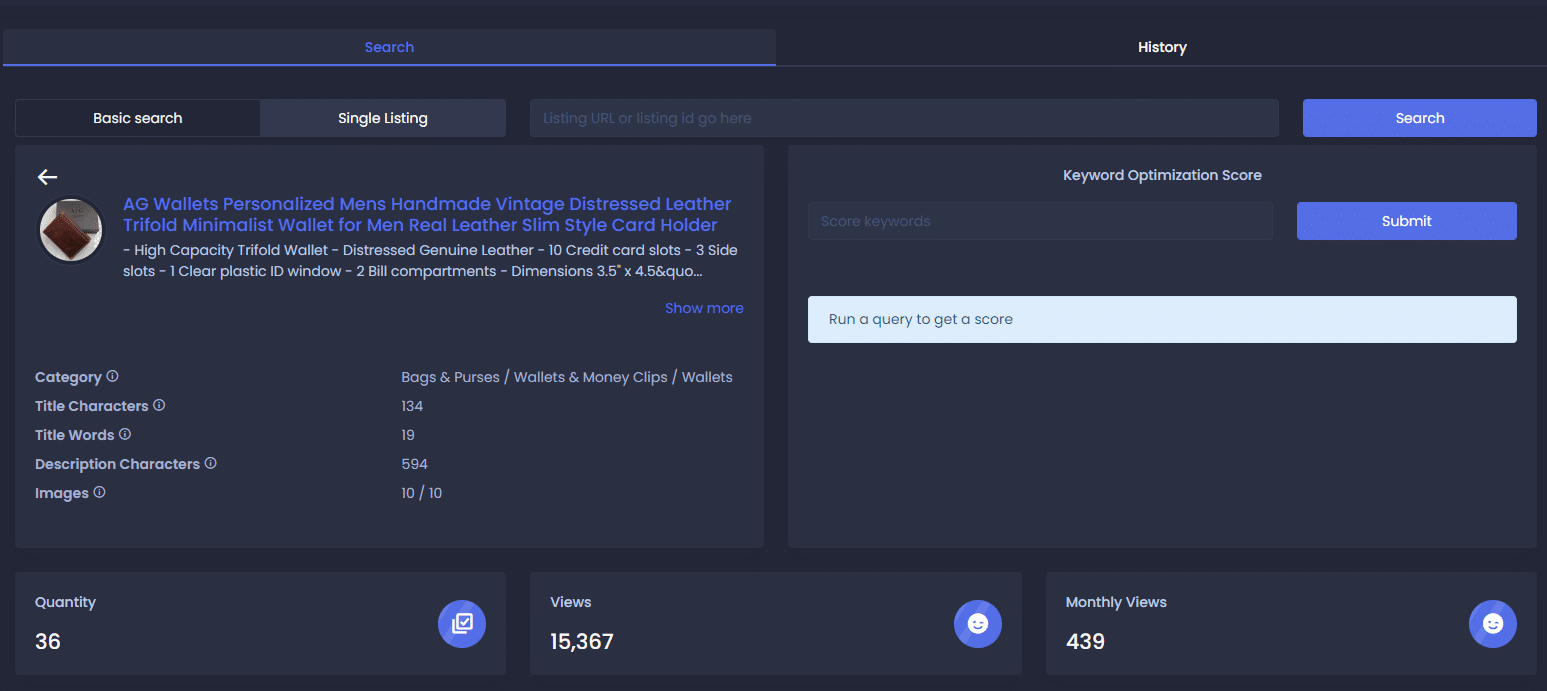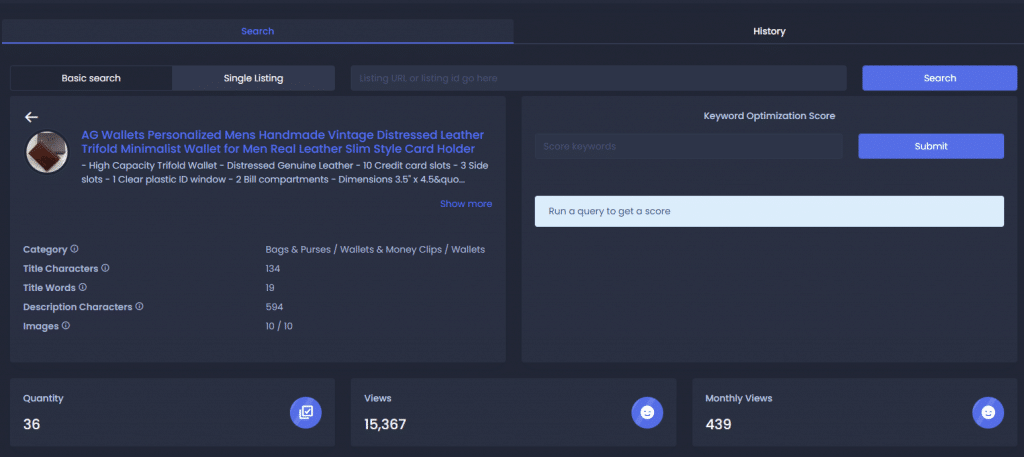 Strategies To Emulate
Wondering what they're doing right? Here's a brief overview of their strategy.
Entering the vintage niche on Etsy isn't always easy, but with the right portfolio of products, and product variations (different colors and styles), it can become a cakewalk.
Asking for just under the average in its respective category, this Seller is actually employing a great pricing strategy. By not making their products overly expensive, they cater to more customers. By not pricing their product too low, they give an indication of quality. And the customer reviews certainly attest to this. Not only does the Seller provide a great unboxing experience, but they also keep their clients in the loop when the product will be shipped and when it will arrive.
Regarding keyword usage, they are one of the few shops that incorporates the Seller's name at the beginning of their product titles. As a final point, the personalization on some of the men's wallets is a great factor when considering giving it as a gift, as it adds a nice touch that a plain wallet simply cannot offer.
2. RosiFeist


RosiFeist, another star Seller with 1,153 sales to date, offers vintage style caps. With over 30 such items in their portfolio, they've captured the vintage market by providing unisex caps that are of a brushed material with an embroidered symbol on its front side. Their ratings are sky high with five out five stars for some of their products.
Strategies To Emulate
The caps in this Seller's portfolio are priced in the region of $44.07, a bit under the average. What's great about these items is their evergreen nature. Caps can be worn by all genders all year round. Ideal for sports fans or the fashion conscious, the title and description accurately depict what the buyer is getting as they get straight to the point.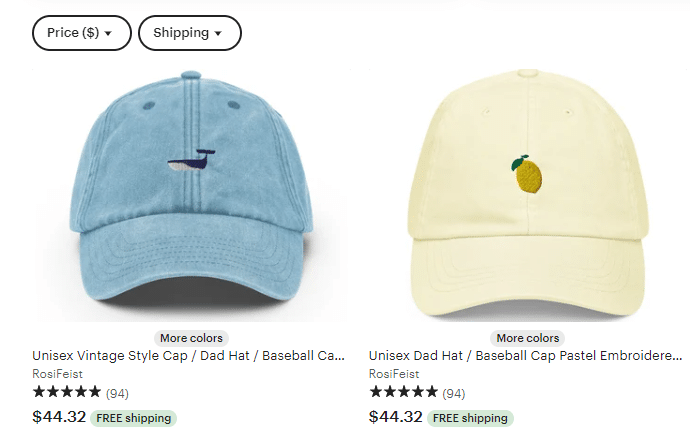 Another possible contribution to their success is the fact that they offer free shipping. Few Sellers realize this, but free shipping constitutes incredible added value and may indeed close an otherwise costly deal.
3. HUGCASA


Specializing in the creation of jewelry boxes, HUGCASA certainly delivers value. Their portfolio is rich and full of offerings to suit any jewelry lover's taste. The jewelry boxes themselves come in a variety of sizes and they also offer multiple drawers with different compartments for better organization of one's jewelry items.
Their "Vintage 3-Layers Jewelry Organizer Box, Solid Wood Vintage Storage Box, Earring Jewelry Display Box, Housewarming, Birthday Gift" is a top Seller. The item is priced well above the average of $50, and goes for an eye-watering $159.99. However, this item is very versatile – making for an ideal housewarming or even a birthday gift. To date, the Seller has received around 3,055 views and 1,685 sales with high ratings and reviews all-round.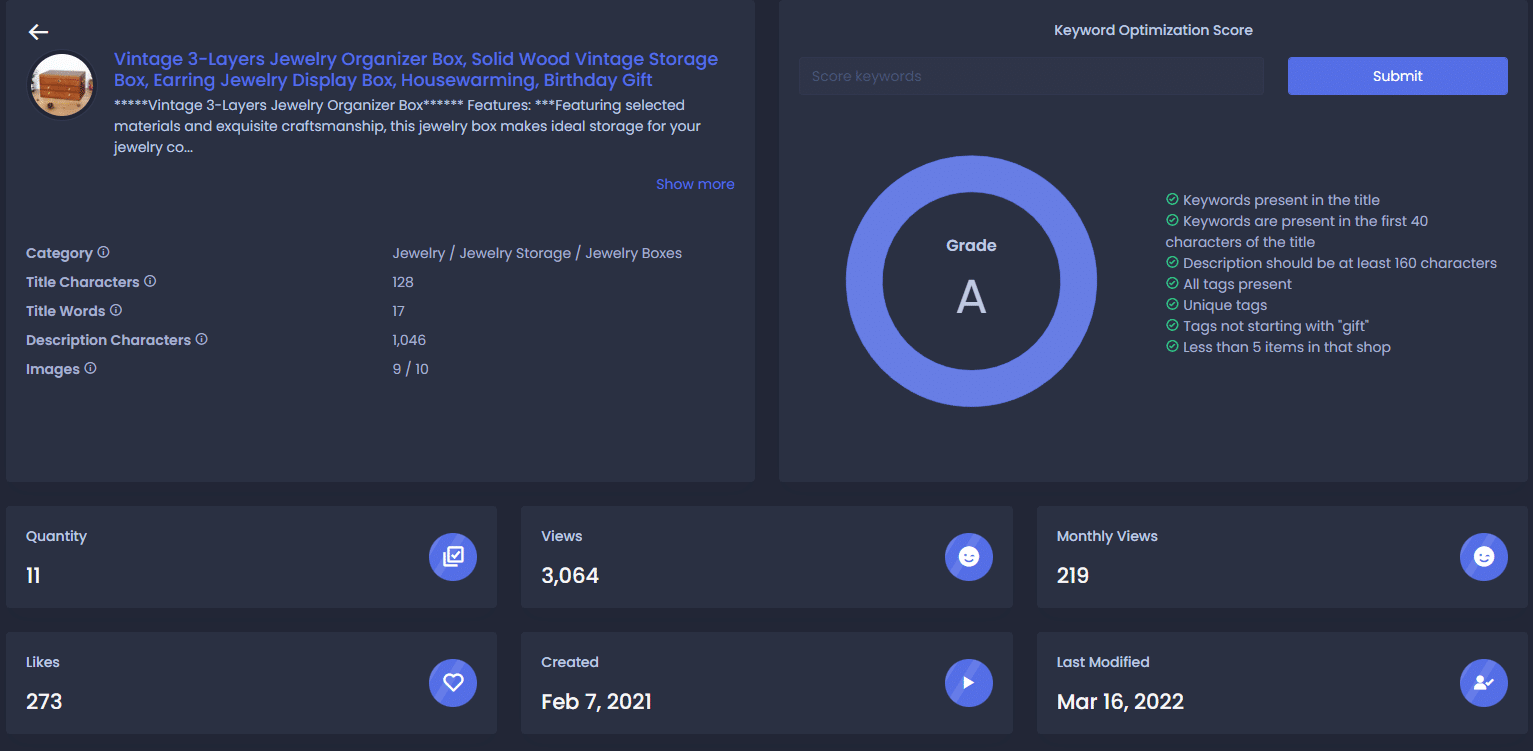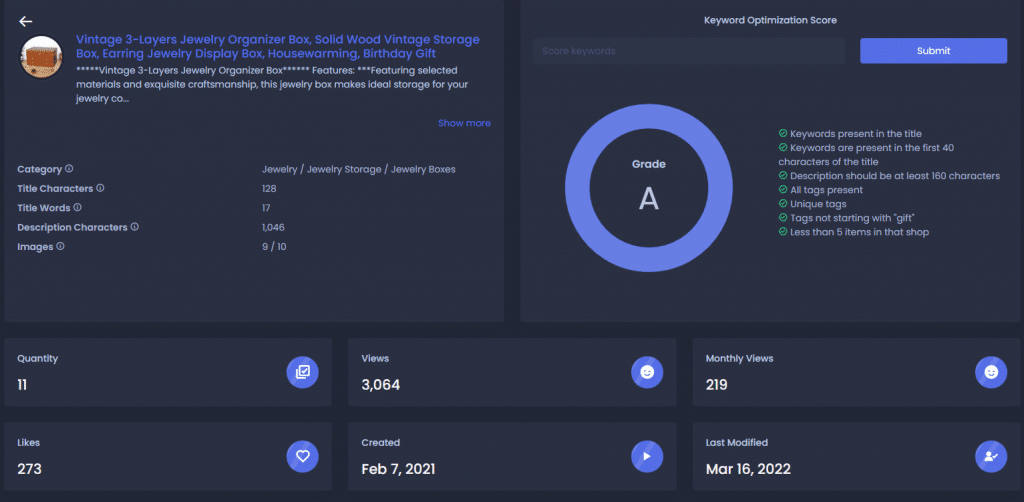 Strategies To Emulate
Let's start with the keywords for one of their jewelry boxes. They are highly descriptive, start out with exactly what the product is, describe the material it is made from, and then describe its purposes. This is a logical presentation of the nature of the product. The description also goes straight to the point by mentioning the fact that this is a handmade vintage item.
What customers love about it are the colors, engravings, and the multiple compartments in every different drawer. This adds value for money.
4. LimorGalili

With literally hundreds of leather bag products for all genders, LimorGalili has made around 2,289 sales to date. Their "Vintage Brown leather duffle bag lightweight Large Distressed Men's leather duffel bag Travel Women's Gym overnight Leather duffel", despite the cost of $650.52, gets 4.8 out of five stars with 579 reviews. The Seller has typically received around 899 product views. They ship out in between three to nine days.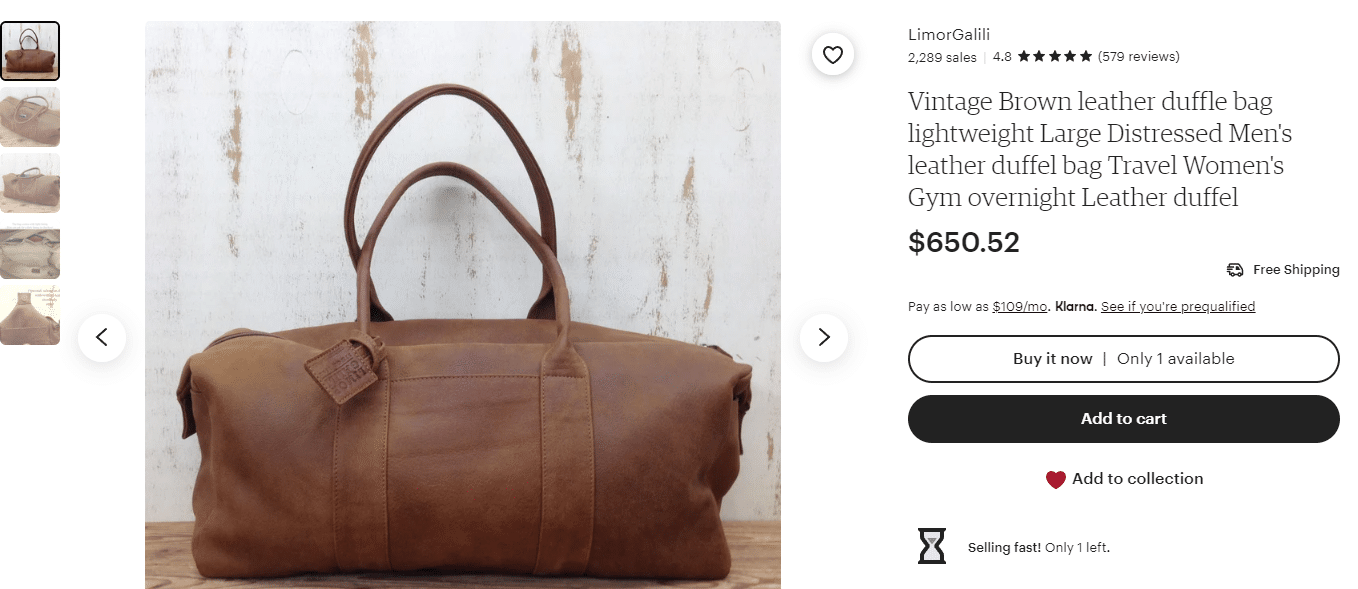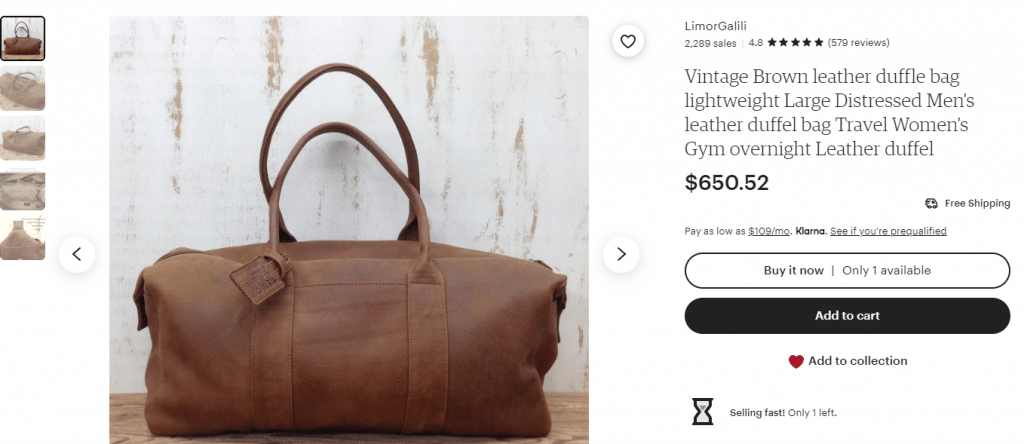 Strategies To Emulate
One of the main selling points for this vintage brown leather duffle bag is the fact that it is as practical as it is beautiful. It can be hand- or shoulder-carried and it contains a variety of compartments and pockets to keep items such as clothes, laptops, books, cosmetic bags, and accessories organized.
It's also the perfect size for a flight cabin bag – ideal for the frequent flier. Although the price is much higher than the average of around $50, the Seller obviously adds value for money with this particular product. The fact that the item itself is made from an expensive material warrants the over $650 price tag. Buyers are loving this item because of its color variations and the craftsmanship.
The keywords in the title and the description get a solid "A" from us because they're clear and accurate. However, they also include details that customers would like to know more about, helping to make a more informed choice.
5. KVEClassicStatements


KVClassicStatements is a jewelry maker that specializes in earrings with a variety of colors and types of stones. One of their popular items is "Vintage Rose Crystal Earrings/Rose Gold Bridesmaid Earrings/Rose Gold Lever Back Earrings/8mm Swarovski Earrings/Blush Wedding Jewelry", which sells for $11.22. They've made 3,080 sales to date with 4.8 out of five stars, getting 864 reviews.
Strategies To Emulate
In terms of portfolio, this Seller offers over 50 unique items that are suitable for practically any occasion. This means they have capitalized on the niche. By offering a wide portfolio of high-quality products that are reasonably priced (well below the average), they've certainly made an impact.
Utilizing their real estate space on Etsy effectively, they've got a great cover image that conveys the Seller's brand style and logo. The items they sell are suitable for all occasions, which means they are not seasonal and will always be in high demand. As for keywords used, they focus these on the type of jewelry item being presented, as well as the occasions during which they can be used.
The Seller is also known to ship on time, which is a great aspect in terms of keeping customers happy.
6. Artisanworkstation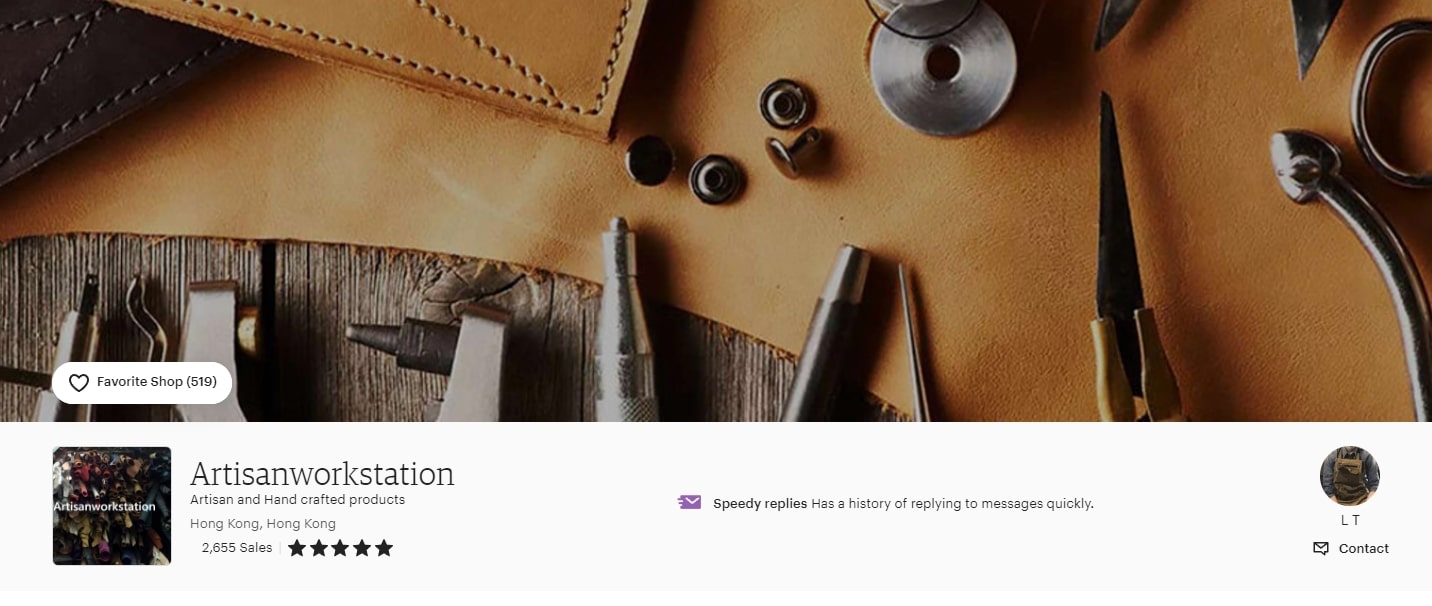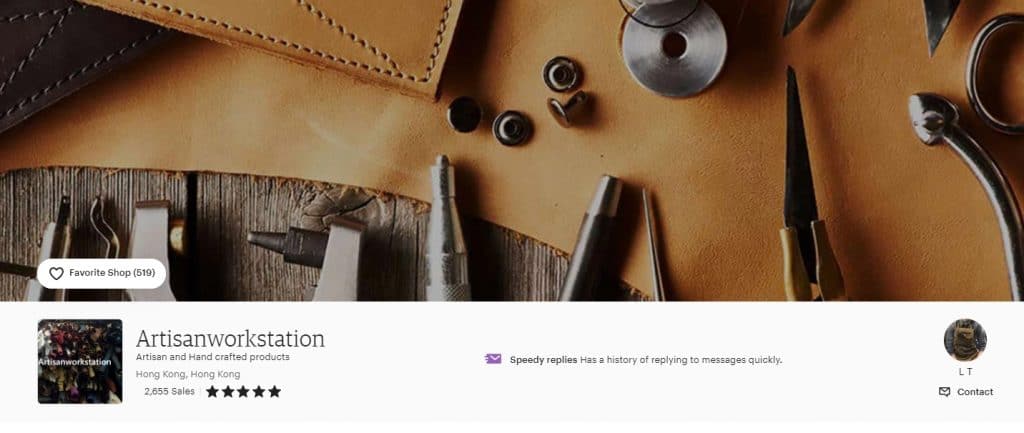 Selling vintage leather camera cases, Artisanworkstation is a unique Etsy Seller in the vintage category of items. With their "Premium Edition Vintage Cow Leather Handmade hand crafted hand stitch Camera Cases insert message bag Protector BOX Sony Leica q q2 X100V", going for $554, they've made around 2,655 sales to date. In addition, they've received 527 views, and 395 reviews, with most of these being positive. Ratings-wise, they've gotten an average of 4.8 out of five stars.


Strategies To Emulate
This Seller offers quite a distinct product – camera cases for older camera models that may not be in production anymore. Vintage cow leather is a great accessory, and it also serves as superb protection for the camera and its lens. Although the price tag of this particular item is quite hefty, there are other more affordable versions as well. The item is ideal for seasoned photographers and catering to a very particular niche helps them reach these sales with a high-profile offering.
7. Jaxsprats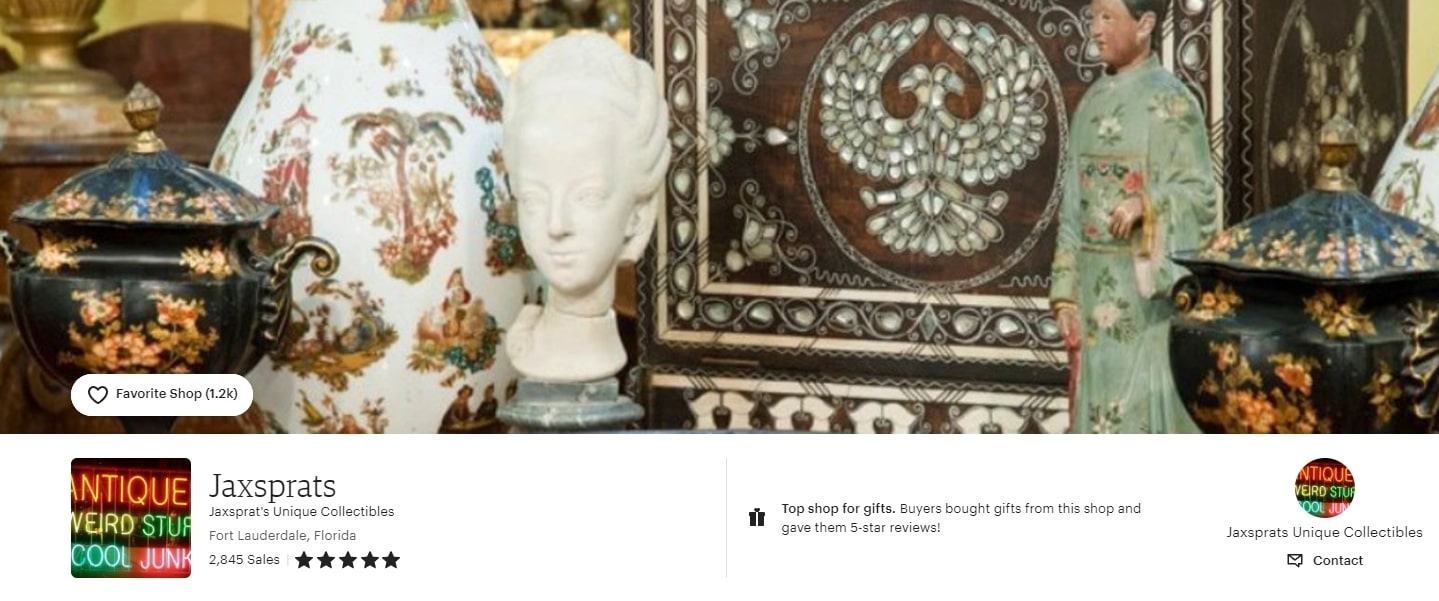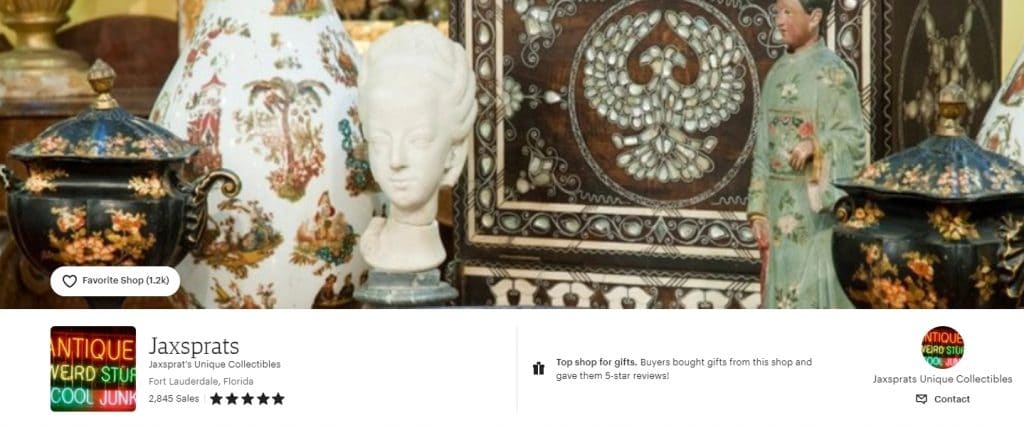 Jaxsprats is another vintage Seller that is doing well in the glassware category. One of their top items is the "Cris D'Arques Vintage Antique Clear Short Solid Crystal Glass Tumbler with Pyramid Design" going for $40.79. The item is from the 1960s, therefore, a real vintage item. With 2,845 sales until now, the Seller has also received 505 reviews with a 4.8 out of five-star rating.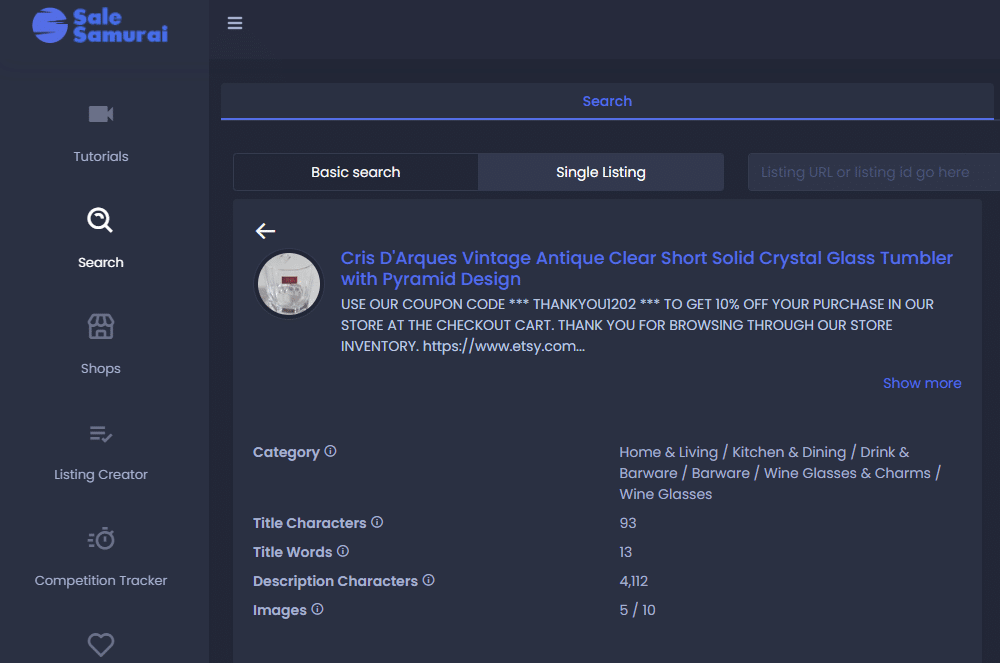 Strategies To Emulate
Important factors to note here include the "rare find" stamp and the 10% discount offered via a coupon code. The pricing is just below the average of around $50, meaning the ability to cater to a wider clientele. The fact that the product can be considered a collector's item, too, means these individuals are getting this glass at a bargain.
8. WineBoxesEtc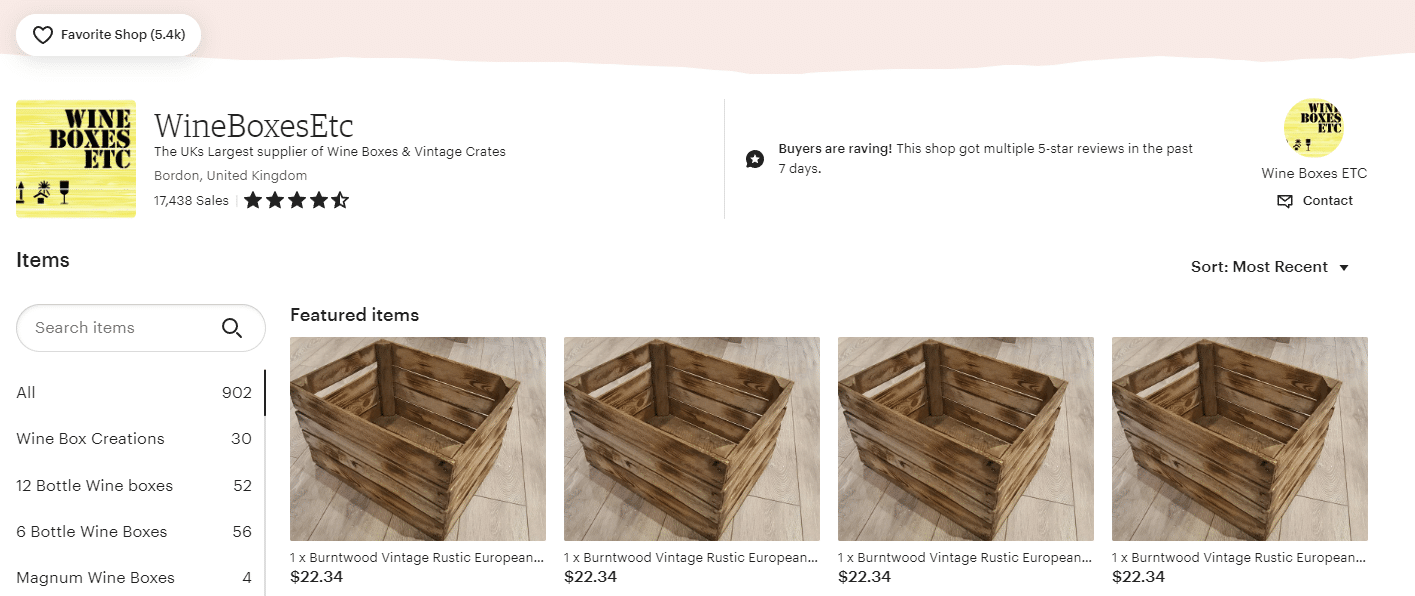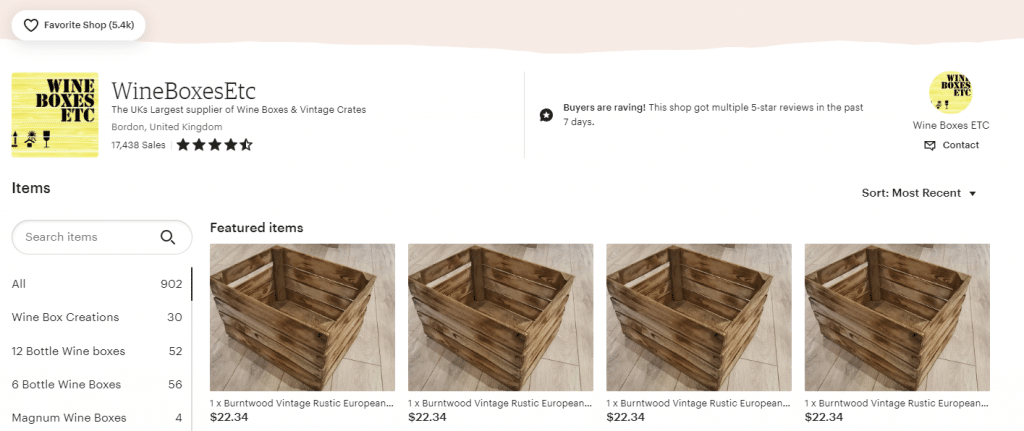 Ideal for those who have fireplaces and would like to store their wood safely, WineBoxesEtc offers wooden crates for this purpose. One of their items is the "Log Store / Carrier VINTAGE Apple Crate with rope handles – Different styles available" going for the affordable price of $39.19. The Seller has made 17,438 sales so far, gaining around 1,617 reviews with 4.5 out of five-star ratings.
Strategies To Emulate
Let's start by looking at this Seller's portfolio. It's clear from the shop's name that they specialize in wine boxes and their entire offering is based on this. The variety of products is huge but with one underlying theme – they are all wooden vintage wine boxes that can be used for log storage, decorative purposes, and even toy storage.
The sheer versatility of such boxes makes them appealing to a wide audience. In addition, the Seller offers the products as either painted or burnt wood finishes. The price is considered low in comparison to the average and the shipping time is super fast, taking one day to deliver.
9. HHHdesigns


HHHdesigns is a specialist in metal items, with their "Personalized Silver Hip Flask with initial or monogram, vintage gold and silver, Each" going for $24.98. The popularity of this product is evidenced by the fact that the Seller has generated a whopping 41,552 sales, gaining 4.8 out of five-stars with 9,370 reviews.
Strategies To Emulate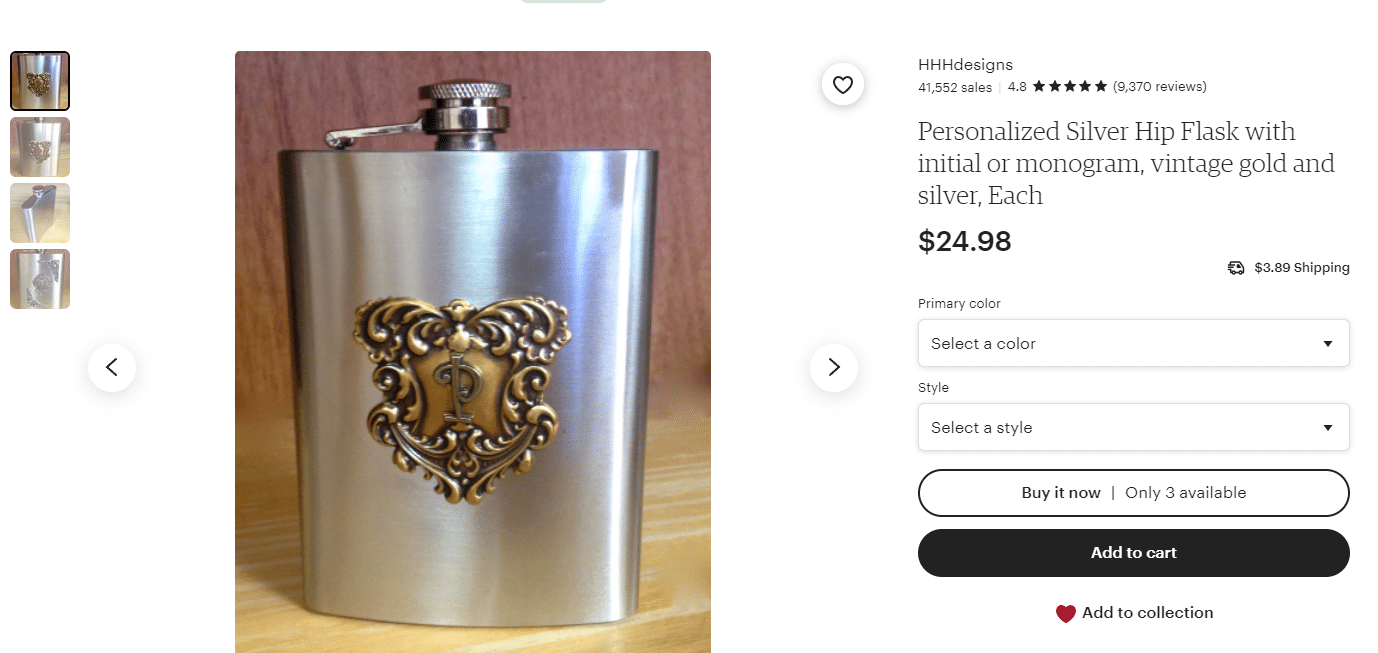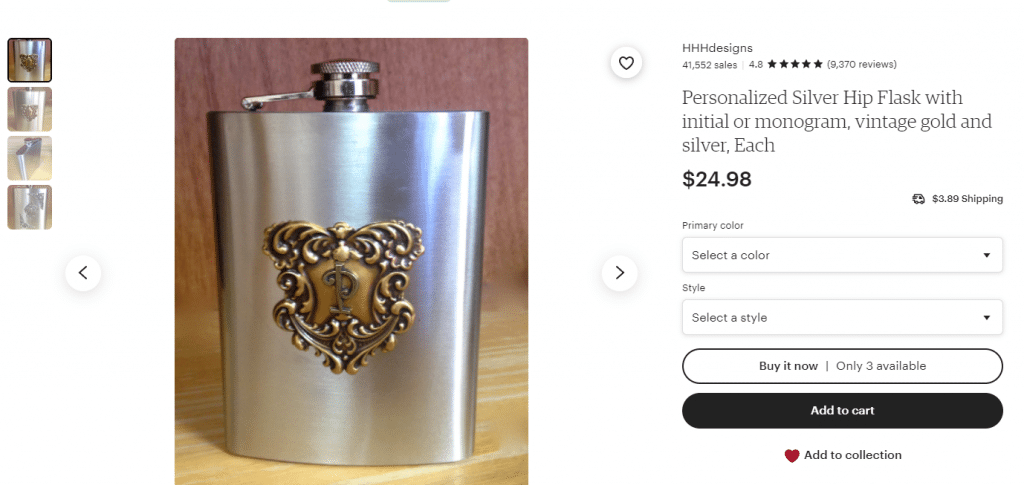 The hip flask is handmade with vintage stampings and is available in different colors. The Seller's portfolio, however, isn't limited to hip flasks only. They stock a multitude of other metal and metal-related items. The pricing is obviously an attractive feature as it is nearly half of the average going price. Buyers have also commented that such items can be considered "works of art". Product personalization is another key feature offered, making for an excellent gift.
10. DesignedinLA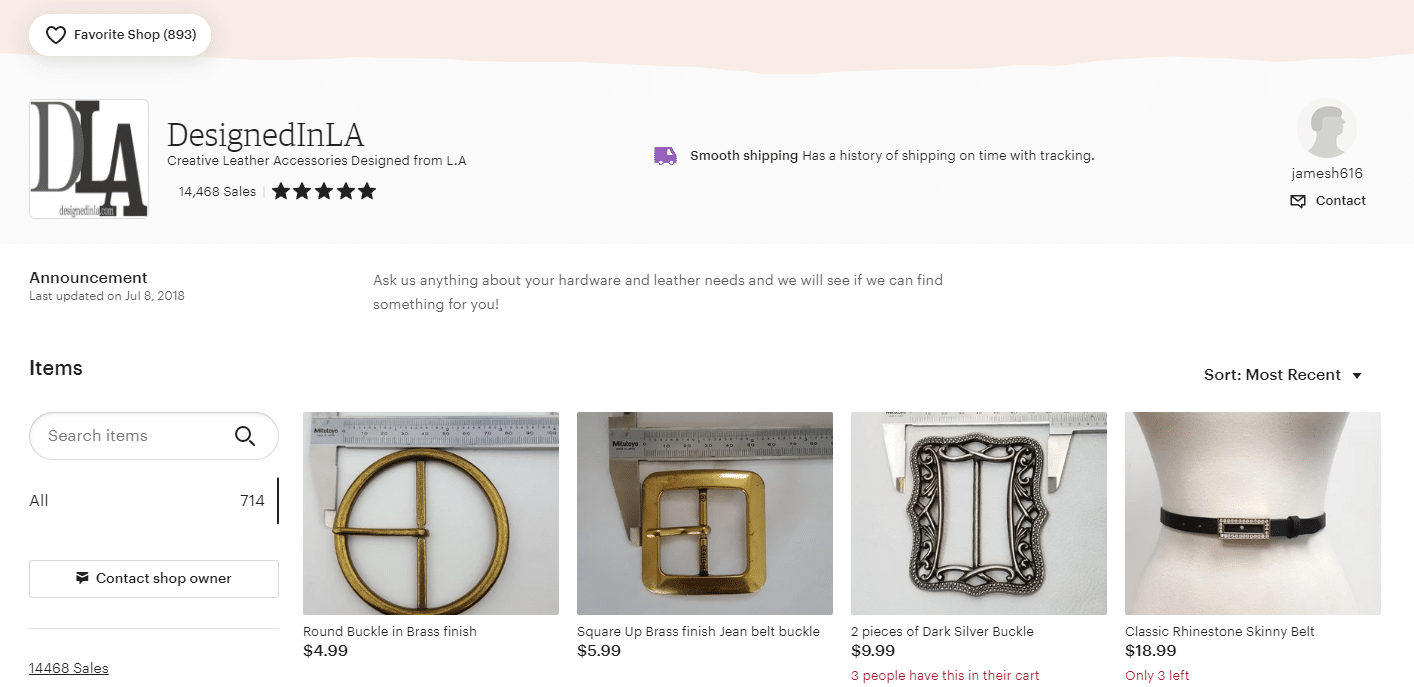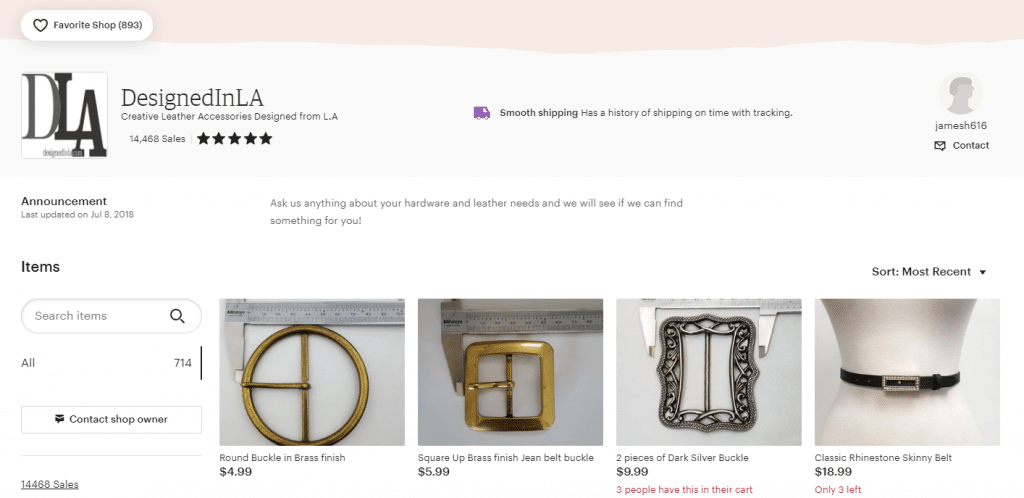 The final Seller in our top 10 list is DesignedinLA, specialists in belts and belt buckles. The one item we've chosen to highlight here is the "Vintage Distress Skinny Leather Belt with Round Brass Belt Buckle" going for $27.59. This Seller has sold 14,468 items and has a solid 4.9 out of five-stars ratings with 2,697 reviews.
Strategies To Emulate
There are over 20 pages on Etsy with products sold by this Seller, which means they, too, have a rich portfolio of products. Another interesting aspect is that none of their items are seasonal, which means they are completely free to sell throughout the year. In addition, although they have not used many keywords in their title, the chosen keywords actually describe the item to a T. The description is detailed and it contains measurements and length aspects that anyone wanting to purchase a belt would want to know because sizing is an obvious factor.
Final Words Of Advice
One of the prevailing themes in the list of top 10 vintage Etsy shops is the rich portfolio of offerings. Furthermore, apart from one or two items, most of them have been priced at either around or below the average for the vintage category.
Keyword usage has been optimized and precisely indicates what the buyer is getting, while descriptions are thorough and talk about sizing, measurements, materials, production processes, and shipping. All of these features make for effective sales strategies on Etsy and are worth emulating.
If you are wondering how we gathered all this information, the answer is simple: with Sale Samurai's "Search" feature. It offers a quick and detailed look at every Seller's products, top selling items, lowest, average, and highest prices, shipping time, number of likes and views, and so much more.
For only $9.99 per month, you can easily use this tool to help you keep track of the competition and skyrocket your sales on Etsy.