Being an Etsy seller is a serious undertaking, and can be a daunting process. Owning an Etsy shop means honing your craft, curating engaging listings, promoting and marketing your work, and going above and beyond to make the shoppers' experience happy and seamless. Still, we are all human and sometimes even the best entrepreneurs make mistakes. Here are the:
9 Most Expensive Mistakes New Etsy Sellers Make
Your Shop Isn't Optimized
You Haven't Marketed Your Work
You Are Using The Wrong Categories
Your Photos Are Sub-par Or Are Too Few
You Haven't Done Competitor Research
You Have Too Few Product Listings
You Aren't Following Etsy's Policies
You're Not Putting In Enough Effort
You Give Up Too Early
Let's address these one by one in detail and discuss how to fix and avoid these costly mistakes. Read below to find out more and stay ahead of the competition!
1. Your Shop Isn't Optimized
Optimizing your shop is an art.
According to Etsy's handy-dandy Seller Handbook, shop optimization is about SEO tagging and product descriptions, filling out your shop policies and About page, having clear and cohesive product photos, and always evolving the shop's selling strategy.
What is SEO, you might ask?
Etsy SEO: Ultimate Guide To Helping Customers Find Your Shop
Search Engine Optimization (for Etsy listings) is where specific and carefully selected words are chosen to optimize the exposure of your listings in search results, whether that be on Etsy, or even Google.
How does this work? Well, if you want your listing to have relevancy and appear in search results, you will want to know what people are typing the most often- in other words, you will want to describe your product in a way that is easily digestible and has a lot of popularly used search words.
It is important to take advantage of the listing's title, description, thirteen available tags, categories, and attributes to optimize its visibility.
Filling out the other parts of your shop, like your About page, also boosts your overall store optimization. This is because it builds trust between you and potential buyers and gives them peace of mind when they order from you.
One other thing regarding optimization – sellers should always take advantage of their shop's home page and product sections. That means having a strong, appealing shop banner (not to mention a fun but clear shop name) and categorizing products in a way that makes it easier for shoppers to scout out what they are looking for.
If you're looking to take advantage of high-search but low-competition keywords contact us today to learn more!
2. You Haven't Marketed Your Work
While Etsy does the bulk of advertising, it's still important to take the initiative and market your brand and products. This might involve paid Etsy advertising, creating and maintaining an Instagram, TikTok, and/or Pinterest page, and going out of your way to let people know about your shop.
Let's talk a bit more about these things, starting with paid advertising. Yes, Etsy offers the option of advertising your listings at an adjustable daily fee. The more you spend per day, the more people click on your listing.
This can be pivotal in the beginning of your selling journey because it offers lots of exposure. Plus, it can be as cheap as a dollar per day per listing.
It's commonly known that social media is a versatile and comprehensive tool for promoting, well, anything. If you are a seller and are serious about making a profit, having a dedicated page on multiple social media outlets can work wonders for your store.
This means having an enticing brand logo, posting regularly, and following other artists and shops that are similar to you. Having no social media presence can greatly impact your shop's visibility and overall health.
Another aspect of marketing has to do with a more traditional approach- this means having business cards, going to arts and crafts fairs, and talking to people about your work.
Business cards? Isn't that a bit outdated? It might seem that way, but actually, having them can take your shop to another level. Even including one with every item you sell can increase your brand identity greatly, and might increase the odds of a customer ordering from you again.
3. You Are Using The Wrong Categories
When making your listings, you are given the option to categorize them based on what they are. This should go without saying, but wrongfully categorizing your listings can greatly reduce their visibility to potential buyers.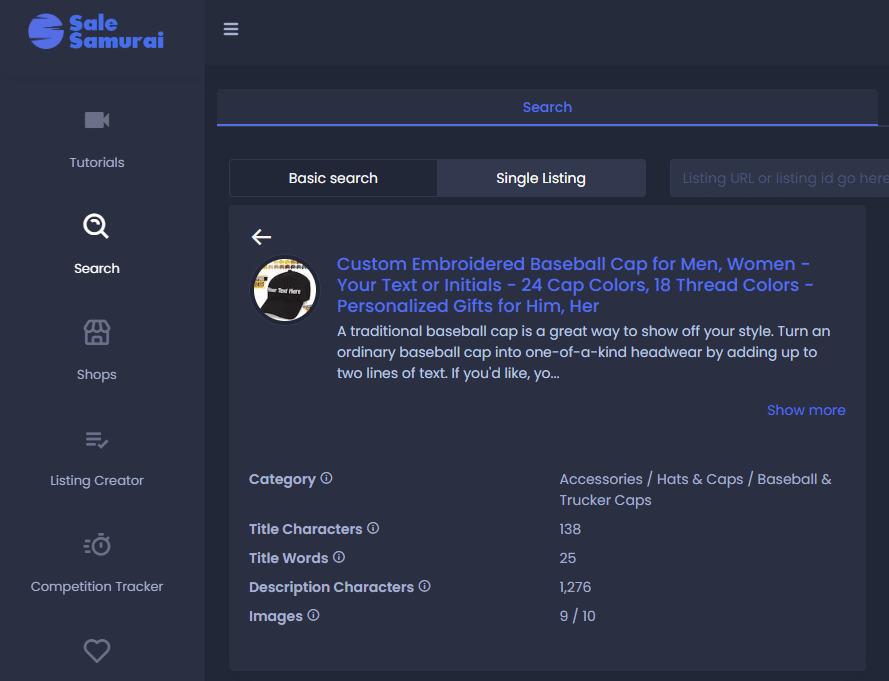 If someone is looking for a baseball cap and sees a random baby bib in the search results, they are probably not going to click it.
Etsy has a vast variety of categories like "driving gloves", "baby headbands", and "collectible jerseys" to name a few. The more closely matched the category is to the listing, the better the odds are that the listing will appeal to the people searching for it.
4. Your Photos Are Sub-par Or Are Too Few
Sometimes, your photos can suck. This can occur for a plethora of reasons- bad lighting, uneven background, poor image quality, bad editing, poor staging or lack thereof… the list goes on and on. When taking product photos, you must consider all these things, as well as the tone you are trying to set.
One thing that's very important in product photos is showing off the product from all angles- obviously, if it is a painting or print, this isn't applicable.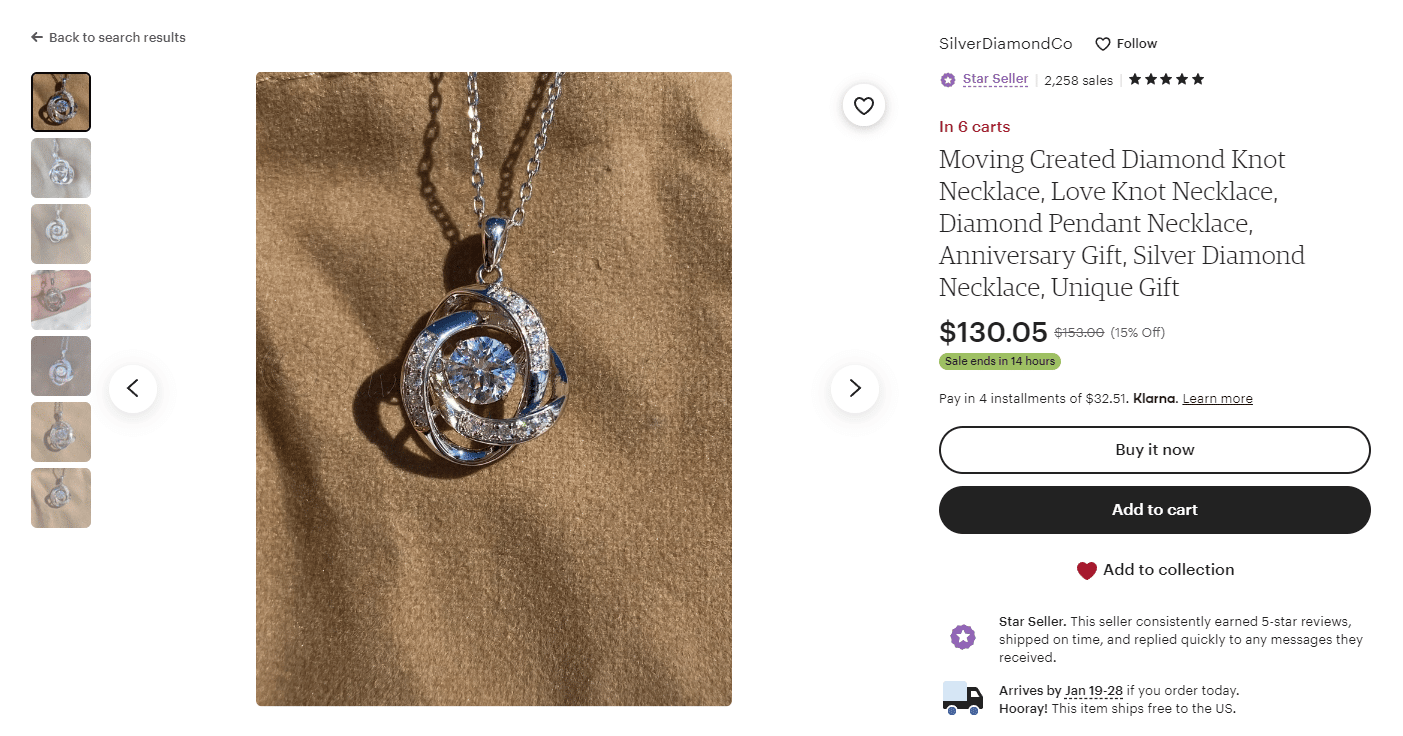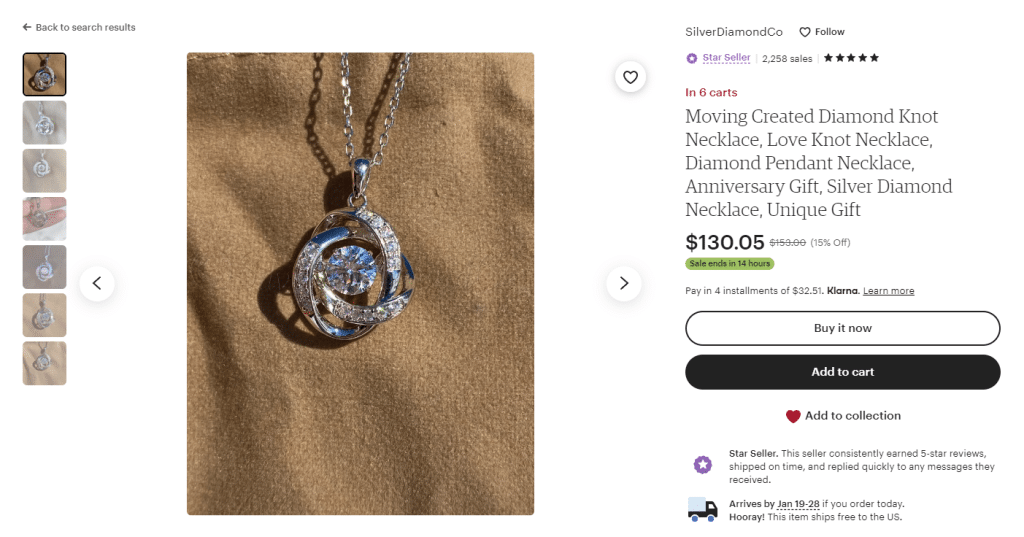 However, if it's a necklace, jacket, or wedding band, you will want to make the buyer feel as if that product is in their hands. That means taking pictures of the details, and all the angles.
The theme of your photos is equally as important… The background, lighting, and props you use all paint a picture of what your shop's theme is- and what your brand is all about. The more cohesive and themed your photos are, the more professional your brand looks.
Alright, let's address the elephant in the room… bad image quality.
Some people think that an out-of-focus, poorly-lit photo taken on an outdated iPhone 4s can do the trick. Well, it might, but odds are, many people will be deterred and won't want to buy your product because it just doesn't measure up to the competition.
It's important to have a dedicated space to take product photos- maybe even throw in a lightbox and some classy props to up your game.
One more thing that is important to note about photos is that there might just be too few of them. Again, it's important to show the full product, but why not go above and beyond and take some more photos?
If your product is a piece of jewelry, you can stage it on a person. If it's a bowl or cup, show someone sipping from it with a smile on their face. Other examples could be playing with the lighting and background to really showcase the product's appearance.
Pro tip: if it's anything usable or wearable, include a photo showing a sense of scale- such as the product sitting beside a penny or paperclip.
5. You Haven't Done Competitor Research
Some sellers make the mistake of jumping right in and selling their work without putting in the research first. This can affect your sales and shop visibility because you are missing out on current trends, aren't selling desirable products, or are falling behind other competitors.
How does one go about conducting this market research? Well, there are many ways… Let's start with the easiest one- typing keywords into Etsy's search.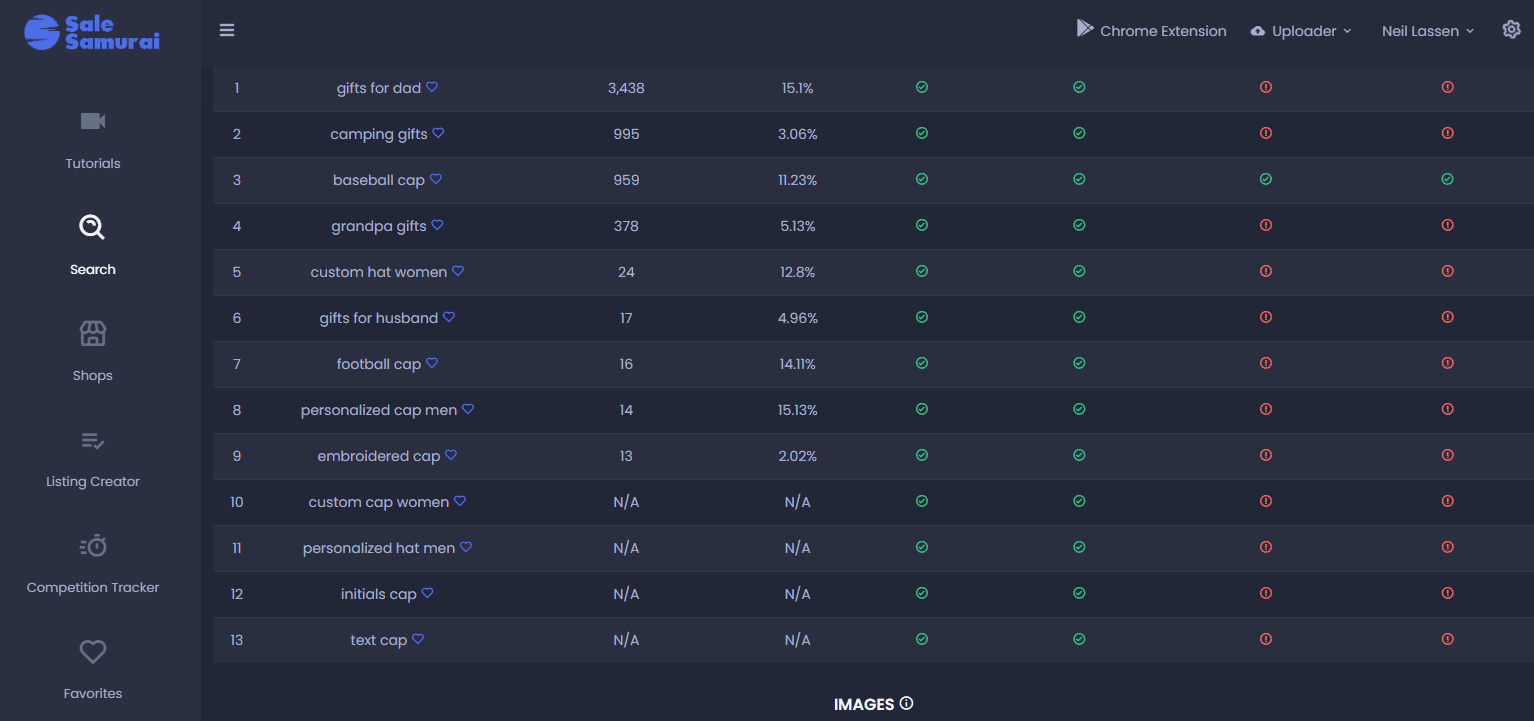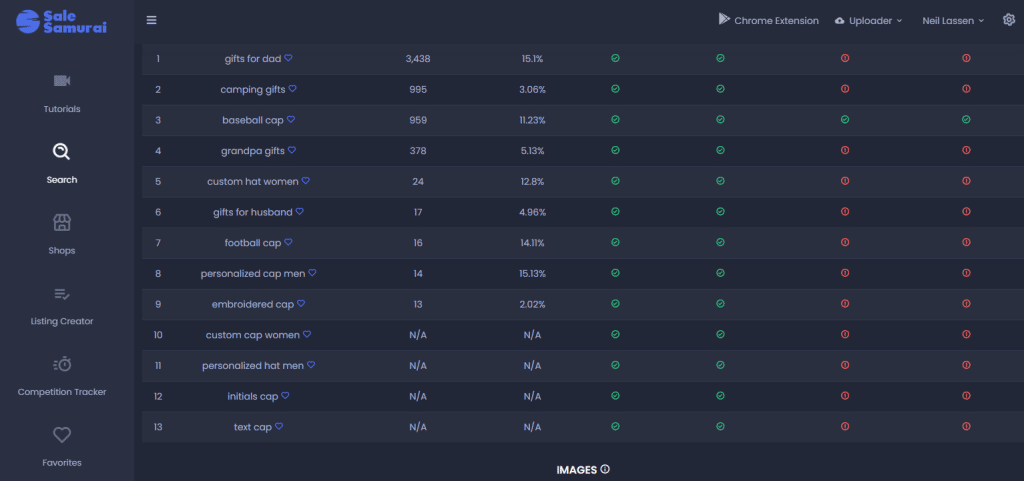 Whatever it is you are selling, look for it on the site and see what others are making that is similar- what are some of their tactics? What keywords and attributes do they use in their listings? What are their reviews saying, and how many sales are they making?
When doing this research, keep in mind your competitors' brand identity, customer feedback, shop organization, and social media pages. By knowing the market you are a part of, you can better understand what strategies work and don't work, and can make the appropriate changes to your own shop.
6. You Have Too Few Product Listings
Having little to no product listings can severely hurt your shop's visibility and, in turn, profitability.
Not only does having lots of listings increase the odds of customers finding your work, but it also makes your shop appear stocked and well-put-together and gives the shopper more to choose from. A well-stocked store is always better than one that isn't.
Another important thing to note is that whenever you create a new listing, it gets a temporary "boost" on Etsy's search engine. That means the more listings you have, the more promotion your shop will get. That is pivotal to reaching more potential buyers.
7. You Aren't Following Etsy's Policies
Being an Etsy seller comes with its limitations. For one, sellers have to abide by policies set by Etsy. This is relatively easy to do provided that the seller has read the brief policy outlines and engages in… appropriate selling practices.
Some examples of not abiding to policies might be selling something that isn't handmade, vintage, or used in crafting, avoiding paying the listing fees, not honoring your own shop policies, or even shipping a buyer something that isn't what appeared in the listing.
What Are Etsy's Shipping Policies? How Can You Use Them To Your Advantage?
Of course, there are many more policies out there, and it is the seller's responsibility to know them.
Not abiding by Etsy's policies can have really severe outcomes for a seller, such as a dreaded suspension or even termination of their shop. Understandably, this will greatly affect profits and potentially leave the seller unable to use Etsy's platform again.
8. You're Not Putting In Enough Effort
Hey, it happens. Sometimes, sellers expect Etsy to do all the marketing and advertising for them. While Etsy is an excellent middleman for the seller and potential buyers, it is not a catch-all platform.
As a seller, you are not only a maker of goods but a businessperson. This means being the brand ambassador, marketer, strategist, and biggest fan of your own shop.
Your products might be worthy of a sale, but consistency and perseverance is key when establishing your business. Your effort needs to be present in anything from the creation of your shop's banner to the staging of your products to the "thank you" card that you include with each sale you make.
9. You Give Up Too Early
Let's say you don't hit your projected sales for the year, or people just aren't clicking your listings. This can be undoubtedly disheartening.
One thing to keep in mind is that not every shop will garner an enthusiastic audience right away. This might be because of current trends or even the fact that the seller hasn't fully honed in their craft quite yet, and that's okay.
Many Etsy sellers tell their stories of how different their shop and business approach were when they first started. It's only expected that the longer you do something, the better you get at it.
If you give it ample time, your products will improve in quality the same goes for your photos, product descriptions and tags, social media posts, and customer service.
There are many reasons why someone might throw in the towel prematurely- life circumstances, obligations, or financial restraints, just to name a few. While these reasons are valid, there are others that are not as much.
Many sellers miss out on success because they stop believing that they can get there, or think they are wasting precious time and resources. It's tempting to call it quits when your clickthrough charts are stagnant, or when you aren't getting many likes on your shop's Insta.
In these times, it is important to remember that being an Etsy seller isn't a recipe for instant gratification. It is an entrepreneurial pursuit and needs consistent care and dedication. It's a passion, and, with enough work and patience, it can go from being a dream into a reality.
If you are looking to exponentially scale and grow your Etsy shop, get in touch with us today!