The cost of shipping can make or break a sale. This has never been more true for Etsy than now.
Research indicates that approximately 80% of online shoppers are persuaded to shop online with the option of free shipping included. Meanwhile, around 56% of millennials, who are Etsy's primary audience, expect same-day shipping options. Some 69% of the shoppers have indicated that excessive shipping fees are the reason for canceling their online order and 38% will abandon their cart if delivery will take more than a week.
With all this in mind, it's crucial for Etsy Sellers to optimize their shipping policies in order to cater to a clientele who is looking for fast and efficient delivery options. But, what are Etsy's shipping policies and what do you need to know?
Let's find out.
What Are Etsy's Shipping Policies?


Breaking down shipping can be a daunting task, but essentially, there are two types of shipping offered on Etsy – free and paid-for shipping. We take a look at each one in turn.
Free Shipping
With the rising importance of free shipping to boost the customer experience and to help Sellers earn more by reducing abandoned carts, Etsy, on July 30th, 2019, introduced its free shipping policy for orders placed in the US. This policy means that Sellers will get priority in the US search results if they ship for free for orders valued at $35 or more. As a result, the Etsy search algorithm will prioritize such product listings. In essence, free shipping refers to a free "standard" shipping fee. Sellers can charge additional amounts for "shipping upgrades", which include first class or express shipping. This will not affect the priority search placement.
As Sellers already know, Etsy charges a 6.5% transaction fee (introduced in 2018) on both the product price and the shipping. However, this relatively new free shipping option will not increase the Etsy fee.
In addition to this, Etsy's house rules state that the $35 or more purchase fee that accompanies free shipping is available for "qualifying orders that ship to the 50 US states and District of Columbia only." Some of the criteria for this include that the "Region" on Etsy must be set to the US and the currency preference setting should be set to US dollars.
An Etsy Seller is, however, able to "modify, suspend, or cancel" their offer at any time. So, although it is not compulsory to offer free shipping, it makes for improved search rankings, which many Sellers would value.
Calculated Shipping
Before delving into paid shipping options, it would be prudent to explain how Sellers recoup their costs with free shipping. What normally happens is that with free shipping, Sellers are inadvertently encouraged to up their prices to factor in the shipping cost.
For example, an item that sells for $10 with a shipping price of $5 will ultimately now cost the customer $15 instead of $10. While in most cases, this is a feasible move to make, some Sellers who offer bulky and large items at a higher cost may not be able to implement this strategy. They will then need to use the paid shipping option on Etsy to recover their total costs and to make a profit.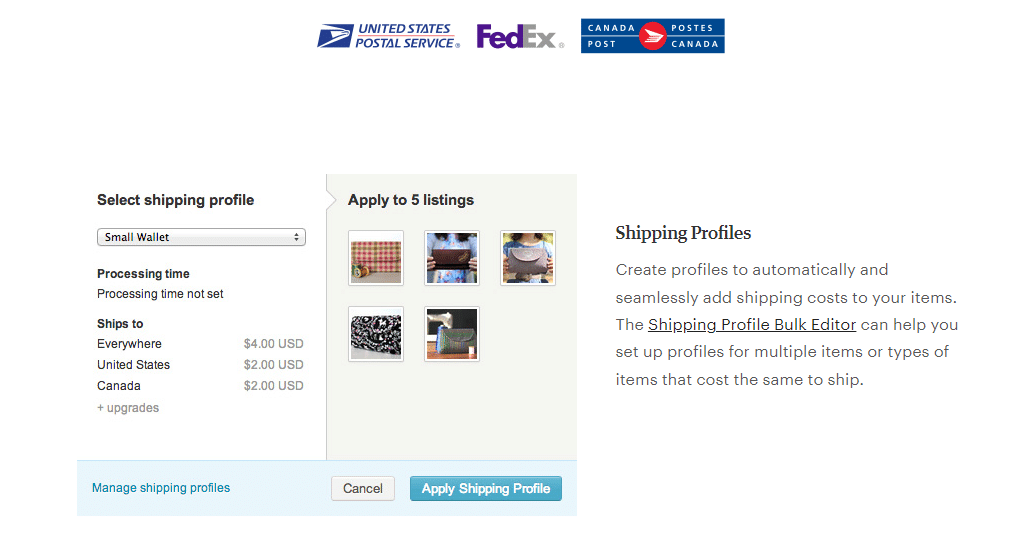 However, what is paid shipping and how does a Seller minimize their shipping costs? The answer lies in Etsy Shipping Labels. These can help a Seller save up to 30% on shipping costs. The way these labels work is that they are purchased from Etsy, printed, and attached to the box/package being sent. These labels also enable a Seller to add tracking to shipped orders. Etsy will automatically share the tracking number with the customer. The Seller doesn't need to do anything else to mark the order as complete. But, if a Seller purchases their own label, they will need to manually enter the tracking number that is provided by the shipping carrier when they mark the order as complete.
Another rule to keep in mind is that a Seller will be required to add a tracking number to any order that's valued at $10 or more and which is shipped to a buyer in the US before marking it as complete. This rule was introduced on August 11th, 2021. Despite this, tracking will not apply in several instances. These include items such as:
Digital items, including custom digital products
Customized order additions linked to another order
Local pickup and delivery options
Oversized and heavy items; and
There is also the option to choose "Something else" and add an explanation as to why you can't add tracking for an order.
Getting back to the shipping labels. Firstly, it's important to keep in mind that these are not compulsory. They are essentially "postage" that a Seller can purchase directly from their Etsy shop. This option is only available to Sellers in the US, UK, Australia, and India. In addition, Sellers need to accept Etsy Payments or PayPal.
As for shipping providers, Etsy's top choices are:
USPS
FedEx
Global Post Delivery
Canada Post
Royal Mail
Australia Post
In most cases, each of these courier organizations offer some type of insurance. Although insurance is not compulsory, it's worth it. Especially if your items are fragile, vintage, or prone to damage. Insurance is optional when purchasing Etsy shipping labels.
Ultimately, shipping costs will depend on the dimensions and weight of the item being shipped, as well as the destination location, distance from source, and more. There is not one set price for shipping that can be used, as each item sold on Etsy is different.
What Are The Advantages Of Each Shipping Policy?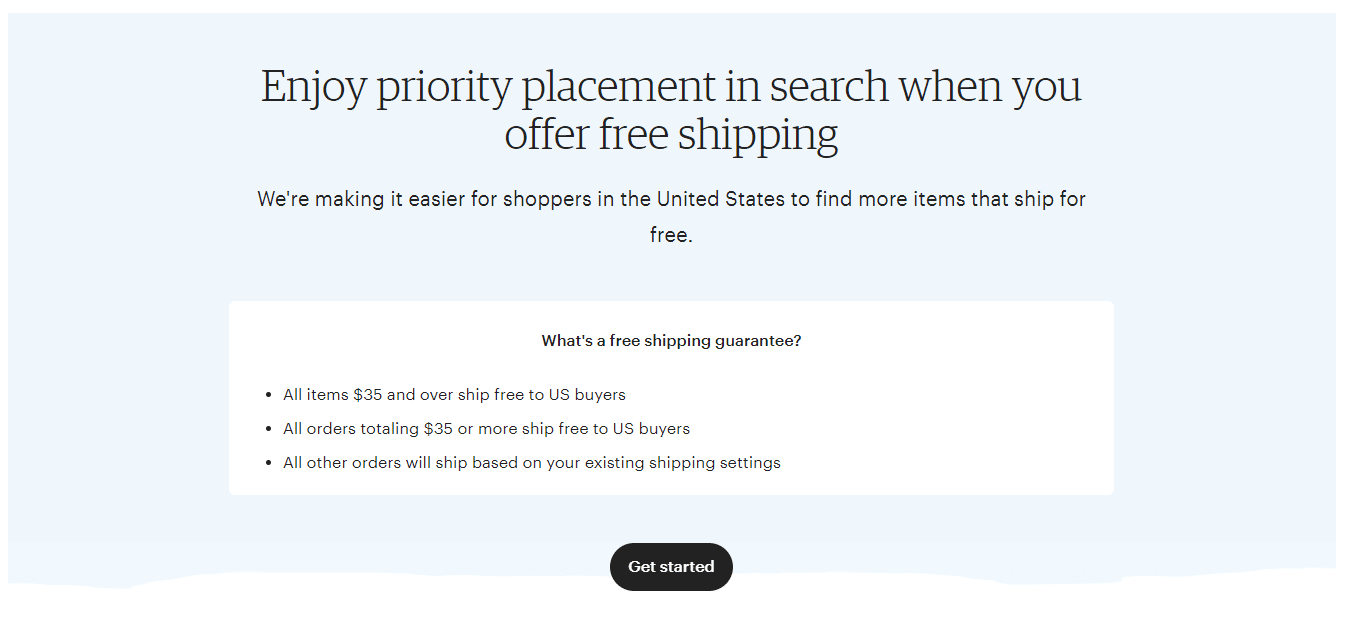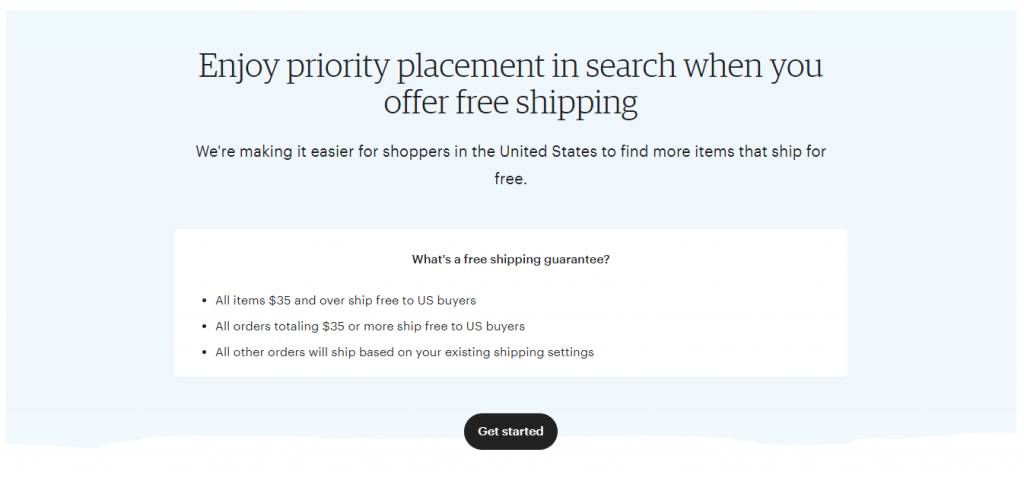 Given the research to support offering free shipping and Etsy's new rules for free shipping in terms of rankings, buyers can have a better shopping experience. This can create more customer loyalty and help Sellers build an audience better over the long-term. Buyer-wise, by not having surprise shipping costs when reaching the checkout, there are likely to be fewer abandoned carts due to the increased transparency. However, this does mean that Sellers will ultimately be forced to raise their prices to factor in shipping costs if they wish to remain competitive.
Calculated shipping, on the other hand, as mentioned above, is ideal for fragile and more unique products that may be heavier or bulkier in size (and with a greater associated cost). When a buyer purchases such a product, and depending on the final shipment destination, they will see the shipping costs added to the listing price at checkout and choose whether to buy or not. To address any negative surprises, Sellers are encouraged to stipulate their shipping costs (whether free or not) in their listings. Such transparency is expected to provide buyers with a greater experience.
Listings Which Have Benefited Greatly From Their Shipping Policy
Beardbangs: This Etsy Seller offers handmade planters, mugs, and other ceramics painted with smiling cat and sun motifs. Thinking like a shopper, the Seller has implemented a free shipping strategy given the fact that many customers were turned away when they realized what the shipping costs would be. As a result, Beardbangs now makes around $1-$2 less in profits, but has seen higher quantities of products ordered, which makes up for the shortfall.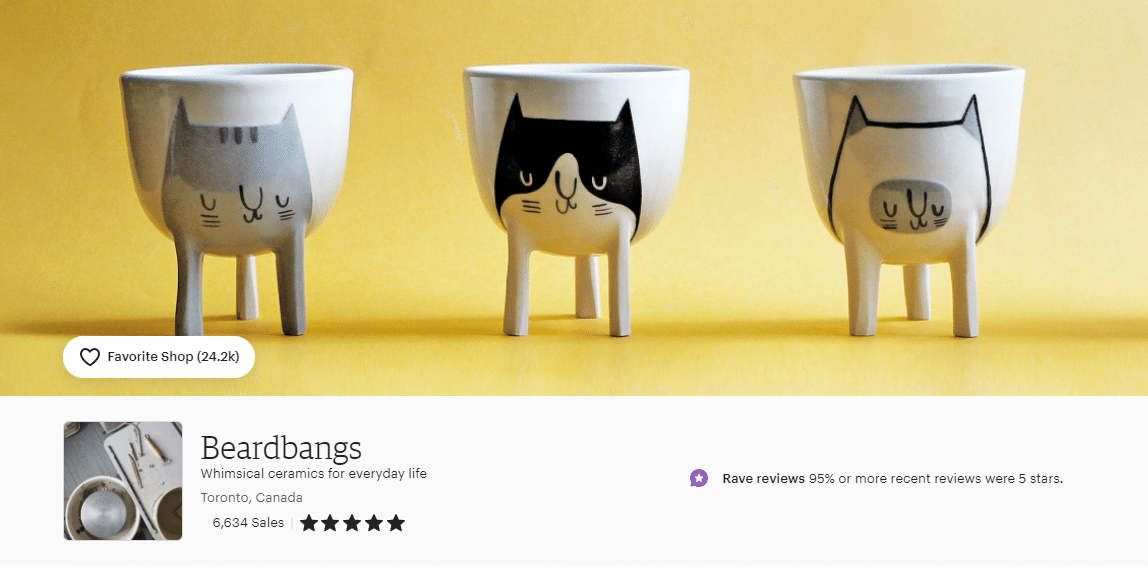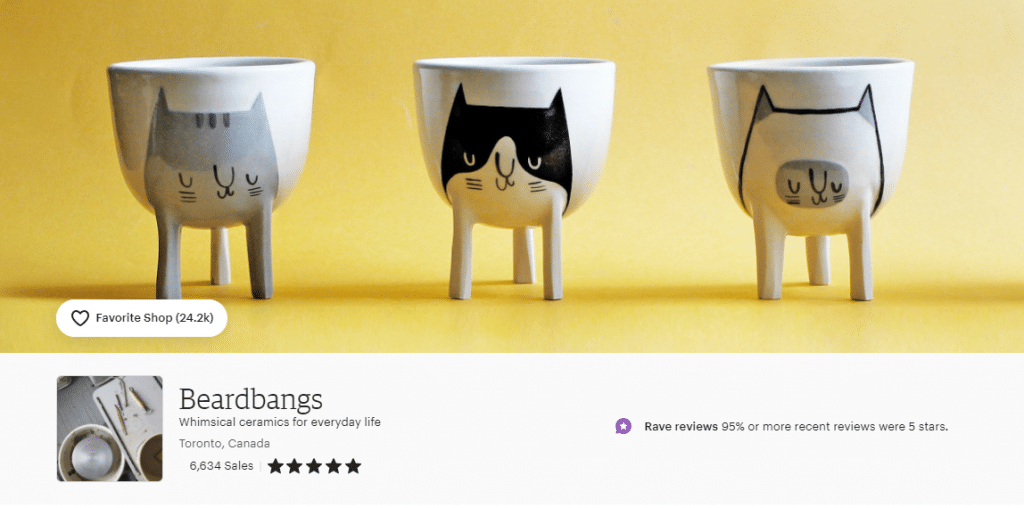 Year of None: This Etsy shop was launched in 2018. The Seller has implemented a free shipping strategy, too, and their advice for other Sellers is the following: negotiate the terms of agreement with a specified shipping carrier. It's possible to get discounts on items shipped, and there doesn't appear to be a minimum ceiling for the quantity of products that can be shipped when such an agreement is in place.
Lee Narkis: A Seller of chic earrings and necklaces that combine crochet with colorful metalwork; this Seller implemented a free shipping strategy in their shop, too. The results have been incredible. Although there have been no notable new visit numbers to the shop, she has found that customers are placing more orders. Around 300% more to be exact. This is hugely driven by the free shipping offered.
CatastrophiCreations: and our final example of a Seller who has implemented free shipping policies is CatastrophiCreations. This team has found that free shipping is excellent for customers on a budget, as they're able to immediately see whether they can afford the item or not. This helps eliminate any "hidden" charges that may be involved. The shop has seen a 50% year-on-year increase in their conversion rate since they started offering free shipping.


Advice To Sellers: What Shipping Policy You Should Use And Why
There is no single piece of advice to follow regarding shipping on Etsy. No one-size-fits-all approach. However, there are a couple of considerations to keep in mind when addressing your shipping strategy.
If you're in a high-competition niche, you will need to rank above your competitors and as a result, will do best to offer free shipping. These costs can be recovered by increasing your listing prices. In most cases, customers already know or at least expect that such costs will be included in the final price, and they are okay with this. On the other hand, if you are in a low-competition niche, you may consider opting for paid shipping because your products will already be highly ranked and there aren't many other Sellers to compete with.
Other factors to consider when determining a Seller's final listing price include not only the time and materials that it took to create the final product. They should also consider the $0.20 cents cost for creating or renewing a listing, the 6.5% transaction fee, shipping costs, the costs of purchasing Etsy shipping labels, advertising (optional), and more.
To Wrap Up
As Etsy gears towards making the customer experience on the platform a seamless one, Sellers should keep abreast of shipping policies and how these affect their pricing strategies. Offering free shipping means getting better rankings, visibility, and the chance of making more sales. As the ultimate goal of any Seller, it would be to their advantage to offer free shipping as much as possible.
When this is not possible, being transparent with your shipping costs upfront in the listing description will go a long way to building customer trust and loyalty. Whichever option you choose, it's vital to be informed and stay up-to-date on the world of e-commerce and its intricate relationship with free shipping. Especially when it comes to selling on Etsy.