Toddlers are at an age where everything is fascinating to them. They approach the world with vivid curiosity to learn and explore. And the best way to stimulate their thirst for knowledge is with toys.
But with so many manufactured toys on the market, you may want to get one that's more out of the box, more extraordinary. This is where handmade gifts for toddlers come to the fore.
For sellers, a quick search on Etsy for this seed keyword immediately tells us that the market isn't oversaturated. But is it worth entering and what type of profitability can you expect?
Find out in this article.
How big is the market for handmade gifts for toddlers?
Right off the bat, our observations indicate that the "handmade gifts for toddlers" niche is not oversaturated. This is because a search on Etsy for this seed keyword yields only 43,965 results.
Of course, this is just a superficial indication of the market at the moment, and this is why we delved deeper into the research process using Sale Samurai.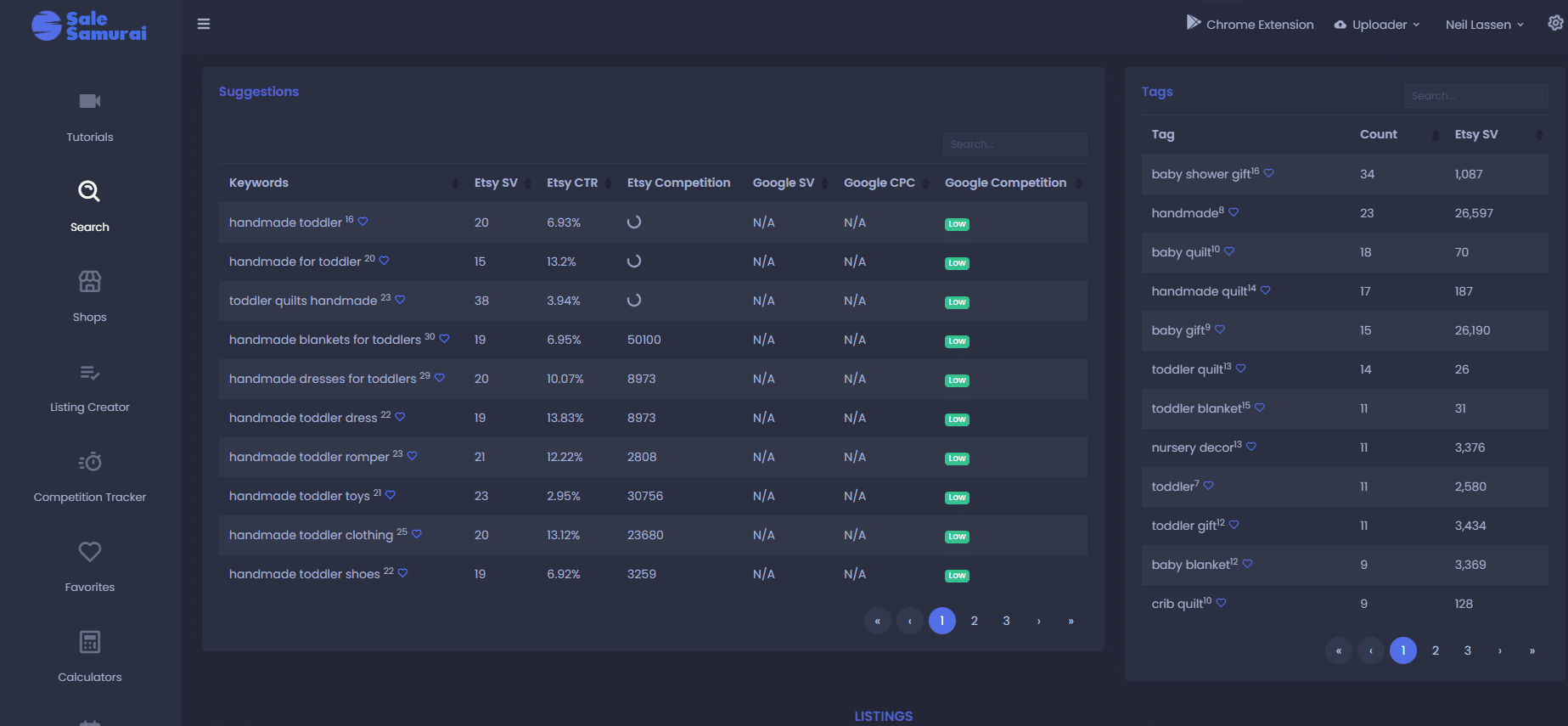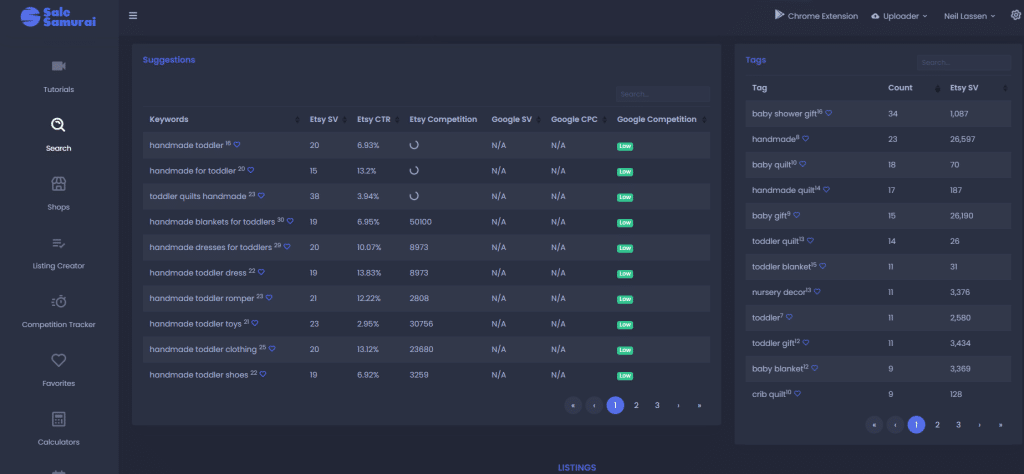 The platform's Search module indicated that Etsy search volume for this particular keyword is negligible. But does that mean that no one on Etsy is searching for such items?
Because the answer is not so clear cut, we looked at listings saturation and search volume for this and other related keywords to get to the bottom of this conundrum.
Listings saturation and search volume
Sale Samurai's Search module helped us gain a better understanding of users' search intent when looking for handmade gifts for toddlers.
In particular, we looked at the search volume of the most sought-after keywords and followed this with an exploration in Etsy to determine the listings saturation.
Here is what we found, while narrowing the results to a search volume above 1,000 monthly searches:
"Toddler gift": search volume – 3,434; listings count – 327,178
"Toddlers girls gifts": search volume – 1,170; listings count – 161,441
"Toddler valentines gift": search volume – 1,169; listings count – 17,813
"Toddlers gifts": search volume – 1,033; listings count – 327,169
"Toddlers gift": search volume – 1,012; listings count – 327,229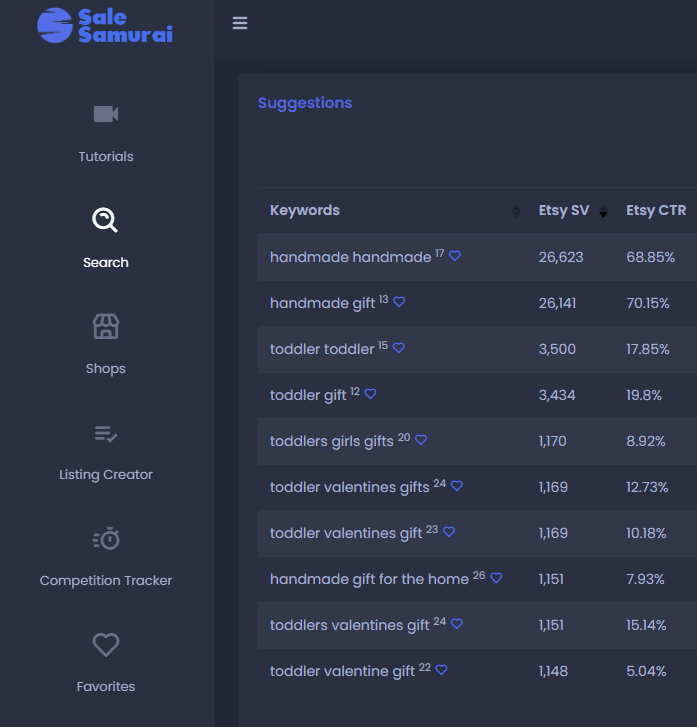 What emerges out of these findings is that there is a high search volume for Valentine's gifts for toddlers with variations in the keywords and a search volume of over 1,000 each. We've omitted the entries in the list to spare you the repetition, but you can confirm this finding for yourself with Sale Samurai.
Valentine's gifts for toddlers is the first sub-niche we were able to identify. However, it must be noted that it's seasonal.
Also interesting about this is that the more specific the search query is, such as Valentine's gifts for toddlers, the fewer the listings are.
Examples of this can be illustrated by narrowing the search to "toddler boy" or "toddler girl". The only exclusion in this sense is the longtail keyword "Toddlers girls gifts", which is among the most typed in query on Etsy. This can be considered another sub-niche to explore, and one which we'd recommend because it's evergreen.
You may go even further by specifying what kind of gifts these toddlers may like. For instance, many of the lower search volume keywords included words like "bee", "owl", "cow", "name gifts", "moana", "dog", "twins", "truck", "Easter", and "train".
This is a critical finding to keep in mind as we delve into what the bestsellers are doing right below. But before that, let's look at associated tags and their search volume on Etsy.
Tags
What immediately strikes us when we look at the associated tags on Sale Samurai is that virtually none of the tags used by sellers featured the words "toddlers". Instead, they used words like "baby", "girl", "boy", "gender neutral", "gift", and more.
To illustrate this point, take a look at the most common tags that sellers in this niche opt for:
"Baby": search volume – 26,621
"Handmade": search volume – 26,215
"Handmade gift": search volume – 26,190
"Baby girl gift": search volume – 3,559
"Toddler gift": search volume – 3,434
"Baby boy gift": search volume – 3,430
"Toddler": search volume – 2,580
"Toddler floor bed": search volume – 1,107
"Sensory toy": search volume – 941
"Toddler bed": search volume – 927
"Gender neutral baby": search volume – 443
If we look at the search term "toddler gift" with a search volume of 3,434, we get close to what is realistic in terms of user intent. However, this search term is broad and excludes an important qualifier – the word "handmade".
As such, audiences that are specifically searching for handmade toddler gifts may find it hard to find what they are looking for on Etsy if sellers do not use the right tags with which to associate their products.
Prices
Our research wouldn't be complete without looking at the prices that sellers are asking for in this niche.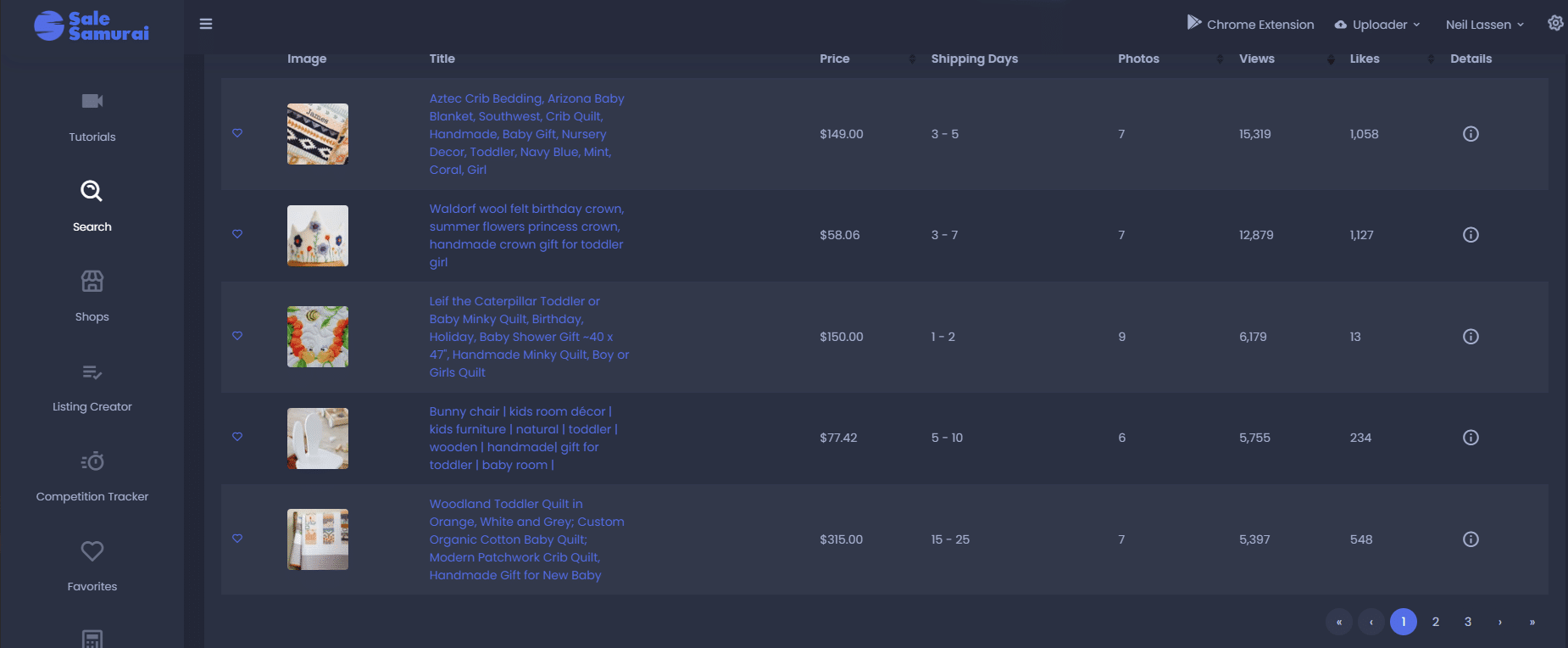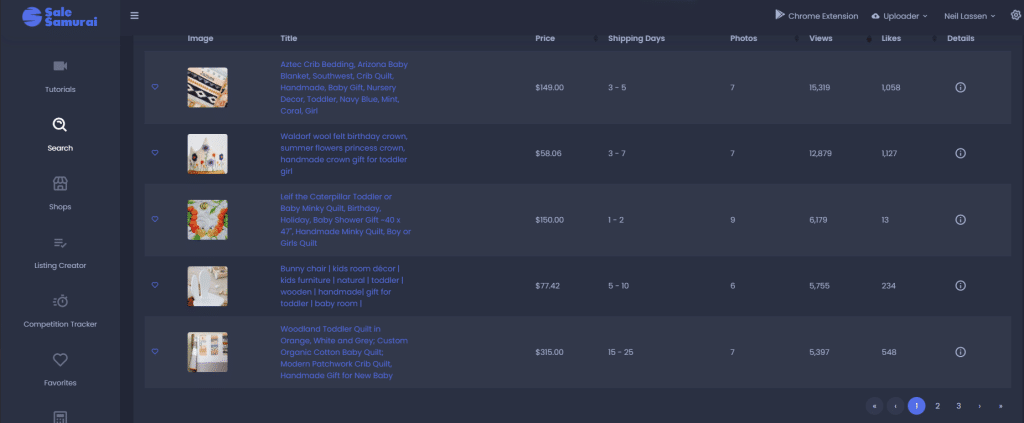 Luckily, with Sale Samurai, you don't have to whip out the calculator to do the math. The platform simply calculates it for you.
What we found is that the lowest price in the toddler gifts niche is $5.00, the highest price is $465.00, and the average price $96.76.
What are some of the best-selling merchants doing right?
If you have hours to spare, you can manually search through Etsy to find handmade toddler gifts at the average price, which are also selling in large numbers.
However, with Sale Samurai, the search process becomes that much easier. We simply scrolled down to the bestsellers, sorted the items by price and identified two top-performing creators selling around the average.
Here's what we found.
The first seller is NonnaQuilts with their item titled "Dog Quilt for Child, Quilts for Sale Handmade, Dog Quilt, Puppy Quilt, Quilt for Baby, Baby Quilt, Quilt for Toddler, Quilts as Gift". The seller has priced this item at $100. Overall, they have a 4.6 star rating and 110 reviews.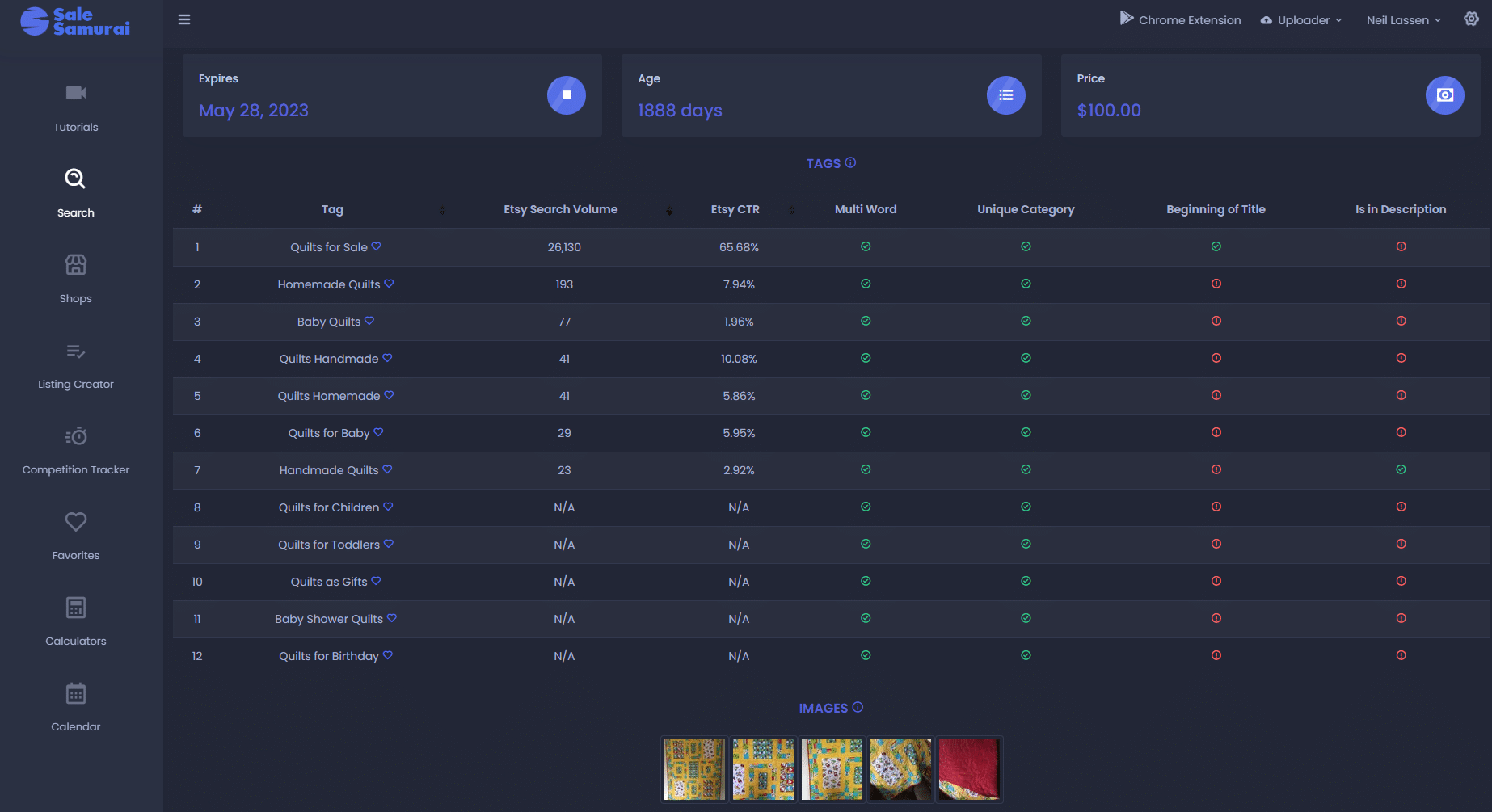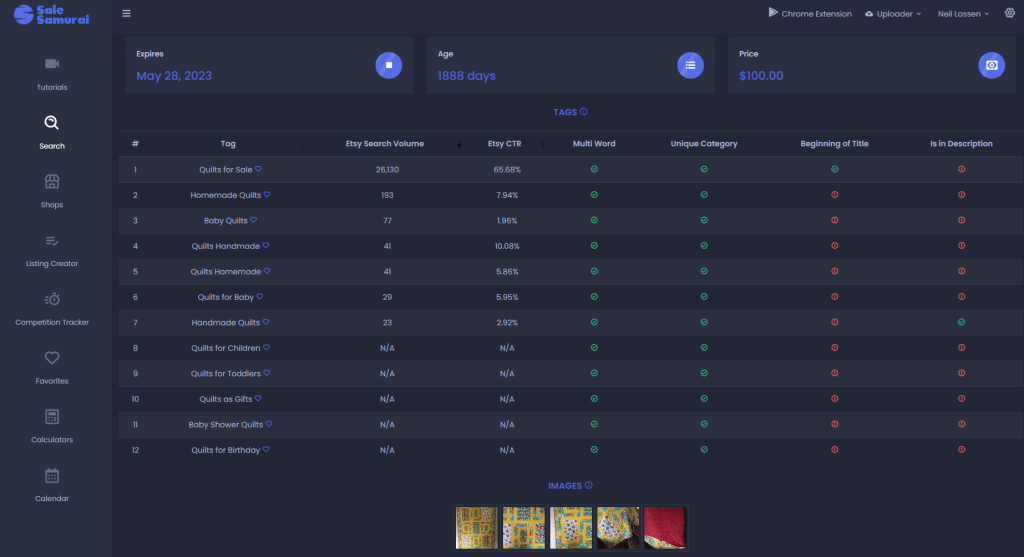 The second seller we identified is MyFingersFly with their item titled "Toddler Blanket Handmade Crochet, Miles the Jazzy Elephant C2C Afghan, Toddler Birthday Gift". This item goes for $99.99. They've generated 4.8 star ratings and 580 reviews in total.
So, let's look at what they've done right.
Keyword optimization
It's evident from the first bestseller that they've used some keyword stuffing tactics in an attempt to generate greater interest in their product. We actually do not recommend this titling technique, but do like the next one.
The second seller has been a bit more descriptive, using the word "toddler" and "gift" in the title as well as "handmade" to cater to this particular search query. They've found a good balance between descriptiveness and title optimization, which you can emulate.
Pricing
Both sellers mentioned above have priced very close to the average, meaning that they've neither priced out of the ballpark, nor have they underpriced the value of their blankets.
This is an effective strategy that is possibly the reason they've generated so many sales. Perhaps they also used Sale Samurai to help them with their research process?
Images
As for images, none of these sellers have used up all 10 spaces that Etsy allocates. However, the second bestseller has used one image to promote her social media handles, meaning that she has used the opportunity to effectively market herself off the platform.
We consider the first point to be a downside, as it's always best to use up all of the image slots. However, MyFingersFly has once again performed better by exploiting the platform to advertise their gig.
How profitable is this niche?
To determine the potential profitability, we looked at the average price and multiplied this by the first bestseller's number of items sold.
As such, we get an amount of $315,000. We applied the same principle for the second bestseller and get an average or approximate turnover in the region of $490,650.93.
Although these numbers appear extraordinary, it's worth noting that they apply to the entire shop, and not to the individual listings. Still, these sellers have made great strides to reach profitability in the region of nearly half a million dollars by targeting this niche.
It's possibly worth emulating their strategies and below, we'll show you how to do this.
Our tip-list for sellers seeking to enter this niche
To enter the handmade niche for toddlers, you need to be on your toes all the way through. This is why we share some best practices with you here.
Keywords
First off, it must be remembered that the term "handmade gift for toddlers" is considered a longtail keyword. This is possibly the reason why some of the bestsellers mentioned above have decided to split up this keyword into several parts that include "handmade", "toddlers", and "gifts".
This strategy is slightly different than that applied for shorter keywords and is something to bear in mind as you proceed to optimize your listing.
Other than that, you should prioritize gifts for girls and try to pamper your titles with descriptions of the objects that they're depicting. This will capture searches for all kinds of animals and machines, which make for great baby toys.
Pricing strategy
It's evident that both sellers identified above have priced around the average in the region of $99.
This is always recommended, unless you have some truly unique toys to offer. And that would still be subjective.


Images
Although none of the two sellers we identified above filled all image slots, one of them used the opportunity quite cleverly. She listed her social media handles as one of the images for greater visibility and to spread out her marketing efforts.
This is an interesting strategy, indeed, and one that's bound to pay off.
As an extra tip in the same vein, we recommend using one of the image slots as a video showing the production or packaging process.
Ratings and reviews
Finally, even though none of the two sellers above have perfect ratings and reviews, they have still generated in excess of 100 reviews and star ratings.
This in itself is a critical component that drives word of mouth marketing and generates greater rankings.
By fostering a supportive sales environment, these sellers have been able to acquire many positive reviews which have positively impacted their sales.
Wrapping up
Although there isn't high competition for handmade toddler gifts on Etsy, the associated search volume by interested customers is pretty good. In order to transform that interest into sales, it's vital to utilize the right keywords and variations thereof.
Sellers who want to optimize their listings have two choices: do it the long and painful way or the quick and easy way with Sale Samurai.
The software and all its insights can be yours to access at only $9.99 per month. It's definitely a worthwhile investment if you want to beat the competition and stand out from the crowd.