As a platform for handmade and authentic items, Etsy offers a myriad of product categories. Even if you've selected a fecund category, you can always narrow it down to specific niches and audiences.
One particularly interesting product category is handmade clothing. Considering the nature of Etsy, you would imagine that custom-made clothes are a hot ticket on the platform.
We'll find out if that's true or not with the help of Sale Samurai.
Is Personalized Clothing Popular On Etsy?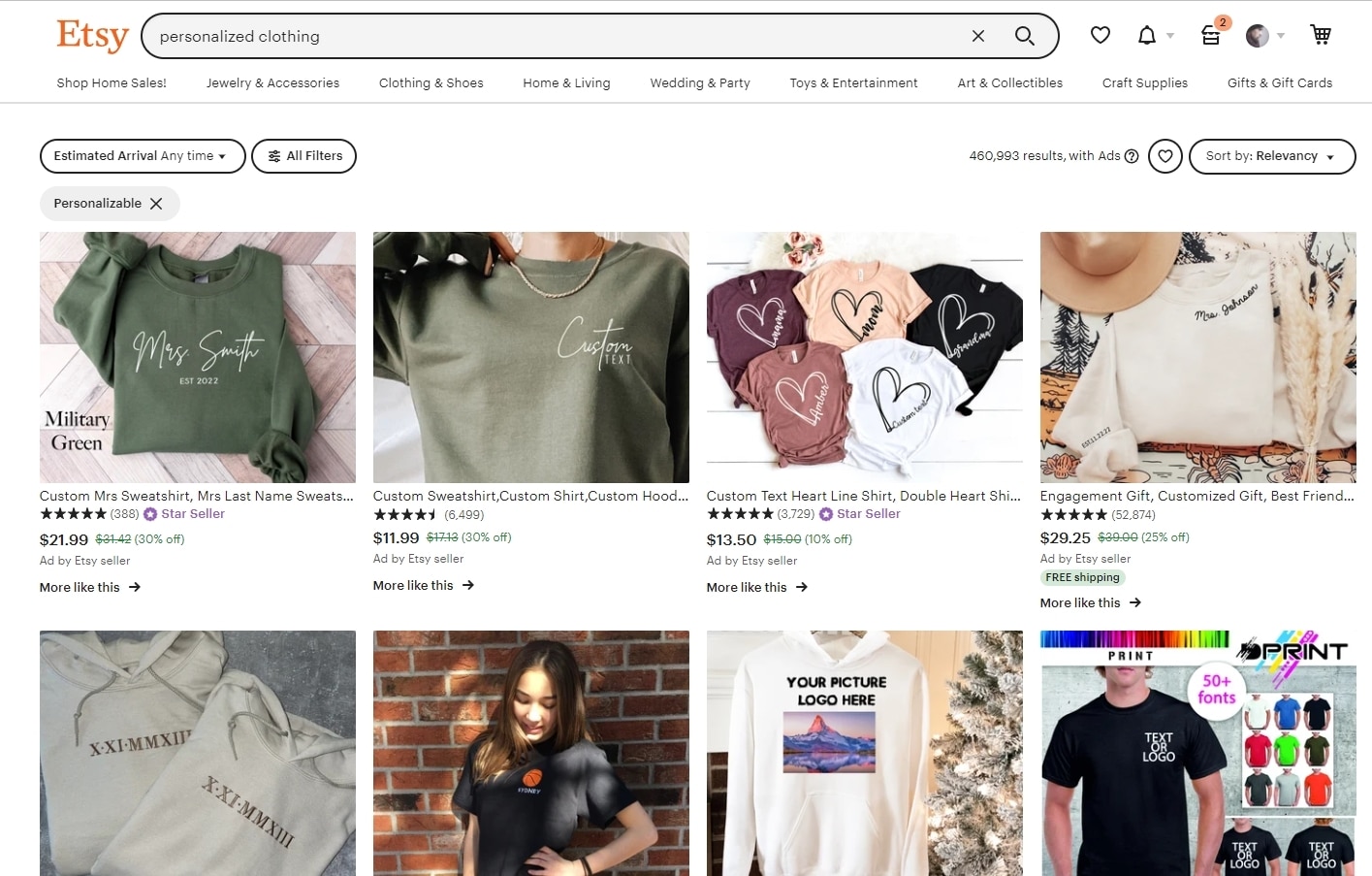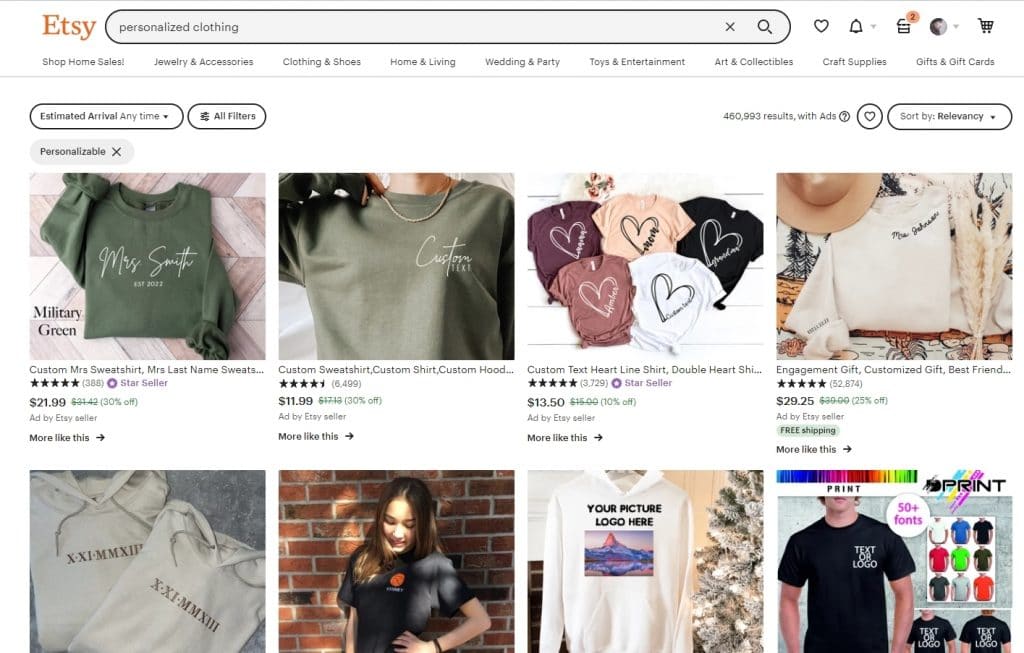 Whenever there's doubt that a given product category is profitable, we always start by analyzing how popular it is among buyers. The more interest that we see in a certain category, the more likely it is that we'll be able to score the sales volumes we are after.
How can we detect interest? By looking at the search volume of related keywords on Etsy.
Using Sale Samurai, we performed keyword research into several tags that are related to 'customized clothing'. Here are the results we found in terms of Etsy search volume:
Personalized clothing – 14
Personalized clothes – 13
Custom clothes – 13
Custom clothing – 31
Women custom clothing – 51
Man clothing customize – 121
These insights reveal that although there are some buyers searching for custom clothing, it's not one of the popular categories on Etsy. At least this is what we got from this general search.
However, by browsing on Etsy, we noticed that a lot of listings used specific keywords like 'customized shirt' and 'customized onesie'. So, we decided to dig a little deeper.
We discovered keywords like 'custom shirt' that has a monthly search volume of 3,439. This indicates the presence of a potential niche. Therefore, personalized clothing can and should be on your list.


But what makes some of the bestsellers from the space stand out?
What Makes Custom Clothes Popular?
By poking into some of the top-performing listings from the custom clothing category, we discovered several peculiarities. Crucially, these characteristics were found mainly among the bestsellers. This signals that they're important to consider if you are approaching this category as a Seller.
Product Type
When it comes to custom clothes on Etsy, three product types dominate the bestsellers:
Shirts
Hoodies
Baby clothes (onesies and full outfits)
There's a perfectly reasonable explanation for this. These types of products are easiest to offer as customized products.
Why?
Because in most cases, custom clothes are purchased for gifts. It's much easier to choose the right size t-shirt and hoodie for a friend as opposed to a dress or suit, for example. The same applies to baby clothes. Baby clothes' sizes are usually separated by age. To choose the right size, all you need to know is the baby's age.
If you're planning on entering the personalized clothing market on Etsy, we strongly advise starting with one of these product types.
Theme
The first thing that you'll notice when browsing through custom clothes on Etsy is their simplicity. Most top-performers are extremely clean and don't focus on any theme whatsoever. However, this doesn't mean that you can't make themes work to your advantage. For instance, there are a number of movie-oriented custom t-shirts on Etsy. They usually depict a popular movie character and have a custom space, where you can put in your name.
For instance, one such listing has scored more than 10,000 sales, selling for around $17. If you do the math, you'll see that this is nothing less than a sweet pot of honey.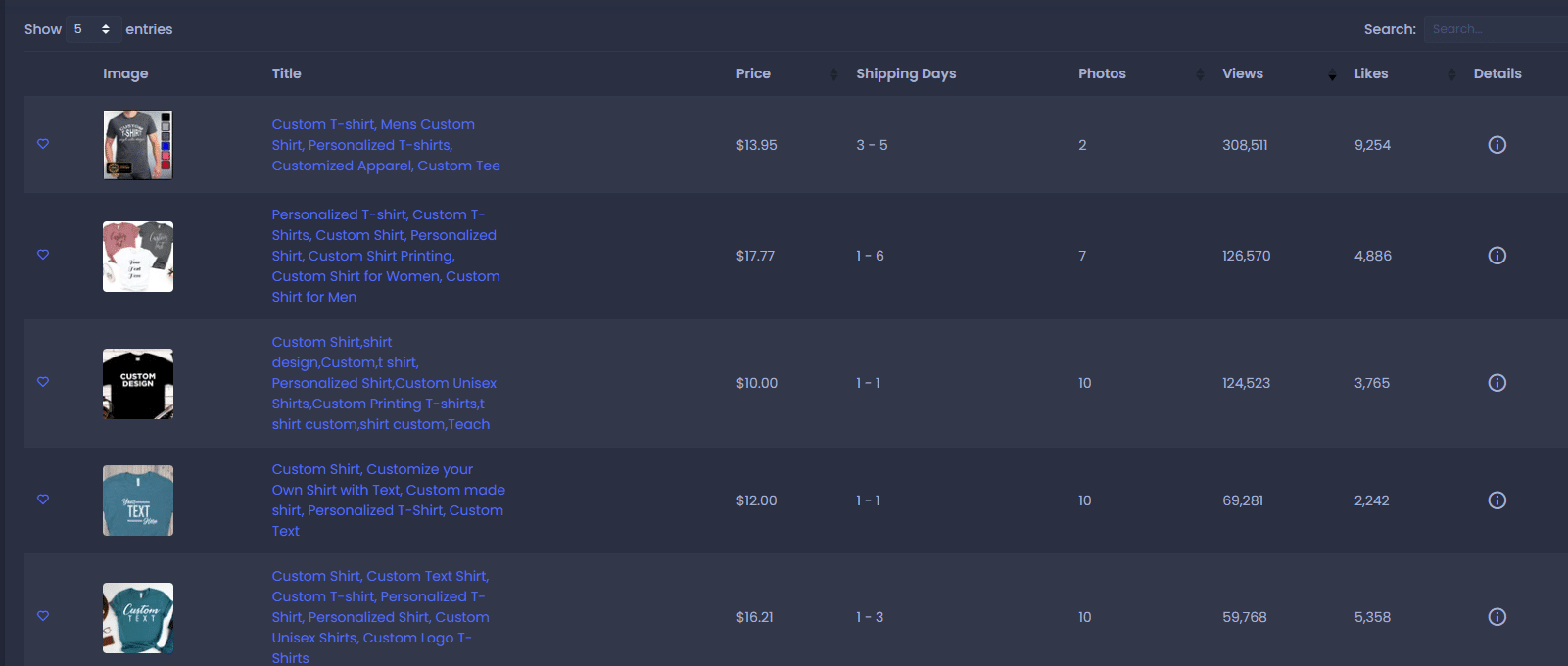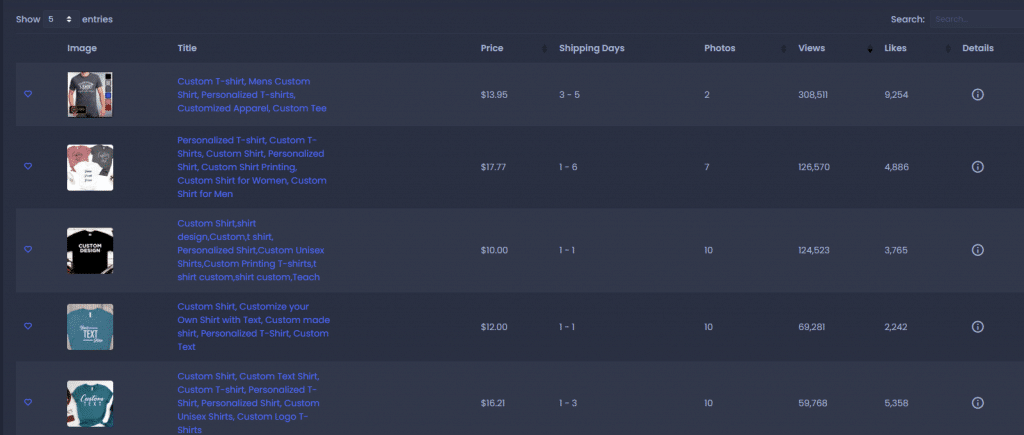 Design
As we mentioned, the majority of custom clothes on Etsy are all about simplicity. The bestsellers are usually clean t-shirts or hoodies. They come in a single color and have a designated area for custom text to be applied. Why? Because a minimal design makes them attractive to different target audiences. After all, the concept of personalized clothes is giving the buyer control over the final look.
Let's examine a real case. The ''Custom Shirt, Custom Text Shirt, Custom T-shirt, Personalized T-Shirt, Personalized Shirt, Custom Unisex Shirts, Custom Logo T-Shirts' has landed 61,159 sales at a price of $14.59. The t-shirt design is completely free of any imagery, colors or shapes. All the shirt has is a nice background color (which is customizable) and a text space that is to be filled out by the customer. It's marketed as unisex, removing any expectations from the design.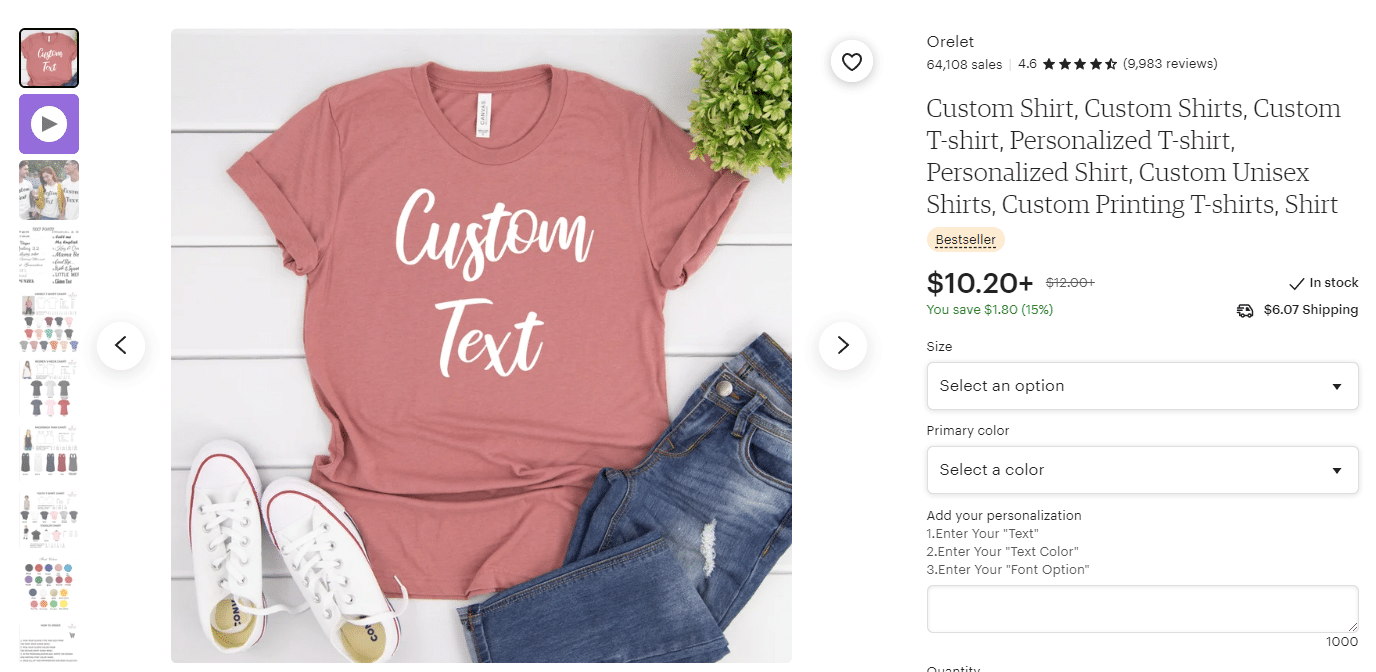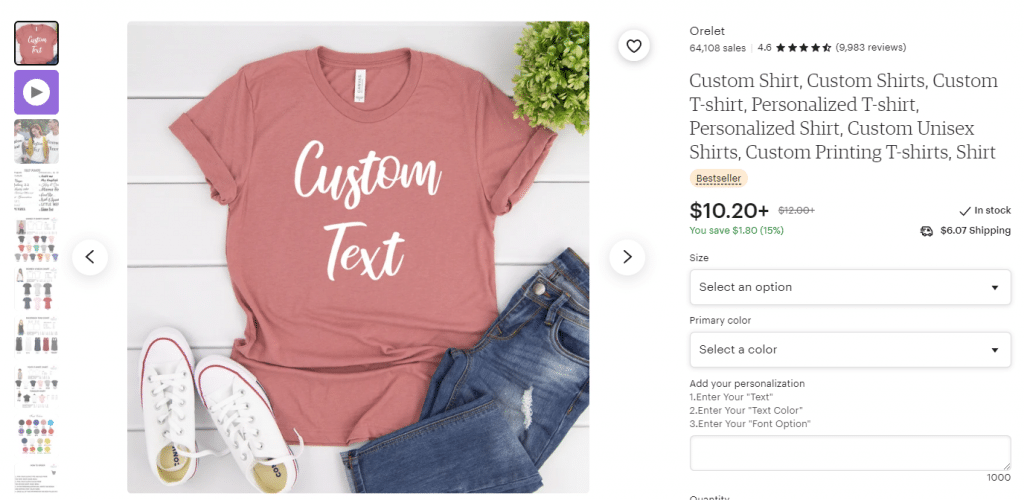 With such tremendous success, it's safe to say that this listing is one to refer to when looking for ways to become successful in custom clothing on Etsy.
Optimized Listings
Regardless of the type of clothing you're selling, your audience, or your price, the one thing that can differentiate a successful product from a failure is listing optimization. The top performers in the space are all fully optimized. They take advantage of the full availability of tags and images for Etsy listings (a total of 13 tags and 10 photos per listing). Why? Because this puts them in an advantageous position when compared to other Sellers.
Successful listings from the custom clothing space are optimized with relevant, highly searched for keywords. For instance, take the 'Custom Hoodie, Personalized Hoodie, Custom Hoodie, Custom Hoodie, Custom Printing, Custom Hoodie for Women, Personalized Hoodie, Hoodie'. This product has sold 174,361 times at a price of $36.54. What makes it so popular?
Apart from following some of the other specifics of the category that we mentioned above, it uses keywords appropriately. The listing title is optimized for:
Custom Hoodie
Personalized Hoodie
Custom Printing
Custom Hoodie for Women
Hoodie
All of these keywords attract traffic from certain target audiences. As a result, they contribute to higher sales volumes. Ultimately, this translates into more earning potential for the Seller.
The Etsy Target Audience For Personalized Clothing
Just like any clothing category, personalized clothing can be targeted at literally anyone. However, our research with Sale Samurai showed us something specific that a lot of top performers shared. They were mainly classified as unisex products or were targeted at the baby market.


Let's take the 'Personalized Newborn Girl Outfit, Custom Newborn Girl Coming Home Outfit, Pink Cotton Outfit with Grey Lettering' listing. With a price of $47.94 and 75,678 sales, this listing is hard to miss. It's a clear sign that the baby market is a popular niche for custom-made clothing, considering that there are nearly 80,000 people interested in such products. What does this mean for you as a Seller? That perhaps creating your first listings with custom baby clothing may be a fruitful idea.
Successful Strategies That You Can Use For Inspiration
So far, we've concluded that customized clothing is a profitable market to enter as an Etsy Seller. We've also explored some of the factors that make listings from the space top-performers. But what can we conclude when it comes to Seller strategy? What are some of the things to make sure you've checked off your list?
Use Keywords Wisely
We touched upon the importance of listing optimization when looking at some of the bestsellers above. One of the key elements of listing optimization is using the right keywords. Make sure that your titles and descriptions include keywords that have high search volumes on Etsy. If possible, source out the ones that also come with less competition. This will put you one step ahead of your competitors. As a result, more buyers will discover your listings and complete a purchase.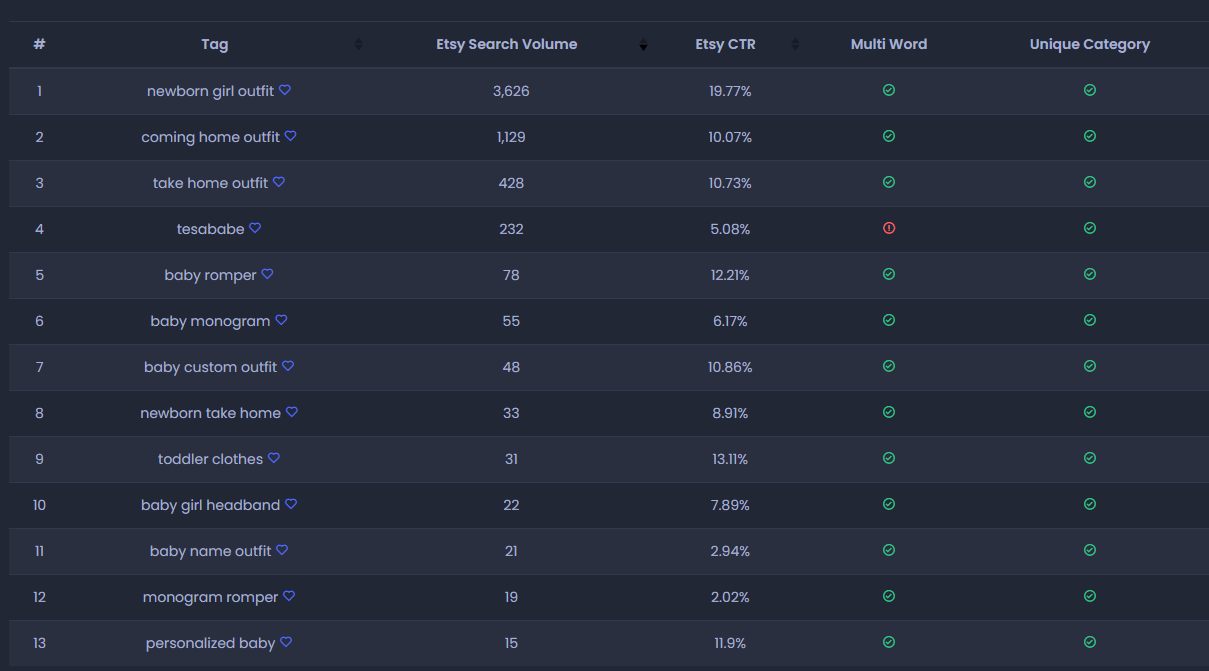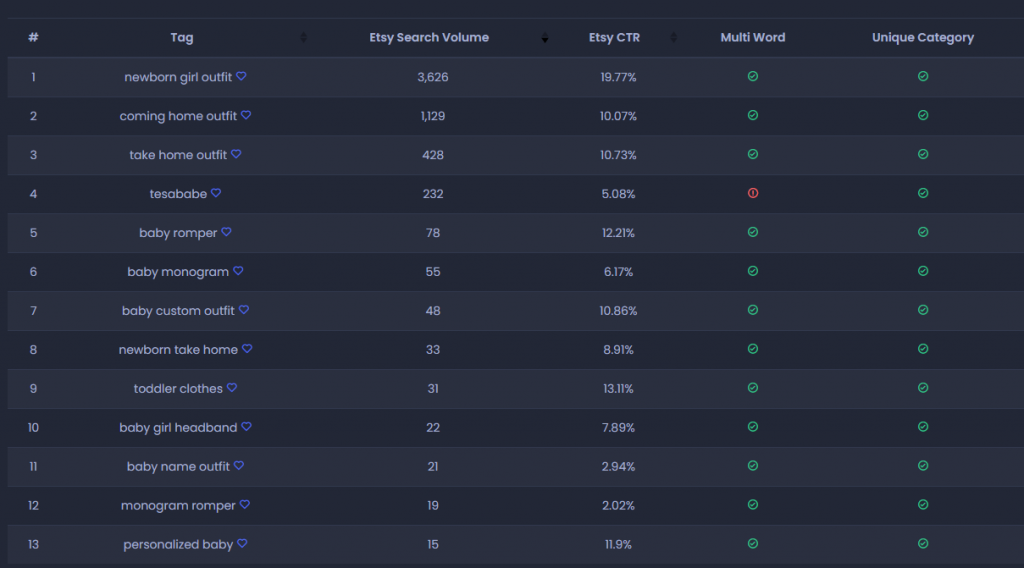 Find The Price Balance
Remember the custom t-shirt listing example with 61,159 sales from earlier? This massively successful product is priced at $14.59. In other words, it's neither too cheap, nor too expensive. How do we know?
When looking at the products that rank for the keyword 'custom shirt', we noticed that the lowest price is $2, while the highest is $70.99. The average price on the market is $18.76, which is pretty close to $14.59. Although there are a myriad of different pricing strategies you can explore, staying in the middle can never be wrong.
When preparing your strategy, research the market average price for the niche products you're planning to sell. As a new entrant, stay somewhere close to that price or slightly beneath it. This will enable you to gain a competitive edge.


Choose Your Audience
Another important factor to consider for your Seller strategy is to design your custom clothing for a specific audience. Some of the popular examples that we looked at were unisex products, baby clothing, and products targeted at women or men. Make sure that you've made your target audience clear straight from the title. Explain who the product is for. This will help you attract the right buyers and convert more of your traffic into sales.
Keep Your Designs Clean
Last but not least, custom clothing products sell best when their design is clean and simple. Although this is not a golden rule, it's certainly something that all top-performers on Etsy share. It's a safe move to create your first listings with a minimalistic design in the personalized clothing space. After gaining traction, you can experiment with more creative designs to see how they perform.
Wrapping up
Overall, there is a lot of potential hidden in the personalized clothing market on Etsy. As a Seller, you can diversify your portfolio and enjoy rewarding results by tapping into this niche.
By using Sale Samurai, you can quickly become familiar with the market, spot any missing gaps, and create a winning strategy.