In the world of mass production, one-of-a-kind handmade items are what truly stands out.
When these items double as keepsakes, they become more than just things, transforming into tangible memories. That's the magic of Etsy – a treasure trove of distinct, handmade items that evoke emotion and encapsulate unforgettable moments.
So, buckle up as we explore this crafty cosmos, as every piece here tells a story. Most importantly, it can turn into a financially rewarding success story for artisans on the platform.
The keepsake handmade item niche on Etsy
Handmade keepsake gems are what Etsy was made to promote. But are they as popular as one might think?
Let's break down the numbers.
Market size
The well-established nature of the market becomes apparent from a mere glance at the search results.
When typing "keepsakes" into Etsy's search box, the algorithm displays more than 600,000 listings that rank for this seed word. And by checking the product descriptions, we discovered that the majority of these products were indeed handmade.


A similar picture is revealed when analyzing the synonym "souvenirs". A total of 387,412 listings appear in search results, proving the substantial size of the market.
Furthermore, Sale Samurai shows that the competition level of the word "keepsakes" is 661,899. This means that more than 600,000 products are competing in the space. The market's aggressiveness is equally harsh for "souvenirs", where the competition level is 626,270.


All of this signals that shoppers must be showing a serious interest in keepsake items, given that so many sellers are striving to get their fingers in the pot of honey.
But is this true? Let's find out by inspecting the search volumes of general niche keywords.
Popularity among shoppers
As we'll demonstrate in the following sections, the keepsakes market is extremely diverse and features multiple sub-niches.
Having said that, researching the general keywords of a niche may not always be enough to get an in-depth understanding of the market's popularity.
For example, the keyword "keepsakes" only receives a monthly search volume of 786. "Souvenir" performs even worse, with only 231 users searching for the word on a monthly basis.
Yet, a look into some of the sub-niches reveals something completely different. For instance, "keepsakes box" generates a monthly search volume of over 1000.


Interestingly for this market, broad keywords accumulate fewer search queries than specific keywords. This is not the case for most niches, but for the keepsakes space, it's definitely something you should be aware of.
This means that optimizing your listings for "keepsakes" only won't result in any fruitful traffic gains or sales. Instead, you'll have to select a particular sub-niche to penetrate and grow as a seller.
So, what are the markets you can choose from?
Sub-niches and themes that sell well
Our first browse through Etsy revealed the following top product categories:
keepsakes box
keepsakes urns
keepsakes box baby
keepsakes necklace
keepsakes gifts
keepsakes baby
keepsakes for ashes / ashes keepsake
keepsakes for funerals
keepsakes for mom
Earlier, we noted how popular keepsakes boxes are among buyers. Other sub-niches, like ashes keepsakes, are just as trendy, with the keyword having a monthly search volume of 1,089.
Most importantly, this specific word also has one of the lowest competition levels (28,533). This is a great example of a top-choice niche, where the search is high, and the competition low.


Entering this niche is likely to reward you with quick wins, as ranking high will be much easier than in other markets. As a result, your visibility will skyrocket, boosting your listings' traffic and sales potential.
But let's not stop there. Here are some of the most lucrative sub-niches in the keepsake niche based on our research on Etsy and Sale Samurai:
Personalized jewelry – This can include bracelets, necklaces, and rings that are engraved with names, dates, or special messages.
Custom portraits and paintings – Whether it's a family portrait, pet portrait, or a painting of a special place, these individualized pieces are unique and cherished by Etsy shoppers.
Handmade candles – These can be customized with scents, colors, and even personal messages.
Monogrammed or personalized accessories – Items like tote bags, makeup bags, or even keychains with a person's initials or name.
Tailor-made wedding keepsakes – These can include items such as guest books, cake toppers, and customized champagne flutes.
Handcrafted wooden items – Keepsake boxes, cutting boards, or other wood products that have been intricately designed and crafted.
Custom quilts and blankets – Often made with special fabrics or themes that are sentimental to the person receiving them.
Custom illustrations and prints – Illustrations of special locations, quotes, or family trees that are framed or printed on high-quality paper.
Handmade baby keepsakes – Items like made-to-order baby blankets, birth announcement plaques, or customized baby clothing.
Memory books and scrapbooks – These are often crafted with care to hold cherished photographs and mementos.
Personalized ornaments – These often come out seasonally, especially around Christmas, and can be customized with family names, dates, or other special details.
Handmade pottery and ceramics – Custom mugs, bowls, or plates that can be monogrammed or designed with special glazes or themes.
Customized leather goods – Wallets, journals, or other leather items that have been stamped or engraved with personal touches.
Specially made pet products – Custom pet tags, bowls, or even portraits of beloved animals.
The list can go on and on, opening up new and exciting keepsake niches to explore.
So how can you decide which one to offer?
Choosing the right keepsakes niche
With such a breadth of options, making a random decision might be tempting. However, such an approach is bound to lead to a dead end.
Instead, we recommend relying on a sound sales strategy.
Use Sale Samurai to research the sub-niches that are of interest to you. Discover the keywords that attract the highest search volumes, yet have the lowest competition levels.
Browse Etsy's listings to become familiar with what some of the bestsellers are doing. Get inspiration from the best practices and adapt your products and listings to fit in with what's already proven to work.
For instance, let's take the "Wood Memory Box, Rustic Wooden Keepsake Box, Personalized Engraved Gift Box, Wedding Memory Chest, Jewelry or Photo Box, Couple's Custom Box" item.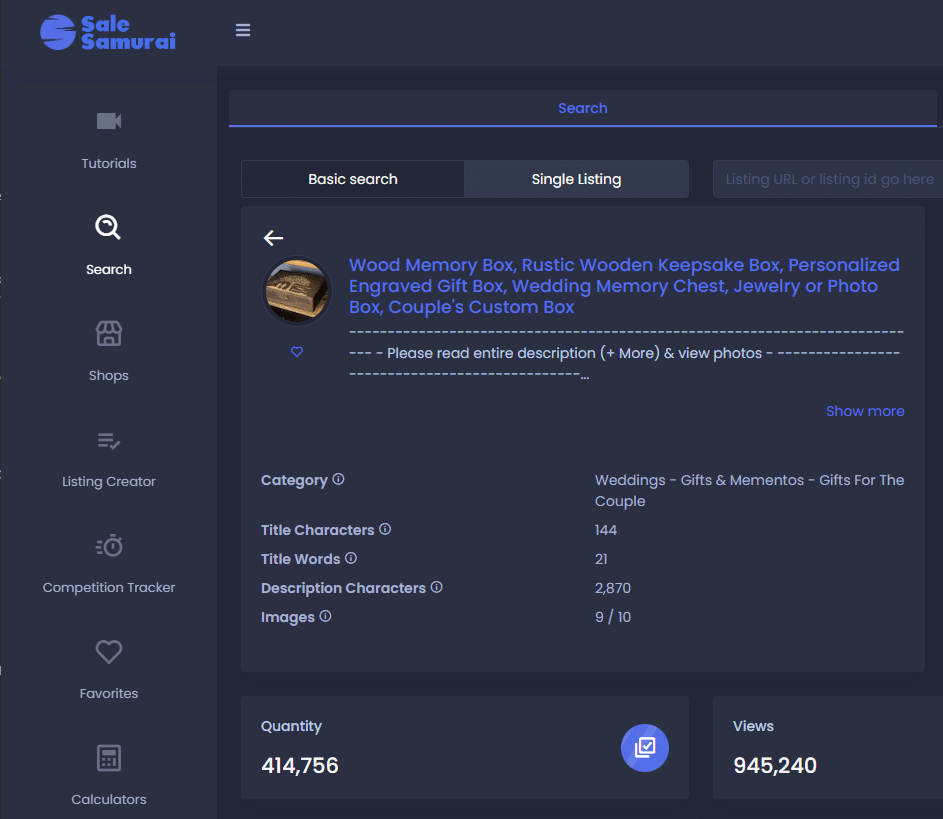 It sells for $38.35 and has contributed to the shop's total of 231,319 sales. The listing alone has generated 3,273 customer reviews, creating a strong wave of interest and sales.
Dissecting this handmade keepsakes gem, we can see that the seller has utilized essential keywords in the title. Some of them include "wood memory box", "rustic", "keepsake box", "wedding", "memory", "personalized", "engraved", and more.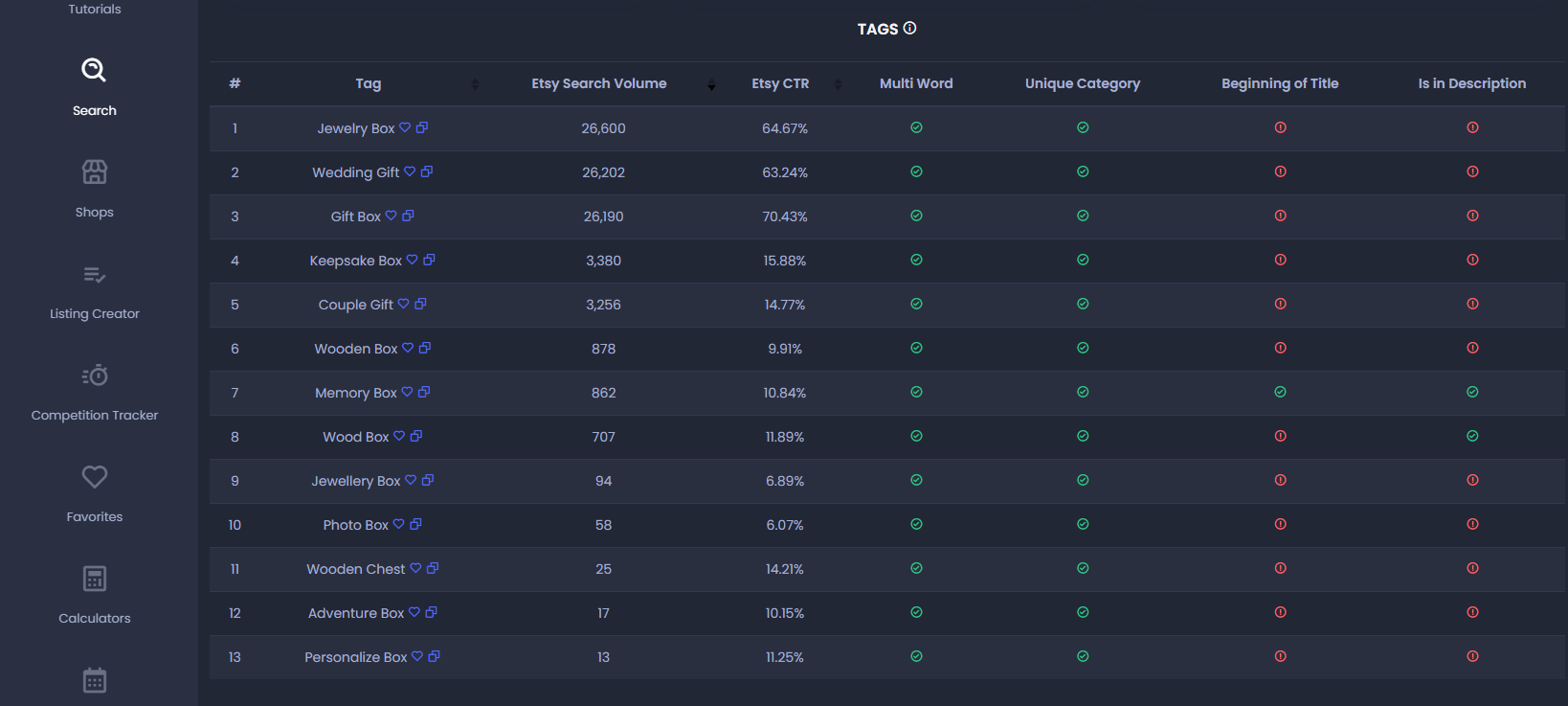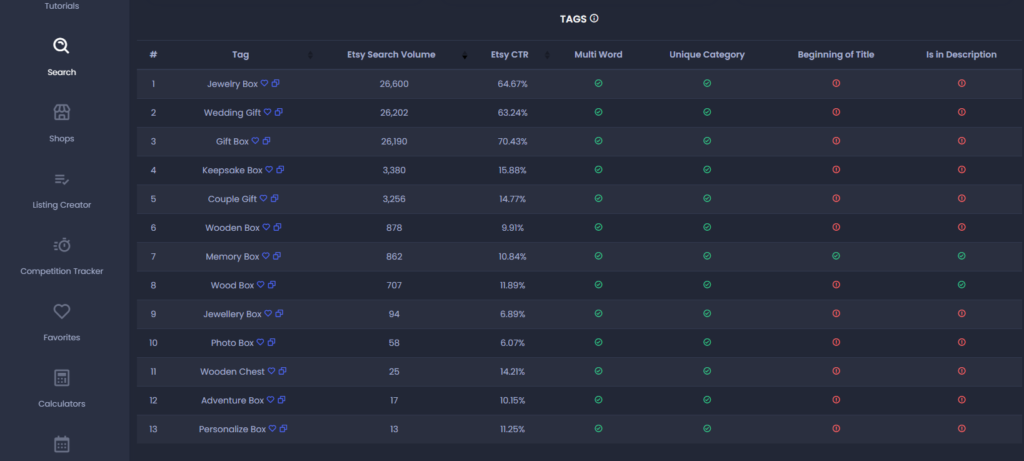 All of these words and phrases are complementary to the "keepsakes" main word. They have their individual search volumes and competition levels. Diversifying the use of keywords in your titles can make your product discoverable to a wider audience. In turn, you can achieve results that are just as satisfying for you, as they are for this shop.
The prices you need to know about
But apart from search volumes, competition, and best practices, you'll need to factor in the profitability perspective.
Different niches come with their own unique highest, lowest, and average market prices. And although there is no written rule to abide by these numbers, it's highly recommended. For example, if you're just entering a new niche, it's advisable to ask for a price that's comparable to the average in the space.
On the other hand, if you're looking to outperform all others by asking for an incredibly low price, set your product around the minimum price in the market. As you gain more experience and popularity, you can afford to increase your prices somewhat closer to the maximum rate.
For the keepsakes market specifically, the minimum, maximum, and average prices are as follows:


Have them in mind when you plan your pricing strategy. Factor in your expenses and calculate how much you can earn per sale.
In conclusion
The keepsakes market on Etsy is colorful and rich, empowering sellers to earn money by offering creative and meaningful items to consumers. Remember to choose a sub-niche and stick to the best practices of bestsellers as a new entrant.
Use Sale Samurai to your advantage as your powerful data weapon that will help you make all the right choices.