Recently, people have been getting on the bandwagon of selling digital downloads on platforms like Etsy. More and more individuals are learning how to use software like Adobe Illustrator and Procreate to make one-of-a-kind creations to sell online.
If you are one of those individuals, you might be asking yourself: How do I stand out? This article explores some of the ways in which you can make your approach more unique and special. Here's how to stand out in the crowded digital download market on Etsy:
Sell unique goods
Present your product well
Offer more than listings
Research Search Engine Optimization
Advertise like a pro
Take advantage of holidays and special occasions
Go the extra mile in customer service
Let's go over each point and zero in on how to rise above the competition!
Sell Unique Goods
This one might be a no-brainer, but nonetheless, we are addressing it. When selling a product, you have to differentiate from other markets, whether that's in price, quality, or uniqueness.
Because Etsy is such a big market, it's nearly impossible to compete price wise- there are many options that are cheap and affordable. Plus, if you price your listing too low, potential buyers might make the conclusion that your product lacks quality, and therefore choose not to buy it.
If you're selling digital downloads, there are probably a limited amount of things you can do to ensure quality other than make sure the images or sound you are selling are as sharp and clear as they can be.
Making your product unique is a surefire way of standing out from the crowd. How do you do that? First of all, know your market. Search for similar items on Etsy and take notes on what their features are- how are they presented in photos? What design elements are used? How are they described and tagged?
Secondly, you will want to embellish your products with your signature style. What makes your listings yours? What are you good at that you can really capitalize on? This can be anything from having a really unique and themed style of calligraphy to a cool, abstract style of editing your digital prints in Photoshop.
Present Your Product Well
Make sure to include captivating and high-quality photos in your listings. This can be as simple as using mock-ups to having a lightbox and dedicated camera for your photo shoots. Remember to use your best photo as the first photo when your listing appears in search results.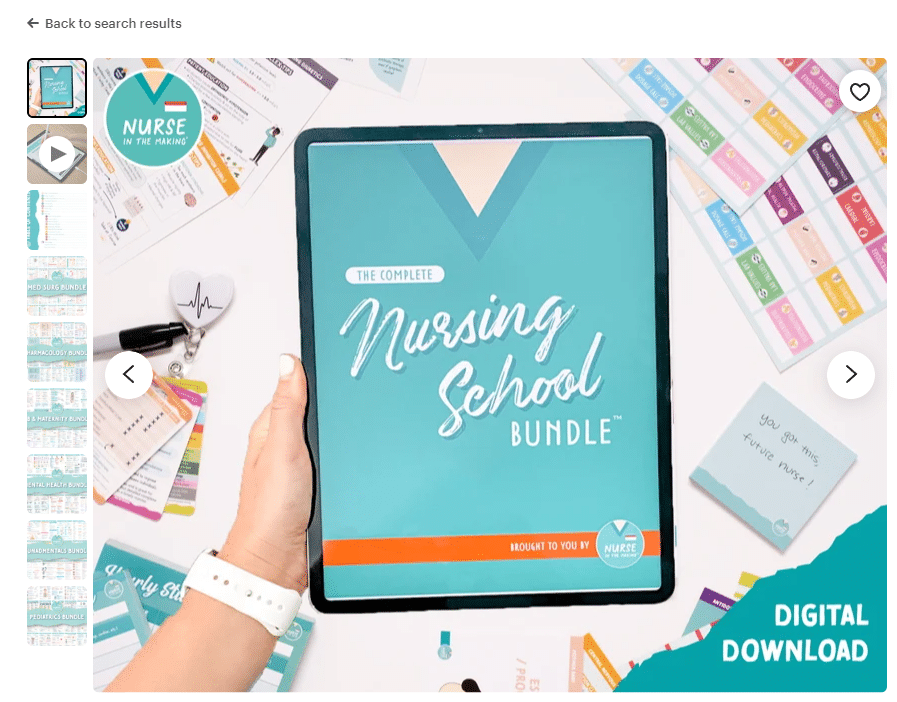 While having good photos is a very good thing, having a video is even better. If you have multiple pages or documents in your listing, taking a screen recording of you showcasing your work can really take the listing to the next level.
Apps like Loom and Camtasia can help with this process, and Adobe Premier Pro and Apple iMovie can edit the videos once they've been shot. Etsy allows one 5-15 second video per listing, with a resolution of at least 1080px.
Offer More Than Listings
A lot of Etsy shops are just that- shops. They don't go any further than selling a product. Offering your customers more than just your listings can go a long way in making your shop stand out.
One way to make this happen is to fill in your About page with as much information as possible, and include pictures if you can. Tell shoppers about how you design your digital art and what inspires you. This little act will make potential buyers so much more comfortable purchasing from your shop.


You can take it a step further and create a blog documenting your design process- and anything else you want to include. Websites like WordPress and Squarespace make this quite easy- and cheap, too.
Let's say you're a stay-at-home mom who makes digital animal prints. You can totally take advantage of this fact and blog about your daily antics and funny moments you experience as a mom. You could even write about how you make your special vegan baby food or about a secret hack you know about when doing laundry.
Or let's say you're a digital nomad traveling the world selling wanderlust stickers. You could blog about your adventures and escapades and share how you get from place to place, whether that be in a van or a first-class plane. The sky's the limit with blogging.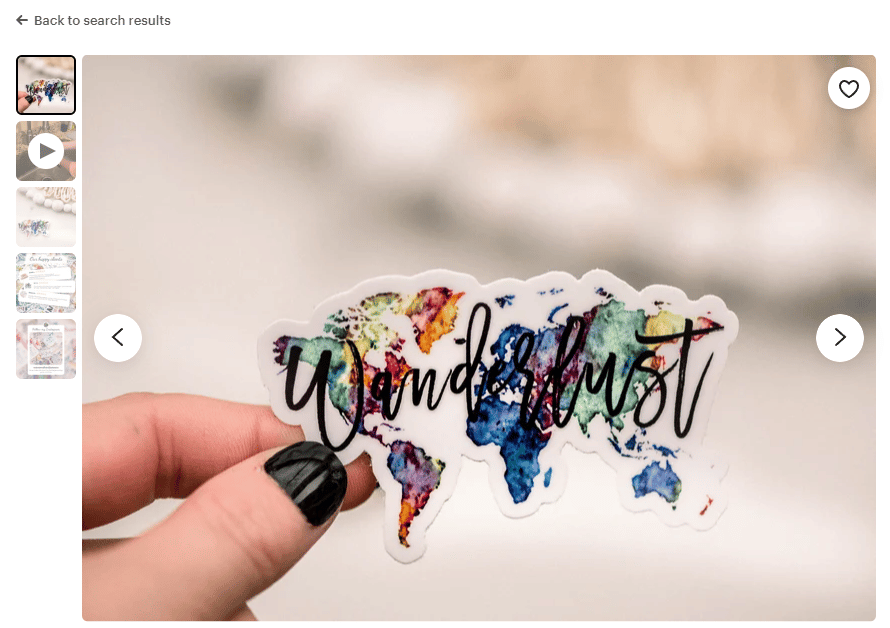 Another way you can offer your customers more is to have a dedicated YouTube or TikTok channel- you can make videos about anything from your design process to your pets to a tutorial of how to use different brushes on Adobe Photoshop that you are known for using.
Giving your customers a taste of your life and design inspiration is special and makes the shopping experience more exciting. Getting to know you and your day-to-day life as a shopper will make them remember you and see the story behind the listing, making it that much more unique.
Research Search Engine Optimization
Search Engine Optimization, or SEO, is so very important when making your listings stand out. Every expert Etsy seller will tell you that their listings are optimized for Etsy and Google search. While this isn't a requirement, it is one of the bigger things you can do to make sales.
First of all, do your homework. Sit a spell and conduct research on what keywords rank and what is trending at the moment. Knowing how shoppers think is a major advantage when selling, well, anything.
This can be as simple as using a keyword research tool catered towards Etsy. There are plenty out there, and some are free to use! Keep a detailed list of your findings and jot down which keywords and terms are the most popular.
The next step is to apply what you've learned and use it in your listings. This means optimizing your title, description, and tags, as well as filling out the category and attributes of your listing.
When titling your listing, always use the strongest keyword first, followed by second strongest, et cetera. Etsy acts as a matchmaker between your listing and shoppers, and the title is one of the factors it looks at.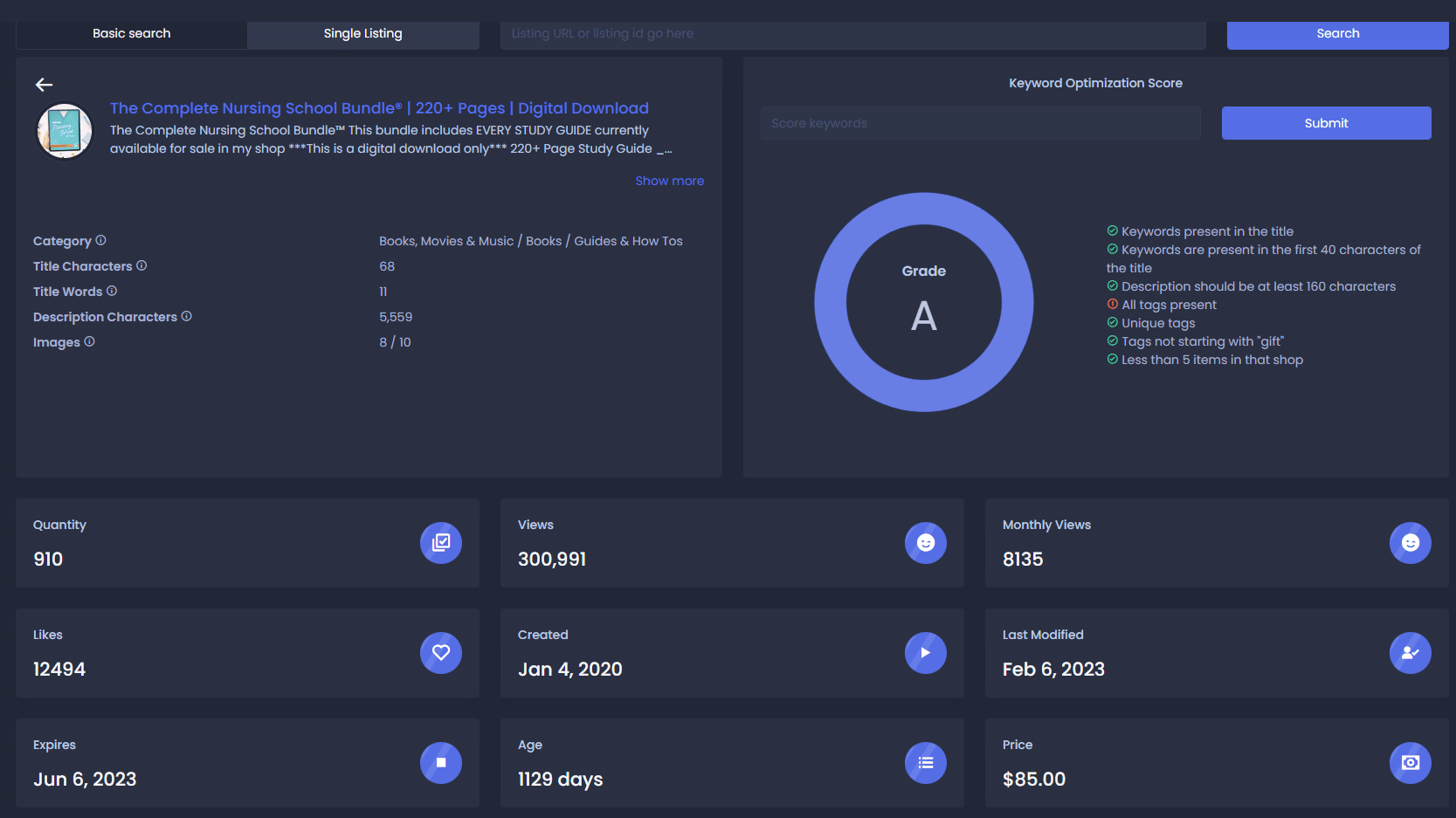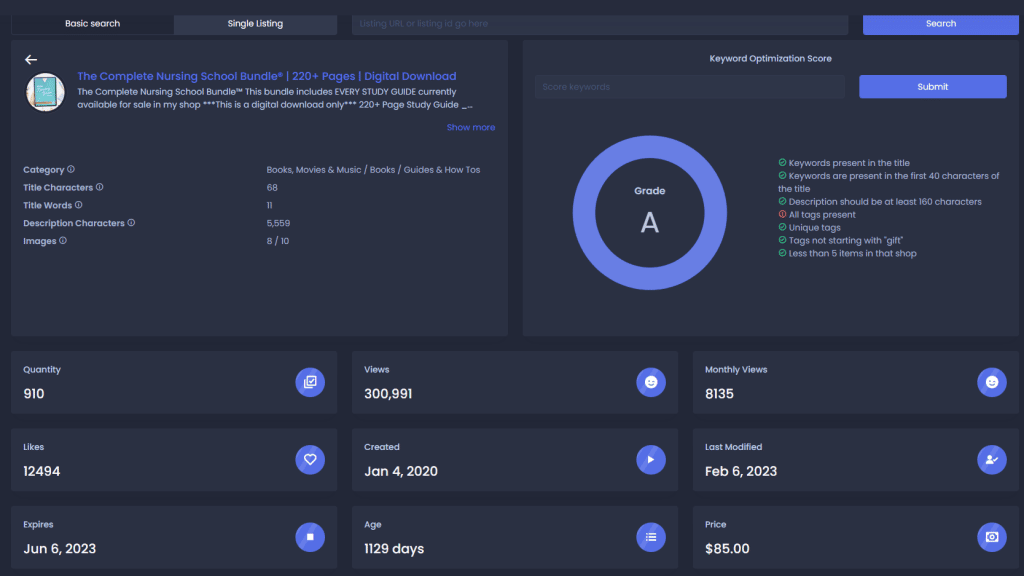 The description is no different. Include strong keywords when describing your product, and take advantage of the first 160 characters since that is what will be displayed to your customers. You want the description to be easy to understand.
Make sure to fill in the category and attributes of your digital download, because those are technically "free" keywords that Etsy uses, as well. Be as specific as possible.
You are allowed 13 tags to use for each listing. For the best possible rankings, use all 13 and make sure that they are different from the category and attributes that you've already filled out. Don't use other languages to tag your product because Etsy does that automatically for you.
Remember to refresh and update your listings regularly, since some keywords might be seasonal or become outdated. Also, when you update your listing, Etsy boosts it temporarily to test popularity and help you generate sales.
Advertise Like a Pro
Advertising your listings is arguably a crucial part to bringing in new customers and making sales. When it comes to Etsy ads, it is important to monitor how they perform once you start paying for them and be flexible.
To start an Etsy ad, go to your Shop Manager. From there, choose Marketing, then Etsy Ads. From there, you can set a daily budget. This budget is $1 minimum per day and $25 maximum per day when you first start out on Etsy.

Every listing is automatically enrolled in Etsy Ads when you first start your ad campaign. To change the listings advertised, click Manage Advertised Listings from Etsy Ads. There, you can select Ad on/off for each listing.
While there aren't a lot of customization options for Etsy ads, every variable that you can control is important, from the amount of money you choose to spend to the listings you choose to advertise. Keep a close eye on how many people see and click on your ads each day, and note your conversion rate for each listing.
If you see that a particular listing is doing good, advertise it on multiple platforms. If you see that a listing is falling behind on views or revenue, take notes on what could be improved and revamped in the listing, or the product itself.


When advertising on social media sites, being consistent and actively engaging with your followers is crucial. While posting every day isn't a requirement, it certainly can't hurt. Replying to comments and questions about your products can build rapport and credibility, which will, of course, help with sales in the long run.
Using proper hashtags and keywords on your social media is also important. Apps like TikTok and Instagram will showcase people your posts if what they type in matches what you've tagged your post with.
Take Advantage of Holidays and Special Occasions
Holidays, birthdays, and weddings are the perfect excuse for people to shop. As a digital download seller, capitalizing on such events can boost your shop's exposure dramatically. This means creating themed products and making specific categories in your shop geared toward those special days.
Promo codes and sales are also another way to promote your shop during the more busy seasons. You can make a promo code for specific items in your shop, or all of them, by selecting Sales and Discounts under the Marketing tab in your Shop Manager.
When you make a promo code, you can choose a percentage off, a fixed amount off, or free standard shipping. You can then choose who you want to share the promo code with, whether that is your followers on Pinterest or people who have favorited your shop, or everyone!
You can also make a sale by selecting Sales and Discounts. With a sale, you can choose to have a percentage off or have standard shipping. Sales are a bit different than promo codes because they are available to everyone who visits your shop.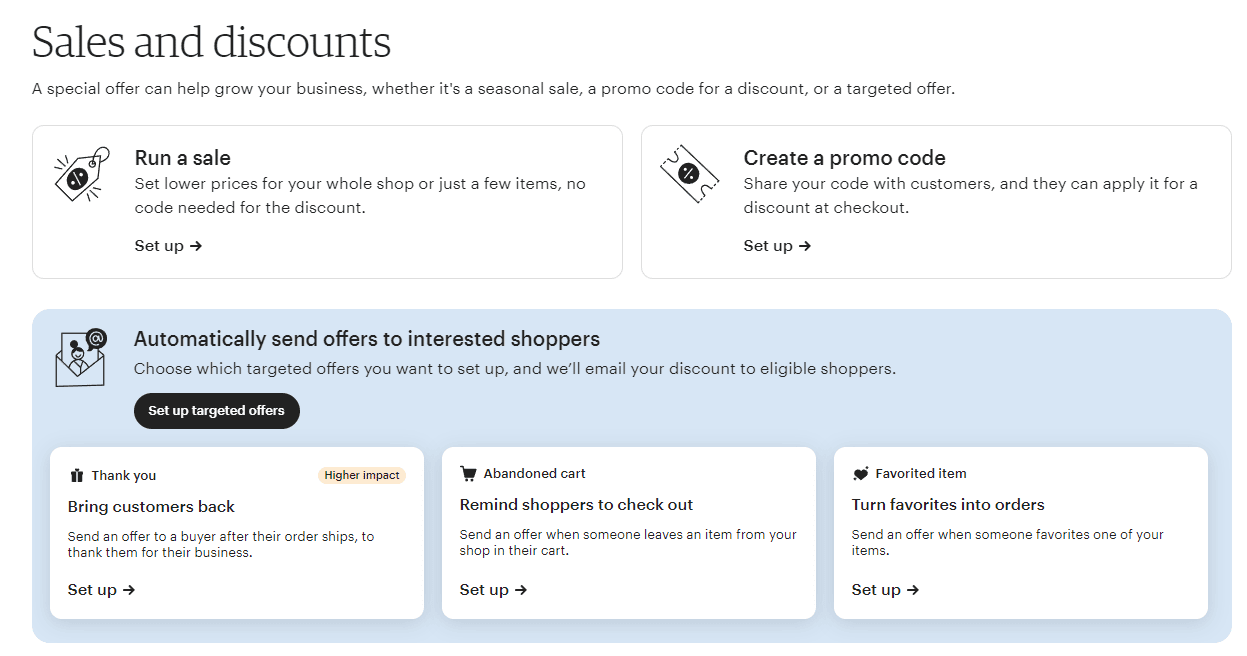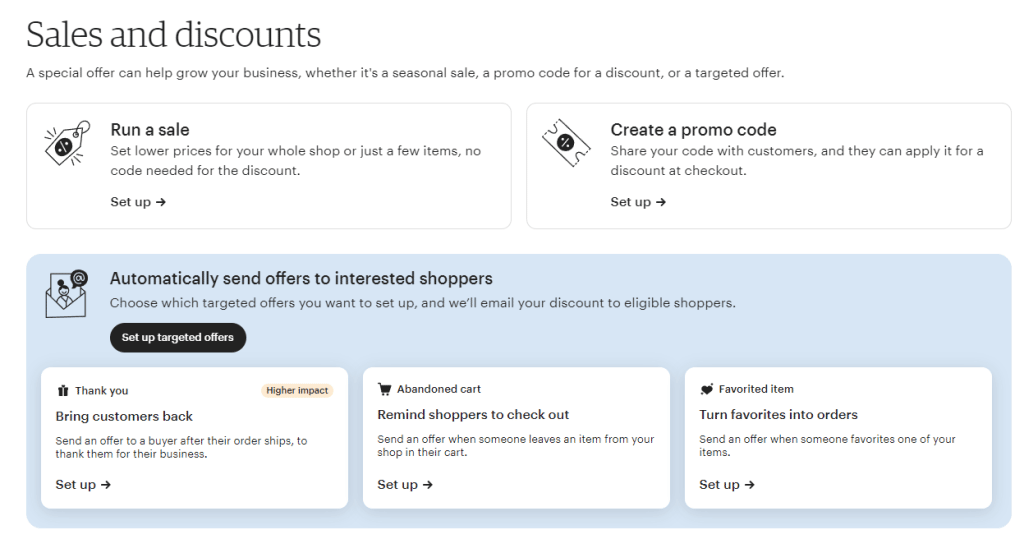 Etsy often has site-wide sales on holidays like Cyber Monday and Easter. Participating in these sales is very beneficial to your shop- and it can land your shop in Etsy's featured shops page. Of course, you have to run a specific sale during that time.
To know what kind of sale Etsy is conducting at what time, go to your Shop Manager Dashboard. To edit or end a sale, you can click See Details and Manage from your Sales and Coupons page.
Go the Extra Mile in Customer Service
Answering customer inquiries and offering excellent service is yet another thing that can help your shop stand out. Whether a customer is displeased with their order or is confused about how to download your digital journal onto their iPad, your timely reply will surely be appreciated.
Turning potential negative reviews into positive ones will help your shop thrive and potentially even shoot you up to Star Seller status. Yes, you heard that right. Star Seller status- it's a prestigious badge that Etsy gives to shops that meet certain requirements.
Variables such as your message response rate, on-time shipping and tracking, ratings, orders, and sales all contribute to Etsy's decision to promote your shop. Etsy looks at the last three months' performance to determine whether or not you qualify.
You can see how close you are to qualifying by going to the Star Seller tab in your Shop Manager.
While this won't necessarily boost your listings in rankings, it will catch shoppers' eyes when they are scouting online.
When selling digital downloads- or anything- on Etsy, it's a good idea to remember why you do it in the first place- because it is your passion! As long as what you are doing brings you joy and fulfillment, the rest will follow.