Handmade wallpaper is an incredible way to bring life to your interior. As a home décor accessory, it's come in and out of fashion over the years. Nowadays, it's making a comeback. And is there a better springboard than Etsy for its return? Unlikely.
For sellers who are interested in making a profitable entry in this niche, it's worth knowing where you stand and what the layout of the market is in terms of size and search volume. Hence, we've prepared this article to help you better navigate this particular landscape on Etsy,
Let's take an in-depth look below.
How big is the market for handmade wallpaper?


Our search begins with a direct look at the Etsy marketplace where we typed in the keyword "handmade wallpaper". The results already look promising with only 4,329 listings on the platform. Essentially, it means it is a low-competition niche which is not saturated with too many sellers offering the same thing.
Listings saturation and search volume
But to take our search even further, we also got some help from Sale Samurai. In particular, we looked at related keywords and Etsy search volume.
Here's what we found:
",Wallpaper": Etsy search volume – 26,614; listings – 468,399
"Wallpaper wallpaper": Etsy search volume – 3,632; listings – 468,398
"Wallpapers": Etsy search volume – 3,146; listings – 468,399
"Wallpaper": Etsy search volume – 2,925; listings – 468,357
"Tropical wallpaper": Etsy search volume – 1,127; listings – 34,935
"Waves wallpaper": Etsy search volume – 1,067; listings – 4,171
". wallpaper": Etsy search volume – 928; listings – 969
"Textures wallpaper": Etsy search volume – 443; listings – 17,415
"Trellis wallpaper": Etsy search volume – 443; listings – 967
"Textured wallpaper": Etsy search volume – 436; listings – 17,357
"Thibaut wallpaper": Etsy search volume – 435; listings – 375
"Whimsical wallpaper": Etsy search volume – 435; listings – 2,528
"Vlies wallpaper": Etsy search volume – 405; listings – 782
"A wallpaper": Etsy search volume – 344; listings – 468,428
What becomes apparent almost immediately after carrying out this search is that there is almost a direct correlation between the number of listings on Etsy for the search term ". wallpaper" and the search volume for this keyword. What is another interesting insight is that the combined search volume is close to the number of listings for the primary search query.
We are by no means mathematicians but what is clear from all this is that search volume and supply on the marketplace are relatively consistent and this should already give you the green light to proceed with this niche. However, our search process is far from over.
Let's explore some of the tags used by sellers to get in front of an audience.
Tags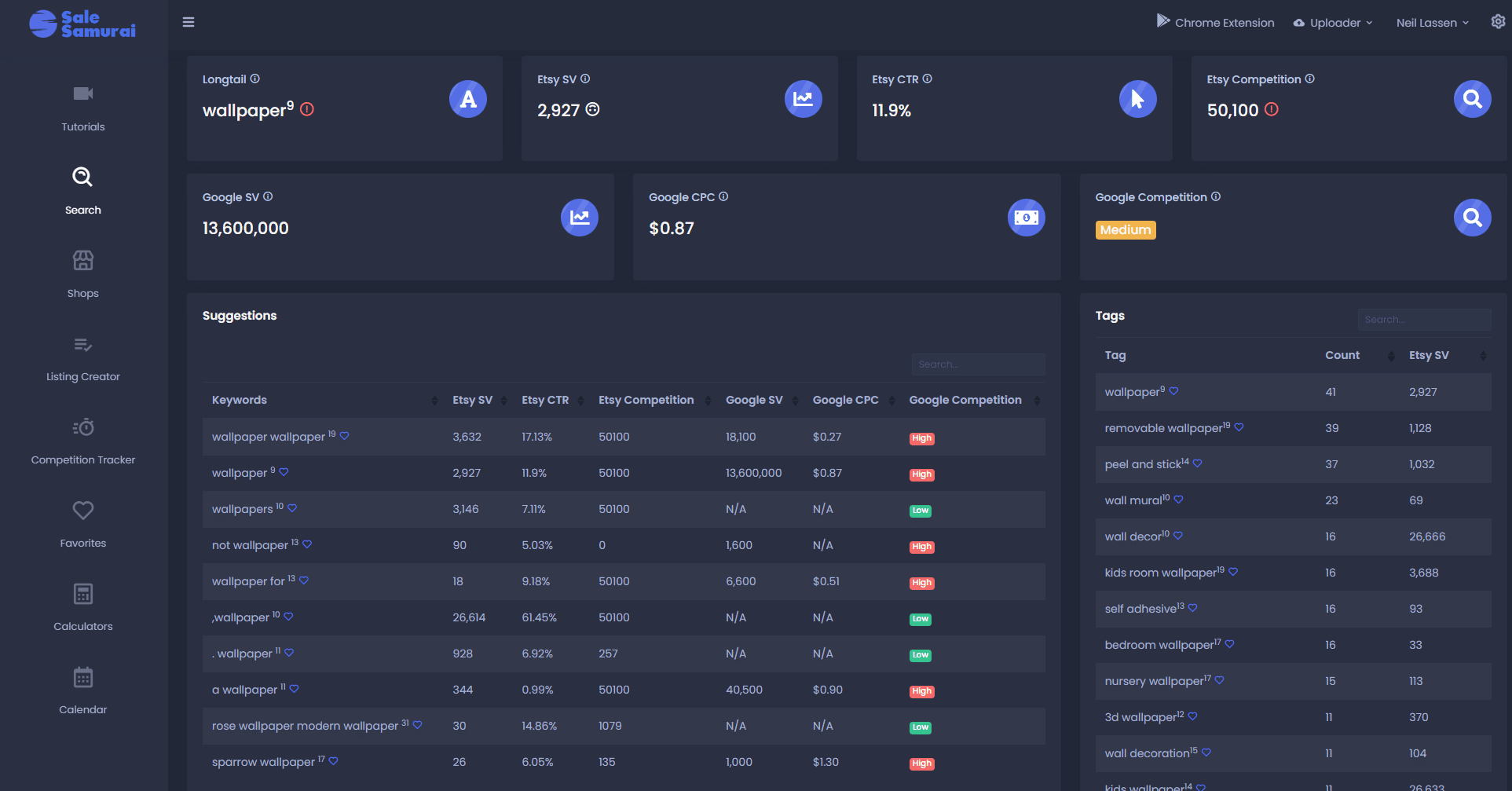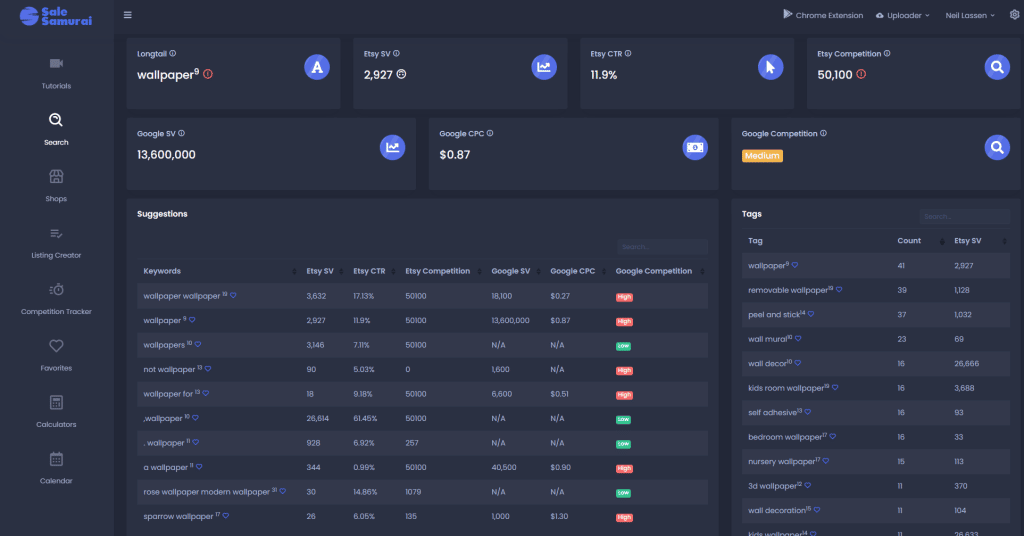 Etsy gives sellers 13 tags to optimize their listing for searches. You may think that 13 is a big number, but each tag should be carefully selected and should ideally be optimized for long-tail keywords to capture as much of a user's search intent as possible. In our quest to see what current bestsellers have done in this regard, we headed back to Sale Samurai and explored some of the most frequently used, high Etsy search volume tags.
These are the results:
"Wall decor": Etsy search volume – 26,640
"Kids wallpaper": Etsy search volume – 26,633
"Wallpaper": Etsy search volume – 2,925
"Removable wallpaper": Etsy search volume – 1,108
"Wave wallpaper": Etsy search volume – 1,049
"Grasscloth wallpaper": Etsy search volume – 460
'Geometric wallpaper": Etsy search volume – 444
"Floral wallpaper": Etsy search volume – 427
"Temporary wallpaper": Etsy search volume – 212
"Playroom wallpaper": Etsy search volume – 209
"Nursery wallpaper": Etsy search volume – 113
Based on these findings, we immediately observe that there is a dual search for the general "wallpaper" keyword. The first is that most Etsy customers are looking for temporary or removable wall decor. The second is that the remaining Etsy customers are looking for wallpaper for their children's nurseries or playrooms. Sellers catering to this dual search demand are in luck.
But how should you price your wallpaper products? Let's explore in more depth below.
Prices


Sale Samurai is absolutely invaluable when it comes to calculating the lowest, highest, and average prices for wallpaper on Etsy. No more lengthy and complicated calculations. It's all done for you with a simple click of the "search" button after entering the desired keyword.
Consequently, the search term "handmade wallpaper" gives us the following prices: the lowest price is $1.00, the highest price is $730.00, and the average price is $74.50. We will now look at some of the bestsellers in the average price range and see what they are doing right to get in front of the desired audience.
What are some of the best-selling merchants doing right?
Instead of two bestsellers in the average price category mentioned above, we discovered one bestseller who is offering two separate types of wallpaper on Etsy. Both of these products have sold successfully in the past resulting in star-seller status. But let's look at what this seller – ShopyLandUS – is doing right.
We begin with their first item titled "Exotic Forest Removable Wallpaper, Tropical Parrot Peel and Stick wall covering, Palm Leaves Green Pattern, W205". This wallpaper has reached 1,026 sales at a price of $63.90. In addition, it has a 4.9 out of five star rating and 233 reviews.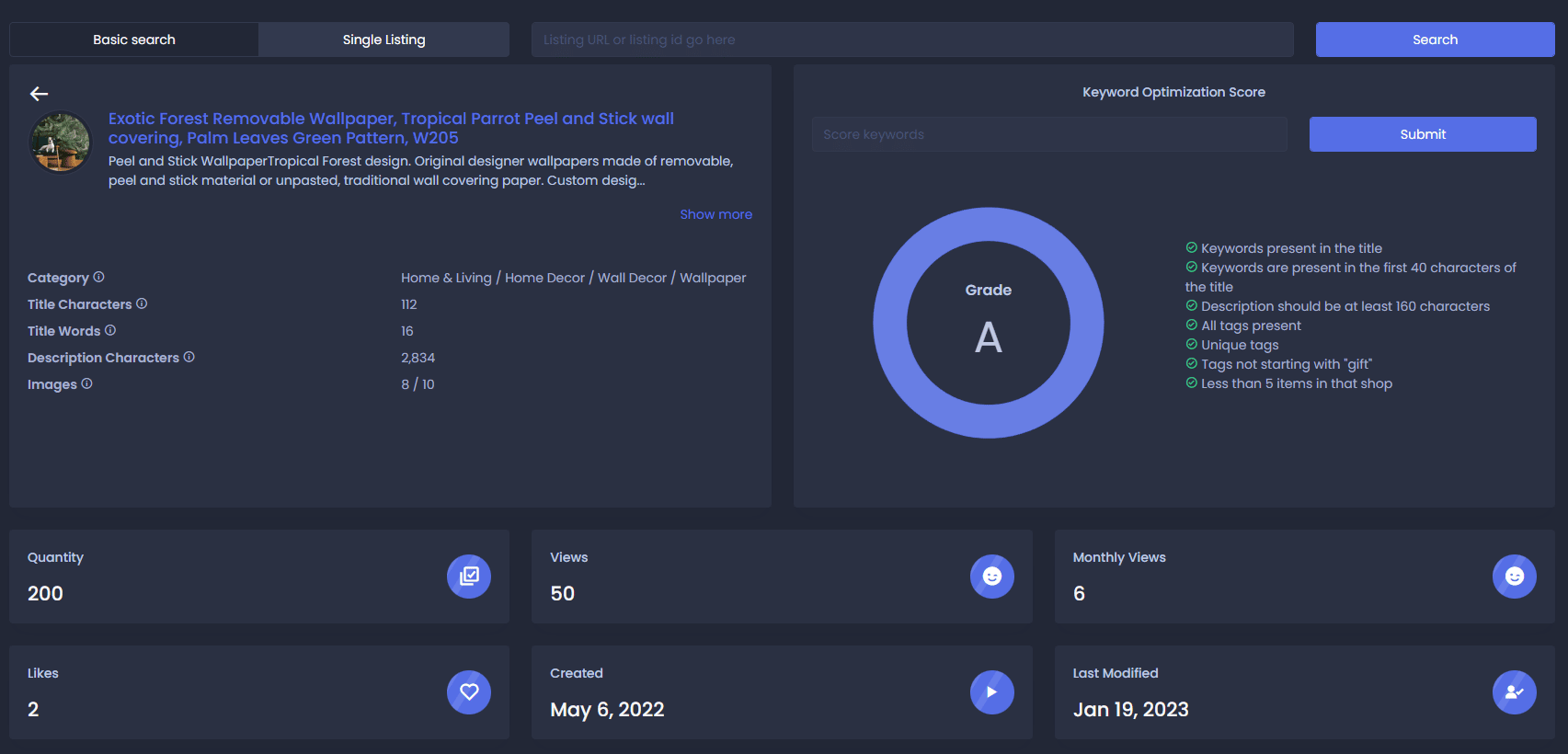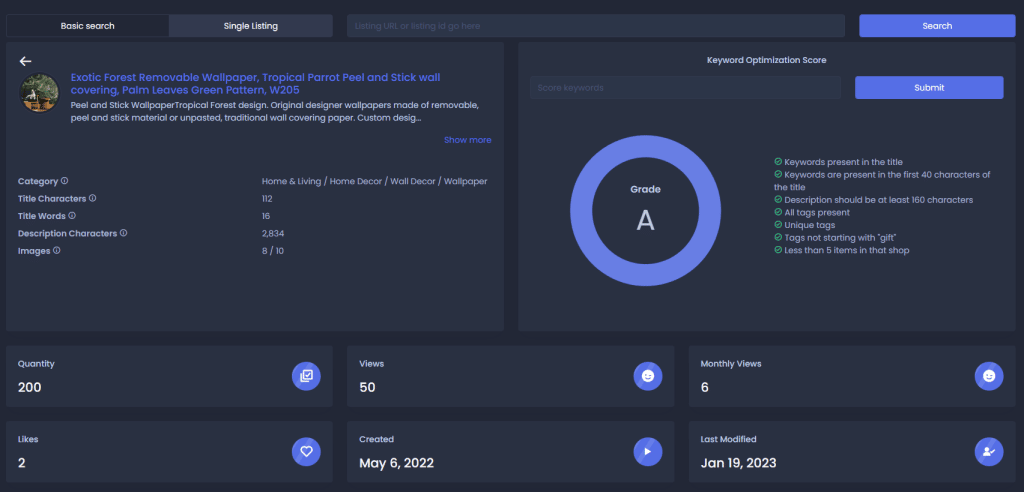 The second item is the "Geometric Pattern Removable Wallpaper, Vintage Wallpaper, Retro Shapes Peel and Stick Wallpaper, Colorful Pattern, W204". With 1,026 sales at a price of $63.90, there are also many reviews (233) with a high star rating.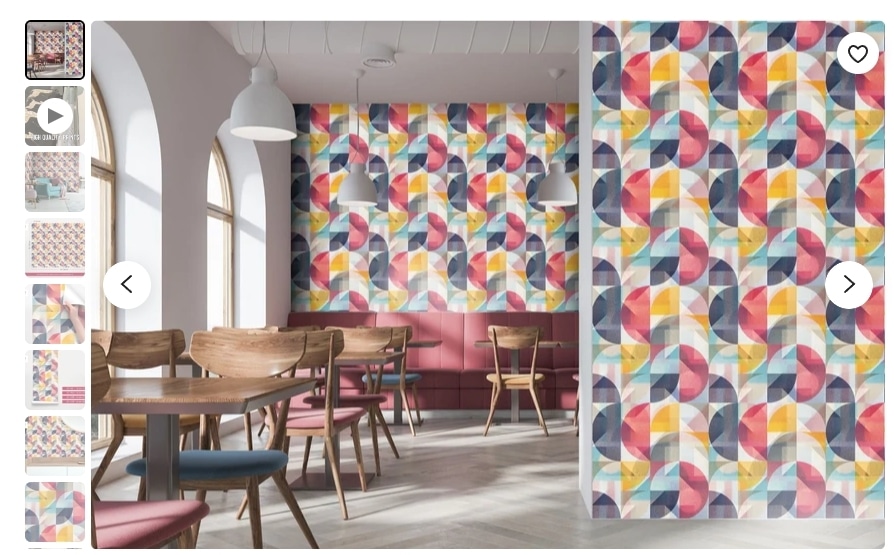 Keyword optimization
What becomes evident from this seller's two products is that they have included words to cater to the fact that there is a high search query for removable, peel-off, peel and stick type of wallpaper on Etsy. They are specifically catering to the home décor niche and demand for such products. They have specifically used the term "wallpaper" and they have embellished it by adding descriptive adjectives before the noun to ensure a more accurate picture is presented to the buyers.
Pricing
The prices of this seller for both products fall within the average in this niche. As such, they are demonstrating a high quality product that is competitively priced around the $70-mark.
Images
The seller has also used between seven and nine images for their wallpaper, with each image (and videos) giving customers even more information about what they will get. Information includes aspects such as sizing, peel-on, peel-off factors, colors, designs, and more.
How profitable is this niche?
Because the same seller has done well with two products that are priced the same, we will explore the combined turnover for both. As such, we multiplied the number of sales (1,026) by the price of $63.90. The general turnover for one of these items is $65,561.40. Multiply this by two and we get over $120,000 in turnover from these two products alone. This is a pure illustration of how one seller can make profits into the tens and hundreds of thousands, when using an optimized listing and pricing accurately.
Our tip-list for sellers seeking to enter this niche
If handmade wallpaper is something you are good at, and you are looking for a market to sell it on, Etsy is your best bet.
Here are our recommendations to thrive in this niche.
Keywords
It's important to note that when you look at both Etsy and the Sale Samurai platform, a lot of search results will appear for "digital wallpaper". But this is something completely different to handmade wallpaper. As such, any reference to digital, online, computer, phone, etc. must be eliminated from your list.
Smart keyword usage that factors in high search volume keywords such as "peel on peel off" or "removable", as well as capturing search queries for nurseries and playrooms will be your best bet.
Also to be taken into account is the fact that buyers are purchasing handmade wallpaper as a home décor item, and you can incorporate this high volume search term in your titles, descriptions, and tags, too.
Pricing strategy
We already covered the importance of strategic pricing, but we think it's worth mentioning once again. Smart pricing that is in the region of the average for a particular niche signals to buyers that your product is of a high quality, while also giving you the opportunity to make a profit for yourself. Therefore, staying within the parameters of $70 will be your best bet. However, this will also depend on the quantity of wallpaper you are offering.
Images

Images should be utilized to their fullest potential. Etsy allocates 10 spaces for images and customers look at these first and foremost before anything else when making a buying decision. Images can be combined with video. This is the recommended path, as video is king.
Anything that stimulates and engages the visual senses is a strong strategy to follow. Your videos and images should be accurate depictions of your handmade wallpaper products and provide as much visual information as possible. If you are presenting your product in an image, it's also worth remembering to use it in a lifestyle setting as opposed to a static one, where possible.
Ratings and reviews
We now reach the fourth pillar of a successful sales strategy on Etsy. And that is ratings and reviews. These are generated as more momentum accumulates around the sale of your products. More customers see your product, more purchase from you, and you therefore get higher rankings, higher visibility, and ultimately more exposure to a greater audience.
These are not something you can directly influence. However, there are important customer service practices to follow to ensure that you generate positive reviews and that your product continues to sell well.
Closing remarks
Selling handmade wallpaper is a nice way to make an entry on Etsy. However, with a loud and competitive marketplace, you need to stand out from the crowd. You can do this by following our tips mentioned above and by using Sale Samurai to help you with your listing optimization process.
If you're wondering how much it costs, it's only $9.99 per month. This will barely make a dent in your wallet each month. But what it will do is help you skyrocket your Etsy sales in no time.