Q1 of 2023 is in full swing, but the best of it is still to come. If you're wondering how to diversify your seller portfolio and tap into fruitful niches with guaranteed profitability, we're here to help.
In the following sections, we've summarized the sweet sauce when it comes to niches from last year. But most importantly, we've provided a summary of all of the hot niches that are about to explode in popularity in Q1 of 2023.


The most popular niches in Q1 of 2022
2022 brought a lot to the table. Sellers who managed to stay ahead of trends with the help of reliable business intelligence data certainly had a lot of options to dive into. It was the year of aristocratic weddings, hot pink everything, coastal granny aesthetics, emerald green, and more.
As a provider of handmade and authentic goods, Etsy attracted incredible levels of interest, reaching nearly 94 million users. When it comes to the first quarter of the year, some of the top niches were:
Valentine's Day
International Women's Day
Pink and green-inspired products
Pet-related homemade goods
Weddings
Nature-inspired products
And, in terms of product categories, there were unquestionable overachievers, too. An Etsy report from Q1 2022 states that the following categories attracted around 15 million active buyers each: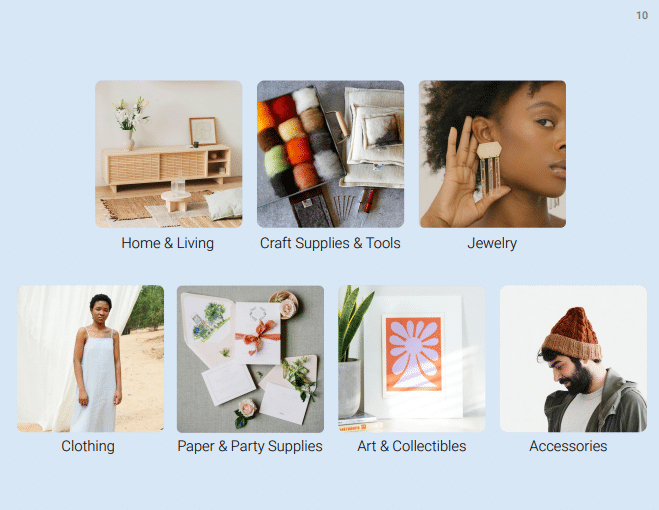 Creating merges between these niches and categories proved to be a successful strategy for informed sellers. But if you're excited to raise your Etsy game to the next level in 2023, sticking to outdated insights won't do it.
You need a fresh overview of what's coming next. And the sooner you get an idea of the rising trends in Etsy niches, the higher chance you have of positioning yourself ahead of competitors. What does this translate into financially? Potentially a record-breaking year.
So let's see which of these niches and categories are forecasted to attract users in 2023 and what new trends we can expect to see on the platform.
The wave-making niches at the start of 2023
Research into customer behavior suggests that in 2023, one of the big concepts on Etsy will be duality. Rather than having to choose between one concept or the other, predictions are that shoppers will be actively looking for products that embrace the best of both worlds. For example, this could mean beautiful combinations of vibrant shades with natural, earthy hues. Or perhaps creating handmade clothing that mixes individual fashion styles into one.
We wanted to share this with you before we get into the nuts and bolts of trending niches. Why? Because you can easily incorporate duality into your listings from any niche, increasing their chances of success.
Now, let's get straight to the wave-making niches in Q1 2023.
Holidays
There are certain holidays that trigger tremendous search volumes throughout different phases of the year. In Q1, some of the most popular ones include St. Valentine's Day and International Women's Day.


Tapping into these niches is like adding chocolate to ice cream. They're a sweet opportunity to make some extra money around mid February mid March. Below, we offer some ideas on finding the best combination of niche and product categories.
New Year Refresh
Let's face it – new year refresh handmade products are a trend at the start of any year. And 2023 is no exception. From January to March, most consumers are actively looking to form new, healthy habits, set and achieve goals, and organize parts of their lives.
As a result, we can expect a rise in searches for products related to weight loss, holiday planning, organizing your wardrobe, cleaning different parts of the house, and others.
Motivational
On a similar note, the motivational niche is also expected to boom in Q1 2023. This trend can also be explained by behavior related to the start of the year. A lot of users explore different avenues to find inspiration, change their mindset to a more positive one, and create the best versions of themselves.
As an Etsy seller, you can use this opportunity. You can not only sell handmade motivational products that inspire change, but also enjoy a good profit for your efforts.
Coffee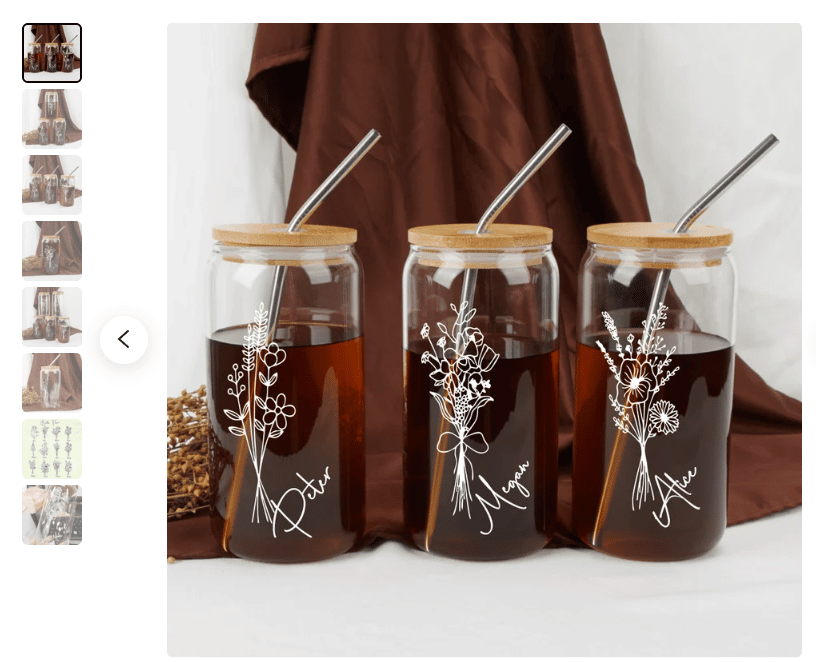 Believe it or not, coffee is an all-year-round trend on Etsy. People are simply in love with all handmade products related to coffee, and we're not talking about the drink alone. Anything from coffee table décor to coffee t-shirts, coffee cups, and coffee candles will perform exceptionally well at the start of the year.
Well-being
Another rising trend during this period is well-being. In most cases, finishing the year is associated with accumulated stress from work, responsibilities, and routine. The best way to release the tension and get a fresh start to the new year is to focus on well-being products.
In this niche, some of the most popular keywords include "calming", "stress", "relaxation", "candles", and more.
Where niche meets category – expected trends in 2023's Q1
So far, so good. But with so many different categories on Etsy, knowing about the trending niches won't be enough. You'll also need to pair them with the right product types. This way, you can reach more users with popular keywords from both niches and categories. Most importantly, you can provide products that are truly attractive to buyers.
Overall, the following handmade product categories are expected to take the lead on Etsy in Q1 2023:
Stickers
Notebooks and journals
Home decor
Posters
Toys & baby items
Vintage items
Organic cosmetics
Clothing
Bags and purses
Phone cases
Papercraft
Candles
Now, let's go back a step and match the predicted top-performing niches in Q1 2023 with the product classes that they'll be best sold in.
International Women's Day
One of the most anticipated holidays of the first three months of the year is International Women's Day on the 8th of March. The best way to tap into this niche is to create handmade products like vintage feminine prints, cups, t-shirts, and jewelry.
Remember, regardless of the category you choose, the idea is to celebrate women. Your listings can be targeted at moms, daughters, girlfriends, wives, or grandmothers. A pro tip is to add personalization to the mix, which will make you stand apart from other sellers. For example, you could sell handmade cups with personalized mom messages.
St. Valentine's Day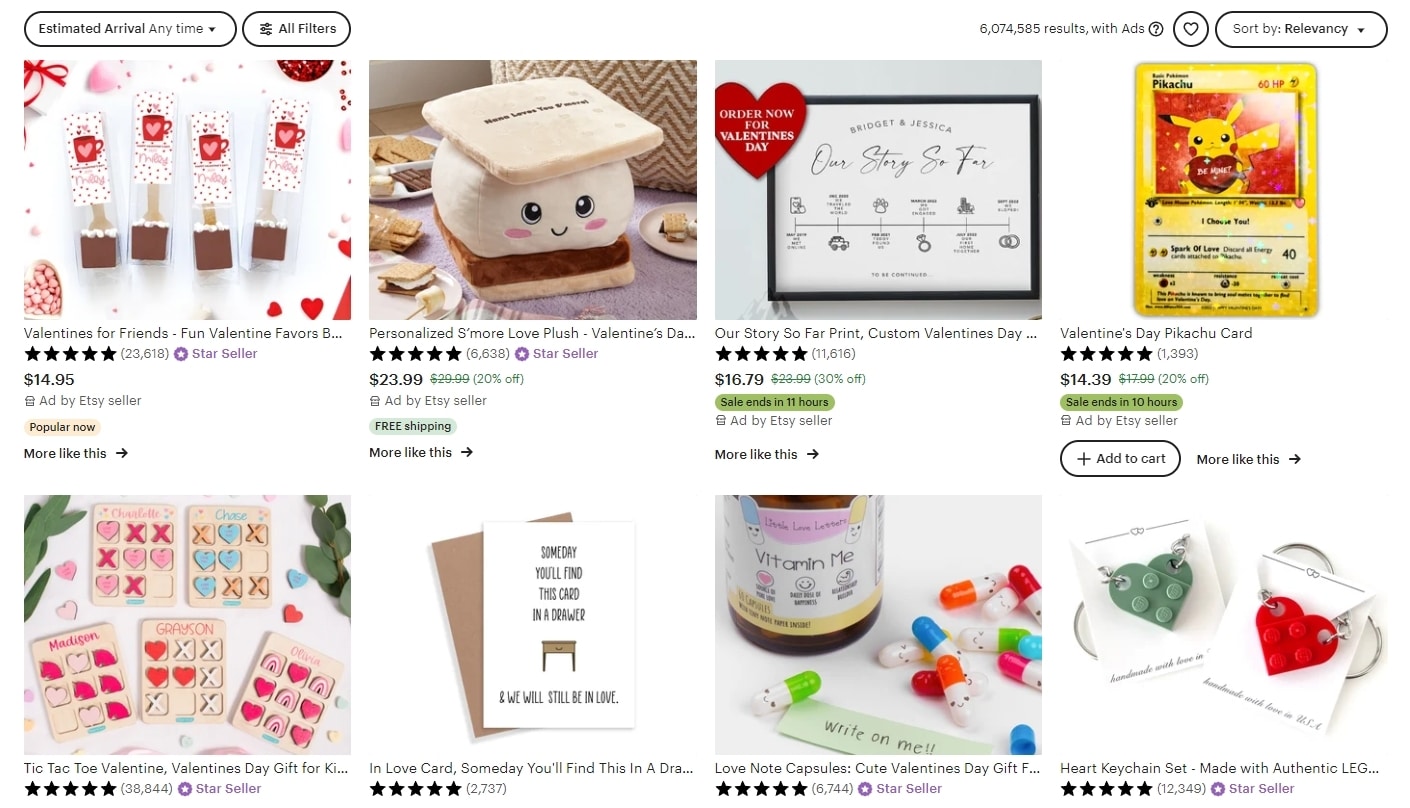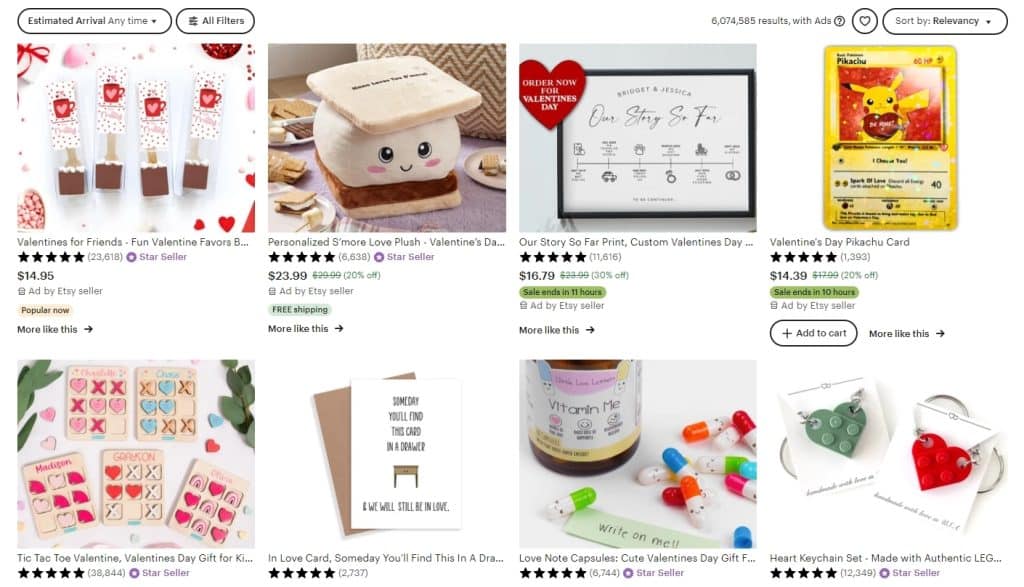 The other awaited holiday in Q1 is St. Valentine's Day. In this niche, the categories that have historically performed best are jewelry, cards, mugs, and gift sets. You can position your St. Valentine's Day handmade goods in these categories. But there's an extra tip we'd like to offer – merging a romantic holiday with humor.
For example, we came across a popular St. Valentine's Day card reading "Roses are red, violets are blue, the dog is my favorite, but you're alright too". This listing has generated more than 45,000 sales. This proves that although the holiday is romantic, a lot of buyers are looking for something unique and different.
New Year Refresh
When it comes to the New Year Refresh niche, we expect to see the following categories perform well in Q1:
Handmade planners
Bundles
Challenges trackers
Holiday planners
Diet challenges trackers
Feel good stickers
You can turn existing products from your portfolio into New Year Refresh items with a few tweaks. For instance, changing a title or keyword in a listing can help you position your listings in these niches and enjoy more attention from consumers.
Motivational products
The motivational niche is one that offers a lot of variety. Products on the rise include motivational art prints, mugs with quotes, inspirational gift sets, motivational wall signs, even fitness and weight loss planners, t-shirts, and keychains.
The truth about this niche is that you don't even have to create a particular product to dip your hands in the honey pot. You can simply add a motivational card to your packaging. This helps create a positive customer experience and adds a motivational element to any listing.
Coffee
Research into the coffee market on Etsy at the start of 2023 reveals several top-winning categories. These include coffee-scented soaps, coffee facial scrubs, coffee-based decor, coffee tables, and of course – coffee cups.
Depending on your experience as a seller, you can experiment with some of these categories. Some will be more expensive to prepare for than others. For the newbies in the niche, we recommend starting out with coffee-scented cups and soaps, as they're much less effort- and money-demanding to produce.
Well-being
The well-being niche in Q1 2023 is foreseen to thrive in categories like candles, gift boxes, sets, journals, and jewelry. For example, some of the best products to focus on include aromatherapy, immunity-boosting gift boxes, gratitude journals, crystal jewelry, and tuning forks chakra sets.
If you're not so sure about the last suggestion, let's look at an example. The "Tuning Forks Chakra Set – Weighted Tuning Forks -Balances Overall Wellbeing – Incredibly Healing -Beginner Tuning Forks- Sound Healing" listing is currently performing exceptionally well. The seller enjoys more than 115,000 sales and over 30,000 reviews. With a price of $48, this is a lucrative opportunity.
The power of knowledge
Discovering the niches that will sell best at the start of the year is one of the biggest challenges sellers face. But getting these insights right enables you to devise and execute your plan before the competition.
So, where did we get all the information for this article, you might ask? Sale Samurai, of course. The best market intelligence tool for handmade sellers on Etsy. For only $9.99 per month. You should get it, too.