We all know about the downsides of "fast fashion". And with the availability of so many utterly unique clothing items on the market, why should you purchase something that everyone else has when you can wear a totally custom outfit? This is where Etsy shines as a platform that offers handmade clothing.
But before you pick up the needle and start sewing, there are a few things you need to know about the handmade clothing market on Etsy.
Let's take a closer look.
How big is the market for handmade clothing?
Figuring out the market for handmade clothing on Etsy can seem like a daunting task, indeed. But with the help of Sale Samurai, this becomes a breeze.
Listings saturation and search volume
We kicked off our search on Etsy to determine what the listings saturation for handmade clothing items is on the platform. We discovered that the search query "handmade clothing" yielded a whopping 581,604 listings.


But because clothing is such a broad category, we refined the search further. Especially as we know that buyers use different keywords to find what they are looking for.
As such, the primary keywords and their related listings count give us an even better picture of the scope of the overall market:
"Handmade clothing for women": 269,518 listings
"Handmade clothing for men": 94,362 listings
"Handmade clothing for kids": 46,907 listings
"Handmade clothing for women plus": 22,76 listings
Before you throw in the towel and think this niche is not worth pursuing, it's worth taking a closer look. This is why we also looked at related keywords in conjunction with Etsy search volume.
Here are our findings:
"Handmade clothing": Etsy search volume – 26,640
"Handmade cloths": Etsy search volume – 26,176
"Clothes": Etsy search volume – 26,141
"Clothings": Etsy search volume – 2,823
"Clothing": Etsy search volume – 2,772
"BJD clothes handmade": Etsy search volume – 116
"Sack cloth clothing": Etsy search volume – 115
Adding up the total search queries for clothing and related searches on Etsy, we quickly come to the conclusion that there's as much search for apparel items as there is supply for them. This means that as a seller seeking to get into the marketplace, you need to do your homework.
Tags


This is where Sale Samurai's nifty "Search" module comes in. It helped us determine what tags sellers are using to get in front of their audience. We also scoped out the Etsy search volume for these tags to paint a better picture of the market overall.
"Handmade clothing": Etsy search volume – 26,640
"Dress": Etsy search volume – 26,603
"Dresses": Etsy search volume – 26,598
"Open lingerie": Etsy search volume – 26,584
"Y2K clothing": Etsy search volume – 26,211
"Lingerie": Etsy search volume – 26,174
"Oversized sweater": Etsy search volume – 3,686
"Dresses for women": Etsy search volume – 3,628
"Holiday pajamas": Etsy search volume – 3,565
"Winter clothing": Etsy search volume – 3,556
"Womens clothing": Etsy search volume – 3,555
"Women lingerie": Etsy search volume – 3,553
"Women clothing": Etsy search volume – 3,492
"Knit sweater": Etsy search volume – 3,380
"Funny shirt": Etsy search volume – 3,315
"Linen dress": Etsy search volume – 3,315
"Rave outfit": Etsy search volume – 3,310
"Crochet top": Etsy search volume – 3,259
"Open panty": Etsy search volume – 3,139
What quickly becomes apparent from this list of the most used tags is the sheer diversity of items offered on Etsy. In fact, we omitted almost as many entries as we presented, since there were so numerous. There is a great deal of search volume, too.
Five-digit search volume is the realm of extreme popularity on Etsy, which means that lingerie and dresses dominate the market for handmade clothing.
Prices
Price plays a crucial role in any sales effort, so we used Sale Samurai to determine the lowest, highest, and average prices in the handmade clothing niche. The lowest price on the market is $4.99, the highest is $410.00, and the average is $82.17.


We understand that some items of clothing will be more elaborate than others and will require much more effort and materials to create. However, it's vital to price around the average as much as possible, regardless of the sub-niche your listing occupies.
The reason behind this is that most buyers purchase within that bracket and this is where you want to target your efforts.
What are some of the best-selling merchants doing right?
Studying your competition on Etsy is a critical aspect of finding out what is working and emulating it for greater success for your Etsy store. Hence, we looked at sellers who are selling clothing in the average price bracket to see who is doing exceptionally well. We found two particular sellers who meet these criteria.
They are:
SistersBrand is the first top seller we identified. Their product title is "LUCY – Midi Flared cotton dress form Poland / handmade dress / 100% cotton dress / vintage dress / spring / summer / made in Poland". With 12,423 sales, selling at $62.43 per piece – they've earned a reputation as an Etsy star seller with five out of five star ratings and reviews.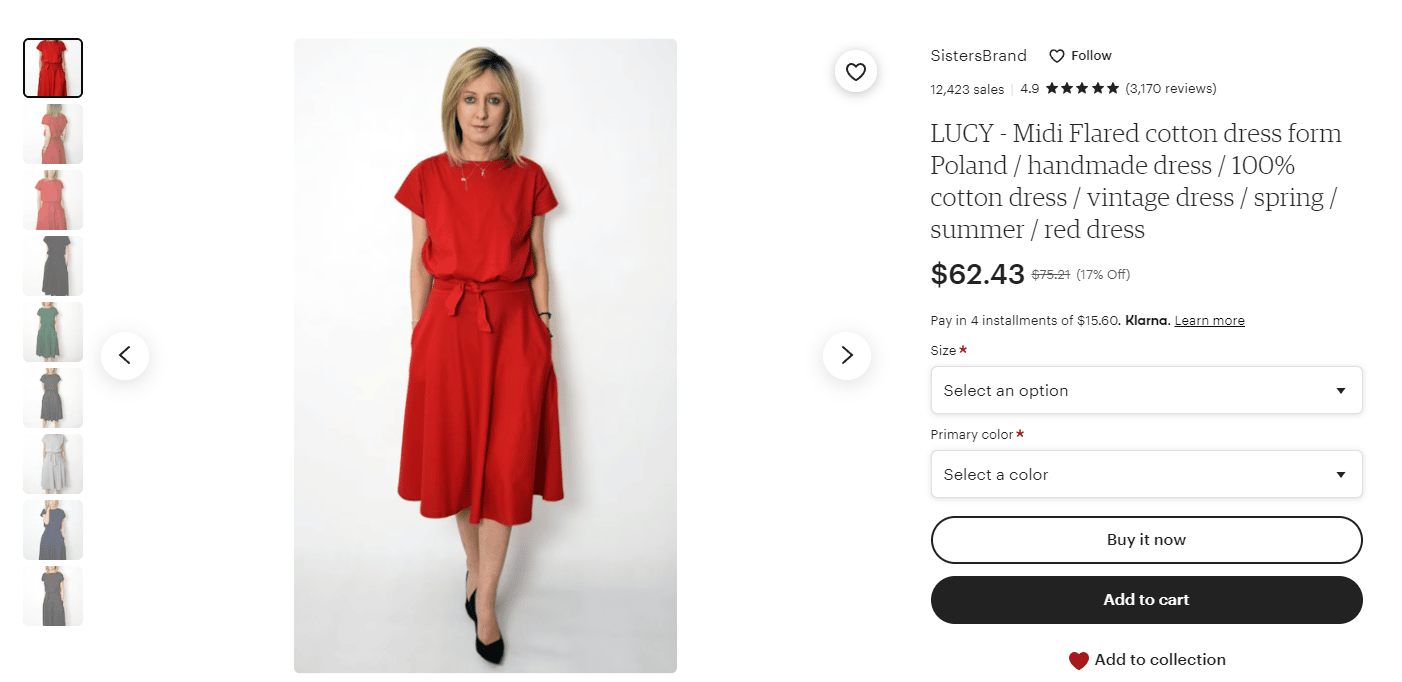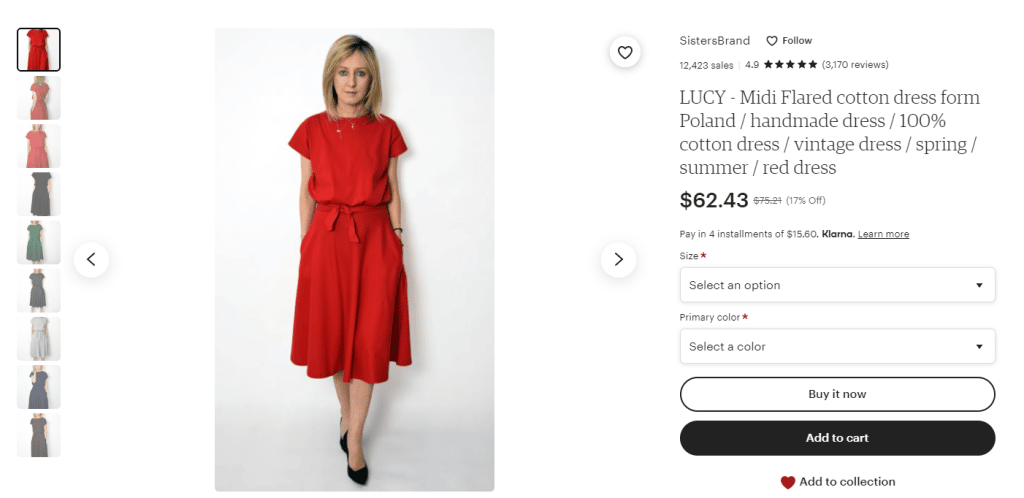 The second Etsy top seller on our radar is LenokLINENcom. Their product title is as follows: "Washed linen DRESS WITH POCKETS, mini dress, ogranic dress, womens linen dress, shirt dress, linen dresses, flax dress, linen striped dress". They've earned an impressive 84,888 sales, pricing their item at $67.90. Once again, they've demonstrated excellent customer service as exemplified through their five out of five star rating.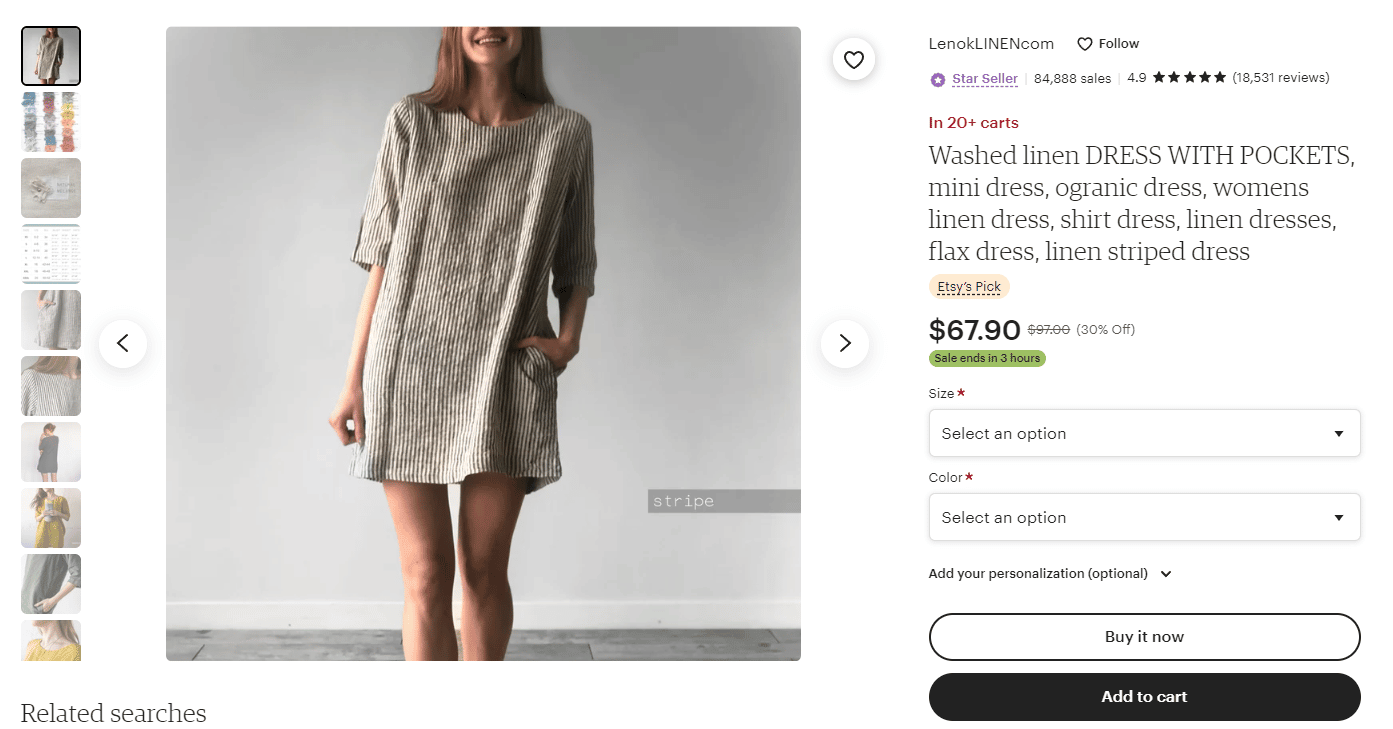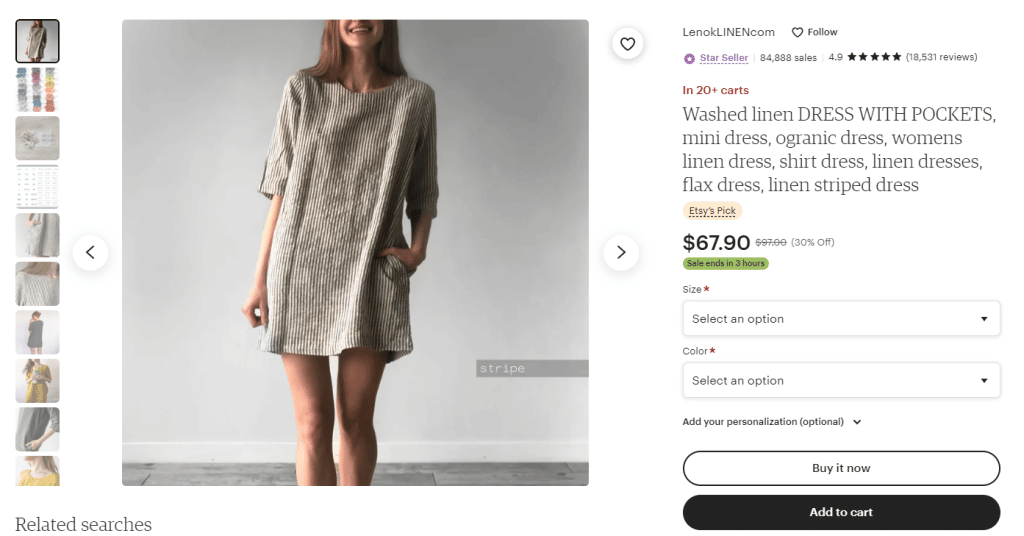 Keyword optimization
First things first. We looked at the titles both sellers used to capture their audience's search queries. "Dress", "handmade dress", "spring/summer", "linen dresses", "flax dress", "organic dress", "womens linen dress", "shirt dress", and others are just some of the keywords they used in their highly optimized titles. This means that they're capturing searches for women's clothing in general, and dresses in particular. As a reminder, dresses are among the top 3 most popular pieces of clothing on Etsy.
Meanwhile, describing the materials, fabrics, and extra features of these dresses is another nice touch.
Pricing
Secondly, both sellers have priced around the average of around $82.00 to demonstrate both quality and affordability. This is a highly recommended strategy, indeed.
Images
As for the images used, both have utilized the full 10-image-space afforded by Etsy. However, the second best-seller has gone a step further. They've included a size- and color-chart among their images to give their audience a better idea of what options they have in terms of the dresses they will purchase. Quite a nice touch.
How profitable is this niche?
If you're feeling overwhelmed already and aren't sure if you can enter this niche successfully, we're here to tell you that there's a lot of money to be made. In fact, we're looking into millions of dollars. We hope that this sentence alone has convinced you to stay in the game.
For example, SistersBrand has reached a turnover of nearly one million dollars at $912,446,95. However, the second best seller LenokLINENcom has gone above and beyond with sales turnover in the region of $6,817,839.00. If that's not impressive, we don't know what is.
Our tip-list for sellers seeking to enter this niche
So, now that you're convinced that you want to be an Etsy player in the handmade clothing niche, what should you do to get ahead in a crowded marketplace? Here are our top suggestions.
Keywords
There are so many keywords and tags that you can use to describe your unique item of clothing. Our advice? Use them! Etsy gives you space for 13 tags and around 140 characters for your title. But your description can be longer. And you should definitely use associated and relevant keywords with a high search-volume as well.
Be descriptive whether you're offering dresses, lingerie, sweatshirts, or pajamas. Give your audience all the information they need to buy from you. Put yourself in their shoes and work from there.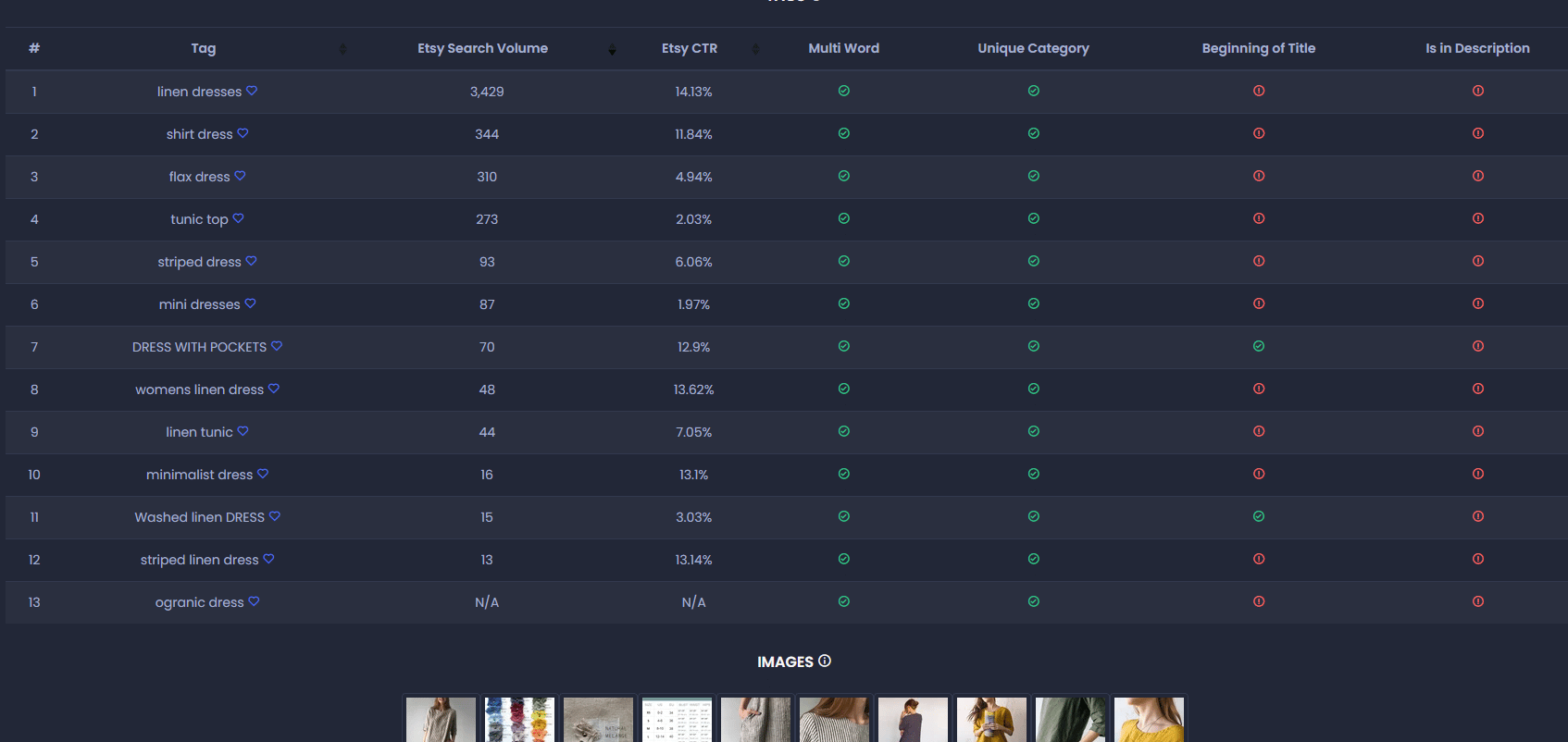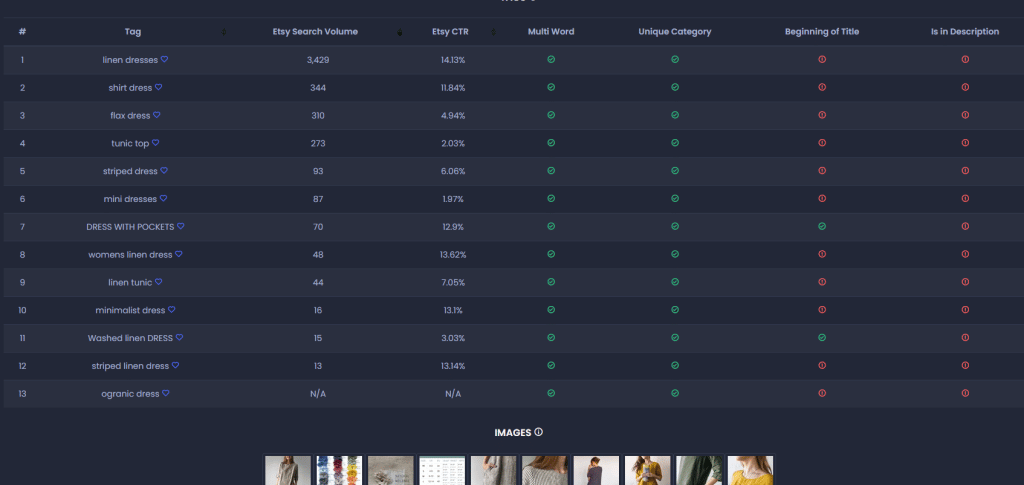 Pricing strategy
A strong pricing strategy is one of the most effective ways of getting sales. Price too high and you alienate a huge chunk of your prospective customers. Price too low and your products are seen as cheap and of low quality.
Pricing around the average is the sweet spot that you need to be targeting. And the beauty of Sale Samurai is that it can calculate this for you in seconds. Simply enter your keyword, click "search", and you'll get all the pricing information you need right at your fingertips.
Images
With clothing items, images are essentially your storefront or shop window. They need to look brilliant but they also need to tell the right story. Don't be hesitant to offer your customers more by giving them size and color charts. This is an extra nice touch that can help sway them over to buy from you instead of your competitor.
Ratings and reviews
Finally, generating positive ratings and reviews is not something that you can control directly. However, with great customer service and quality products – it's a self-generating cycle that can help you gain a lot more momentum. So, in order to boost your sales, make sure you meet all your customers' needs and keep them happy. When they're happy, you reap the rewards. And it's great for rankings and search engine optimization, too.
The bottom line
If you are a garment maker of unique, high-quality items that are priced just right, you're certainly in with a chance on the Etsy platform. However, you need to think like a business person. This means being strategic not only with the clothing items you plan on selling but also in terms of optimizing your listing.
Sale Samurai is a low investment of only $9.99 per month. But it can truly help skyrocket your business to levels you never knew possible.