Etsy is one of the most popular marketplaces for authentic, creative, and hand-crafted goods. The platform is host to millions of buyers who are actively looking for unique products to purchase. With a market consisting of different categories that you can tap into as a Seller, it may be difficult to make the right choices and successfully grow your Seller portfolio. If you're looking for a profitable niche that can produce fruitful results, you may want to look into the handmade no-content book category.
The no-content books market is both popular and diverse. It is, however, a bit tricky. Some of the questions that we'll discuss in this article include how big the market is, what types of no-content books are there, what characteristics such listings share, and more.
Let's dive in.
The Size Of The No-Content Book Market On Etsy
When entering a new market on Etsy, the first question ought to be about the size of the market. A large market could mean higher barriers to entry, more competition, and poor customer loyalty. However, it may also mean access to more consumers, higher sales potential, and established practices.
On the other hand, entering a small market could pose challenges, which include a limited number of buyers and a few leading Sellers who dominate the space. The positive side could be that you have less competition and if you do things right, your chances of success are higher.
So, let's see how big the no-content book market is on Etsy by exploring the different types of book types in the category.
Notebooks


We used Sale Samurai and started our research with handmade notebooks. The 'notebook' keyword generates a monthly search volume of 2,765 and more than 50,000 listings on Etsy. This signalizes that the market is developed and buyers are presently interested in such products. Here are some of the most popular keywords that consumers search for: 'journals and notebooks', 'RPG notebook', 'unlined notebook', and 'cahier notebook'. Other popular tags include 'bullet notebook, 'leather notebook', 'blank notebook', 'and 'travelers notebook'.
So, what does this tell us?
That there are a lot of different notebook niches that you can explore as a Seller.
And to prove that point, one of the top-sellers in the notebook space has generated more than 40,000 sales, coupled with nearly 12,000 reviews.
Journals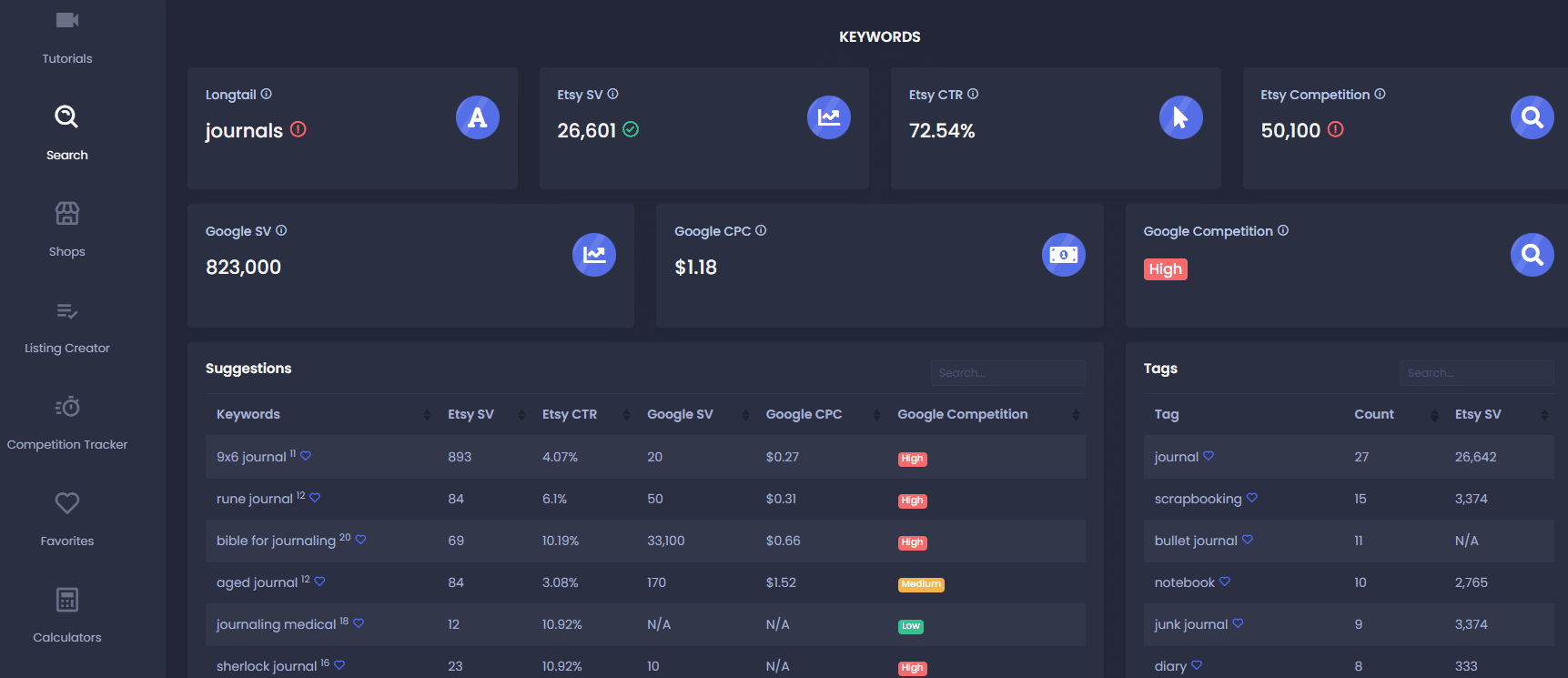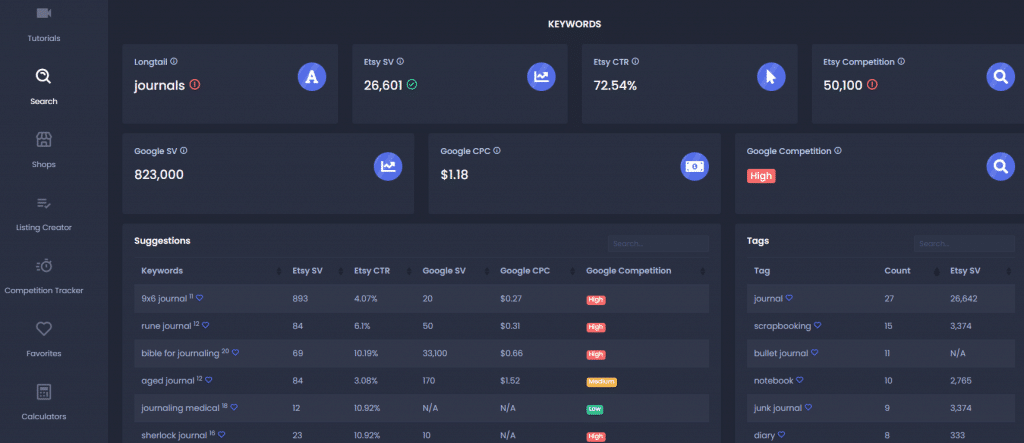 Handmade journals are a highly competitive keyword on Etsy, indicating that the market is well saturated. With a monthly search volume of 26,642, there are more than 50,000 journals being sold on Etsy. Some of the most popular keywords buyers search for to discover journals include 'junk journal', 'a4 journal', 'affirmations journal', 'bipolar journal', and 'prayers journal'. This shows that there is quite the diversity in the types of journals that you can create as a Seller.
We looked at some of the best sellers to see how many sales they've scored. For example, the 'Digital Reading Journal, Digital Reading Planner, Digital planner, Goodnotes, Book Review, Book Shelf, Reading Log, reading tracker' sells for $10.76 and has generated 73,005 sales. The product also has nearly 7,000 reviews and an overall rating of 4.9. This is a monstrously well performing listing, and it warrants further research, which you can do with Sale Samurai.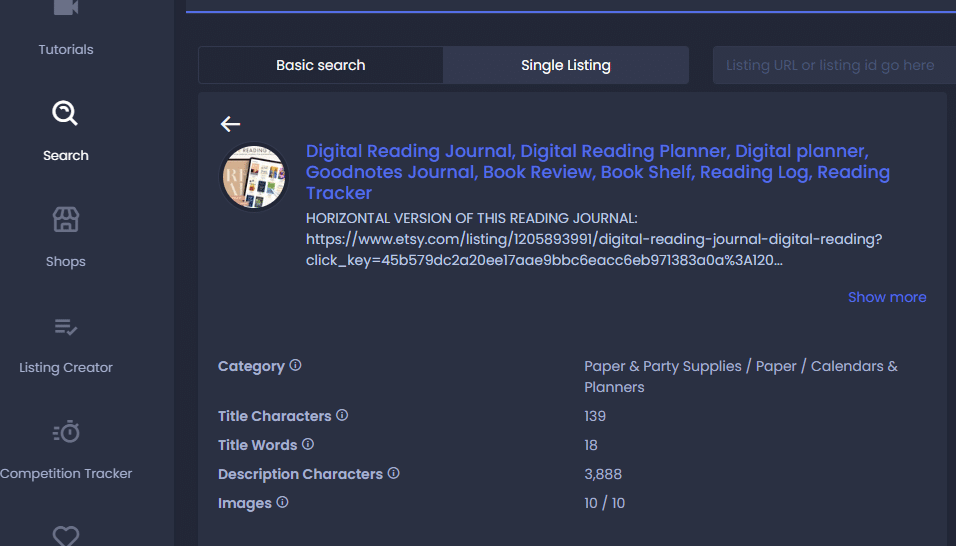 Sketchbooks
Sketchbooks are another big portion of the no-content book market on Etsy. They generate around 3,000 monthly search volumes from consumers and there are around 48,000 Seller listings in the space.
The niche includes products like 'sketchbooks for paints', 'sketchbook fashion design', 'watercolor paper sketchbook', and others. By looking at the top-sellers from the niche, we noticed that one particular product was bought a whopping 73,710 times and it currently costs $53.00.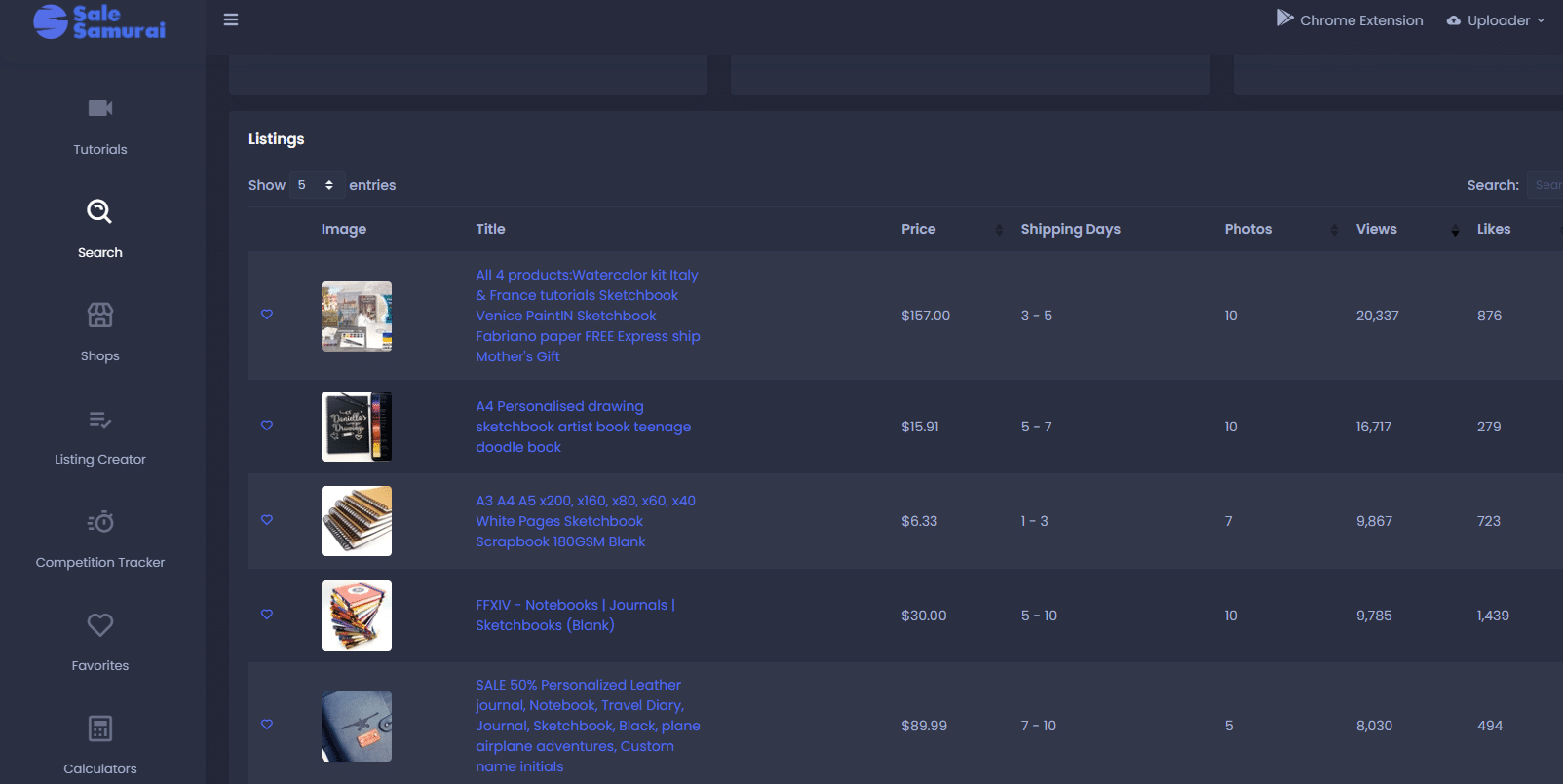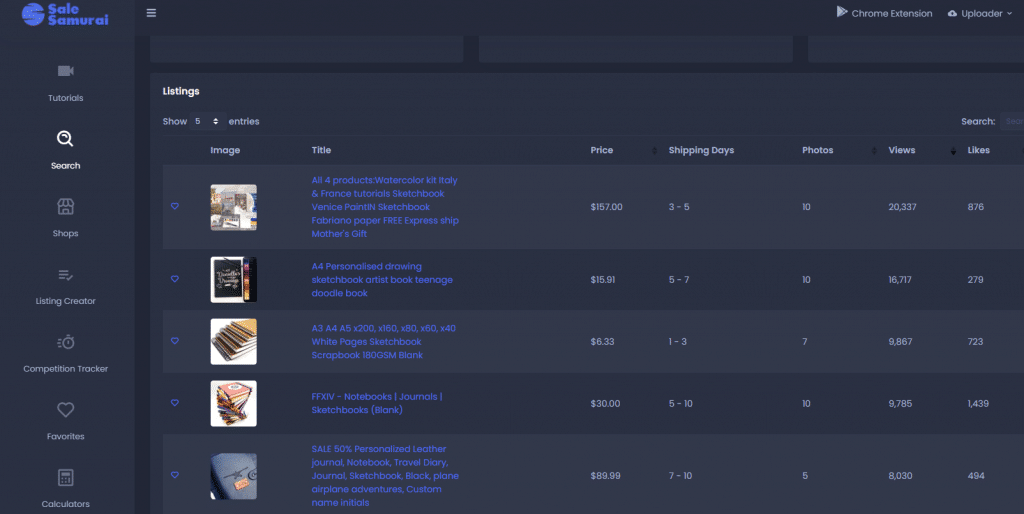 This is undeniable proof that the no-content book market is large enough to rely on as a Seller. The sketchbook niche, in specific, is one of the profitable areas to explore.
Calendars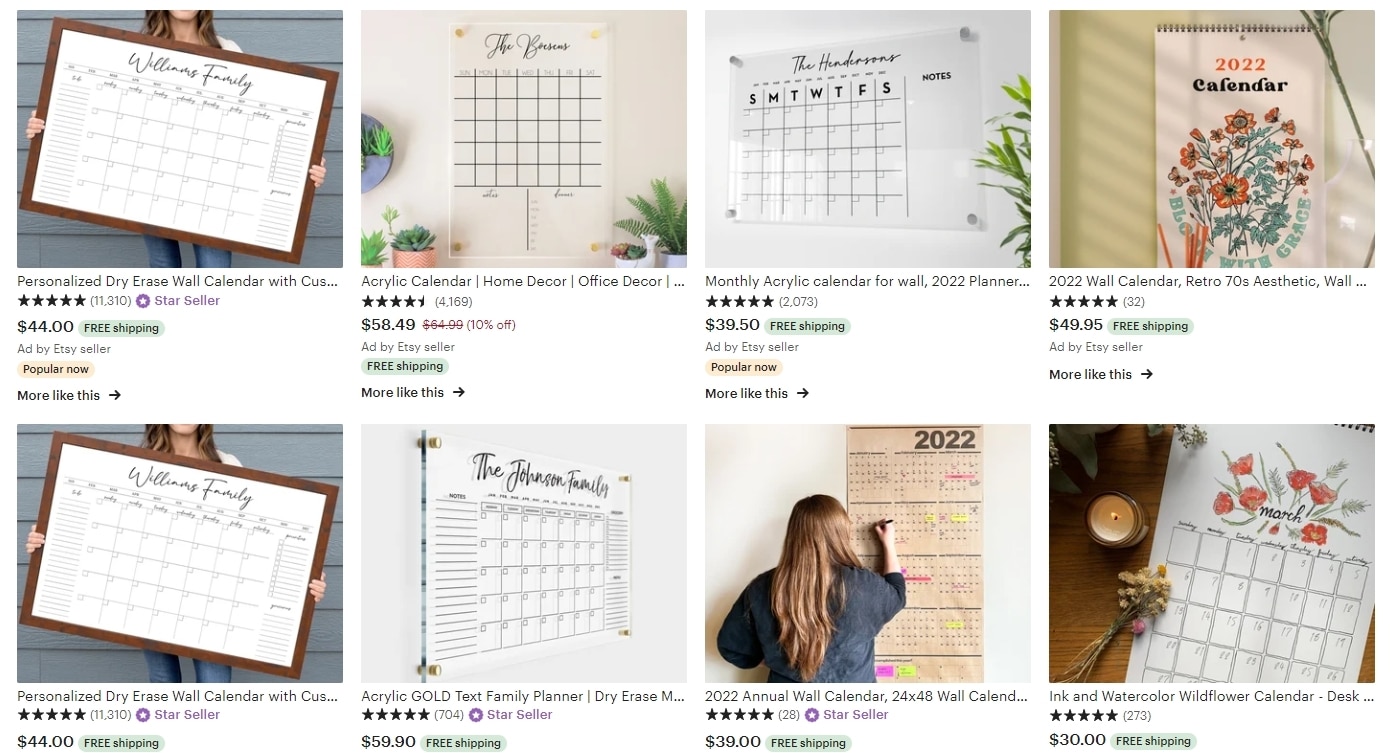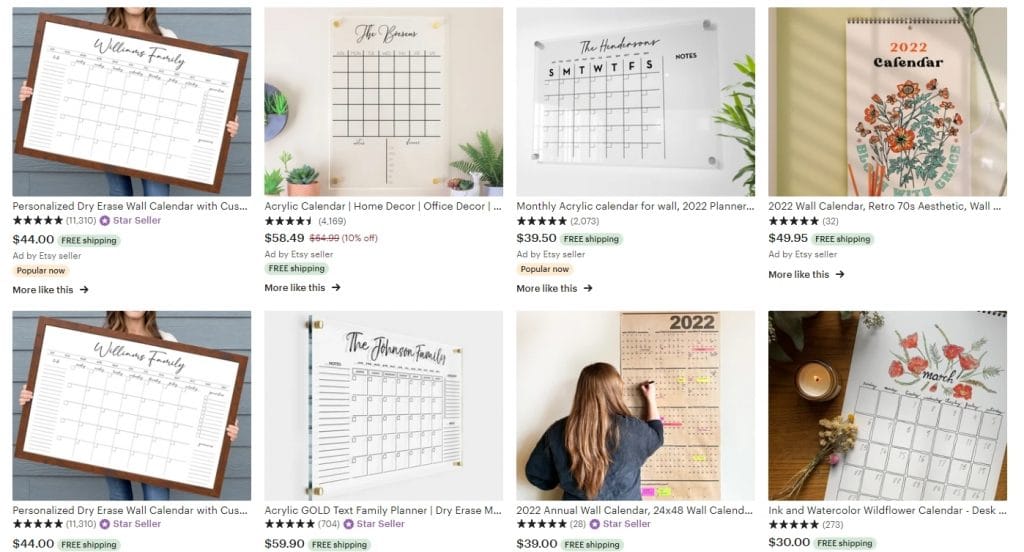 To gain an idea of the no-content book market size, we also looked at calendars. Again, more than 50,000 calendars are sold on Etsy and the keyword generates a monthly search volume of nearly 3,000.
This alone shows us that the niche is part of a well-developed market. And there is so much to choose from as a Seller. There are coloring calendars, nature calendars, family calendars, and others. When looking at the top sellers, we noticed that one of the best-performing products was sold nearly 30,000 times at a price of $26.40. The product generated nearly 8,000 reviews, meaning that it has triggered customer reactions from a large market segment.
Peculiarities Of No-Content Books On Etsy
The examples from above reveal that the no-content book market is diverse and consists of a number of distinctive niches. Despite the fact that products like notebooks, journals, calendars, and sketchbooks may be very different from one another, all of these listings share a few similarities:
Niched products – If you browse through different notebook products on Etsy, you'll notice that Sellers niche down as much as possible. What do we mean? Instead of selling handmade diaries, for example, most products are targeted specifically at a customer group, event, or lifestyle. For example, these can be travel diaries, happiness diaries, pregnancy diaries, and more. Choosing a specific niche to sell in will help you stay ahead in the rat race and reach specific buyers.
Leather materials – We also notice that the majority of no-content books are created using leather. Leather is a natural material that is durable and offers a sense of luxury and authenticity.
Personalization – In addition, most no-content books are customizable, offering the buyer the chance to tailor titles and interiors to make the product truly unique. For example, selling personalized diaries, personalized journals, and personalized sketchbooks is extremely popular and profitable.
Profitable Listings You Should Know About
So far so good. We've established that the no-content book market on Etsy is well-developed and offers a lot of opportunities for Sellers. But what do some of the best-sellers look like? Here are two of the top-selling products from the niche along with some insights on why they're so successful.
The first example we'll look at is the 'Pregnancy Journal, Pregnancy Planner, Pregnancy Diary, eucalyptus, Baby Book, Pregnancy Gift, Pregnancy Milestone, pregnancy announcement' – a pregnancy journal that costs $8.53+ and has been sold 101,195 times.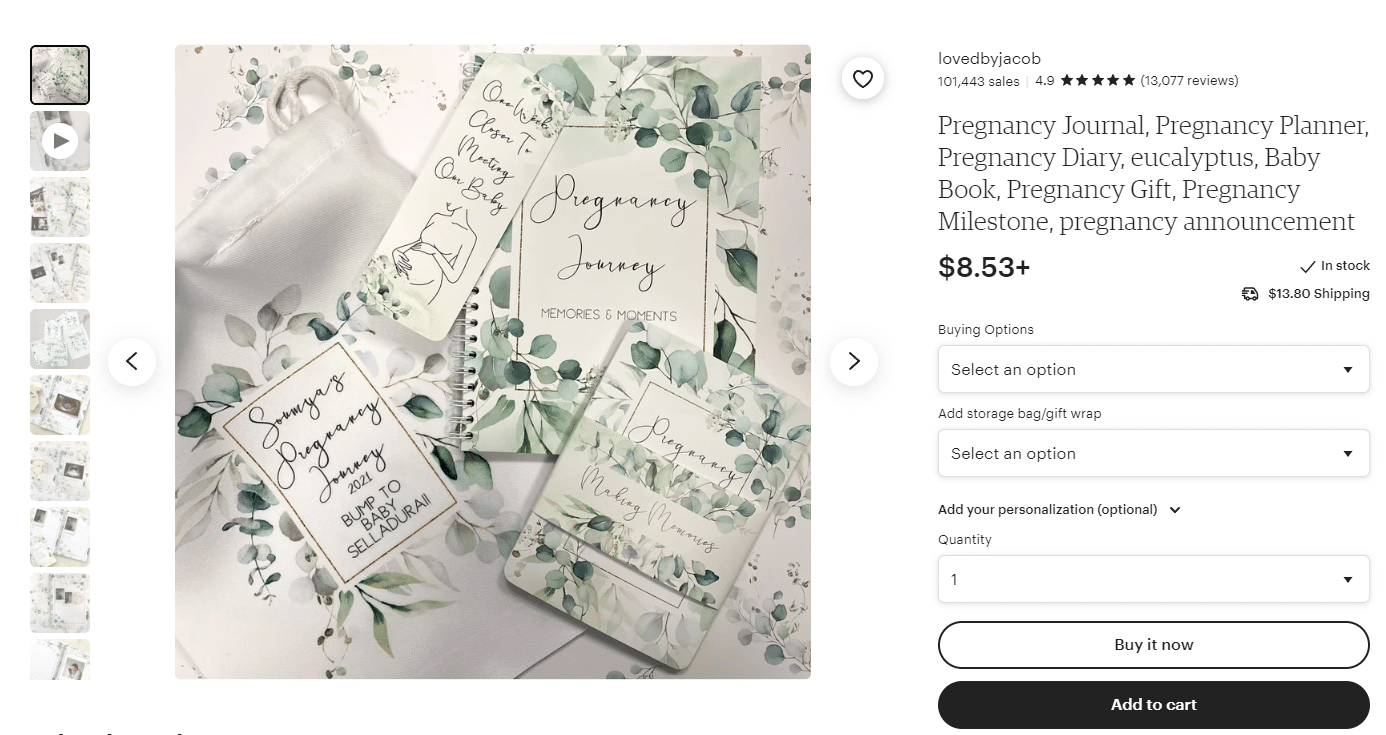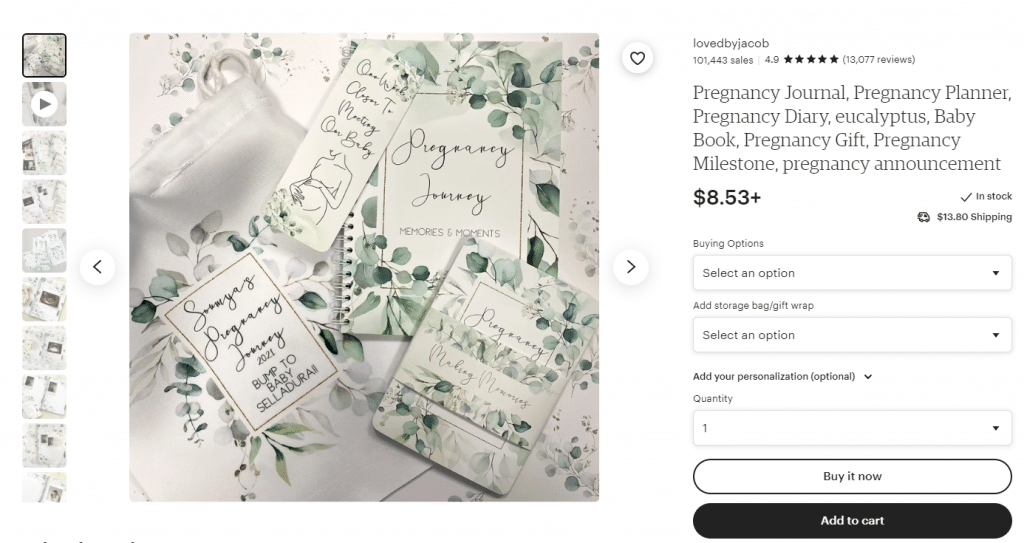 The product has 13,021 reviews and a 4.9 rating. It's specifically designed as a baby book, and includes some key tags, including 'pregnancy', 'pregnancy journal', 'baby book,', and 'pregnancy milestone'. It can be personalized and has been created using premium 250gsm paper. The product targets two customer groups – one that is looking for a pregnancy diary and the other one is searching for a pregnancy journal. This increases the chances of generating more sales and makes the product one of the more successful ones on Etsy.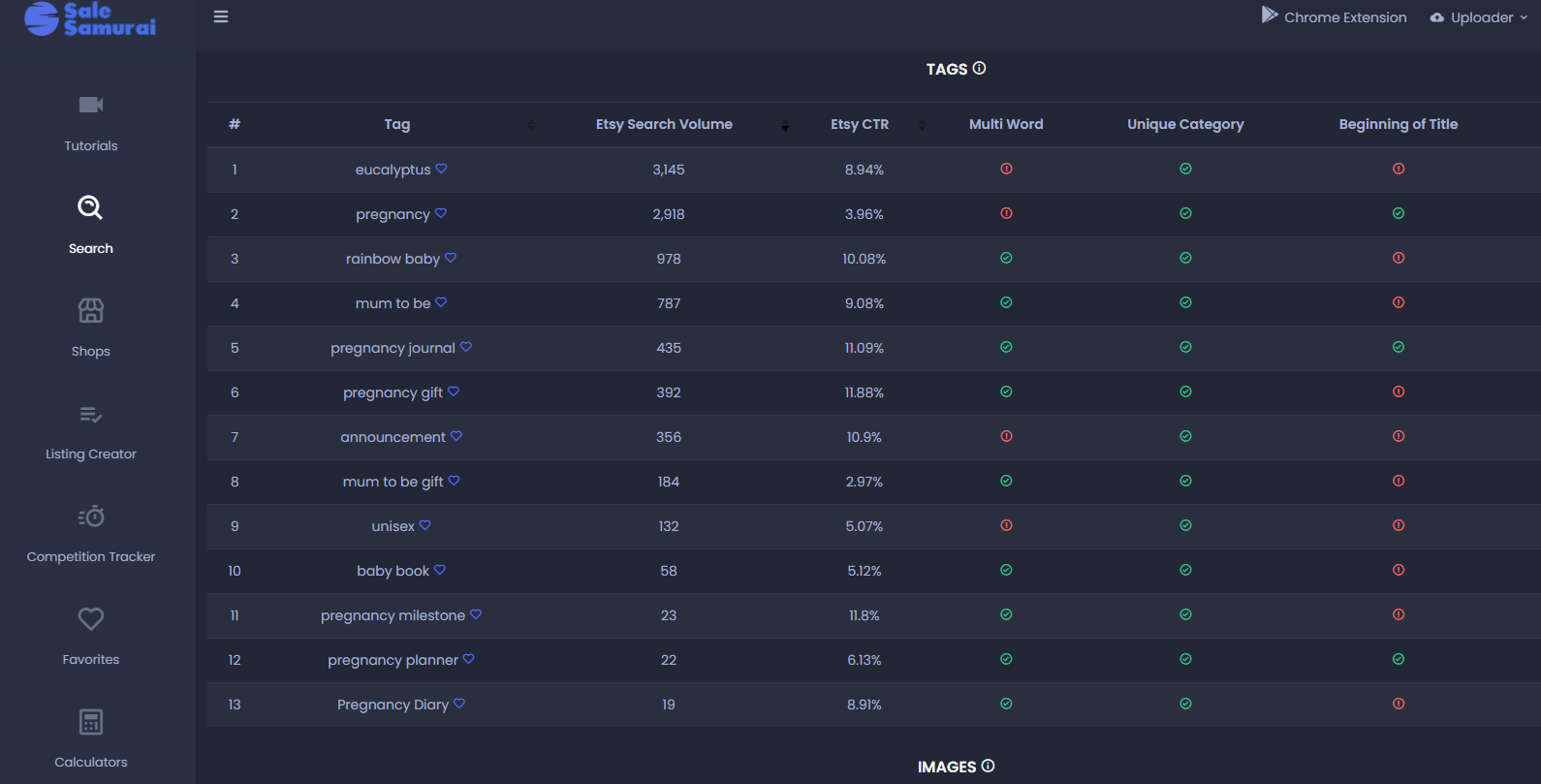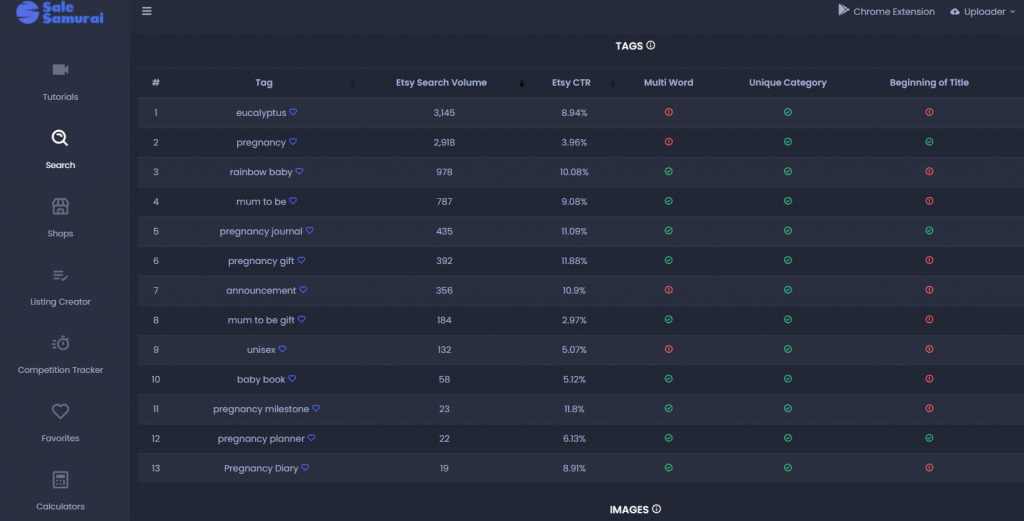 The next listing we want to share with you is the Personalized Leather journal, Notebook, Travel Diary, Journal, Sketchbook, Black, plane airplane adventures, Custom name initials.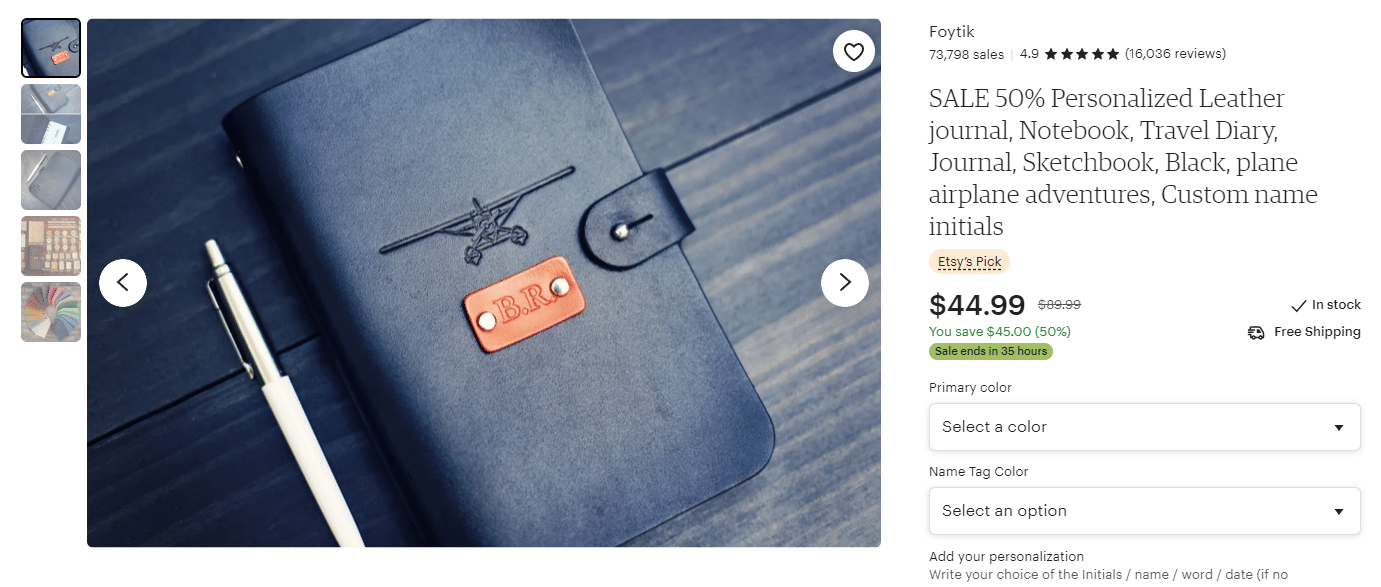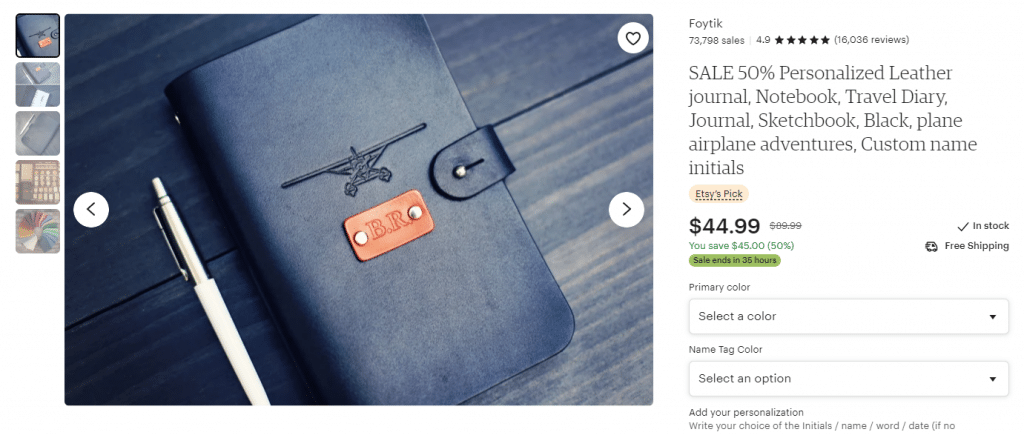 This product has generated 73,710 sales at a price of $44.99. This is not only one of the popular products on Etsy from the no-content book category, but it's also one of the pricier ones. We can see from the title that the Seller has used popular tags like 'notebook', 'leather journal', 'travel diary', 'sketchbook', 'adventures', 'custom', and more. This is a great example of how tags can be used to your advantage to attract more potential buyers. The description also includes information that the product can be a gift for anyone who loves adventures, targeting a new buyer segment – the one searching for gifts.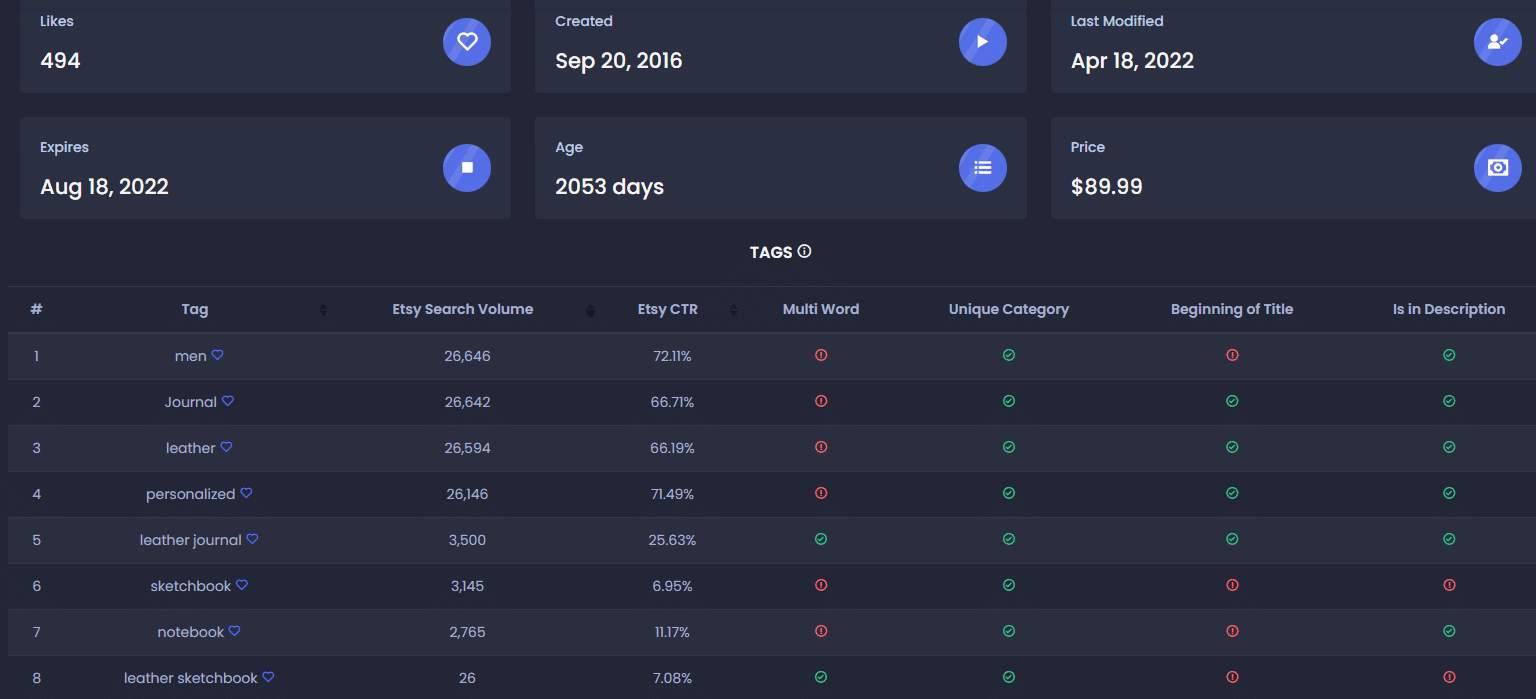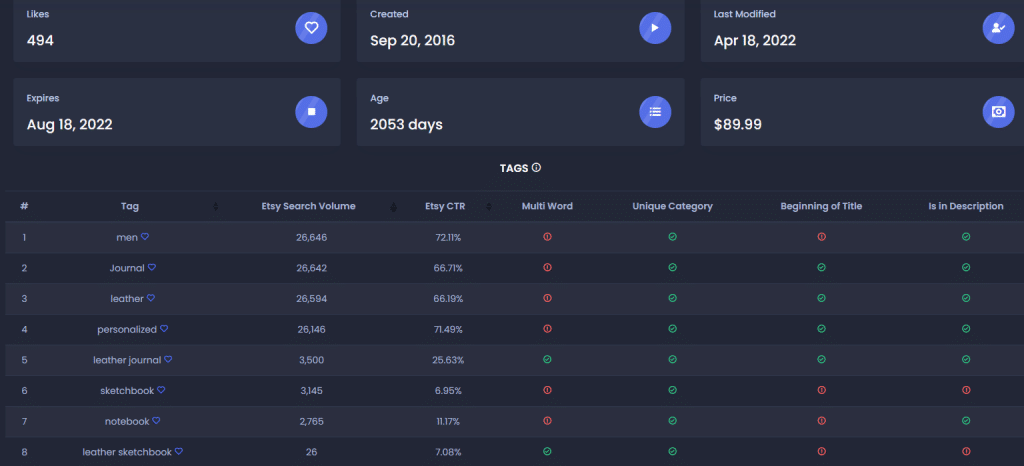 Is The No-Content Book Niche Worth Your Time As A Seller?
After our detailed analysis of the no-content book market on Etsy, we would certainly say that the niche is worth your time. It is a well-developed market with a lot of competition.
However, it's still a niche you can tap into by creating tailored items. From the examples we looked at above it became clear that some of the products from the no-content book space are sold for more than $50 and still generate substantial sales. This means that as a Seller, you can enjoy higher profits and confidently grow your Etsy business.
How To Enter The No-Content Book Niche
Entering a new niche always spurs a lot of questions and dilemmas. When it comes to the no-content book space, we'd recommend sticking to the following tips if you want to enter the market:
Use niche-specific tags – Optimize your listings with relevant and highly searched keywords or tags. Your tags can be included in your listing titles and description to maximize your chances of increasing your listings' views. In turn, this will increase your chances of generating more sales.
Offer a level of personalization – Earlier, we mentioned that personalization is a key selling point for the majority of no-content books on Etsy. Take advantage of this information and allow your customers to customize their products.
Select a theme – Once you've chosen a no-content book niche, make sure that it is designed around a theme. For instance, this could be pregnancy, travel, work, art, and more. This will make the product attractive to a specific target group and will help you connect with your audience.
Set the right price – Last but not least, research how other Sellers from the space have priced their products. Make sure that your listings are neither under priced, nor overpriced. This could be a deal-breaker for your buyers and could put your products in a disadvantageous position.
In A Nutshell
The no-content book market is one of the well-developed and large spaces that you can enter as a Seller on Etsy. Although there is competition in the category, niching down and creating theme-based products can help you generate a stable side income and turn your side gig into a success story.