If you're selling handmade items and looking for a select audience, Etsy is the place to be. As the world's most popular marketplace for hand-crafted and authentic products, the platform can make your creations discoverable and attractive to millions of shoppers. But how can you guarantee maximum profits without appearing too expensive?
There are numerous pricing strategies you can adopt. Asking for above the average is one of them.
In this article, we'll look at the case of overpricing your handmade products and how to do it like a pro.
Niches where overpricing is okay
Say you've decided it's time to up your game and make more revenue from your Etsy side gig. One of the ways to achieve this is to target high-end shoppers who are prepared to spend more for premium quality. This approach allows you to enjoy more earnings even when sales numbers are lower. In addition, overpricing your products will also help you position yourself differently as a more experienced and unique seller.
The truth is, however, that pricing way above the market average is not suitable for all niches on Etsy. To guarantee your success, it's vital to identify the niches where this pricing strategy makes sense the most.
We're about to help out with some critical discoveries from extensive Etsy research using the Sale Samurai tool.
Jewelry
One of the niches where overpricing is not only possible, but often a trend, is the handmade jewelry space. To give you a sense of this phenomenon, the market's average price is $55, whereas some listings are priced at $895, and even $2,000+.


But do these ultra expensive pieces of jewelry sell well? The short answer is "yes".
For instance, some of the pricier, yet utterly successful handmade jewelry items on Etsy include earrings packful of noble metals and rare gems. You can tell why they're expensive just by reading the listings' titles:
"Natural Pave Diamond Green Emerald Pink Ruby Gemstone 18k Gold Dangle Drop Earring Jewellery 925 Solid Sterling Silver Handmade Jewellery"
"Natural Blue Sapphire Gemstone Leaf Design Dangle 18k Gold Earring 925 Sterling Silver Fine Jewellery, Wedding Jewellery, Handmade Jewellery".


But you don't have to limit yourself to earrings only. Many different jewelry sub-niches could be explored, like rings, necklaces, charms, and more.
Below, we'll see what makes these products popular, despite the expensive price tag.
Furniture
Similarly, you can spot plenty of handmade furniture pieces on Etsy that are priced much higher than the average in the market.
Furniture is a particular category of products, which pushes certain triggers in the consumer's mind. Designing an interior with carefully chosen furniture is often a process of expressing yourself and showing a position in society. As a result, a particular shopping audience is prepared to spend a fortune on authentic and unique pieces of furniture to be used as a statement piece.
Sale Samurai confirms our theory. In a market where the average price is $869, some listings are set at a mind-blowing $14,000. The most expensive listing in the space is the "Console DIABLO Luxury handmade furniture Marble console High-end furniture" – a unique, one-of-a-kind product.


Overpricing is also common in different sub-niches of the handmade furniture market, like bed frames, coffee tables, commodes, and others.
Gifts
Another niche, where you can comfortably overprice products and still enjoy sales, is gifts.
Gifts are considered exceptional purchases, which prompt shoppers to spend extra to make a loved one feel special. In this case, the quality is what matters the most. Higher quality is often associated with a higher price in the consumer's mind. This is why the niche is perfect for testing a new pricing strategy, where your listings cost more than most other sellers are asking for.
Weddings
The handmade wedding products niche is another example of a market where you may enjoy fewer sales, yet ask for a much higher price than the average.
Why? Because weddings are a once-in-a-lifetime event where naturally, people spend more. Shoppers that have turned to Etsy for wedding-related handmade products are most likely looking to create an unmatchable experience on this day. Chances are that the leading factor behind decision-making is quality rather than price.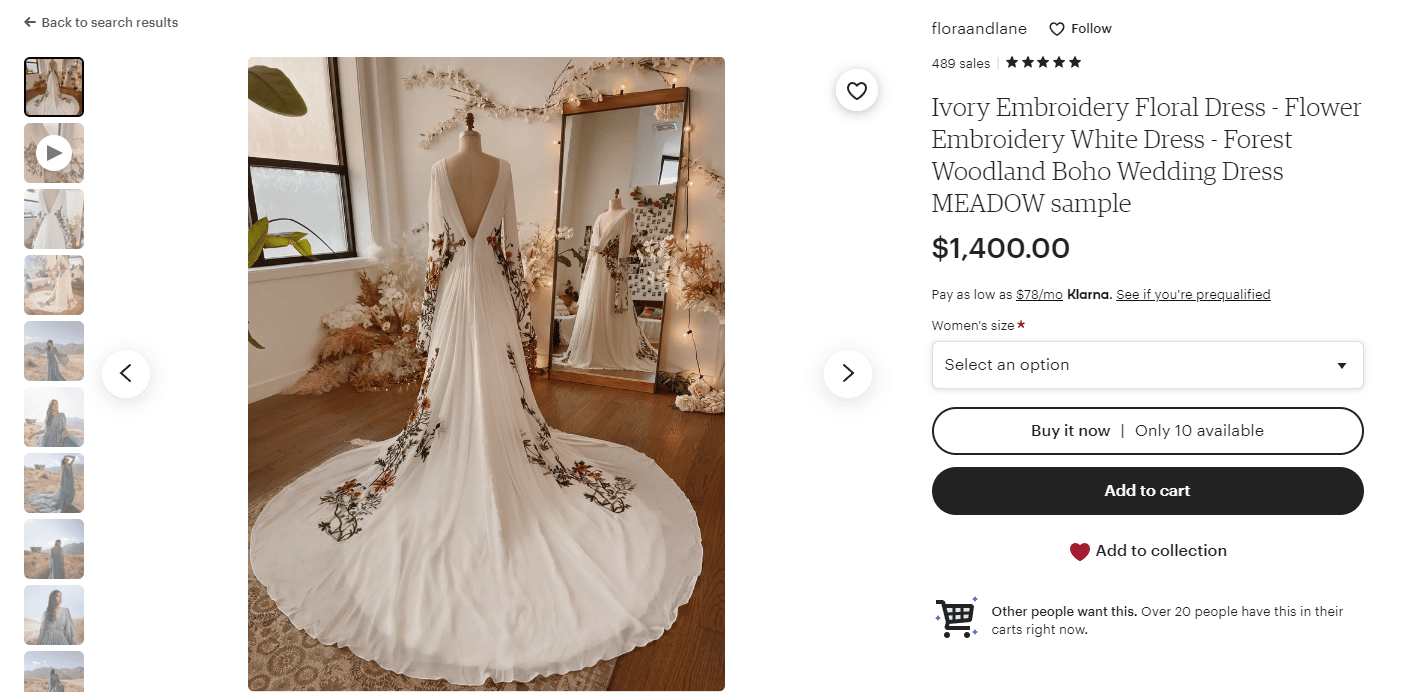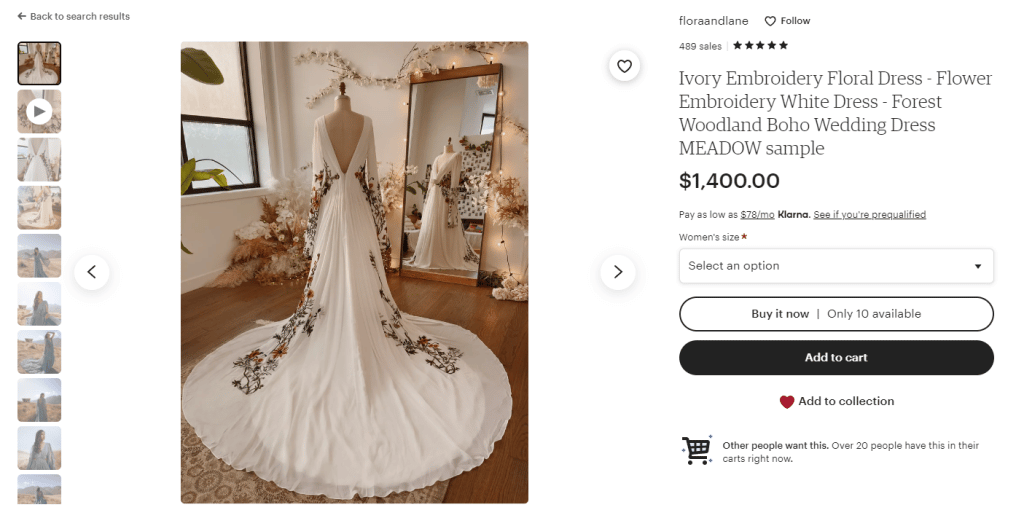 For you as a seller, this means you can afford to outprice the standard listings and target the high-spenders in the wedding niche.
Collectables
Last but not least – collectibles. There are many handmade collectibles on Etsy, from rare chess sets to handmade dolls. This unique market is incredibly diverse, making it hard to identify the average price in the niche in the first place.
What's important to note here is that collectibles have different levels of value for their owners. They can deliver emotional value, aesthetic worth, social esteem, and more. Unless the collection is perceived as an investment asset, the shopper will mostly be interested in the quality and rarity of the product, rather than the cost.
For sellers, this opens significant opportunities to price listings above the average and still attract interest, traffic, and conversions.
Reasons for pricing above the average
So far, we've looked at some of the most popular niches where pricing way above the average is a valid move.
But what are the actual reasons behind adapting such a pricing strategy from the seller's perspective? What justifies a higher price tag?
Use of rare or expensive materials
Using expensive or rare materials to create your handmade products is one of the main reasons for pricing your listings higher than the average. This is primarily because discovering, purchasing, and utilizing such materials is a costly endeavor in itself. To make a profit, you'll need to charge a lot more than a competitor who has designed a similar product with ordinary, easily accessible products.
For instance, let's look at the example from above. The "Natural Pave Diamond Green Emerald Pink Ruby Gemstone 18k Gold Dangle Drop Earring Jewellery 925 Solid Sterling Silver Handmade Jewellery" costs more than $300, which is far beyond what other handmade jewelry sellers ask for earrings. However, the product is made of emeralds – precious gemstones and pave diamonds.


Use of specific technology for creation processes
Another reason for charging more for handmade products is the reliance on innovative or expensive technology for certain parts of the creation. The technology could require specific equipment, space, materials, or professionals to guarantee maximum results. Or, it could be related to something straightforward, yet different from the standard approach.
For example, this could be a modern sewing method that few handmade clothes creators use. Alternatively, it might be related to using advanced wood-handling instruments that improve the overall quality of handmade wood furniture.
Packaging
Don't forget that packaging makes a big difference, especially on Etsy.
Why?
Because it contributes to the overall shopping experience and is highly appreciated by those searching for creativity and authenticity.
Sellers who pay special attention to packaging and pampering their clients can often afford to set a higher listing price. Even if the packaging materials don't add much cost to your final expenses, they make a substantial difference in the eyes of the consumer.
Elements that make an expensive Etsy listing successful
Now that we've discussed the actual products let's move on and think about what makes an expensive Etsy listing perform well. Is it the imagery, the wording, or perhaps the reviews?
The truth is that it's a combination of all of these and more.
Listing optimization
First, top-performing, expensive listings stand out with excellent optimization. This means using the right keywords throughout titles and descriptions. Exceptional product quality and the use of rare materials are great. But they won't lead to any sales unless the listing is easily discoverable and attractive to shoppers.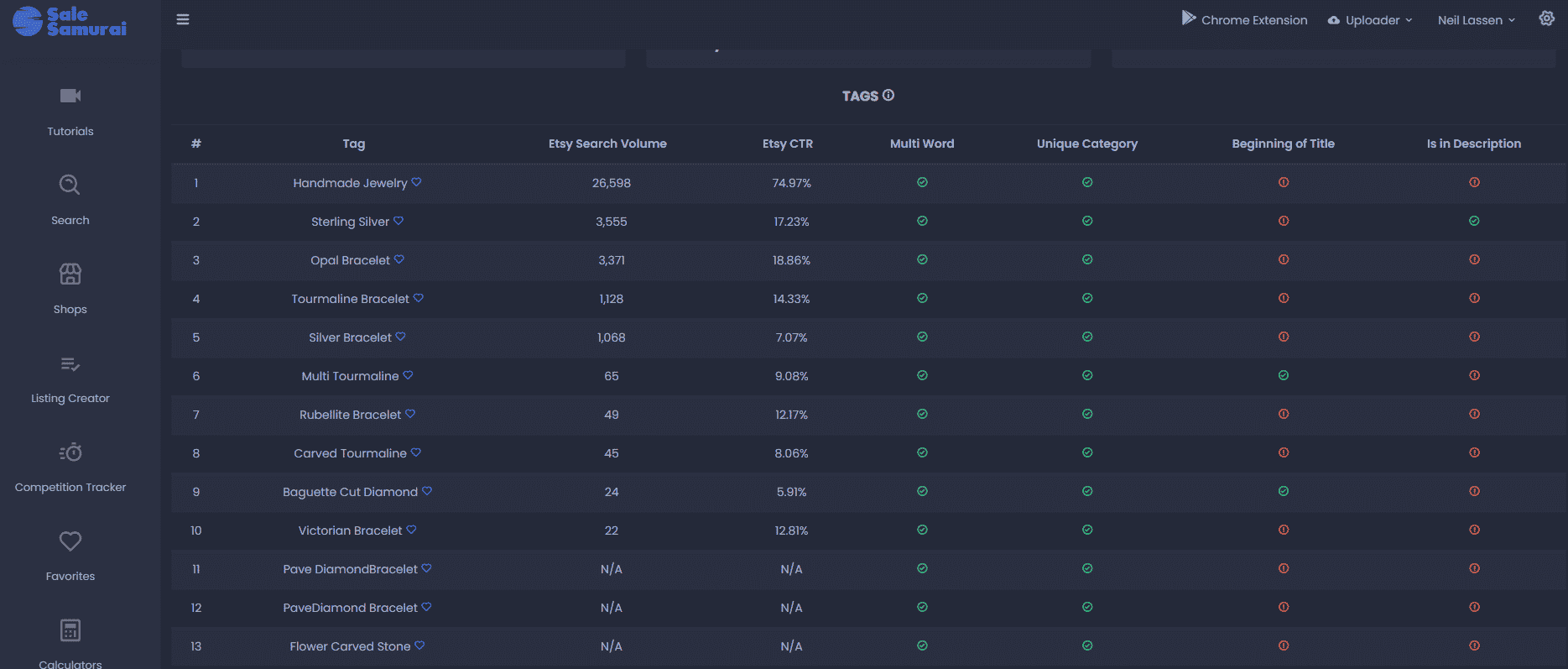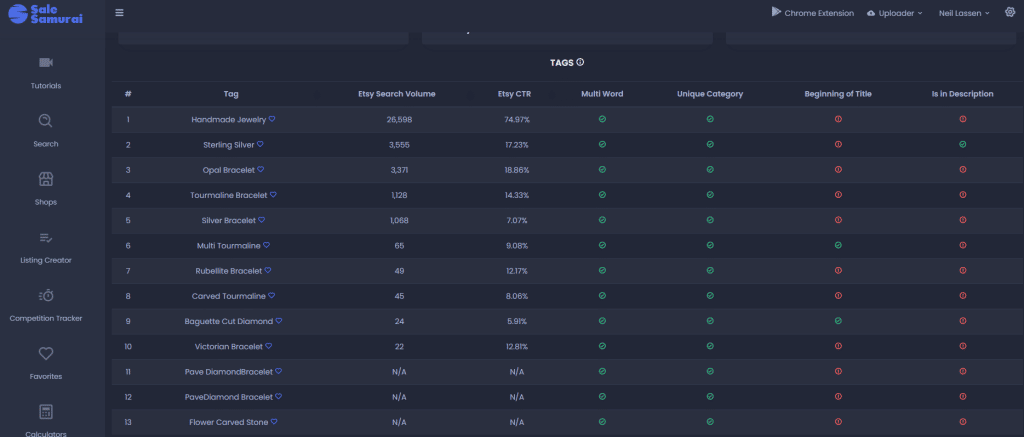 The best way to guarantee this is to strategically choose relevant keywords from the niche that you're selling in. Keywords should also be diverse to increase the chances of attracting traffic from different user segments.
Pictures
Picture quality is the next popular feature of a successful listing with a high price.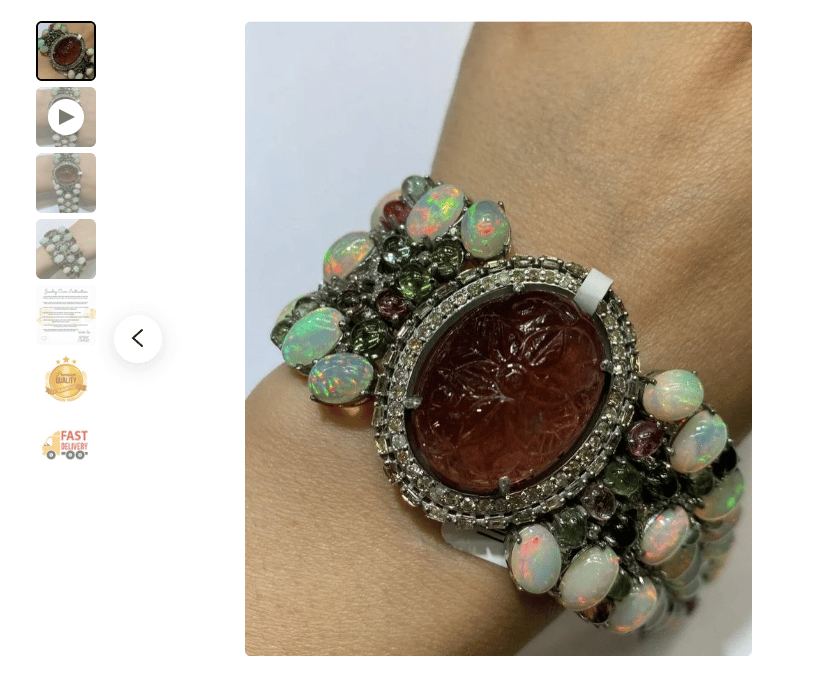 Etsy enables sellers to upload up to ten images per listing to best represent their product. And although it's vital to utilize all of these available slots, it's also crucial to carefully select the images you want to show the world. The majority of expensive yet top-selling listings stand out with professional photos. They're clear, have the perfect level of contrast, and are creatively organized.
Reviews
Spending more than is considered standard on a product is a difficult decision to make. Especially if the shopper has never purchased a product from you.
This is where reviews come into the equation.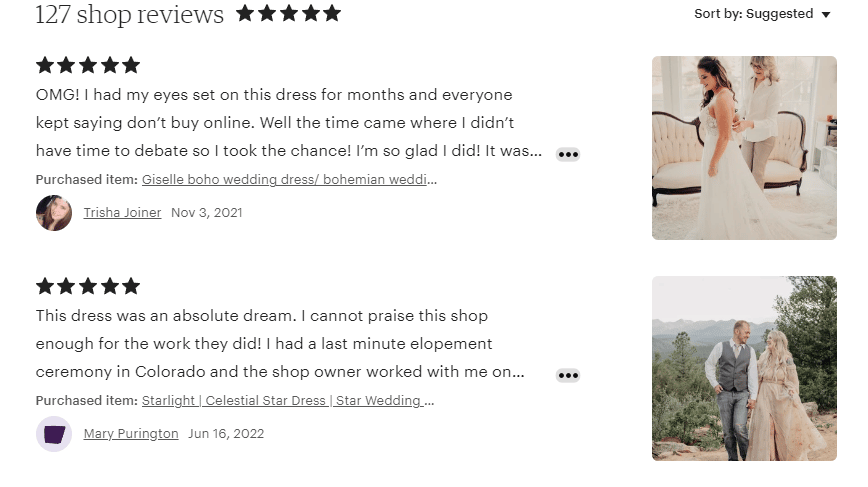 Reviews can quickly and easily prove the quality of your product. Sellers of highly-priced listings on Etsy need to have a rich review list and a high rating on the platform. A browse through some of the most pricey and successful listings reveals that positive feedback on the experience with a seller and the purchased product makes all the difference in terms of sales.
When to price above the average and how high can you go
On the path to overpricing your listings and securing higher returns, two essential questions must be answered – when to price above the average and how high you can go. The answers to these questions will be different for every seller. Some of the factors that influence both the perfect time to overprice and the final price include:
The end goal of the seller
The seller strategy
The niche that the listing is in
Any seasonal trends
The maximum price in the market
When determining how high you can go, we strongly recommend pricing your listing higher than the average, yet lower than the highest price in the niche. This will enable you to remain competitive when compared to some of the most expensive products in the market.
Final thoughts
Overpricing your listings and asking for more than the average price is reasonable in some niches. At the same time, it's bound to fail in other markets. Before setting a higher listing price than the standard, ensure that you've performed detailed research and are making a strategic choice.
Remember to use Sales Samurai as your go-to tool for business intelligence and real-time data that will help you make all the right decisions.