Aspiring artists now have an outlet for their creativity. And that's through the Etsy platform, which enables them to get more exposure for their art.
Whether in the form of posters or prints, these popular wall décor items have a wide range of uses and offer even more variety than you could imagine. So, without further ado and with the help of Sale Samurai, we take a look at their popularity, some examples of top performers, and what has made them so.
How Popular Are Handmade Posters And Prints On Etsy?
Personalized Posters
Because personalization is the order of the day, Etsy customers can enjoy custom made posters. These can include their favorite quotes, revamped images of family or loved ones, or even printed poetry. On Etsy itself, we get a total of over 1,000 results for this keyword. Meanwhile, Sale Samurai helps us dig a bit deeper and shows that competition on Etsy is high with over 50,000 listings and a high Google search volume of around 1,900. The average price for such products is $16.68, the average shipping time is three days, and the average shipping costs are a low $3.37.
Handmade Posters


Moving onto handmade posters, we get 25,582 results on Etsy. Competition is again high at over 50,000 listings. And the Google search volume is a corresponding high in the region of just under 2,000. Items in this category go for an average of $65.22, while it takes around four days to ship, with shipping costs averaging $5.91.
Handmade Prints


As for handmade prints, there seems to be an explosion of listings on Etsy with a staggering 312,024 results. The Etsy competition is high at over 50,000+ although the corresponding Google and Etsy search volume is low at around 260 and 20, respectively. That's not to say that such items are not doing well on Etsy, but we'll get to that in a minute. As for average price, customers can expect to pay approximately $36.17 for these items, which will take about three days to ship, and have corresponding shipping costs of $4.51 on average.
What Are Some Of The More Popular Niches And Themes?
Covering a broad overview of these three types of categories of items, we dig a bit deeper into some of their most popular niches and themes. With the help of Sale Samurai's "Search" module, we were able to identify the following top performers:
Custom and personalized
Paper (including recycled paper)
Wood
Watercolors
Floral and landscape patterns
Locations and geography
Quotes and poetry
Animals
Broadway and movies
Bohemian tapestry
For children
For adults
For weddings
For the classroom
For the home


These are supporting keywords that give you an idea of the types of products that buyers are interested in. You can build your own product around them, but keep in mind that the competition will be stiff, if you do not niche down even deeper.
What Are Some Of The More Profitable Listings And What Makes Them Profitable?
Personalized posters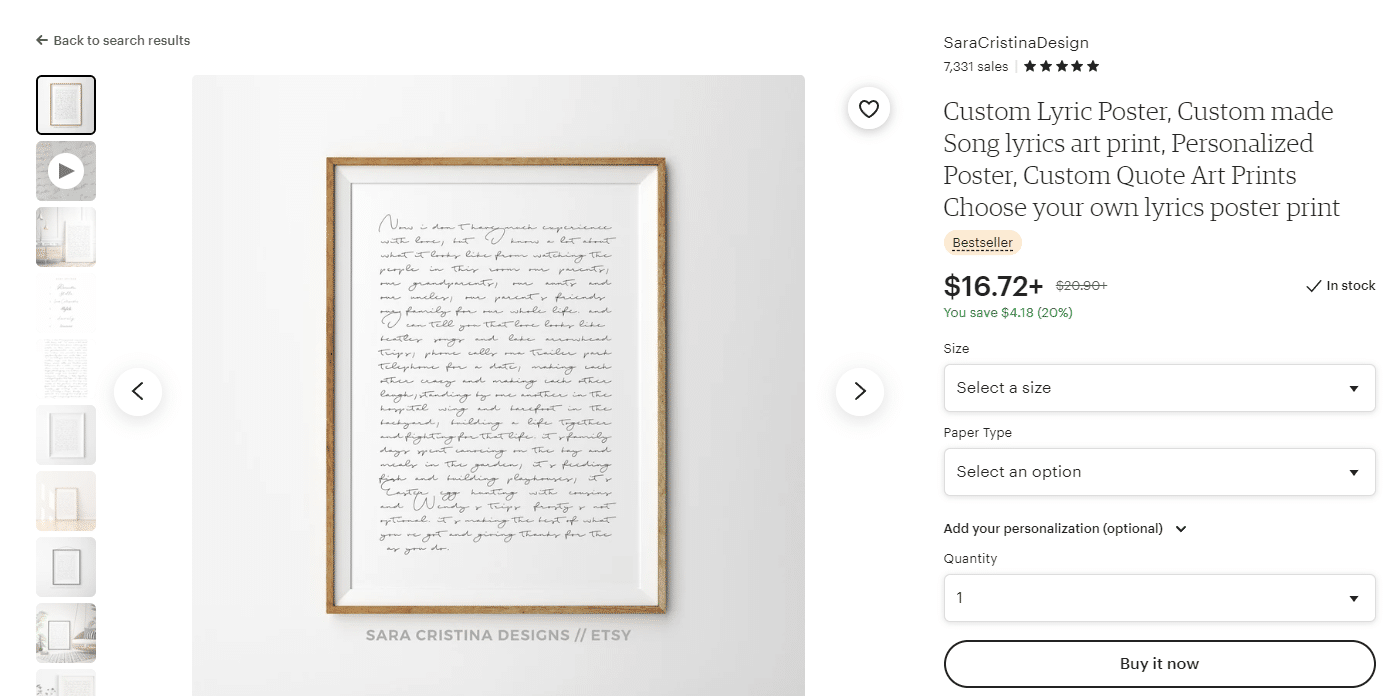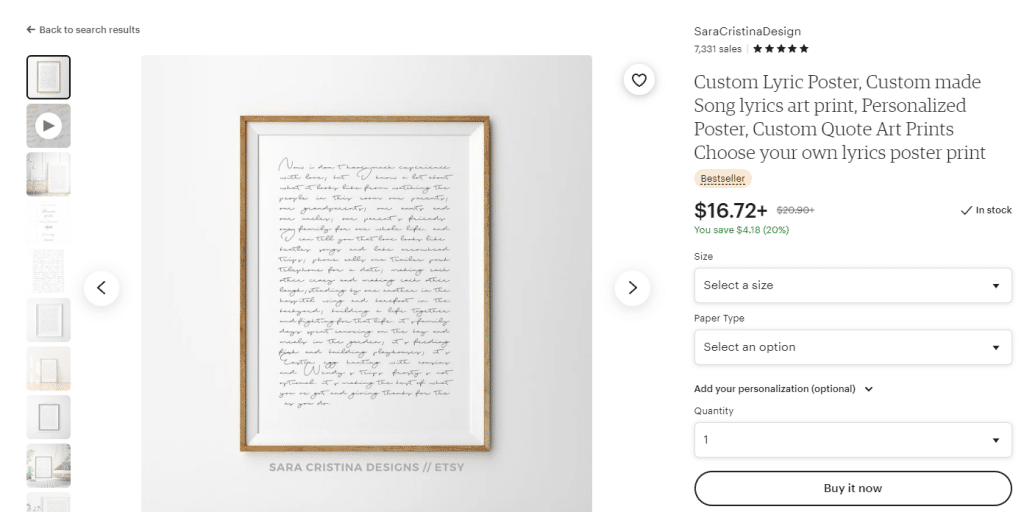 In the category of personalized posters, we find that SaraCristinaDesign is getting traction in their shop. This is due to their offering of the "Custom Lyric Poster, Custom made Song lyrics art print, Personalized Poster, Custom Quote Art Prints Choose your own lyrics poster print". To date, it has sold 7,331 times. It's apparent that customers are happy with the product because it gets 4.9 out of 5 stars and has a nice solid figure of 835 reviews. Considered a best-seller, this item goes for $24.90+.


In the item's description, the Seller has gone to great lengths to describe what customers can have printed (eg. wedding vows, wedding songs, favorite lyrics), mentions that the print doesn't come with a frame, discusses ordering and shipping, and more.
Handmade Posters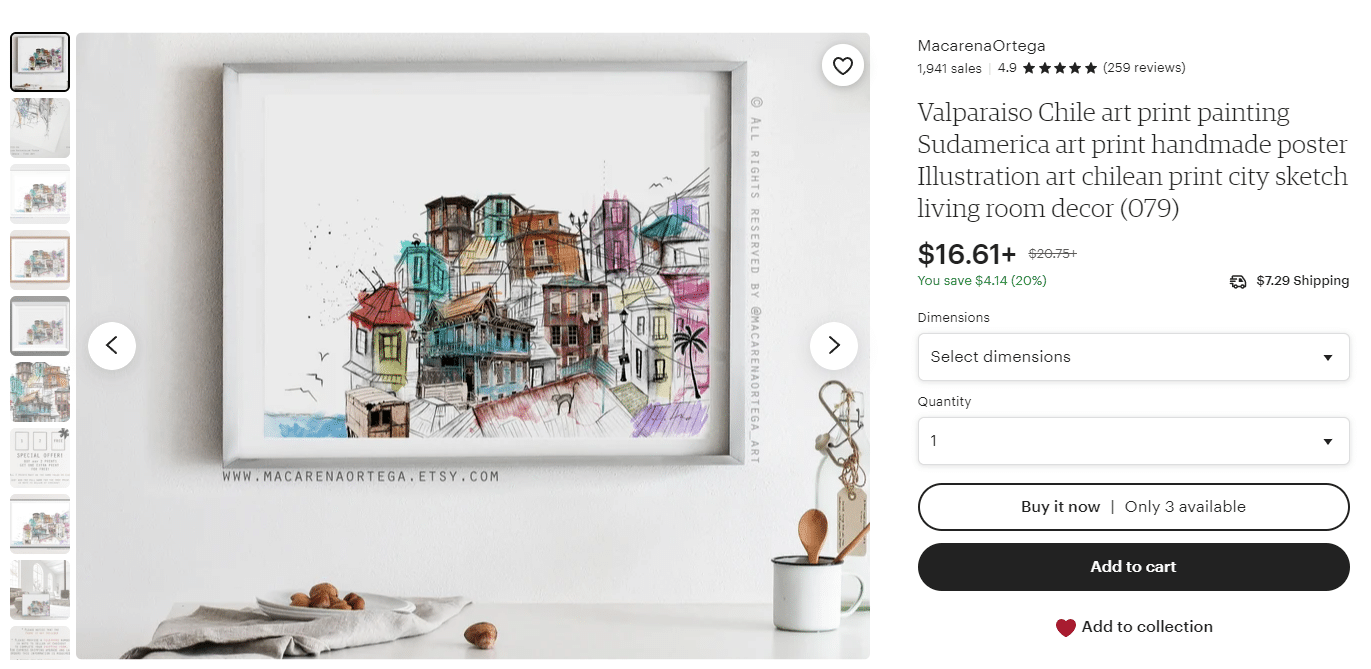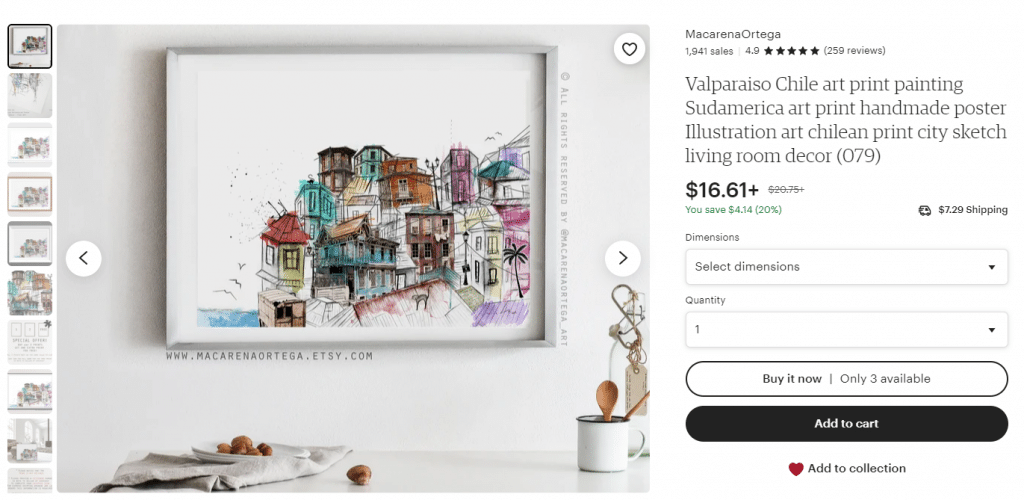 Handmade posters made by MacarenaOrtega are the next category we explore. This Seller has created the "Valparaiso Chile art print painting Sudamerica art print handmade poster Illustration art chilean print city sketch living room decor (079)". This handmade poster has been sold 1,941 times already and it's evident that customers are happy with it. In fact, they've rated it five out of five stars and it's gotten 258 reviews. The item goes for $16.61+.
In the description, the Seller describes meticulously the materials they've used to create this poster. They also offer a special deal and have left their URLs and social media links to gain a wider following. They also mention the shipping options and the fact that the poster does not come with a frame.
Handmade Prints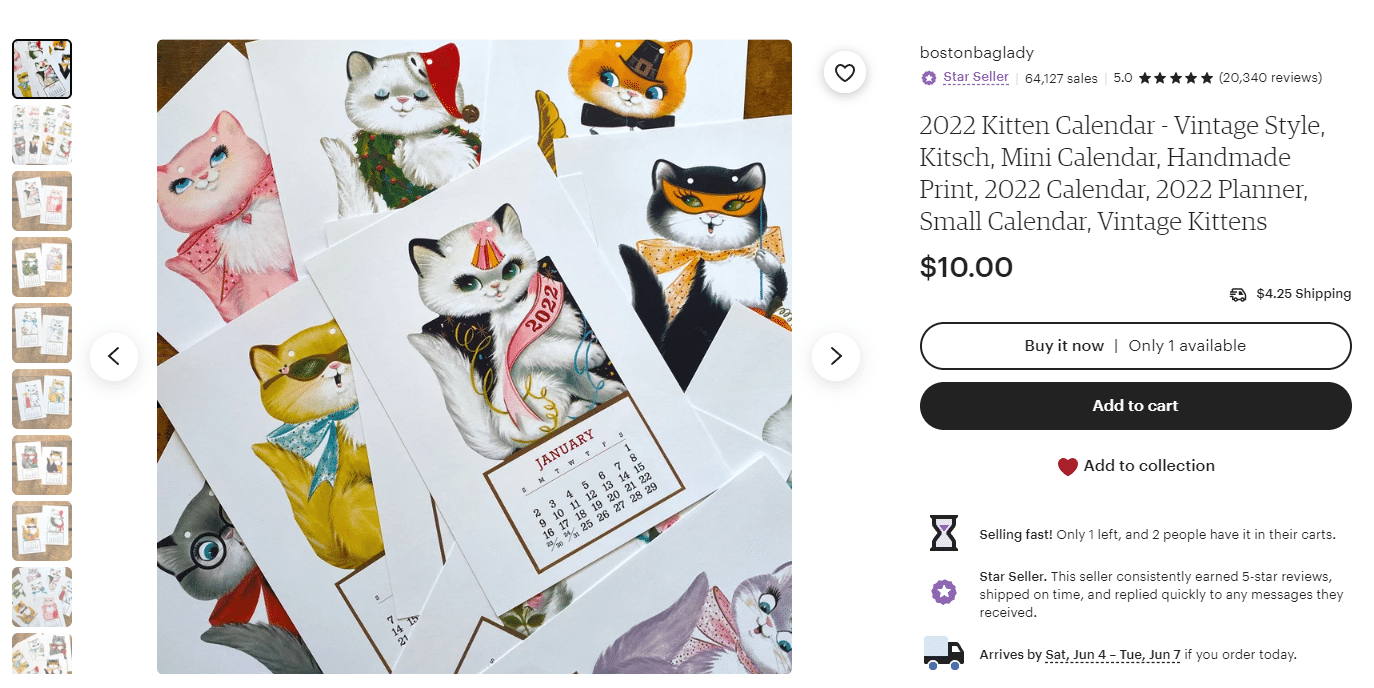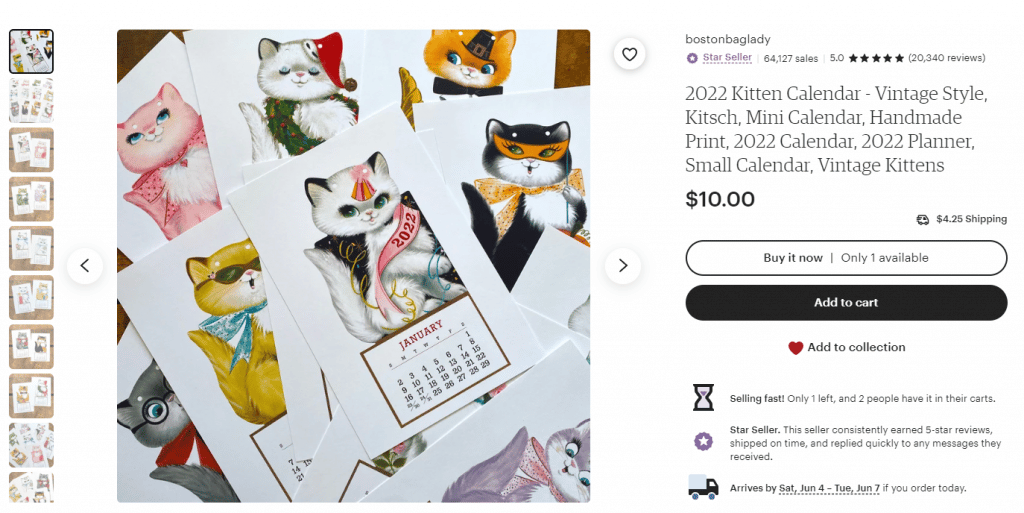 In the handmade prints category, we came across "bostonbaglady". This is an Etsy star Seller. Particularly for their item titled "2022 Kitten Calendar – Vintage Style, Kitsch, Mini Calendar, Handmade Print, 2022 Calendar, 2022 Planner, Small Calendar, Vintage Kittens". Customers absolutely adore this item, and are giving it five out five stars with a whopping 20,251 reviews. The Seller has done superbly here with 64,127 sales, selling the product at $10.00.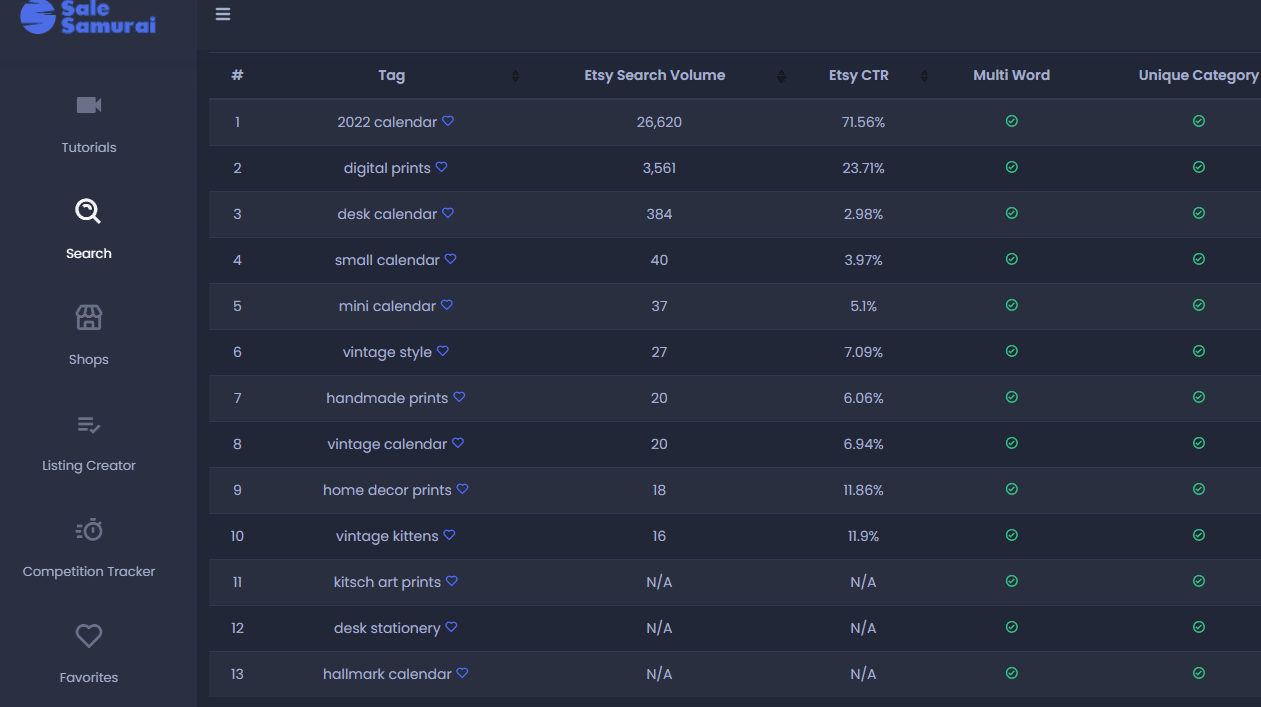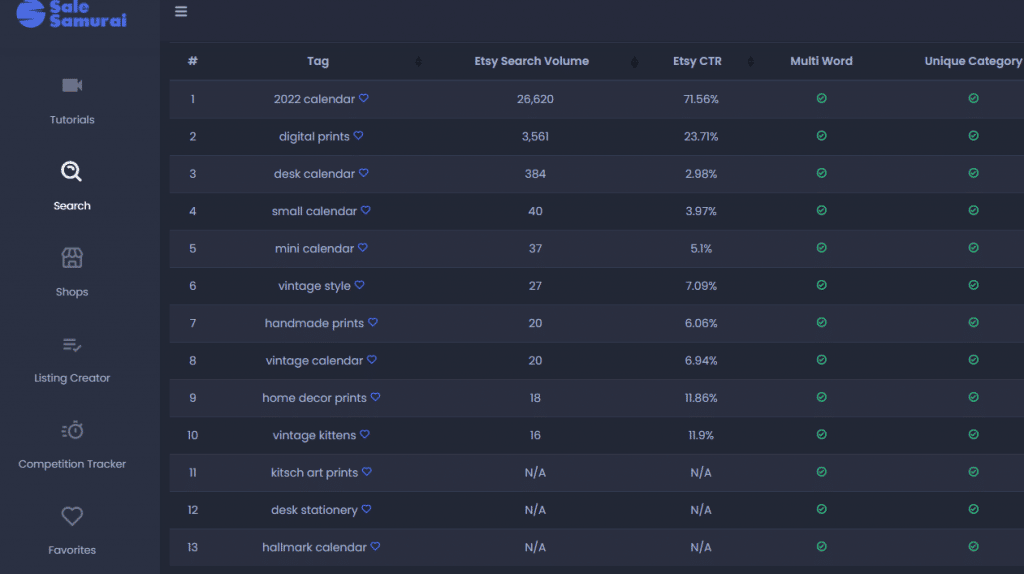 The Seller has done a great job with their keywords, incorporating the words "kitsch" and "vintage" in the description. This is because the word "kitsch" gets an Etsy search volume of 135, while "vintage" gets an Etsy search volume of 2,537 and a Google search volume of over one million, thereby capturing a wider audience. Using this strategy also enables the Seller to rank higher in the search results.
Optimizing Your Listings In The Posters And Print Category
Because art is unique and subjective, it can sometimes be difficult to know whether what you're offering will appeal to people. This is why looking at customer intent and search volume on both Google and Etsy is crucial to see if customers will actually buy what you're selling.
When it comes to listings optimization employed by each of the three Sellers mentioned above, we were able to determine the following:
Personalized Posters
In this category, the Seller has done well to place their customizable poster in the "Arts & Collectibles / Prints / Giclée" category. They've used 136 out of the maximum 140 characters allowed for their title. They've also optimized their image usage by displaying 10/10 images for this item. Further to this, they've priced their personalized poster just a bit above the $16.68 average at $24.90. The tags used by this Seller in their listing include keywords such as wedding gift, getting an Etsy search volume of 26,625, Art Prints (26,202), and one year anniversary (3,631).
Handmade Posters
The Seller of the handmade poster mentioned above has also chosen the right category for their item, placing it in "Art & Collectibles / Prints". With 139 out of 140 characters, this is a fully optimized title. The Seller has also used up their real estate space on Etsy by showcasing the full 10 number of images. They've priced well below the average of $65.33 at $16.28. In addition, they've captured a nice audience by using tags such as art print poster with an Etsy search volume of 200, urban sketching (65), and Chilean painting (32).
Handmade Prints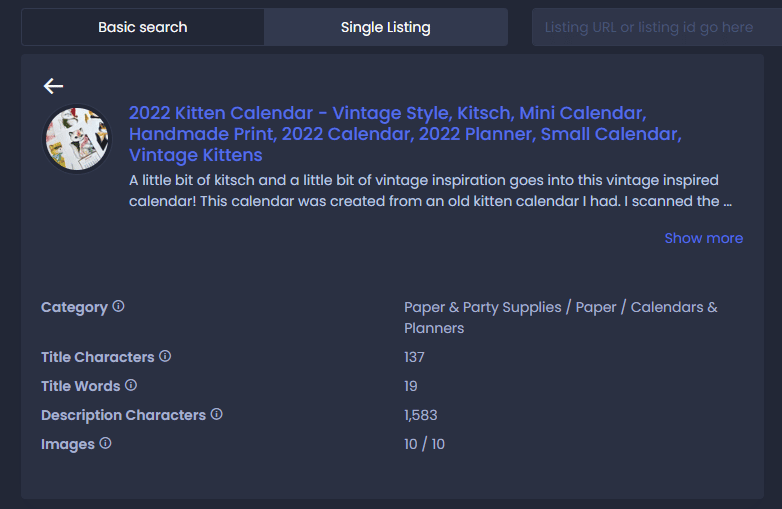 And for the final analysis in this series, we look at "bostonbaglady". This Seller has placed this item in the "Paper & Party Supplies / Paper / Calendars & Planners" category on Etsy. Using the 137 out of 140 characters permitted, the title is nicely optimized and the Seller has also used up all 10 images permitted on the platform. In terms of pricing, they charge $12.00 for the popular kitten calendar series, whereas the average price is $36.17. Finally, we get to the tags. Some of the tags used by the Seller include the words 2022 calendar with an Etsy search volume of 26,620 and digital prints with a search volume of 3,561.
In Conclusion
Wall art in the form of handmade posters and prints is highly popular on Etsy. It doesn't really matter where you intend to place these products. They add value to a room and are immensely pleasing to the eye. Having said that, Sellers and artists who would like to offer posters and prints should keep a few optimization rules in mind when listing on the platform.
These include using relevant keywords in the title and utilizing as much of the 140-character limit on Etsy as possible. In addition, descriptions should mention the materials used to create the handmade product, the estimated shipping times, who the item is best for, in what setting, and how it should be used.
Pricing is another factor that plays a role and certainly looking at the average will help. The same is true for the tags used by the Sellers, which have been effective in each of the cases mentioned above as they capture a large Etsy search volume. Finally, it's a good idea to leave links in the description to your social media handles to ensure your shop gets even wider exposure.
Overall, with the help of Sale Samurai, you too can proceed with your research to determine how best to improve your sales of handmade posters and prints on Etsy.