It's safe to say that every adult has a set of keys on them at all times. Whether it's for their home, car or postal box, there's something quite special about accessorizing your keys with a personalized keychain. This is where Etsy shines. The platform offers over 760,000 such products on its sprawling marketplace.
In this article, we explore the market characteristics of the handmade keychain niche on Etsy, as well as bestseller practices, including strategies to optimize your listings.
Let's take a closer look.
How big is the market for handmade keychains?
As mentioned earlier, a quick search on Etsy reveals that there are over 1,466,281 listings for the seed keyword "keychains".


However, delving a bit deeper, we also uncovered the following results:
There are over 28,000 listings for "keychains wristlet", over 168,000 listings for "keychain charms", over 50,000 listings for "keychains for women", and over 48,000 listings for "keychains for men".
As such, when broken down into categories and segments, the niche does not seem so saturated after all. This means you can still enter and reap the results, without worrying too much about the complexity of the niche.
But what are some of the most important metrics that you should be aware of before attempting an entry?
Below, we explore the listings saturation, tags, and average prices in the handmade keychain niche to help you gain a better grasp.
Listings saturation and search volume
To help us understand the market for keychains on Etsy better, we employed the help of Sale Samurai. The platform allows us to determine the most sought-after keywords, with a search volume above 1,000.
These are as follows:
"Keychain": search volume – 26,215
"Keychains": search volume – 26,153
"' keychain": search volume – 26,150
"Féminine keychains": search volume – 3,696
"Wristlet keychain": search volume – 3,690
"Personalized keychain": search volume – 3,632
"Wristlets keychain": search volume – 3,623
"Wrist keychain": search volume – 3,502
"Keychains for": search volume – 3,433
"Initial a keychain": search volume – 1,109
"Zodiac keychain": search volume – 1,089
"A-team keychain": search volume – 1,086
From this, we can easily conclude that this highly saturated market also enjoys a vast search interest from consumers.
However, this means that although competitive, the niche is also quite lucrative. As such, you need to tap into it with a truly unique proposition.
To prove our point, simply look at the search volume for the keyword "personalized keychain". The query is among the most popular ones, indicating a rather pronounced interest in custom, unique offerings.
But that's not where our research ends. We now turn to what keywords sellers are using in their listing titles to target their audience.
Tags
Sale Samurai helped us determine the most highly-used tags by Etsy sellers aiming to attract and target the keychain-buying audience. The reason this is important is because Etsy allows 13 tags for sellers to use to help optimize their listings.
Tags are crucial for helping you rank higher, so it's worth exploring what the competition is doing. Here is a short list of some of the tags (with a search volume over 1,000) that Etsy sellers are using in their listings to help with their rankings and sales:
"Key chain": search volume – 26,653
"Personalized gift": search volume – 26,653
"Handmade": search volume – 26,629
"Anniversary gift": search volume – 26,621
"Gift for him": search volume – 26,606
"Keychain": search volume – 26,215
"Bridesmaid gift": search volume – 26,211
"Gift": search volume – 26,185
"Wedding gifts": search volume – 26,174
"Gift for her": search volume – 26,162
"Keychains": search volume – 26,153
"Acrylic keychain": search volume – 3,561
"Best friend gift": search volume – 3,560
What's interesting to note from the abovementioned tags is that the singular words "key chain" and "keychain" generate one of the highest search volumes.
Also worth noting is that the interest in men's and women's keychains is almost identical. This is rather rare on Etsy, as ladies are by far the larger audience on the platform. Intrepid sellers should consider this a great opportunity to diversify their audience, as not many products offer this chance.
As for the remaining tags, they primarily indicate that these keychains are used by buyers as gifts, especially for parties and weddings and as party favors.
Finally, we can confirm our earlier finding about personalized keychains. They appear to be quite popular, indeed.
Prices
Next, we used Sale Samurai to help us figure out the prices that sellers are charging for their keychain wares.
Here's a brief breakdown of the essentials:
Lowest price: $0.69
Highest price: $54.35
Average prie: $11.20

What are some of the best-selling merchants doing right?
In this niche, we identified two Etsy star sellers that are doing well. Here's a brief introduction to them:
Seller 1
Title: Name Key Chain Customized Keychain Friends Gift Personalized Gifts Macrame Keychain Bag Charm Recycled Cotton Cord Natural Beige Pink Green
Seller: OrganicBadger
Price: $11.29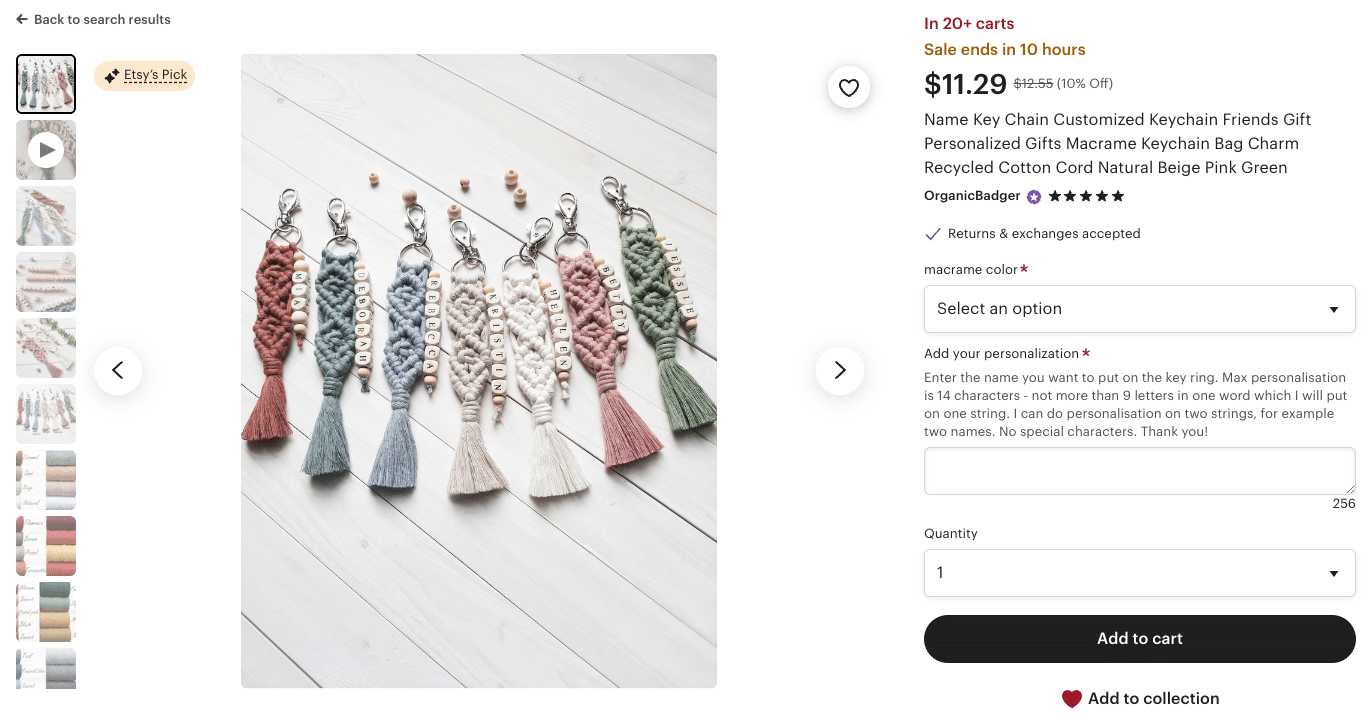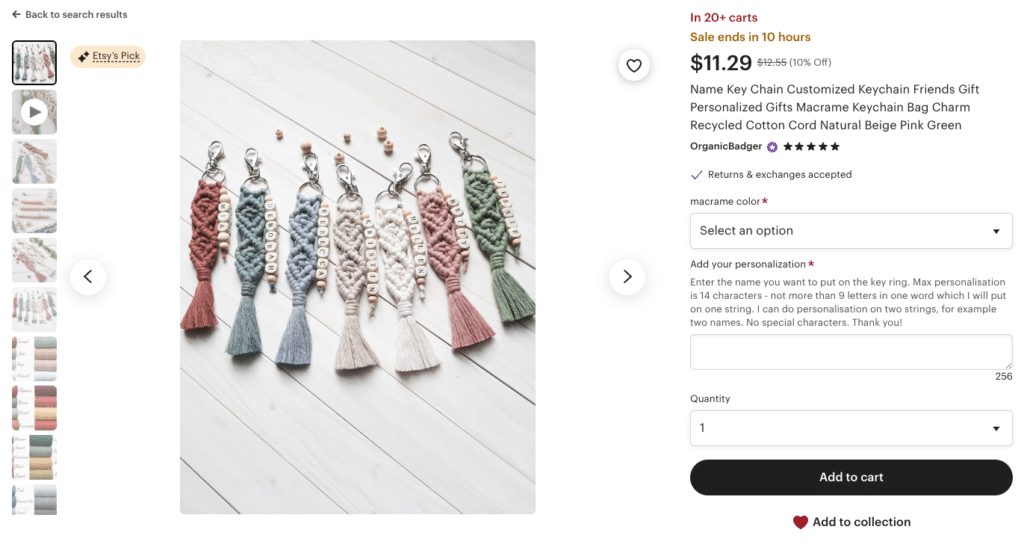 Seller 2
Title: Couple Keychain Set Heart,Personalized 2 Pcs Matching Couple Keyring,Anniversary Gift for Him,Keychain for Boyfriend,Husband Gift,for him
Seller: CustomBuiltGifts
Price: $14.39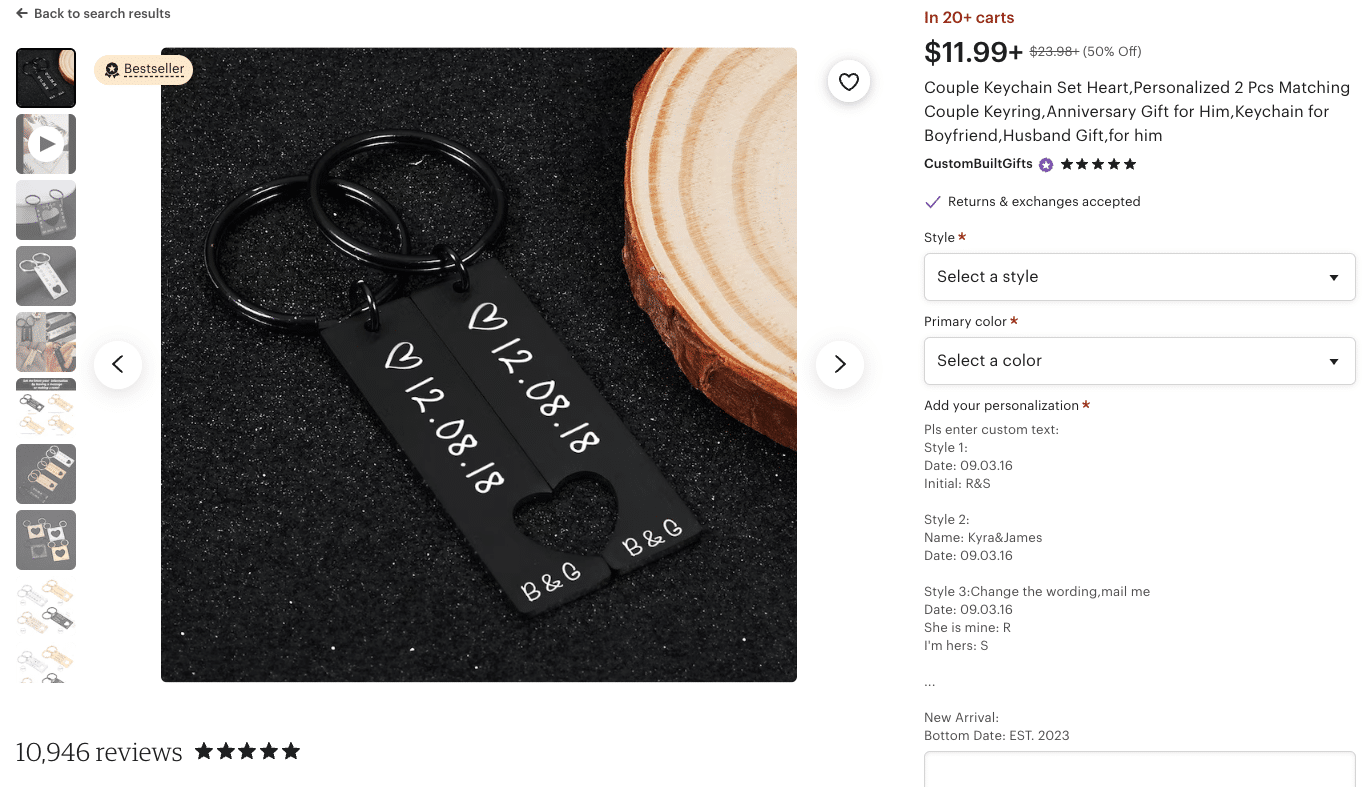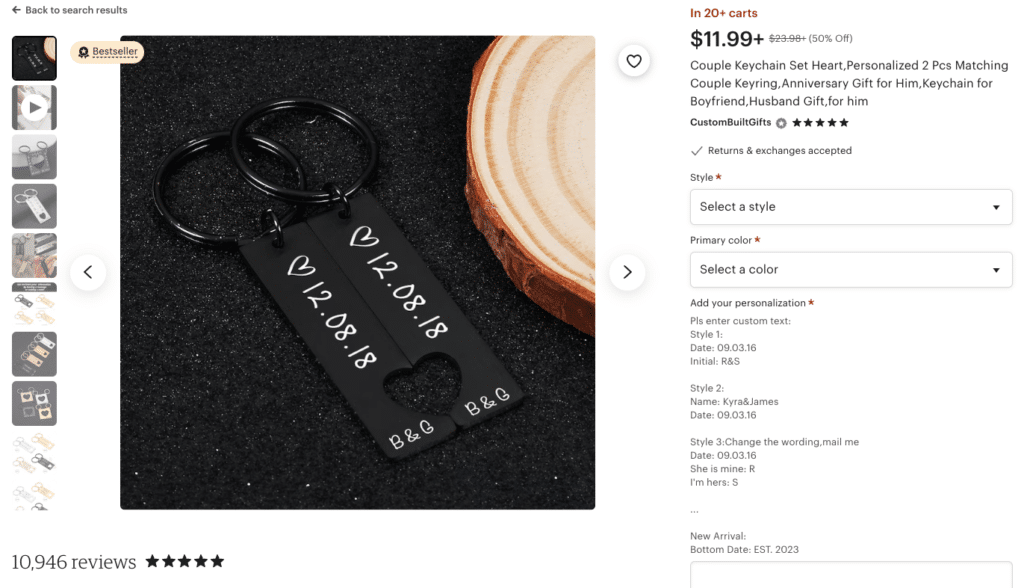 Let's take a look at how they have approached their sales strategy below.
Keyword optimization
In terms of keyword optimization, the first seller has used the differently written out keywords "key chain" and "keychain", while repeating the latter twice. They have also indicated that this is a customized and personalized gift for for friends in particular. Finally, they've indicated the type of material that the keychain is made of in their title to better present their product to their audience.
As we've seen so far, all of these listing optimization decisions are in line with what the market expects, and therefore well thought out.
As for the second seller, they've also indicated that this keychain is personalized and is a gift, answering the search volume for both personalized items, anniversary gifts, and gifts for him. This is a strong strategy worth following.
Pricing
The average price in this niche is just short of $13. And both sellers shine in this regard, going as close as possible to the average at $12.66 and $14.39, respectively.
Images
With regard to images, both sellers have fully optimized their listing real estate by using up all 10 spaces for images as well as adding a video to their storefront.
These are both excellent strategies for grabbing and retaining a buyer's attention.
Our tip-list for sellers seeking to enter this niche
Before wrapping up, we must honor our tradition of offering you a few key takeaways that you should consider when entering the handmade keychain niche. Below is an outline of some sales strategies that we recommend based on some of the star sellers identified in this niche.
Keywords: Keywords play an essential role in your listing optimization process. That's why using high-search-volume keywords is crucial. Targeting and using keywords such as "key chain", "keychains", and "keychain" in both their singular and plural forms is a must. Furthermore, since most keychains are given as gifts to men and women, it's vital to pamper your listings with the relevant keywords. Finally, offering personalized items (and saying so in the title) is almost necessary if you want to compete in this highly saturated, highly developed market.
Prices: Although there are some keychains on Etsy that go as high as $120, you want to stick to the average price of $13. This is an important strategy to follow as it avoids alienating your customers with high prices and ensures that you make as many sales as possible by offering products that are affordable.
Images: Based on the practices of the two star sellers identified above, we strongly advise that you use all 10 images allocated by Etsy per listing. Not only that, you should probably include a video of your keychain as well. Being such a simple and straightforward product has its benefits, but it also means that it requires a bit of extra marketing in order to land those sweet, sweet sales.
Final thoughts
Although it may appear that the keychain niche on Etsy is oversaturated, it's worth considering the fact that there is immense and commensurate search volume for these products.
This makes the niche worthwhile entering, especially if you love a good challenge.
In closing, we must admit that we wouldn't have been able to determine any of this without the help of Sale Samurai.
For a monthly subscription of only $9.99, it's an absolute bargain if you want to take your Etsy side gig to a whole new level.