Gold-like bookcase ornaments, Japanese tree spirits, wooden Christmas tree decorations, animals, knights, gnomes and fairies. All of these figurine types and more are available on Etsy in abundance. In fact, there are over 650,000 such listings on the marketplace.
If this isn't enough to convince you that you need to enter the figurine market, perhaps our in-depth analysis of this niche will.
Let's explore the market size, successful listings, and potential for profitability in more detail below.
How big is the market for handmade figurines on Etsy?


Using Sale Samurai's "Search" module alongside Etsy, we were able to determine the search volume and listings count for a variety of figurine-related keywords.
Here is a summary:
"Figurine": search volume – 2,766; listings count – 662,140
"Dashboard figurine": search volume – 1,110; listings count – 895
"Pelican figurine": search volume – 1,088; listings count – 627
"Kewpie figurine": search volume – 1,088; listings count – 876
"Kodama figurine": search volume – 1,087; listings count – 420
"Pewter figurine": search volume – 1,087; listings count – 5,393
"Wade figurines": search volume – 1,033; listings count – 2,341
"Fawn figurine": search volume – 997; listings count – 1,330
"TMJ figurine": search volume – 978; listings count – 204
"Ox figurine": search volume – 908; listings count – 1,195
It's evident from the above that while there's a relatively consistent search for a wide variety of figurines on Etsy, the listings count is somewhat uneven. This is an indication that the market has gaps in it, which could be filled by entrepreneurial creators. The ratio of search volume to listings count is most favorable when it comes to pelican figurines, kodama figurines and TMJ figurines.
Next, we look at what tags Etsy sellers are currently using in their listings to get in front of an audience. Our findings show the following tags with their associated Etsy search volume: "miniature" (2,920), "figurine" (2,766), "angel figurines" (1,087), "angel figurine" (1,031), "figurines" (788), "bird figurine" (93), "family figurines" (44), "animal figurines" and "animal figurine" (44 each), "custom action figure" (35), "custom figurine" (31), "Christmas figurine" (22), "figurines cat" (17), and "collectible figurine" (16).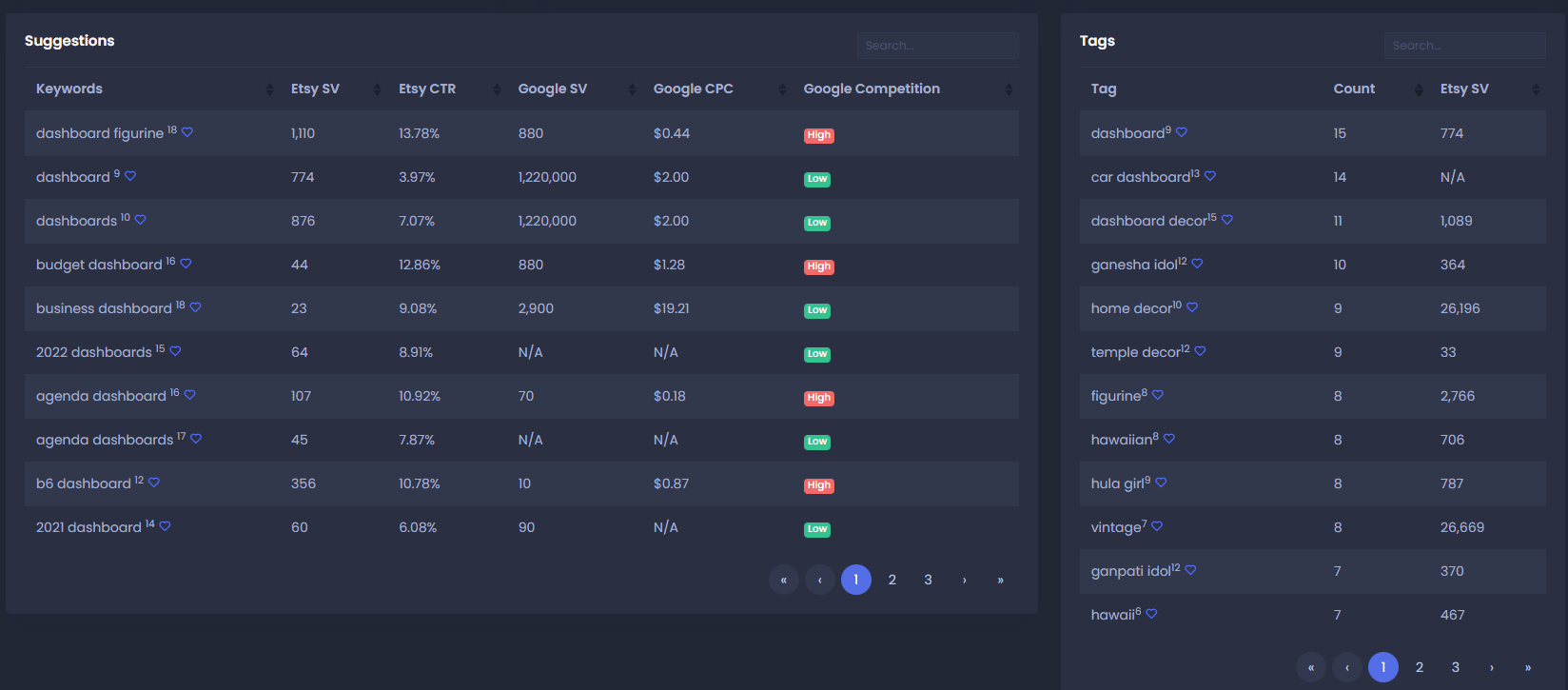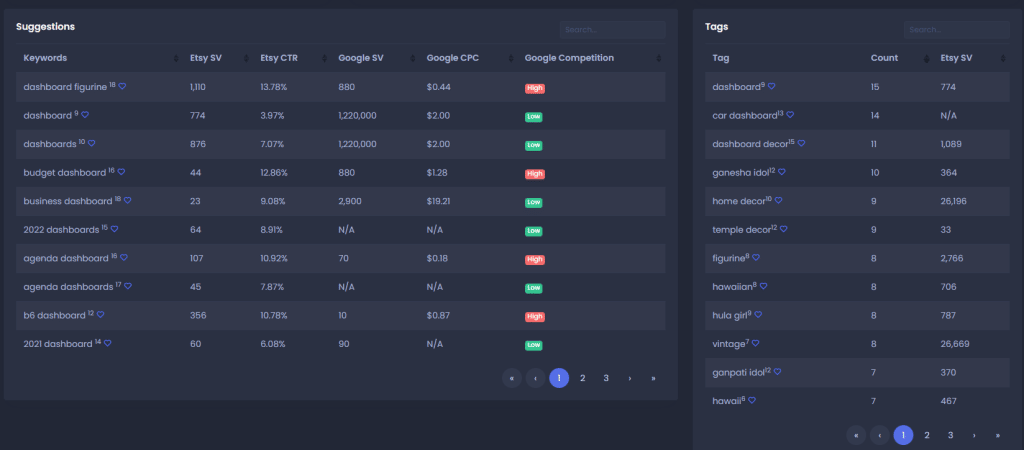 Here, we see that sellers are positioning themselves by catering to higher search volume queries, namely the seed keyword "figurine". This is followed by "angel figurine(s)", which is a clear indication of a sub-niche that you may want to target.
Finally, we explore prices. The lowest asking price related to "figurines" on Etsy is $4.99, while the average is $47.18. The highest price, however, goes to a whopping $599.99.
What are some of the best-selling merchants doing right?
We explored some of the best-selling merchants on Etsy and were able to glean what their success is based on by looking at their listings.
Frog figurine bestseller
As a starting point, we have the seller "artisnt" with the item titled "Baby Black Rain Frog Figurine…". The seller has made 2,439 sales, with each item going for $43.25.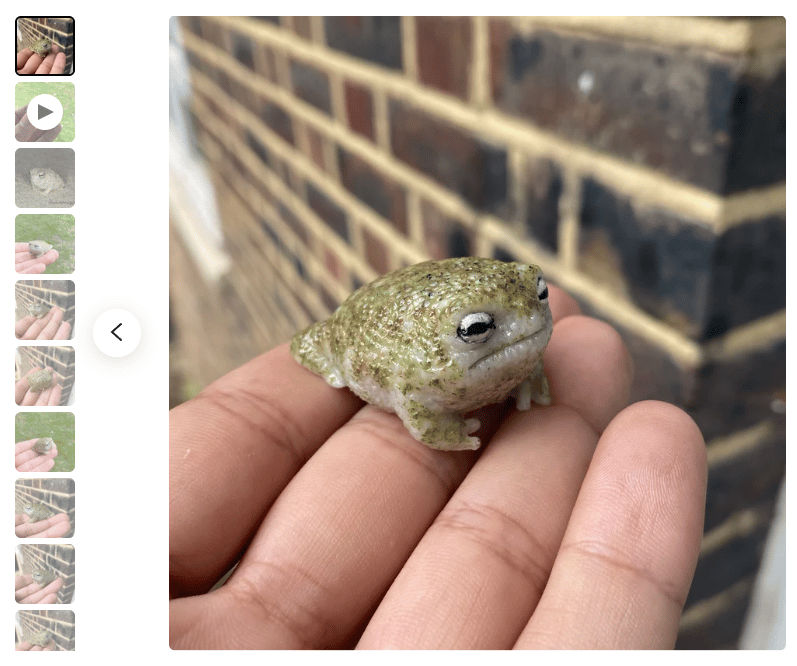 Customized bobblehead bestseller
Next, we have the "JustBobble" star-seller on Etsy with their product titled "Custom Bobbleheads: Doctor | Fully Customizable With Polymer Clay | Personalized Bobbleheads Best Gifts for, Birthday, Christmas etc." Another bestseller, this item has sold 1,949 times at $83.99.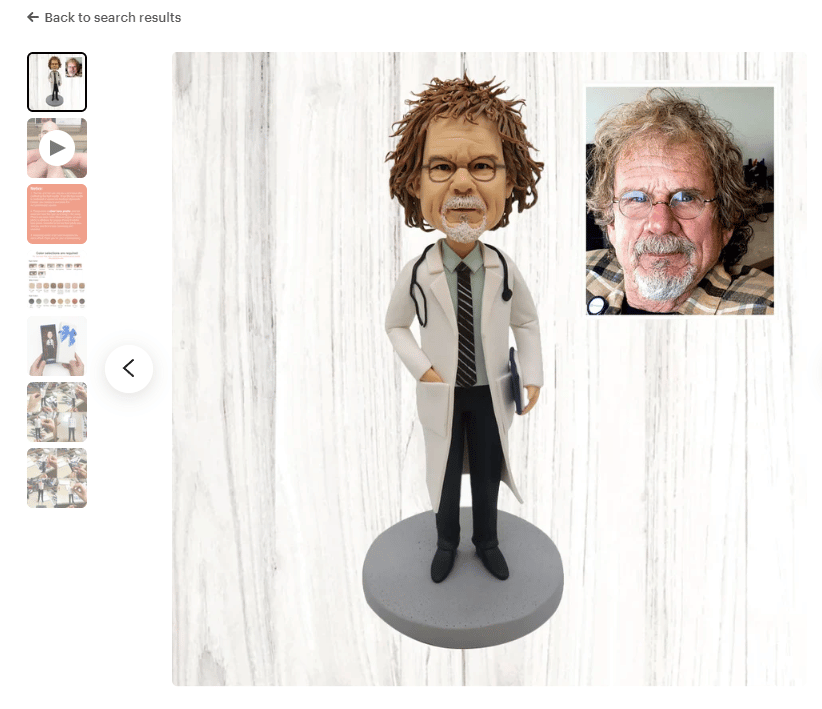 Personalization
Of note here is that the second listing does not employ the seed keyword "figurine" in the title. However, using it as a tag means that the seller still gets the necessary visibility on Etsy, proving just how important tags are. This is especially the case with tags, which use high search volume keywords.
Another important feature of this seller is that they offer a highly personalized product. Namely, a bobblehead figurine based on pictures that a customer sends through. This high level of personalization is an excellent way of ensuring that your product achieves more sales. It is yet another example of the power of customization on Etsy. We see this approach leading sellers to the top 10 in almost all niches on the platform.
Bold pricing
Another interesting observation relates to the price. Figurines, by their very nature, are physically rather small items. But this is not to say that they don't need to be priced appropriately. Whereas the first seller mentioned above has priced just around the average for their rain frog baby figurine, the bobblehead merchant has priced at double the average.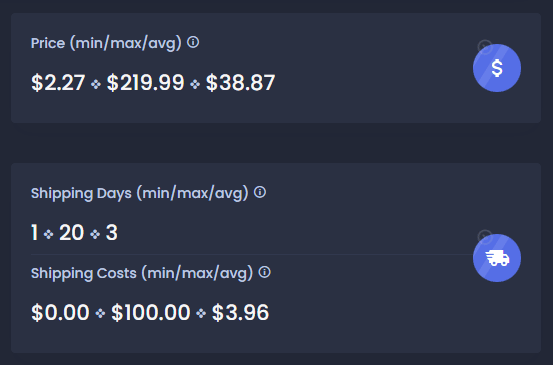 Obviously, this can be attributed to the level of personalization offered in creating the product. And judging by the sales volume, the author has found the golden middle.
However, as an Etsy seller, what's important for you is to know that high-quality, highly personalized items can be really, and we mean really, lucrative.
Images
Finally, we looked at the number of images used by each of these bestsellers. Whereas the first seller has fully optimized their real estate on Etsy by using 10 images in total, the second has not.
However, JustBooble have created a video to show the creation process of the personalized bobblehead figurines. Since video plays a key role in how audiences consume content, this can be considered a smart strategy indeed.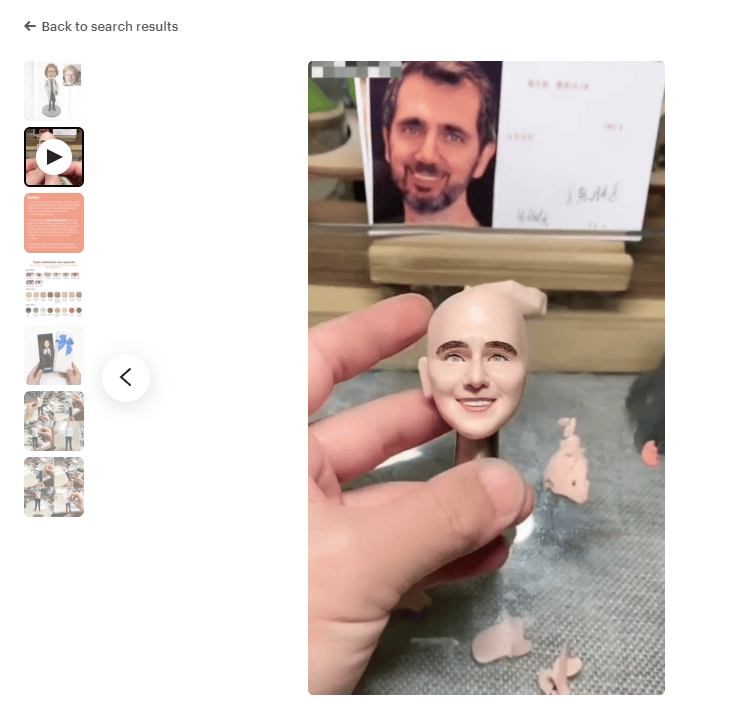 How profitable is this niche?
Working out profitability on Etsy is unique for each seller. Unfortunately, it's next to impossible to determine the amount spent on materials and the labor involved just by looking from the side. However, we can get an estimate of the two bestsellers' approximate turnover by multiplying the number of sales by their sales price.
For artisnt, we get an estimated turnover of $105,486.75. Meanwhile, JustBobble gets exactly $163,696.51.
It's quite impressive, to say the least, that something so small can yield a turnover of nearly $200,000.
Our recommendations for sellers seeking to enter this niche
Competing effectively in the figurine niche requires some foresight and in-depth research. However, we've tried to save you a lot of trouble by exploring this niche in detail and can now offer you important insights into how you can earn more sales.
Here's our advice.
Keywords
Your keyword strategy should be effectively intertwined with the tags you use in your listing. This means not only using the seed keyword "figurine" in your title and description, but also in your tags. This is how one of the bestsellers got to the top without even mentioning the word "figurine" in their title.
Make use of the high search volume, low competition keywords that we've provided in this article to get a head start. As a reminder, those are pelican figurines, kodama figurines and TMJ figurines. Alternatively, go for the angels figurine sub-niche or offer something unique and personalizable.
Pricing
The general advice regarding pricing is to price your items around the average. However, depending on the product personalization and craftsmanship, you can go beyond the average.
Although figurines are very small items indeed, they can come at a hefty price tag as evidenced by the over $500.00 price tag for the highest priced items in this niche.
Images


Another interesting observation about this niche is that optimizing your listing by utilizing all 10 available spaces for pictures might not be enough.
What you can do to further enhance your offering is to add videos of the creation process and various options for the final product's appearance.
Ratings and reviews
Finally, we reach ratings and reviews. These are crucial in generating momentum for your Etsy store. However, while you can't directly solicit for ratings and reviews, offering a high quality product can help you generate more sales, which creates a self-perpetuating cycle of earning you higher and better reviews.
These act as social proof that your products are worth the purchase and are of a high quality.
In conclusion
Figurines are small, yet effective decor pieces both for a home's interior and its exterior. They're also great for mantlepieces, as cake toppers, Christmas tree decorations, and so much more. Despite their small size, these figurines have the potential to earn you hundreds of thousands of dollars. But you need to position yourself accurately to get in front of an audience searching for these pieces.
Let Sale Samurai help you optimize your listing and give you insights into valuable information that can help propel your Etsy side gig forward.
For only $9.99 per month, you'll be well on your way to competing effectively and strategically on this popular marketplace.