Etsy stands as a haven for creative artisans, showcasing an array of unique and handcrafted treasures.
A domain that might surprise you with its appeal in the marketplace is handmade bottle openers. These tools have taken on a new identity in the hands of skilled craftsmen, transforming them into functional pieces of art.
But just how significant is the market for handmade bottle openers on Etsy? And if you're considering dipping your toes into this space, what niches are worth pursuing?
Let's find out.
Getting to know the handmade bottle opener market on Etsy
When we began our research into the bottle opener segment on Etsy, one thing struck us.
Although the majority of items are handmade, this isn't conveyed across product titles. It's only featured in the product description.
This also becomes clear when analyzing data from Sale Samurai.
Let's look at two examples.
When inspecting "bottle openers" as a phrase, the software reveals a monthly search volume of 1,049 and a competition level of 80,938. In addition, Etsy displays more than 44,600 results for the phrase, signaling a large and well-established market.

However, things look very different when we type in "handmade bottle opener" into Sale Samurai and Etsy. The marketplace only displays 2,529 results, while the software uncovers a monthly search volume of 20 and a competition level of 4,978
These numbers bring us to one critical conclusion.

Consumers are so used to the fact that Etsy offers handmade and authentic goods, that including words like "handmade" in searches is not a necessity. The common assumption is that most products are man-made.
We verified this theory by examining the first two pages of results for "bottle opener". Indeed, all listings include a product description section that clarifies that the item is handmade.
As a result of this discovery, we conducted our analysis without using "handmade" as a main keyword. Instead, we focused on different bottle opener categories and styles that create the strongest waves of sales.
Here are our findings.
The most popular bottle opener categories
Let's face it. Bottle openers on Etsy are extremely diverse. They can get wildly creative, offering shoppers access to unique designs, colors, materials, and more.
Throughout our inspection, we brought to light the following trending niches:
Bbbarfly bottle openers
Plinko bottle openers
Wedding bottle openers
Wine bottle openers
Golfball bottle openers
Let's dive deep into the waters of each, exposing search volumes, competition levels, and market prices.
Bbbarfly bottle openers
Bbbarfly bottle openers are a captivating blend of utility and artistry. Drawing inspiration from butterfly knives, these unique openers add a touch of excitement to opening bottles.
Shoppers are drawn to their innovative design, which transforms a mundane task into an impressive display of dexterity.
According to Sale Samurai, Bbbarfly bottle openers stand out with the highest search volume (1,149) of all five niches. At the same time, they have one of the lowest competition levels (33).
This is an ideal example of a lucrative, yet very easy to rank in field.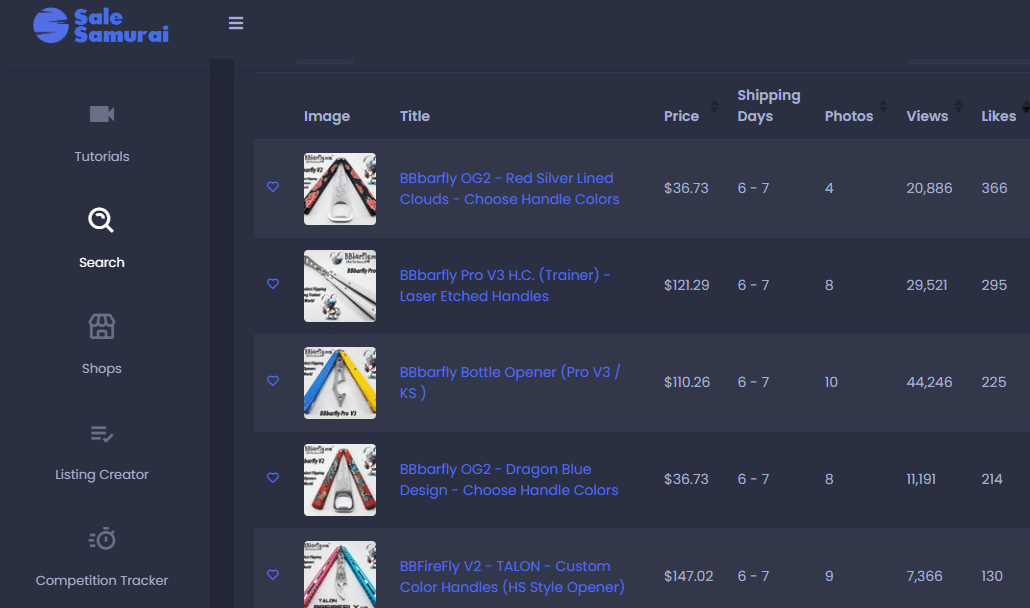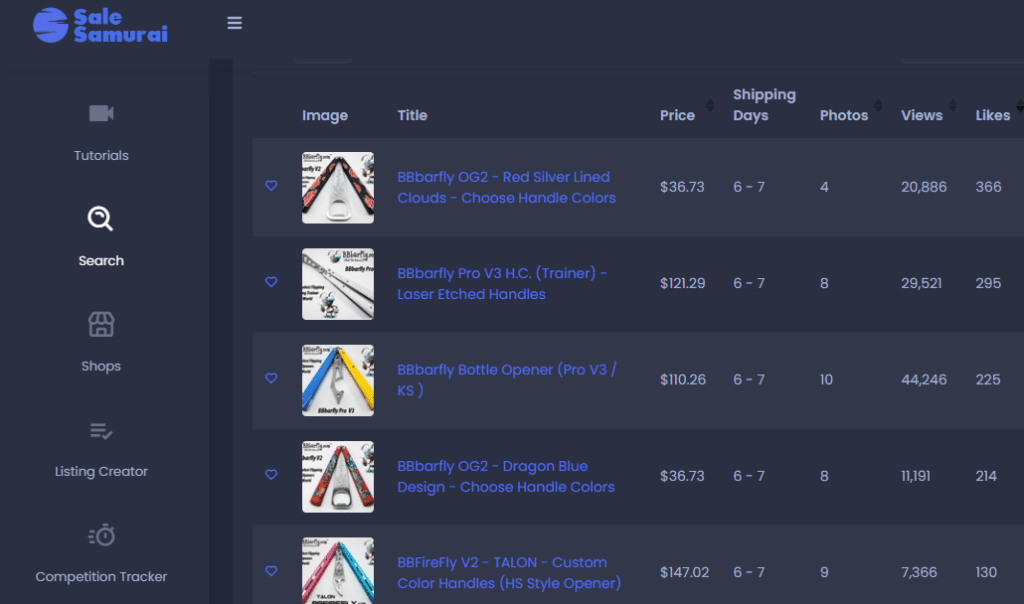 Why? Because there is a substantial consumer demand but few other sellers to compete against.
In terms of market prices, the numbers you need to know about are as follows:
Minimum price – $12.22
Maximum price – $162.93
Average price – $94.49
These rates are essential to consider when setting your pricing strategy. Think of the expenses of creating your handmade bottle opener and the potential profit you can expect per sale.
Plinko bottle openers
Plinko bottle openers, on the other hand, are inspired by the classic Plinko game. These openers infuse a sense of playfulness into the act of uncapping a bottle.
They're among consumers' favorites due to the unexpected joy they bring to social gatherings and casual hangouts. The element of chance adds an extra element of fun, making Plinko bottle openers a hit among those who are after lighthearted moments and interactive experiences.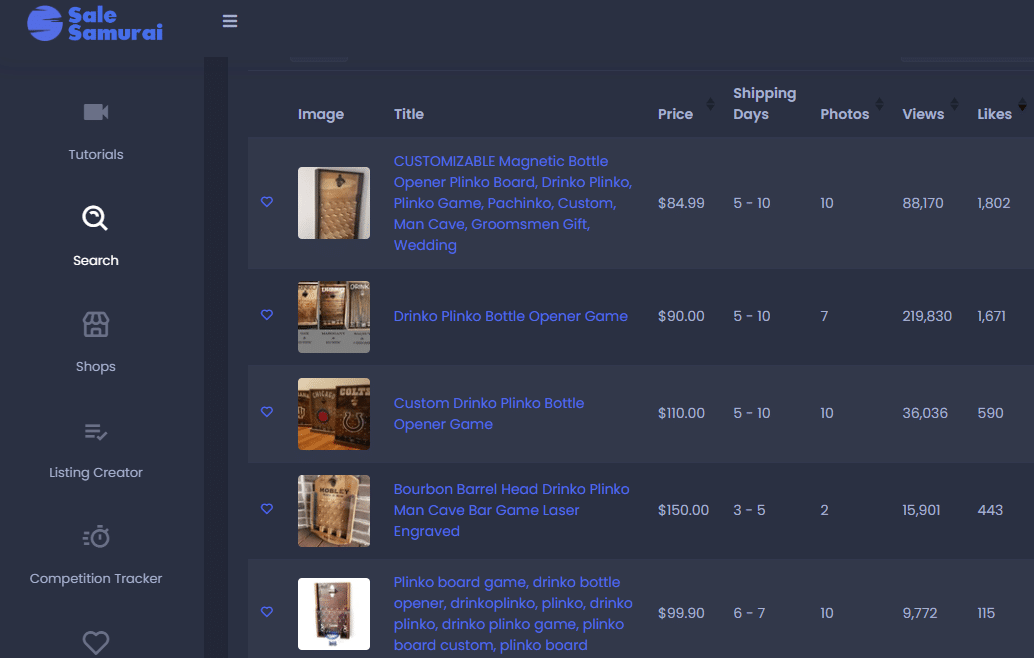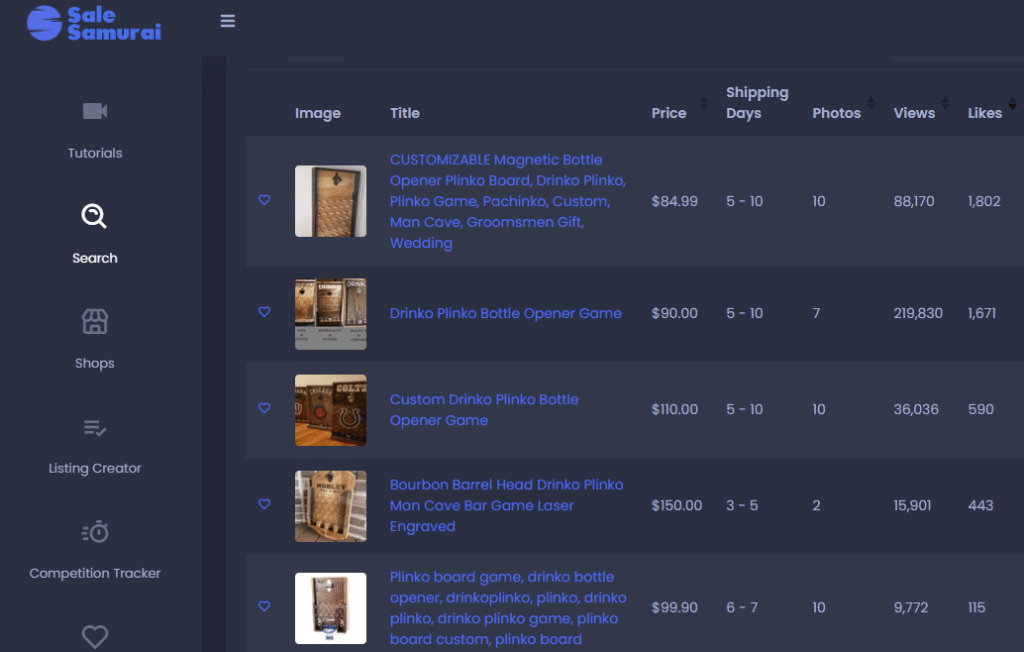 Exposing the numbers, "Plinko bottle openers" generate a monthly search volume of 460 on Etsy and have a competition level of 43. They're yet another option that is rather easy to rank for, even for new market entrants.
Interestingly, this bottle opener category stands out with the most impressive market prices:
Minimum price – $5.43
Maximum price – $399.00
Average price – $112.00
Compared to all other bottle opener categories, Plinko openers have the highest average and maximum prices. This means that they are likely to yield the most satisfactory per-sale earnings for sellers.
Wedding bottle openers
Next up – wedding bottle openers – cherished tokens that blend practicality with sentiment.
Often adorned with intricate designs and personalized touches, these items serve as meaningful wedding favors. They're popular on Etsy for their ability to immortalize a couple's special day, giving guests a lasting reminder of the celebration.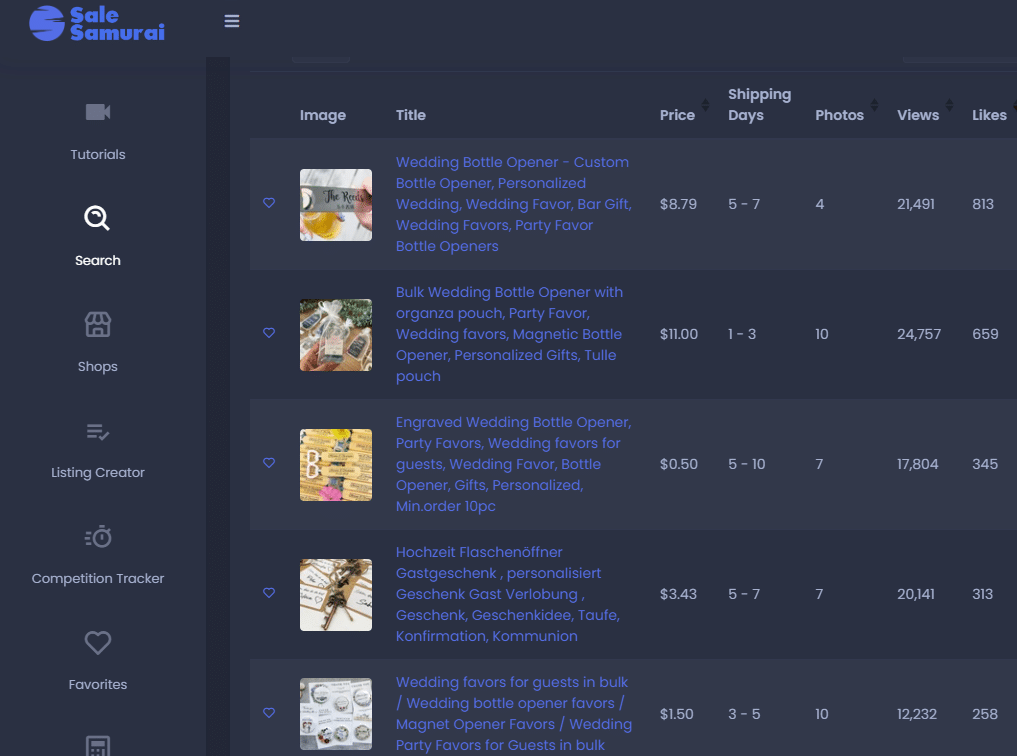 But let's look at the data.
The phrase "bottle opener wedding" generates a monthly search volume of 460 and has a competition level of 16,191. It's another money-making avenue to explore if you're a seller looking to diversify your portfolio and tap into a new pot of honey.
Note that this category has the lowest minimum market price ($0.15). However, it has a satisfactory maximum and average price ($340.00 and $16.01). Put otherwise, you can still earn a decent revenue per sale with a solid sales strategy.
Wine bottle openers
It's safe to say that there are very few households without a wine bottle opener.
These products are essential tools for enthusiasts who savor the art of uncorking fine vintages. Whether they're traditional corkscrews, lever-style openers, or electric models, shoppers appreciate their functionality and ease of use.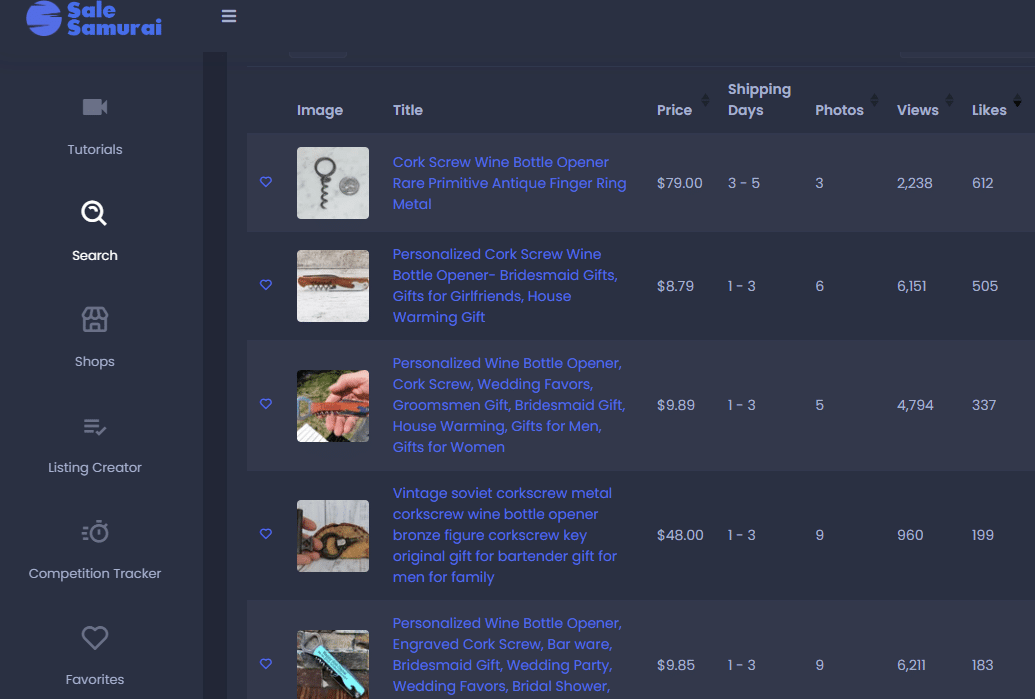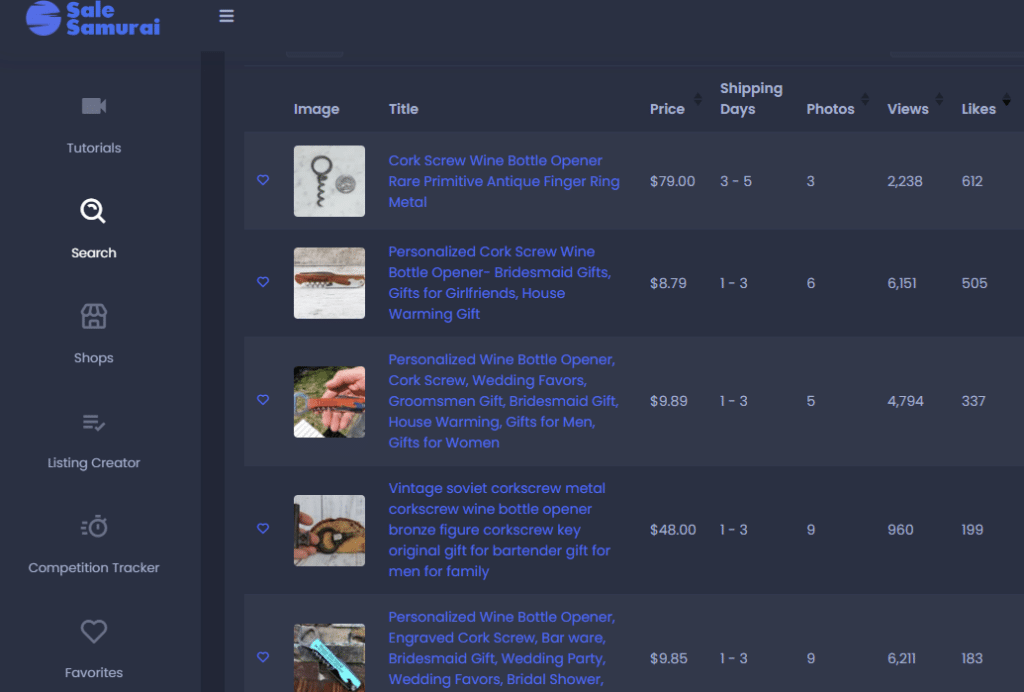 At the same time, our research insights are discouraging.
Surprisingly, "wine bottle openers" has the lowest monthly search volume out of all explored phrases in this article. Despite the monthly search volume of 73, the category is highly aggressive in terms of competition (7,213).
In a nutshell, this makes wine bottle openers one of the worst niches to penetrate as a seller.
Golfball bottle openers
Repurposing actual golf balls, these openers showcase a clever design that resonates with golf enthusiasts and casual drinkers alike.
Etsy buyers cherish them for their sporty aesthetic. Golfball bottle openers effortlessly bridge the gap between leisure and convenience, making them a hit among those who value a playful twist on a classic tool.

We researched "golfball bottle opener" on Sale Samurai to discover a monthly search volume of 219. Interestingly, this category stands out with the lowest competition level (of only 1).
Considering this, chances are that ranking high in this segment will be a quick and stress-free journey.
Moreover, golfball bottle openers have the highest minimum market price ($14.99). This is important to note as it suggests a high profit-making potential.
Popular materials and tags used in the space
So far, we've covered the dominating niches in the bottle opener market. However, there are two additional factors to consider as a seller – materials and popular tags.
One of the features that shape an excellent bottle opener is the material that it's crafted from. After thorough research on Etsy, we detected that the most popular choices in the niche are wood and leather.
Let's look at an example.
The "Personalised Bottle Opener Your Text Here 1 Wooden Bottle Opener Laser Engraved UK Fathers Day, Birthday Christmas Gift For Him" is one of the top performers in the space. It costs $9.56 and has contributed to the LaserChimp shop's sales of 130,631.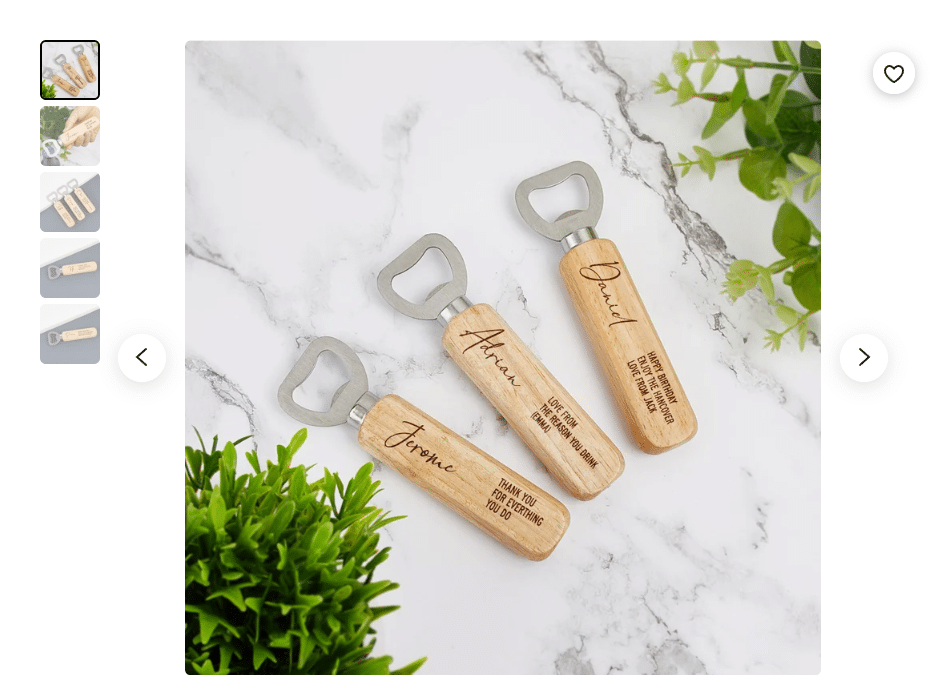 The product alone has attracted more than 2,600 positive customer reviews, proving its success on Etsy.
The listing title makes it clear that it's crafted using wood. It also includes additional tags that help the item gain visibility, such as "personalised", "laser engraved", "fathers day", "birthday", "Christmas", and "Gift for him".
This brings us to our next point – popular tags.
Although listing titles and descriptions must be optimized with niche-related keywords, it's advisable that they also feature tags. They further help the listing rank high and attract more traffic.
Here are the most frequently used tags in the bottle opener segment:
Groomsmen gifts
Best man gift
Gift for him
Father of the bride
Personalized
Making use of these will empower you to make your listing stand out from the rest and reach the right target audience
Wrapping up
Overall, the handmade bottle openers niche on Etsy is large enough to deserve your attention as a seller.
Regardless if you're a new merchant or a seasoned professional, your Etsy side gig can turn around for the best by tapping into this exciting market.
Remember to niche down, follow established best practices, and make informed decisions based on Sale Samurai data.