Golden jewelry has been a symbol of wealth, style, and elegance for centuries. Gold is one of the most valuable precious metals we have on the markets today. And for the potential goldsmiths among Etsy sellers, it would be essential to know how well the market is doing and what your potential for profitability is.
This is why we decided to take a deep dive into the scope of the market so that you can make a more informed decision about entering it with your own golden jewelry products.
Let's explore it in more detail below.
How big is the market for golden jewelry?
Our research would not be possible without the help of Sale Samurai. In conjunction with Etsy, we found that there are 4,965,768 listings on the platform for the seed keyword "gold jewelry". We omitted the use of the word "golden" because it implies that a product is not entirely made of gold but can be gold-plated. And also, because "golden" is usually associated with the television show "The Golden Girls" as well as "golden retrievers".


Delving further into the "gold jewelry" research, we found the following keywords, together with their listings count and associated Etsy search volume:
"Gold ring": listings count – 1,591,024; search volume – 26,195
"Gold necklace": listings count – 1,435,159; search volume – 26,603
"Gold earrings": listings count – 1,303,808; search volume – 3,376
"Gold bracelet": listings count – 595,185; search volume – 3,432
"Gold chain": listings count – 575,676; search volume – 3,201
"Gold hoops": listings count – 264,602; search volume – 3,136
"Gold hoop earrings": listings count – 242,887; search volume – 3,690
"Gold name necklace": listings count – 91,764; search volume – 443
"Gold filled ring": listings count – 59,599; search volume – 1,086
It's clear that rings, necklaces and earrings are both the most numerous and in the highest demand. However, it must be said that comparatively speaking, all of the items listed above are extremely popular. Listings counts of 60,000 are the hallmark of large niches, and in this case, these are the smallest of the gold jewelry categories.
Related keywords and tags
The gold jewelry niche looks gargantuan on the surface, but to be absolutely sure, we also explored related keywords together with their related search volume above 1,000 searches.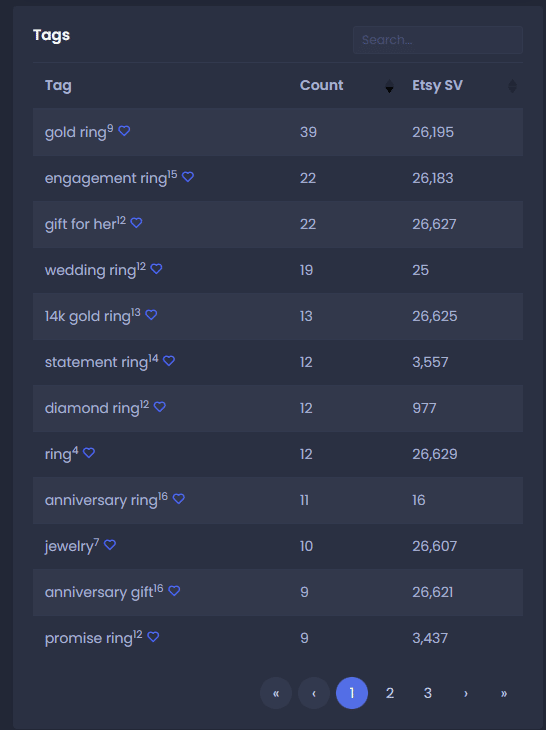 We established the following keyword saturation: "14k gold jewelry" (26,661), "24k gold jewelry" (26,200), "22k gold jewelry" (3,503), "septum jewelry gold" (1,110), "Dubai gold jewelry" (1,107), and "vch jewelry gold" (1,049).
We then looked at the tags that sellers have used in order to help them optimize their listings alongside their search volume. The following are some of the most popular ones:
"Jewellery" (26,651)
"Jewelry" (26,649)
"Gift for her" (26,627)
"Anniversary gift" (26,621)
"Gold necklace" (26,603)
"14k gold" (26,207)
"Gold ring" (26,176)
"Gold" (26,130)
"18k gold earrings" (3,683)
"14k gold charm" (3,504)
"Gold bracelet" (3,432)
"Gold earring" (3,378)
"Gold earrings" (3,376)
"Gold chain" (3,201)
The numbers continue to impress. They reaffirm our initial findings that the gold jewelry niche is indeed one of the largest on Etsy. However, what's important to note here is that sellers offer a huge inventory of 24- and 14-karat gold items. This means that the market is well-supplied and the quality of the gold used in the items would not constitute a point of differentiation from the competition.
Another important discovery lies in the breakdown of the tags. It would appear that gifts make up a considerable chunk of the market and are a popular niche in themselves.
Price breakdown
Because gold is a precious metal, its price can be considerably high. This is why it comes as no surprise that the highest price for gold jewelry on Etsy is around $6,400.
Meanwhile, the lowest price is at $0.50 and the average price is around $164.41.
What are some of the best-selling merchants doing right?
Although there are multiple Etsy star-sellers with bestselling gold jewelry products, we identified two merchants that are doing incredibly well.
We first explored the listing of MayaAndMia. This seller has created the "14k Solid Gold Star of David Necklace – 14k Magen David Kabbalah Religious Pendant – 14k Real Gold Jewish Star Charm Necklace for Women".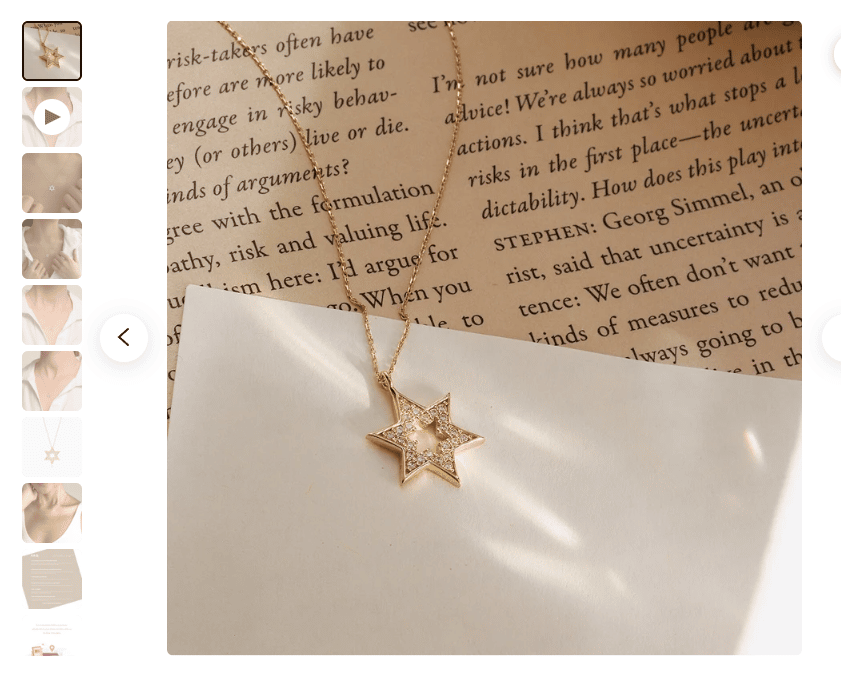 It is ranked five out of five stars and they've done a great job in terms of utilizing their 10 spaces for images. However, and interestingly enough, one of the image spaces used provides a list of frequently asked questions and another one asks customers to share their telephone numbers through Etsy messaging in order to speed up the delivery process.
This is a smart move on the part of the seller, but what really impresses us is how well optimized their title is. The creator has used some really high search volume keywords such as "14k gold", "gold star necklace", "14k real gold", and "star charm necklace for women".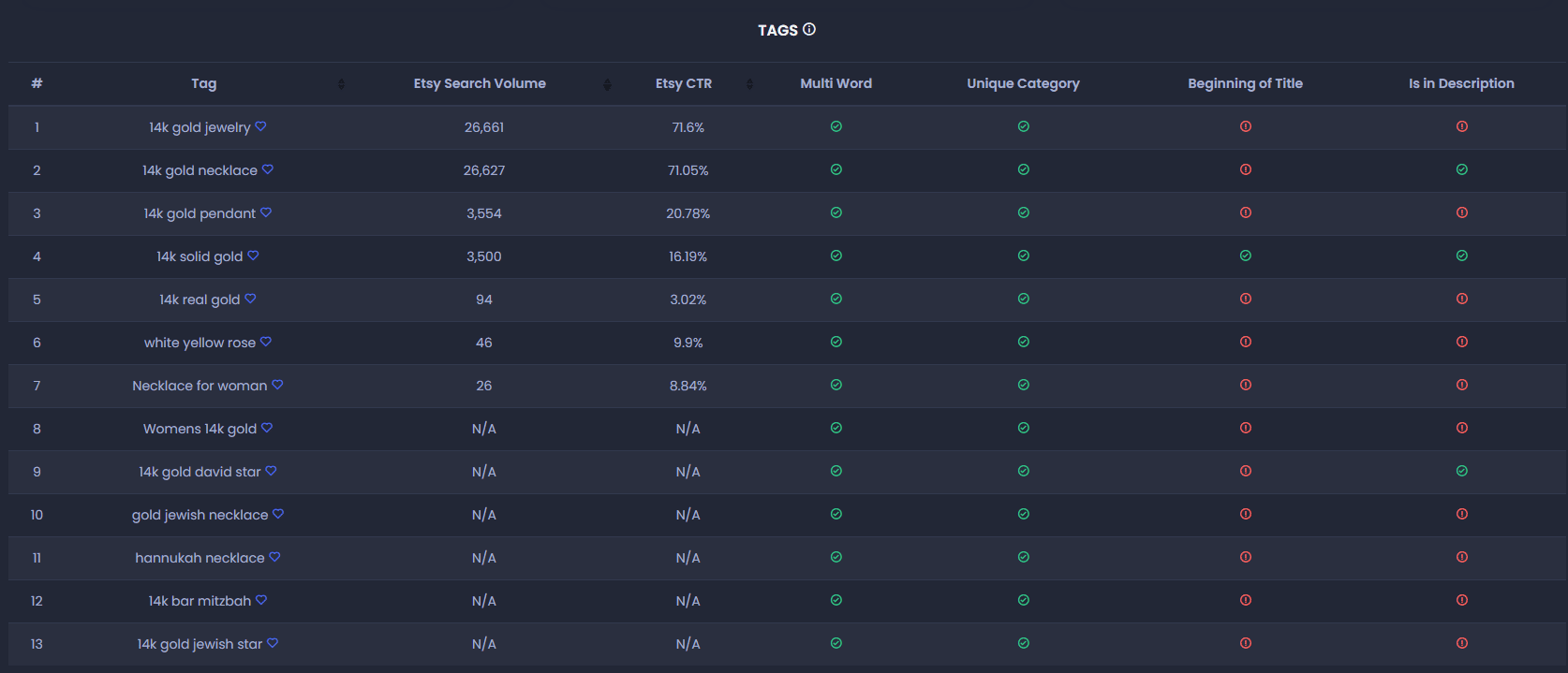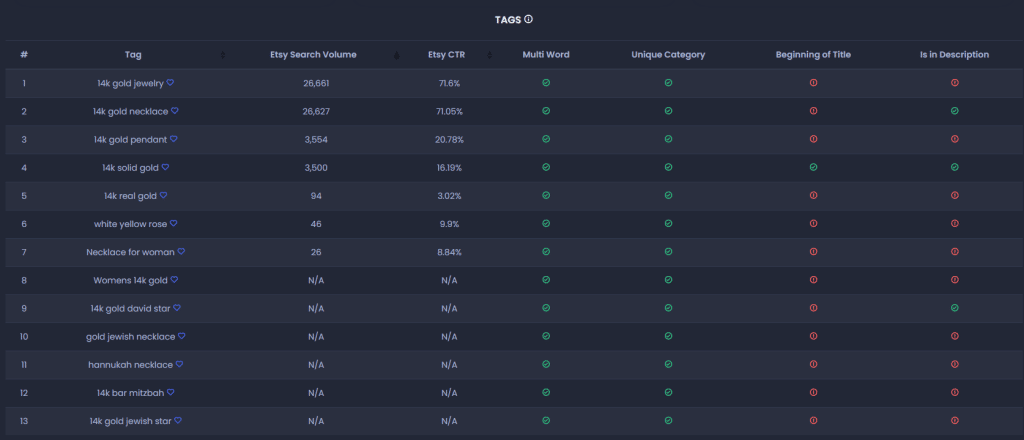 The second top seller in our selection is the incredible Alaridesign and their listing titled "22k Solid Yellow Gold Round Ring, Thin Round 22k Gold Ring, 22k Round Stacking Ring, 22k Jewelry, Solid Gold Ring, 22k gold Band, 22k gold".
Their title is a bit stuffed with the use of "22k" throughout, yet their description is highly detailed. What's more is that although they have not used up all 10 spaces for images, they have used part of their image slots to help customers who would like to purchase this product as a gift for someone else. This is important, as earlier we've uncovered that gifting handmade gold jewelry is the biggest sub-niche in the space.
Overall, both sellers are clearly catering to specific demand on the Etsy platform and have optimized their listings as much as possible given their particular niche.
How profitable is this niche?
As for profitability, we see that both of the bestsellers above have priced around the average, which is a great strategy.
The median turnover for MayaAndMia and their necklace is over a million dollars, or $1,125,351.36 to be precise. They've scored 9,708 sales at a price of $115.92.
As for Alaridesign, this seller has completely batted the ball out of the park with their 152,440 sales at a price of $113.20. This gives us an approximate turnover of a massive $17,256,208.00.
This is a clear signal that gold jewelry on Etsy, when targeted correctly, can give you turnover in excess of a million or more US dollars. Astonishing indeed.
Our recommendations for sellers seeking to enter this niche
If you're a goldsmith who would like to position their products on Etsy, there are some guidelines you should consider following in order to gain more visibility on the platform and rank higher in search results.
Keywords
We kick off with keyword advice based on the practices of the bestsellers mentioned above. Clearly specifying what carat gold you're offering is a critical starting point for your titles. In addition to this, you will want to explain exactly what product you're offering. For example, a ring, a bracelet, hoop earrings, a chain, a necklace, etc.
Also important is the gender at which your product is targeted. Furthermore, use broad keyword searches such as "gold jewelry" alongside other high search volume keywords to help your title stand out. Avoid using the "golden" variation of the word "gold" because this can confuse your customers and you'll end up having your items appear next to images of "The Golden Girls" or golden retrievers.
Instead, consider adding "gift" to your title, as this is a popular sub-niche, which will improve your listing's visibility.
As for your descriptions, ensure that they contain as many details about the product as possible. This includes whether they are handmade or not, what the turnaround time is for product creation, how much it weighs, what carats are used, etc.
Make sure that your tags use appropriate keywords as well. You're given 13 tag spaces to help customers find you. Be sure to use high search volume and low competition tags to ensure you get more visibility.
Pricing
gold is a pricey material and it's no surprise that the average price for gold products is in excess of $100.00. As a result, and depending on the nature of your product, you'll want to price around the average.
We do understand that a small gold pendant, for instance, will not cost more than $100.00. However, larger or heavier pieces should attempt to follow the average pricing strategy.
Images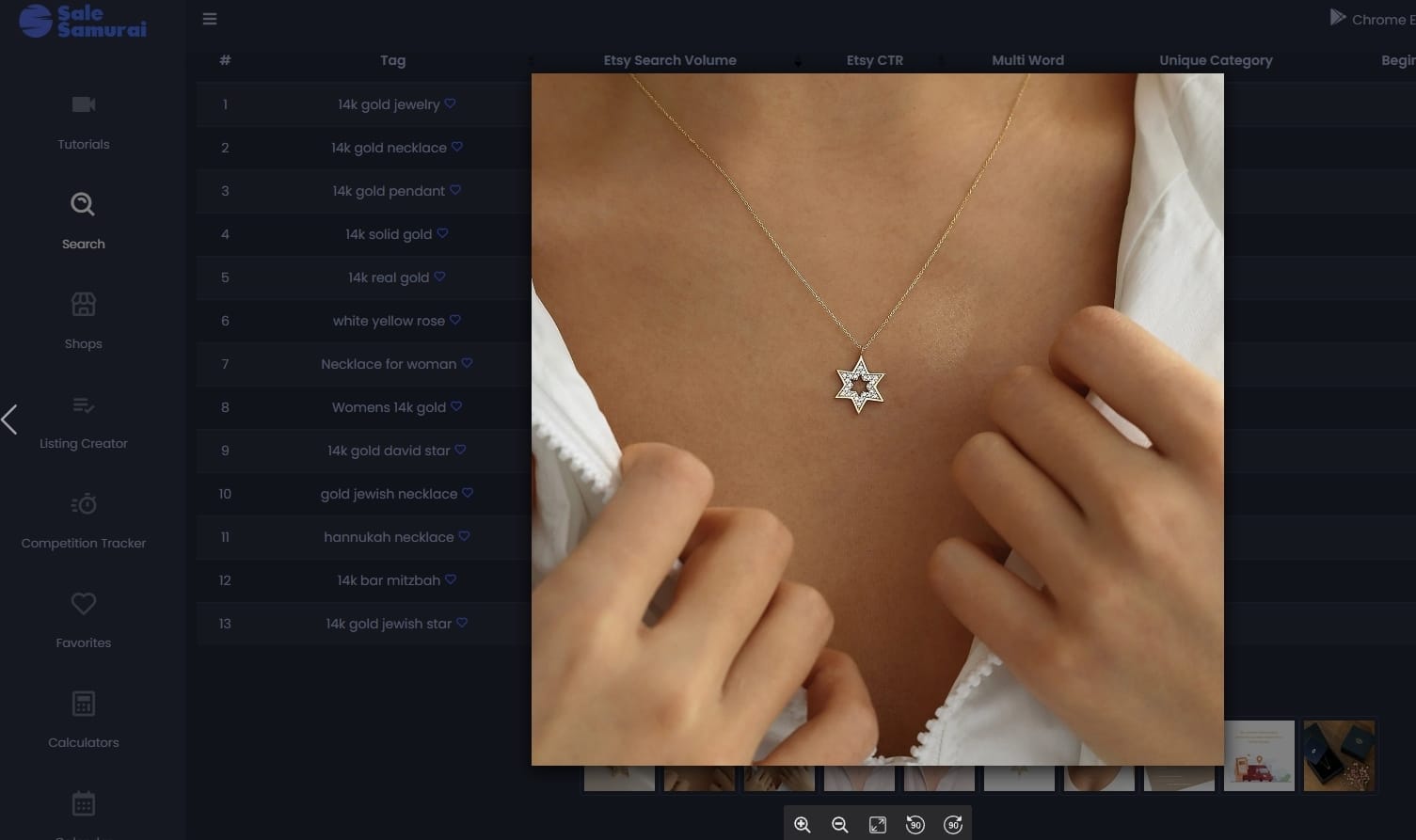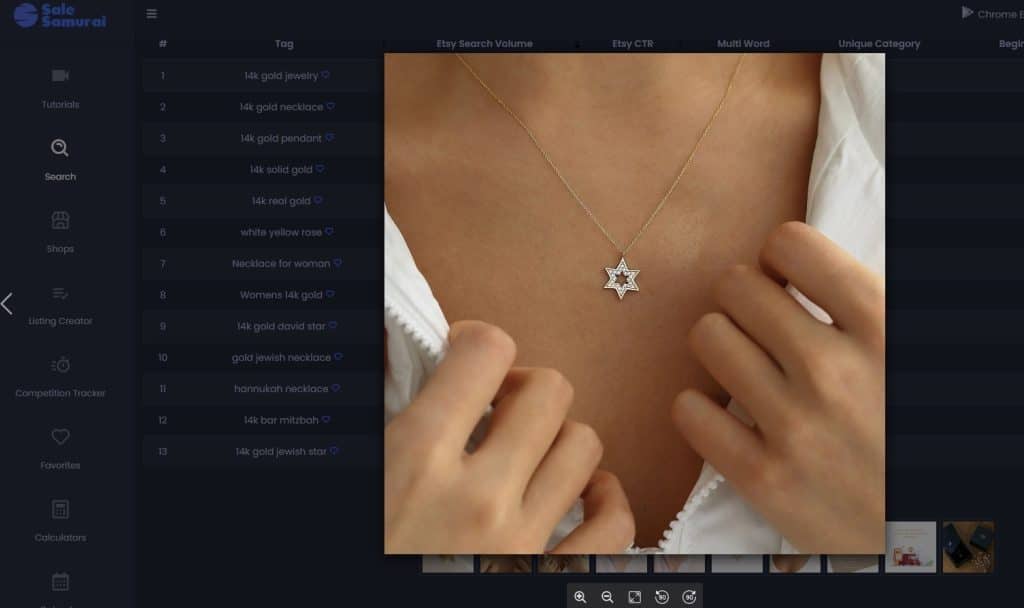 Etsy allocates space for 10 images per item sold. These should be utilized optimally. However, you don't only need to provide different angles of your product.
According to the practices of the two bestsellers mentioned above, you can use the image spaces to add more value to the purchase process by answering frequently asked questions or providing more information about how the product should be gift wrapped.
Ratings and reviews
Both bestsellers above have five out of five star ratings and bathe in positive remarks. Generating reviews is important because it will lead to a cycle of more sales and more reviews. This is something you want to target as well. But it is not an automated process or something you can force.
It comes when you rank high and are visible to buyers, followed by offering great sales and after-sales customer service.
In a nutshell
Gold is highly sought after and demand for gold jewelry on Etsy is a clear indicator that people are actively searching for such products. However, you should avoid entering this niche without doing proper research. This will mean utilizing the right tools to help you gain your audience's attention and retain it. If you want to be a consistent bestseller, having the right insights is crucial for your Etsy side gig.
And this is where Sale Samurai comes under the spotlight. The platform is ideal for sellers who want to optimize their listings through reliable research for keywords, prices, shipping days, and so much more.
Sale Samurai is a small investment of only $9.99 per month, but it can help you launch and skyrocket your Etsy gig.