Montessori is defined as "a system of education for young children that seeks to develop natural interests and activities rather than use formal teaching methods." With this in mind, children are encouraged and stimulated to develop their curiosity and skills using teaching methods that go against traditional learning. With children's education being a priority for parents, they naturally want to start their kids' learning at a young age.
This is why Etsy offers both Montessori and children's activity boards going from as early as age one. These handmade boards can be fun and educational at the same time and offer benefits such as improved tactile skills, logic, hands-on learning, and collaborative play. As a result of the high demand for such products, Etsy is the perfect marketplace for buyers to find a variety of options.
But what about sellers seeking to enter this niche? Is it profitable and what best practices can they employ?
We look at the answers to these questions in more detail below.
How big is the market for kids' handmade activity boards?
In order to determine the size of the market for kids' handmade activity boards, we used Sale Samurai's "Search" module in conjunction with Etsy. Our first order of business is to examine the number of listings for such products, along with the interest shown by consumers.
Listings saturation and search volume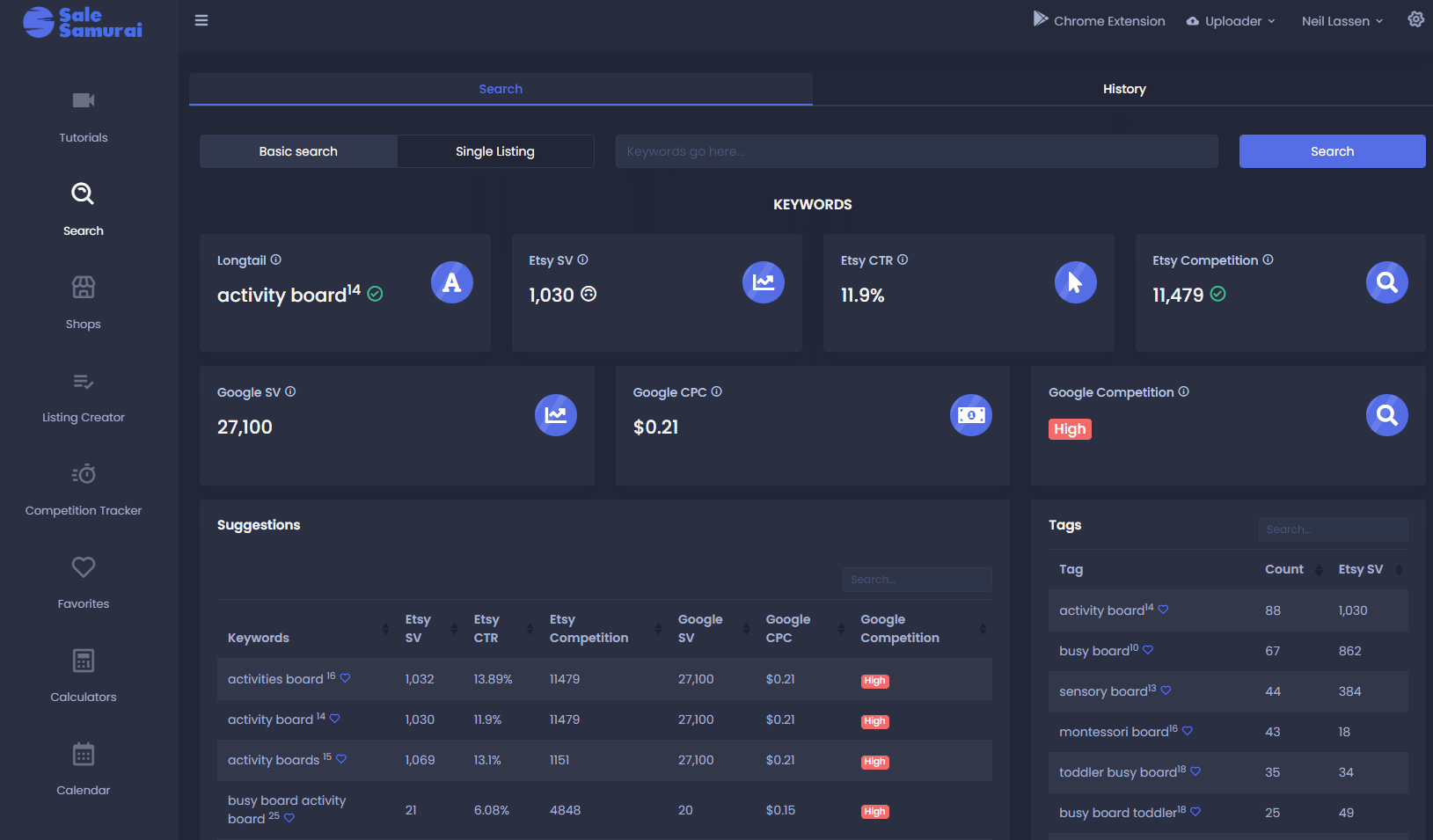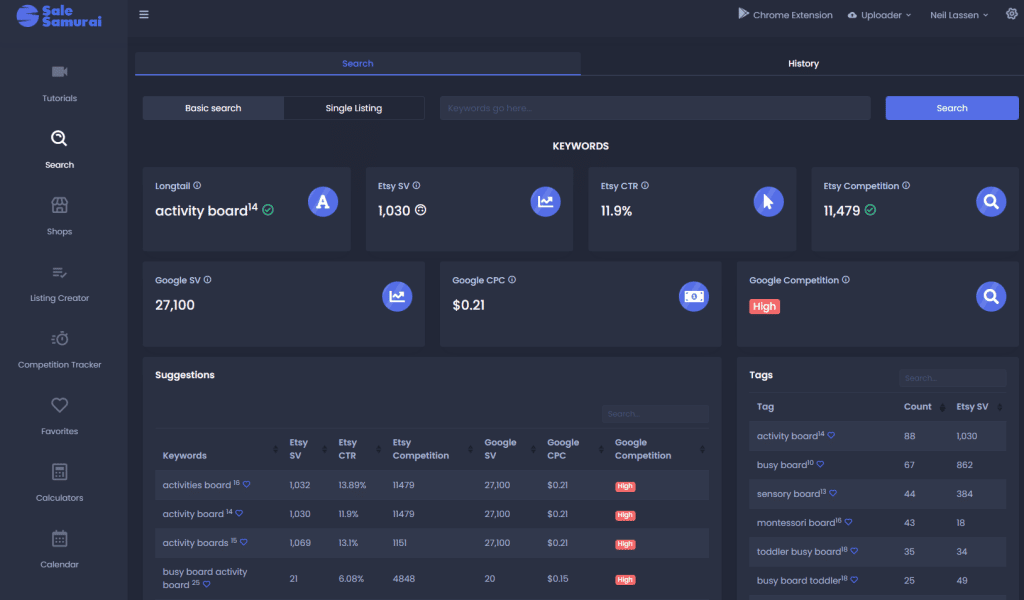 A search for the broad keyword "activity board" brought back 11,479 listings. However, when we refined our search, we also found the following:
"Activity boards": 1,985 listings
"Activity board 1 year old": 1,611 listings
"Activity board 2 year old": 1,334 listings
"Activity board toddler": 4,925 listings
This data allows us to conclude that there are approximately 20,000 listings on Etsy related to different activity boards and the ages they're suitable for.
But what about the primary keywords and their Etsy search volume? Determining these will help us gain a deeper understanding of the competitiveness and consumer demand for this niche.
Sale Samurai helped us find data related to popular keywords, as well as their related search volume. Here's what we found:
"Activity for toddler": Etsy search volume – 1,169
"Activity for toddlers": Etsy search volume – 1,149
"Activity boards": Etsy search volume – 1,069
"Activities board": Etsy search volume – 1,032
"Activity board": Etsy search volume – 1,030
Based on this data, which represents a total search volume in the region of 5,000 queries, it becomes apparent that there is an oversupply of activity board products for children when compared to the search volume. Still, the search volume combined is relatively high, signaling strong consumer demand for these products.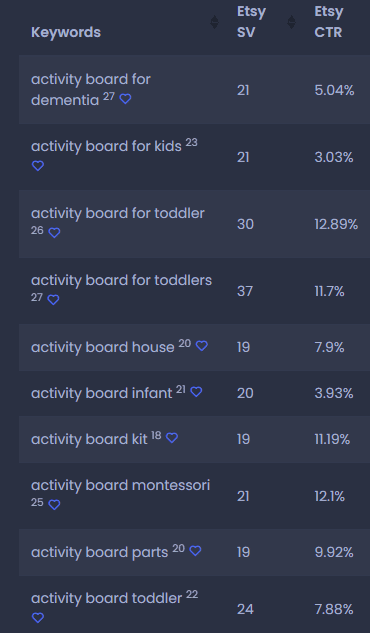 Etsy sellers who wish to enter this niche should be aware of the competition, which will be stiff, albeit not insurmountable.
Tags
Moving on with our research findings, we delve into the tags used by sellers to get in front of an audience. Etsy gives sellers the option to insert 13 tags in the back-end of the platform in order to help improve the Etsy search algorithm and bring back relevant results to customers. These tags are also keywords, although they may not necessarily appear in the title and description of the listing.
Some of the most popular tags and their associated search volume in this niche include:
Baby gift: 26,669
1st birthday gift: 26,646
Baby: 26,644
Toys: 26,633
1 year old: 26,629
Educational toy: 3,555
2 year old gift: 3,554
Montessori toys: 3,495
Toddler gift: 3,428
Gift for kids: 3,377
Fidget toys: 3,308
First birthday gift: 1,127
Montessori toy: 1,050
Activity board: 1,030
Sensory toys: 961
Toddler toys: 960
Wooden toys: 941
Montessori: 863
Prices
In the final step of our market analysis, we also looked at the prices in the activity board niche. The price variations here are quite stark.
Whereas the lowest price for such items is around $1.20, the highest price goes upwards of a thousand dollars to $1,402.00. Meanwhile, on average, most sellers are charging in the region of $144.93.
What are some of the best-selling merchants doing right?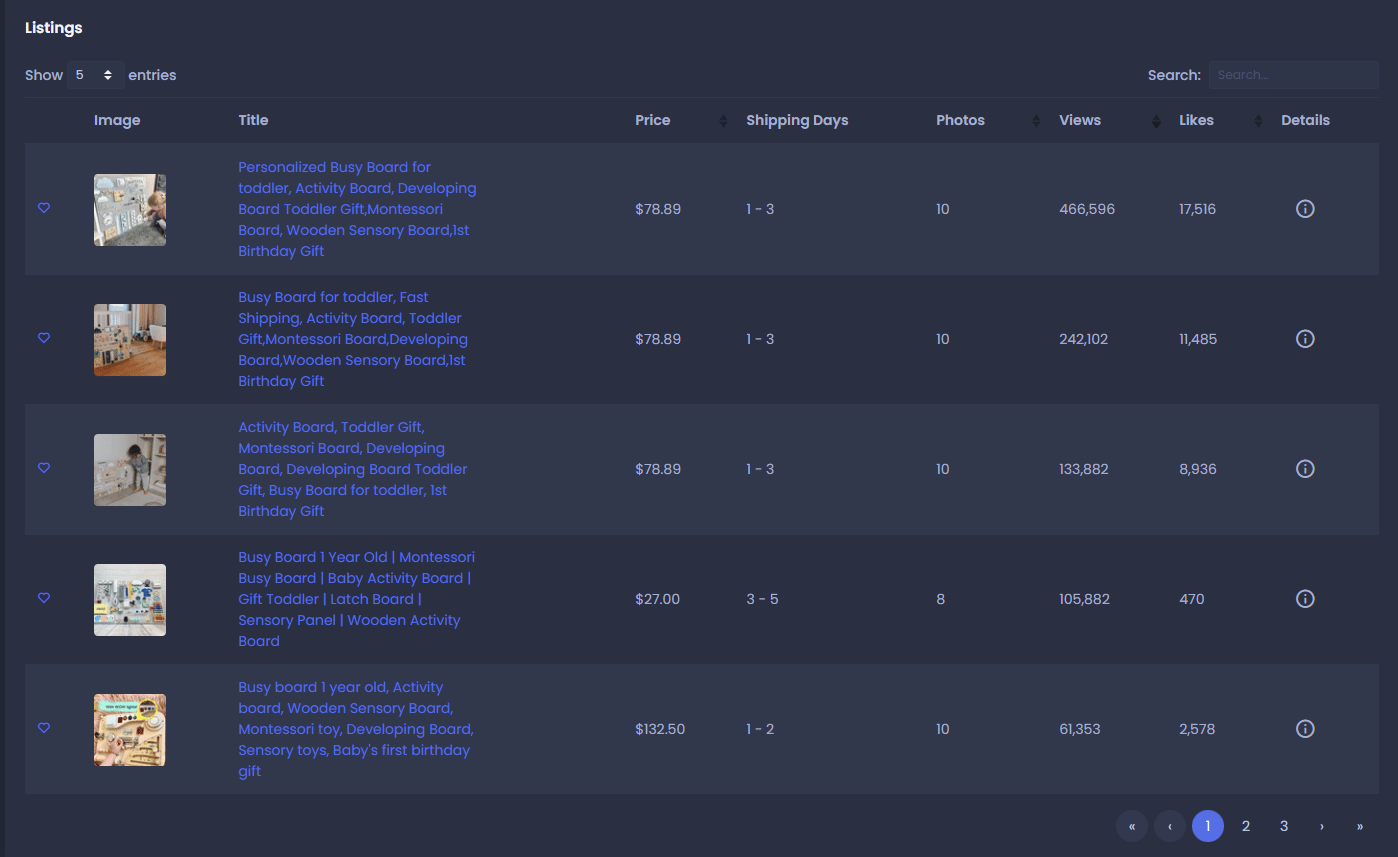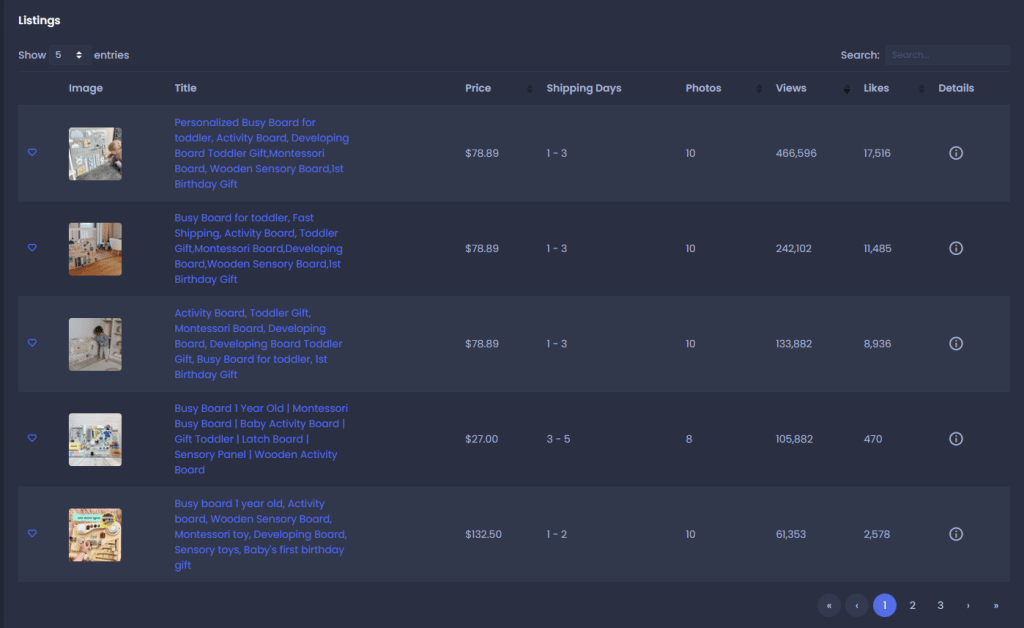 The Montessori and children's activity boards niche reveals that there are multiple star-sellers on Etsy. However, we identified two that price near the average and which have demonstrated solid listings optimization practices that have led to their success as a seller.
The first best seller we identified is SmartWoodenToys. They have created the "Toddler busy board of bright colors 50×60 cm Sensory board for baby Busyboard Montessori busy board Fidget board Activity board Sensory wall". This star seller has made 1,711 sales to date, pricing their products at $214.16. In terms of ratings and reviews, they have received five out of five star ratings, bringing them to star-seller status.
The second best seller identified is BusyBabyLV. Their product is titled "1st Birthday Gift, Montessori Board, Busy Board for toddler, Developing Board, Personalized Busy Board for toddler, Activity Board". To date, the seller has made 8,852 sales with an asking price of $180.29. As a star-seller, they have also generated over a thousand positive reviews, receiving a star rating of five out five.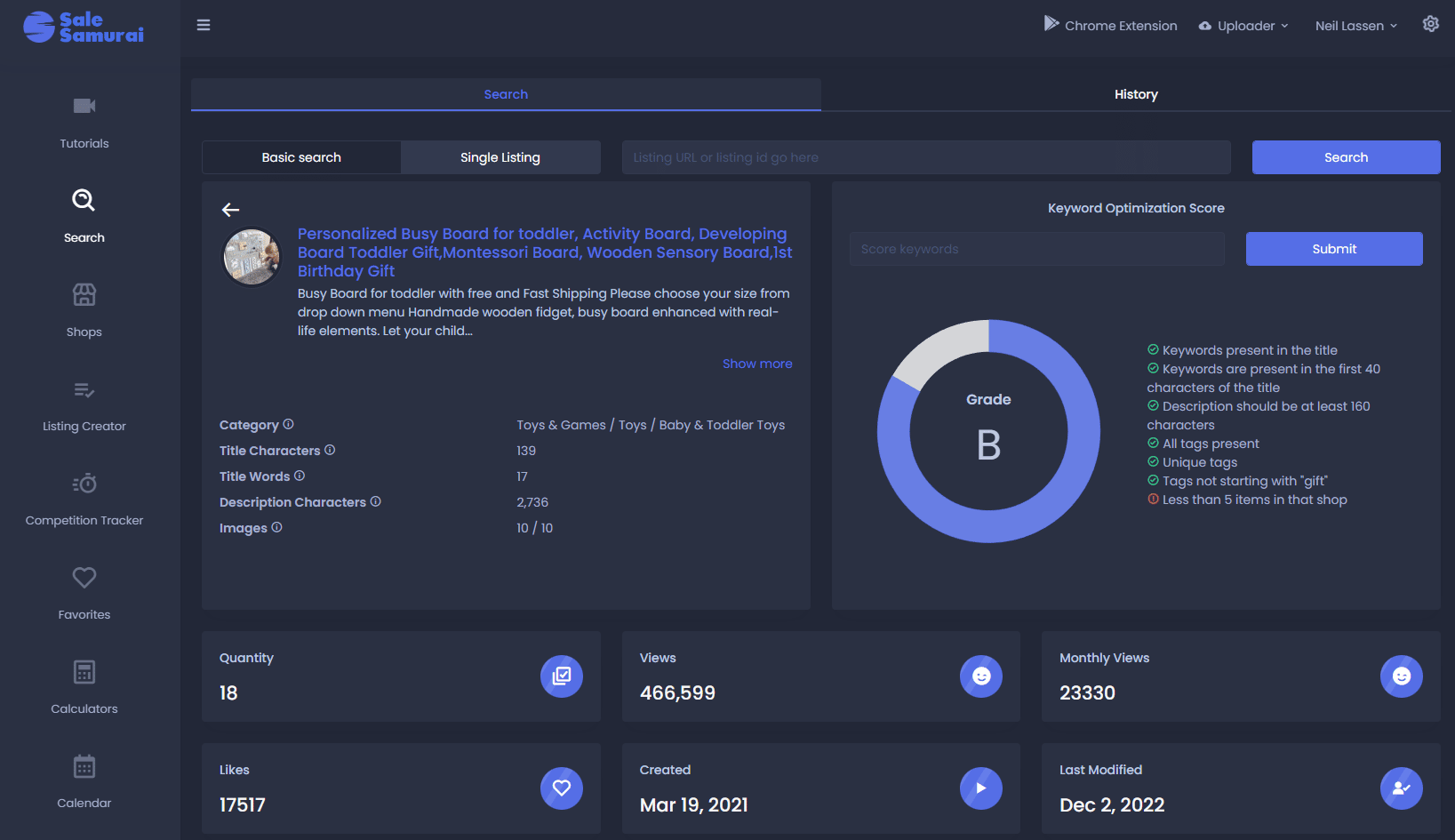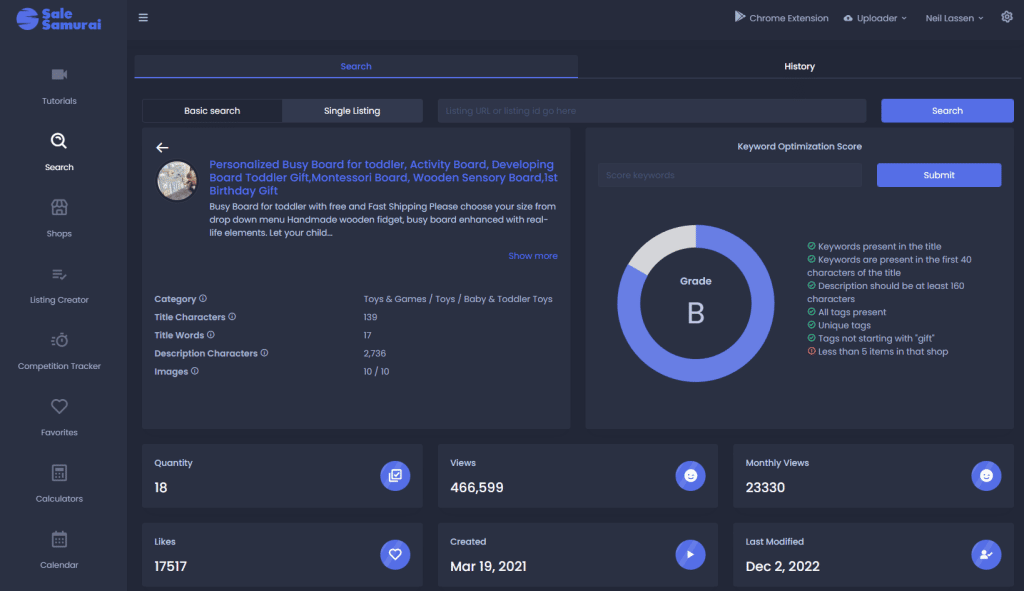 Now, let's explore some of their best practices.
Keyword optimization
What becomes immediately apparent is the keyword optimization in the titles. Both sellers have used high search volume keywords and tags in their titles, sticking to the Etsy title character limit, and enhancing their customers' ability to find them using much sought after search queries.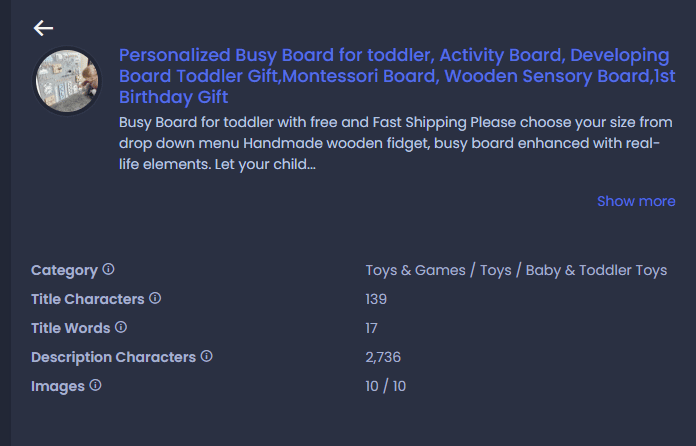 This demonstrates highly efficient keyword usage and strategic targeting.
Apart from the titles, their descriptions go into a lot of detail as to what a customer will get when buying their products. They also offer options for customization and personalization with different color choices of boards. This level of choice offered takes their product offering to the next level.
Pricing
Price-wise, these sellers have opted to position their items above the median for the niche of $140.00, but not too high above that. This is a sound strategy, which we advise our readers to adopt if they have accumulated enough confidence and experience in their chosen niche.
It allows them to stay competitive, earn sales and make a profit all at the same time.
Images
In addition, images have been fully optimized by showcasing real-life depictions of the product instead of static, stock photos.
Whereas one of the sellers has used up all 10 spaces on Etsy to present their product, the other seller has opted to display only six. The latter, however, does not appear to have their sales affected, as will be shown in the profitability discussion section that follows.

How profitable is this niche?
Because of the niche not being over-saturated with products, we can assume that there's potential for profitability. This is further reinforced by the fact that the average price is around $140 per item, which is nothing to snuff at.
Looking at the two star-seller listings mentioned above, we come to the following conclusions.
The first best seller mentioned above, SmartWoodenToys, has made 1,711 sales to date, pricing at $214.16. Multiplying the number of sales by the asking price gives us an estimated turnover of $366,427.76.
As for the second best seller, BusyBabyLV, they have made 8,852 sales with an asking price of $180.29. The estimated turnover of this seller is $1,595,927.08.
We can therefore conclude that this niche has the potential of earning you hundreds of thousands of dollars in revenue, going up into the millions.
Our recommendations for sellers seeking to enter this niche
Following star-seller best practices is undeniably the way to go if you want to replicate their success, gain a portion of their market share, and ensure effective competition.
These best practices include:
Keywords
Keyword optimization is a huge requirement for ranking high in Etsy's search results. Such optimization can take place through the keywords used in your title, description, and in your tags.
What both sellers in this niche have done, is targeting top-performing keywords found in successful tags.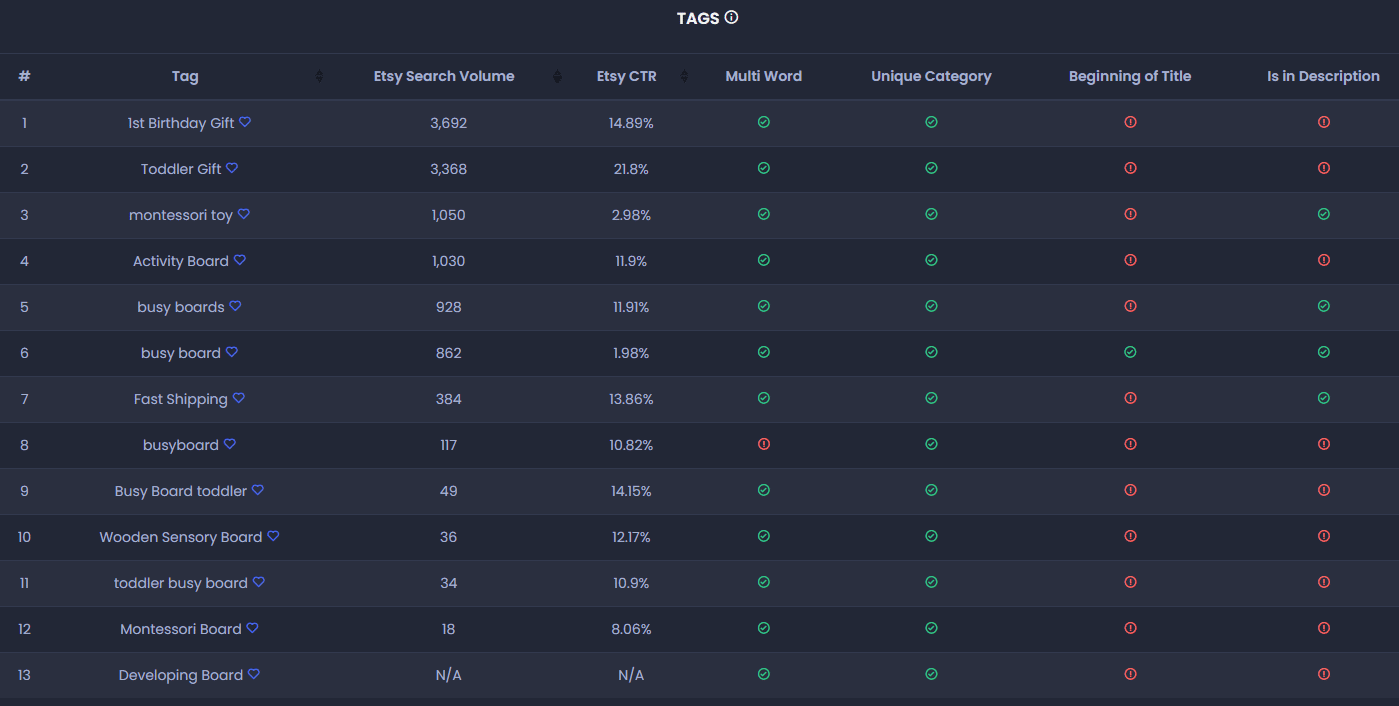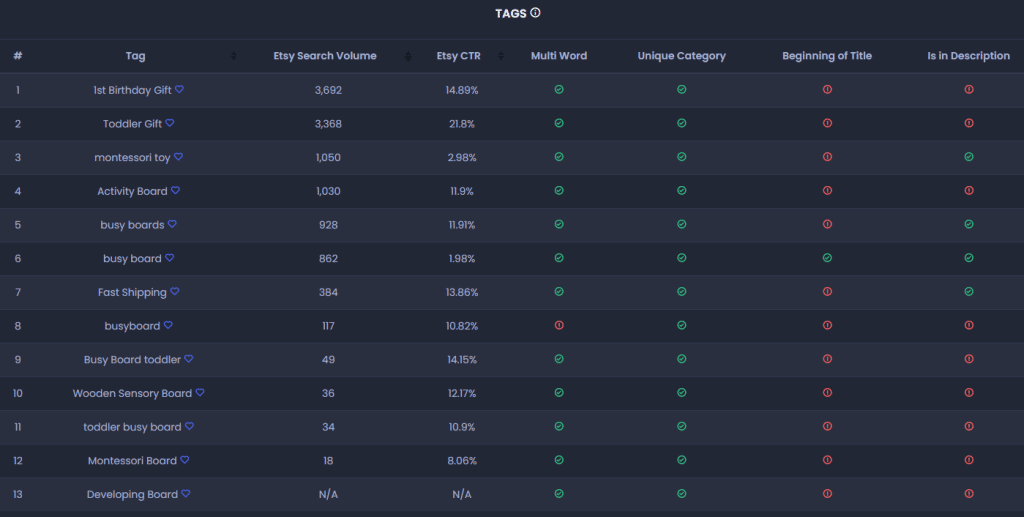 These tags include keywords such as "activity boards", "Montessori", "fidget board", "developing board", "sensory board", "gift for toddler", "first birthday gift", and others. Each of these keywords is accompanied by a high search volume.
Remember that targeting high-volume keywords and utilizing them in the allocated spaces can lead to greater sales success.
Pricing strategy
This also plays a crucial role in a seller's success. Price too high and you risk alienating a large part of the market. Price too low and you risk having your products perceived as cheap or of low quality. Pricing around the average is therefore a suggested best practice.
Sale Samurai's "Search" module can quickly and easily help you find average prices used by sellers in this niche for multiple different keywords. Our findings show that pricing around the $140.00 mark is successful for many sellers.
Images
Using up all or as much of the 10 spaces for images per listing is a recommended best practice. However, images need to present the product in as realistic a light as possible.
This means that you should avoid presenting stock photos and opt for real-case usage images that, when viewed together, can provide a holistic picture of every angle of the product and its intended uses.
Ratings and reviews
Both best sellers discussed above have generated hundreds and thousands of reviews, respectively. These reviews, although not considered a direct sales strategy, do play a key role in ensuring that customers have the right information to make an informed sales decision.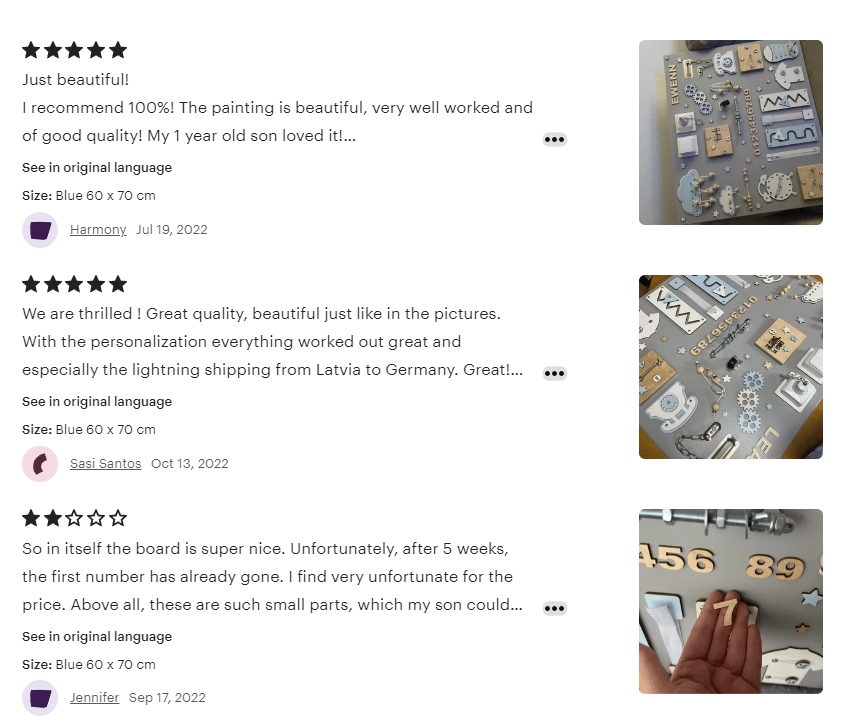 Encouraging reviews and high ratings will help you get ahead of the competition and generate sales momentum.
Concluding remarks
Educational toys, and particularly activity boards for young kids, are an exceptional way of stimulating their minds, imaginations, logic, and other skills. And because of their stimulating qualities, parents are seeking them out for their children.
However, when entering this niche, it's highly advisable to optimize your listings to their fullest potential to generate more sales.
For only $9.99 per month, this can be done quickly and easily with the help of Sale Samurai.