There are many reasons for engaging in self-care, some of which include the fact that it has been "clinically proven to reduce or eliminate anxiety and depression, reduce stress, improve concentration, minimize frustration and anger, increase happiness, improve energy, and more."
Essentially, self-care is a multidimensional process through which individuals take care of their mental, physical, psychological, and emotional health and well-being. The growing trend towards self-care is evident on Etsy with a plethora of products in various forms.
If you're a seller who's interested in entering this niche, there are a couple of things you need to know.
Let's dive in.
How big is the market for self-care products on Etsy?
Right off the bat, it must be noted that "self-care" gets a monthly Google search volume of 301,000 while on Etsy it is 26,133.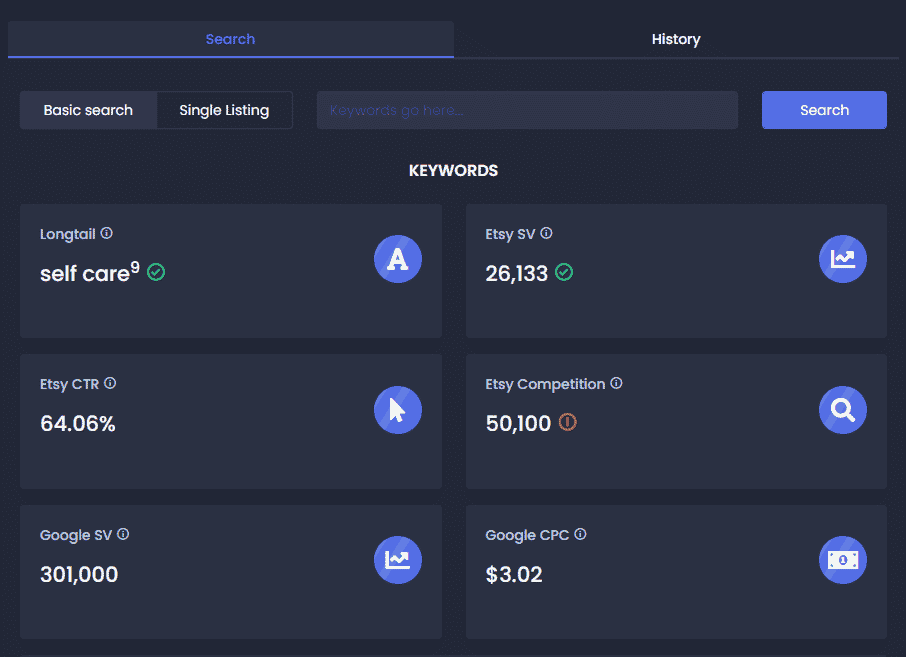 The search "self-care for women" on Etsy brings back 21,950 listings whereas the search for "self-care for men" yields 10,625 products. It's therefore evident from the outset that the self-care market is primarily targeted at women, as they constitute just over double the audience of Etsy sellers when compared to men.
Some of the keywords that sellers have used with "self-care" and their search volume indicate the following:
self-care planner (1,100)
self care p (77)
journal self care (25)
self-care for teachers (24)
self-care activity and self-care is not selfish (23 each)
self-care package crystal (21)
Meanwhile, some of the associated tags and their search volume on Etsy that go alongside "self-care" include mental health (383) and care package (369).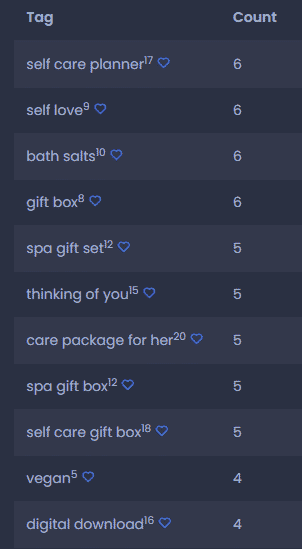 Other tags are generally either quite broad such as "gifts for her" or they have a negligible search volume result such as "hug in a box", "self-care gift box", or "self-care planner".
Handmade


The top list of self-care handmade items on Etsy include bracelets, microwavable heating packs, lavender bath bombs, vegan bodywash, and bubble bath.
Etsy competition here is relatively low with 19,916 listings on the platform. The search volume for these products is rather low. Associated search volume for related keywords includes "self care planners" (114), "self care basket" (109), "spa self care" (55), "self care gift for women" (23), "self care crystal (21), "self care candle" (21), "printable self care journal" (19), and others.
The average price for these items is $27.39 with a three-day shipping delivery time and around $3.61 for shipping costs. It's evident that the handmade self-care items on Etsy mainly cater to adult women.
Craft supplies and tools


Craft supplies and tools on Etsy related to the self-care segment range from materials such as plastic cream jar containers to DIY craft kits for adults, which can lead to relaxation, fun, stress relief, and more.
There are around 11,365 listings on Etsy for this category of items, meaning competition is low. At the same time search volume for these products is also quite low.
Some of the related keywords in this category, as well as their search volume include:
self care planners (114)
self care basket (109)
craft supplies and tools cricut (77)
self care for him (22)
self care shower (21)
self care soap" (19)
On average, the price for Etsy self-care craft supplies and tools is $12.83, with three days on average to ship to the customer, and an average cost of $3.67 for shipping.
Vintage
As for vintage items, we know that the rule on Etsy is that these items must be at least 20 years old and that the item must be validated for being such. This means that although self-care has gotten a lot of momentum over recent years, it actually goes beyond the last 20 years.
Some of the items making it to the top include: self-care shirt and sweatshirt, spa scoop sppoin ladle, Tibetan brass bell, and others.
Competition in the vintage category is extremely low with only 4,794 listings on the platform and a low search volume.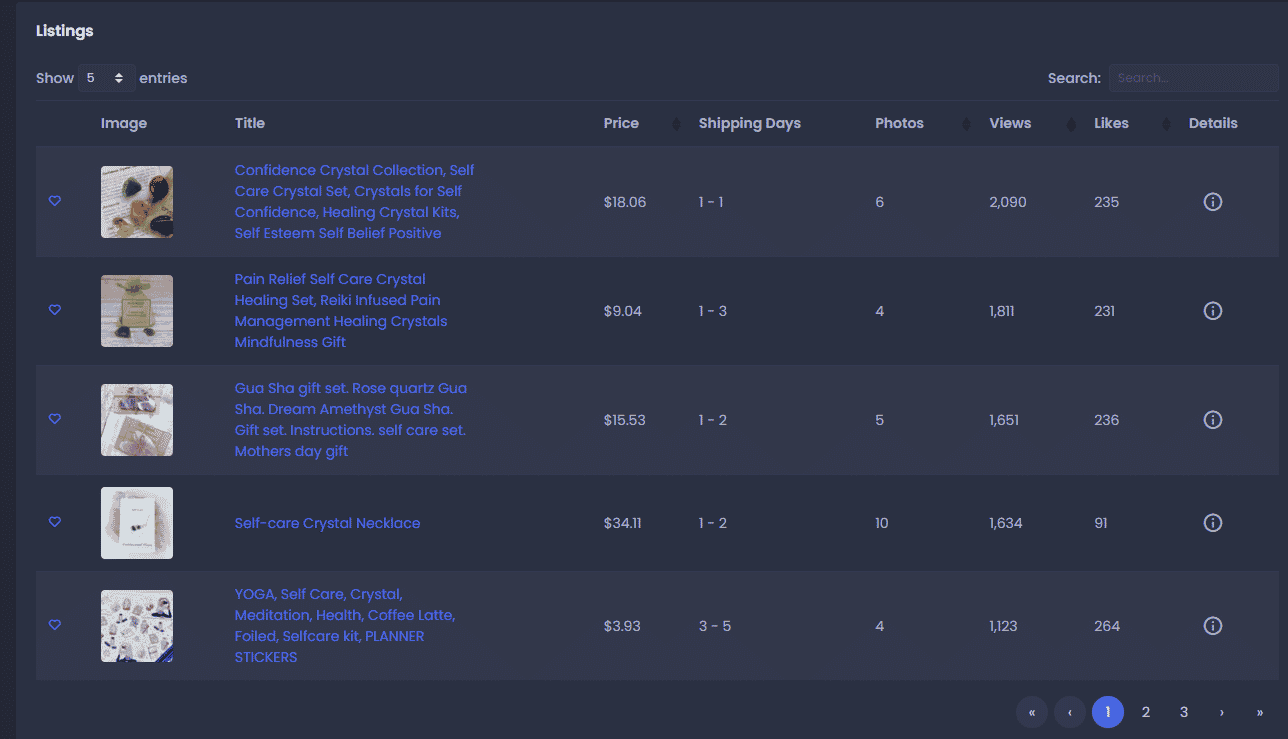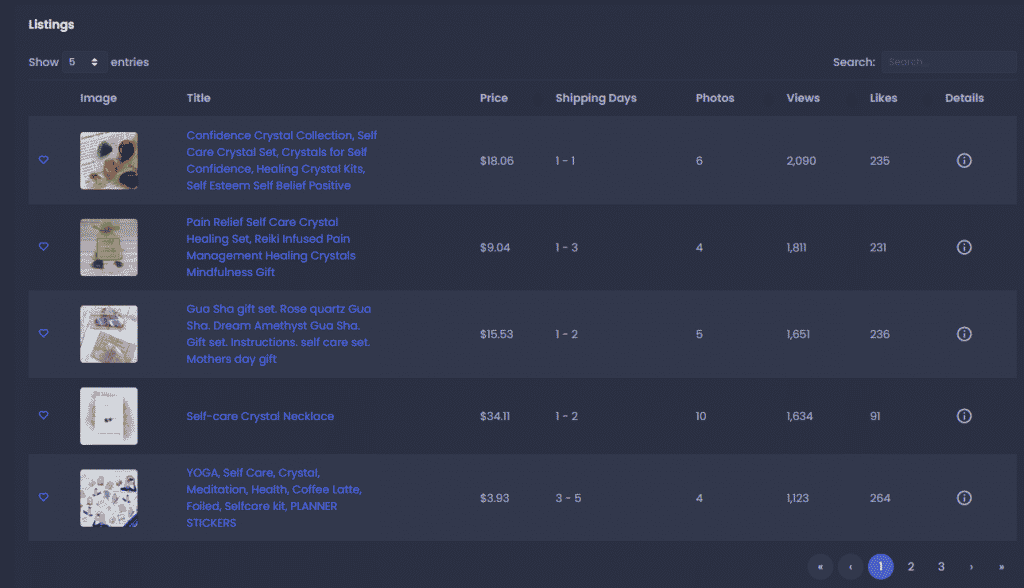 Related keywords used by the best sellers, as well as their search volume (indicating demand) include:
self care crystals (23)
self care Sundays (21)
self care quotes (20)
self care witch (19)
self care stocking (19)
self care shirt (19)
self care tee (18)
self care shampoo (17)
The products in this category generally go in the region of $19.15. It takes three days to ship and the shipping costs are $8.02 on average.
What are some of the best-selling merchants doing right?
One of the top sellers making a turnover of above $1 million in the self-care category on Etsy is the shop BlushAndGoldInvites. They sell the "My Daily Self-Care Journal – Wellness Journal (Pebble) – luxury gift for her, self-care and gratitude journal" item. It is priced at $37.03 and has made a whopping 33,096 sales.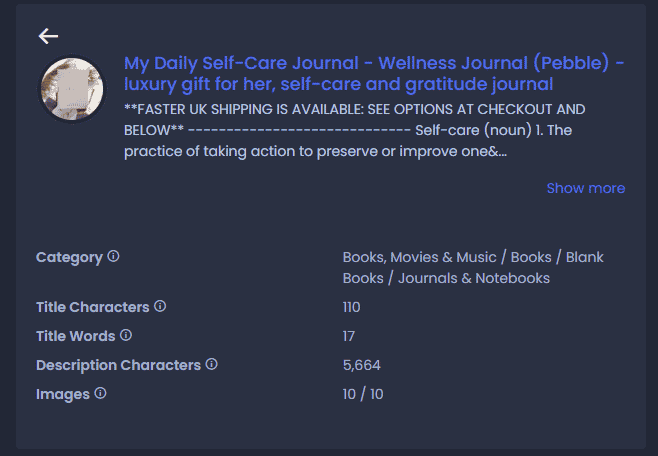 To make all of these sales, star Etsy sellers are utilizing the full space for their titles, filling up as much of the 140 characters as possible.
In addition, they capitalize on the "self-care" searches and specifically include these keywords in their titles, all while primarily targeting the female segment.
Their descriptions are expository, detailing what each care package contains, what sort of customer service can be expected, and what additional needs and requirements they cater to.
They also do not price exorbitantly, staying within the averages on Etsy. In fact, the star seller mentioned above does not go beyond the $40.00 mark (even if it is above the average). This means they've significantly broadened their customer reach and have managed to capture a much wider clientele.


The seller has also made sure to use up as much of the 10 images allowed by the platform as possible.

The products themselves are of a high quality and the product presentation is beautiful and attractive.
How profitable is this niche?
In order to determine profitability, it's important to look at some of the best sellers and see what type of turnover they are reaching. We picked out a couple of examples in each of the different categories of self-care items.
Here are some of our findings:
CONCREATEdecor is an Etsy star seller with the "Birthday gift box | Spa gift box | Wedding gift | Self care gift box | Small box". The item sells for $28.04 and it has sold 22,084 times. This leads to a turnover in the region of $783,183.03.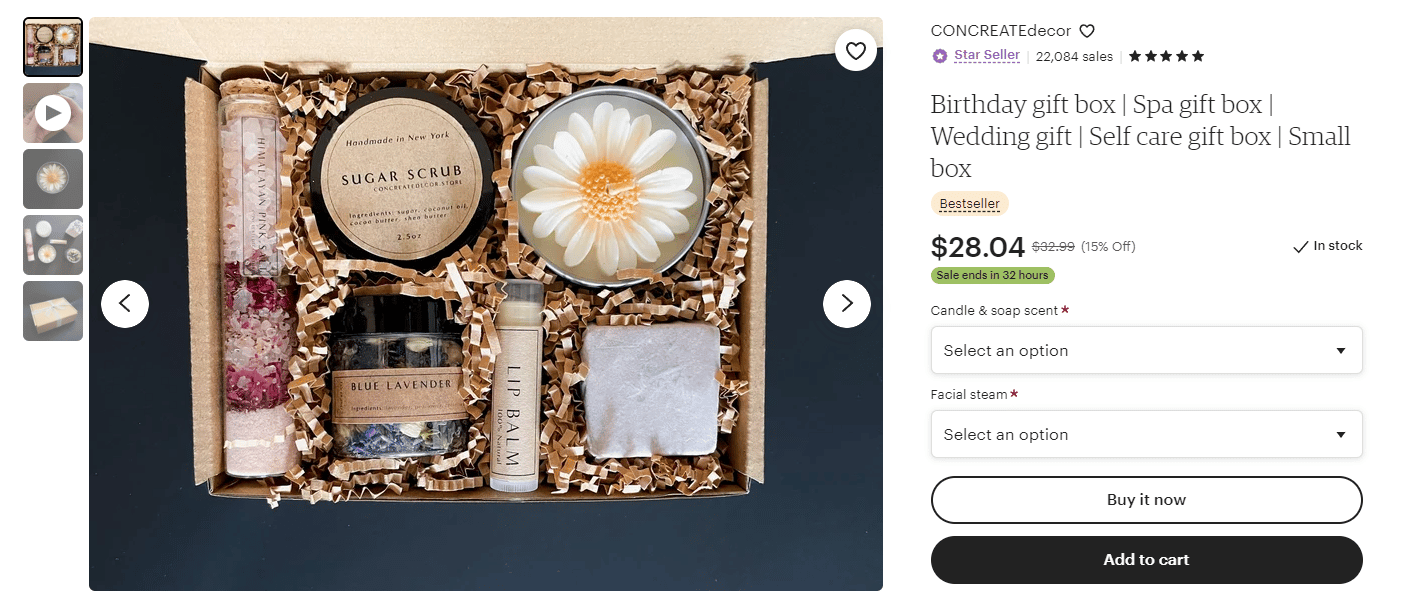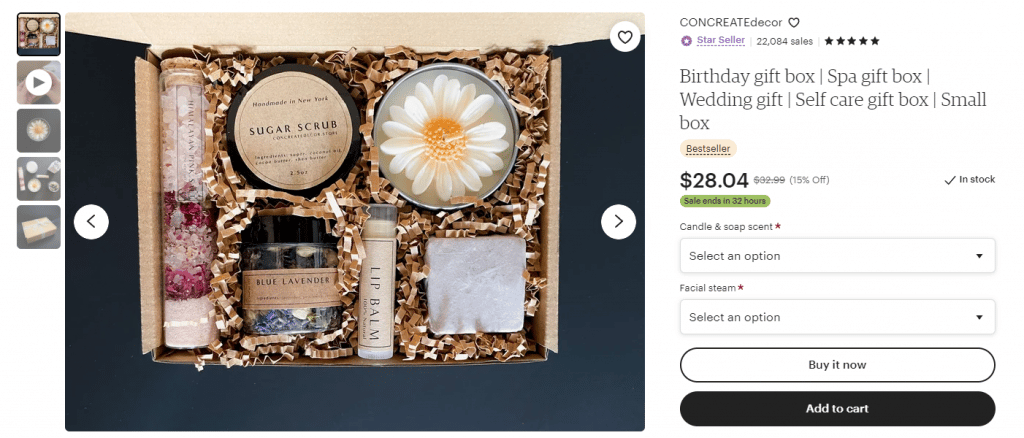 CottoDESIGN is another star seller. They sell the "Customized gift box, Mothers Day Gift Box, Bridesmaid Gift Box, Bachelorette Party Favor, Gift Box for Her, Personal care kit, self care kit". It sells for $24.30 and has sold 31,453 times, amounting to $874,868.64.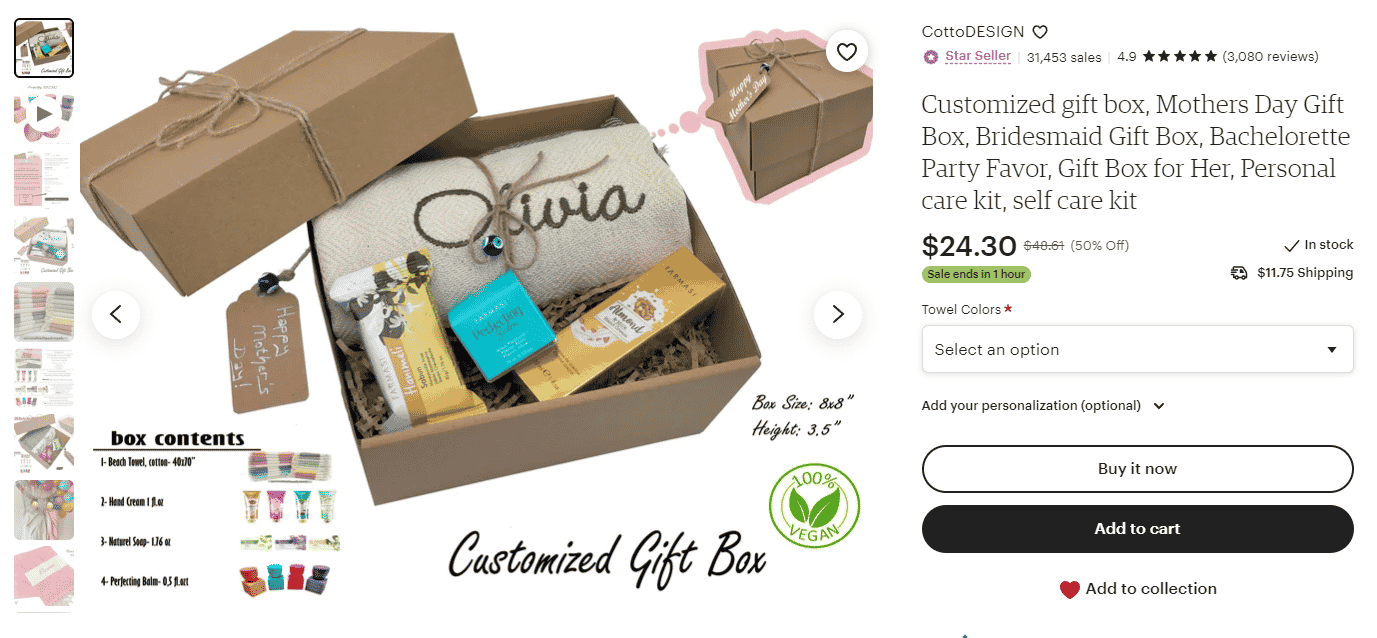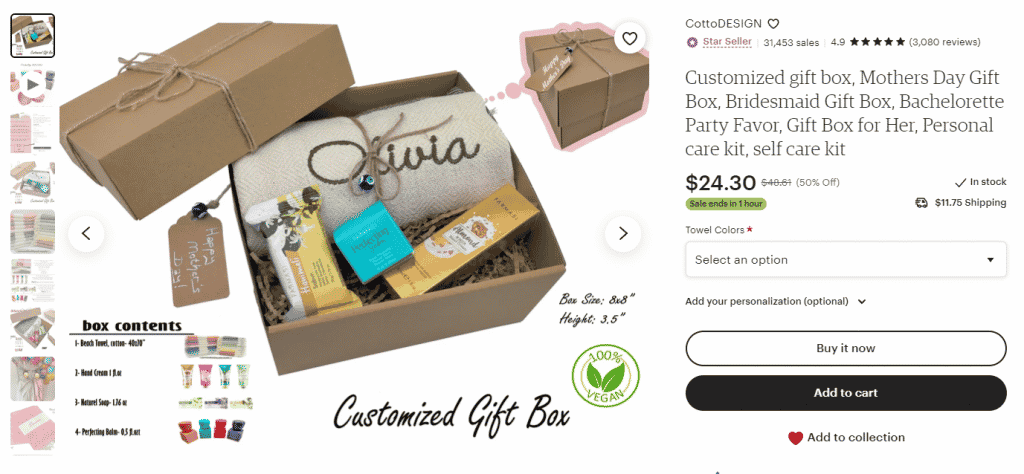 It gets even better with two top sellers raking in over $1 million:
PlannerMomCompany sells the "Self Care Journal, Self Care Kit, Self Care Planner, Self Care Worksheet, Wellness Planner, Mental Health Journal, Mood Tracker, Workbook" for $12.07 and has made 76,429 sales. This gives us a total of around $1,102,362.40.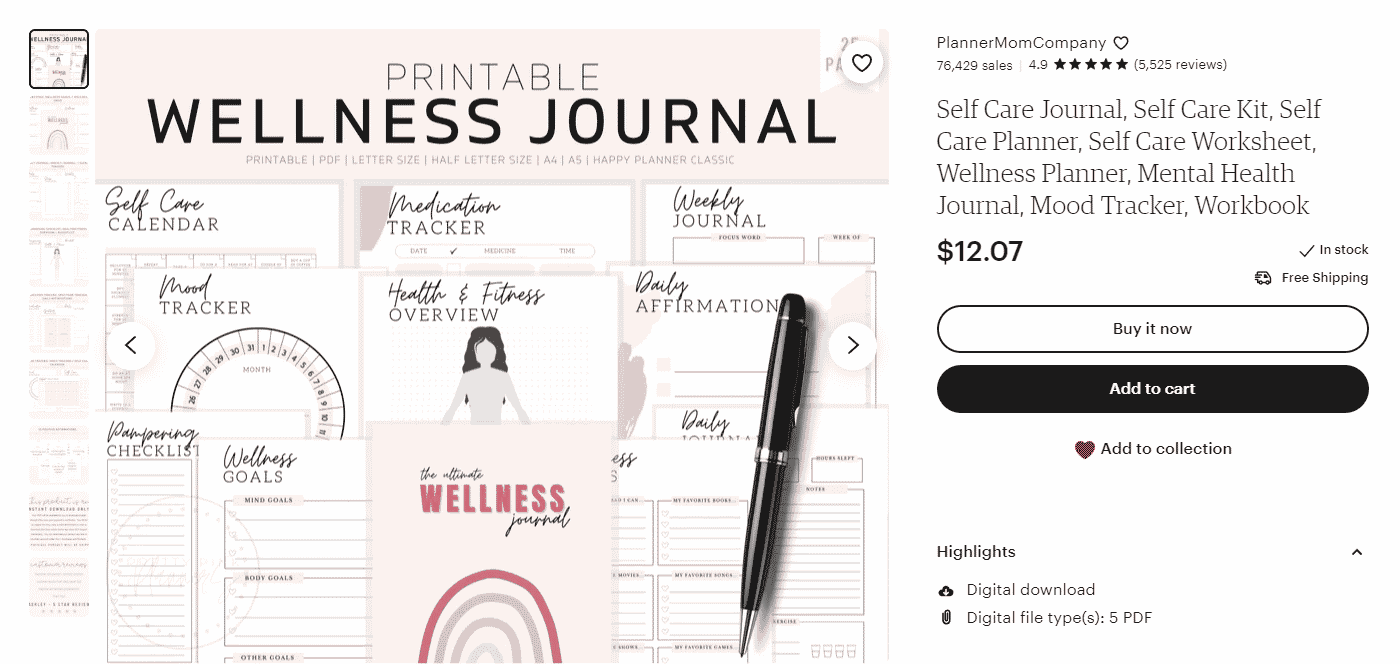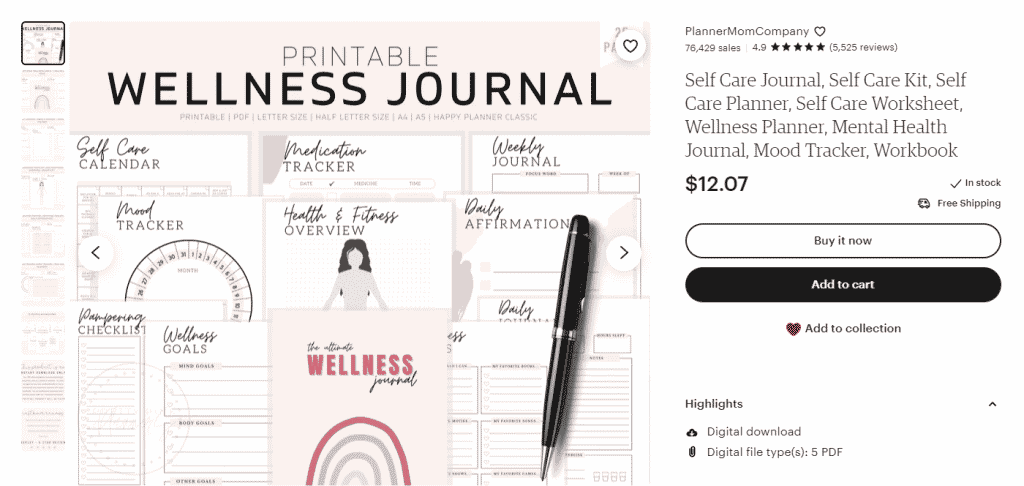 BlushAndGoldInvites sells the "My Daily Self-Care Journal – Wellness Journal (Pebble) – luxury gift for her, self-care and gratitude journal" for $31.36 and has made 33,333 sales, amounting to the grand total of $1,225,544.88.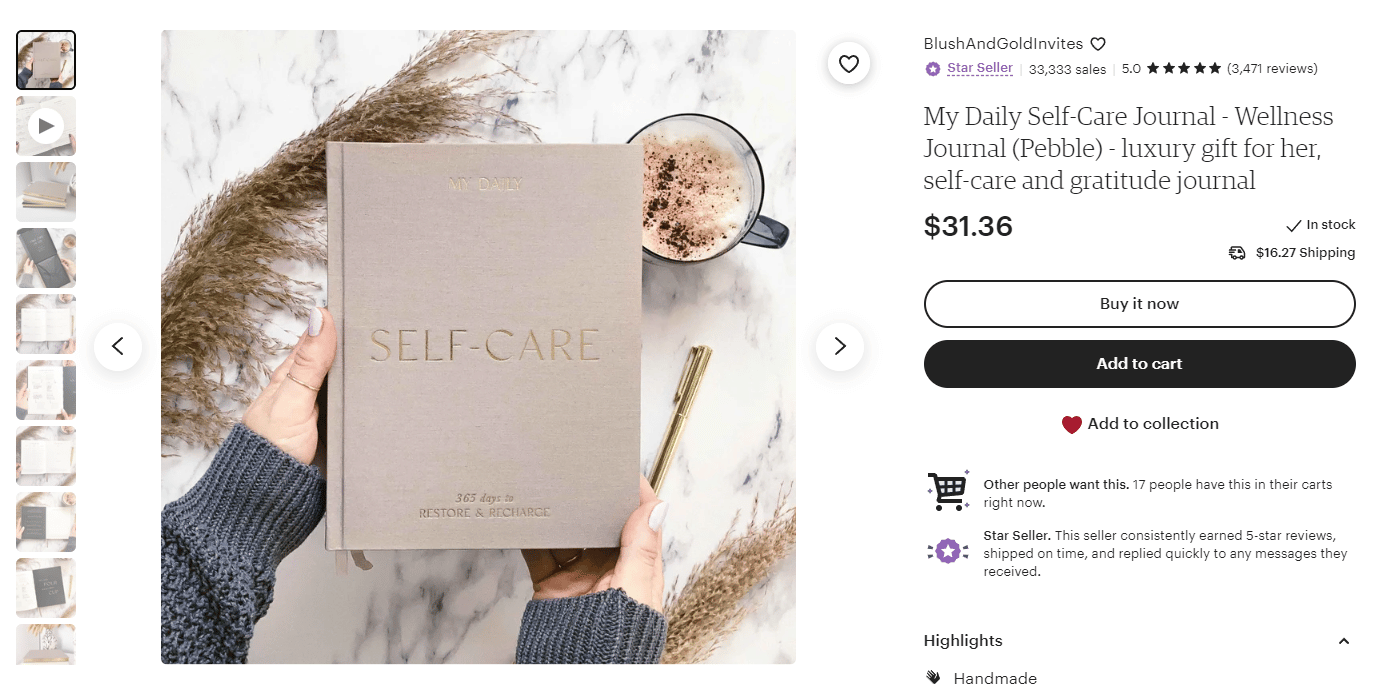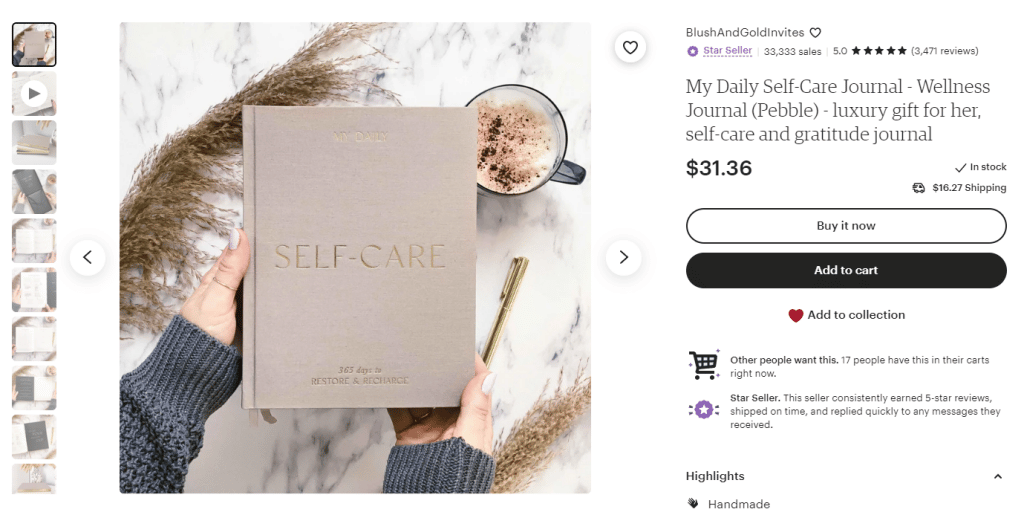 It must be noted that exact profit figures on Etsy cannot be given because each seller's cost of materials will differ. The shipping prices will also be in different ranges depending on the distance between the seller and the buyer, and their respective locations.
There are also Etsy's listing fees, which come at $0.20 per item, and other factors.
However, in respect of turnover, we can see that some sellers have neared the $1 million mark, while others have exceeded it. This makes the niche highly profitable if entered correctly.
What is our advice for sellers looking to sell self-care items?
Keywords are crucial for optimizing a listing. Incorporating keywords such as "self care" "wellness", "mental health", "mood tracker" and others that clearly describe your product will go a long way. Using low-competition, high search volume keywords is the strategy to follow.
The same is true for optimizing your description. Using the example of the $1 million+ sellers mentioned above, you want to be sure that you accurately describe the size, shape, colors, materials, usage instructions, benefits to the buyer in terms of self-care (such as specifically helping women with anxiety) and more.
Since price is a predominant factor in making a sale, and there are multiple self-care items that are priced quite high, this tends to exclude a wide audience. Therefore, pricing around the average of $17.78 for "self care" is the wise thing to do.
Shipping is another key factor in determining whether a buyer will opt for your item or not. This is why fast shipping (at an average of three days) with an average price of $4.03 is your best bet.
When it comes to photos, be sure you use as many of the 10 image spaces that Etsy allocates you.
Be sure to reply to all reviews (both positive and negative) in a timely manner, indicating how you plan on resolving issues (if any) and how you plan on improving your product offering.
And finally, remember that the more likes and views your product gets through customers exploring your reviews and ratings, the better the social proof for your Etsy side gig becomes.
In conclusion
It's evident that the self-care market, especially for women, on Etsy is gargantuan. The potential for a high turnover is even greater.
Some sellers are absolutely killing it, making over $1 million. Could this be you?
By following our tips and tricks and using Sale Samurai to help you refine, develop, and optimize your listings, you're well on your way to making thousands of sales for your self-care products.