Any pet owner will tell you that they love spoiling their beloved animals when they get the chance. And Etsy shines in this regard.
If you are a seller who has the capability of producing pet-related merch and you want to know if this niche is for you, read on to find out more.
How big is the market for pet merch?
From the outset, we headed over to Etsy to find out how many listings there are for the keyword "pet". The number is quite astounding at 2,140,360. But because this keyword is so broad, we also used Sale Samurai to help us determine how this niche is divided by looking at the most popular pet-related keywords, their listing saturation, and search volume.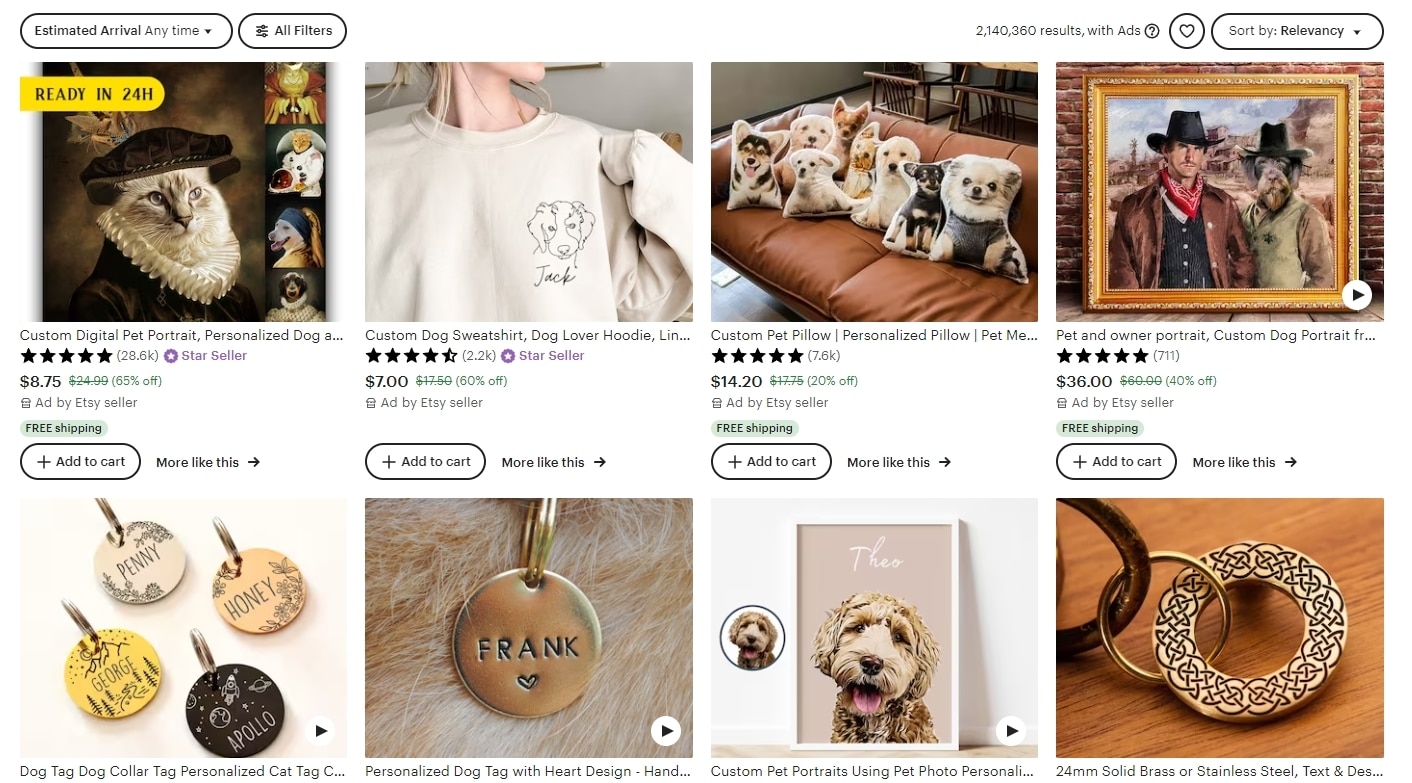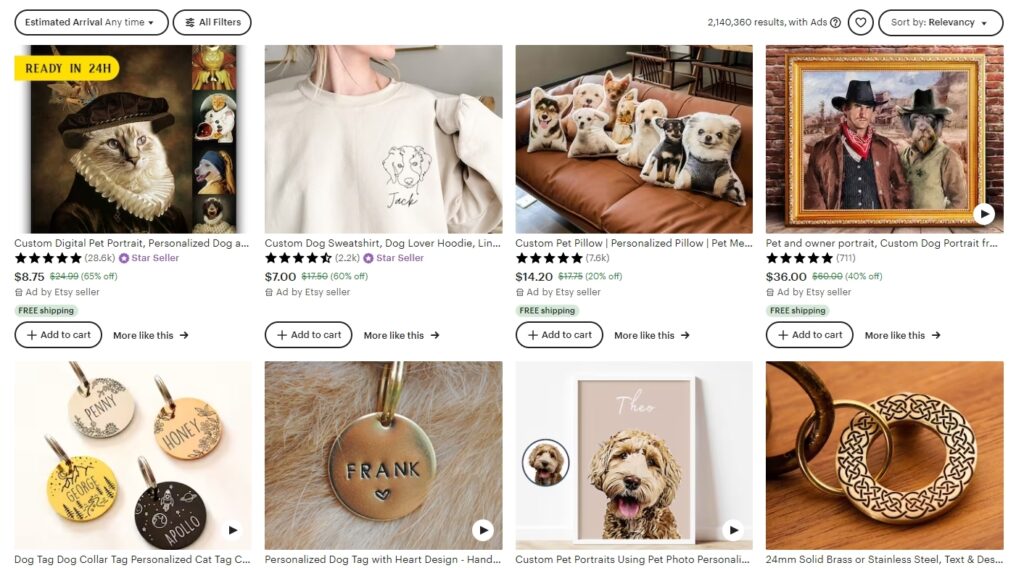 Listings saturation and search volume
Sale Samurai has a nifty feature in the Search tool which helps you categorize keywords according to search volume. Of course, we made full use of it to go beyond the 847 search volume for the broad keyword "pet". We picked the most relevant keywords and those with the highest search volume.
Here is what the results show:
Pets – general
"- pets": search volume – 2,230; listings – 205,631
"For pets": search volume – 706; listings – 1,318,636
"Multiple pets": search volume – 378; listings – 5,059
Loss of a pet
"Urn for pets": search volume – 3,380; listings – 233,511
"Loss of pet": search volume – 926; listings – 85,921
"Tombstone for pets": search volume 444; listings – 2,032
Pet merchandise and accessories
"Pet bowls pet bowls": search volume – 1,109; listings – 9,936
"Pet pillow pets": search volume – 1,067; listings – 19,292
"Tunnels for pets": search volume – 419; listings – 2,822


Although by no means are these the only keywords that users search for in the pet niche, they have the highest search volume. It's clear that the general search for pets has listings that range from the low 5,000s for "multiple pets" and that this increases in the hundreds of thousands to the million and upwards for pets in general.
The loss of pets is a big theme as well with over 200,000 listings in this category. However, this is not the focus of this article. As for pet items and accessories, this niche yields much smaller listing counts, with a comparable search volume.
Tags
We also used Sale Samurai to help us figure out what competition you are up against. We did this by exploring the tags used by sellers in Etsy's back-end that help them rank higher. Some of the most commonly encountered tags and the number of times they are used by sellers include the following:
Cat: 26,584
Dog: 26,125
Dog tag: 26,176
Dog portrait: 3,432
Pet portrait: 3,428
Dog gifts: 2,971
Pet portraits: 995
Pet painting: 976
Paw prints: 876
Pet: 847
Animal: 467
From this, we see that pets as a category are primarily divided into cats and dogs. After this, we have popular pet and dog portraits and paintings. And finally, the broad word "animal" is used to capture both the cat and dog high-search-volume keywords.
Prices
Sale Samurai also helped us determine the general prices for pet products on Etsy. A search for the seed keyword "pets" tells us that the lowest priced item is $1.50, the highest price is $493.83, and the average price is $42.35.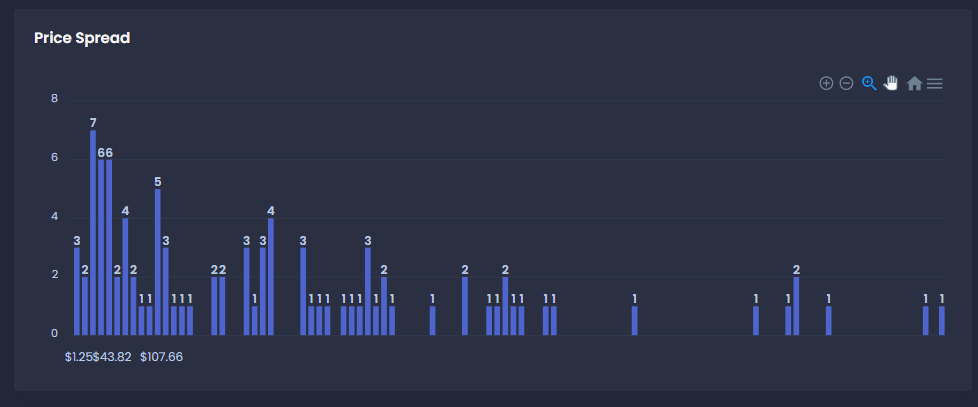 What are some of the best-selling merchants doing right?
Since there are over 1.3 million pet-related items on Etsy, it's practically impossible to determine who the bestsellers are out of all of them. However, what is possible is to narrow down our search to the star sellers who price in the average range. We again used Sale Samurai to help us figure this out and discovered two merchants who serve as strong examples of a positive and strategic sales approach on the platform.
The first seller we identified within this range is DoggieOfTheDayShop. Their item is a "Goldendoodle Dog Floor Mat Anti-Slip Pet Door Mat Indoor Outdoor Rug Pets Unique Rug Cat Gift Patricks Day Christmas Spring Holiday Floormat", selling at $39.59.
We also discovered GeneralPrint with a pet canvas picture selling at $54 with 64 sales. The product title is "Custom Pet Painting, Custom Portrait Painting on Canvas from Photo, Gift for Boyfriend".
Both sellers have received a five out of five star rating and they seem to be popular as reflected in the number of sales they have generated.
Keyword optimization
Referring to both cats and dogs is a strategy also employed by DoggieOfTheDayShop. However, they have also indicated that this is a pet gift, which doesn't have a great search volume and they've indicated holidays during which such a gift should be given.
As for GeneralPrint, they have specifically targeted the keyword "pet" and have focused on the type of painting that a buyer would get, namely, canvas and portrait. Interestingly, they've also included the words "gift for boyfriend" to further segment their audience and make it more targeted.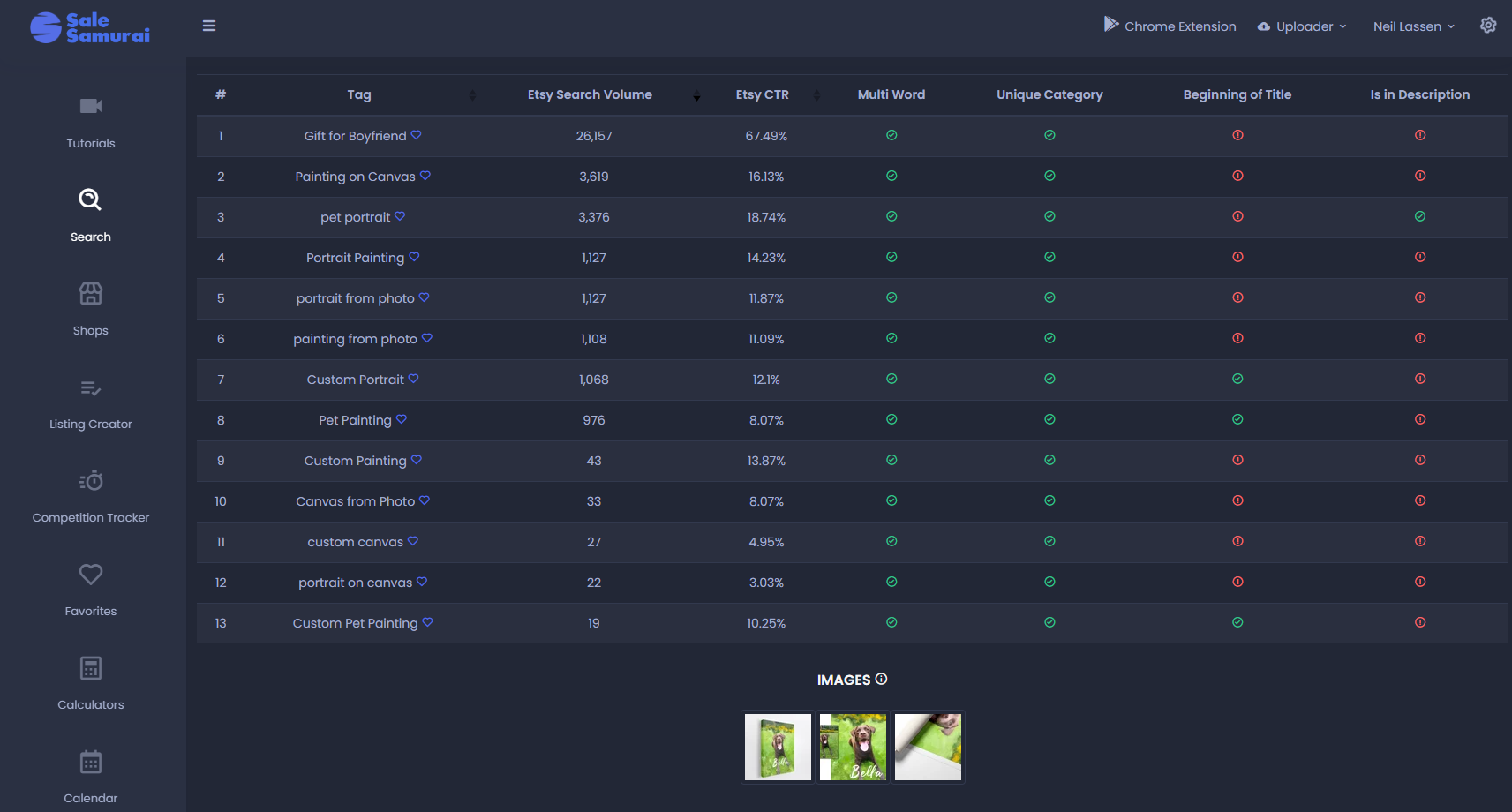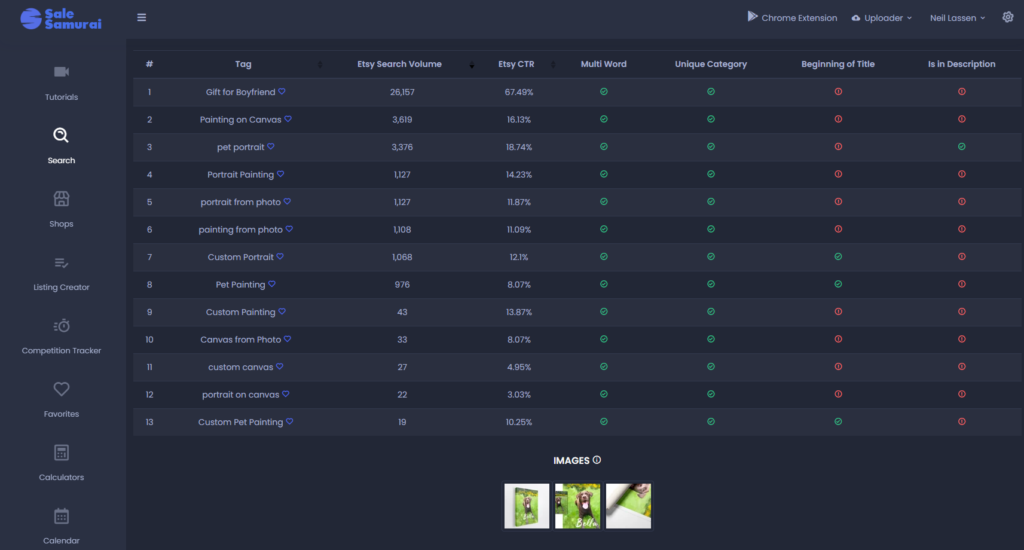 Pricing
When it comes to pricing, we specifically chose sellers in the average range on Etsy and it's clear that they haven't veered very far away from the $42-mark.
Images
DoggieOfTheDayShop has used video in addition to images, which is a catchy way to demonstrate how a product is used or made. They have also given clear instructions to buyers as to what is required to make the gift as personalized as possible.
GeneralPrint, on the other hand, has only opted to display three images out of a possible 10, signaling a lost opportunity to showcase their skills and talent.
How profitable is this niche?
Calculating profitability on Etsy is hard. However, we can estimate average turnover by multiplying the selling price by the total number of shop sales.
DoggieOfTheDay gets 4,547 sales at $39.59, which gives us an estimated profitability in the region of $180,015.73
As for GeneralPrint, we have 64 sales at a price of $54 to give us an estimated profitability of $3,465.00.
There's obviously a stark contrast in terms of potential for profitability here and it could be explained by the fact that GeneralPrint only used three our ot 10 images and also because their title specifically mentions that the canvas pet print is a "gift for boyfriends".
Our tip-list for sellers seeking to enter this niche
If you want to enter the pet merch niche, we recommend following the strategies outlined below for greater levels of success:
In your title, make sure to mention which pet you are catering to and don't forget to use pet or its plural form in the title as a keyword, irrespective of whether you're offering a product related to pet items or accessories. This description will make your product stand out better and rank higher. You want those eyeballs on your listings so that you can earn more sales.
We say this repeatedly but it's worth mentioning again: price around the average. You don't have to spend hours doing painstaking calculations. Simply let Sale Samurai help you. It automatically calculates the highest, lowest, and average price for every single keyword that you type in. And in this regard, you want to be pricing as close to the $42-mark as possible. Of course, if it is appropriate and in line with the value of your product.
You definitely want to make optimal use of the 10 spaces for images that Etsy gives you. This doesn't just mean taking 10 photos from different angles and uploading them. It can include video and instructional materials, informative guides, and more to help your buyer choose you over others.
Final thoughts
Although there are over 1.3 million pet-related product on Etsy, you still have a chance to compete. It all depends on doing your research and optimizing your listing. Sale Samurai is the perfect tool to help you do just that.
It can help you get insights such as search volume, access important keywords and tags, get average prices, identify top sellers and their strategies, and a whole lot more.
It's a subscription of only $9.99 per month. A trivial sum that will help you get and stay on top of your competition.