We live in a computerized age where creativity knows no bounds. Аnd thanks to platforms like Etsy, those with digital skills and flair can turn their creations into a thriving side gig.
If you possess artistic skills, graphic design abilities, or a passion for photography, keep reading.
In the following sections, we'll explore the digital market on Etsy and show you how to transform your pixels into top-performing listings.
Etsy's digital market explained
Etsy is famous for providing a huge variety of authentic, unique, and handmade products. But the platform offers more than physical gems.
When typing in "digital" in Etsy's search bar, more than 12 million results show up. In addition, the keyword "digital" has a monthly search volume that exceeds 106,000, while related phrases, such as "digital print digital" generate more than 26,000 searches per month.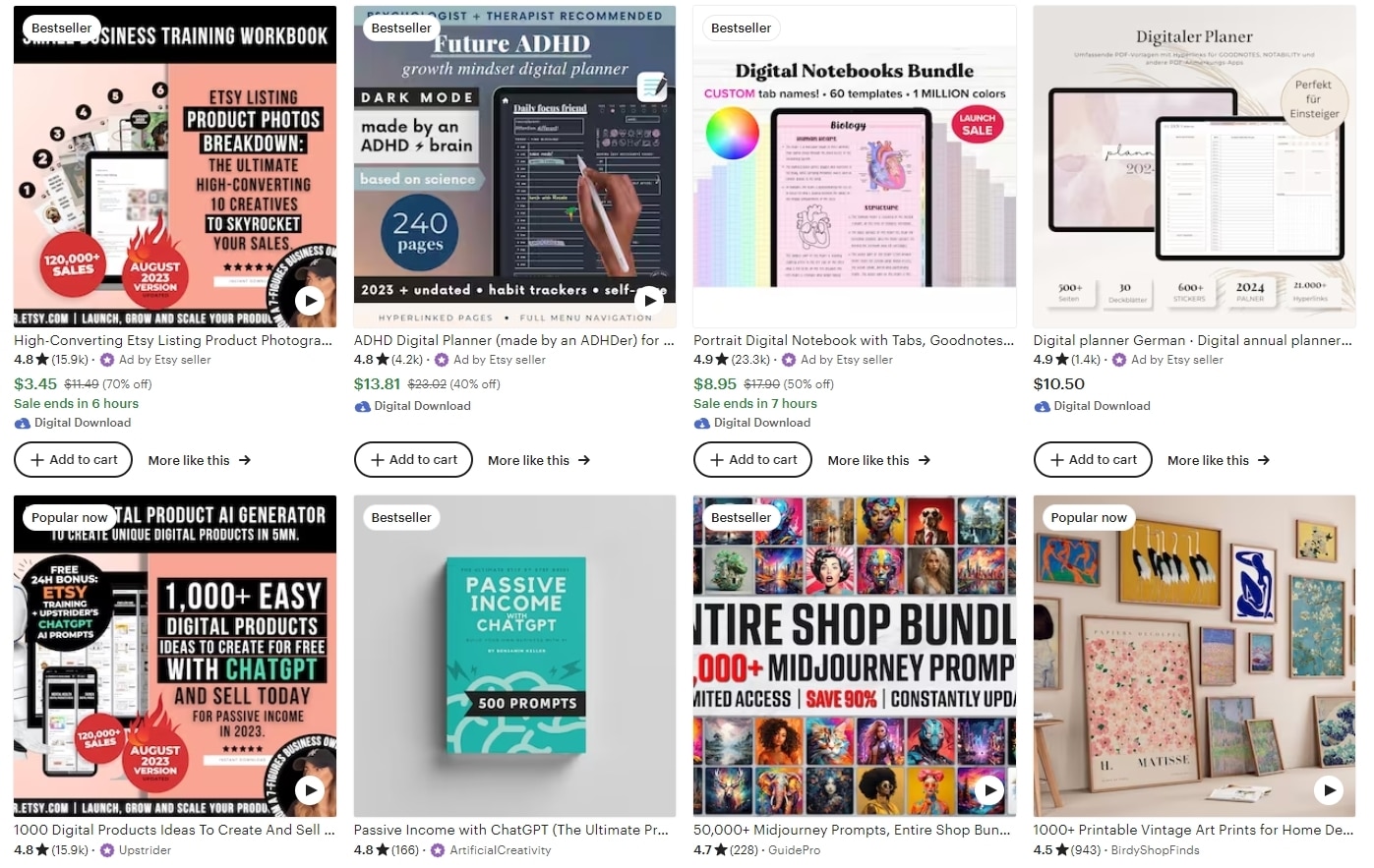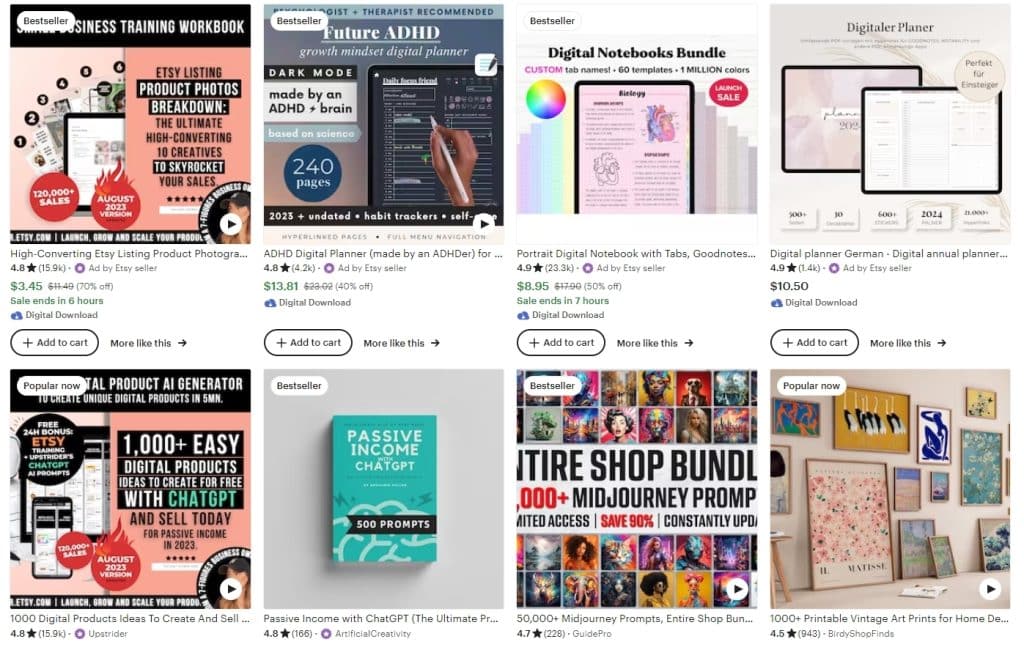 These are all clear signs that digital prints, patterns, and images are a big deal in this marketplace.
But let's take a step back. What exactly do we mean by digital products?
What are digital products on Etsy?
Digital products are files that sellers offer for purchase on the platform. These items are typically downloadable, meaning that buyers don't receive a physical product.
These products have gained popularity on Etsy for various reasons, including their ease of delivery, potential for customization, and the ability for instant access and use.
To identify some of the most popular digital products at the moment, we used Sale Samurai and Etsy.
Here are our findings.
The most popular digital products on the platform
Analyzing competition levels, search volumes, and listing saturation, we identified the following 10 digital product categories as most popular on Etsy:
Printable art – Digital art prints that customers can download and print at home or at a local print shop. These often include wall art, posters, and decorative prints for various occasions and themes.
Digital planners and journals – Digital versions of planners, journals, and organizers that users can personalize and use on their digital devices or print out. These are popular for organizing daily schedules or tracking goals.
Clipart and digital graphics – Graphics, illustrations, clipart, and design elements that can be used for various creative projects, including scrapbooking, graphic design, and crafting.
Printable invitations and cards – Templates for invitations, greeting cards, and party supplies that shoppers can tailor-make for special occasions like weddings, birthdays, and holidays.
Digital patterns and templates – These often include sewing patterns, crochet patterns, and templates for DIY crafts, allowing buyers to create their own handmade items.
Fonts and typography – Digital fonts and typography styles for graphic designers, content creators, and individuals looking to enhance their branding or design projects.
SVG files for Cricut and Silhouette – SVG files are used with cutting machines like Cricut and Silhouette to create custom vinyl decals, stickers, and designs for clothing and accessories.
Photography presets – Filters and presets for photo editing software that help consumers enhance and stylize their photographs.
Educational and learning resources – Digital worksheets, lesson plans, and educational resources for teachers, homeschoolers, and students.
Business and marketing templates – Templates for business cards, social media graphics, marketing materials, and branding resources for entrepreneurs and small businesses.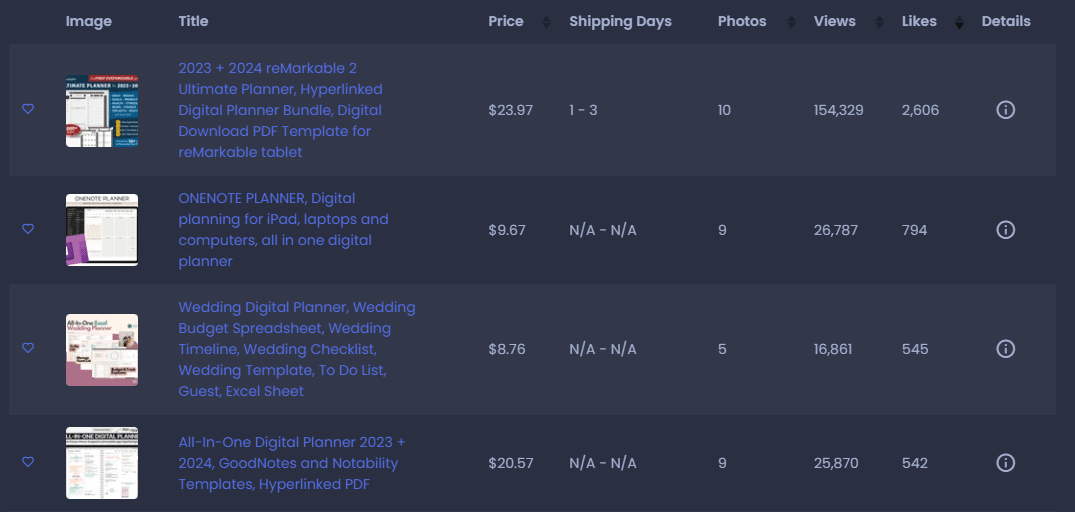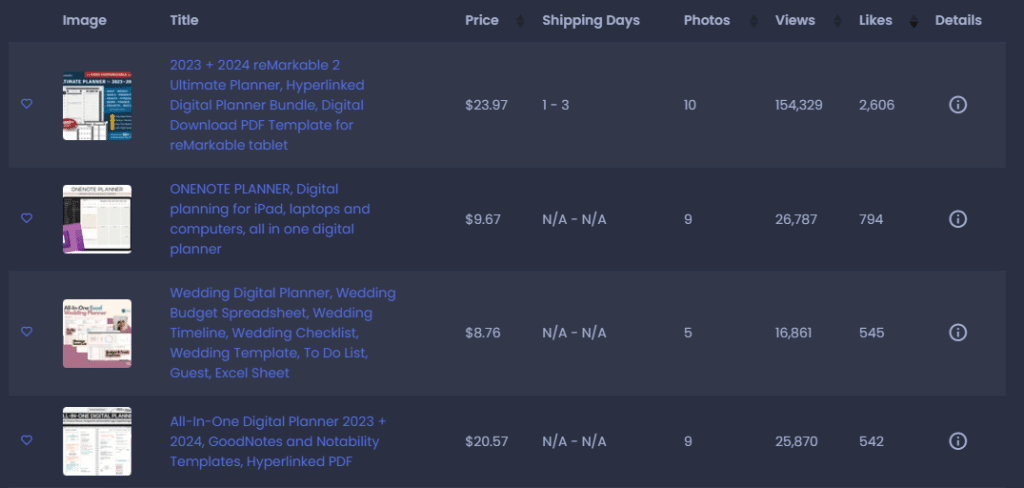 Keep in mind that the popularity of specific digital products can vary over time and may be influenced by a number of factors. Some of these include seasonal trends, current events, and cultural interests.
Sellers who create and offer digital products that cater to certain niches and trends, align with their own creative skills, and are targeted at the right audience can hit the jackpot on Etsy.
But how can you achieve this?
You'll find the answer in the next section.
How to create successful digital products on Etsy
Selling digital items on Etsy is a lucrative endeavor. However, it's important to approach it with a bullet-proof sales strategy due to the highly competitive nature of the space.
Here are some tips that will help you equip your listings for success.
The following recommendations are derived from market best practices.
Research your niche
Start by identifying a niche or specific target audience for your digital creations.
Use Sale Samurai to understand more about particular segments, like digital patterns or digital planners.
Consider what types of products are in demand and how competitive they are. Do this by observing keyword search volumes and competition levels.
Ideally, opt for products that are frequently searched for but have low competition.


This approach will enable you to rank higher and make your listings visible to a wider audience.
Once you've set your eyes on a few options, think about how you can set your creations apart from others in the segment.
Create high-quality content
After you've identified the type of product, the niche, and the target audience, it's time to put your creativity to use.
Use your skills and experience to produce attractive, beautiful, and valuable digital designs. No matter whether you're selling downloadable art or printable invitation cards, ensure that your art is of high quality and resolution.
Invest in advanced equipment, software, and editing tools to produce professional-grade digital gems.
Offer variety
Next, think about product variety.
Diversify your product offerings to cater to different customer audiences and preferences. This will help you scale your Etsy gig and will allow you to quickly popularize your shop.
For example, if you sell digital art, consider offering a range of styles, themes, and sizes to appeal to a broader buyer group.
This strategy can also guarantee consistent sales volumes throughout the year. This is especially valid if you also sell in different niches within the digital market.
Optimize for Etsy's algorithm
Don't forget that to be successful, you'll need to please Etsy's algorithm. The algorithm assesses the relevancy of each listing based on its use of keywords, imagery, and more.
The better optimized your listing is, the more relevant it will be to user searches.
How To Use Sale Samurai's Search Tool To Establish A Winning Etsy Strategy
As a result, it will appear higher up in Etsy's search results. This is key for discoverability, traffic, and ultimately – sales.
To optimize your listing, use relevant keywords in your titles, tags, and descriptions. Diversify your use of words by focusing on niche-, audience-, and product-related phrases.
Provide clear and detailed descriptions
Another essential factor for rankings and traffic is product descriptions.
Write detailed and engaging product descriptions that inform customers about your digital item Include information on file formats, sizes, and any customization options.
Let's look at an example.
The "10 CLASSY WEDDING Lightroom Mobile & Desktop Presets | Aesthetic Presets | Professional Preset for Couple Photography | Cream Wedding filter" listing performs exceptionally well on the platform.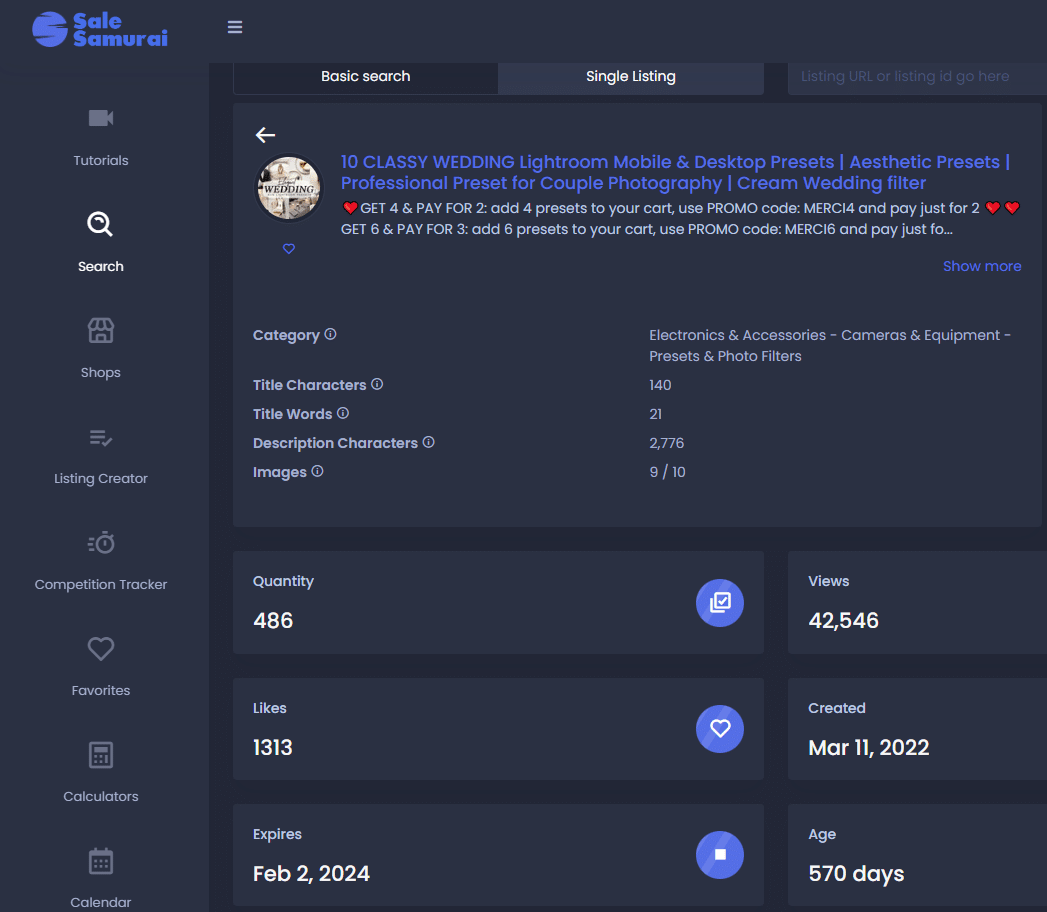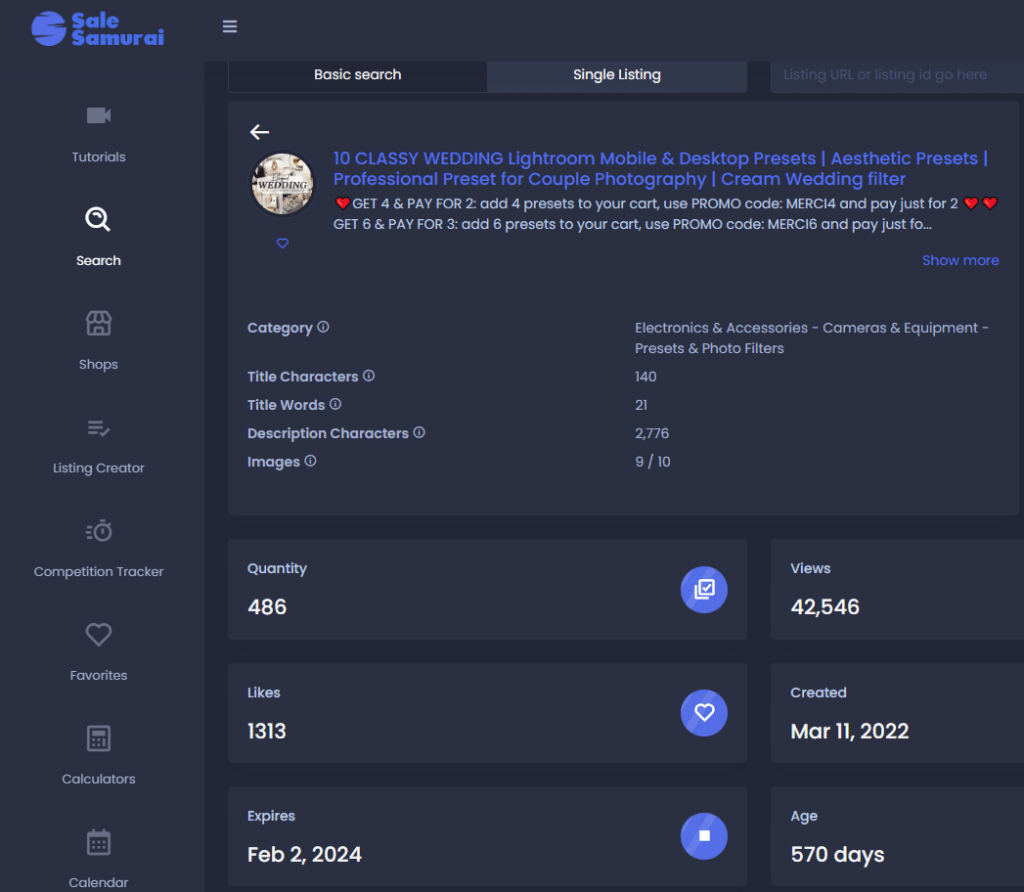 It strategically utilizes keywords, visually represents the product with high standards, and targets a popular niche – weddings. But its detailed product description also makes a strong impact.
The seller offers information on what's included in the preset package, what type of customer service the buyer can expect, details about refunds, and answers to popularly asked questions.
Create eye-catching images
Although your digital creation isn't a physical product, you still need to present it in the best possible light via imagery.
Design attractive and compelling thumbnail images for your listings to attract shopper attention. These thumbnails are the first impression customers get of your product, so make sure they are visually appealing to your audience.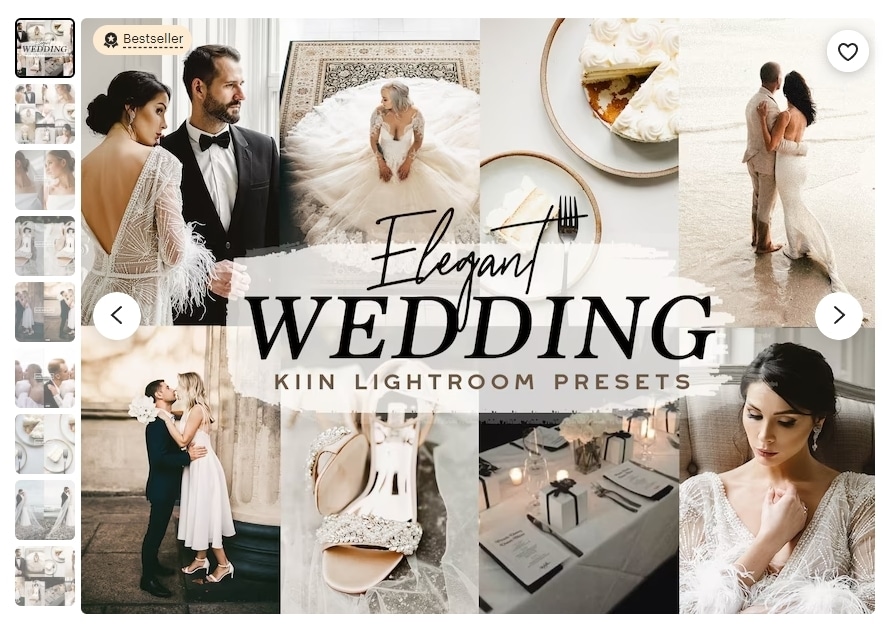 Remember that Etsy provides 10 image slots per listing. Make the most of them.
Make customization an option
Our research into Sale Samurai and Etsy shows that personalization is a much sought-after trend when it comes to digital products.
Luckily, offering this feature as a seller is a no-brainer. It doesn't require any extra time or effort.
Where possible, provide customization options for your digital products.
For instance, the "Notion Template, All In One Life Planner, Personal Planner, Notion Dashboard, Aesthetic Wellness Digital Notion Planner, Lifestyle Planner" listing is another top performer in Etsy's digital market. Although there are no details about personalization in the title, the product description mentions the following:
"Plan your life in a simple and aesthetic, yet functional, way and keep track of important dates and information. This template is hosted on Notion and is fully customizable. It is also easily accessible from a phone, laptop, or tablet."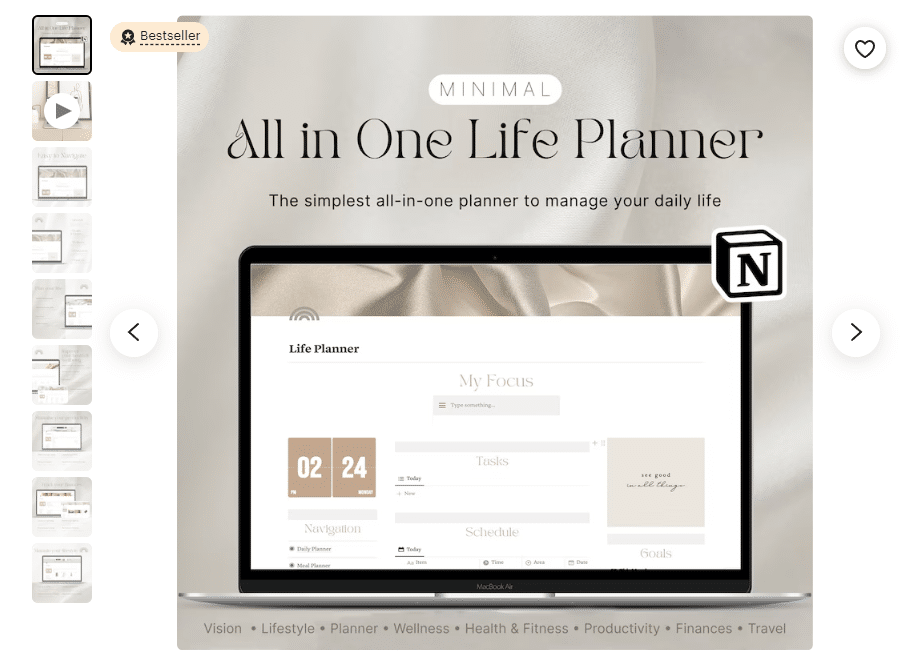 This is only one of the many examples where this best practice is efficiently applied.
Understand licensing and usage rights
Last but not least, make sure you're on the right side of the law when creating and selling your digital products.
Clearly define the licensing terms for your products. Determine whether customers can use them for personal or commercial purposes and under what conditions.
This will help you grow your Etsy venture without having to worry about legal disputes in the future.
Final thoughts
Without a doubt, digital products are a money-making opportunity on Etsy. Tap into the potential of this market with the practical tips and tricks that we've shared above.
Don't forget to use Sale Samurai as your secret weapon throughout your journey. The software will help you identify trends, research the niche, and make informed decisions for fruitful results.