Etsy is known as a global marketplace for hand-made and vintage items as well as craft supplies and tools. This means that most of the buyers there are looking for something unique, which hasn't been mass produced. The classic or vintage aesthetic is appealing to millions of shoppers because it offers a sense of functionality alongside class and nostalgia. This presents a great business opportunity, especially for vintage collectors. But how does Etsy classify vintage items, what are the top performing niches, and how can you get started?
Let's take a look below.
How The Vintage Item Product Category Works
According to Etsy, a vintage item will be classified as such if it is 20 or more years old, and provided it is not still being manufactured and sold. Items that do not fall within this category include newer, vintage-style or collectible items.
Other information about the vintage item that Etsy may ask for before allowing a Seller to list includes:
Where the vintage item came from?
How was it sourced?
How was the age determined?
Who was the Designer?
Which of their collection is the item from?
During which year did the collection debut?
…and more!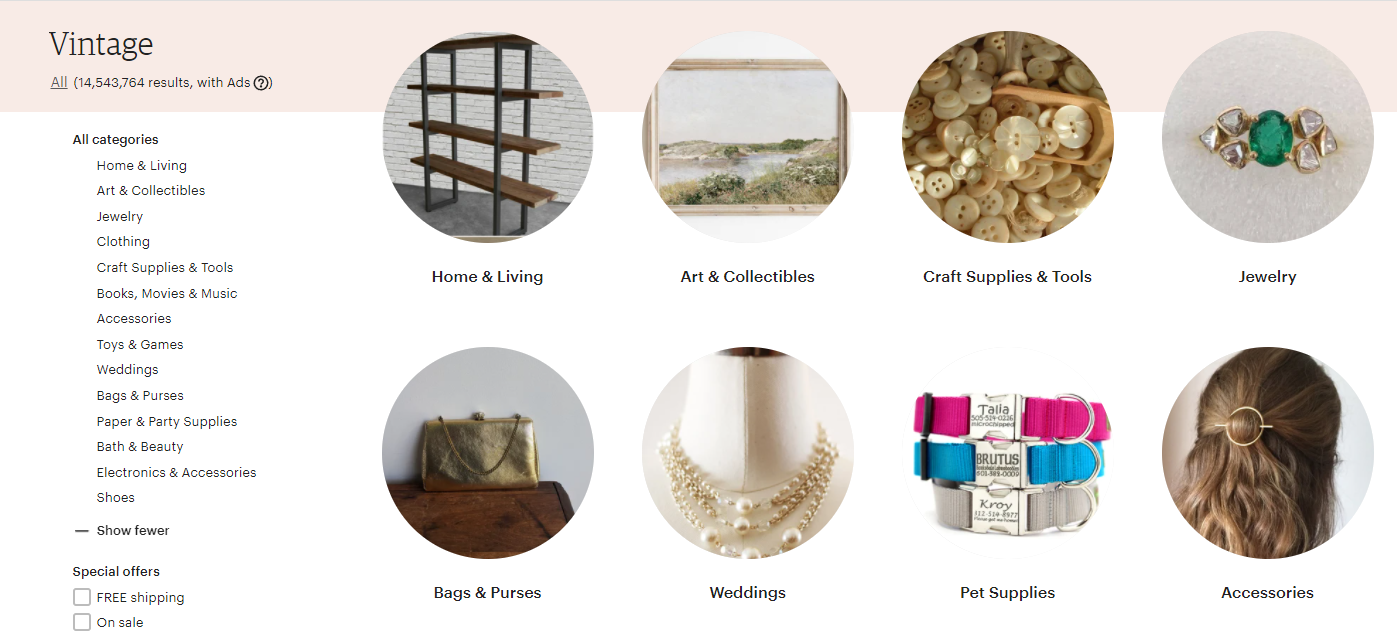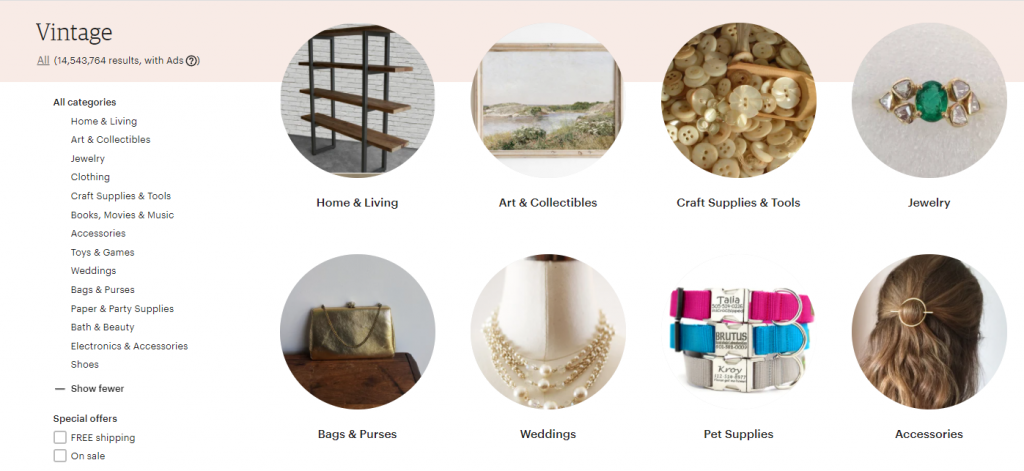 Some examples of vintage items include toys and glassware that are over 20 years old.
For clothing, Etsy will ask you about the fabric that the garment is made of; whether it has a brand label or care instructions; as well as what material the zipper or buttons are (or appear to be) made of.
Other factors to take into account before starting to sell vintage items on Etsy include the fact that they may ask for "photo documentation of key vintage indicators."
Items that are classified as "deadstock" – or clothing or accessories that have never been worn or sold to the public – will need to be authenticated as such and Sellers should be able to explain why they're considered deadstock.
Other key factors regarding vintage item classification include:
An item was handed down by a relative who has been deceased for over 20 years
An item will not be listed if another Seller is selling the same or similar item in their shop
Sellers won't be able to sell if the item was purchased at an estate or yard sale
It is also good to keep in mind the fact that disclaimers should be provided for any beauty marks, stains, or malfunctions in order not to deceive the customer when they receive the item.
Vintage items that are in an "exceptionally good condition for their age" should be described and listed as such. Sellers will also be able to sell "mint condition" antiques for a slightly higher price depending on the item.
Side note: Wonder what classifies as an antique? This is an item that's been around for over 100 years. Vintage, on the other hand, refers to items that are at least 20 years old.
What Are The Most Wanted Vintage Items On Etsy?
Now that we've covered the basics, it's time to get to the interesting stuff: what sells best? Here's a brief breakdown of the best-selling vintage items on Etsy: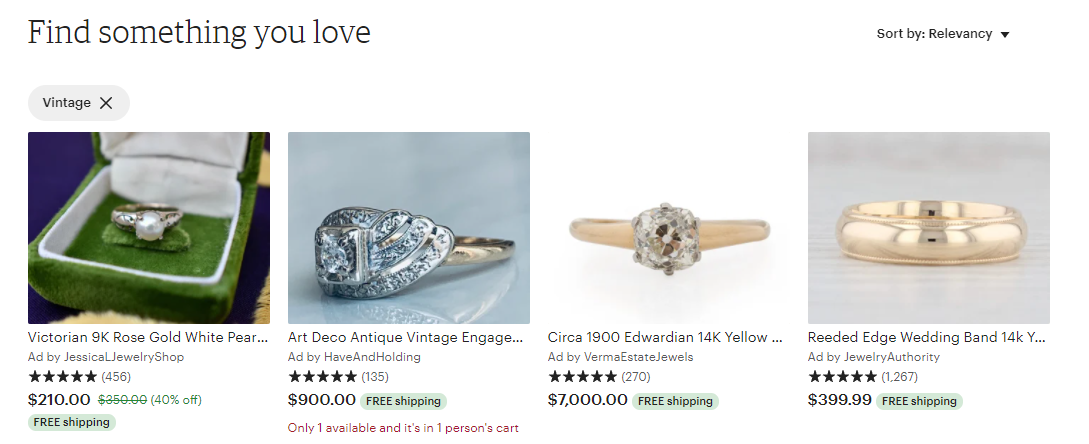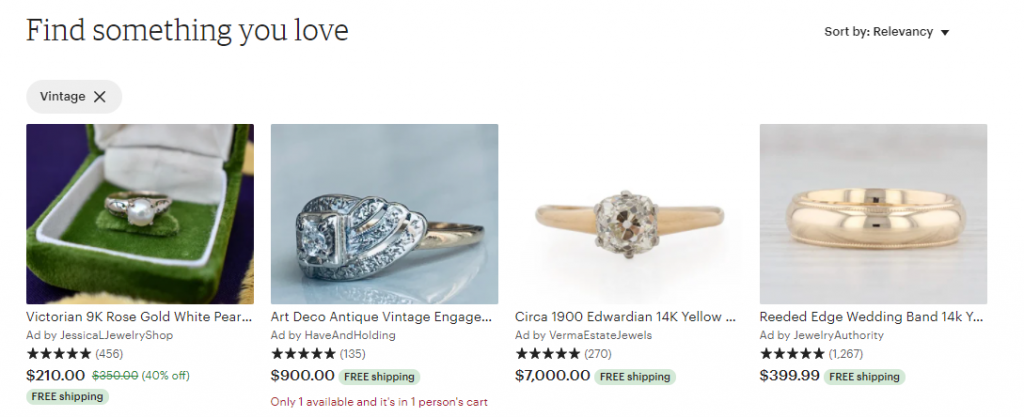 – Jewelry, such as rings and earrings
– Home décor pieces such as floor rugs, unique furniture, shelf pieces, Chinese vases, silverware sets, lamps
– Wall art, such as vintage botanical posters and decorative wall clocks
– Vintage clothing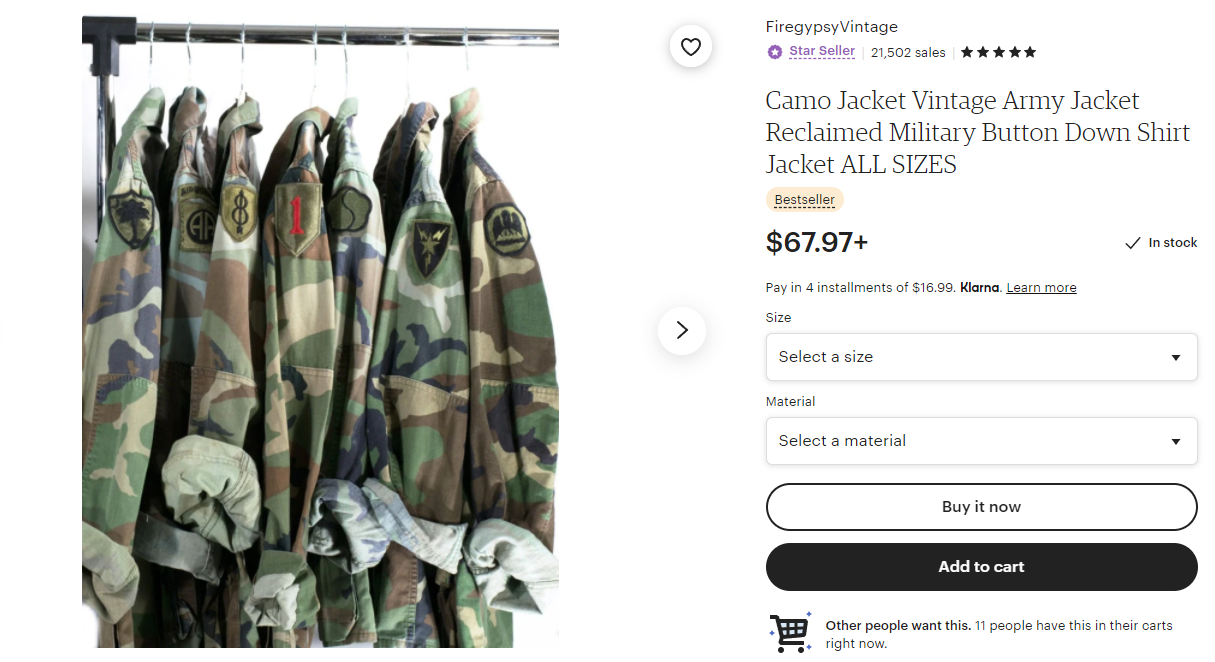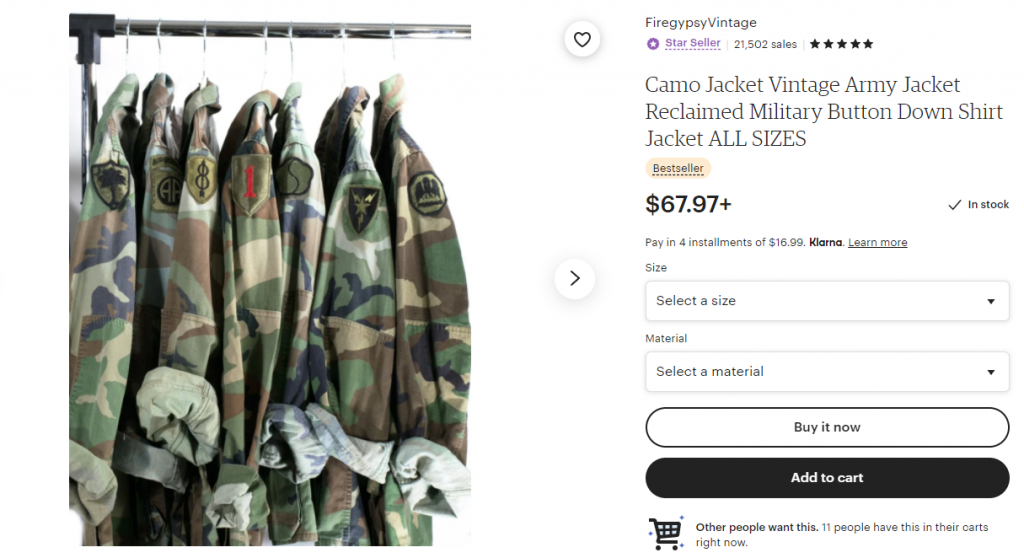 What Are The Most Interesting Vintage Item Niches On Etsy?
Based on the number of sales, profitability, number of listings, and feedback ratings, the top 5 vintage and antique niches are ephemera, clothing, jewelry supplies, jewelry, and some décor. As of January 2022, the top 5 sellers are respectively inkpainter, RogueRetro, ohmymilky, Nkempantiques and Dirtybirdiesvintage.
What Does It Take To Be Successful In Etsy's Vintage Category?
Sell what you love: Trust your own taste and share it with the world.
Define your brand and niche: The story told about your shop and vintage items will be what sells to your customers. Make sure it's well defined and consistent throughout all the channels you use. Make it unique as no one can be you.
Organize your inventory: Save time and hassles by ensuring all the items sold are well-organized. Ensure they are complete and safely stored.
Do your research: It's vital to read up on all the Etsy policies, how-to's, read community forms, the Seller handbook, Seller stories and other information to make an Etsy shop as successful as possible.
Use keywords/tags: This is the key to getting items found and sold. Therefore, use all the keywords you possibly can for maximum Etsy SEO.
Put effort into your shop: Add details in the About section, policies, and listings. Make sure customers get a good feel of who you are and why they should purchase from your Etsy shop.
Take great pictures: Because shoppers are there for a visual presentation of a Seller's products, do not post grainy, blurry, or fuzzy photos. A picture is worth a thousand words, so it's worthwhile spending time on quality photography.
Choose a great shop banner: Choose between two banner sizes or not to use one at all. The latter option enables Sellers to display more items as it frees up prime real estate.
Use the Etsy shop announcement feature wisely: It's a good idea to keep this fresh and update it often. Added new products? Mention it. Offering a coupon? Post it.
Think like your buyers: This means grabbing their attention with the first five words of the Etsy title because they're what will show up in a search. Therefore, choose the most relevant, descriptive, and accurate terms that you can.
Price fairly: This means pricing fairly both for you and for your customers. Consider factoring the shipping costs in the final price so that you avoid cases of abandoned carts. You should also account for your time spent on preparing the products when finalizing pricing.
Track your shipments: Some scams have arisen recently in which the buyer claims that the item did not arrive or it arrived damaged. To counter this issue, give full disclosure about the vintage item with accurate photographs, and ensure that all shipments are tracked.
Shipping: Since July 2019, Etsy provides search priority to vintage items that ship for free or to Sellers which guarantee free shipping on orders made in the US with a subtotal of $35 or higher. This can obviously be unfeasible for larger orders which can add up to $40 or more onto shipping costs. To offset this cost, consider increasing the prices to factor in the shipping as well and offer free shipping on smaller items.
Fragile items should be packaged and wrapped securely. Do this by ensuring the box you ship in isn't too large for the item. Rather ensure it fits in securely in the box and it doesn't shift around when moved. For delicate items, invest in bubble wrap and "Handle With Care" labels.
Market yourself on social media: Spread the word about your brand through Instagram and Facebook. Both platforms have built-in tools to advertise your shop.
Invest in "promoted listings": This is when you pay to have your item featured at the top of a keyword search. Then there's a Google Shopping integration, which also costs a small fee. It essentially means that your items could appear on the shopping bar of a regular Google search for that specific item.
Benefits of Selling Vintage On Etsy
So, why sell vintage items on Etsy? Here are some awesome reasons to get started:
It's easy to create an account
It's free and easy to open and set up a shop
You don't need a large inventory of items
Grow at your own pace
There's a big community to help answer questions
Reach millions of shoppers
Shipping is not as hard as you may think
Conclusion
Etsy is the ideal platform for selling vintage items because it's not only intuitive, but super easy to get started. Make sure your item is indeed considered vintage by Etsy's rules and you're all set to go. Selling vintage on Etsy can be a great way to supplement income and make that extra bit of money on the side. It does take work and a commitment to your business, but it's super easy to get started.