As one of the most popular online spaces for handmade and unique products, Etsy has a lot to offer. From a seller's perspective, this almost inevitably creates confusion and uncertainties. Determining which categories and niches are profitable can certainly be a hurdle.
But worry not – we're here to make life easier with another niche research. In this article, we'll take you on a ride through one of Etsy's unique product categories – cookware.
At the end of the read, you'll be able to make your own decision on whether or not a piece of the cookware pie on Etsy is worth your time.
Size of the cookware niche on Etsy
The first judgement comes from the size of the niche. As you can imagine, the cookware space is large, diverse, and well-developed. It consists of tens, if not hundreds of sub-niches. If you think about it, a user searching for cookware could be looking for pans, pots, bakeware, cookware accessories, and more.
Moreover, these subcategories have their own branches to keep in mind:
Pans – fry pans, saute pans, saucepans, cast iron skillets, wok, roasting pans, paella pans
Pots – braziers, sauce pots, stock pots, fryer pots, pasta pots, dutch ovens, double boilers,
Bakeware – bread and loaf pans, sheet pans, cake pans, muffin pans, pie pans, tart pans
Cookware accessories – culinary baskets, cookware racks
Materials – copper, aluminium, stainless steel
And these are just some examples.
But let's go back to the starting point and look for some actual data. A broad manual search on Etsy reveals that there are plenty of active listings rankings for words like "cookware", "pans", "bakeware", and "cooking pots".
To be exact, 307,601 results are displayed for "cookware", 97,634 for "pans", and 14,349 for "bakeware".
Now, remember that keyword intent matters. For instance, someone searching for "pans" could really be planning a planting pot purchase (which essentially has nothing to do with cookware).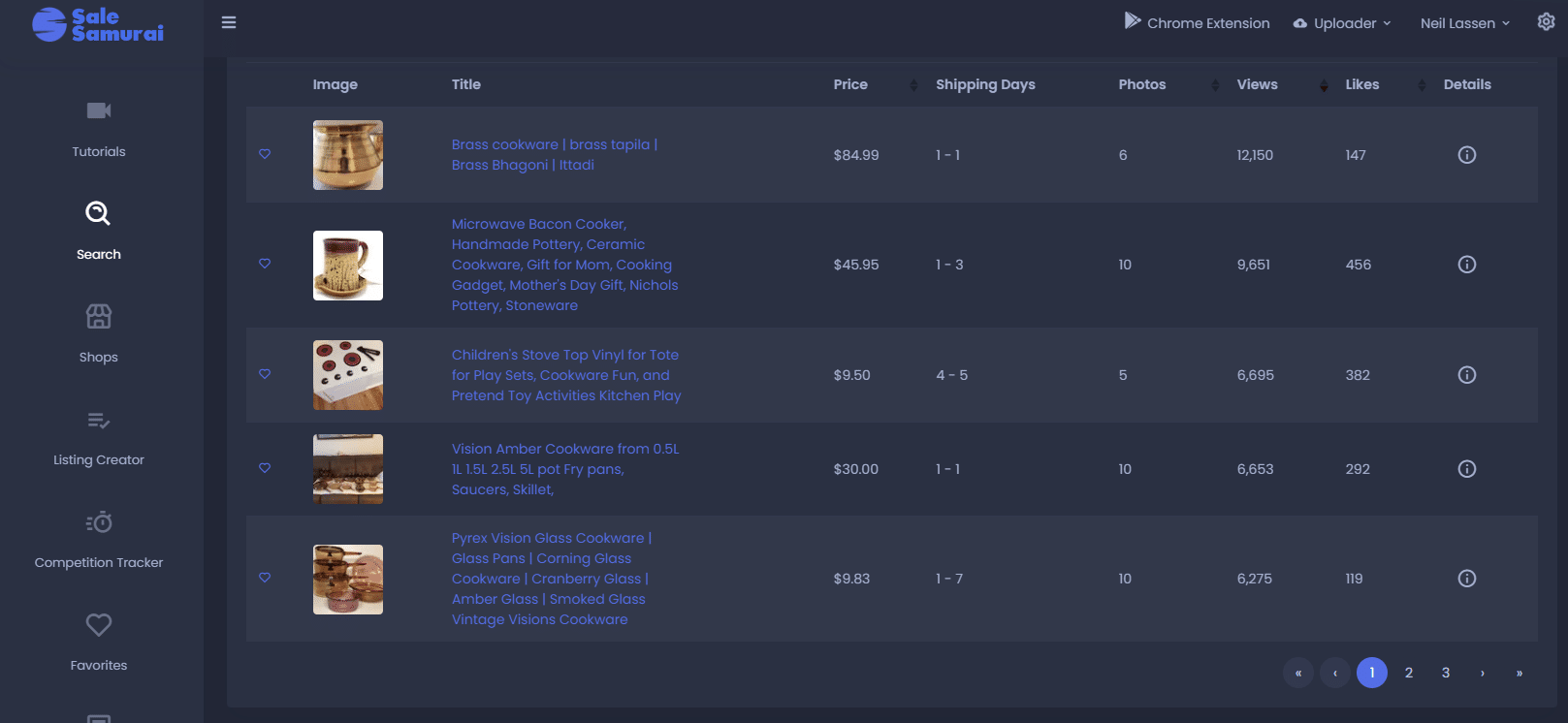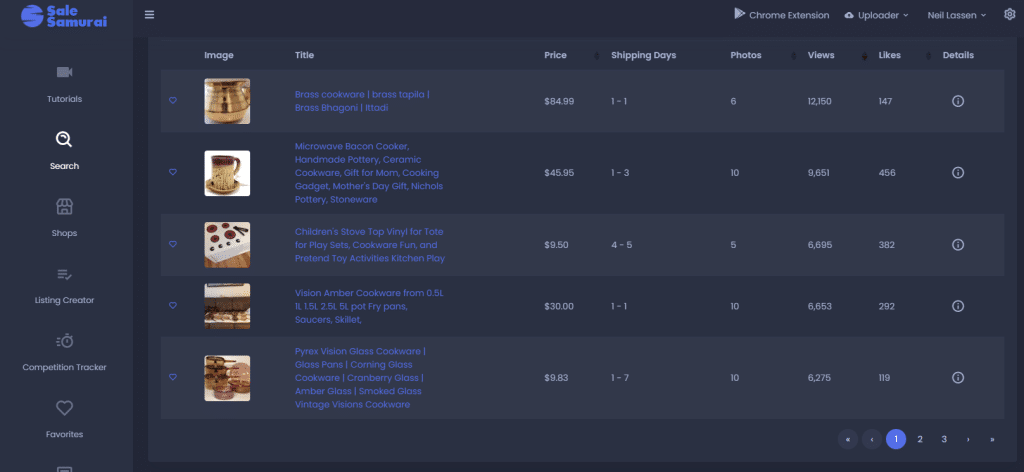 So, are enough shoppers searching for actual cookware? Using Sale Samurai, we explored the popularity of different niche-related keywords. We found that the general term "cookware" is the least attractive, generating only 98 monthly searches on the platform. At the same time, others like "pans" and "pots" had higher search volumes. However, they are part of other niches, which are not relevant to cookware.
Here's a breakdown of our findings on niche-specific words and phrases. Next to each word, you can see its monthly search volume and competition level:
Pans
1ml rectangular pans – 1,150 – low
copper pans – 944 – high
frying pans – 941 – low
muffins pan – 926 – low
sifting pan – 895 – high
copper pan – 878 – low
pots and pans – 384 – low
Pots
copper pots – 942 – low
mexican pot – 927 – high
fondue pot – 876 – high
We noticed that when it comes to popular words related to "cookware", the majority were brand-based. For example, "amway queen cookware" and "fika cookware".
Overall, these conclusions alone suggest that niching down in this market is essential if you want to reach the right audience and generate sales.
How profitable is the cookware niche on Etsy
When it comes to profitability, it's difficult to conclude how much money you can expect to make from sales. Ultimately, this comes down to your production expenses, listing price, shipping costs, and other factors.
One of the elements we can predict, however, is the price at which you can enjoy a competitive advantage. How? By looking at the lowest, average, and highest prices in the niche:
Lowest price – $0.70
Highest price – $539.00
Average price – $60.17


Keep in mind that this data is relevant to listings ranking for "cookware". Every sub-niche will have its own pricing zones. Therefore, once you pinpoint a few sub-niches that you're interested in entering, it's essential to adjust your research and extract information on the particular product type.
Also, it's worth noting that the golden rule for entering a new market is positioning your listings around the average prices. In this case, we recommend asking for anything between $65 and $70 for your cookware items.
Popular keywords
Based on our research using Sale Samurai and manual browsing on Etsy, we also discovered a range of additional keywords that dominate the market. These are words used in listing titles and descriptions, or tags included on the back-end of sellers' listings. They help increase the product's visibility, therefore doubling traffic opportunities.
For example, some of the common tags that we uncovered in the space include:
Wedding gift
Kitchen
Cooking
Antique
Gift for her
Gift for him
Housewarming gift
Christmas
Pottery
These findings are key. They not only reveal ways to make your listings juicier and more attractive for buyers, but can also inspire you to tap into even more specific niches.
For instance, imagine specializing in creating unique and handmade wedding gift cookware for her, or antique Christmas muffin pans. The more specific your product is, the higher the chance of attracting the right audience. This ultimately translates into a higher sales potential.
Analyzing the bestsellers in the cookware space
You may be wondering what some of the successful Etsy shops in the cookware market are doing. What separates them from the rest and enables them to achieve impressive profits?
Let's find out.
One of the bestsellers we came across is the HesGroup shop. The seller doesn't simply offer cookware. They provide a range of attractive clay pots, copper products, and fancy home decor. However, a good portion of their portfolio is dedicated to cookware items, like cookware sets and serving dish products.

The shop has landed more than 8,800 sales with a portfolio of 246 listings. It has attracted nearly 2,000 reviews, winning a 4.5-star rating. The prices in the shop vary, depending on the item category and niche. Some of the least expensive products sell for $14, while items like cookware sets go for up to $230.
Another example is the 1220CeramicsStudio shop, which sells handmade minimalist urban tableware and party dishes, along with a few cookware offerings. With a total of 6,524 sales and 100 listings, the shop has achieved a 5-star rating and more than 1,000 reviews. Some of the most affordable options include ceramic pinch bowls for $14.40, while the most expensive ones are large ceramic serving bowls for $245.


The creative photos stand out immediately once you visit the shop, grabbing attention from the first second. Also, you can notice the large price range and the rich portfolio.
Gaining a competitive edge in the cookware niche on Etsy
What can you do to enter the cookware niche as a pro and enjoy fast returns?
Here are some of our suggestions based on extensive research into the bestsellers on Etsy:
Detailed descriptions – when it comes to cookware, it's essential to provide as much information on the product as possible. This includes sizes, materials, production methods, maintenance, durability, and more. Add any relevant details into your product descriptions and don't forget to use keywords strategically where possible.
Compelling photos – as with any other Etsy niche, photos make a real difference. Don't forget that Etsy consumers are not the typical shoppers you'll see in an ordinary shop. People visiting this marketplace often search for authenticity, creativity, and personality in products. Tell a story through the images that you use and show customers how your products can add value to their lives.
Portfolio diversity – even when you've decided on a niche to enter, like cookware, diversity in your products is crucial. It will enable you to test contrasting strategies, get to know the market, and have several revenue streams. We saw that the bestsellers rarely center their shops around a single product type. Instead, there are varying items, enabling the seller to grab the attention of numberless audiences.
Adequate pricing – it's not a coincidence that one of the areas we focused on in this research is pricing. The price of your product can make or break your performance. This is why it's vital to ask for a price that is competitive, yet logical for you as a seller. The last thing you want is to generate sales that only cover your expenses. Make sure your margins are reasonable and your earning potential – reliable.
Listing optimization – listing optimization is fundamental in any Etsy category or niche, cookware included. To unlock the potential of your products you must optimize your listings for traffic and sales. This includes intelligently using keywords in your products and titles, adding all 13 tags, uploading 10 images, providing accurate and detailed information in your descriptions, and more.
Wrapping up
The cookware market on Etsy deserves your attention, as our discoveries revealed. The space is diverse, well-developed, and attractive to consumers. This means that you can exploit this opportunity to enter a new niche and aim for the sky with a persistent strategy.
On your road to success, don't forget that having access to insights is your key to growth. Use Sale Samurai to your advantage and enjoy a comfortable advantage over your competitors.