In June of this year, Etsy released its Marketplace Insights: 2022 Fall Trends report, indicating what the anticipated direction for the fall season of 2022 would be. New trends have indeed emerged, however much of the classics remained.
Fall is known as the season of Halloween, Thanksgiving, pumpkin spiced lattes, weddings, a change of season meaning a change in wardrobes and jewelry, and so much more.
So, without further ado, let's explore some of the most popular product categories and niches this fall.
What are the most popular product categories and niches this fall?
We start off with the most popular product categories according to Etsy for the current fall season. These are divided into four main categories with their subsequent niches, including home and living, clothing, jewelry and accessories, and weddings. We explore each one in more detail below.
Home and living
Based on Etsy's report, we see quite a lot of trends emerging and resurfacing this fall. For starters, there is an uptick in searches for bedroom decor for teens. This is possibly due to the fact that many teens and parents are looking to create cozier surroundings as they return to school.


There is also a massive interest in bold colors in smaller interior home products. For example, colorful planters have seen a whopping 1,000%+ increase when compared to the same period last year.
Furthermore, cocooning shapes and rich, brown hues are expected to be popular this year. Gentle slopes, as opposed to angular shapes and lines, offer interior spaces a more intimate environment, as do earthy hues, which are also making a strong comeback.
Other examples of trending products in the home and living category include those that focus on collage elements and plays on texture. Nature, sustainability and heritage styles are also big this fall.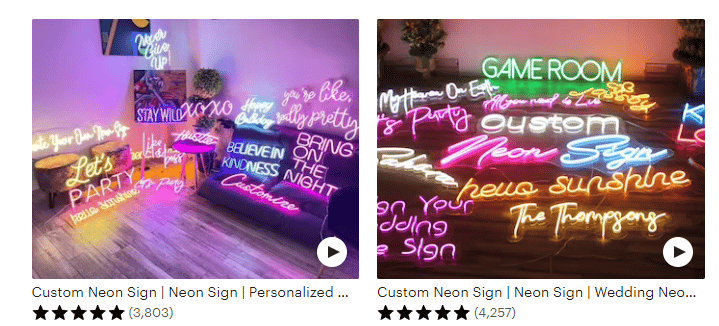 Clothing
As the season changes and we swing into fall, our wardrobes will also reflect the seasonal developments. But what's new and what's returning to the scene that you, as an Etsy seller, should be aware of? The answer lies in gender-neutral dressing, as well as a greater focus on formal wear, as we slowly but surely return to personal interaction.


Meanwhile, for children, we're seeing a return of the preppy as well as equestrian look. Adults will enjoy purchasing new sets of coats, while bright and vivid colors seem to be making a strong and sure comeback. Bold prints, revamped basics, floor-skimming styles, sheer and shiny sequin clothing are further examples of items in the clothing niche that are expected to make a strong impact on sales this fall.
Jewelry and accessories
Rings and necklaces may be the staple of the jewelry world, but they are seeing some serious competition from larger, more maximalist jewelry and accessory designs. These include items such as brooches, ear cuffs, and bracelets.

The choker is also expected to be the "it" accessory this season, while larger-than-life rings are also anticipated to be a big hit.
Bold bracelets and eclectic ear sets are further predicted to make a big comeback. However, do keep in mind that customers are increasingly searching for a more personalized look and feel. Materials such as wood, crystals, and upcycled materials are the key aspect to look out for.
Weddings
As the Covid-19 pandemic recedes into the background, all the wedding planning that's been taking place behind the scenes over the past two years is now coming to fruition. Happy couples are looking to make their weddings an experience of a lifetime; a completely personalized day that they will cherish forever.
So, what are the most popular items to focus on as a seller?
The short answer is sultry metallics, shimmers of gold and dried leaves. All of these build up to the fall romance that many are after.
But if you're looking to expand your wedding offering, you may also want to stress the "naturalness" of the wedding decor. A good example of this approach is boxes for the bouquets of flowers so that they can be preserved for longer.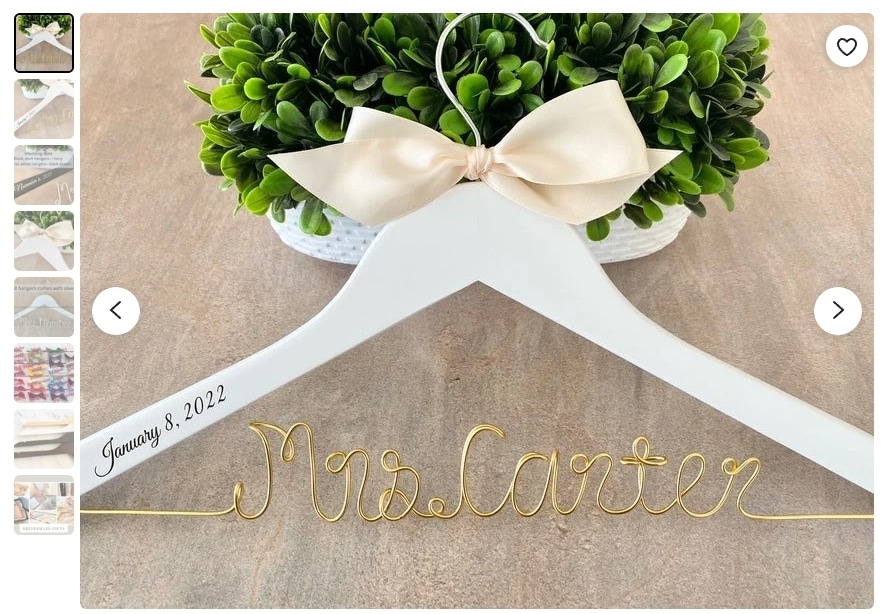 As for wedding gifts, we're looking at items that will be long-lasting and even be considered as heirlooms to be passed down to future generations.
Further products we're seeing an interest in include wedding invitations and sculptured florals.
Small vs large fall-related items
It's easy to think that the larger the product, and the higher the price, the more income you're likely to earn. After all, selling a couple of dining room tables for $600.00 on Etsy will surely put a substantial amount in your account. But be cautious of such thinking. Smaller items, such as brooches, that are priced lower can sell at much larger quantities, thereby giving you more returns on your investment. Firstly, they are much more affordable and quicker to create. And secondly, you'll have lower shipping costs (if any) that you'll need to factor into your final price.
As an example, we did a brief comparison between larger and smaller fall-related items on Etsy and found the following:
From the seller AfriKesh, we have the product titled "ARTISTIC WOOL RUG, Moroccan Handmade Rug For Your Living Room, Steel Blue And White Rug Made from Wool of Sheep, Best Artistic Tufted Rug". Physically, this item is quite large and it sells for $142.80. It has made 5,156 sales so far. This gives us seller turnover of around $736,276.80.


Then there's the much smaller maple leaf copper brooch product from RealLeafJewellery. They've created the "Real Maple Leaf Brooch – Iridescent Copper" brooch item. It sells for $49.13 and has sold 3,358 times, giving us a turnover of around $164,978.54.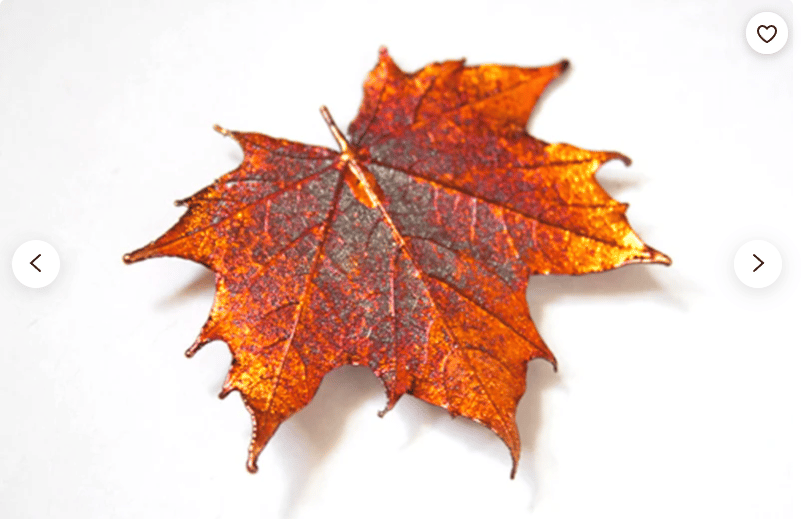 Although both items can be considered profitable, the material and amount of time it takes to create the Moroccan handmade living room rug is considerably greater than a small 4.9 gram brooch. Hence, profitability will really depend on what you're willing to put in in terms of time and materials, the final asking price, and the total number of sales.
This is crucial, because seasonal items will lose their appeal more quickly than all-year-round products. If you want to cash in on the fall trends this year, consider focusing on smaller and easier items.
What are the best combinations of niches and product categories to target this fall?
Targeting combinations of categories and niches is a wonderful way to expand your product offering and reach more sales on Etsy this fall. As a result, we recommend that you consider pairing up what can be paired together. One excellent example of this is clothing and jewelry or accessories. These usually go hand in hand and you may even wish to sell them as sets.
A quick idea is to offer a scarf and a lovely, bulky brooch, as both of these items are trending this fall.
The home and living category is also huge, and you can offer anything from colorful planters with bold and vivid colors to more bulky, textured dining tables. Home furniture is highly specific to individual tastes and you'll need to consider doing substantial research into what is selling and what isn't.
One bit of advice we can offer at this stage is to try to offer shapes that are smooth, rounded, and gentle as opposed to more geometric ones. These seem to be popular this fall and the trend is expected to grow further.
Finally, weddings are a huge category in itself. This gives you scope to enter it from practically any angle.
Consider offering earthy-hued wedding invitations alongside organically-designed keepsake or flower boxes to capitalize on the massive rise in wedding-related searches this fall.
And that's a wrap
Staying on top of trends on Etsy can help you get into the right category, dig deep into a selected niche, and carve out a solid position for yourself as a quality Etsy seller.
Remember that whatever handmade item you produce, quality should be key. The Etsy platform is known for its strong reliance on this and you'd be well positioned to abide by this unwritten rule.
Stay ahead of the curve this fall and make sure you're cashing in on the anticipated trends. If you need help doing keyword research or any other kind of research for your Etsy store, then we highly recommend signing up to Sale Samurai. The tool's impressive functionalities mean you can check out competitors, optimize your listing to its fullest potential, and even start selling with a few clicks of a button.
For only $9.99 per month, Sale Samurai is a surefire way to help you skyrocket your Etsy sales.