Ah, stickers. An essential item for any elementary schooler or journaling hobbyist. These highly versatile and stylish things have been around for a while and have made waves on Etsy and other online stores in recent years.
Cheap, customizable, and plenty to choose from, stickers are a great way to personalize any solid surface. If you are an Etsy seller, you might be a perfect candidate to sell stickers in your shop, if you aren't already. Let's discuss their significant history and influence, and talk about why they are such a great listing option.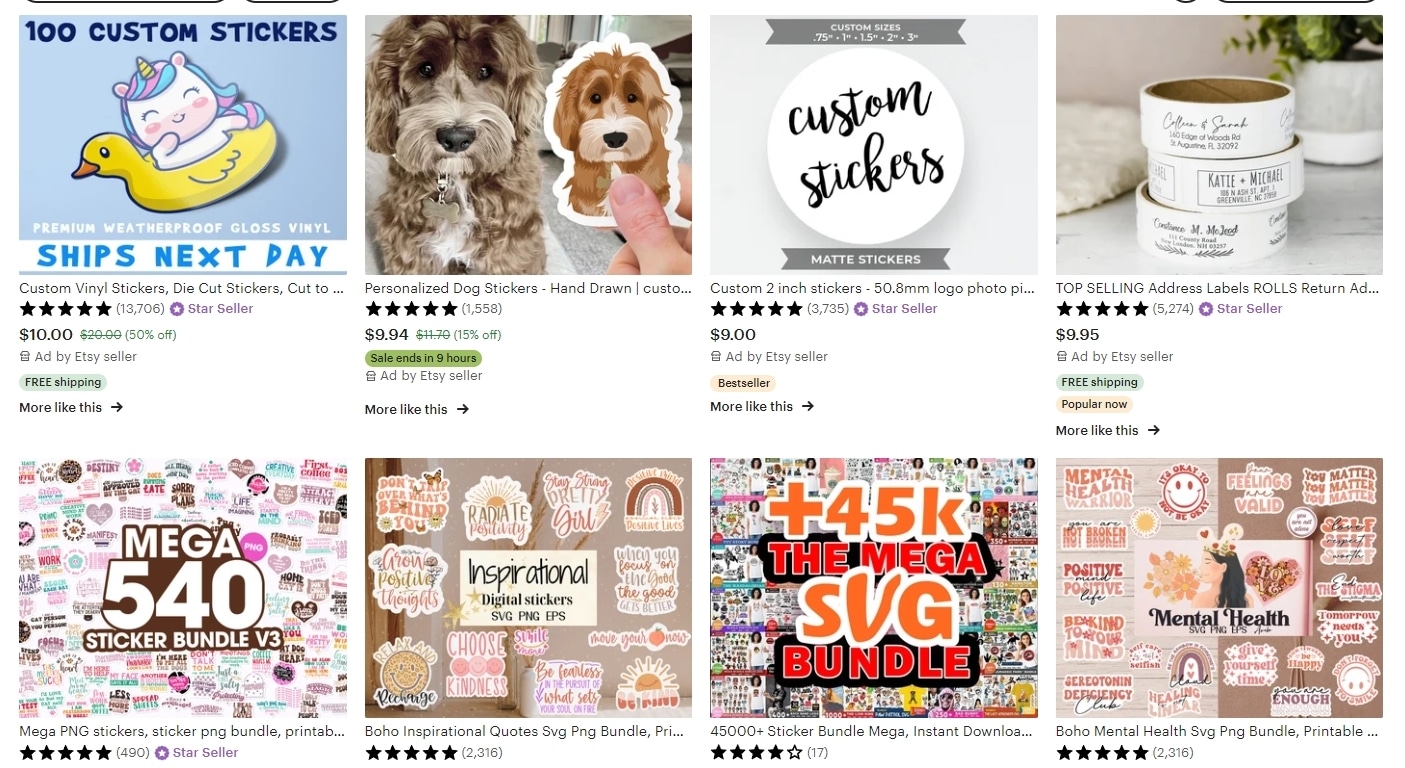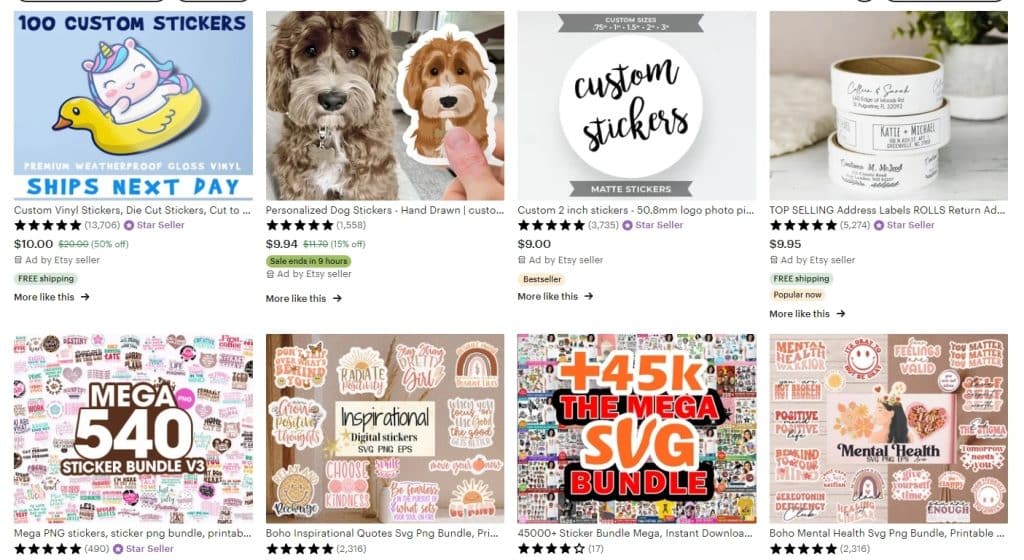 The Rise of Sticker Culture: How Stickers Became a Collectible Item
Stickers back in the day were placed on soup cans, soap containers, and even produce to differentiate and price them. Nowadays, they are collected, used on water bottles and laptops, and lovingly placed in journals, diaries, and personal planners.
The first "collectible" stickers were arguably bumper stickers made by Forest Gill in the 1950's. These stickers usually had political slogans on them and left behind residue after being removed or washed away.
These stickers were still quite primitive compared to the stickers we know and love today, because they were made of paper and other not-so-permanent materials.
These bumper stickers were widely sold across the U.S. in gift shops and tourist destinations to spread the word about national parks, motels, and other popular attractions.
People that went to these places would then basically offer free advertising by purchasing their stickers and promoting those businesses.
Actual stickers became popular to collect in 1967 when Wacky Packages was introduced to the world by Topps Company. "Wacky Packs" were nothing more than bubble gum in colorful packaging that came with trading stickers, but for a time, they were as popular to collect as baseball cards.
These consumer product parody stickers needed to be wet to stick to surfaces, but after some time, they changed to become self-adhesive. To date, there are over 330 different types of Wacky Packs stickers that can be collected around the world.
Scratch and Sniff stickers came out in 1965 and became extremely popular with kids for obvious reasons. Creative Teaching Press made some of the earlier scratch and sniff stickers in the early seventies and marketed them towards teachers to use as rewards for their kids.
Garbage Pail Kids, also made by Topps, was created in 1985. These sticker trading cards were a parody of "Cabbage Patch Kids" dolls which were popular back then. These crude humor stickers were widely popular in the U.S. and abroad, and even had a movie done about them.
Stickers became even more popular in the 90's, especially if they were attributed to a popular band, sports team, or TV show. They became what they are today- collectors' items and highly desired keepsake souvenirs.
The more popular collectible stickers included Pokemon, Beanie Babies, Lisa Frank, Strawberry Shortcake, and Stinky Stickers. These were sold everywhere and came in a variety of finishes like puffy, squishy, metallic, and glow in the dark.
Today, stickers have evolved to be more of a reflection of personal identity than a collectible item, and range from being funny political parodies and memes to simply portraying a cute animated mushroom holding a cup of tea.
The Role of Stickers in Political and Social Movements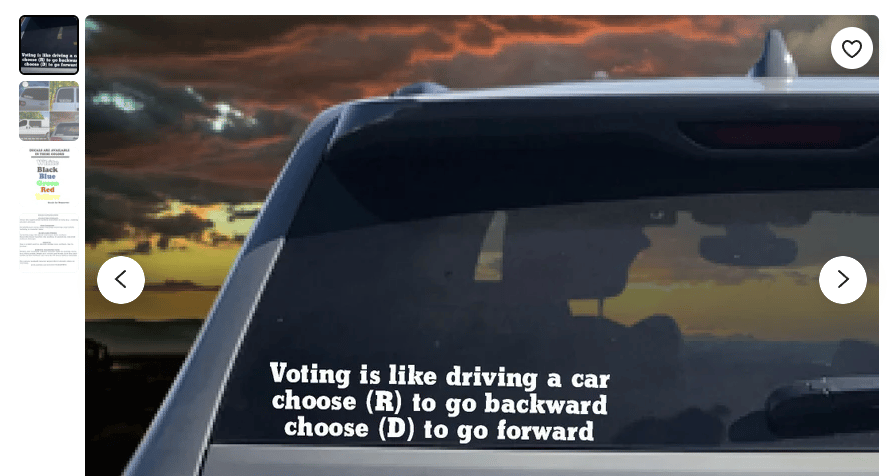 Before there were politically charged stickers, there were politically charged posters. Dating back to WWII, the streets were lined with posters of the Red Cross, soldiers, and United Nations propaganda. This was a way to motivate men to go to war and to get women to pick up jobs left behind by the men.
Since the mid 20th century, the "I Voted" sticker has been popular across the U.S. and has inspired large quantities of people to go out there and vote. The first bumper stickers that were around in the fifties often had a political agenda behind them and promoted governors and presidents.
In the seventies, stickers became much more widespread as a means of peaceful protest and informative propaganda. Anything from animal rights to womens' rights to peace over war stickers became common to see on trash cans, the sides of buildings, poles, and bus stops.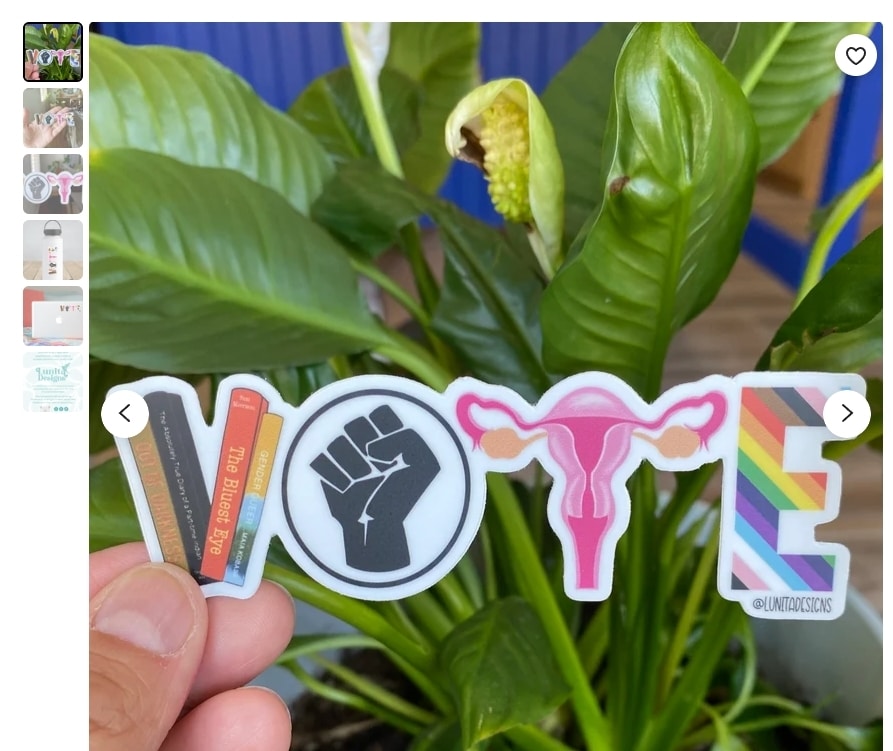 Topics of interest included things like Native American land ownership to women's' reproductive rights to gay, lesbian, and transgender rights. Other popular topics emerged in the seventies that were never discussed before, such as veganism, animal rights, and environmentalism and have made waves with banners, peace sign graffiti, and, of course, stickers.
In the eighties and nineties, the sticker craze continued and sticker graffiti was born. One of the more popular stickers and graffiti art included the "Obey" campaign featuring Andre the Giant made by Shepard Fairey.
The "Obey" campaign, which is still active today, was about causing people to question their relationship with their surroundings. Apparently, there was no big meaning to the actual sticker other than to inspire curiosity.
Back in the early 2000's the "You Are Beautiful" sticker campaign began by an artist called Matthew Hoffman. These unassuming stickers first appeared in Chicago, but soon, they began appearing anywhere and everywhere around the entire world.
The project began with only 100 stickers. This sort of phenomenon took off as more and more people got a hold of the stickers and began putting them everywhere. Even today, there are art installations devoted to the campaign and the same stickers are still being sold today, as well as merchandise and apparel.
The 2010 Soccer or "futbol" World Cup sparked a really interesting craze… collecting stickers of the players in an album. From "sticker dealers" to people throwing fits about their lost or stolen soccer player stickers, this was a big thing, allegedly.
Nowadays, it's fairly common to see anything from "Feel the Bern"  to "Make America Great Again" to "Rick and Morty" to "Make Love Not War" stickers. These nifty things have become a very effective and deliberate way to share opinions and passions with others.
The Explosion of Sticker Design and Printing Technology
Stickers have been around for centuries- longer than even that, actually! Before they were what we know them to be today, they were posters advertising prices and products for merchants, political statements and advertisements, and stamps marking letters.
In 1839, Sir Rowland Hill created something akin to the modern day sticker- the postage stamp. While this wasn't a self-adhesive invention, it was widely used to pay for letters and packages in Britain, and, later, the whole world.
Lithographic printing became popular around the 1880's. This technology is where an image is placed on a plate and is covered in ink.
The flexography press, made in 1890, was used to print colorful stickers and posters, but it wasn't until the fifties that the harmful inks used were replaced with less toxic ones. This was done when the FDA pretty much said that the inks were a health hazard since they were labeled on foods and personal care products.
The first modern-day self adhesive sticker was created by Ray Stanton Avery in 1935, when it was known as a pressure sensitive label. This was done with a self-adhesive die-cut labeling machine that used a saber saw.
Avery used the machine to make circular stickers that identified prices of goods and products. It wasn't till much later that they became a form of self expression and statement pieces.
In the early 1900's, vinyl was invented and seeped its way into stickers and tons of other products. What is vinyl, anyway? Interestingly enough, it's a mixture of salt and crude oil! Made by accident by an American scientist in 1926, it quickly became a material used in the medicinal field, the construction industry, and, of course, the music industry.
Because of the invention of vinyl, the vinyl cutter came about pretty quickly after in 1988, and behold- vinyl stickers were born! These shiny and durable babies began to populate streets and homes alike.
The invention of the digital inkjet printer also played a part in popularizing stickers- amongst other things. While this technology has been developed since the fifties, it wasn't until 1998 that Hewlett-Packard made the first commercially distributed business inkjet.
This skyrocketed sticker sales and manufacturing in the nineties. Huge companies like Hewlett Packard, Epson, and Canon all helped make this a reality.
Digital sticker manufacturing became understandably a lot cheaper than that of die-cut, which meant that stickers rose in popularity and accessibility around the nineties to early 2000's. This era ushered in a whole new world of colorful and long lasting stickers.
Stickers on Etsy: How the Online Marketplace Has Empowered Sticker Artists and Sellers
Etsy has been around since 2005, and soon after came the selling of stickers. While the exact date of when stickers came to Etsy is hard to find, it's worth mentioning that they have been a trending item on the site for more than a decade now.
Etsy has made selling stickers super simple over the years. For starters, the cost to make a listing is only $0.20, and the listing lasts six months before having to be renewed again. Second, Etsy has its own blog where it often features shops and highlights trendy products- and stickers are no exception.
There are many sticker shops out there that have shared their sales statistics and positive experiences on Etsy. Starfruit Press Co. Sticker Giant, Odsanyu, and Scatterbee are just a tiny portion of the mega-successful sticker shops out there.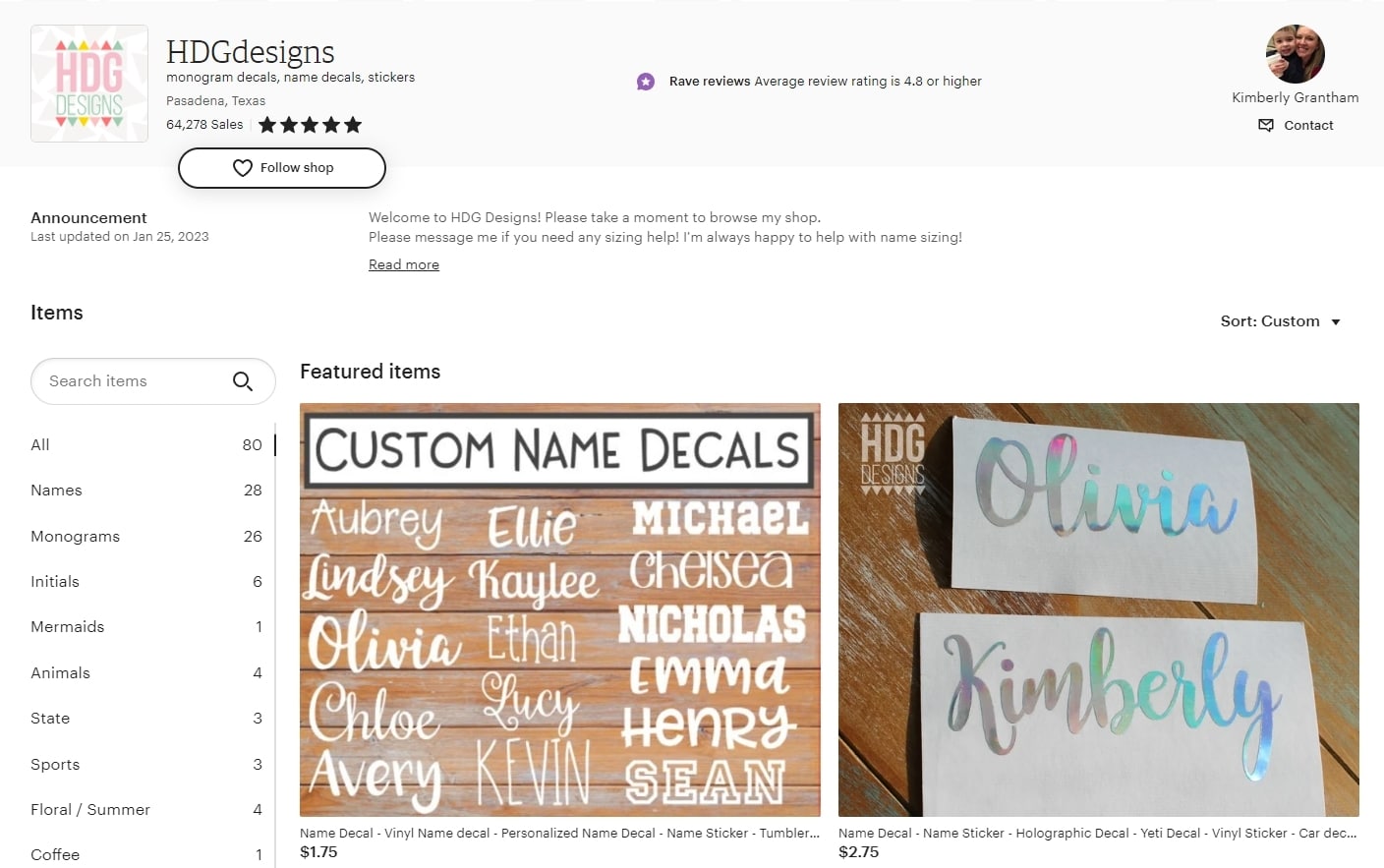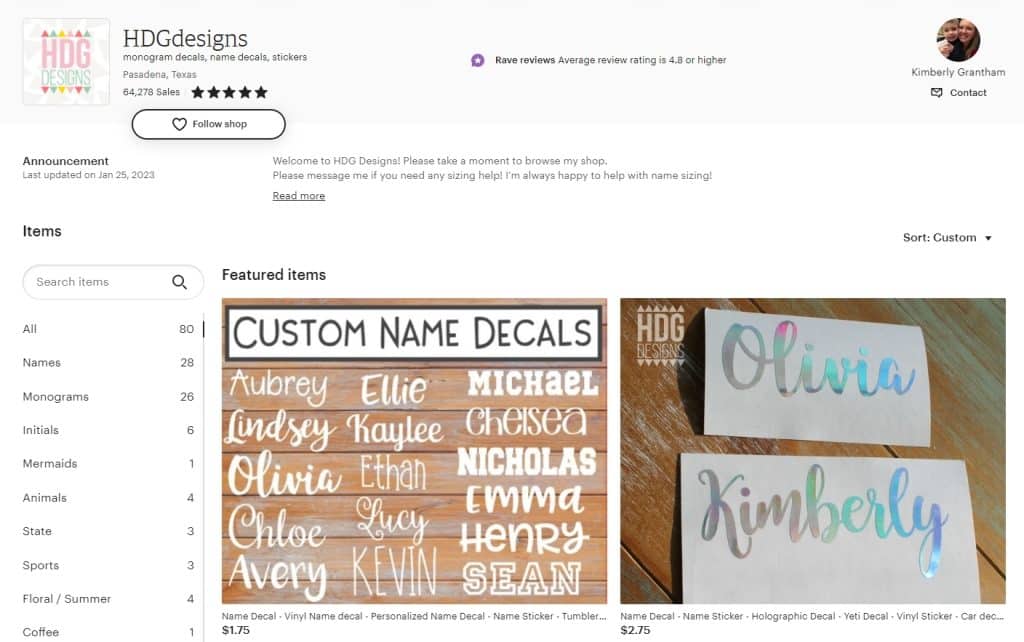 Because of digital design sites and print-on-demand companies, having a sticker business is now easier than ever, and it attracts many graphic designers and hobbyists. Everyone and their mother seemingly have a sticker business.
Etsy's growth and motto "Keeping Commerce Human" has empowered not only sticker crafters but artists and vintage collectors alike to make a community and engage with their buyers. The handmade marketplace giant has gone quite a long way from being a little commerce site back in the day.
Many Etsy sticker artists rave about how much they have made on Etsy. It's a lucrative business that has exploded in popularity in the last couple years, and doesn't show signs of stopping.
The Future of Stickers: Predictions and Opportunities for Etsy Sellers
The future of stickers looks very bright, indeed. It has become very popular to customize and personalize belongings and households thanks to social media platforms like Pinterest and Instagram.
Platforms like Etsy show a lot of potential to keep growing as time goes on. As the desire for handmade, unique goods rises worldwide, people are likely to seek out these types of handmade marketplaces.
Selling stickers, whether they are politically charged, or have cute kawaii characters, is potentially one of the most profitable things Etsy has to offer, and it's easy to see why. Stickers are cheap and therefore have an extremely low barrier to entry for buyers.
As an Etsy seller, the startup cost for stickers is fairly low considering their profitability. If one were to start selling these online, they would need a Cricut cutter or the Silhouette Cameo, for example, a printer, sticker paper, and, of course, packaging.
While a cutting machine and a decent printer are expensive, they last for years and years and are an investment. If, however, this just isn't in the books for you, you can always make an account with any print-on-demand company out there and sell the ready-made stickers on Etsy.
If you are an artist making t-shirt designs, prints, or other 2-D designs, adding stickers to your existing listings could be the move that propels your shop into a whole new untapped market. Why don't you give it a try and see where selling stickers could land you? It might just be your best business decision yet.