What if there was a way for you to list your products on Etsy with a helping hand from a knowing friend? Consider Sale Samurai's Listing Creator just that. This module was designed to assist you with not only creating but also optimizing your listings. And doing so has never been this easy.
Wondering how Sale Samurai's Listing Creator works? Let's find out.
What is the Listing Creator?


The Sale Samurai Listing Creator is just what the name implies – a tool designed to help you create your Etsy listings in an optimal manner. It mimics the product upload feature on Etsy, however, with one distinct feature: the tool is able to automatically and immediately tell you where you can optimize and how you can do so. This is something that takes seasoned and experienced Sellers a while to figure out on their own. But with the Listing Creator, you're always going to be one step ahead of the competition as you take your products to market that much faster.
The Listing Creator can be described as a type of back-end feature that enables you to list your products on Etsy without leaving Sale Samurai. All your research can be done with a few clicks of a button, and you'd be ready to upload. The module is not only highly intuitive to use, but it also ensures that you do not skip any of the fundamental details that Etsy requires you to complete and fill in when creating your listing.
With this in mind, let's take a look at what it offers.
Main features and key advantages
The main features of the Listing Creator is that it  "mirrors" what Etsy offers. However, with one main advantage. And that is that you do not have to leave the Sale Samurai platform after doing your research. The module is divided into four essential parts. These are: Focus Keywords, Listing Details, Shipping, and Photos. Each one is designed to make the process of optimizing your listing as seamless as possible.
Here's how.
Focus Keywords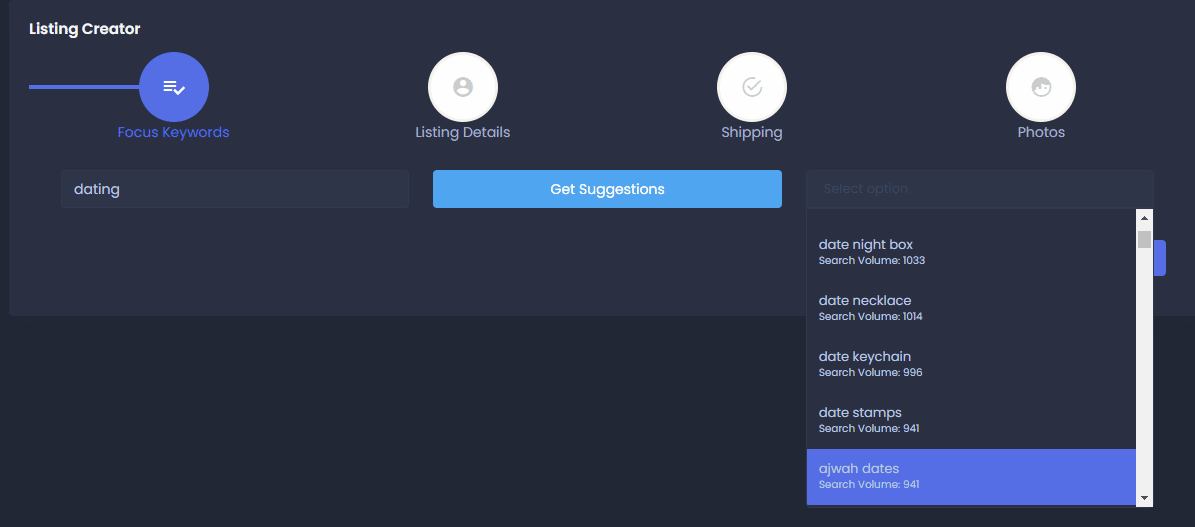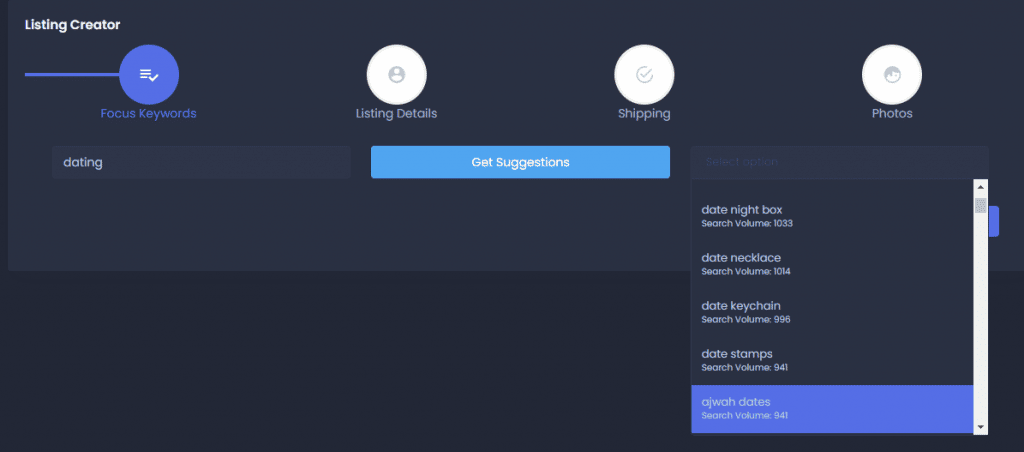 This feature enables you to enter a focus keyword and then get suggestions for it based on Etsy search volume. Remember that the higher the search volume for a given keyword, the more customer demand there is for the product.
Once you've typed in your focus keyword and found it in the list of suggestions from the drop-down menu, you're ready to click on "Next". This will take you to the Listing Details feature.
Listing Details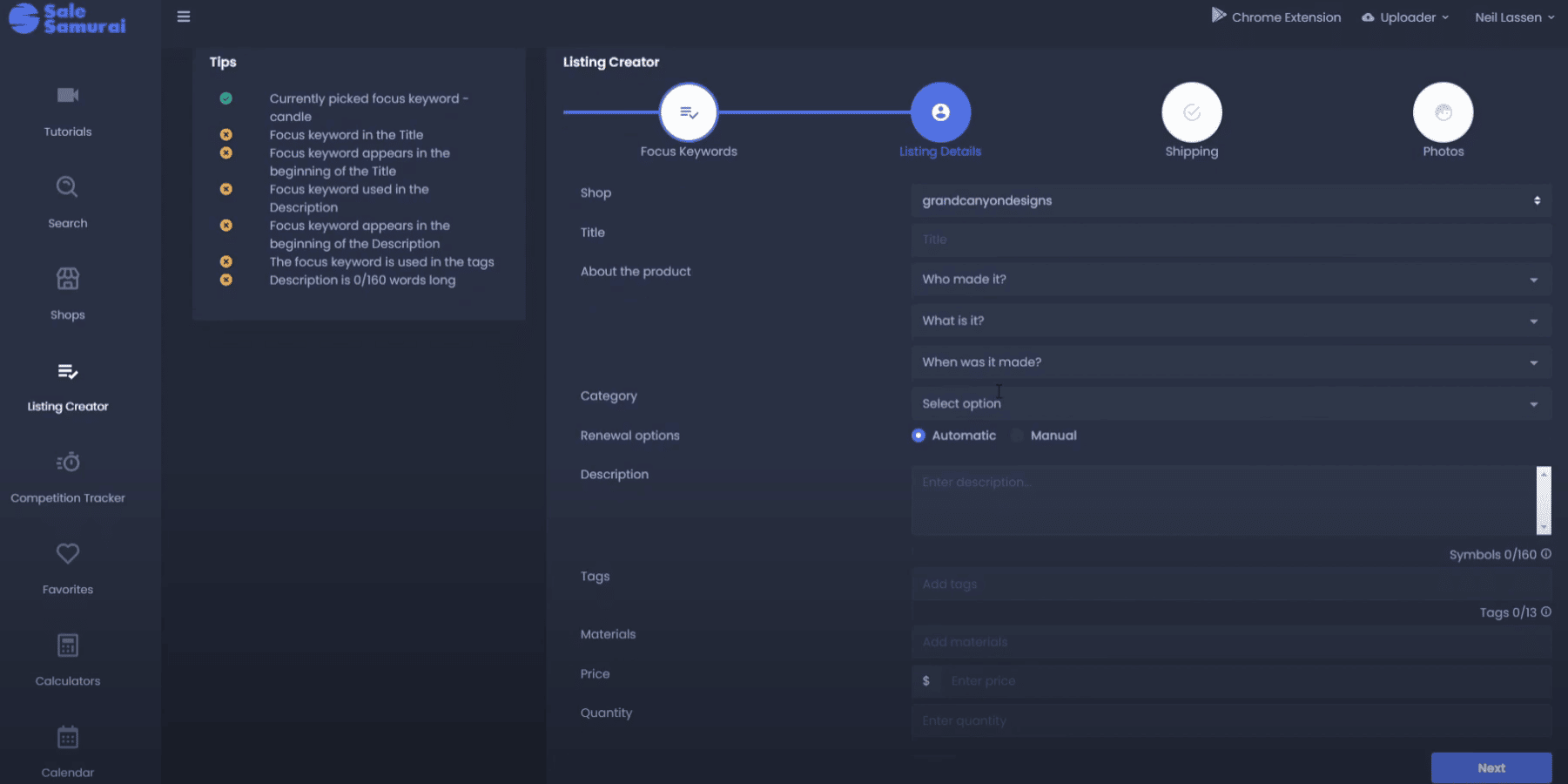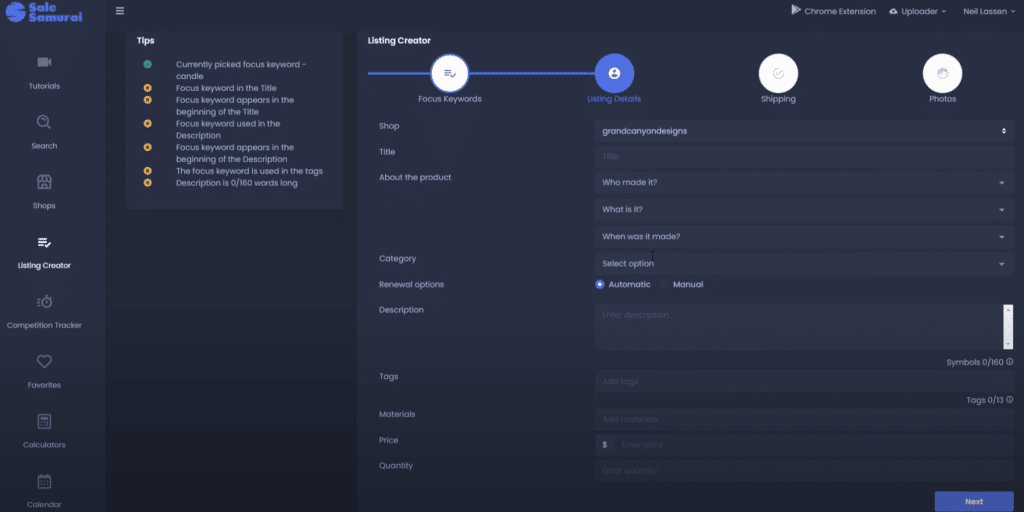 This is where you enter all the relevant information that will be published on Etsy. Starting with the product title and description and moving on to when and who created the product as well as its price and available quantities.
Here, you'll also be able to add your 13 tags and the materials which your product is made of. One of the key advantages of this is that the software tells you if you're short of a certain number of tags, if your title and description are optimized, and whether your focus keyword has been used effectively.
Shipping


Shipping terms are a crucial element of any Etsy strategy, although they're often overlooked by beginner Sellers. This feature of the Listing Creator is actually pretty neat, because it substantially simplifies the process.
There is no need to manually calculate your shipping costs because you've got predetermined shipping templates that you can choose from. Say, for example, that you're selling 5 mm sterling silver hoop earrings. This would fall under the Printful jewelry (default) – flat rate shipping template and all you have to do is select it by scrolling through the drop-down menu. You will then be able to add your product's dimensions and weight as well as choose a metric system that you're using – either American or British.
Photos


Since you would already have 10 photos of your items (preferably in an action setting as opposed to a static one), you'd either just need to upload them or drag and drop them into the box provided for this purpose. Once done, your listing has been created.
And all this has taken just a few minutes without having to go back and forth from Etsy to Sale Samurai or any other platform.
Practical application of the Listing Creator
Each of these four features are the four primary steps that Etsy asks its Sellers to follow in order to upload their listings. However, there's one main difference between Etsy and Sale Samurai's Listing Creator. And that is that the Listing Creator can immediately tell you whether you've used up enough tags, whether your description is long enough, if your title begins with your focus keyword, if your tags contain the focus keyword, and so much more.
This is especially beneficial for Sellers who have multiple products to sell and need to get them on the marketplace faster. It simply takes filling out the four main sections in a few minutes and your product is on the market.
Let's go back to the 5 mm sterling silver earrings example. Say, you have a quantity of 10 items that you'd like to sell for $12. With Sale Samurai, you would have first researched the keywords your competition is using, checked the average, highest, and lowest prices, and then simply entered the details in the Listing Creator in a matter of a few short minutes.
In terms of devising a new Etsy strategy or reinforcing an existing one, the Listing Creator is ideal for all Sellers who would like to get their products listed as quickly as possible. Speed is important in the Etsy marketplace, especially when you've just discovered a new trending niche, or are aiming for a certain holiday or seasonal occasion.
To this end, the platform is created in such a way that you will get automatic suggestions and a pre-made checklist to ensure that your listing is perfect and prompt.
Using the Listing Creator in conjunction with other Sale Samurai tools
As a starting point, you would first need to create an Etsy shop to ensure that you can use the Sale Samurai Listing Creator. This means you would need to go to the Shops module and connect your shop.
Once done, you're ready to begin with your listing. But before this, it would be ideal to ensure that you find out exactly which keywords are being used and how your competition is using them. In addition to this, you would need to make sure you choose the right price for your products. This will entail looking at the highest, lowest, and average prices for similar products using the Search module.
Sale Samurai offers a plethora of useful features to make sure you're always one step ahead of the competition. Once you've linked a shop and went through the research using the Search module, you've done most of the work, and can go ahead to the Listing Creator. However, you can go deeper yet by calculating your projected profits and expected ROI using the Calculators module.
Wrapping up
With Sale Samurai's Listing Creator, you no longer need to go back and forth on various platforms to ensure you list and optimize your product offering. The platform has been created in such a way so as to ensure that your listing can be optimized right from the start, saving you significant efforts and time.
Researching and listing your products on Etsy has never been this easy and it costs just $9.99 per month.