My social circle, like anyone's tends to be made up of my peers. In my case, it's largely small-to medium sized businesses that specialize in toys, consumer products and housewares. Several of these companies, like mine, do double duty:
licensed products for wholesale to large retail/ecommerce outlets
small-batch, original product for direct-to-consumer sales
One of my closest friends is Nick, who runs a company called Fanwraps (www.fanwraps.com). You may not recognize the name as you would a Funko or Lego or Mattel, but you probably have one of his products. Does your car have an "On Board" decal with Baby Yoda/The Child/Grogu/Whatever-He's-Called-This-Week from the Mandalorian? A passenger side shade with a profile of Captain Kirk? In-universe metal signs from Fallout? Yeah, you know his stuff.
"We started as a destination for officially licensed vehicle wraps and car accessories for pop culture brands like Star Wars, Star Trek and popular videogames," Nick said. "Eventually we expanded our licensed categories to include more than just ways to embellish your car with your favorite fandoms."
"Now we specialize in housewares, print-on-demand apparel, electronic accessories and more." Nick operates a huge print shop that can print on almost any product or substrate. This is an advantage he has over many others in our industry in that he doesn't need to rely 100% on overseas factories to produce his licensed product.


Why Open An Etsy Store?
So, with all these big brands and access to big shops, why open an Etsy store?
"The decision was simple," he said. "To have access to Etsy's enormous traffic to sell our original, non-licensed products. Most of our customers visit fanwraps.com for our licensed products, but we have several lines we have made in the 'FanWraps Design Lab' which feature exclusively on Etsy"
Testing New Designs Quickly With POD
Nick also uses his Etsy shop as a way to test new designs. "We create edgier on-trend print-on-demand designs that cater to younger customers," he said. Most of the designs that succeed are parodies of popular brands, kaiju- and food-related items.
His latest printing innovation is a proprietary process called "Dark Matter Ink". It's a special overlay that appears invisible until a camera flash hits it. For example, the below shirt shows an angry dragon roaring at a 20-sided die on a mountaintop. Take a flash photo, however, and the dragon appears to shoot tongues of fire at the die, the die lights up and more detail in the mountain is revealed.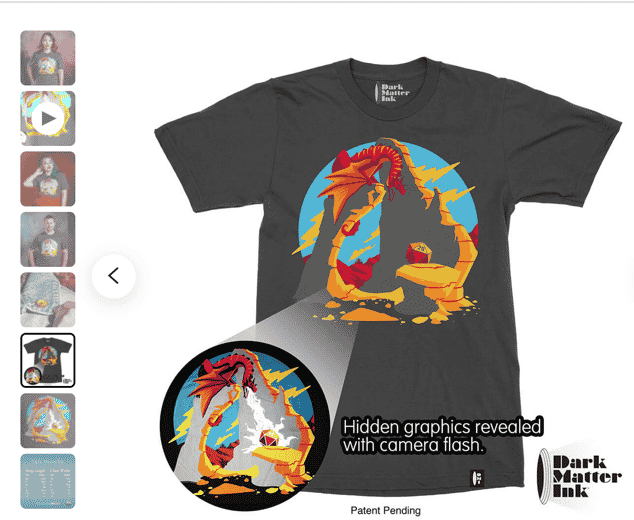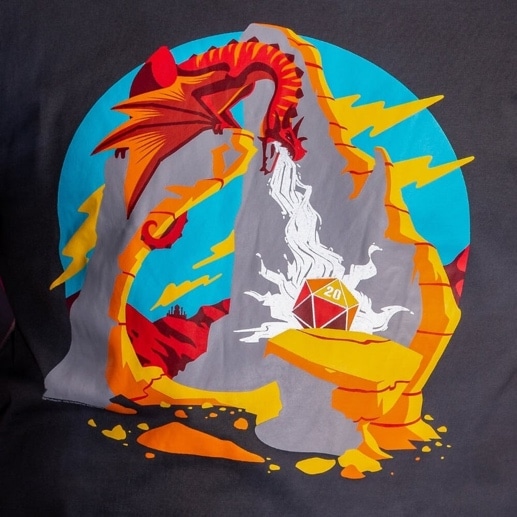 Optimizing Products
Like many multi-faceted entrepreneurs, Nick doesn't have the time for trial-and-error when it comes to his Etsy listings. So, when the inevitable post-holiday sales dip came, he tried looking online for optimization tips.
Frustrated, he mentioned this at one of our weekly networking groups (the "Just-Us League", we call ourselves), and I mentioned Sale Samurai – not just because they pay me but because I've seen it work for dozens of other folks in my niche (including myself). Nick set up an account ("it was even easier than you said it was going to be," he told me) and immediately set to pointing the robust tools of the application to his Etsy store.
"Once we signed on, we focused primarily on keyword use because we're not SEO experts," Nick said. "So, it was helpful to have these easy-to-use programs hold your hand through the process."
Nick soon discovered one of Sale Samurai's strengths is its ability to analyze the shop and individual listings for optimization. While scanning his shop, he received real-time data and direction on how to adjust his listings to make his products more appealing to Etsy's search algorithm.
"The listings analysis tool was great," he said. "It told me what keywords needed to be adjusted and how to revise them. It also told me that I needed many more photos in the listings to even get noticed by shoppers searching for my niches."
Armed with this valuable data, Nick then went into each listing and adjusted as the Sale Samurai tools directed. "The instantaneous feedback their API provides is great. For someone like me who rides trends, it was critical to have real-time information about how to adjust for better visibility via the algorithm."
In addition to fine-tuning keywords and adding more photos, Sale Samurai recommended an adjustment in marketing budget allocation – specifically, an increase in spend for his particular products "because I'm in a very crowded category."
"The very next day I saw results," he said. "Not only did I receive an increase in new orders but they continued consistently, almost in line with my typical holiday traffic."
Sale Samurai provided Nick with the ability to optimize his Etsy store quickly and efficiently, without having to scour the internet for video tutorials from other Etsy sellers or agencies looking to sell optimization services. He was happy the product delivered on its promises (and probably even happier that I wasn't just pushing a client on him).
"Sale Samurai provided exactly what I needed to start selling more product," he said. "To fully utilize Sale Samurai, you need to be prepared to spend a good amount of time improving your listing, and I like that all I needed was in one place. Don't get me wrong, the optimization takes work, but it was better to spend the time doing the work instead of figuring out how to do the work."
The experience also re-energized Nick's enthusiasm for the store itself. What was initially a place to promote his trendy POD experiments has now become a viable secondary revenue stream for his enterprise. Even with containers and truckloads of licensed products filling up shelves at a store or online warehouse near you, Nick has turned his focus on his Etsy store so he can continue to expand his own original brand and products. "I need to go back and continue to make adjustments to see even better sales in the future," he said, "and honestly, Sale Samurai's ease of use and multitude of tools allows me to grow the Etsy part of the business without hassle."