Becoming a successful Seller on Etsy takes a lot of hard work. Being a second or even a primary job, you need to spend the time and effort to create a solid strategy, sell products that buyers are interested in, optimize your listings, and more.
So, how can you achieve this if you have a limited time dedicated to your Etsy business?
A certain way to save time and energy on manual research and lengthy browsing sessions is to rely on business intelligence tools like Sale Samurai. And for those of you who haven't tried it yet – there's a 3-day free trial that can completely reshape the way you think about your Etsy side-hustle.
Let's get into some details to see how this tool can help you improve your performance as a Seller.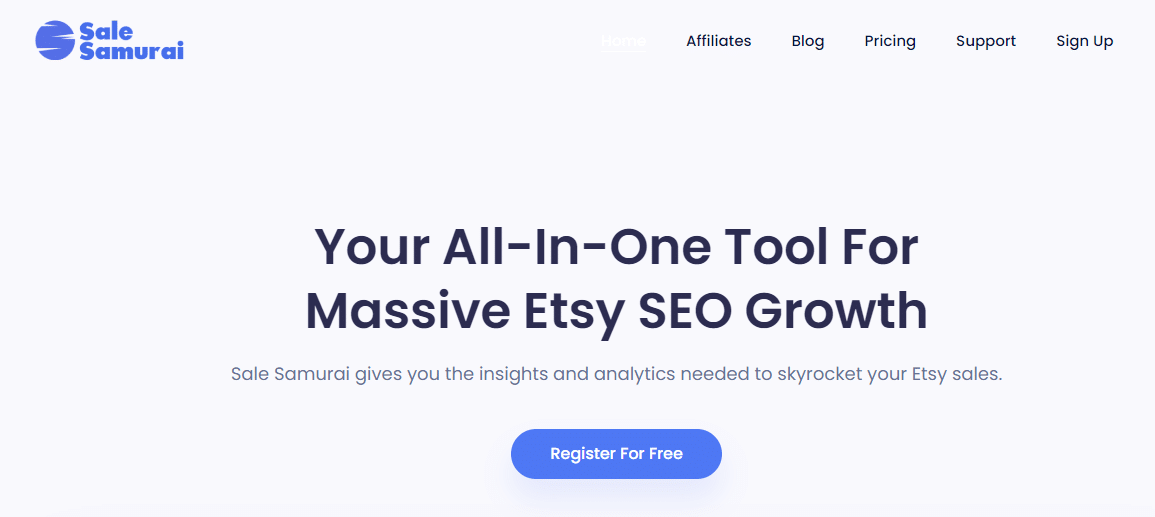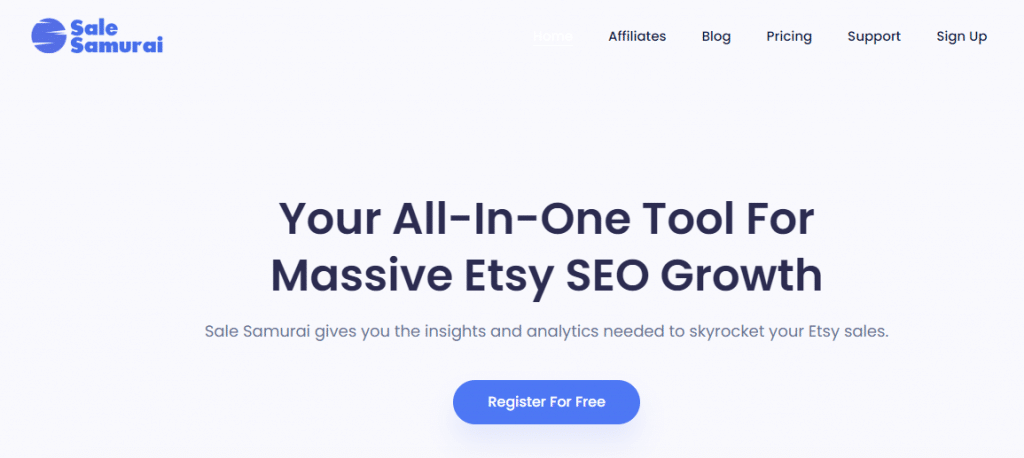 The First 3 Steps To Take Once You Start Your Sale Samurai Trial
Sale Samurai includes a rich variety of tools and opportunities designed for Etsy Sellers of all levels. However, three days won't be enough to explore all of them and enjoy lasting tangible results.
Here are the three steps that we recommend taking on your 3-day free trial to get a real taste of what Sale Samurai is capable of.
Spy On The Competition With The Competition Tracker
Regardless of how experienced or beginner level you are as a Seller on Etsy, being aware of your competition at all times is the key to success. By examining what others in your category or niche are doing, you can tailor your Seller strategy, improve your listings, enhance your product quality, and generate more sales. Sale Samurai offers a quick and easy way to take a sneak peek into your competition's listings, sales, keywords, and more. How? By using the Competition Tracker tool.
Competition Tracker is the first go-to place for Sellers on a free trial with Sale Samurai as it will reveal insights into shops that are enjoying the success that you're after. You can find it in the left-hand menu once logged into your Sale Samurai account.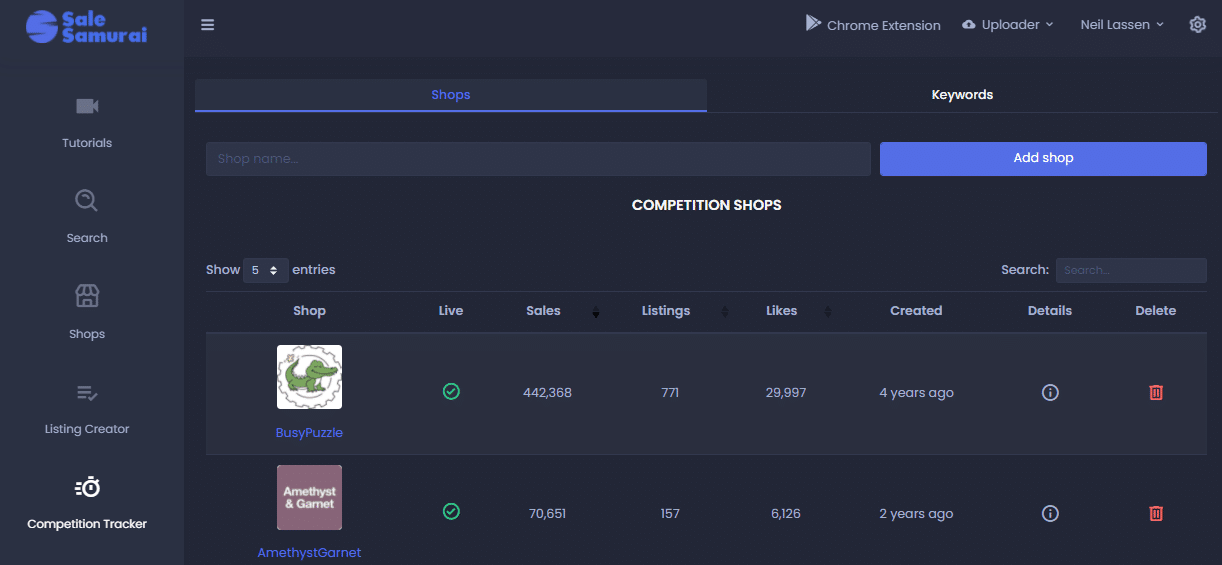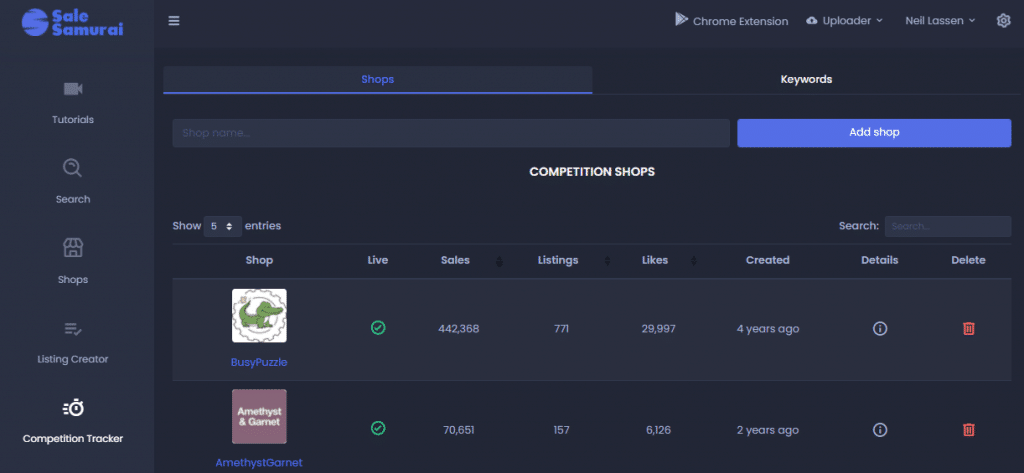 The first thing you'll notice is that it's separated into two sections – shops and keywords. Select a few competitor shops that you are interested in analyzing, paste their names into the 'Shops' section and click 'Add shop'. The shop will be immediately added to the list, but you won't have access to any valuable details yet. The software does take roughly 24 hours to integrate all of the information back into the platform. Considering that you're on a 3-day trial, it's best to make a list of at least a few competitors and add them simultaneously. In most cases, the insights will be available the next day.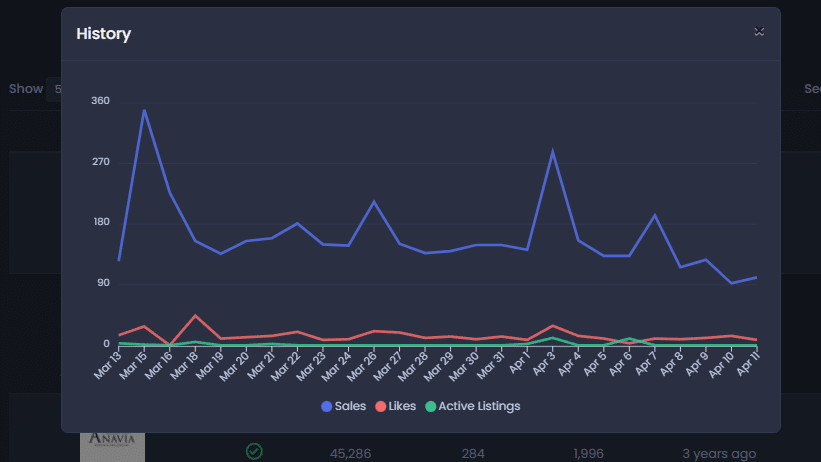 From the very start, you'll be able to see how many sales and likes the shop has generated, how many listings it has, and how long ago it was created. This can give you a general idea of what sales volumes you can expect on average, taking into account the number of listings you have. Of course, this is not a certain rule as it depends on the quality of your listings and products, but it's a start. As the insights are fully uploaded, you'll be able to see how many sales the store is making every day.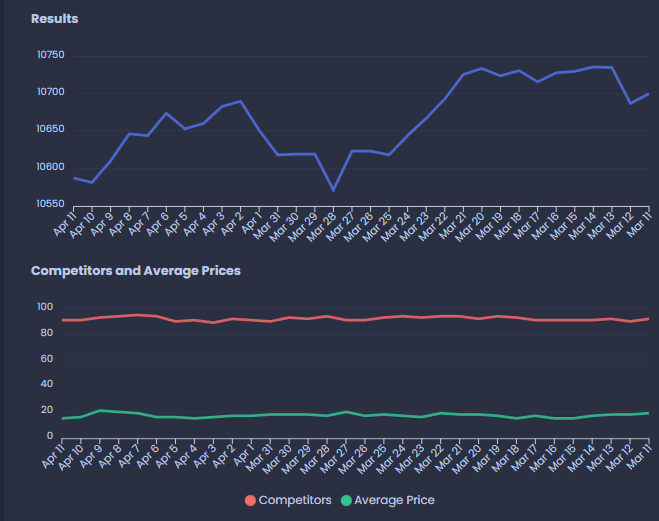 On the other hand, by using the keywords feature in the Competition Tracker, you can monitor keywords that you're considering for your listings or perhaps you want to create new products around. Again, Sale Samurai will need about a day to feed back the information into the platform. Log back in the next day for a full overview of the competition's keywords that you're interested in.
How Is This Useful?
This process is suitable for both beginner and experienced Etsy Sellers, who are either looking for ideas to get started on or in search of ways to improve their strategy and expand their portfolio. Of course, three days won't be enough to make full use of this powerful tool as the data changes every day, providing information on trends and shifts that you can use to your advantage. However, it does offer a look into what Sale Samurai can provide in the long term.
Discover The Tags That You Need In Your Listings
The next step is perhaps one of the most essential ones for your progress to a successful Etsy store – tags. Tags are vital for your visibility as they determine how your products will rank in the search results. Even Sellers with the highest quality products won't be able to enjoy high sales numbers without using the right tags in their listings. And what are the right tags? Well, Sale Samurai's 'Search' tool can give you the answer.
Again, you can find the 'Search' tool on the left-hand menu. Once you click on it, you will see a page with two main sections – basic search and single listing. If you have a specific listing in mind that you want to inspect for keywords, you can paste its URL into the single listing search box. Alternatively, you can do a general search on different keywords by running a basic search, which we recommend for starters.


The tool has the powerful ability to feed back valuable information on specific tags. It will show you what tags other Sellers on Etsy are using to be visible to buyers, what the search volumes are for each keyword, and how competitive they are. You'll have insights into how many times a keyword was used in product listings and most importantly, you'll get a ton of new keyword ideas.
Using The Search Tool For Inspiration
Say you wanted to run a search on the keyword 'dog'. What you'll see in the results are related keyword ideas that other Sellers are using. For example, some of the highest search volume entries include 'dog tag', 'dog collars', and 'dog bandana'. Perhaps your Etsy store is centered around pet products, but you've never before thought of selling a dog bandana. With high search volumes, you can expect to get a lot of attention from buyers and potentially more sales. But that's not the end of the tool's capabilities.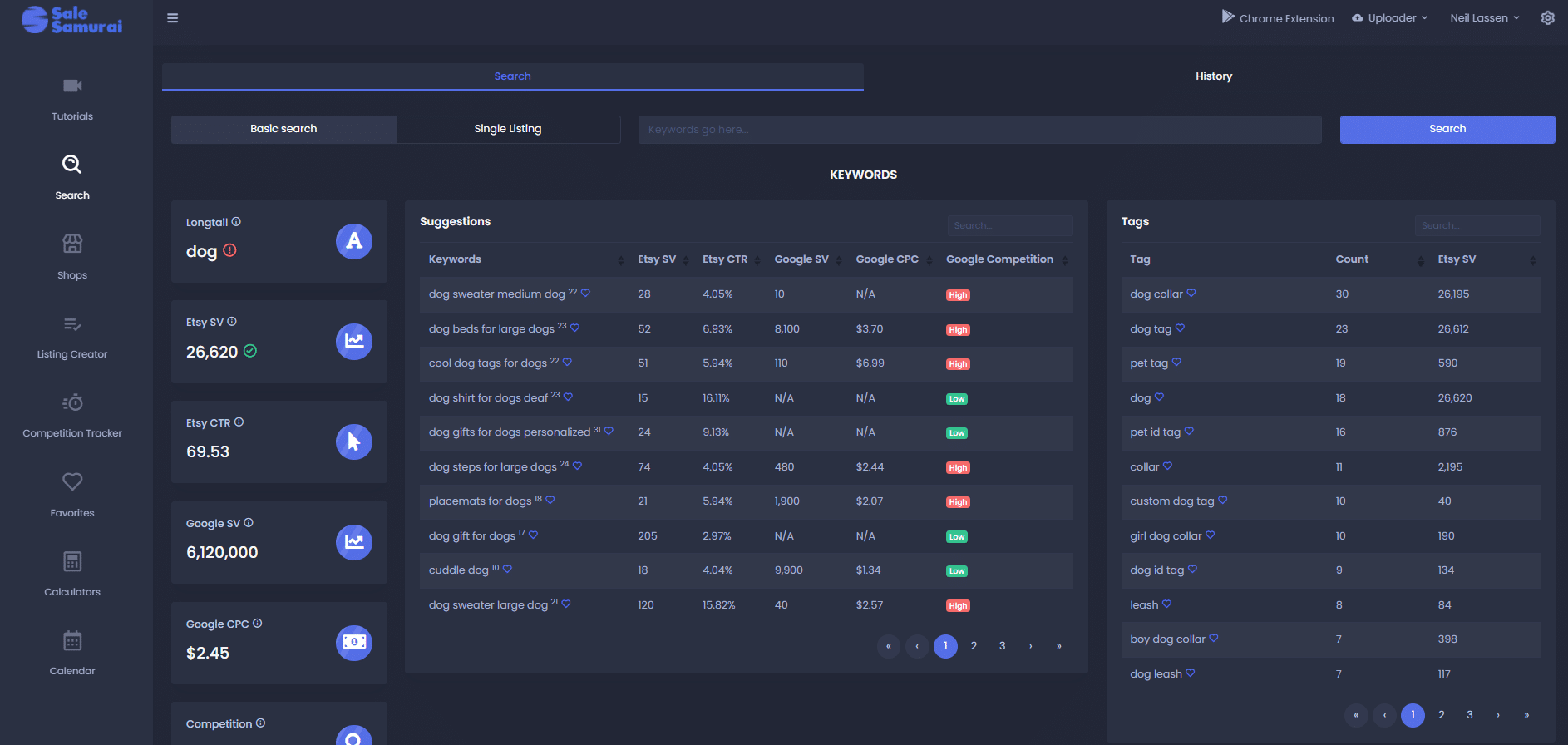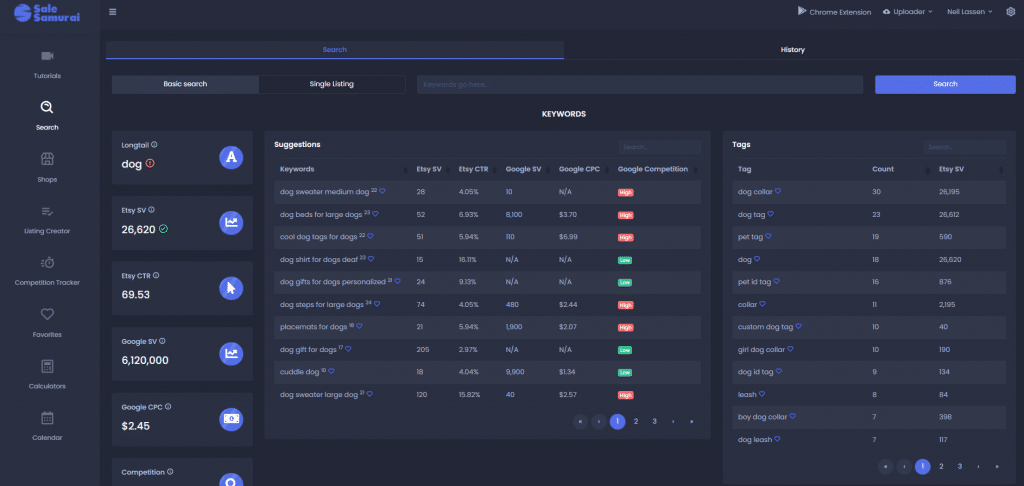 As you scroll down the results page, you'll be able to see the actual listings that rank with these keywords along with precious information like their price, shopping days, views, number of photos used in listings, and likes. As you can see, what seemed to be a simple tags research tool has just turned into a whole different opportunity.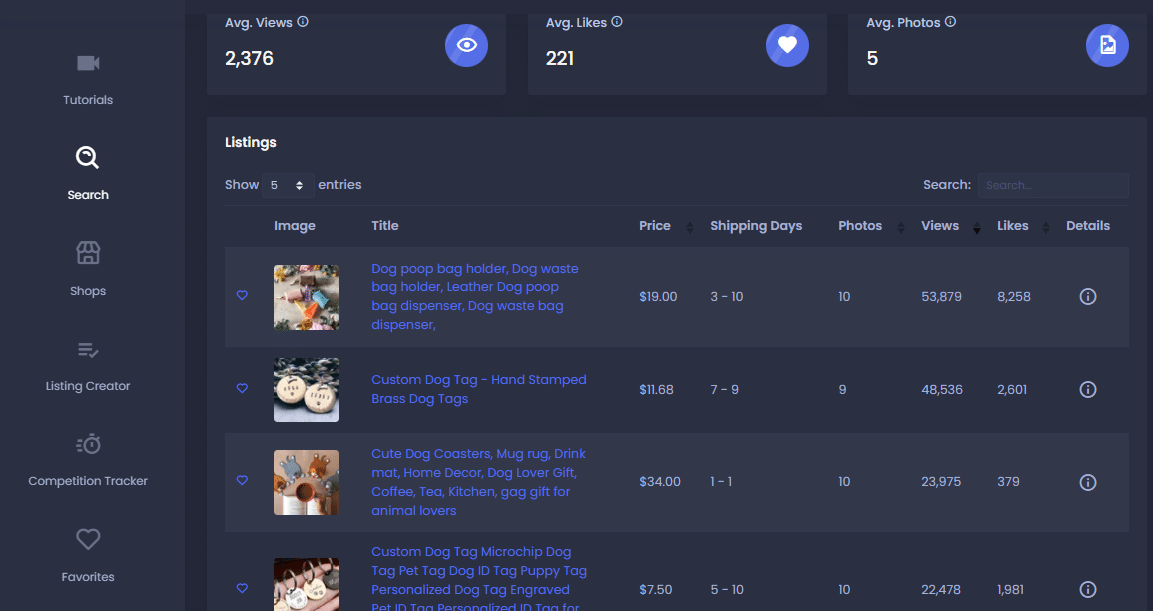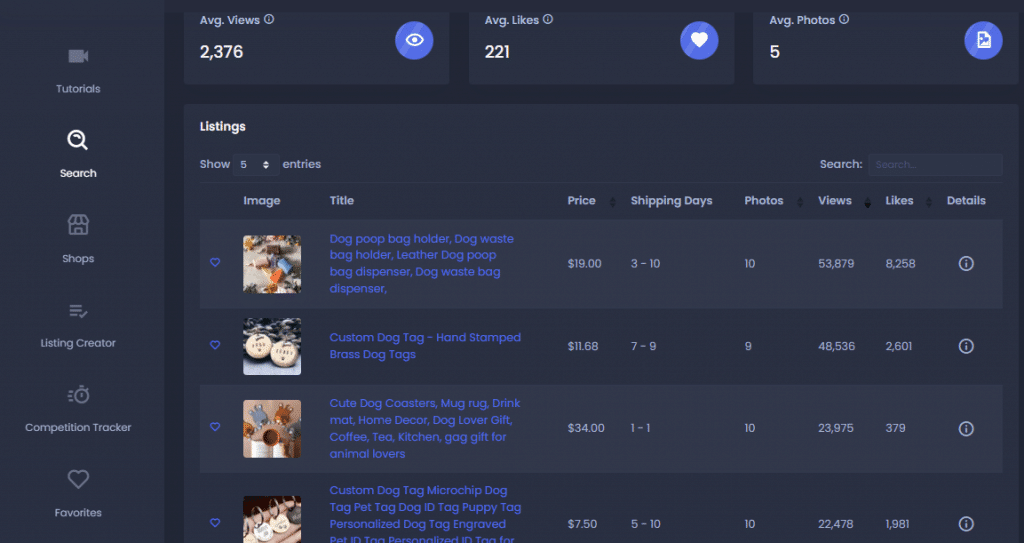 For every listing you see, you have the option to segment things down even further by clicking on the 'Details' button. Here, you'll effectively be able to walk in the shoes of a detective. You'll be able to see the product description, the category that it's in, how old the product is, how many times it has been viewed, and even how many items they have in stock. In addition, you'll have a full list of related keywords they've used to get in front of potential buyers.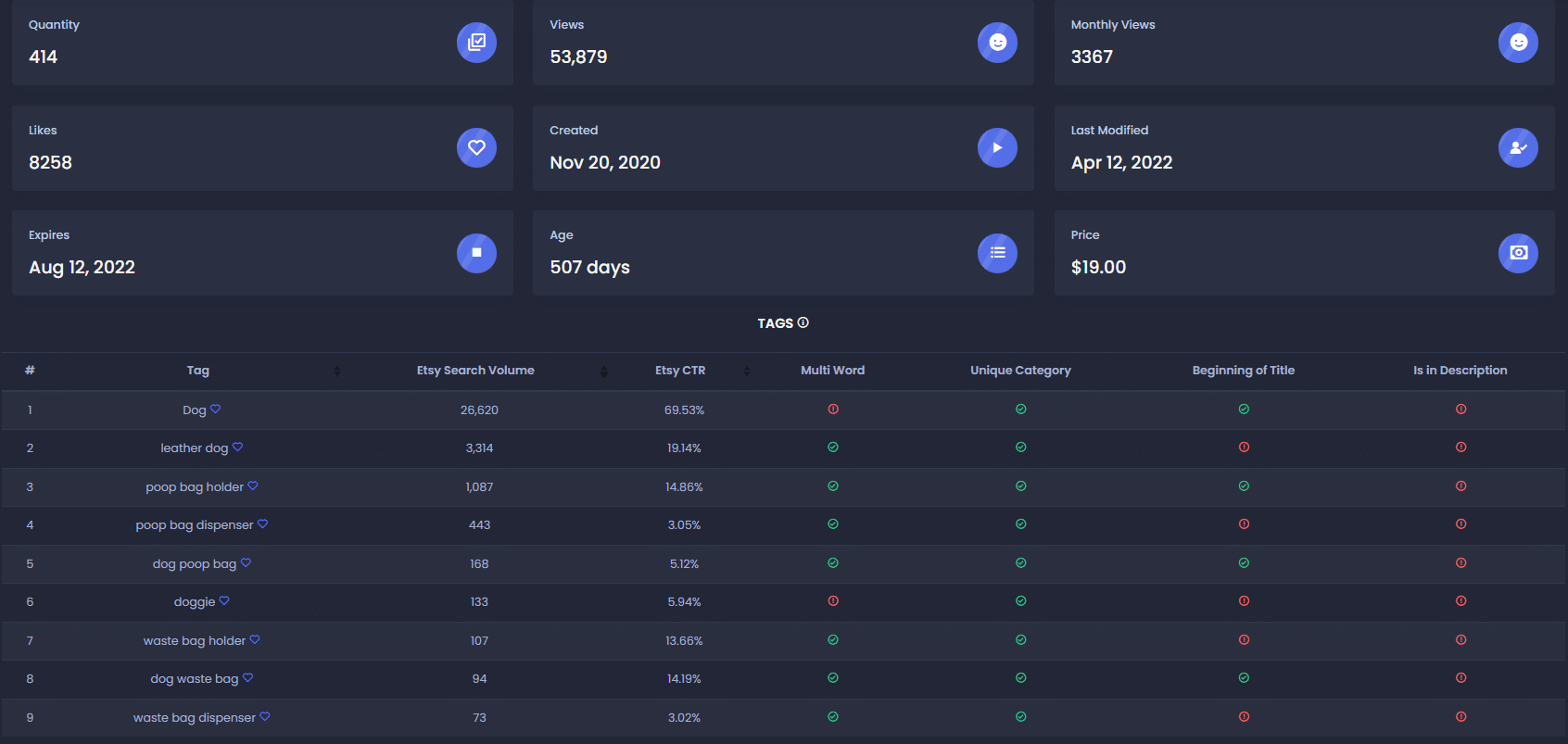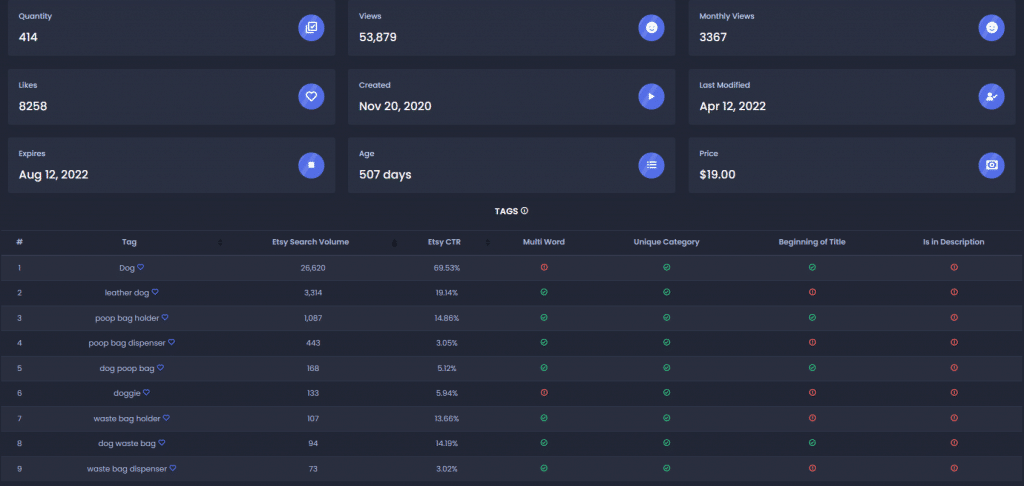 In a nutshell, this is the tool if you want to get inspired, locate the tags that will help you sell more, and ensure you're at a competitive advantage as a Seller.
Audit Your Etsy Store To Spot The Gaps
Once you've gone through these two steps, we suggest completing your 3-day free trial on Sale Samurai by auditing your Etsy shop. You can do so by employing the 'Shops' tool in the left-hand menu. To get started, you'll need to connect your shop to the software. Click on the 'Connect' button. You'll be redirected to Etsy, where you'll need to confirm that you allow Sale Samurai to access your shop. Once you allow access, data from your shop will appear inside the Sale Samurai interface. As a result, you'll be able to see how many active listings you have, how many views your shop has received, your inventory value, and more.


Although this is valuable information, where this tool really stands out is its ability to show you how many of your listings are missing tags or images. Etsy allows Sellers to include up to 10 images and 13 tags in every listing. Take full advantage of this opportunity as adding the maximum number of tags and images is part of listing optimization practices that result in higher rankings. As a result, you can enjoy more visibility and more potential sales.

The tool will also give you insights into each listing individually and help you analyze the existing keywords you've included. If you notice that some of them have low search volumes or are too competitive, you can substitute them with new discoveries from the 'Competition Tracker'.
How Will Spotting The Gaps Make A Difference?
Rather than wondering why your sales are not what you anticipated, you can quickly observe how your shop is performing and find the weaknesses that are preventing you from enjoying more profits. If you have hundreds of listings it could be extremely burdensome to go through every single listing to check how many images it has, how many tags you've included and how appropriate these tags are. With the Shops feature in Sale Samurai, you can do this at a glance and make changes that will truly make a difference.
Will A 3-Day Free Trial Of Sale Samurai Be Enough?
By now, you're probably eager to create your account and start exploring the vast range of opportunities the tools we discussed can offer. The good news is that there's so much more to Sale Samurai and three days will surely seem like a few minutes once you login and start discovering its potential. Even if you manage to dig up the valuable information in this time frame, remember that Etsy is a dynamic and constantly evolving marketplace. For example, keyword search volumes shift by the day, Sellers change their strategies, new listings are created, and top-sellers change.
To be able to stay ahead of the pack, it's essential to be consistent and well-organized in your strategies and approaches. Sale Samurai empowers you with the insights necessary to make quick and precise decisions. As a result, your listings will be optimized, your products will be seen by others, and your profits will skyrocket. After all, as an Etsy Seller, making a few sales today probably won't match your expectations. It's the long-term journey that matters most.
You can exploit Sale Samurai to the fullest by hopping on the monthly subscription bandwagon for $9.99 or go all-in with a yearly subscription for $99.99 and practically save $20 or enjoy two free months of the software.